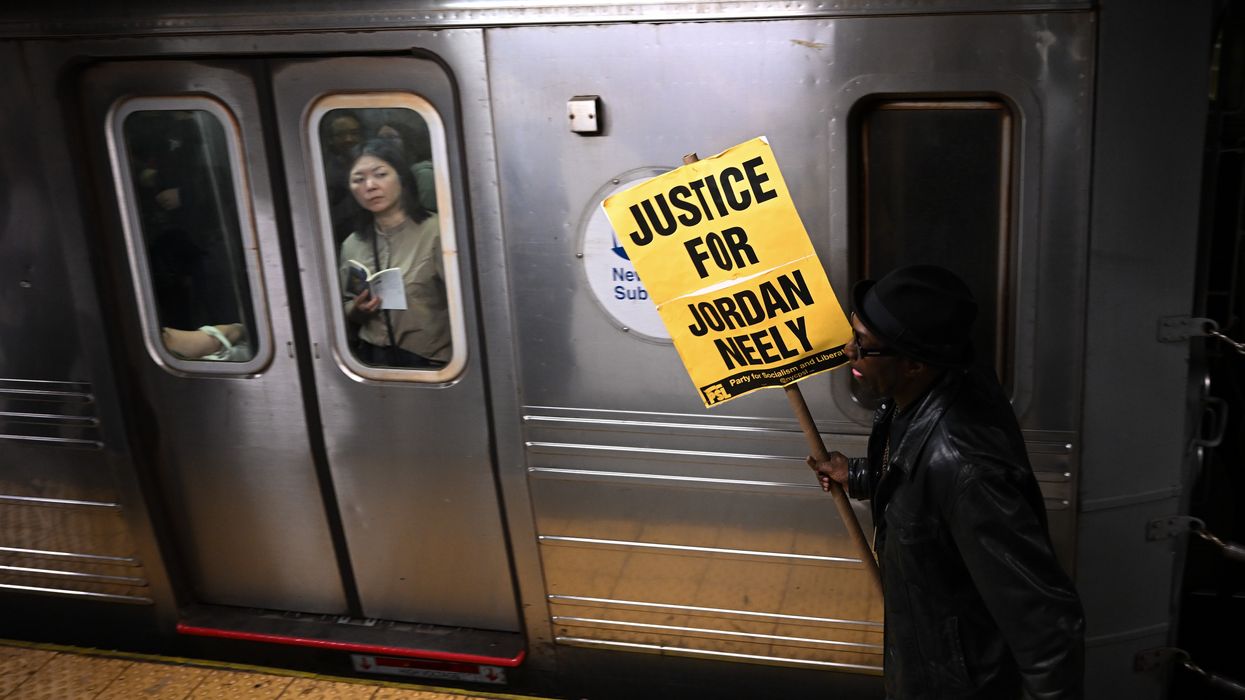 "It's 10 days too late," said one protester in New York City. "Yes it's some step towards progress, but we've been waiting too long."
The office of Manhattan District Attorney Alvin Bragg confirmed Thursday that Daniel Penny, who last week fatally choked Jordan Neely on the subway in New York City, is set to be charged Friday and could face up to 15 years behind bars.
"Daniel Penny will be arrested on a charge of manslaughter in the second degree," Bragg's office said in a statement. "We cannot provide any additional information until he has been arraigned in Manhattan Criminal Court, which we expect to take place tomorrow."
While riding the F train on May 1, Neely—a 30-year-old Black subway performer known for impersonating Michael Jackson—was "acting erratically," but he did not attack anyone on the train, according to witness and freelance journalist Juan Alberto Vazquez.
Neely, who was unhoused, shouted about being "fed up and hungry" and "tired of having nothing," said Vazquez—who posted on Facebook footage of Penny putting Neely in a chokehold that the medical examiner concluded killed him.
Penny, a white 24-year-old Marine veteran, was initially questioned and then released by police; his attorneys claim he acted in self-defense.
Meanwhile, the video has spread online and sparked not only demands for justice but also national conversations about homelessness, mental illness, and racism in the United States.
According toNBC New York:
Multiple protests have taken place in Manhattan since Neely's death, with dozens arrested. Protesters again ratcheted up the volume Thursday, even after learning of the charges said to be coming.

"We need people to be held accountable for their actions, however, we don't want this just to be about the need to incarcerate this man," said Jawanza James Williams, the organizing director for Vocal NY.

Still, some said it has taken too long for the charges to come.

"It's 10 days too late," said protester Tanesha Grant. "Yes it's some step towards progress, but we've been waiting too long."
In a Wednesday speech, Democratic New York City Mayor Eric Adams used Neely's death to promote his unpopular policy of addressing NYC's intertwined mental health and homelessness crises with forced hospitalizations.
"There is no evidence supporting Adams' harmful and dangerous rhetoric," responded New York Civil Liberties Union executive director Donna Lieberman. "This kind of stigmatization and fearmongering contributes to the victimization of people with perceived mental illness—the same that led to the killing of Jordan Neely."
"The mayor is right that there are more Jordan Neelys in our city," Lieberman added. "They deserve housing, healthcare, and supportive services to get back on their feet, not to be controlled, criminalized, or killed."

News