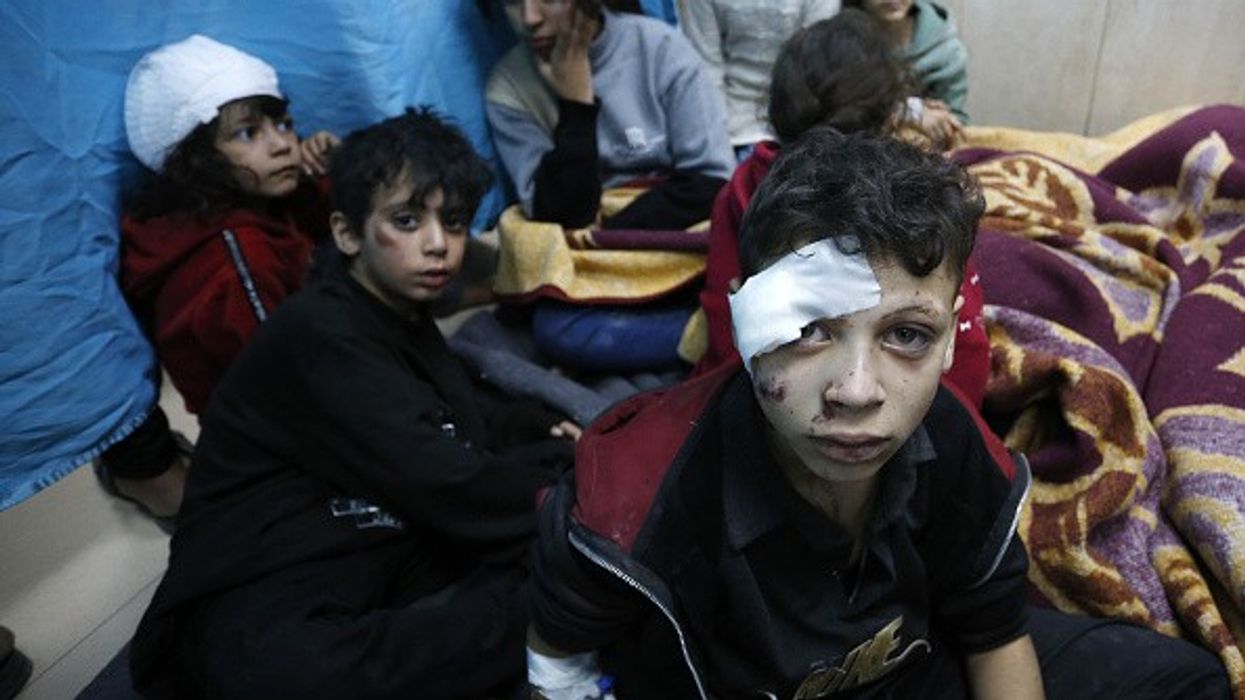 Amnesty International accused Israel of committing war crimes with two recent bombings of a church and a home in a refugee camp.
Palestinians in Gaza and human rights advocates on Monday pleaded with the international community to see the ongoing killing of thousands of people in the blockaded enclave for what it is—a massacre in which Israel has shown "a chilling indifference to the catastrophic toll on civilians," according to Amnesty International, and has committed numerous war crimes as it bombards civilian targets.
The Israel Defense Forces (IDF) on October 19 and October 20, calling on the International Criminal Court (ICC) to investigate the bombings as possible war crimes.
Amnesty investigators visited the sites of the bombings, Saint Porphyrius Greek Orthodox Church in Gaza City and a home in al-Nuseirat refugee camp near Deir al-Balah, and interviewed 14 people, including nine survivors of the attacks and two other witnesses. The group's Crisis Evidence Lab also analayzed satellite imagery and and audiovisual material.
The two bombings, which killed a total of 46 civilians, including 20 children, "were indiscriminate attacks or direct attacks on civilians or civilian objects, which must be investigated as war crimes," said Amnesty.
"These deadly, unlawful attacks are part of a documented pattern of disregard for Palestinian civilians and demonstrate the devastating impact of the Israeli military's unprecedented onslaught has left nowhere safe in Gaza, regardless of where civilians live or seek shelter," said Erika Guevara Rosas, director of global research, advocacy, and policy for the U.K.-based group. "We urge the International Criminal Court's prosecutor to take immediate concrete action to expedite the investigation into war crimes and other crimes under international law opened in 2021."
The group noted that on October 19, when the historic church was struck, the Israeli government released a statement saying that "IDF fighter jets struck the command and control center belonging to a Hamas terrorist involved in the launching of rockets and mortars toward Israel."

But the IDF later deleted a video it had posted of the strike on Saint Porphyrius, and has provided no information to substantiate the claim that the church was a "command and control center."
Before the strike, in the first days of Israel's relentless bombardment of Gaza, church officials had publicly said hundreds of civilians were taking shelter at Saint Porphyrius.

"Their presence would therefore have been known to the Israeli military," said Amnesty. "The Israeli military's decision to go ahead with a strike on a known church compound and site for displaced civilians was reckless and therefore amounts to a war crime, even if there was a belief that there was a military objective nearby."
One of the families sheltering in the church was that of Ramez al-Sury, whose three children—aged 14, 12, and 11—were killed in the attack.
"We left our homes and came to stay at the church because we thought we would be protected here. We have nowhere else to go. The church was full of peaceful people, only peaceful people," al-Sury told Amnesty. "There is nowhere safe in Gaza during this war. Bombardments everywhere, day and night. Every day, more and more civilians are killed. We pray for peace, but our hearts are broken."
The day after al-Sury's children were killed, Hani al-Aydi was sitting at home with family members at al-Nuseirat refugee camp, which is within the area the Israeli military had ordered Palestinians to evacuate to from the north.
Despite telling people the area was safe, the IDF launched a strike that destroyed the al-Aydi family home, which the military had no reason to suspect was a Hamas target, according to Amnesty.
"All of those present in the al-Aydi house that was hit directly and in the two nearby homes were civilians," said Amnesty. "Two members of the al-Aydi family had permits to work in Israel, which requires rigorous security checks by Israeli authorities, for those obtaining the permit and their extended family.
Al-Aydi told the group that "everything collapsed on our head" suddenly when Israel bombed the house, killing 28 people including 12 children.
"All my brothers died, my nephews, my nieces," said al-Aydi. "My mother died, my sisters died, our home is gone… There is nothing here, and now we are left with nothing and are displaced. I don't know how much worse things will get. Could it get any worse?"
Amnesty noted that even if it had found in its investigation that there were plausible military targets in the vicinity of the two sites—which it did not—"these strikes failed to distinguish between military objectives and civilian objects. The evidence collected by Amnesty International also indicates that the Israeli military failed to take feasible precautions to minimize damage to civilians and civilian property, including by not providing any warning—at minimum to anyone living in the locations that were hit—before launching the attacks."
The Geneva Conventions require parties in a conflict to take measures to protect the lives of civilians and prohibit collective punishment of a population for acts committed by a particular group.

"The harrowing accounts from survivors and relatives of victims describing the devastating human toll of these bombardments offer a snapshot of the mass civilian suffering being inflicted daily across Gaza by the Israeli military's relentless attacks, underscoring the urgent need for an immediate cease-fire," said Guevara-Rosas.
Amnesty made the request of the ICC as the death toll in Gaza surpasses 13,300 people in just over six weeks. At least 5,500 children have been killed.
Al-Mezan, a Gaza-based human rights group, also addressed the ICC on Monday, calling on the body to issue warrants for Israeli officials responsible for crimes against Palestinian children.

News