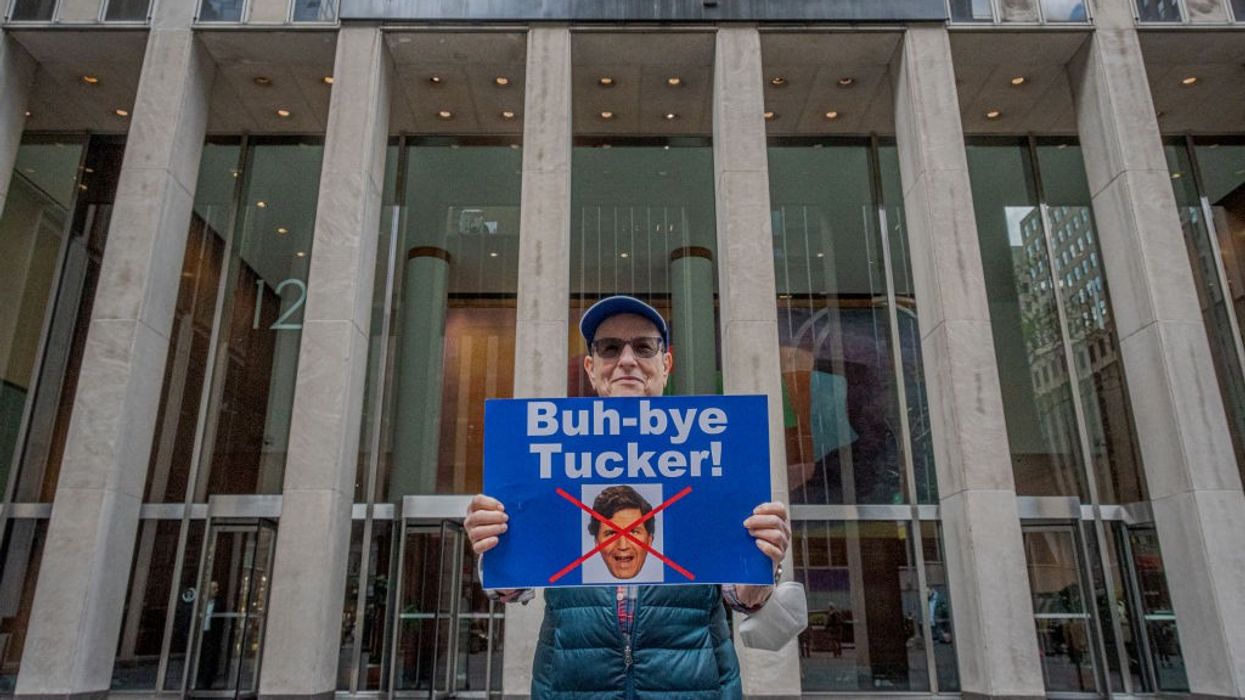 The lifting of the veil on Carlson's true views of Trump and the MAGA movement is a major outcome of the Dominion settlement.
Things seemed hopeless for those wondering if Tucker Carlson ofFox News—who used his show to promote white supremacist hoaxes (Independent, 7/20/22) and degrading statements about immigrants (The Hill, 9/23/21)—would ever be held accountable for spewing hate on air. An advertiser exodus (New York Times, 6/18/20) and calls for his deplatforming from mainstream organizations (Anti-Defamation League, 5/25/22) seemed only to solidify the frozen-dinner heir's position as cable news' top-rated host. Last year, Carlson's show "averaged 3.32 million viewers, nabbing the biggest audience in cable news among viewers ages 25 to 54," according to the New York Post (4/24/23).
"He's the tent pole of the entire prime time line-up," said Reece Peck, author of Fox Populism: Branding Conservatism as Working Class. "He helps the other shows, people stay to watch after Tucker and before Tucker."
And in a flash, he was gone (NBC, 4/24/23). After Fox News settled with Dominion Voting Systems for nearly $800 million over the network's repeated lies about the company fixing the 2020 presidential election for Joe Biden, I noted (FAIR.org, 4/20/23) that the last-minute agreement was still a form of accountability for the network, even if the settlement sum was half of what Dominion sought. (Carlson's departure took $700 million from Fox's stock value in the 30 minutes after it was announced. The stock recovered somewhat, but was still down half a billion dollars at the closing bell.)
Done in by Dominion?
Indeed, the damaging discovery process preceding the trial date might have done Carlson in. The Washington Post (4/24/23) reported that "it was Carlson's comments about Fox management, as revealed in the Dominion case, that played a role in his departure from Fox, a person familiar with the company's thinking told the Post."
Dominion said Carlson's departure was not a condition of the settlement, according to the LA Times(4/24/23), but the paper did say that Carlson's comments "that turned up in the discovery process for the case may have also played a role in" his departure.
The LA Times also said that sources within Fox said that Carlson's departure is related to a separate, hostile work environment lawsuit brought by his former head of booking, Abby Grossberg, who alleges "that male producers regularly used vulgarities to describe women and frequently made antisemitic jokes" (New York Times, 4/24/23).
The texts exposed Carlson for who he is, a pompous, rich media elitist who gives not one single damn about MAGA voters and hates their king.
The discovery process of the Dominion case revealed numerous texts from Carlson—whose entire persona at Fox News rests on the wave of the Make America Great Again movement—showing his intense dislike of Donald Trump (New York Times, 3/8/23). "What [Trump is] good at is destroying things" was among one of the key texts, but everyone's favorite, of course, is Carlson saying of Trump, "I hate him passionately."
No, Carlson's on-air racism (Independent, 4/13/21; ADL, 4/22/21), transphobia (New York Post, 12/28/22), xenophobia (Washington Post, 12/15/18), admiration for authoritarians (FAIR.org, 8/3/21, 10/20/21), and flirtations with antisemitism (Daily Beast, 10/11/22, 12/23/22) were never the problem for Fox News. If The Washington Post's report that the Dominion texts were definitive is true, it's poetic justice: The texts exposed Carlson for who he is, a pompous, rich media elitist who gives not one single damn about MAGA voters and hates their king, only cynically using Trump's political popularity for his own media grift. That lifting of the veil, the end of the conceit for a corporation whose entire modus operandi is disguising its ruling-class politics to sell faux populism to its viewers, is a major outcome of the Dominion settlement.
Off to the gold mine
But what is to become of Carlson? Surely he won't drift quietly off into obscurity. The right-wing media machine, with its growing community of news sites, podcasts, and Substack newsletters, is a gold mine for anyone who can draft a sentence linking any conservative grievance to the word "wokeness." Carlson sold his stake in the Daily Caller (New York Times, 6/10/20), the news site he helped found, but the possibilities for rehabilitation are seemingly endless.
Bill O'Reilly once reigned as the star of Fox News until his ouster due to sexual harassment accusations (New York Times, 4/19/17), and today he is but a mere afterthought. But he was an aging relic before an explosion in Trump-fueled media. Today, a fresh-faced Carlson, still an emblem of MAGA rage, has the world as his oyster where he could perform untethered by corporate restraints, although without as much reach as cable news.
"His star will never shine as bright as it did at Fox."
"It's not beyond the realm of possibility that he could reinvent himself, but I think Fox is center stage, everything flows from its framing, from its agenda-setting, and it has the most influence over Republican politicians," Peck said. "Even with Newsmax and [One America News Network], it's really hard to match the respectability you get from being on a cable dial."
"His star will never shine as bright as it did at Fox," he said.
Fox is going to survive, valuing the audience that made the network what it is today, even if a little less hate is going to be pumped onto the mainstream American airwaves at primetime. "Fox has survived the loss of its biggest stars before," Peck said.
But Carlson's departure is a reminder that while the fight against Fox's worst hatemonger often seemed fruitless, the Goliaths are, in fact, vulnerable.
Opinion