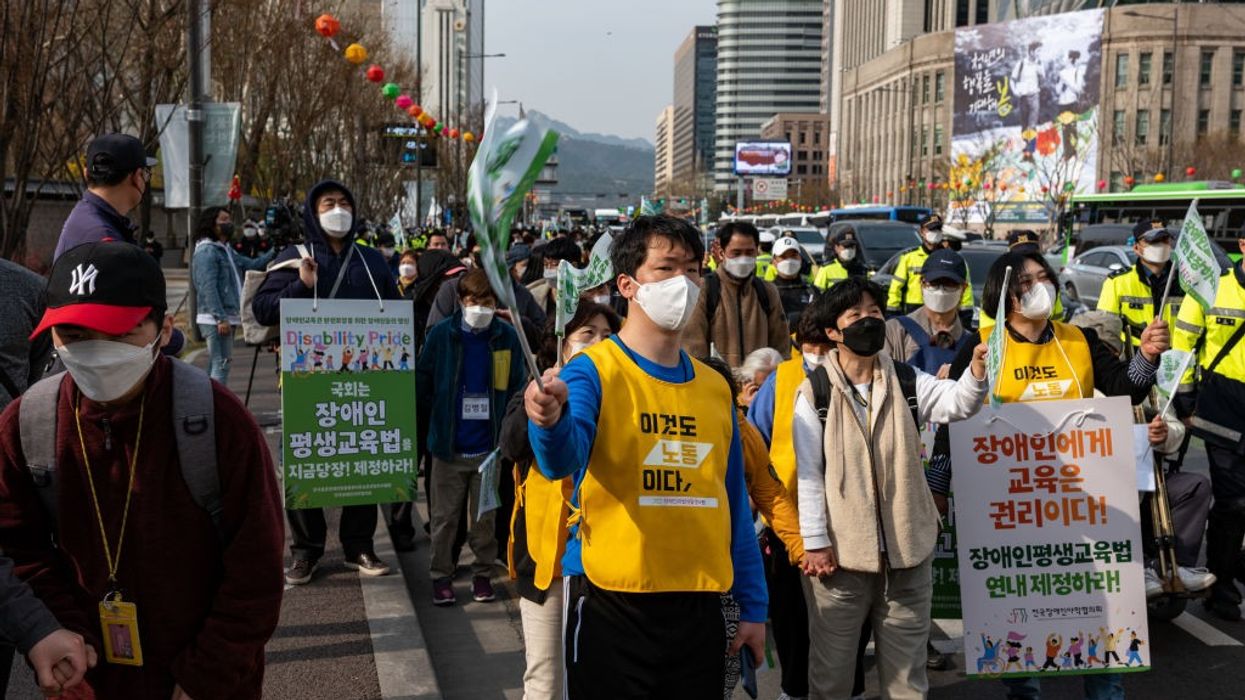 As long as people with disabilities are excluded and denied their human rights, the promise of the global goals is doomed to fail.
Growing up as a girl with a disability in Pakistan, I knew that my opportunity to go to an inclusive school and progress to university was unusual. For many children with disabilities, particularly girls, intersecting stigma and discrimination means that they are regularly excluded from learning or even seen as not worth educating. Children are sometimes hidden at home or protected by their parents, either viewed as a curse from God, or some kind of special blessing. Or, more mundanely, schools simply aren't accessible or affordable for them. These barriers are faced by children in many counties, and as a result, children with disabilities are almost twice as likely to have never attended school than other children.
Education can be just one of the first hurdles in a life of discrimination for many people with disabilities. Despite progress on disability rights in the past few decades (including the adoption of the groundbreaking U.N. Convention on the Rights of Persons with Disabilities in 2008) the 1.3 billion people in the world who have disabilities still face a huge range of barriers to our full participation in society. That's 16% of the global population. From Islamabad to Iowa, we still often find ourselves excluded in education, healthcare, travel, politics, and public services. For example, only 1 in 10 people in the world have access to the assistive technology and disability services they need to live a full life, and people with disabilities are up to twice as likely to live in poverty than people without disabilities. In many places in 2023, we are simply tired of having to constantly fight for our basic human rights.
--
This year, the world comes to the halfway point of the Sustainable Development Goals (SDGs), the globally adopted targets to address poverty and inequality by 2030. These visionary goals aim to transform our world for the better and have served as a guide for countries to follow to improve living conditions and protect the planet. They are ambitious, but they have proven useful in holding governments to account and focusing international advocacy efforts on development and human rights. In a world full of difficulties and divisions, the SDGs offer us a clear vision of a society we can aspire to and continually strive for.
At this midpoint in September, world leaders will gather at the U.N. SDG summit in New York on the 18 and 19 to assess progress on the goals. It is planned as a moment of action and hope, to result in a negotiated political declaration by all member states.
So how are the SDGs going? Right now, not so well. Evidence shows that progress on them has derailed. A recent U.N. report highlights that most of the goals are "moderately to severely off track" and only around 12% are on course to be achieved (according to a preliminary assessment of around 140 targets with data). For the first time in decades, we are seeing global income equality going into reverse. The pandemic has seen existing inequalities deepen, education disrupted, and huge pressure put on already weak health systems. At the same time, the world faces growing threats from conflict, increased cost of living, and the climate crisis.
Without adequately addressing the needs of people with disabilities and other marginalized groups, the original promise of the SDGs to "leave no-one behind" is in peril.
The impacts of these reversals are disproportionately felt by marginalized populations. The vast majority of which live in low- and middle-income countries, where there are already often huge challenges to development. And as the U.N. report shows, people with disabilities are one of the groups being hit hardest by the lack of progress on poverty and inequality. This is on top of the base level of difficulties we can face in getting our rights acknowledged or the services we need.
The impacts on women and girls with disabilities are also huge. Globally, more than half of people with disabilities are women, and more than 1 in 5 women have a disability. Women with disabilities can face double or triple discrimination as a result of intersecting prejudices, and so face increased levels of gender based violence, harassment, and stigma than other women. This is further exacerbated during crises and conflict. During the pandemic, for example, reports of domestic violence skyrocketed, with women with disabilities being disproportionately affected.
---
Without adequately addressing the needs of people with disabilities and other marginalized groups, the original promise of the SDGs to "leave no-one behind" is in peril. This is why I have decided to take part in a new global campaign, Promise in Peril, organized by Equal World. We are calling on world leaders to ensure that the political declaration of the SDG Summit in September, and all national commitments, focus on reaching those who are being left furthest behind. With just seven years left until the 2030 deadline, this moment is a wake-up call to nations to take immediate measures that would speed up progress on global development.
At present, the implementation, monitoring, and evaluation of the SDGs do not sufficiently include people with disabilities. This means that the people who are most at risk of being left behind are the ones whose voices are being ignored in efforts to tackle inequality, poverty, and climate change. This is particularly true for women and young people with disabilities. The declaration needs to include specific references to disability and must prioritize inclusive and equitable financing of the SDGs.
People with disabilities need to be meaningfully involved in the planning and implementation of policies that affect our lives. There can be nothing about us without us. To achieve this, the inclusion of people with disabilities needs to be properly resourced and budgeted for and committed to by states at a national level. If not done, the disability community and other underrepresented groups will continue to be excluded from taking part in national SDG plans.
Our call for equity is not a polite request. It is a demand and a moral imperative.
Governments must protect and guarantee the rights of people with disabilities, using a framework that centers on and respects human rights and well-being. The delivery of the SDGs should be based on a strengthened, more inclusive, and cooperative multilateralism.
---
Looking beyond the halfway point, the SDG declaration alone is important, but it is not enough. This September should be a wake-up call to the world on how much we have left to do. Commitment is only the first step and should be followed by the implementation of national legislation and policy in a way that actually realizes the SDGs. It's vital to have national and international laws and conventions, such as the Americans with Disabilities Act in the U.S., and the U.N. disability convention, but they also need to be enacted and enforced. For example, it's important to have a law that says, "Shops and restaurants can't discriminate against customers with disabilities," or "We need more people with disabilities in employment," but no good if businesses can flout it easily without consequences. We need clear, tangible actions to be taken to ensure disability rights are respected and upheld.
One important mechanism for addressing poverty experienced by people with disabilities is universal social protection. This is especially important in times of crisis, as was seen during the pandemic when millions of people were left without support as countries locked down. But currently only 1% of people with significant disabilities in low-income countries have access to disability benefits, an incredibly low number. In line with the International Labour Organization Recommendation 202, we need governments to establish social protection floors as a fundamental element of national social security systems.
There also needs to be better efforts made to collect data on disability. Global data is currently only available for 2 out of 10 SDG indicators that require governments to report on how they are reaching people with disabilities. This contributes toward significant data gaps that exist globally and means people with disabilities are often invisible in policy making. Governments must commit to collecting disability inclusive data, with particular consideration of the intersection with gender. Decision-makers cannot continue to ignore 16% of the population.
---
Before I met other members of the disability rights movement, I grew up thinking of my disability as something negative, as some defect with myself. It was only once I started collaborating with other activists, and hearing their experiences, that I realized that my disability is just diversity of human experience. Our rights are human rights.
Our call for equity is not a polite request. It is a demand and a moral imperative. People with disabilities must have an equal say in the policies and processes that affect our lives. Governments must take action to uphold disability rights and commit to reach the SDGs in a way that genuinely leaves no one behind.
---
You can find out more about the Promise in Peril campaign, and sign their petition, at: https://campaigning.sightsavers.org/promise-in-peril/.
Opinion