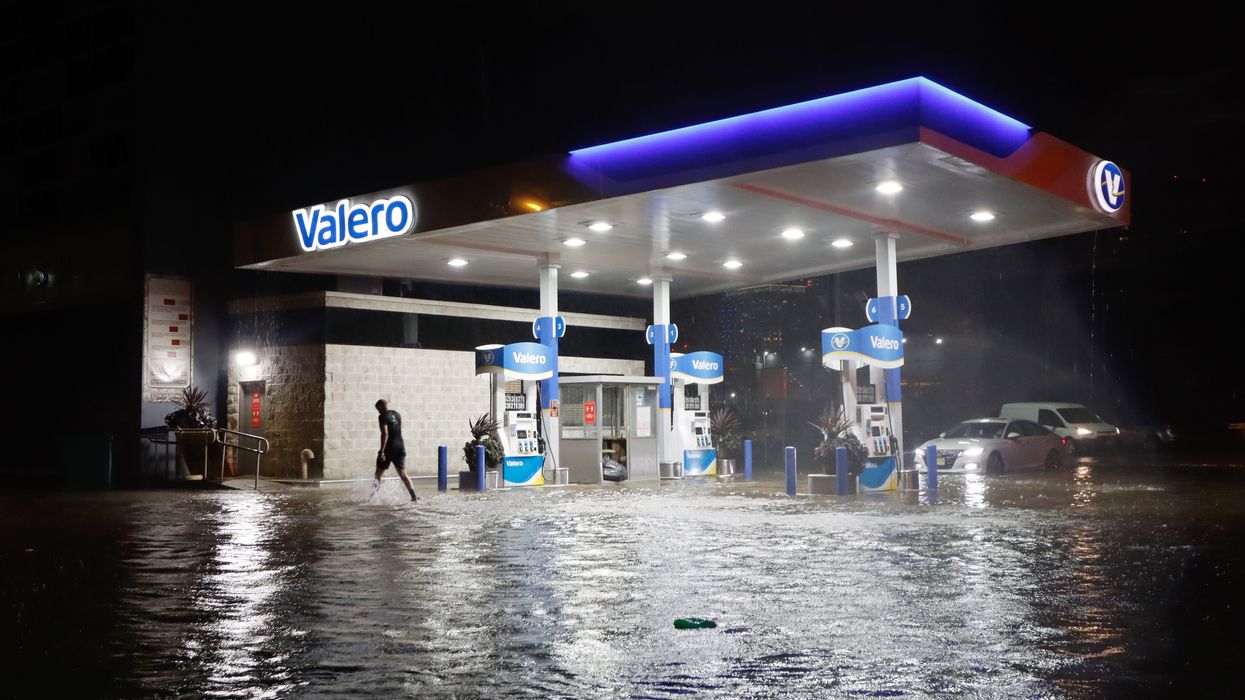 "The Supreme Court's decision brings the people of Delaware and Hoboken one step closer to putting these polluters on trial and making them pay for their climate deception."
On the heels of similar decisions last month, the U.S. Supreme Court on Monday delivered "another win for climate accountability," rejecting fossil fuel corporations' attempt to quash lawsuits filed by the city of Hoboken, New Jersey, and the state of Delaware.
Both filed in September 2020, the suits from Hoboken and Delaware—like those filed by dozens of other municipalities and states—take aim at companies including BP, Chevron, ConocoPhillips, ExxonMobil, and Shell for fueling the climate emergency. The fossil fuel industry has repeatedly tried to evade accountability by shifting such cases from state to federal court.
"We appreciate and agree with the court's order denying the fossil fuel companies' petition, which aligns with dozens of decisions in federal courts here in Delaware and across the country," said Democratic Delaware Attorney General Kathy Jennings in response to Monday's decision.
The Supreme Court's decision means that both of these cases will now move forward in state court.

Jennings on Monday cited an opinion piece she wrote for Delaware Online with Shawn Garvin, secretary of the Delaware Department of Natural Resources and Environmental Control, back when they launched the legal effort in 2020:
As we stated at the time of filing this case almost three years ago: "It didn't have to be this way. The fossil fuel industry knew for decades that their products would lead to climate change with potentially 'severe' and even 'catastrophic' consequences—their words, not ours. But they didn't clean up their practices or warn anyone to minimize the peril they were creating. Instead, they spent decades deliberately and systematically deceiving the nation about what they knew would happen if they carried on with business as usual."
Building on revelations from the past decade that have bolstered climate liability lawsuits, peer-reviewed research published in January shows that ExxonMobil accurately predicted global heating decades ago, while documents released in early April make clear that Shell knew about the impact of fossil fuels even earlier than previously thought.

"Imagine how far along we might be in the transition to a low-carbon economy today if not for their deception," Jennings said. "That's why we filed our lawsuit, and today's order moves Delawareans one step closer to the justice and economic relief that we deserve."
For Hoboken and Delaware, the high court denied fossil fuel companies' challenge to decision last year from a panel at the U.S. Court of Appeals for the 3rd Circuit, which wrote in part that "our federal system trusts state courts to hear most cases—even big, important ones that raise federal defenses. Plaintiffs choose which claims to file, in which court, and under which law. Defendants may prefer federal court, but they may not remove their cases to federal court unless federal laws let them. Here, they do not."
Center for Climate Integrity president Richard Wiles noted Monday that "Big Oil companies keep fighting to avoid trials in state courts, where they will be forced to defend their record of climate lies and destruction in front of juries, but federal courts at every level keep rejecting their efforts."
"The Supreme Court's decision brings the people of Delaware and Hoboken one step closer to putting these polluters on trial and making them pay for their climate deception," Wiles added. "Fossil fuel companies must be held accountable for the damages they knowingly caused."
After the high court's April decisions—which involved cases brought by the state of Rhode Island as well as municipalities across California, Colorado, Hawaii, and Maryland—Jamie Henn of Fossil Free Media said, "This should open the floodgates for more lawsuits that could make polluters pay!"
There were no noted dissensions on Monday. However, like last month, Justice Samuel Alito, who owns stock in some fossil fuel companies, did not participate in the decision about these two cases—but Justice Amy Coney Barrett, whose father spent nearly three decades as an attorney for Shell, did.

News