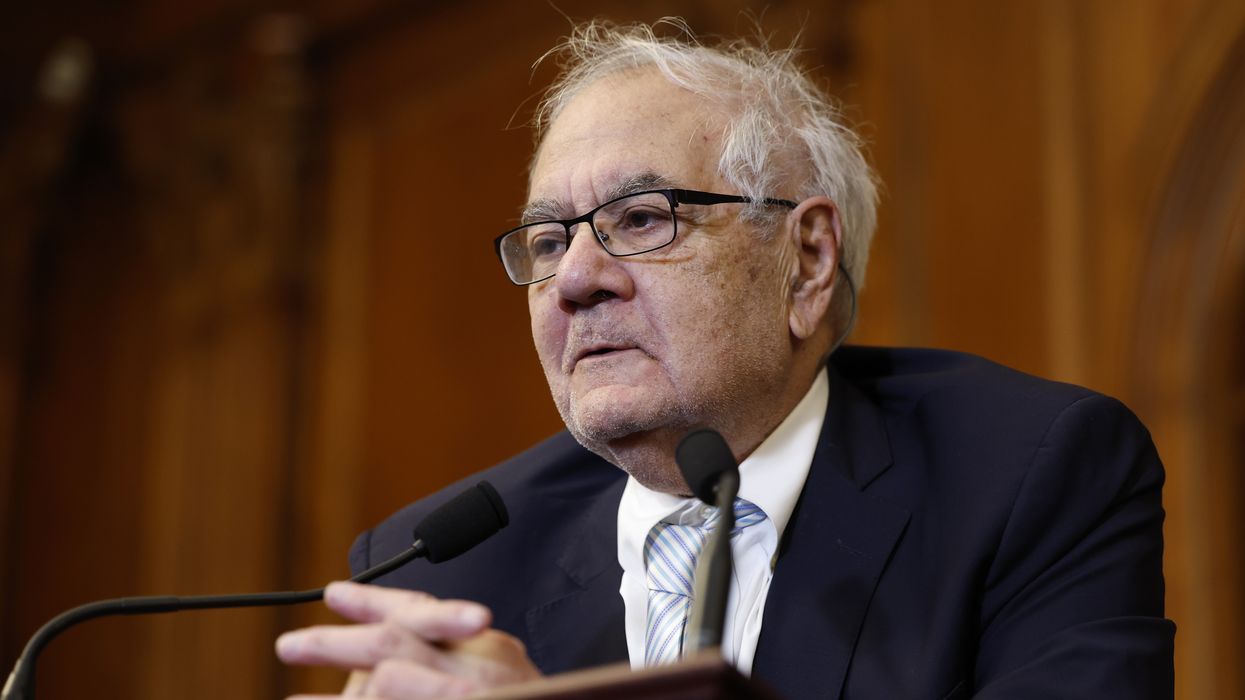 After he had received more than $1 million as a Signature board member, the architect of the Dodd-Frank banking regulations minimized the risks of weakening rules he helped enact post-2008 financial crisis.
Barney Frank, a former House Democrat from Massachusetts, has been the subject of criticism since federal regulators took over Signature Bank on Sunday.
That's because Frank, architect of the Dodd-Frank banking regulations implemented in the aftermath of the 2008 financial crisis, played a key role in whitewashing the bipartisan effort to weaken those rules in 2018—after he had received more than $1 million while serving on Signature's board following his departure from Congress.
Since federal regulators seized Signature's assets on Sunday—two days after they intervened to protect depositors amid the collapse of Silicon Valley Bank (SVB)—progressive critics have been quick to blame a deregulatory measure approved five years ago by the then-Republican-controlled Congress for engendering two of the three largest bank failures in U.S. history.
The GOP, however, wasn't alone in supporting Sen. Mike Crapo's (R-Idaho) Economic Growth, Regulatory Relief, and Consumer Protection Act. As Sen. Elizabeth Warren (D-Mass.), a trenchant critic of the legislation, observed when it was moving through Congress, several Democrats—including Sens. Mark Warner (Va.), Joe Manchin (W.Va.), and Jon Tester (Mont.)—were integral to its passage.
To justify their decision, many of them pointed to Frank. The originator of the Dodd-Frank Wall Street Reform and Consumer Protection Act used his cachet as a presumed banking expert to legitimize a rollback of the very framework he helped enact in 2010 as chair of the House Financial Services Committee. But the ex-lawmaker wasn't merely an uninterested bystander. In 2015, he joined the board of directors at Signature, a crypto-friendly bank that was poised to benefit from less stringent oversight.
Frank said Crapo's Economic Growth, Regulatory Relief, and Consumer Protection Act "would not help the biggest Wall Street banks and denied it would increase the risks of another financial crisis," The Washington Post reported when then-President Donald Trump signed the bill into law in May 2018. "Some Democrats leaned heavily on those words as they pushed back against the plan's liberal critics."
However, the newspaper noted, "proponents of the law rarely, if ever, mentioned that Frank is not just the author of the 2010 law, but also sits on the board of New York-based Signature Bank."
In the wake of Signature's collapse on Sunday night, Frank's role in downplaying the risks of deregulation—while being paid by a bank that stood to gain from it—has received fresh light.
As the Post reported in May 2018: "Dodd-Frank imposed additional regulatory safeguards on banks with more than $50 billion in assets, but the rollback that passed this week, among other things, raises that threshold to $250 billion. Signature Bank has more than $40 billion in assets and can now grow significantly without automatically facing additional regulation."
But the bank's growth over the past half-decade came to a screeching halt over the weekend when its customers, alarmed by the failure of SVB, quickly withdrew $10 billion.
"Frank acknowledged that Signature stood to benefit, but he said his role on the bank's board did not influence his thinking," the Post reported five years ago. "Frank said his position on the threshold predates his compensation from the financial sector."
As Politicoreported on Monday, Frank disputes that Trump-era deregulation "had anything to do with" Signature's failure, even though it weakened oversight of "mid-size and regional banks like his own."
"I don't think that had any impact," Frank told the outlet. "They hadn't stopped examining banks."

Frank went so far as to tellCNBC that there was "no real objective reason" that Signature had to enter federal receivership.
"I think part of what happened was that regulators wanted to send a very strong anti-crypto message," Frank argued. "We became the poster boy because there was no insolvency based on the fundamentals."
Warren, by contrast, has focused her ire directly on the deregulatory moves minimized by Frank.
"Had Congress and the Federal Reserve not rolled back the stricter oversight, SVB and Signature would have been subject to stronger liquidity and capital requirements to withstand financial shocks," Warren wrote Monday in a New York Times opinion piece.
"They would have been required to conduct regular stress tests to expose their vulnerabilities and shore up their businesses," the lawmaker continued. "But because those requirements were repealed, when an old-fashioned bank run hit SVB, the bank couldn't withstand the pressure—and Signature's collapse was close behind."
"These bank failures were entirely avoidable if Congress and the Fed had done their jobs and kept strong banking regulations in place since 2018," she added. "SVB and Signature are gone, and now Washington must act quickly to prevent the next crisis."
Like Warren, Independent Sen. Bernie Sanders of Vermont has called for fully repealing "the disastrous 2018 bank deregulation law."
News