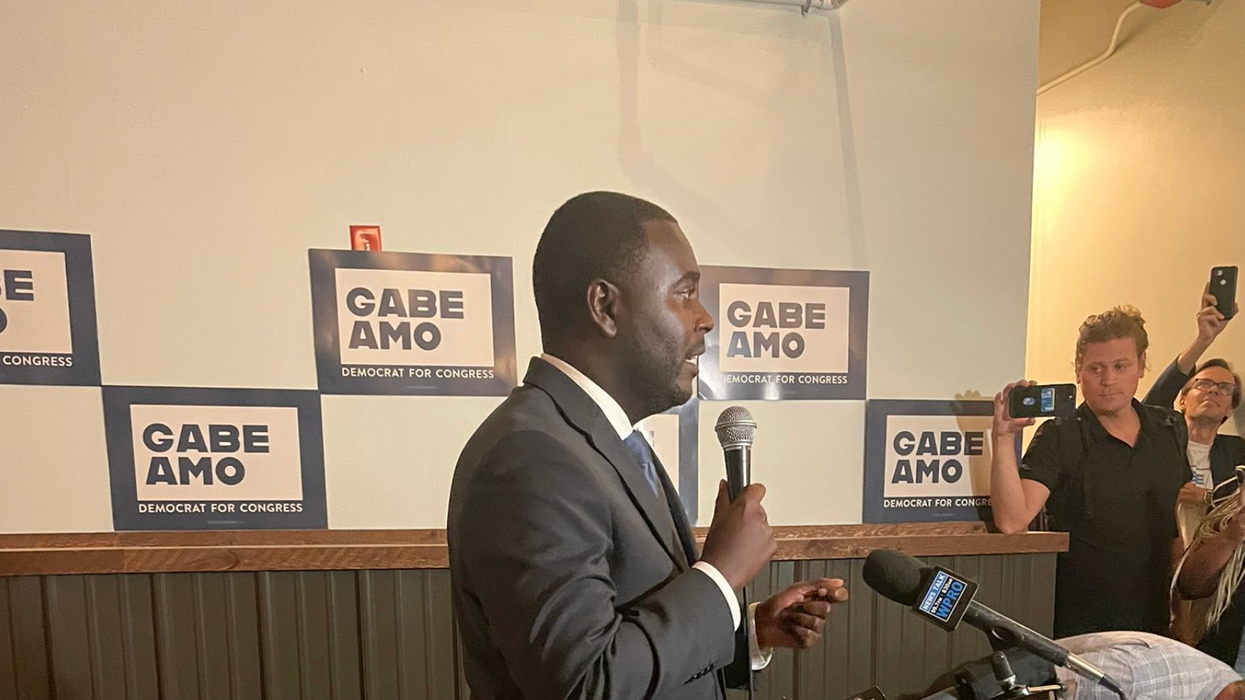 "The inability to convert on a winnable race," wrote one observer, "should alarm national progressive groups."
Former Biden administration official Gabe Amo won the special Democratic primary for an open U.S. House seat in Rhode Island's 1st Congressional District on Tuesday, defeating frontrunner Aaron Regunberg, an ex-state representative who was backed by Sen. Bernie Sanders and Rep. Alexandria Ocasio-Cortez.
Regunberg's loss to Amo, who served as deputy director of the White House Office of Intergovernmental Affairs, was seen as a significant disappointment for progressives in the heavily blue district previously represented by Rep. David Cicilline (D-R.I.), who stepped down earlier this year.
If Amo defeats Republican Gerry Leonard in November, he will be the first Black person to ever represent Rhode Island in Congress.

Cicilline did not endorse in the crowded primary race, but Rep. Rosa DeLauro (D-Conn.)—a friend and political ally of Cicilline—backed Regunberg, as did the Congressional Progressive Caucus PAC, the Working Families Party, Our Revolution, Friends of the Earth Action, and other progressive organizations.
Justice Democrats, whose organizing work has been key to progressive primary victories in recent years, did not get involved in the race as the group struggles to raise money.

Some local left-wing groups, including the Democratic Socialists of America's Providence chapter, opposed Regunberg and criticized Sanders and Ocasio-Cortez for endorsing the Rhode Island Democrat, pointing to the backing his campaign received from a super PAC.
As The American Prospect's Luke Goldstein wrote in a recap of Tuesday's contest, Progress RI's support for Regunberg included "a $5,000 contribution from his mother and $125,000 from his father-in-law, an executive at a global investment firm."
Amo's fundraising also came under fire.
According to a memo released by the Working Families Party in the final stretch of the campaign, the former Biden administration official's campaign received tens of thousands of dollars from lobbyists working for companies that represent Big Pharma, the parent corporation of Fox News, the oil and gas industry, tobacco companies, and Wall Street.
HuffPost's Daniel Marans noted Tuesday that Amo "got a last-minute assist from former U.S. Rep. Patrick Kennedy, who represented the House seat for 16 years before Cicilline."
After endorsing Amo, Kennedy "aggressively attacked Regunberg in a local television interview," Marans reported, "calling him an 'extreme' ideologue whose support for a smaller defense budget would jeopardize Rhode Island jobs―and even Democrats' hold on the House seat. (Biden carried the seat by 29 percentage points in 2020.)"
But Marans pointed out that "Regunberg would not have been a member of the left-wing 'Squad.'"
"He cited Cicilline as a model of effective progressive governance," Marans explained, "and touted his own work on the passage of state laws ensuring workers paid sick leave, raising the state's tipped minimum wage, creating a commission to study the use of solitary confinement, enacting online voter registration, and encouraging homeowners' adoption of solar panels."
Polling released in the lead-up to Tuesday's race showed that Regunberg was in the lead, but a significant percentage of voters surveyed were undecided in the days ahead of the special election.

Goldstein argued in the Prospect that "the inability to convert on a winnable race... should alarm national progressive groups as they limp into the next election cycle."

News