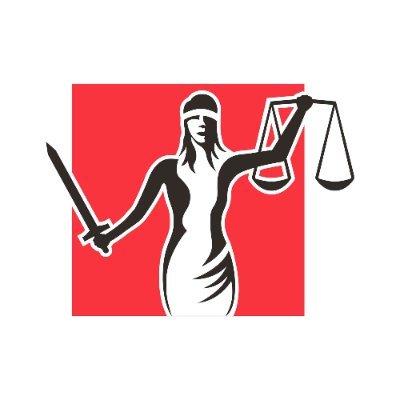 Honolulu Wins Key Rulings in Lawsuit Against Big Oil
In a historic first that brings Honolulu's case closer to trial, a Hawai'i state court rejected three Big Oil motions to dismiss a climate damages case asserting nuisance and other tort claims.
WASHINGTON
In a major victory for efforts to hold fossil fuel companies accountable for the costs of climate change, a Hawai'i state court has rejected three separate motions to dismiss a lawsuit from the City and County of Honolulu that seeks to make eight major oil and gas companies pay for climate damages the polluters knowingly caused.
The rulings mark the first time that public nuisance and other tort claims to hold oil companies accountable for the costs of climate change have reached and survived motions to dismiss.
Richard Wiles, president of the Center for Climate Integrity, released the following statement:
"Honolulu's victory is a watershed moment for efforts to hold oil companies accountable and make them pay for the enormous costs that their lies and pollution have forced on taxpayers.
"Oil and gas companies will keep trying to escape accountability, but the people of Honolulu are now one step closer to putting these polluters on trial for their climate deception.
"This development should send a message to communities across the country that the legal case for making polluters pay for lying about fossil-fueled damages is strong and defensible. As climate costs for communities continue to soar, Big Oil companies must be held accountable to pay their fair share."
Background on Honolulu rulings and other lawsuits seeking to hold Big Oil companies accountable for deceiving the public about climate change:
The City and County of Honolulu filed its lawsuit against eight major oil and gas companies -- including ExxonMobil, Chevron, Shell, and BP -- in 2020.
In recent weeks, Hawai'i First District Judge Jeffrey P. Crabtree rejected three motions that oil majors filed to dismiss the lawsuit -- for failure to state a claim, lack of personal jurisdiction, and one in which Chevron argued that Honolulu's lawsuit violated anti-SLAPP laws and therefore the company's First Amendment rights.
"This is an unprecedented case for any court, let alone a state court trial judge. But it is still a tort case," Judge Crabtree ruled. "It is based exclusively on state law causes of action."
A federal district court previously ruled that the lawsuit and a similar case from Maui County should proceed in state court, where they were filed. The court rejected a series of arguments that oil and gas defendants had made for the cases to be heard in federal court. The companies have appealed that ruling to the Ninth Circuit Court of Appeals, which is considering similar arguments in climate accountability lawsuits brought by a group of California municipalities. Seven federal circuit courts in total will consider the proper venue for climate accountability lawsuits in 2022; in the first to rule, the Tenth Circuit Court of Appeals ordered that a lawsuit from several Colorado communities should proceed in state court.
Last year, a Massachusetts court rejected ExxonMobil's motions to dismiss a consumer fraud lawsuit that the Commonwealth filed against the oil giant -- the first time one of the growing number of consumer protection suits state attorneys general have filed against oil majors cleared the same hurdle.
Since 2017, the attorneys general of Connecticut, Delaware, Massachusetts, Minnesota, Rhode Island, Vermont, and the District of Columbia, as well as 20 city and county governments in California, Colorado, Hawaii, Maryland, New Jersey, New York, South Carolina, and Washington, have filed lawsuits to hold major oil and gas companies accountable for deceiving the public about their products' role in climate change.
The Center for Climate Integrity (CCI) helps cities and states across the country hold corporate polluters accountable for the massive impacts of climate change.
(919) 307-6637
LATEST NEWS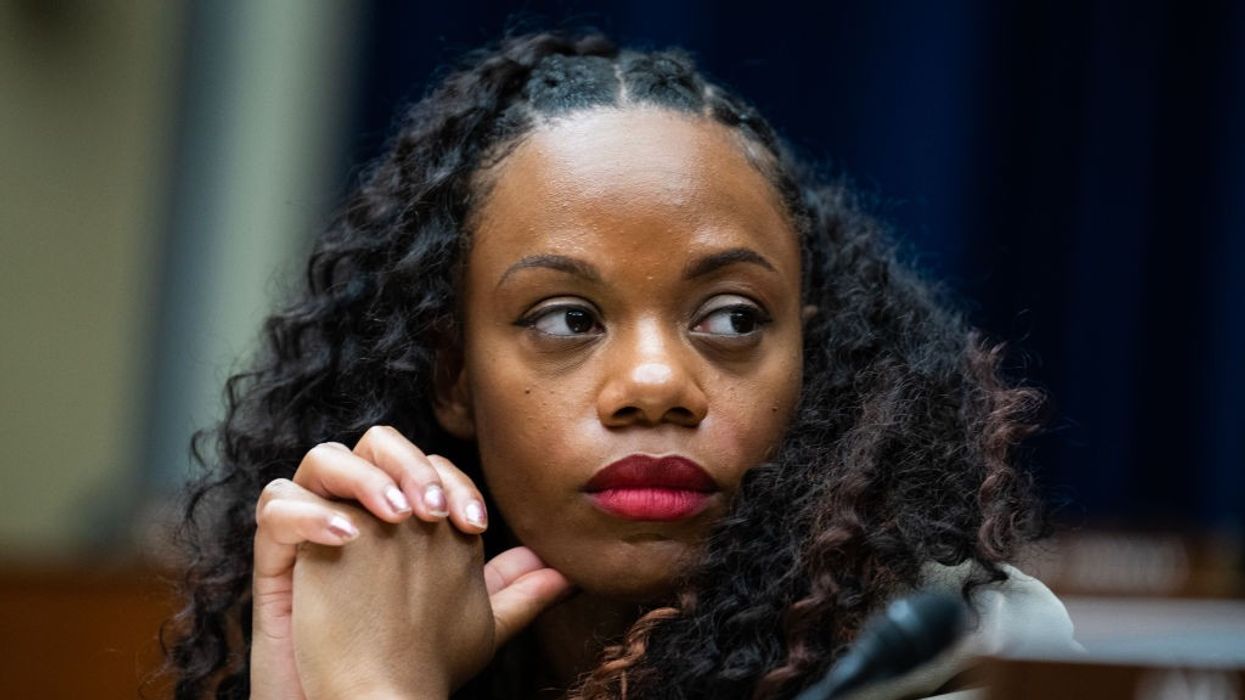 "We can't talk about holding Thomas and Alito accountable for selling out our freedoms for luxury vacations and private jet flights if we fail to hold a senator accountable for selling out his chairmanship," she said.
Pennsylvania Rep. Summer Lee has become the latest prominent Democrat to call on New Jersey Sen. Bob Menendez to resign following his indictment on bribery charges Friday.

Menendez was accused along with his wife Nadine and three businessmen over a "corrupt relationship" that saw Menendez exchange political favors—including aiding the Egyptian government—for kickbacks such as cash, gold, and help with a mortgage payment.
"Senator Menendez must resign," Lee said in a statement released Monday. "Corruption is corruption. Bribery is bribery. We can't talk about holding Thomas and Alito accountable for selling out our freedoms for luxury vacations and private jet flights if we fail to hold a senator accountable for selling out his chairmanship to a dictator gifting gold bars and cash to keep military aid flowing to Egypt as its government violates human rights."
Lee has been outspoken in calling out corruption in the Supreme Court. Her statement Monday comes the day after she spoke on MSNBC about a ProPublica article, also released Friday, revealing that Supreme Court Justice Clarence Thomas had attended at least two political fundraisers organized by the Koch network.
During Sunday night's interview, host Mehdi Hasan also asked Lee about the fact that only one other senator—John Fetterman of Pennsylvania—had called on Menendez to resign.
At the time, Lee stopped short of calling for his resignation herself, saying that the people who knew him in the Senate needed to speak out. However, she also said it was important that public servants hold themselves to higher standards, especially as the Republican Party continues the descent into extremism that escalated on January 6, 2021.
"We need to be clear about the types of people who should represent us, about the standards by which we should hold them, about what they are allowed to do, their conduct. We need a code of conduct for the Supreme Court, and we also need to adhere to our own conduct, whether we're in the Senate, or the House, or anywhere else," she said.
As of Monday, Lee adds her name to a small but growing list calling for Menendez's resignation including Fetterman and Reps. Alexandria Ocasio-Cortez (D-N.Y.), Jeff Jackson (D-N.C.), Dean Phillips (D-Minn.), Josh Gottheimer (D-N.J.), Tom Malinowski (D-N.J.), Frank Pallone (D-N.J.), Mikie Sherill (D-N.J.), Bill Pascrell (D-N.J.), and Andy Kim (D-N.J.)
Menendez, meanwhile, said Monday that he thought the calls for his resignation were a mistake, as The Hill reported.
"The allegations leveled against me are just that: allegations," Menendez said while speaking to supporters and reporters in Union City, New Jersey. "I recognized that this will be the biggest fight yet. But as I have stated through this whole process, I firmly believe that when all of the facts are presented, not only will I be exonerated, but I will still be New Jersey's senior senator."
However, while Lee acknowledged that Menendez had not yet been found guilty, more was at stake than his career.
"Menendez is of course owed due process, but the American people are owed trust in our institutions," she said. "Our fight against right-wing fascism depends on that trust."
News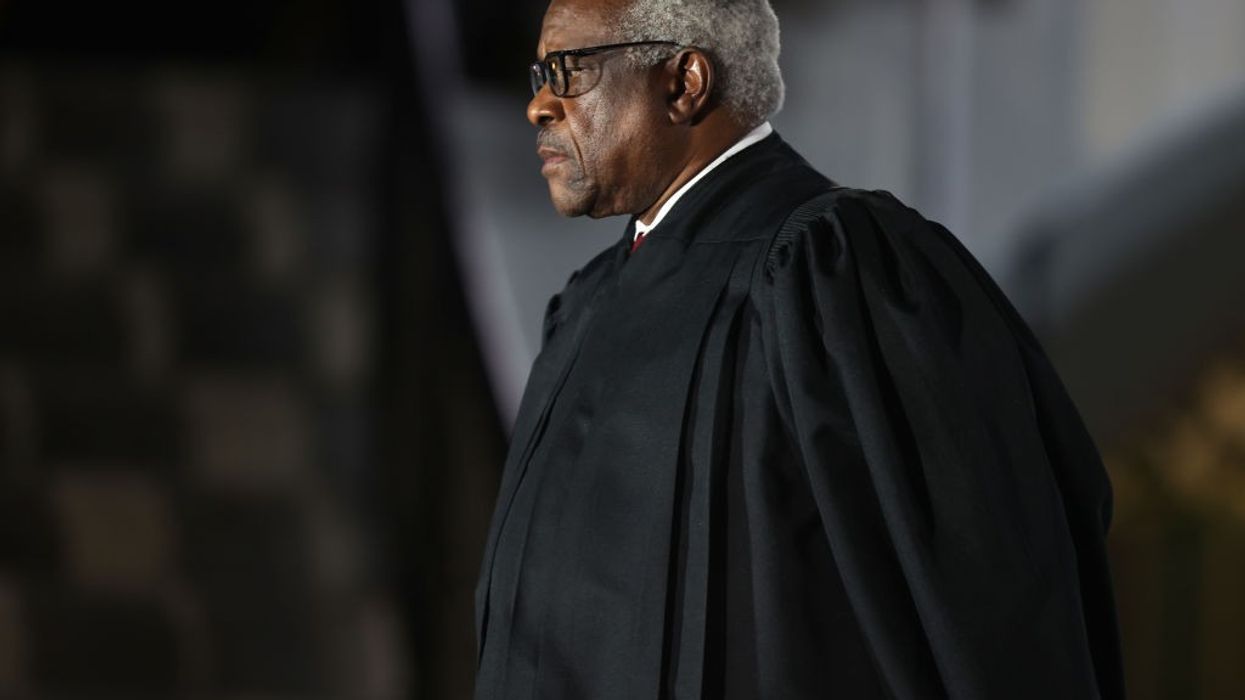 "All justices personally close to proprietors of shady financial services firms should recuse themselves, full stop," said Revolving Door Project's Jeff Hauser.
U.S. Supreme Court Justice Clarence Thomas on Monday faced mounting pressure to recuse himself from a case that experts warn "poses an existential threat" to a consumer-focused federal agency in the wake of revelations that he secretly served as an in-person "fundraising draw" for Koch network donor events.
ProPublica's Friday reporting on Thomas' Koch connections came amid heightened scrutiny of the justice's ties to billionaires with business before the court. Next week, the court is scheduled to hear oral arguments in Consumer Financial Protection Bureau (CFPB) v. Community Financial Services Association of America (CFSA)—a case challenging the agency's funding structure brought by a group that represents payday lenders.
"His repeated abuse of his office for personal gain is a national disgrace."
"Clarence Thomas' close ties to the Koch network—which has spent billions trying to make it easier for corporate predators to rip off everyday Americans and face zero accountability—are grounds for his immediate recusal from the CFPB case," Revolving Door Project (RDP) senior researcher Vishal Shankar argued Monday.
"He cannot be trusted to rule impartially on matters that would financially benefit his billionaire benefactors, and by extension himself," Shankar said of Thomas. "His repeated abuse of his office for personal gain is a national disgrace."
Critics—including Democrats in Congress and watchdog groups—have called for new Supreme Court ethics policies, a U.S. Department of Justice probe, and even Thomas' resignation over recent reporting about his relationship with billionaire Harlan Crow and other rich GOP donors who have showered the justice with luxury vacations and other gifts.
Crow's "real estate empire has bankrolled the National Multifamily Housing Council—a landlord lobbying group that has opposed CFPB regulation of the tenant screening industry," RDP highlighted Monday.
"While the artificial 'Community Financial Services Association of America' is the named litigant opposite the CFPB, all observers understand that the stakes in this litigation are shared by every investor in the types of companies that profit from unfair, deceptive, or abusive practices," said RDP executive director Jeff Hauser. "Just because Koch and others have used a shell organization to back this lawsuit doesn't mean that their ties to justices are any less relevant."
RDP also noted that attorney John Eastman—an ex-adviser to former President Donald Trump who was indicted in the Georgia election interference case and corresponded with right-wing activist Ginni Thomas, the justice's wife, before the January 6, 2021 insurrection—filed an amicus brief in CFPB v. CFSA supporting the payday lenders.
RDP's recusal demand echoed Accountable.US senior adviser Kyle Herrig's response to ProPublica's reporting last week.
"It's clear that Justice Thomas sees his position on our nation's highest court as a way to upgrade his own lifestyle with no regard for ethics or consequences," Herrig said Friday. "It was his own decadeslong improper financial relationship with Harlan Crow that sparked the Supreme Court corruption crisis in the first place—and that was just the tip of the iceberg."
"As ethics violations by Thomas and others keep piling up, Chief Justice Roberts' lack of action becomes more egregious," he added. "The chief justice must demand Justice Thomas recuse himself from upcoming cases with Koch network conflicts of interest. We need accountability and reform now."

As Common Dreamsreported last Monday, Justice Samuel Alito, another member of the court's right-wing supermajority, has also faced calls to recuse himself from CFPB v. CFSA, given his private jet travel with billionaire Paul Singer, whose investment management firm holds at least $90 million in financial companies overseen by the agency.
"All justices personally close to proprietors of shady financial services firms should recuse themselves, full stop," Hauser declared Monday. "And if any justices persist in hearing this case despite being self-evidently biased, the case for rebalancing the Supreme Court to create an ethical majority will become even stronger."

News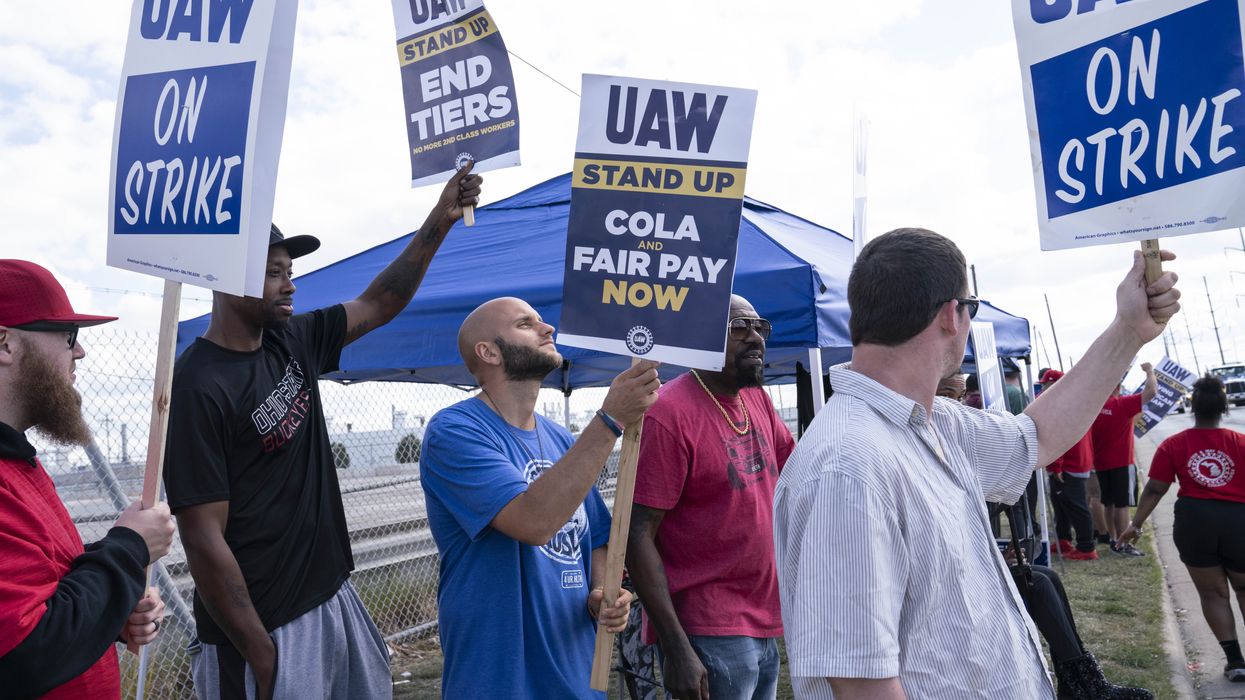 "Escalating CEO pay in recent decades has likely pulled up the pay of other top earners," notes a new Economic Policy Institute report. "This concentration of earnings at the top leaves fewer gains for ordinary workers."
A new analysis by the Economic Policy Institute shows that top U.S. CEOs saw their total compensation rise by 1,209% between 1978 and 2022 while typical worker pay rose just 15%—a chasm that is fueling the United Auto Workers strike and other labor actions across the country.
EPI's Josh Bivens and Jori Kandra found that the CEOs of the 350 largest publicly traded companies in the U.S. made 344 times more than a typical worker last year. In 1965, by contrast, the CEO-to-typical-worker pay gap was 21 to 1.
"Top CEO compensation grew roughly 28.1% faster than stock market growth during this period and far eclipsed the slow 15.3% growth in a typical worker's annual compensation," Bivens and Kandra noted in their report, which was released late last week.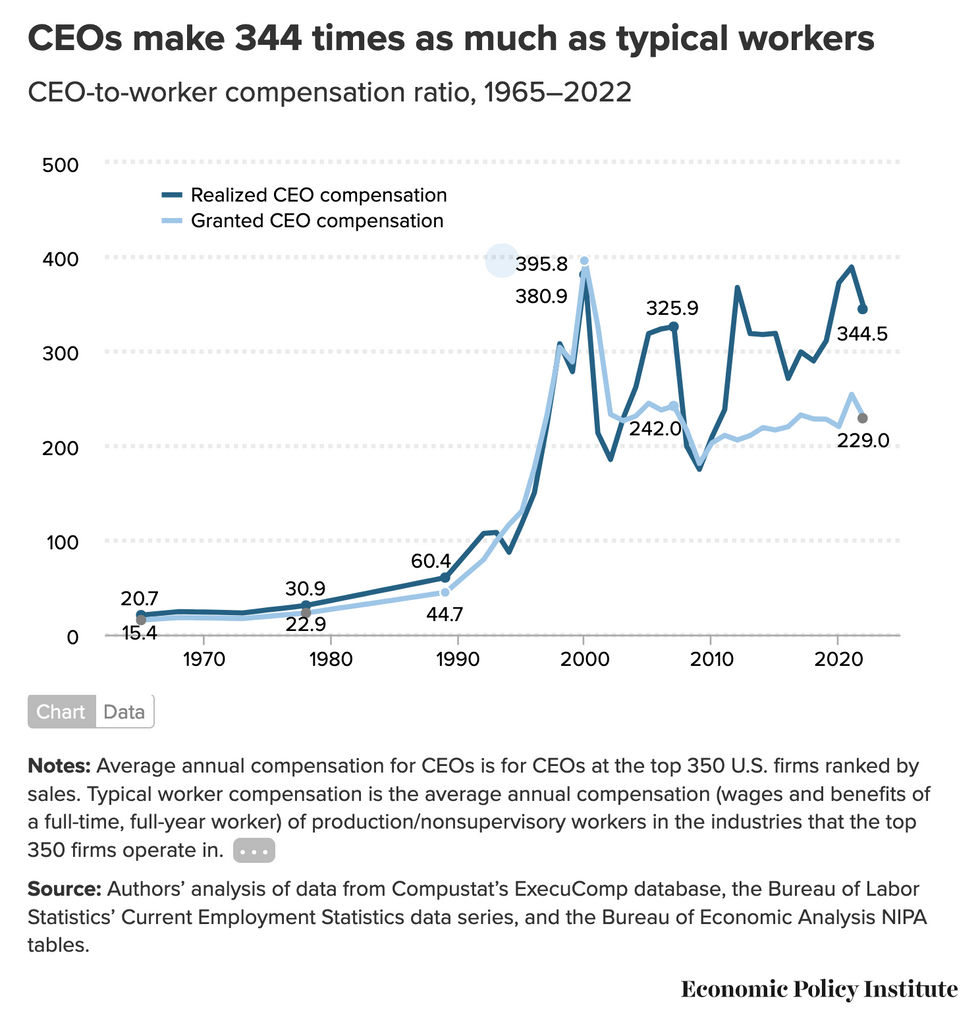 The analysis came as the UAW expanded its strikes against General Motors and Stellantis, accusing the auto giants of refusing to engage seriously with the union in contract negotiations.
UAW president Shawn Fain has repeatedly pointed to the exorbitant and rising compensation packages of GM CEO Mary Barra—who made $29 million last year—and other executives as evidence that the companies have chosen to prioritize enriching their leaders even as worker pay stagnates.
The UAW is demanding a 36% wage increase for autoworkers in the new four-year contract. Between 2013 and 2022, the CEOs of the Big Three U.S. car manufacturers received a 40% pay boost.

As The Associated Pressnoted earlier this month, "Fain's focus on CEO pay is part of a growing trend of emboldened labor unions citing the wealth gap between workers and the top bosses to bolster demand for better pay and working conditions."
"In June, Netflix shareholders rejected executive pay packages in a nonbinding vote, just days after the Writers Guild of America wrote letters urging investors to vote against the pay proposals, saying it would be inappropriate amid Hollywood's ongoing strike by writers," AP reported. "The WGA wrote similar letters targeting the executive pay at Comcast and NBCUniversal."
Bivens and Kandra stressed in their analysis that surging CEO pay "is not just a symbolic issue—it has contributed to rising inequality."
"CEOs are getting paid more because of their leverage over corporate boards, not because of contributions they make to their firms," they wrote. "Escalating CEO pay in recent decades has likely pulled up the pay of other top earners. This concentration of earnings at the top leaves fewer gains for ordinary workers."
News
Independent, nonprofit journalism needs your help.
Please Pitch In
Today!