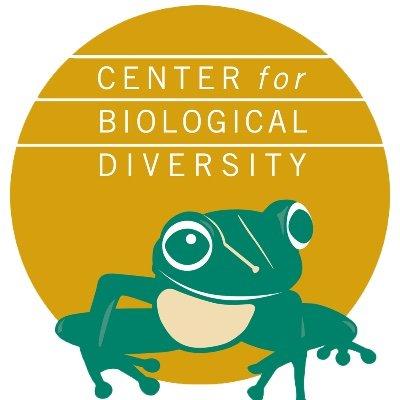 Lawsuit Challenges Trump Administration Approval of Massive Utah Oil Shale Development
Water-sucking Project Threatens Endangered Species, Climate, Air Quality
BONANZA, Utah
Conservation groups on Thursday sued the Trump administration to challenge what would be the nation's first commercial-scale oil shale mine and processing facility. The lawsuit says officials failed to protect several endangered species when they approved rights-of-way across public lands to provide utilities to the proposed oil shale development.
The massive Enefit project in northeast Utah's Uintah Basin would also drain billions of gallons of water from the Green River, generate enormous amounts of greenhouse gas pollution and exacerbate the Uintah Basin's often-dismal air quality.
Today's lawsuit, filed in U.S. District Court in Utah, argues that the U.S. Fish and Wildlife Service violated the law by ignoring the potential harm to endangered fish. In its biological opinion, the agency considered only the harm from water depletions necessary to build the pipeline, not the billions of gallons of Green River water that will be sent through the pipeline to Enefit's oil shale development.
The Bureau of Land Management also violated the law by failing to adequately analyze the significant environmental impacts of the proposed oil shale development, which likely would not occur but for the agency's approval of the rights-of-way.
"This is a prescription for disaster for our climate, wildlife, and the Colorado River Basin," said Ted Zukoski, a senior attorney at the Center for Biological Diversity. "Draining the Green River to mine one of the most carbon-intensive fuels on the planet sends us in exactly the wrong direction. It's putting us on a collision course with climate catastrophe so a foreign fossil-fuel company can make big bucks."
The Trump administration paved the way for the project last year by approving rights-of-way for electricity, oil, gas, and water lines across public lands. At full buildout, the Estonian-owned Enefit American Oil facility would produce 50,000 barrels of oil every day for the next 30 years or more from the Green River Formation.
"The environmental destruction, air pollution and water pollution inherent in this proposed oil shale mining project is something that every citizen of Utah should be alarmed about," said Dr. Brian Moench, president and founder of Utah Physicians for a Healthy Environment. "That it would become a long-term public health disaster is being callously dismissed by a BLM that is being run as a subsidiary of the dirty energy industry."
Huge amounts of water are required in the oil shale production process. The water pipeline will allow Enefit to drain more than 10,000 acre feet annually from the Green River, harming critical habitat for endangered fish, including the Colorado pikeminnow and the razorback sucker. The project comes as Western states struggle with record droughts and climate-driven declines in river flows in the Colorado River Basin.
"Our region is already feeling the effects of pollution and climate change. To destroy our public lands in order to drill for more polluting fossil fuels would be a disaster for our communities and our planet," said Dan Mayhew, conservation chair of the Utah Chapter of the Sierra Club. "We should be accelerating the transition to clean energy, not sacrificing our water, air quality, and climate for an investment in one of the dirtiest fossil fuels in the world. Today we continue the fight to ensure that federal agencies can't continue to approve dangerous, dirty energy projects without fully considering the totality of environmental damage that would result."
Enefit intends to strip-mine about 28 million tons of rock a year over thousands of acres of high-desert habitat, generating hundreds of millions of tons of waste rock. It will also construct a half-square-mile processing plant, about 45 miles south of Dinosaur National Monument, to bake the rock at extremely high temperatures to turn pre-petroleum oil shale rock into refinery-ready synthetic crude oil. That will require vast amounts of energy and emit huge amounts of ozone precursors in an area recently listed by the U.S. Environmental Protection Agency as not in attainment with healthy ozone standards.
"The responsible federal agencies have worn blinders in approving this project, leaving themselves and the public in the dark about the immense ecological harm it would cause," said Alex Hardee, associate attorney at Earthjustice. "We're going to court to uphold the nation's environmental laws and save the Upper Colorado River Basin from the devastating effects of oil shale."
Oil shale is one of world's most carbon-polluting fuels, with lifecycle carbon emissions up to 75 percent higher than those of conventional fuels.
"BLM's approach here is to ignore the elephant in the room, which never ends well," said Ann Alexander, senior attorney with Natural Resources Defense Council. "They've focused exclusively on the relatively small impact of building some power lines and pipes, hoping no one will notice that this infrastructure will facilitate large-scale environmental destruction. Well, we noticed."
The project would produce 547 million barrels of oil over three decades, spewing more than 200 million tons of greenhouse gas -- as much as 50 coal-fired power plants produce in a year. Those emissions would contribute to global warming and regional drought already afflicting the rivers and their endangered fish.
"Enefit's proposed oil shale operation could deplete more than 100 billion gallons over three decades," said Sarah Stock, program director at Living Rivers. "That's water taken away from other current water users and the downstream river ecosystem. The BLM needs to stop side-stepping their responsibilities by ignoring the devastating impacts that oil shale development will have on the climate and downstream water availability in the Colorado River Basin."
"As a result of mismanagement, drought, and accelerating climate change, the Colorado River system is on the verge of collapse," said Daniel E. Estrin, advocacy director at Waterkeeper Alliance. "Yet despite this crisis, BLM and FWS have approved rights-of-way across public lands for a project that could remove 100 billion gallons of water from the basin, push several endangered species closer to extinction, and rapidly degrade the water supply of almost 40 million people. These approvals, that will allow an Estonian hard rock oil shale company to exploit US public lands and resources, must be reversed."
"The BLM approved the rights-of-way to service Enefit's proposed oil shale mine and processing facility based on an utterly inadequate analysis of potentially devastating air, water, climate and species impacts," said Michael Toll, a staff attorney at Grand Canyon Trust. "Considering the rights-of-way are a public subsidy of an otherwise economically unfeasible oil shale development, the public has a right to know exactly how Enefit's project will impact their health and environment."
The groups filing today's lawsuit are Living Rivers/Colorado RiverKeeper, Center for Biological Diversity, Grand Canyon Trust, Natural Resources Defense Council, Sierra Club, Utah Physicians for a Healthy Environment and Waterkeeper. The groups are represented by attorneys from Earthjustice, Grand Canyon Trust and the Center for Biological Diversity.
At the Center for Biological Diversity, we believe that the welfare of human beings is deeply linked to nature — to the existence in our world of a vast diversity of wild animals and plants. Because diversity has intrinsic value, and because its loss impoverishes society, we work to secure a future for all species, great and small, hovering on the brink of extinction. We do so through science, law and creative media, with a focus on protecting the lands, waters and climate that species need to survive.
(520) 623-5252
LATEST NEWS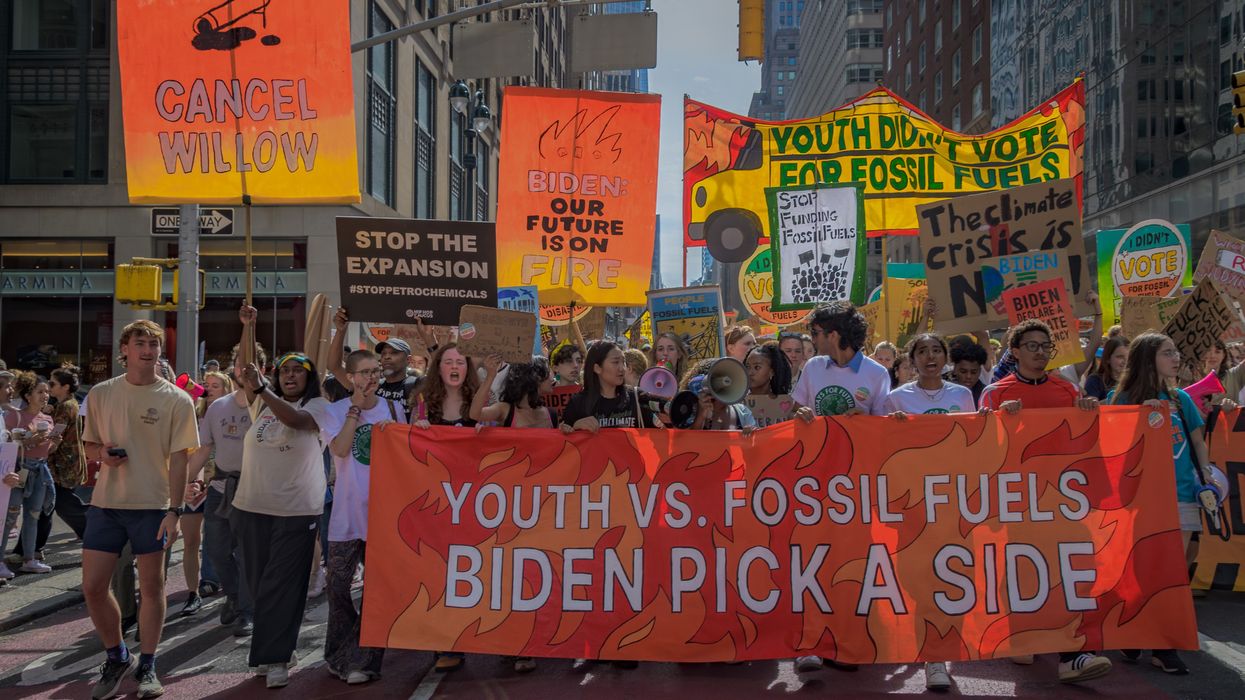 The U.S. president's no-show is "a betrayal to those who have rallied for him and a missed opportunity for him to deliver on his climate commitments," said 350.org's North American director.
U.S. President Joe Biden is drawing anger from environmental groups for opting not to attend this week's Climate Ambition Summit convened by United Nations Secretary-General António Guterres, a gathering billed as an effort to rally countries around plans to urgently phase out planet-warming fossil fuels as the window for action closes.

Biden's climate envoy, John Kerry, is set to attend the Wednesday summit as the U.S. representative, and he is not expected to speak.

"President Biden's decision not to attend is a betrayal to those who have rallied for him and a missed opportunity for him to deliver on his climate commitments," Jeff Ordower, the North American director of 350.org, said in a statement Tuesday.
"It is a disgrace that President Biden is skipping the Climate Ambition Summit," Ordower continued. "The president is dodging accountability to U.N. Secretary-General Guterres by refusing to halt new fossil fuel projects and rejecting Guterres' invitation to be a climate leader and back up his words with substantive action. Biden's inaction reveals how he shamelessly continues to sacrifice some of the most impacted Black, Brown, and Indigenous communities in service to an energy strategy that continues to privilege oil barons over those on the frontlines."
The event will take place on the sidelines of the U.N. General Assembly in New York City just days after more than 75,000 people took to the streets there to demand aggressive climate action from the U.S., the largest historical emitter of greenhouse gases and the world's biggest contributor to planned fossil fuel expansion.
"Showing up would mean exposing his inadequate climate policies and relentless support for fossil fuels on the global stage."
According to a report released last week by Oil Change International (OCI), planned oil and gas extraction in the U.S. accounts for more than a third of prospective fossil fuel expansion worldwide through 2050. OCI dubbed the U.S. "planet-wrecker-in-chief."

Allie Rosenbluth, U.S. program manager at OCI, said it's "no wonder" that Biden has opted to no-show the Climate Ambition Summit, "since showing up would mean exposing his inadequate climate policies and relentless support for fossil fuels on the global stage."
"Biden should be worried about this climate hypocrisy," said Rosenbluth.
In the lead-up to Wednesday's summit, Guterres has expressed hope that the event will help spur a "quantum leap" in the emissions reduction pledges of rich nations, which are disproportionately responsible for greenhouse gas pollution that is fueling increasingly extreme and deadly weather disasters across the planet.
But while Guterres has reportedly received requests from more than 100 countries to speak at the summit, the leaders of some of the world's major polluters—including the U.S., China, and the United Kingdom—aren't expected to attend.
"That is a worrying political signal about the seriousness with which countries are taking the goals of the summit," Rachel Cleetus, policy director of the Union of Concerned Scientists, wrote Monday. "Shame on world leaders if a year like this one—filled with tremendous suffering and exorbitant costs from human-caused climate change, and on track to be one of the hottest on record—is not enough to make them rise to the occasion."
News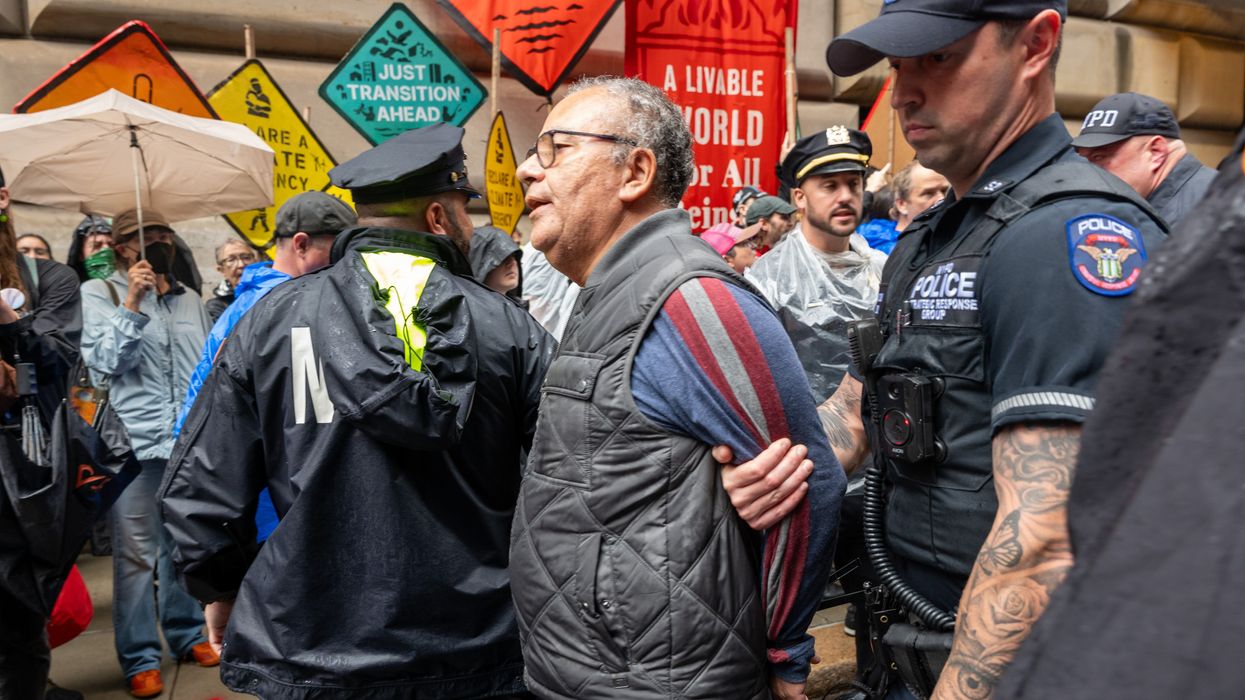 The activist group Climate Defiance asked: "Why are we getting handcuffed while people who literally torch the planet get celebrated for their 'civility' and their 'moderation'?"
A day after tens of thousands of climate activists marched through Manhattan's Upper East Side demanding an end to oil, gas, and coal production, thousands more demonstrators hit the streets of Lower Manhattan Monday, where more than 100 people were arrested while surrounding the Federal Reserve Bank of New York to protest fossil fuel financing.
Protesters chanted slogans like "No oil, no gas, fossil fuels can kiss my ass" and "We need clean air, not another billionaire" as they marched from Zuccotti Park—ground zero of the 2011 Occupy Wall Street movement—to pre-selected sites in the Financial District. Witnesses said many of the activists attempted to reach the New York Stock Exchange but were blocked by police.
"We're here to wake up the regulators who are asleep at the wheel as they continue to let Wall Street lead us into ANOTHER financial crash with their fossil fuel financing," the Stop the Money Pipeline coalition explained on social media.
Local and national media reported New York Police Department (NYPD) officers arrested 114 protesters and charged them with civil disobedience Monday after they blocked entrances to the Fed building. Most of those arrested were expected to be booked and released.
"I'm being arrested for exercising my First Amendment right to protest because Joe Manchin is putting a 300-mile-long pipeline through my home state of West Virginia and President [Joe] Biden allowed him to do it for nothing in return," explained Climate Defiance organizer Rylee Haught on social media, referring to the right-wing Democratic senator and the Mountain Valley Pipeline.
As she was led away by an NYPD officer, a tearful Haught said Biden "sold us out."
"He promised to end drilling on federal lands, and he's selling out Appalachia's future for profit," she added.
Responding to the "block-long" line of arrestees, Climate Defiance asked: "Why are we getting handcuffed while people who literally torch the planet get celebrated for their 'civility' and their 'moderation'?"
Alicé Nascimento of New York Communities for Change toldWABC that the protests—which are part of Climate Week and are timed to coincide with this week's United Nations Climate Ambition Summit—are "our last resort."
"We're bringing the crisis to their doorstep and this is what it looks like," said Nascimento.
As they have at similar demonstrations, protesters called on Biden to stop approving new fossil fuel projects and declare a climate emergency. Some had a message for the president and his administration.
"We hold the power of the people, the power you need to win this election," 17-year-old Brooklynite Emma Buretta of the youth-led protest group Fridays for Future told WABC. "If you want to win in 2024, if you do not want the blood of my generation to be on your hands, end fossil fuels."
News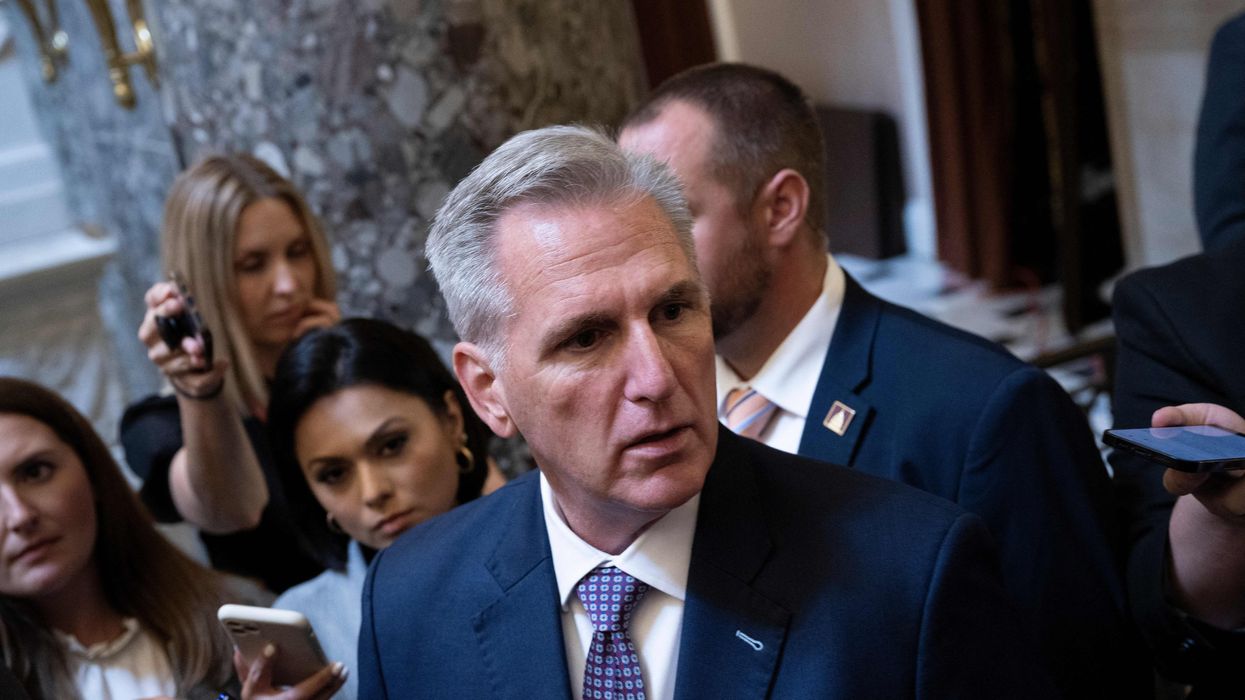 "The proposed continuing resolution backed by Speaker McCarthy is trying to force a path to deep cuts that were rejected in the debt ceiling deal he agreed to with President Biden earlier this year," said one expert.
Two weeks out from a U.S. government shutdown, some House Republicans on Sunday evening reached a potential deal—one which Democrats on Capitol Hill and other critics across the country warn is a dangerous proposal that is "doomed to fail."
The GOP's continuing resolution (CR) would avert a government shutdown on October 1, but the 30-day stopgap funding bill also lacks military assistance for Ukraine and requested U.S. disaster relief, would impose an 8% cut for nondefense spending, and includes immigration riders opposed by congressional Democrats and President Joe Biden.
House Speaker Kevin McCarthy (R-Calif.) "was well aware" that the CR wouldn't pass the Democrat-controlled upper chamber "but was hoping House passage would be a show of strength that would force a response from the Senate and potentially shift responsibility for a shutdown across the Rotunda," noted The New York Times.
However, Politicoreported Monday, "as details of the deal hashed out by leaders of the Main Street Caucus and House Freedom Caucus trickled out, a bevy of conservative hardliners piped up with various versions of 'Hell No'." At least a dozen far-right House members have voiced their opposition, with some suggesting they won't support any CR.
Congressional Progressive Caucus Chair Pramila Jayapal (D-Wash.) wrote on social media Monday that "we cannot allow Kevin McCarthy and his radical posse to throw yet another tantrum at the expense of poor and working Americans. Period."
The 87-member ProsperUS coalition said in a statement Monday that "these last-ditch efforts to slash critical investments in workers and families are deeply unpopular and doomed to fail. Extreme House GOP members should accept reality: The majority of Congress is with the American people in rejecting hostage-taking and painful and irresponsible cuts."
The coalition also noted that the proposed CR betrays the Fiscal Responsibility Act, the bipartisan debt ceiling deal Biden and McCarthy negotiated earlier this year, as House Republicans nearly forced an economically catastrophic U.S. default.
"The House majority should set aside this latest failed proposal and allow the full House to vote on government funding bills at or above the floor set in the bipartisan debt limit deal," ProsperUS argued. "Anything less would be a clear step backward for our economy and hurt the most vulnerable communities we represent."
In a series of posts on X, formerly Twitter, Center on Budget and Policy Priorities president Sharon Parrott similarly stressed that "the proposed continuing resolution backed by Speaker McCarthy is trying to force a path to deep cuts that were rejected in the debt ceiling deal he agreed to with President Biden earlier this year."
The GOP proposal would slash funding for federal programs—including on childcare, education, environmental protection, food assistance, medical research, and transportation—for 30 days, but that could be dragged out much longer. As Parrott explained, "The nondefense cuts will create some near-term challenges, but more importantly, once a CR is in place, it is likely to be extended until final appropriations bills are complete—which is sure to take more than a month."
"Congress needs to pass a CR that allows the government to continue operations until funding bills are done, addresses near-term needs that cannot wait for final appropriations bills, and doesn't try to renegotiate the debt ceiling agreement," she asserted. "The public deserves a government that stays open to deliver services people count on and policymakers who negotiate agreements in good faith and govern by a theory other than brinkmanship."
In an apparent reference to Sen. Ron Johnson (R-Wis.) blocking a "minibus" packaging three spending bills, Parrott also said that "last week's hiccup notwithstanding, the Senate has demonstrated that reasonable funding bills crafted under the basic framework of the debt ceiling agreement can garner broad bipartisan support."
Senate Appropriations Committee Chair Patty Murray (D-Wash.) on Monday moved to suspend a rule invoked by Johnson—which will require 67 votes later this week.
"This is an effort to move forward on the minibus, and keep the appropriations process on track here in the Senate," said Senate Majority Leader Chuck Schumer (D-N.Y.) on Monday. "It's unfortunate that one member—who does not represent the views of most senators—prevented us from moving forward last week."
"But I believe a majority of senators want to keep moving forward. Our Republican colleagues have asked for regular order and we have worked with them to let that happen," he added, thanking not only Murray but also Susan Collins (R-Maine), the top Republican on the Senate Appropriations Committee, who last week called out Johnson.
Schumer also took aim at Republicans in the lower chamber for "what they called a deal for a CR but in reality reads like a hard-right screed," declaring that the proposal "can be boiled down to two words: slapdash, reckless. Slapdash because it is not a serious proposal for avoiding a shutdown, and reckless because if passed it would cause immense harm to so many priorities that help the American people."
"To his credit, the speaker knows a shutdown would be a terrible outcome. When I spoke with him in late July, we had a very encouraging conversation about the need for bipartisanship to avoid a shutdown. We both recognized that a bipartisan CR would be the way forward," Schumer added. "Two months later, a bipartisan CR is still the only answer for avoiding a government shutdown. I urge Speaker McCarthy, as well as reasonable House Republicans, to resist the 30 or so extremists within their ranks who seem dead-set on provoking a crisis."
News
Independent, nonprofit journalism needs your help.
Please Pitch In
Today!