For Immediate Release
March, 23 2018, 08:45am EDT
WASHINGTON
In response to President Trump's announcement that John Bolton will take over as national security advisor effective April 9, 2018, Jon Rainwater, Executive Director of Peace Action, released the following statement:
"You would be hard pressed to find anyone who's ever held public office in the U.S. who would be a more dangerous choice for the role of national security advisor than John Bolton. The national security advisor works just a few steps away from the President. Putting such a knee-jerk, perennial hawk in that office does not bode well for the peace and security of the United States.
"John Bolton's record of pushing for military solutions to diplomatic problems is unsurpassed. Bolton was one of the chief advocates for the disastrous Iraq war and unlike many Iraq hawks he still thinks the invasion was a good idea. Bolton called for bombing Iran during the height of nuclear negotiations that led to the successful implementation of the Iran agreement. And during the Bush administration his fingerprints are all over the failure of nuclear diplomacy with North Korea that led ultimately to North Korea testing its first nuclear device. Paired with the nomination of Mike Pompeo as Secretary of State, this signals that the Trump administration has little interest in pursuing real diplomacy with North Korea, in fact, Bolton's recent advocacy for preventive strikes on North Korea suggests just the opposite.
"This isn't just another terrible appointment, this tips Trump's hand about the likelihood of military action on the Korean Peninsula. Americans who recognize the recklessness of starting a war with North Korea need to stand up make themselves heard. Whether or not Trump follows through with his plan to meet with Kim Jong-un, Bolton's appointment to this central role at the national security council strongly suggests Trump intends to sabotage the budding diplomatic opening, declare that diplomacy failed, and pivot back to war."
Peace Action is the United States' largest peace and disarmament organization with over 100,000 members and nearly 100 chapters in 34 states, works to achieve the abolition of nuclear weapons, promote government spending priorities that support human needs and encourage real security through international cooperation and human rights.
LATEST NEWS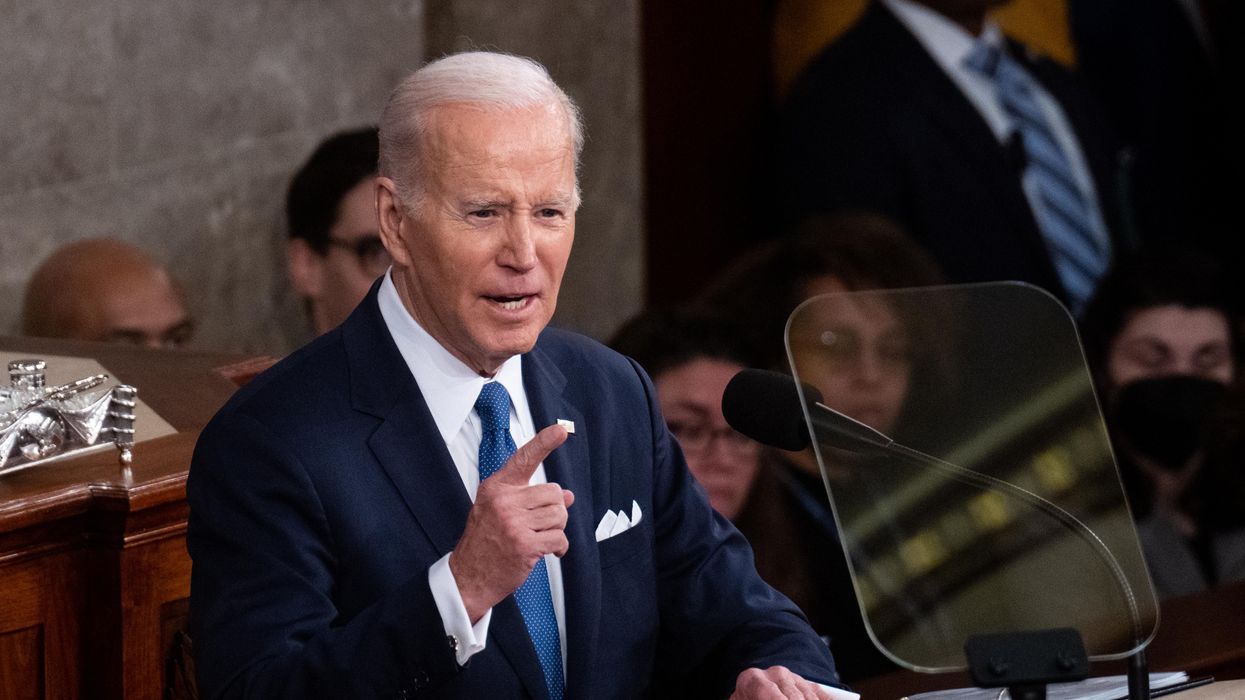 "President Biden needs to stop approving fossil fuel infrastructure projects, end fossil fuel production on public lands and waters, and declare a climate emergency," said one climate campaigner.
President Joe Biden said during his State of the Union address Tuesday that the climate crisis is an "existential threat" and political leaders have an obligation to confront it.
Seconds later, the president briefly deviated from his prepared remarks to add, "We're still going to need oil and gas for a while"—prompting applause from Republican lawmakers.
To climate advocates, Biden's comments underscored the tension between the president's exhortations to treat climate change like the emergency it is and his continued approval of fossil fuel drilling projects that will spew millions upon millions of tons of planet-warming carbon dioxide into the atmosphere each year, making it more difficult to meet critical emission-reduction targets.

Biden noted accurately in his speech that the Inflation Reduction Act, which became law last year, is "the most significant investment" in the nation's history to combat the climate crisis, which is fueling increasingly extreme weather events that displaced more than 3 million adults across the U.S. in 2022—and tens of millions more globally.
But environmentalists said there's much more the president can do, unilaterally, to bring rising U.S. emissions into line with the administration's pledges and phase out fossil fuel production that is driving habitat destruction, species extinction, sea level rise, and other catastrophic outcomes.
"There is no denying that President Biden has made important strides to invest in renewable energy through the passage of the Inflation Reduction Act," said Jeff Ordower, 350.org's North America director. "However, we are not truly living up to real climate solutions if Biden continues to rely on the fossil fuel industry and allow them to pump more oil and gas."
"Biden casually suggested that the U.S. will 'need oil for at least a decade or longer'—this is unacceptable," Ordower added.
"When it comes to fossil fuel development on our public lands, President Biden must match his words with actions."
The State of the Union address came just a week after the Biden administration took a key step toward approving a massive ConocoPhillips drilling project on Alaska's North Slope. Even under the scaled-back version that the Bureau of Land Management has suggested, the Willow Project would emit an estimated 9.2 million metric tons of carbon dioxide each year.
Ordower noted that, if granted final approval by the Interior Department, Willow "would be the largest oil and gas development on federal land."
"As long as the United States continues to green light fossil fuel projects like the ConocoPhillips Willow Project," he argued, "the U.S. will not be able to bring down emissions or meet its targets. President Biden needs to stop approving fossil fuel infrastructure projects, end fossil fuel production on public lands and waters, and declare a climate emergency to truly protect frontline and BIPOC communities and live up to his promises."
More than two years into his presidency, Biden has badly failed to meet his campaign pledge to end new oil and gas leasing on public lands and waters. According to one recent study, the Biden administration approved more fossil fuel drilling permits during its first two years than its openly industry-friendly predecessor.
Last month, more than 300 climate organizations outlined nine steps Biden can take without congressional approval to rein in climate-wrecking fossil fuel production, including halting "new exploration, development, and drilling permits in the Gulf of Mexico and Alaska."
Abigail Dillen, the president of Earthjustice, said in a statement Tuesday night that "when it comes to fossil fuel development on our public lands, President Biden must match his words with actions, which means saying no to greenlighting projects like Willow in the Western Arctic, which will harm fragile ecosystems already harmed by climate change, emit hundreds of millions of tons of carbon dioxide, and further line the pockets of oil and gas companies who continue to rake in record profits."
Dillen went on to lament that "too many devastating Trump rules remain on the books." E&E Newsreported last month that "among the big-ticket environmental policy reversals the Biden team hasn't yet completed are regulations surrounding how government agencies consider the environmental impacts of their decisions, endangered species protections, and limits on power plants' emissions of greenhouse gases and air toxics."
"We need the Biden administration to finalize strong rules to hold polluting industries accountable and protect communities from pollution," Dillen said.
Varshini Prakash, executive director of the youth-led Sunrise Movement, said late Tuesday that while "we've heard a lot of good things" from Biden, "he must act on his words, use his full executive authority to stop the climate crisis, and deliver for our generation."
News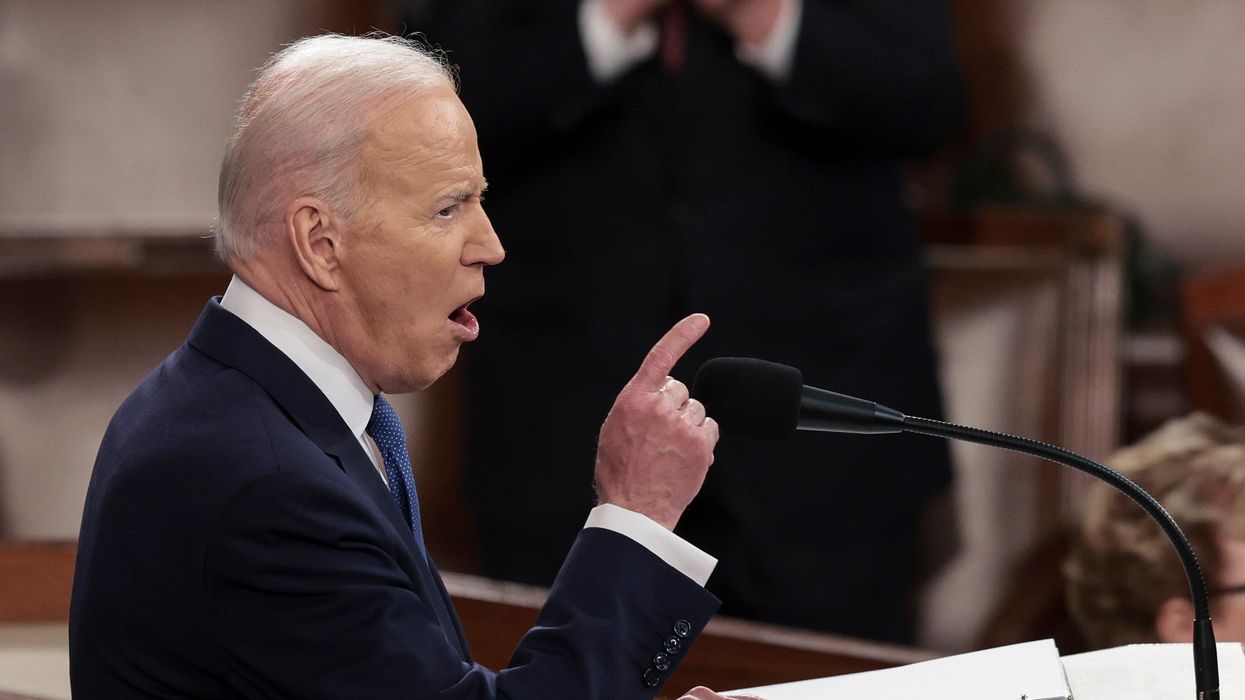 "Over 100,000 of our loved ones being lost to avoidable overdoses a year is not because of a lack of enforcement, it's a direct result of it," the director of the Drug Policy Alliance argued.
U.S. drug policy reform advocates condemned President Joe Biden's commitment to "accelerating the crackdown on fentanyl trafficking" as part of his administration's strategy for tackling the opioid crisis, a policy the White House announced in a preview of Tuesday night's State of the Union address.

Although the SOTU preview says the administration will be "expanding access to evidence-based prevention, harm reduction, treatment, and recovery," the document says Biden will "work with Congress to make permanent tough penalties on suppliers of fentanyl," fentanyl analogs, and fentanyl-related substances (FRS).
The outline states that Biden "looks forward to working with Congress on its comprehensive proposal to permanently schedule all illicitly produced FRS into Schedule I," the most severe Drug Enforcement Administration classification.
"The push to place all fentanyl-related substances in Schedule I is unfortunate and misguided. Schedule I is supposed to be for substances that we know to be harmful and not helpful."
"Traffickers of these deadly substances must face the penalties they deserve, no matter how they adjust their drugs," the preview asserts.
In response to the SOTU preview, Maritza Perez Medina, director of the office of federal affairs at the Drug Policy Alliance, said in a statement that "we are glad to see President Biden continue to call for increased access to evidence-based treatment, harm reduction, and recovery services."
"But, his support for harsher penalties for fentanyl-related substances—which will result in broader application of mandatory minimum sentencing and disproportionately harm Black, Latinx, and Indigenous communities—in the same breath is incredibly counterproductive and fails to recognize how we got to this place to begin with," she asserted. "Over 100,000 of our loved ones being lost to avoidable overdoses a year is not because of a lack of enforcement, it's a direct result of it."
\u201c\ud83d\udea8BREAKING\ud83d\udea8 @POTUS' State of the Union Comments on Fentanyl-Related Substances Run Counter to Commitments on Public Health and Criminal Justice Reform \ud83d\udce2 FULL QUOTE from @DrugPolicyOrg @DPA_OFA Director @MariPerMed IN THREAD \ud83d\udc47 https://t.co/kGYX8kQ1tx\u201d

— Matt Sutton (@Matt Sutton) 1675810566
Gregory Dudley, who chairs the chemistry department at West Virginia University, argued that "the push to place all fentanyl-related substances in Schedule I is unfortunate and misguided. Schedule I is supposed to be for substances that we know to be harmful and not helpful."
"We don't know which of these substances would be harmful or helpful, and how could we without testing them?" Dudley asked. "Some of these substances could be lifesaving opioid antagonists like naloxone, or better. This proposal prioritizes criminalization over healthcare."

Susan Ousterman, who lost her son Tyler to an accidental overdose in 2020 and subsequently founded the Vilomah Memorial Foundation, said that "it's incredibly disheartening to see the president co-opting the grief of mothers like me in an attempt to increase penalties, rather than prioritizing the health measures that are desperately needed to save lives."
"Increased penalties for people who use or sell drugs, including fentanyl-related substances, would not have kept my son alive or the countless children of other mothers I have met," Ousterman stressed. "In fact, it's policies such as these that created the increased stigma and fear that kept our children from accessing help, and it's what has led to the increasingly dangerous drug supply that resulted in their deaths."
"It's time for the president and other policymakers to prioritize the lives of all humans by embracing a health approach rather than engaging in politics that only perpetuate this disastrous war on drugs," she added. "As a person who understands the profound impact both substance use and child loss have on families, I expected more."
Biden was one of the architects of the 1980s escalation of the War on Drugs. He coined the term "drug czar" while advocating the establishment of the cabinet-level position and was a key supporter of the 1994 Violent Crime Control and Law Enforcement Act, legislation that accelerated U.S. mass incarceration.

News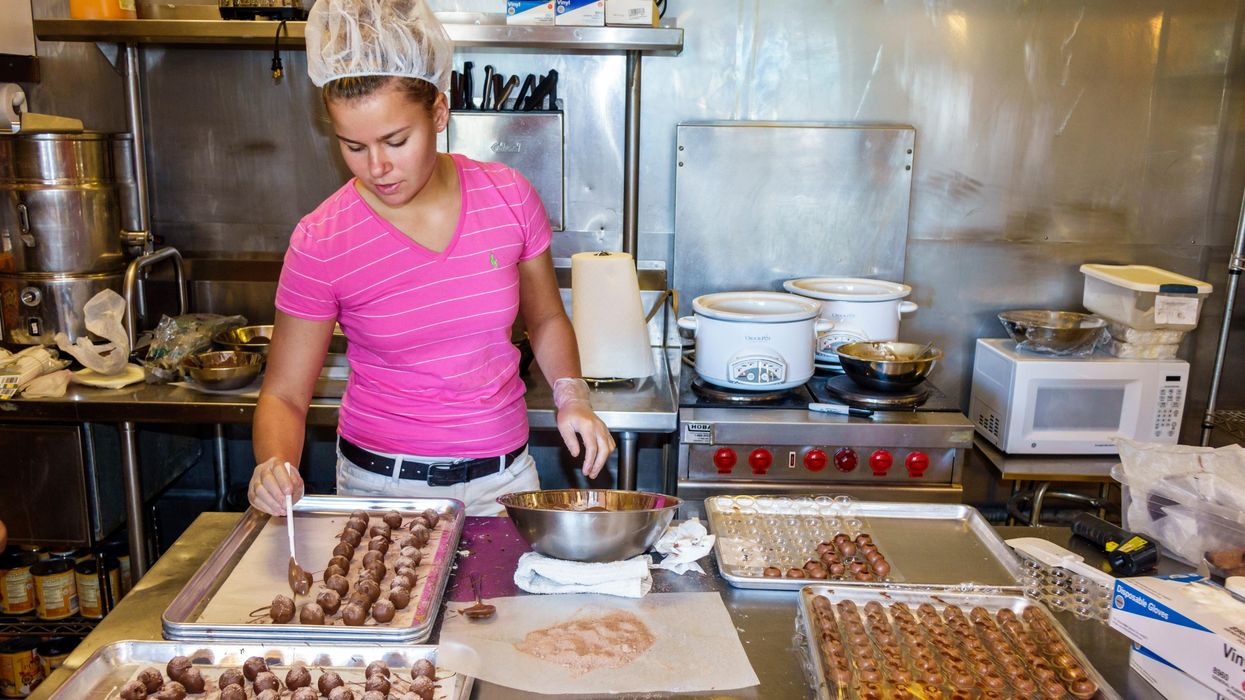 "This is just crazy," said the president of the Iowa Federation of Labor, AFL-CIO. "A kid can still lose an arm in a work-based learning program."

Labor advocates on Tuesday decried a business-backed bill introduced by Republican state lawmakers in Iowa that would roll back child labor laws so that teens as young as 14 could work in previously prohibited jobs including mining, logging, and animal slaughtering—a proposal one union president called dangerous and "just crazy."
Senate File 167, introduced by state Sen. Jason Schultz (R-6) would expand job options available to teens—including letting children as young as 14 work in freezers and meat coolers and loading and unloading light tools, under certain conditions.
Teens under 18 would still be generally barred from employment in fields including mining, logging, demolition, and meatpacking, and from operating potentially dangerous machinery and equipment including circular saws, guillotine shears, and punching machines.
However, the Des Moines Registerreports the proposed law contains "an entirely new section" that "would allow the Iowa Workforce Development and state Department of Education heads to make exceptions to any of the prohibited jobs for teens 14-17 'participating in work-based learning or a school or employer-administered, work-related program.'"
\u201cThe new Iowa bill would also completely lift a ban on 14 and 15-year-olds working in freezers and meat coolers, and allow kids as young as 14 1/2 to drive themselves to work. Other dangerous jobs would be allowed with exemptions.\n\nhttps://t.co/t1nEAl4mEo\u201d

— More Perfect Union (@More Perfect Union) 1675781655
The proposed bill—which comes amid an ongoing labor shortage in Iowa—also expands the hours teens may work, and shields businesses from liability if a minor employee is sickened, injured, or killed as a result of a company's negligence.

"This is just crazy," Charlie Wishman, president of the Iowa Federation of Labor, AFL-CIO, told the Des Moines Register. "A kid can still lose an arm in a work-based learning program."
Wishman said the bill will gut more than a century of child labor protections, many of which were enacted in an era when "children were hurt and killed" on the job.
\u201cInstead of raising the minimum wage and paying adults more or funding a social safety net, Iowa would rather bring back child labor.\u201d

— Lyz Lenz (@Lyz Lenz) 1675789111
"The idea of putting children into work activities that could be dangerous is something that is not only irresponsible but reprehensible," Wishman added.
Iowa state Sen. Claire Celsi (D-16) called the proposed legislation "another sign that the labor market in Iowa is in big trouble."
"Businesses are so desperate to hire warm bodies that they want politicians to bend child labor laws (and eliminate corporate liability)," she wrote on Twitter.
\u201cIf you squint, you can see the future that the GOP envisions and it looks a lot like the past. Education will be a privilege for those who can afford it. For the rest, there is labor. Just don't get hurt! https://t.co/Ynke4bEKeG\u201d

— Jennifer Berkshire (@Jennifer Berkshire) 1675349664
State Sen. Nate Boulton (D-20), an attorney specializing in labor law, described the bill as "offensive."
"Putting children at risk, and creating immunity for that risk, is not acceptable," he told Iowa Starting Line.
As in other states, child labor violations are not uncommon in Iowa, with immigrant minors particularly susceptible to exploitation.

"These efforts to roll back child labor laws overlap with the conservative changes to school curriculum," tweeted education podcaster and author Jennifer Berkshire. "The through line is an effort to teach kids that free enterprise rules and that the boss is king."

News
SUPPORT OUR WORK.
We are independent, non-profit, advertising-free and 100%
reader supported.