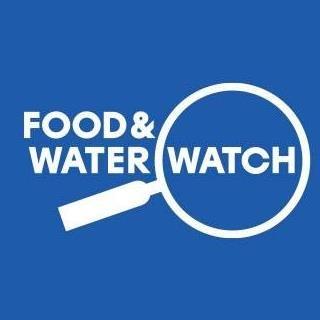 Global Frackdown Connects Communities Around the World to Call for a Global Ban on Fracking
Global Movement to Ban Fracking Urges Ban Ki-moon to Reject Controversial Process
WASHINGTON
Just two weeks after the largest climate march in history, over 250 groups from nearly 40 countries urged United Nations Secretary General, Ban Ki-moon, to reject fracking as a part of the Sustainable Energy for All Initiative in a letter sent to him today. This came on the eve of the Global Frackdown, a Food & Water Watch initiated international day of action to ban fracking on October 11th that will feature hundreds of actions on six continents, demonstrating broad support for a ban on fracking.
"Across the globe a powerful movement is emerging that rejects policies incentivizing fracked natural gas as a bridge fuel to as sustainable future. Any initiative claiming to promote sustainable energy for all must stimulate energy efficiency and renewable energy programs, not foster fracking for oil and gas," said Food & Water Watch Executive Director, Wenonah Hauter. "The hundreds of Global Frackdown events mark the growing consensus that fracking should be banned and that the United Nations should be on the forefront of pushing for truly sustainable energy solutions."
Scientific evidence continues to mount that fracking is inherently unsafe, endangering natural resources and threatening public health. Fracked gas is beginning to be recognized as a much greater driver of global warming than originally thought. The Intergovernmental Panel on Climate Change (IPCC) found that over a 20-year time frame that methane is 87 times more potent in trapping heat then carbon dioxide. Efforts to curb climate change have traditionally focused solely on carbon dioxide, but these efforts will remain inconsequential if the climate impacts of methane are not seriously addressed.
"Fracking is poisoning underground water, the air and peoples' livelihoods, so the gas corporations can make massive profits under the guise of aborting to some degree global warming," said Australian activist and Global Frackdown event host Dr. Helen Caldicott. She continues, "fracking involves the use of up to 200 chemicals releases not only methane but chemically contaminated water containing radium, radon and other radioactive elements. Because of fugitive emissions at the well sites, natural gas in all its iterations has a greater impact upon global warming than CO2."
A recent Food & Water Watch report, a comprehensive review of more than 150 recent studies on fracking's impacts, concludes that only an outright ban will protect our water, air, health and climate from the disastrous consequences of fracking for oil and gas.
"The oil and gas industry's primary players are multinational corporations with international influence," explains Gasland Director, Josh Fox. "Wherever there is fracking; water contamination, air pollution and health concerns plague the people living near those operations. Fracking is a global problem that is fought in communities across the world. Taking local actions across the globe for the Global Frackdown is the best way to collectively unite our voices to stand up and show not only local leaders, but the entire international community that the people are not beholden to the fossil fuel industry and want to ban fracking and to move quickly to develop renewable energy now."
Although fracking has global consequences, many decisions regarding this practice are made at the state and local level. The Global Frackdown is an opportunity for people to take a stand against a global problem, right in their own communities. Dr. Sandra Steingraber, an active anti-fracking activist in New York, explains why she is joining the Global Frackdown: "As a doctor, I know the adverse health and environmental effects of fracking, but I'm also fighting this accident-prone, methane-leaking, carcinogen-dependent industry as a mother, for the sake of my own children and the world I'm leaving to them. Banning fracking in New York will show my young son and daughter--as well as the nation and the world-that the oil and gas industry Goliath can be beaten with a slingshot made of science, love, and political power, and renewable energy solutions."
Food & Water Watch mobilizes regular people to build political power to move bold and uncompromised solutions to the most pressing food, water, and climate problems of our time. We work to protect people's health, communities, and democracy from the growing destructive power of the most powerful economic interests.
(202) 683-2500
LATEST NEWS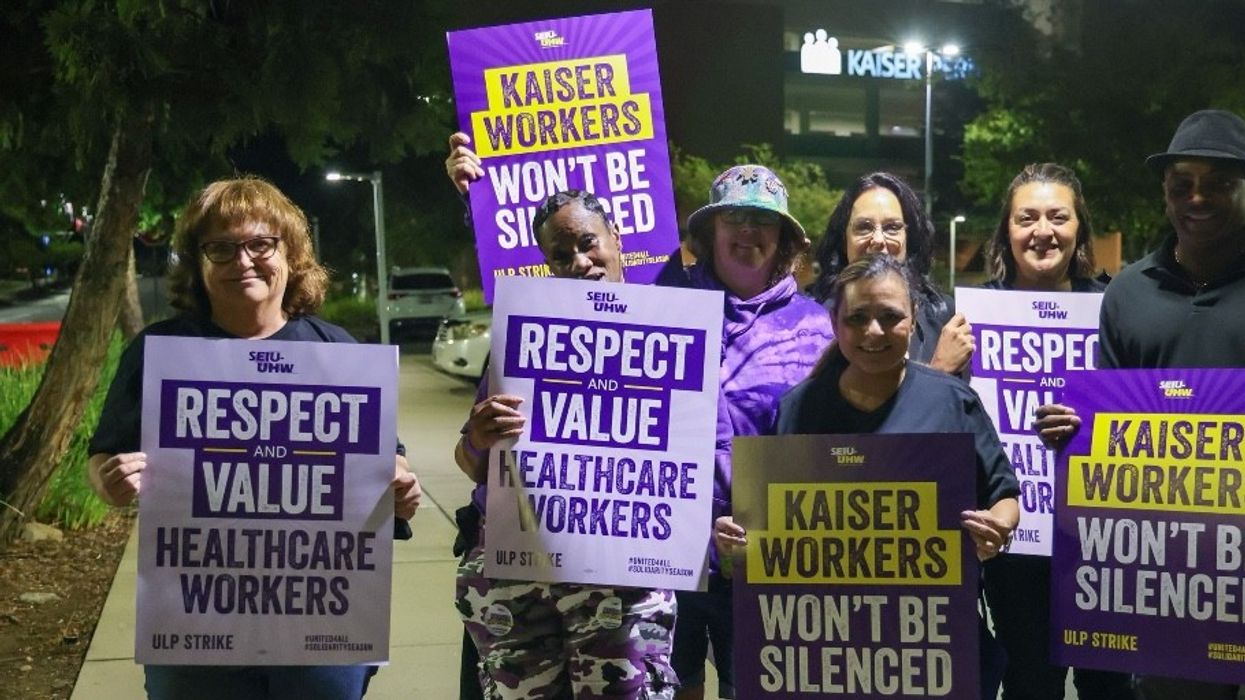 "We have folks getting injured on the job because they're trying to do too much and see too many people and work too quickly," said one union leader, demanding better staffing levels. "It's not a sustainable situation."
Tens of thousands of healthcare workers across the United States began a three-day strike against Kaiser Permanente on Wednesday to protest the nonprofit hospital giant's alleged unfair labor practices, bad-faith bargaining, inadequate wages, and chronic staff shortages that employees say are harming them and patients.
The Coalition of Kaiser Permanente Unions, which represents the 75,000 Kaiser workers who are expected to walk off the job Wednesday, said picket lines will be set up at hundreds of Kaiser hospitals and facilities in California, Colorado, Washington, and other states, as well as in Washington, D.C.
The walkout is expected to be the largest healthcare worker strike in U.S. history.
"Jobs affected by the strike include licensed vocational nurses, emergency department technicians, radiology technicians, ultrasound sonographers, teleservice representatives, respiratory therapists, x-ray technicians, optometrists, certified nursing assistants, dietary services, behavioral health workers, surgical technicians, pharmacists and pharmacy technicians, transporters, home health aides, phlebotomists, medical assistants, dental assistants, call center representatives, and housekeepers, among hundreds of other positions," the coalition said in a statement.
Renée Saldaña, a spokesperson for SEIU United Healthcare Workers West—which is part of the Kaiser union coalition—told the Los Angeles Times that "healthcare workers want to be at the facilities with their patients."
"They're doing this for their patients because of the delays in care, because of the short-staffing crisis," said Saldaña.
The strike kicked off after contract talks between union negotiators and Kaiser—which reported nearly $3.3 billion in net income in the first half of 2023—stalled Tuesday night without a tentative contract agreement. The previous four-year contract expired at the end of September, and negotiations over a new agreement began in April.

"We continue to have frontline healthcare workers who are burnt out and stretched to the max and leaving the industry," Caroline Lucas, executive director of the Coalition of Kaiser Permanente Unions, toldCNBC. "We have folks getting injured on the job because they're trying to do too much and see too many people and work too quickly. It's not a sustainable situation."
Union negotiators have called on Kaiser to hire at least 10,000 new workers by the end of the year to help alleviate staff shortages that—according to a recent survey of healthcare workers in California—have resulted in care being delayed or denied.
Negotiators have also demanded a $25 minimum wage for all Kaiser employees and a 24.5% wage increase over the course of a new four-year contract.

The company has refused to meet many of the unions' core demands, offering wage proposals that would not even keep up with inflation.

"Kaiser executives are refusing to listen to us and are bargaining in bad faith over the solutions we need to end the Kaiser short-staffing crisis," said Jessica Cruz, a licensed vocational nurse at Kaiser Los Angeles Medical Center. "I see my patients' frustrations when I have to rush them and hurry on to my next patient. That's not the care I want to give. We're burning ourselves out trying to do the jobs of two or three people, and our patients suffer when they can't get the care they need due to Kaiser's short-staffing."
News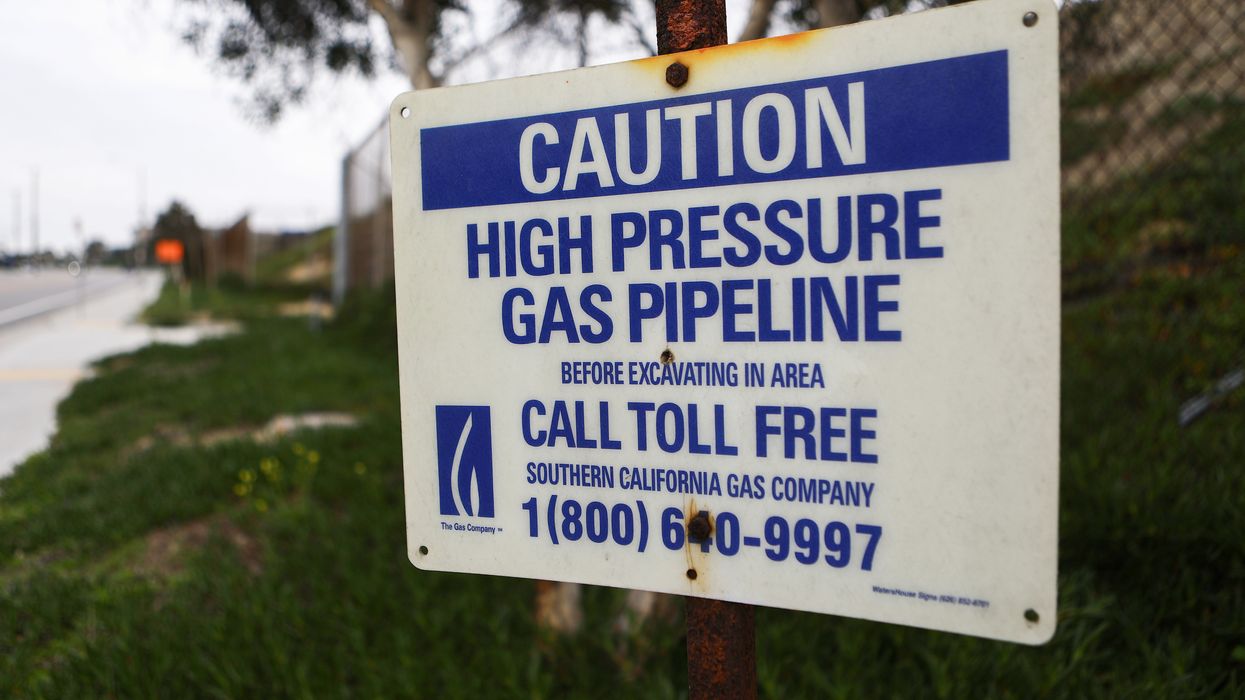 "CO2 spewing from a ruptured pipeline can suffocate humans and animals without notice," more than a dozen House Democrats wrote to President Joe Biden.

Reps. Ilhan Omar and Chuy Garcia led a group of House Democrats on Tuesday in urging President Joe Biden to put a moratorium on federal permitting for new CO2 pipelines—infrastructure at the center of unproven carbon capture efforts—until robust safety regulations are finalized, warning that the current regulatory vacuum is a serious threat to public health.

"As an invisible and odorless asphyxiant, CO2 spewing from a ruptured pipeline can suffocate humans and animals without notice," Omar (D-Minn.), Garcia (D-Ill.), and 11 other lawmakers wrote in a letter to Biden. "Transporting CO2 under the extremely high pressure required to maintain a supercritical fluid state can cause ruptures that 'unzip' a pipeline over long distances, allowing CO2 to escapebefore the flow can be stopped."
The House Democrats called on the president to use his executive authority to place a moratorium on federal CO2 pipeline permits until the Pipeline and Hazardous Materials Safety Administration (PHMSA) completes work on safety regulations that the agency announced last year.

The lawmakers noted that "current regulations do not cover pipelines transporting CO2 as a gas or subcritical liquid, and are tailored to address the transport of hydrocarbon hazardous liquids, such as crude oil and refined petroleum products, which carry vastly different safety risks."
"New pipeline infrastructure will invariably put more communities in danger given the complexity of transporting CO2 thousands of miles."
There are currently around 5,000 miles of carbon dioxide pipelines in the U.S., according to the PHMSA, and analysts say that most of the existing pipelines are used for enhanced oil recovery—a process that involves pumping captured CO2 into oil wells in an effort to produce more oil.
But the Biden administration is pushing for an expansion of CO2 pipelines as part of what climate advocates say is a misguided and irresponsible buildout of carbon capture and storage infrastructure that's supported by the fossil fuel industry.
The bipartisan infrastructure law that Biden signed in 2021 boosts a tax credit that will incentivize the proliferation of CO2 pipelines, which have prompted major safety concerns and opposition from local communities. Jesse Jenkins, a professor of engineering at Princeton University, toldNPR that the U.S. could have more than 65,000 miles of CO2 pipelines within the next few decades.
The Democratic lawmakers point to NPR's reporting in their letter, writing that their concerns about the safety of the carbon dioxide infrastructure "are exemplified by the 2020 rupture of a pipeline, operated by Denbury Gulf Coast Pipelines, transporting CO2 in Satartia, Mississippi."
Earlier this year, NPRdocumented the harrowing experience of Satartia residents impacted by the rupture. One emergency worker said the terrifying scene "looked like you were going through the zombie apocalypse."
On Feb. 22, 2020, a clear Saturday after weeks of rain, Deemmeris Debra'e Burns, his brother and cousin decided to go fishing. They were headed home in a red Cadillac when they heard a boom and saw a big white cloud shooting into the evening sky.

Burns' first thought was a pipeline explosion. He didn't know what was filling the air, but he called his mom, Thelma Brown, to warn her to get inside. He told her he was coming.

Brown gathered her young grandchild and great-grandchildren she was watching, took them into her back bedroom, and got under the quilt with them. And waited...

Little did she know, her sons and nephew were just down the road in the Cadillac, unconscious, victims of a mass poisoning from a carbon dioxide pipeline rupture. As the carbon dioxide moved through the rural community, more than 200 people evacuated and at least 45 people were hospitalized. Cars stopped working, hobbling emergency response. People lay on the ground, shaking and unable to breathe.
The lawmakers warned that "new pipeline infrastructure will invariably put more communities in danger given the complexity of transporting CO2 thousands of miles with what could create dozens of points of entry and exit for CO2."
"Since PHMSA has authority over the safety of CO2 pipelines, states confront preemption issues, restricting their ability to protect residents from the dangers CO2 pipelines pose," the lawmakers wrote. "The absence of strong regulations leaves urban and frontline communities at greater risk, as carbon capture and storage, which depends on CO2 pipelines to function, rises in prominence."
The PHMSA is expected to release its updated regulations next year.

Jim Walsh, policy director of Food & Water Watch (FWW), applauded the lawmakers' call for a moratorium, saying that "communities across the country are opposing these carbon capture pipelines because they understand the risks they pose to their health and safety." FWW is one of the more than 150 environmental justice groups that demanded a moratorium in May.
"President Biden needs to use his authority to immediately enact a moratorium on permits for these dangerous projects," Walsh said Tuesday.
News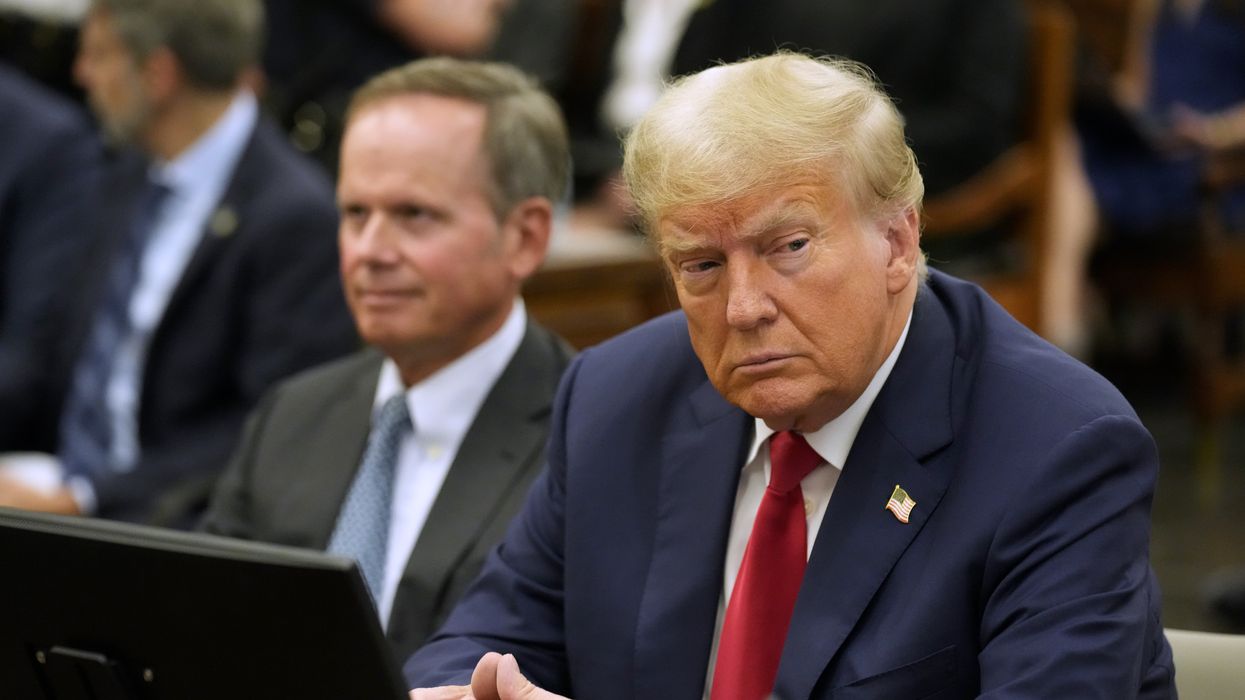 "Personal attacks on members of my court staff are unacceptable, inappropriate, and I will not tolerate them in any circumstances," said Justice Arthur Engoron.
In a New York on Tuesday afternoon, Justice Arthur Engoron issued a gag order against former President Donald Trump and said he would face further "serious sanctions" if he issues any more threats or public comments against the judge, his staff, or the court where Trump is on trial for civil fraud.
Engoron, who sits on the New York City Civil and State Supreme Court, issued the order shortly after the Republican 2024 presidential candidate's claimed on social media that Engoron's clerk is "running this case against" him.
"Consider this statement a gag order forbidding all parties from posting, emailing, or speaking publicly about any of my staff," he said. "Personal attacks on members of my court staff are unacceptable, inappropriate, and I will not tolerate them in any circumstances."
During a lunch break on Tuesday, Trump posted a photo of the clerk, attorney Allison Greenfield, with U.S. Senate Majority Leader Chuck Schumer (D-N.Y.) and called her "Schumer's girlfriend."

"How disgraceful! This case should be dismissed immediately," he wrote on Truth Social in a post that Engoron ordered him to delete.
On Monday as the trial opened, Trump called the proceedings a "scam," "a continuation of the single greatest witch hunt of all time," and "an attempt to hurt me in an election."
The judge noted on Tuesday that he had "warned counsel off the record about the former president's comments yesterday, but the warning went unheeded," according toThe Hill.
The case is one of four pending civil and criminal cases against the former president and centers on allegations that Trump inflated the value of his assets in New York.
As Common Dreamsreported on Monday, advocates are expressing concern for the safety of jurors in the four trials due to Trump's repeated claims that he will not "get a fair trial" and comments he's made regarding his legal troubles including, "If you go after me, I will come after you."
He has also targeted U.S. District Judge Tanya Chutkan, who is presiding over a case in Washington regarding Trump's alleged 2020 election interference, on social media.

Katie Phang, host of "The Katie Phang Show" on MSNBC, predicted that "this is the first of many gag orders against Trump that will be issued by Justice Engoron in this case."

News
Independent, nonprofit journalism needs your help.
Please Pitch In
Today!