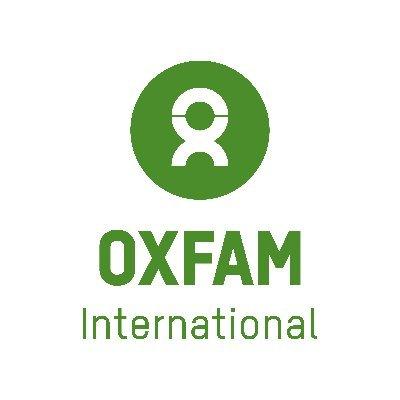 For Immediate Release
Contact:
Phone,+1 617 482 1211 (Toll-free 1-800-77-OXFAM),Email,info@oxfamamerica.org
A Hotter World Is a Hungrier World Warns Oxfam Ahead of IPCC Report
LONDON
Climate change will leave families caught in a vicious spiral of falling incomes, rising food prices, and declining quality of food, leading to a devastating impact on the health of millions, Oxfam warns today.
Oxfam's new report Growing Disruption offers an up to date assessment of the links between climate change and the many causes of hunger. While there is increasing awareness that climate change can harm crop production, the report shows that its threat on food security is much broader, hitting incomes, food quality and human health in ways that are not yet well understood.
At a time when one in eight people are going hungry and demand for food is rising, climate change will not only reduce production, it will reduce the nutritional value of both crops and livestock, worsen human health and lead to higher prices. Climate change will mean that many more people will not be able to afford enough to eat and this toxic mix is likely to hit regions that are already more susceptible to food insecurity.
The report comes ahead of the launch of the Intergovernmental Panel on Climate Change (IPCC) assessment report (AR5) on Friday. Final discussions between governments and scientists begin today in Stockholm.
The IPCC is expected to confirm beyond doubt that climate change is not only happening, but that it is getting worse and that humans have caused the majority of it.
Tim Gore, Head of Policy for Oxfam's GROW campaign said: "Just as the evidence of man-made climate change is becoming stronger, so too is our understanding of how it hits people, especially around hunger.
"We've long known that climate change will mean lost crops, but increasingly we're seeing its impacts through higher food prices, lower earnings, more health problems and lower quality food too."
Oxfam has previously estimated that the average price of staple foods is likely to more than double in the next 20 years compared with 2010 trend prices - with up to half of the increase caused by climate change.
The events highlighted in the report offer a glimpse of potential future impacts which will get worse and more frequent in urban as well as rural areas:
In 2012 the drought in Russia cut the grain harvest by nearly 25 per cent, causing domestic prices of grain and bread to rocket. Oxfam research shows that the cumulative effects of the 2010 and 2012 droughts have driven many farmers into significant debt.
In Pakistan the devastating 2010 flood destroyed over 570,000 hectares of crop land in Punjab and affected more than 20 million people. Eighty per cent of food reserves were lost. The destruction of crops and drowning of animals meant not only that people had nothing to eat, but that they had nothing to trade to be able to buy food as it became available. The flood caused a massive 75% reduction in income across all households affected.
A recent climate attribution study has confirmed that the 2011 drought in East Africa which affected over 13 million people and led to a famine in Somalia was more likely to have occurred because of climate change.
In Nepal, Oxfam field surveys showed how disruption to the monsoons is creating further pressure on men to migrate leaving women alone to look after their families and having to undertake more daily waged labour reducing their energy levels. Women often also eat last prioritizing the men and children so they can fall into a downward spiral of poor diet, health and loss of strength and energy.
In 2012 the US Midwest experienced its worst drought in 50 years, which reduced the expected maize crop by 25 per cent. This contributed to global maize prices rising by around 40 per cent.
Gore said: "We want a world in which everyone enjoys the right to enough affordable and nutritious food, and we cannot allow climate change to throw us off course.
"Leaders listening to the latest findings from climate scientists this week must remember that a hot world is a hungry world. They must take urgent action to slash emissions and direct more resources to building a sustainable food system."
Oxfam International is a global movement of people who are fighting inequality to end poverty and injustice. We are working across regions in about 70 countries, with thousands of partners, and allies, supporting communities to build better lives for themselves, grow resilience and protect lives and livelihoods also in times of crisis.
LATEST NEWS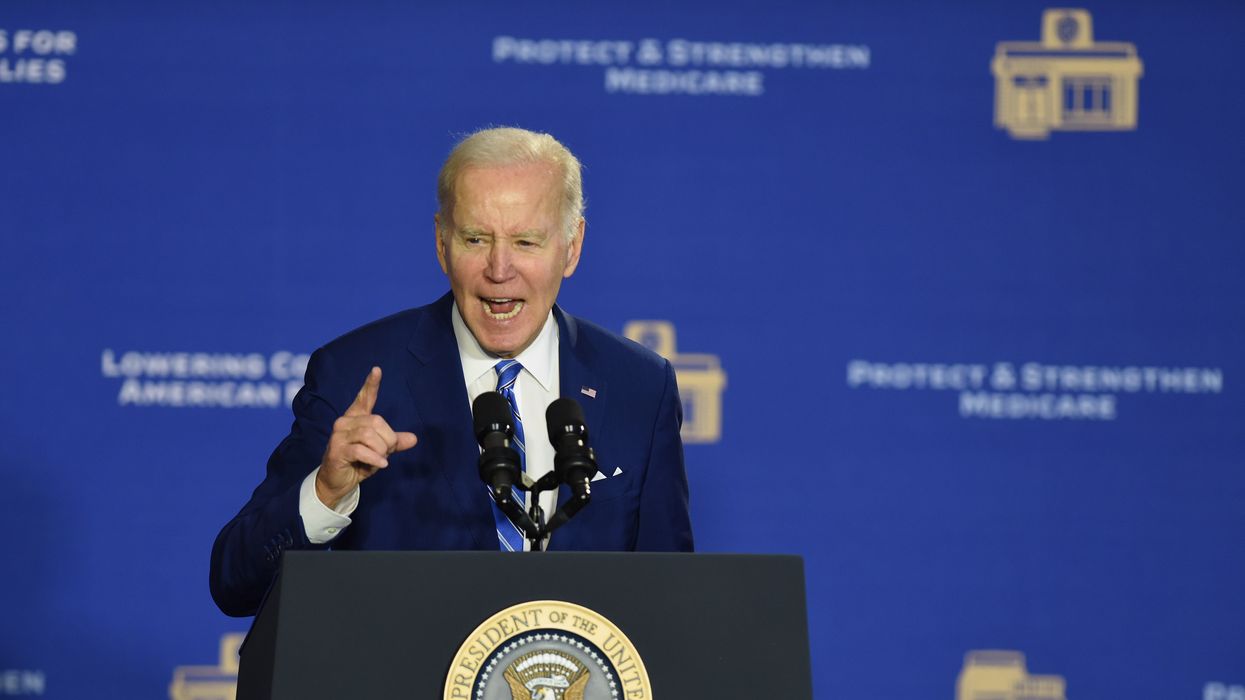 "MAGA Republicans on the Hill say the only way to be serious about preserving Medicare is to cut it," the president said. "Well, I think they're wrong."
President Joe Biden on Tuesday unveiled a plan to extend Medicare's solvency into the 2050s by raising taxes on high-income Americans and cutting prescription drug costs, a proposal that Biden presented as an alternative to GOP attacks on the healthcare program used by tens of millions of seniors.
"If the MAGA Republicans get their way, seniors will pay higher out-of-pocket costs on prescription drugs and insulin, the deficit will be bigger, and Medicare will be weaker," the president wrote in an op-ed for The New York Times. "The only winner under their plan will be Big Pharma. That's not how we extend Medicare's life for another generation or grow the economy."
According to an outline released by the White House on Tuesday morning, Biden's proposal would "extend the solvency of Medicare's Hospital Insurance (HI) Trust Fund by at least 25 years" by raising the Medicare tax rate from 3.8% to 5% on both earned and unearned income above $400,000.
"When Medicare was passed, the wealthiest 1% of Americans didn't have more than five times the wealth of the bottom 50% combined," Biden wrote Tuesday, "and it only makes sense that some adjustments be made to reflect that reality today."
The plan also proposes empowering "Medicare to negotiate prices for more drugs and bringing drugs into negotiation sooner after they launch," building on provisions of the Inflation Reduction Act that Biden signed into law last year. The White House plan would then credit the savings from the drug price reforms—an estimated $200 billion over 10 years—to the HI Trust Fund.
"Let's ask the wealthiest to pay just a little bit more of their fair share, to strengthen Medicare for everyone over the long term."
The Medicare plan is part of the president's sweeping fiscal year 2024 budget blueprint, scheduled for release later this week. The budget will likely include a range of administration proposals that don't stand a chance of clearing the Republican-controlled House.
In its 2022 report, the Board of Trustees for Social Security and Medicare projected that the HI Trust Fund—Medicare Part A—"will be able to pay scheduled benefits until 2028, two years later than reported" in 2021.
"At that time," the trustees report noted, "the fund's reserves will become depleted and continuing total program income will be sufficient to pay 90% of total scheduled benefits."
In his Times op-ed, Biden declared that "we should do better than that and extend Medicare's solvency beyond 2050."
"Let's ask the wealthiest to pay just a little bit more of their fair share, to strengthen Medicare for everyone over the long term," the president wrote. "This modest increase in Medicare contributions from those with the highest incomes will help keep the Medicare program strong for decades to come. My budget will make sure the money goes directly into the Medicare trust fund, protecting taxpayers' investment and the future of the program."
Biden put forth his plan as he continues to face progressive criticism for operating a pilot program called ACO REACH, which physicians warn could result in the privatization of traditional Medicare.
The president's plan also comes amid a debt ceiling standoff that Republicans are attempting to exploit to secure long-sought cuts to federal programs. House Republicans have also floated changes to Medicare, including an increase in the program's eligibility age.
"MAGA Republicans on the Hill say the only way to be serious about preserving Medicare is to cut it," Biden wrote in a Twitter post on Tuesday. "Well, I think they're wrong. I'm releasing my budget this week. In it, I'll propose a plan to extend the life of Medicare for a generation, without cutting benefits."
News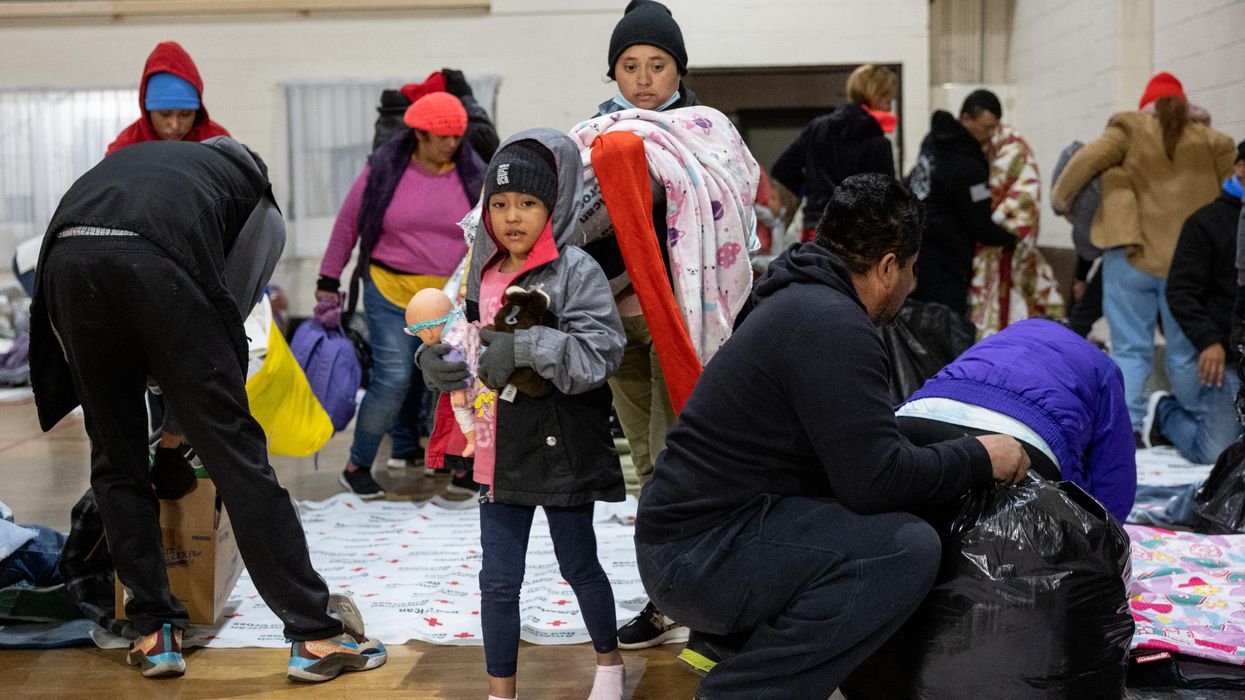 "I've got one word for them: unacceptable," responded one immigration attorney.
Multiple news outlets reported late Monday that the Biden administration is considering restarting migrant family detentions that were used extensively by previous administrations in an attempt to crack down on border crossings.
While "no final decision has been made," according toThe New York Times, "the move would be a stark reversal for President Biden, who came into office promising to adopt a more compassionate approach to the border after the harsh policies of his predecessor, former President Donald J. Trump."
Immigrant rights advocates were quick to warn Biden against following through with any plan to revive migrant family detentions, which the administration had largely shut down.
"I've got one word for them: unacceptable," wrote Aaron Reichlin-Melnick, policy director at the American Immigration Council.
"The thing about family detention is not only that it's cruel and inhumane," Reichlin-Melnick added, "but also that it was a money pit and absolutely useless as a 'deterrent.'"
Bob Libal, an immigration justice advocate and consultant with Human Rights Watch, said it is "absolutely shameful that this is even being considered again."
Both the Obama and Trump administrations made expansive use of family detention, with the latter attempting to rescind limits on how long children can be held in migrant detention facilities—an effort that was ultimately blocked in federal court.
On the campaign trail, Biden condemned the practice of family detention—as well as the separation of migrant families—as morally bankrupt, writing in a Twitter post: "Children should be released from ICE detention with their parents immediately. This is pretty simple, and I can't believe I have to say it: Families belong together."
But with the 2024 election looming, the Biden administration has moved to reinstate immigration policies that it previously denounced as cruel—including a Trump-era asylum ban—as it prepares for the May expiration of Title 42, another Trump administration policy that Biden has used to rapidly deport migrants.
\u201cNO NO NO NO NO NO. \n\n\u201cThe administration will continue to prioritize safe, orderly and humane processing of migrants,\u201d Luis Miranda, a department spokesman, said in a statement.\u201d\n\nFAMILY DETENTION IS INHERENTLY INHUMANE. BABY JAILS ARE INHUMANE. https://t.co/FajlFvBGKj\u201d

— Valeria Gomez (@Valeria Gomez) 1678151345
Reutersreported Monday that in addition to restarting family detentions, the Biden administration is "weighing reviving immigration arrests of migrant families within the United States who have been ordered deported."
"It's all on the table," an unnamed official told the outlet.
In the place of family detentions, the Biden administration has used ankle bracelets and other methods—decried as "digital prisons" by rights groups—to track migrant families as they move through the court system.
But as the Detention Watch Network has observed, the Biden administration did not end its contracts with facilities that were previously used to hold migrant families.
"Instead, following cues from the Obama administration, it converted the contract with Berks County to detain adult women and shifted its usage of the Dilley facility to detain single adults," the organization noted.
Citing one unnamed official, CNNreported Monday that the Biden administration is "looking at multiple options for how to handle migrant families at the southern border, not all of them involving family detention."
"Another source familiar with the deliberations added that among the options discussed are some that wouldn't involve detaining families in ICE facilities," CNN added. "This source said that family detentions would be limited to a small number of days—an attempt to set the policy apart from the Trump administration's handling of family detentions."
But it's not likely that rights groups and advocates would accept such an alternative.
"I was part of a legal team that sued to get access to the first family detention center that President Obama opened (in Artesia, N.M.)," Karen Tumlin, a civil rights litigator, recounted Monday. "Talking to families and kids detained at Artesia was one of the lowest points of my legal career. I can see the cribs lining the hallway now, families and babies crammed into tiny rooms."
"A family detention policy is a policy of adding trauma to trauma," Tumlin added. "It is painful to see this as a rumored proposal from the Biden administration."
News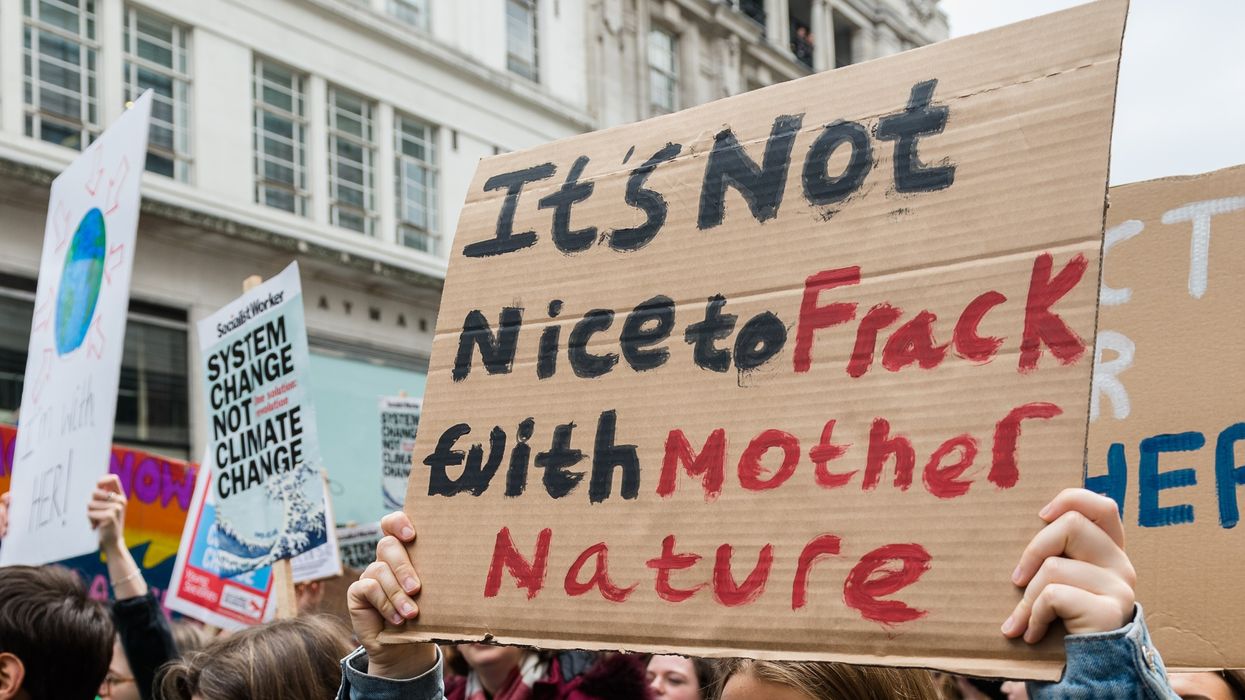 "We see the impact the climate crisis has on people each and every day. And we have a responsibility to sound the alarm," said one doctor. "We urge FERC to prioritize the health of our most vulnerable communities over profit."
As of Monday, more than 500 physicians and other medical professionals had signed on to a letter urging federal regulators to prevent the expansion of a fracked gas pipeline in the Pacific Northwest.
The sign-on campaign comes as the Federal Energy Regulatory Commission (FERC) is expected to weigh in on TC Energy's Gas Transmission Northwest (GTN) Xpress project as soon as this month.
The Canadian company's proposed expansion would boost the capacity of a pipeline that runs through British Columbia, Canada and the U.S. states of Idaho, Washington, Oregon, and California.
"FERC should deny the permit for this pipeline expansion proposal, which is both unnecessary to meet our energy needs and harmful to people in our communities."
"We are in a climate crisis, where we are already experiencing the devastating effects of rising temperatures, the direct result of burning fossil fuels, including so-called 'natural gas,' i.e., methane," the health professionals wrote, noting that methane has more than 80 times the warming power of carbon dioxide over its first 20 years.
Dr. Ann Turner of Oregon Physicians for Social Responsibility (PSR) said that "as medical practitioners, we see the impact the climate crisis has on people each and every day. And we have a responsibility to sound the alarm. We urge FERC to prioritize the health of our most vulnerable communities over profit."

As the letter explains:

TC Energy proposes to increase the amount of gas in its existing pipelines by expanding compressor stations which provide the force which propels gas through pipelines. These compressor stations emit significant amounts of air pollution, both from the operation of the engine which powers the pump as well as from venting. Compressor stations and meter stations vent methane, volatile organic compounds like formaldehyde, particulate matter, nitrogen dioxide, and carbon monoxide. All of these air pollutants have serious health impacts, including increased risks of stroke, cancer, asthma and low birth weight, and premature babies. Compressor stations also produce significant noise pollution. The air and noise pollution from these compressor stations disproportionately harms the rural, low-income, and minority communities that already experience significant health disparities, especially those that are living in proximity to the pipeline expansion project.
"In addition to the health consequences from the pipeline expansion project itself, gas in the GTN pipeline is extracted by fracking in Canada," the letter highlights. "Fracking degrades the environment including contamination of soil, water, and air by toxic chemicals. Communities exposed to these toxins experience elevated rates of birth defects, cancer, and asthma."
"The negative health impacts of methane gas, and its contribution to warming the climate and polluting the air, are unacceptable impacts that disproportionately affect Black, Indigenous, and people of color and low-income communities," the letter adds, arguing that the project is inconsistent with both global and regional goals to reduce planet-heating emissions.
Organizations supporting the letter include Wild Idaho Rising Tide as well as the San Francisco, Oregon, and Washington arms of PSR—which have previously joined other local groups in speaking out against the project alongside regional political figures including U.S. Democratic Sens. Jeff Merkley and Ron Wyden, both of Oregon.
\u201cTAKE ACTION: Sign on to the letter urging the Federal Energy Regulatory Commission to deny the bid to expand shipments of fracked gas through WA.\nhttps://t.co/A86LLz8lRY\u201d

— Washington Physicians for Social Responsibility (@Washington Physicians for Social Responsibility) 1678146398
"Idahoans dread FERC approval of the GTN Xpress expansion project, which would force greater fracked gas volumes and hazardous emissions through the aging GTN pipeline," according to Helen Yost of Wild Idaho Rising Tide.
"This expansion project would further threaten and harm the health and safety of rural communities, environments, and recreation economies for decades," she warned. "This proposed expansion does not support the best interests of concerned Northwesterners living and working near compressor stations and the pipeline route."
Dr. Mark Vossler, a board member at Washington PSR, pointed out that "states in the Northwest have made great strides in reducing our dependence on fossil fuels and creating healthier communities."
"I urge FERC to consider the human health impact of the proposed pipeline expansion and respect the leadership of local, state, and tribal governments in addressing the climate crisis," he said. "FERC should deny the permit for this pipeline expansion proposal, which is both unnecessary to meet our energy needs and harmful to people in our communities."
News
SUPPORT OUR WORK.
We are independent, non-profit, advertising-free and 100%
reader supported.