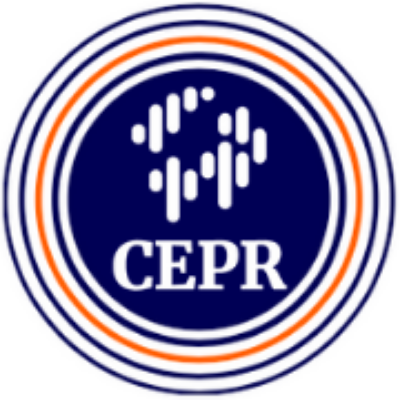 For Immediate Release
Contact:
Alan Barber, (202) 293-5380 x115
Statement on New Jersey's Approval of Work Sharing
WASHINGTON
CEPR co-director Dean Baker issued the following statement after the state of New Jersey adopted a work-sharing law:
"Last week, New Jersey became the 6th state in the country to adopt a work-sharing law since the onset of the recession. These laws modify the unemployment insurance system so that workers who have had their hours cut can get partial unemployment benefits to limit the loss of income. The point is to give employers an incentive to reduce work hours rather than lay off workers. New Jersey's action brings the total number of states that allow work sharing as a part of their unemployment insurance program to 24. One other state, Indiana, has a bill before its legislature with strong bi-partisan support that may pass this year. Officials in several other states are considering similar measures.
"The motivation for these laws is quite simple. The standard unemployment insurance (UI) system effectively encourages employers to lay off workers rather than shorten work hours. If a worker is laid off, she is typically able to receive close to half of her wages, with the duration of benefits lasting for up to 99 weeks. On the other hand, if an employer attempts to meet a shortfall in demand by having her workers put in fewer hours, the traditional UI system offsets none of the loss in income.
"While the traditional system encourages layoffs rather than a reduction in hours per worker, from a social standpoint, the latter would generally be better. The worst outcome is for a worker to be unemployed for a long period of time. During an extended layoff, workers are not keeping up their skills and often lose contact with the labor force. They may find it difficult or even impossible to find new employment.
"On the other hand, if a worker stays employed by working fewer hours, she will remain part of the labor force. They are continuing to upgrade their skills and keep up with whatever changes are taking place at the workplace.
"Systems of work sharing have been quite successful in protecting workers from the downturn in other countries, most notably Germany. The unemployment rate in Germany today is more than a percentage point below its pre-recession level. This is in spite of the fact that growth in Germany has been no more rapid since the downturn than growth in the United States. The main difference has been that the government has encouraged firms to meet the reduced demand for labor through cutbacks in hours rather than laying off workers.
"The increased adoption of work-sharing laws in the United States is a positive development. If more states adopted such laws and the take-up rate could be increased in the states that already have the laws, there would be substantial potential for lowering unemployment. Every month, close to 2 million workers are dismissed or laid off. If just 5 percent of these jobs could be preserved through work-sharing programs, it would be equivalent to creating an additional 1.2 million jobs a year.
"If President Obama and other political leaders tout the benefits of work sharing, it will increase familiarity with the program and encourage more employers to take advantage of it. State UI systems should also allow flexibility in the application of the rules so that more employers will see work sharing as a viable alternative to layoffs. Congress could also approve the Layoff Prevention Act of 2011, sponsored by Jack Reed in the Senate and Rosa DeLauro in the House. This bill would provide additional funding for the work-sharing programs already in place and also provide seed money for states seeking to establish systems."
The Center for Economic and Policy Research (CEPR) was established in 1999 to promote democratic debate on the most important economic and social issues that affect people's lives. In order for citizens to effectively exercise their voices in a democracy, they should be informed about the problems and choices that they face. CEPR is committed to presenting issues in an accurate and understandable manner, so that the public is better prepared to choose among the various policy options.
(202) 293-5380
LATEST NEWS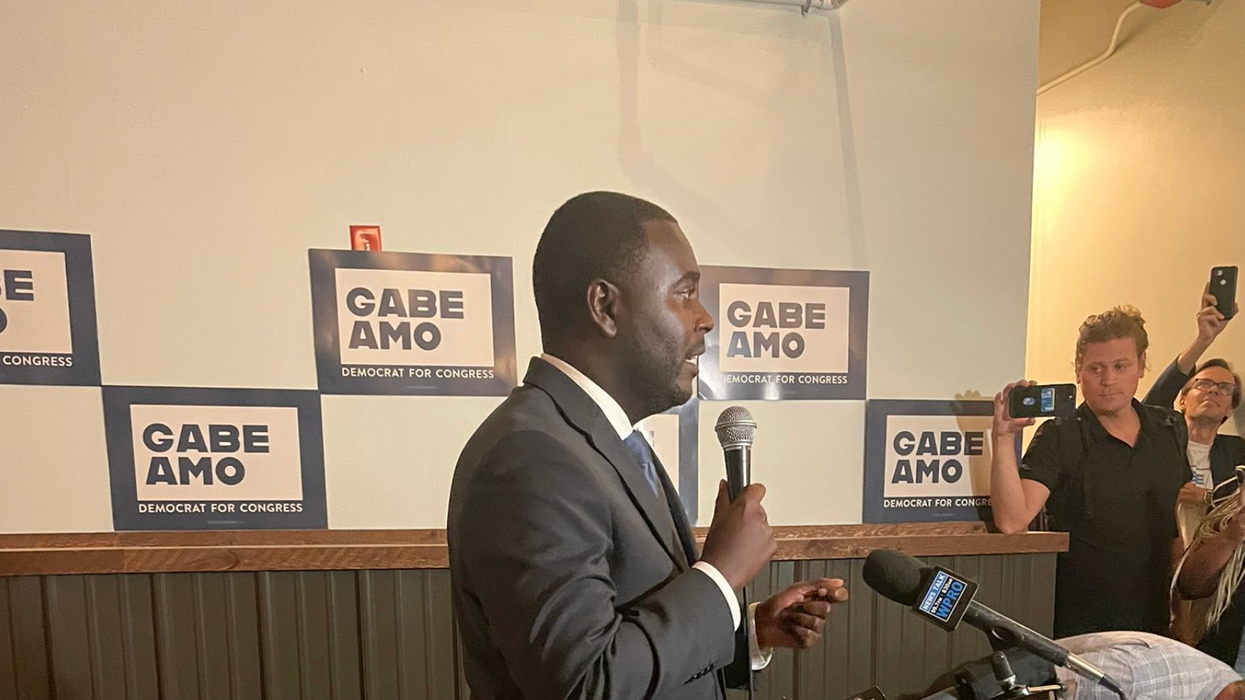 "The inability to convert on a winnable race," wrote one observer, "should alarm national progressive groups."
Former Biden administration official Gabe Amo won the special Democratic primary for an open U.S. House seat in Rhode Island's 1st Congressional District on Tuesday, defeating frontrunner Aaron Regunberg, an ex-state representative who was backed by Sen. Bernie Sanders and Rep. Alexandria Ocasio-Cortez.
Regunberg's loss to Amo, who served as deputy director of the White House Office of Intergovernmental Affairs, was seen as a significant disappointment for progressives in the heavily blue district previously represented by Rep. David Cicilline (D-R.I.), who stepped down earlier this year.
If Amo defeats Republican Gerry Leonard in November, he will be the first Black person to ever represent Rhode Island in Congress.

Cicilline did not endorse in the crowded primary race, but Rep. Rosa DeLauro (D-Conn.)—a friend and political ally of Cicilline—backed Regunberg, as did the Congressional Progressive Caucus PAC, the Working Families Party, Our Revolution, Friends of the Earth Action, and other progressive organizations.
Justice Democrats, whose organizing work has been key to progressive primary victories in recent years, did not get involved in the race as the group struggles to raise money.

Some local left-wing groups, including the Democratic Socialists of America's Providence chapter, opposed Regunberg and criticized Sanders and Ocasio-Cortez for endorsing the Rhode Island Democrat, pointing to the backing his campaign received from a super PAC.
As The American Prospect's Luke Goldstein wrote in a recap of Tuesday's contest, Progress RI's support for Regunberg included "a $5,000 contribution from his mother and $125,000 from his father-in-law, an executive at a global investment firm."
Amo's fundraising also came under fire.
According to a memo released by the Working Families Party in the final stretch of the campaign, the former Biden administration official's campaign received tens of thousands of dollars from lobbyists working for companies that represent Big Pharma, the parent corporation of Fox News, the oil and gas industry, tobacco companies, and Wall Street.
HuffPost's Daniel Marans noted Tuesday that Amo "got a last-minute assist from former U.S. Rep. Patrick Kennedy, who represented the House seat for 16 years before Cicilline."
After endorsing Amo, Kennedy "aggressively attacked Regunberg in a local television interview," Marans reported, "calling him an 'extreme' ideologue whose support for a smaller defense budget would jeopardize Rhode Island jobs―and even Democrats' hold on the House seat. (Biden carried the seat by 29 percentage points in 2020.)"
But Marans pointed out that "Regunberg would not have been a member of the left-wing 'Squad.'"
"He cited Cicilline as a model of effective progressive governance," Marans explained, "and touted his own work on the passage of state laws ensuring workers paid sick leave, raising the state's tipped minimum wage, creating a commission to study the use of solitary confinement, enacting online voter registration, and encouraging homeowners' adoption of solar panels."
Polling released in the lead-up to Tuesday's race showed that Regunberg was in the lead, but a significant percentage of voters surveyed were undecided in the days ahead of the special election.

Goldstein argued in the Prospect that "the inability to convert on a winnable race... should alarm national progressive groups as they limp into the next election cycle."

News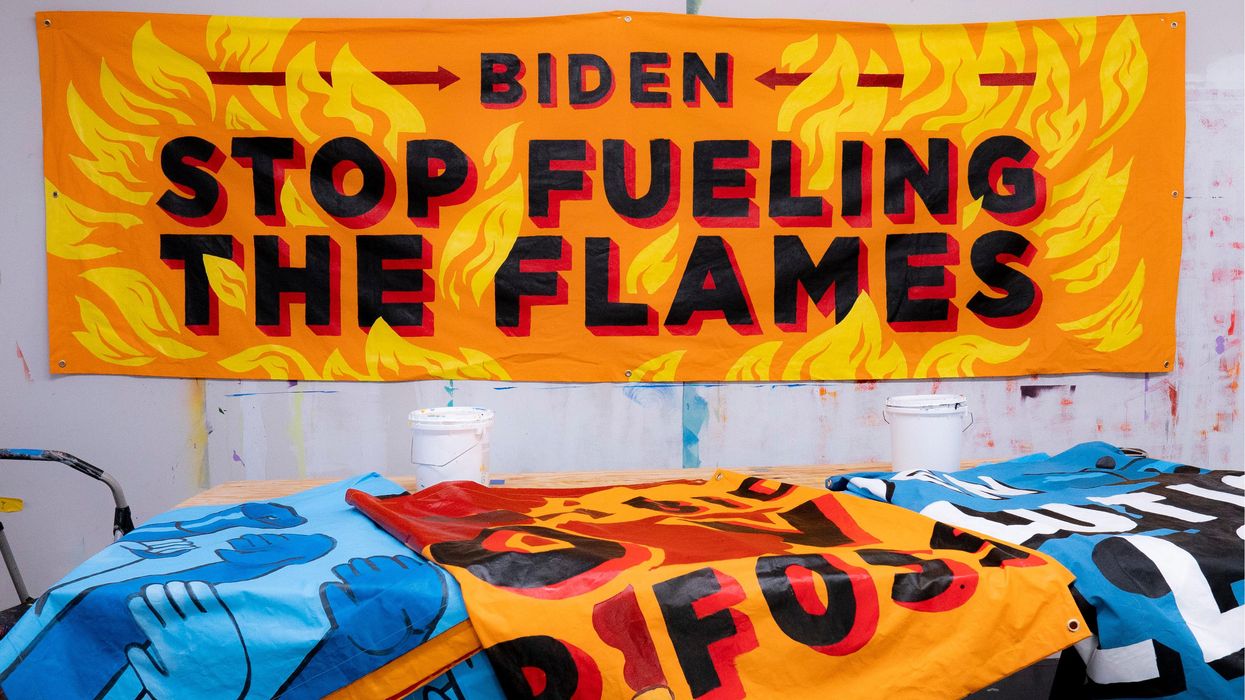 "The March to End Fossil Fuels isn't a request," one organizer said "It's a demand for President Biden to enact actionable solutions that match the scale of the crisis at hand."
A total of 500 international, national, and local organizations have endorsed the September 17 March to End Fossil Fuels in New York City, leaders behind the event announced Tuesday.
The march comes ahead of U.N. Secretary-General António Guterres' Climate Ambition Summit and follows a summer of fossil-fueled extreme weather that smothered the Northeast and Midwest in wildfire smoke, flooded the streets of Vermont's state capital, devastated the town of Lahaina in Maui, and baked Phoenix under 31 days of more than 110°F heat.
"It's never been more clear than now–a summer of record heat, deadly fires, and devastating floods–that we need to unite to put an end to fossil fuels," Oil Change International U.S. program manager Allie Rosenbluth said in a statement. "Every new fossil fuel project is incompatible with a livable future."
Oil Change International is one of the march's main organizers, along with the Center for Biological Diversity, the Center for Popular Democracy, Climate Organizing Hub, Food & Water Watch, Fridays For Future USA & NYC, Earthworks, Greenfaith, Indigenous Environmental Network, New York Communities for Change, and Oil & Gas Action Network.
They have been joined more recently by the Sunrise Movement, the Sierra Club, and the NAACP, as well as by prominent activists and progressive politicians like Jane Fonda, Bill McKibben, Naomi Klein, Mark Ruffalo, Sen. Ed Markey (D-Mass.), Reps. Rashida Tlaib (D-Mich.), and Jamaal Bowman (D-N.Y.), and Tennessee State Rep. Justin Pearson.
The march will call President Joe Biden to stop approving new fossil fuel projects, end oil and gas drilling on public lands, declare a climate emergency, and ensure a just transition to renewable energy that provides good jobs and respects local communities.
"The same voices that called him to the presidency are now calling on him to take bold climate action."
"With 500 organizations strong, the March to End Fossil Fuels isn't a request, it's a demand for President Biden to enact actionable solutions that match the scale of the crisis at hand," Olivia Leirer, co-executive director of New York Communities for Change, said in a statement.
The march comes as Republican candidates are already jostling to decide who will face Biden in the 2024 presidential election, and younger activists warned that Biden's approval of carbon bombs like the Willow Project or the Mountain Valley Pipeline could hurt him with the youth voters who helped him win in 2020.
"In the past three years many of us have lost the passion and hope we originally had when fighting for Biden," Fridays For Future NYC Organizer Noa Greene-Houvras said in a statement. "We have watched him approve pipelines and fossil fuel projects that youth have consistently pushed against. The same voices that called him to the presidency are now calling on him to take bold climate action."
Organizers also emphasize the impact that the burning of oil, gas, and coal and the pollution and extreme weather it generates have on communities across the country, especially low-income or minority communities.
"The current reliance on fossil fuels is literally killing Black Americans," NAACP director for the Center for Environmental and Climate Justice Abre' Conner said in a statement. "Black elders are three times more likely to die from air quality-related issues and Black youth continue to suffer the impacts of living in communities that are more likely to house fossil fuel plants and other toxic waste incinerators."
"This is an emergency," Conner added. "For Black communities to have any hope of a just and sustainable future, we must act now."
The New York march is part of a larger international escalation against fossil fuels launched in June and timed for the weekend before Guterress' September 20 summit, which asks nations for the first time to present plans for phasing out fossil fuels and ceasing production of the climate-warming energy sources.
It will begin from 56th Street and Broadway at 1 pm Eastern Daylight Time, move down Broadway to 52nd Street, and then follow 52nd Street to First Avenue for a rally at First and 50th outside U.N. headquarters. Organizers expect thousands of participants, and to join them, you can RSVP here.
"We demand President Biden wield his power, to usher in the end of fossil fuels so our planet and people can thrive," Rosenbluth said. "We join together for the March to End Fossil Fuels, not just to ask for change, but for a reckoning."
News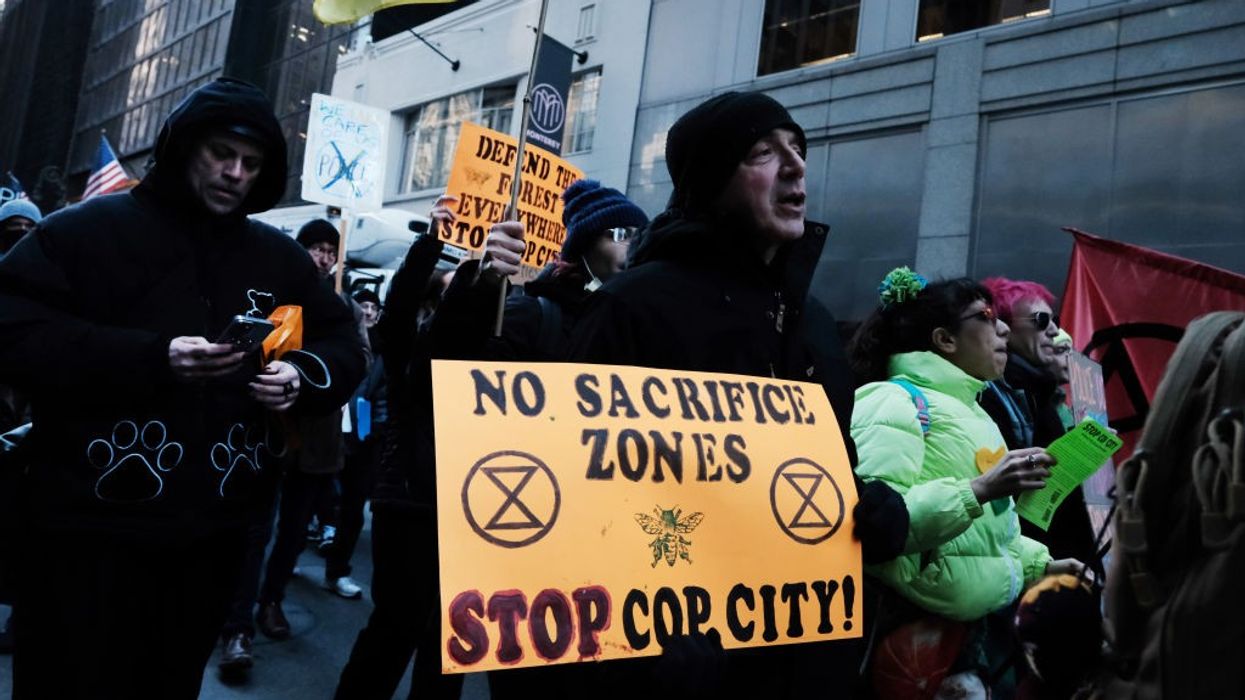 The indictments "send a chilling message that any dissent to Cop City will be punished with the full power and violence of the government."
Organizers with the Stop Cop City movement in Atlanta said Tuesday that new organized crime and racketeering charges against more than 60 campaigners were aimed at quashing all dissent against the construction of a $90 million police training facility in the city, as well as similar law enforcement projects.
Georgia's Republican attorney general, Chris Carr, announced that a grand jury indicted 61 protesters under the state's Racketeer Influenced and Corrupt Organizations (RICO) Act, with some accused only of distributing fliers.

"These charges, like the previous repressive prosecutions by the State of Georgia, seek to intimidate protesters, legal observers, and bail funds alike, and send the chilling message that any dissent to Cop City will be punished with the full power and violence of the government," organizers with the Cop City Vote Coalition (CCVC) toldThe Appeal. "The Cop City Vote Coalition strongly condemns these anti-democratic charges."
The indictments are the latest escalation by the state against movement to "Stop Cop City," as opponents have called the proposed 85-acre Public Safety Training Center planned in the Weelaunee Forest in DeKalb County.
Forest defender Manuel Esteban Paez Terán, known as Tortuguita, was shot and killed by police earlier this year while trying to stop the clearing of the area, and prosecutors in DeKalb County and Fulton County filed domestic terrorism charges against 42 people who have protested the training center. Many of those charged were also listed in Tuesday's indictments.
As Common Dreamsreported in May, the Georgia and Atlanta police also arrested three organizers of a bail fund supporting protesters, accusing them of money laundering and charity fraud. The organizers are also among those facing RICO charges.
The New Republic noted that the date listed on the indictments is May 25, 2020—the day George Floyd was murdered by a Minneapolis police officer, marking the beginning of a nationwide uprising against police violence. The date suggests "that the attorney general's office plans to link the Stop Cop City movement with the larger protests that followed Floyd's death," wrote Edith Olmsted at the outlet.
The RICO charges, said racial justice group Color of Change, represent "a blatant attempt to silence democratic protest—and a dangerous violation of the constitutional right to protest."

News
Independent, nonprofit journalism needs your help.
Please Pitch In
Today!