For Immediate Release
Contact:
Sam Husseini, (202) 347-0020; or David Zupan, (541) 484-9167
Two Years after Haiti Earthquake: UN Cholera Epidemic Rages as Situation in Camps Deteriorates
WASHINGTON
Thursday marks two years since a devastating earthquake hit Haiti.
MICHELE MITCHELL, michele.mitchell at filmat11.tv; also via Jennie Walker, jennie.walker at filmat11.tv
Mitchell is the producer of "Haiti: Where Did the Money Go?" premiering this month on PBS stations nationwide. Mitchell said, "Half of all U.S. households donated $1.4 billion to major charities specifically for relief. But after hundreds of millions have been spent, there are still over half a million people living in squalid conditions. There are fewer working latrines today -- not to mention fewer latrines. No water delivery. Malnutrition is on the rise. And the Haitians living in these tent cities are in a kind of purgatory -- they have no idea when they are getting out, or even if things will ever get better."
MARK WEISBROT, mweisbrot at cepr.net; also via Dan Beeton, beeton at cepr.net
Weisbrot is co-director of the Center for Economic and Policy Research and co-author of a chapter in the new book, Tectonic Shifts: Haiti Since the Earthquake. He said today: "The budget for UN troops in Haiti is eight times the amount of the UN's cholera appeal. It was UN troops who brought cholera to Haiti. The UN should use some of its money, designated for keeping the Haitian people safe, to fight cholera. Keeping people safe should include keeping them safe from disease and death, but the ongoing epidemic -- made worse by an appalling lack of sanitation and drinking water - threatens the lives of thousands more people." For more see: Tectonic Shifts: Haiti Since the Earthquake
BRIAN CONCANNON, JR., Brian at ijdh.org; also via Nicole Phillips, Nicole at ijdh.org
Concannon, director of the Institute for Justice & Democracy in Haiti, which filed a lawsuit against the UN in November on behalf of over 5,000 victims of cholera, said today: "The United Nations' own report establishes that UN peacekeepers introduced cholera to Haiti. The UN should respond justly to these facts by providing the clean water and sanitation infrastructure necessary to control the cholera epidemic. Instead, the UN has denied and delayed while Haitians sicken and die. The MINUSTAH [UN] cholera epidemic is the world's worst cholera epidemic, killing an average of 200 Haitians per month and sickening over 25,000. The UN's defense -- that the weakness of Haiti's health and water infrastructure relieves it of responsibility -- would be laughed out of court if the UN ever let itself be brought before an independent tribunal."
NICOLE LEE, nlee at transafrica.org also via Joia Nuri, jnuri at transafrica.org,
Lee is the president of TransAfrica. She said today: "We must learn from the mistakes of the first two years of this recovery effort. Without the active participation of Haitians themselves, no amount of money can bring the kind of changes Haiti needs to resolve the problems that have plagued the most marginalized populations since even before the earthquake. It is disturbing to see the same status quo being reinforced by the various humanitarian actors on the ground today, despite the vibrant network of Haitian community and grassroots groups that exist without the support they need to have more long-reaching success. We join our Haitian partners in calling for oversight of NGOs and government funds, including investigations into where the money donated in their names has gone."
MELINDA MILES, melinda at lethaitilive.org,
Miles is the founder and director of Let Haiti Live, and a contributor to the new book, Tectonic Shifts: Haiti Since the Earthquake. She said today: "Decisions made in the earliest days of the recovery haunt Haiti's internally displaced to this day. Fundamental and internationally accepted minimum standards for disaster victims were never adhered to, and now two years after the quake the humanitarian community has spent billions of dollars without meeting some of the most critical goals they set. Despite planning 125,000 transitional shelters for the end of the first year, 100,000 still have not been built two years later. While Haitians have been excluded from decision making and haven't had access to basic information about donations and recovery plans, efforts led by Haitian organizations continue to be the most successful."
A nationwide consortium, the Institute for Public Accuracy (IPA) represents an unprecedented effort to bring other voices to the mass-media table often dominated by a few major think tanks. IPA works to broaden public discourse in mainstream media, while building communication with alternative media outlets and grassroots activists.
LATEST NEWS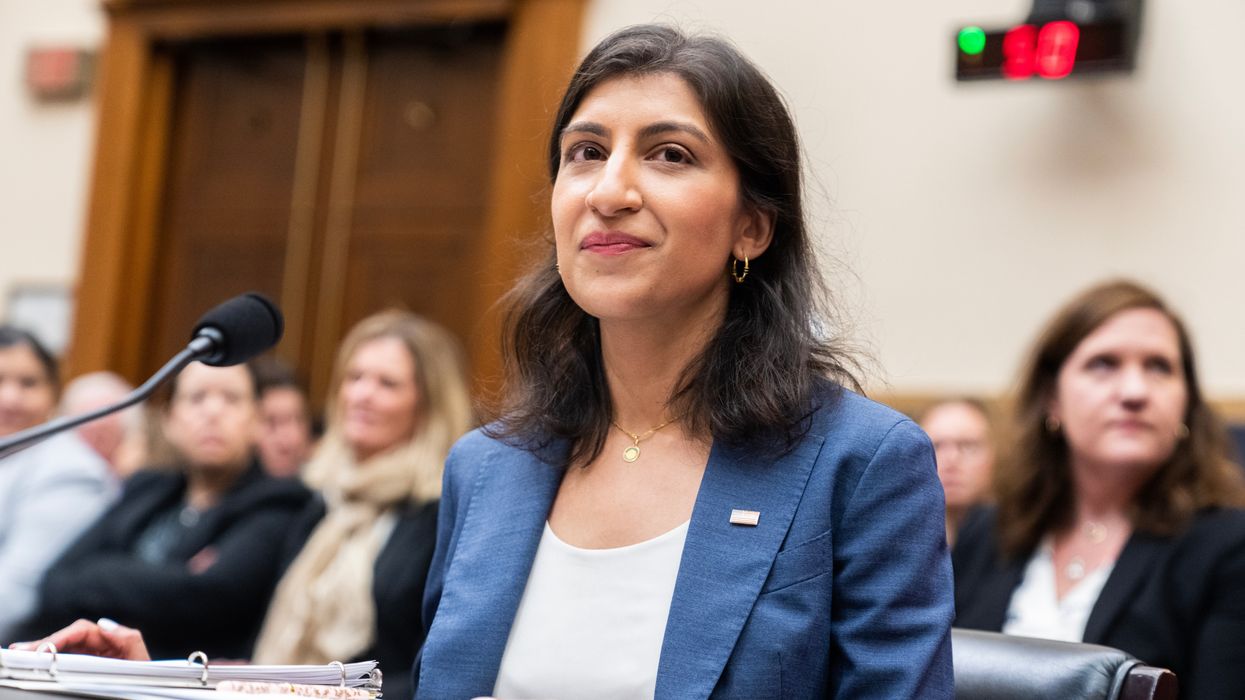 Financiers are reportedly lobbying the incumbent president to remove the Federal Trade Commission chair if he wins reelection in 2024.
Federal Trade Commission Chair Lina Khan's efforts to challenge corporate consolidation across the U.S. economy—from gaming to pharmaceuticals to semiconductors—have drawn vocal outrage from industry-backed Republican lawmakers and other mouthpieces for big business.

And now, according to the Financial Times, some of the Democratic Party's Wall Street donors are privately calling on President Joe Biden to fire Khan if he wins reelection in 2024.
"Anybody talking to dealmakers over the past year or so will have noticed that barely anyone has been capable of hiding their loathing for Khan," wrote FT's James Fontanella-Khan. "In private, financiers accuse her of being anti-American and against business. Several Wall Street donors to the Democratic Party are using their position of influence to quietly lobby Biden to drop Khan if he gets reelected, according to people briefed on the matter. That's how badly they want her out of the FTC."
Wall Street spent over $74 million in support of Biden in 2020 and industry executives—at the urging of the president's team—have hosted fundraisers this year for his reelection campaign.
Under Khan's leadership, the FTC has taken legal action against several prominent merger proposals—including Microsoft's $69 billion deal to acquire Activision Blizzard, a case the agency paused after recent court defeats. The FTC has also helped rewrite pro-consolidation merger guidelines that were established during the Reagan era, launched a probe into Big Tech's cloud computing businesses, and proposed a ban on exploitative non-compete agreements.
Additionally, as soon as this month, the FTC is expected to file a major antitrust lawsuit against the online retail behemoth Amazon, which Khan has long argued is a monopoly.

The Khan-led FTC's proactive approach to taking on entrenched power that has worsened inequality and harmed workers has predictably angered corporate America and its GOP allies in Congress, who used a recent hearing to attack Khan as a "bully."
Some of the Republican Party's most outspoken critics of Khan are funded by Big Tech.

The Wall Street Journal's right-wing editorial board has also taken on a major role in fueling the outrage, running dozens of pieces this year attacking Khan's work.
FT's James Fontanella-Khan argued that the widespread "animus" toward Khan in corporate America "might indicate she is having an impact despite the setbacks."
"Khan has an egalitarian vision of competition law that seeks to improve the well-being of citizens beyond their roles as consumers," he added. "The Amazon case will be a big test."
News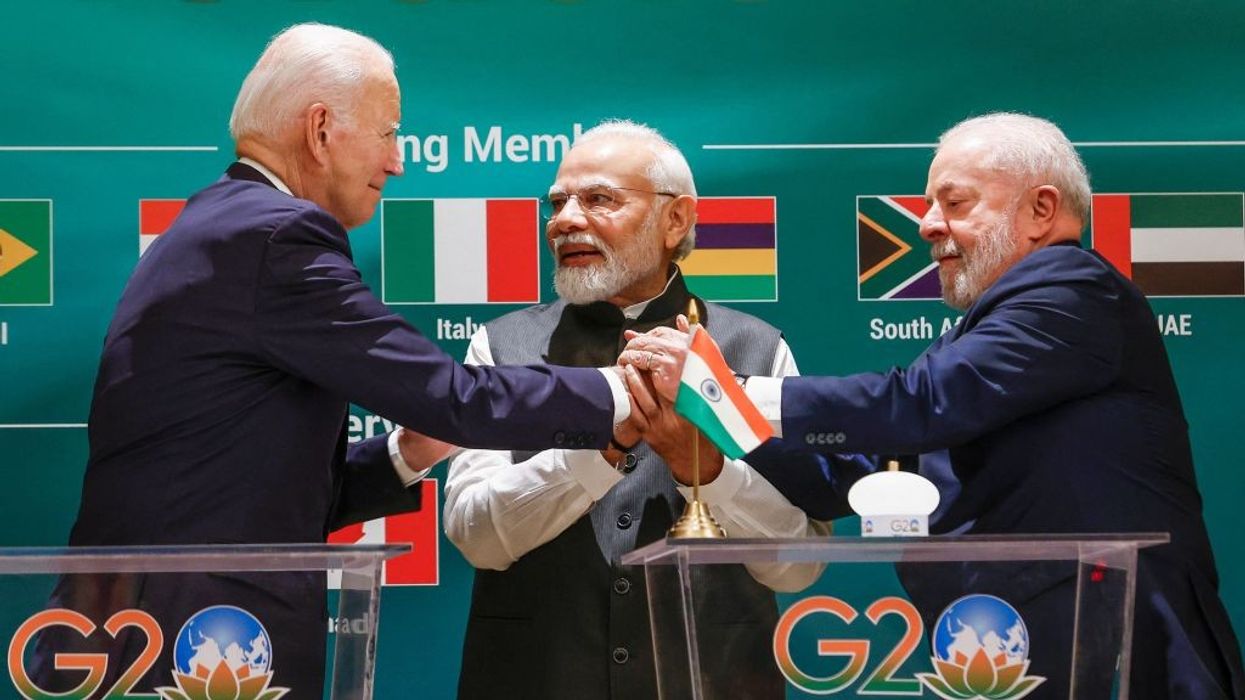 "All G20 members must work towards the elimination of nuclear weapons as an urgent priority," said ICAN executive director Melissa Parke.
A renunciation of the threat posed by nuclear weapons by G20 leaders in New Delhi this weekend must be matched by action that would actually reduce such a threat and lead the way to the full abandonment of atomic weapons worldwide, according to one of the world's preeminent anti-nuclear organizations.

While the the G20 'New Delhi Declaration' released Saturday states that the "use or threat of use of nuclear weapons is inadmissible" in the context of the Russia-Ukraine war, the International Campaign to Abolish Nuclear Weapons (ICAN), which won the peace prize in 2017, said that does not go far enough.
ICAN's exective director Melissa Parke said in a statement that while the G20 leaders "reaffirmed the obvious truth that the use, or threat of use, of nuclear weapons is unacceptable," it is now vital that they "put these words into action."
"All G20 members must work towards the elimination of nuclear weapons as an urgent priority, including, for those who haven't done so already," said Parke, "by signing and ratifying the Treaty on the Prohibition of Nuclear Weapons without delay."
The official Treaty on the Prohibition of Nuclear Weapons (TPNW), adopted by the United Nations in 2017 and implemented in 2020, bans signatories from the use, possession, testing, and transfer of nuclear weapons.
None of the nuclear powers in the world—including Russia, the United States, Israel, the United Kingdom, India, or China—have signed or adopted the TPNW, and Ukraine, along with the majority of NATO and G20 members, have also not supported or adopted the treaty.
Since its invasion of Ukraine in early 2022, numerous Russian officials have invoked the specter of a nuclear exchange or possible use of atomic weapons if Moscow deemed it necessary. Peace advocates calling for urgent diplomacy to help end the war have continued to cite the possibility of a nuclear escalation as a chief concern.
Last month, former president and current senior official Dmitry Medvedev said Russia would have no choice but to use nuclear weapons if Ukraine's counter-offensive, backed by NATO forces, took land claimed by Moscow.
"Just imagine that the offensive… in tandem with NATO, succeeded and ended up with part of our land being taken away. Then we would have to use nuclear weapons by virtue of the stipulations of the Russian Presidential Decree," said Medvedev.
"There simply wouldn't be any other solution," he added. "Our enemies should pray to our fighters that they do not allow the world to go up in nuclear flames."
News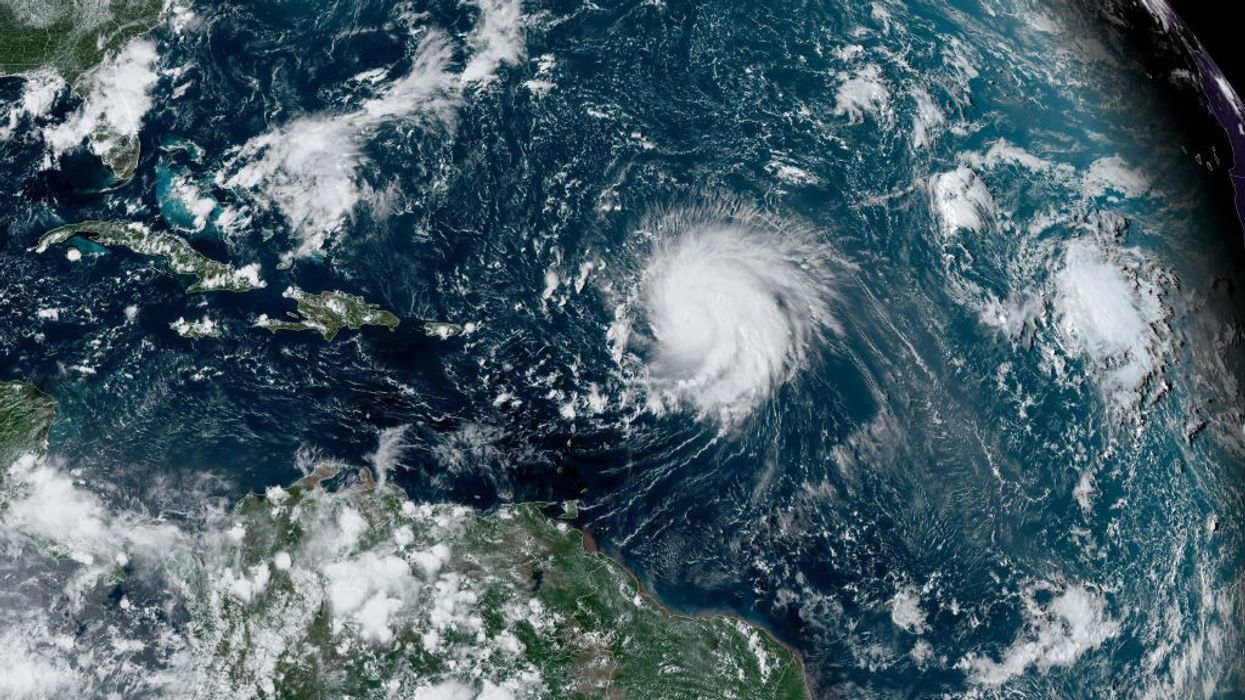 "This is your hurricane on fossil fueled climate change."
Hurricane Lee, which became a monster Category 5 before weakening over the weekend and which may or may not ever make landfall, is being treated as a warning by meteorologists and climate experts who say the storm's behavior over recent days could have dire future implications.
The National Hurricane Center said Saturday that Lee would move well north of Puerto Rico and the Virgin Islands but that dangerous beach conditions may be seen along the Atlantic coastline of the United States. On Thursday, the hurricane jumped from a Category 3 storm to a Category 5 in less than 24 hours at a pace faster than what is called "rapid intensification"—when sustained winds increase by 35 mph over the course of a day.
Marshall Shepherd, director of the University of Georgia's atmospheric sciences program and a past president of the American Meteorological Society, explained to the Associated Press how Hurricane Lee intensified at more than double that rate, moving it into a category he called hyperintensification.
"This one increased by 80 mph (129 kph)," Shepherd said. "I can't emphasize this enough. We used to have this metric of 35 mph, and here's a storm that did twice that amount, and we're seeing that happen more frequently." If future storms, fueled by increasingly hotter ocean temperatures, continue with this trend it will have disastrous consequences for regions that rarely, if ever, experience such powerful storms.
As Lee became reached Category 5 status on Thursday, meteorologist Jeff Berardelli pointed out the increasing frequency of storms reaching that threshold:
Responding to the same trend and data, climate movement organizer Jamie Henn said: "This is your hurricane on fossil fueled climate change."

And it's a global phenomenon, not just for hurricanes forming in the Atlantic. For the first time since records began, Category 5 storms (or the equivalent) have been recorded in each of the world's designated cyclone basins.
"Hurricanes are getting stronger at higher latitudes," warned Shepherd in his assessment. "If that trend continues, that brings into play places like Washington, D.C., New York and Boston."
As science and environment journalist Matt Simon wrote for Wired on Saturday:
Rapid intensification makes hurricanes extra dangerous because they change so quickly and dramatically as they approach the coastline. It's a bit like watching a driver who's cruising along at 25 miles per hour and then guns it right before hitting an obstruction. Residents might be expecting a storm they can ride out, but are instead faced with a full-scale hurricane that's quickly grown monstrous.
Exploring the science and talking with experts of rapid intensification, Simon explained why Lee is being treated as "a warning" and that people and communities should "get ready for more of this phenomenon as the planet warms."

News
Independent, nonprofit journalism needs your help.
Please Pitch In
Today!