In a New Low, House Republicans Try to Strip Humanitarian Relief
WASHINGTON
In a new display of twisted logic by Republicans on Capitol Hill, House Judiciary Committee Chairman Lamar Smith, R-Tx., and Sen. David Vitter, R-La., are pushing legislation that would strip some administrative powers away from President Obama, and only President Obama, that would effectively deny humanitarian relief to immigrants in special circumstances. The following is a statement by SEIU Executive Vice President Mitch Ackerman:
"The HALT Act is ridiculous and mean-spirited and does not deserve a hearing. In this bill, Smith and Vitter manage to combine irrational hostility towards Obama with an ideology that can't admit that any immigrant deserves a break, regardless of need or even benefit to U.S. Citizens.
"This proposal has nothing to do with stopping terrorists or violent criminals. Rather, it would prevent the administration from providing temporary relief or short term admission to a small number of individuals with extremely compelling cases.
"In their ideological attack against immigrants, the chairman and senator are swatting at imaginary flies with 2-by-4s, to impose the most hurt.
"Had the HALT Act been in effect during the catastrophic 7.0 earthquake in Haiti in 2010 - an event that drew humanitarian relief from around the world - the president would have lacked the authority to temporarily adjust the status of immigrants who had no country to return to.
"In another case, the wife and caretaker of an Iraq War veteran who suffers Post Traumatic Stress Disorder would have been deported and separated from her husband and two children had the government not had the authority to issue humanitarian parole.
"This irresponsible bill also would handcuff law enforcement's ability to ensure that witnesses to crimes are available.
"The list of humanitarian and pragmatic needs that are addressed under current law is long. The administration's authority to use discretion on a case-by-case basis speaks to our national values.
"Unfortunately, the lack of legislation discretion by Smith and Vitter panders to the worst form of politics that has turned off the American public. It is time for them to stop the politics of division and start seeking real immigration reform solutions that fortify our economic and national interests."
With 2 million members in Canada, the United States and Puerto Rico, SEIU is the fastest-growing union in the Americas. Focused on uniting workers in healthcare, public services and property services, SEIU members are winning better wages, healthcare and more secure jobs for our communities, while uniting their strength with their counterparts around the world to help ensure that workers--not just corporations and CEOs--benefit from today's global economy.
LATEST NEWS
Human Rights Watch looked at 39 loans in 38 countries since the start of the pandemic, and found that 30 of them contained at least one term that threatened human rights.
The International Monetary Fund continues to impose austerity measures that threaten human rights.
That's the conclusion of a Human Rights Watch (HRW) report published Monday that looks at 39 loans approved in 38 countries between the beginning of the Covid-19 lockdowns in March 2020 and March 2023. While, at the start of the pandemic, IMF managing director Kristalina Georgieva spoke of investing in a recovery that was "greener, smarter, and fairer," the majority of the loans reviewed by HRW still included requirements like lower government spending or higher regressive taxes.
"Despite its promises at the beginning of the pandemic to learn from past mistakes, the IMF is pushing policies that have a long track record of exacerbating poverty and inequality and undermining rights," HRW senior researcher and advocate on economic justice and rights Sarah Saadoun said in a statement.
The loans considered in the HRW report impacted countries home to 1.1 billion people, and 30 of them had at least one requirement that put their rights at risk. Twenty-two of them included limits on public wage bills, 23 included regressive value-added taxes, and 20 decreased or eliminated subsidies for fuel or electricity.
While HRW acknowledged that eliminating fossil fuel subsidies is a necessary part of the transition to renewable energy, this needs to be done in a way that takes the needs of the poorest into account. For example, Saadoun toldEuronews of a woman who works seven days a week as a domestic worker in Sri Lanka.
"The impact of the economic crisis there meant her earnings were essentially cut in half. On top of that, in an effort to reduce public spending, the government cut subsidies for electricity," she said. "She and her son had to move in with her mother, meaning that she is completely dependent on her relatives and her employer to survive."
"I can either get medicine (insulin) for my diabetes or pay for my daughter to go to school or keep the lights on at my house."
HRW argues that both the IMF and the governments they loan to have an obligation to address economic crises in ways that further, rather than retrench on, human rights. At the same time, the IMF's austerity measures fail at its own goal of reducing debt. Its April 2023 World Economic Outlook concluded that they "do not reduce debt ratios, on average."
The report looked at the case of Jordan, which has received IMF loans since 2012, yet has a higher debt-to-gross-domestic-product ratio than at the beginning.
Jordan is also an example of how one measure the IMF has introduced to offset the harm of austerity is insufficient. The IMF has taken to relying on social spending floors or means-tested relief programs. Jordan, for example, instituted a cash-transfer program called Takaful in 2019. While poverty in Jordan increased from 15 to 24% between 2018 and 2022, the program only aided approximately 5% of total Jordanians in 2022, or around 20% of those struggling with poverty.
"While the spending floor and Takaful were an improvement over the earlier programs, they are a bandage on a bullet wound," the report authors wrote. "The reforms generated billions in savings and new revenues through measures that increased the cost of living, yet public spending on health, education, and social assistance did not increase as a percentage of the budget."
HRW had several recommendations for what the IMF could do to reform its programs to bolster human rights. They include conducting human rights assessments of the impacts of these programs, setting different social spending floors for essential services such as health and education, and replacing means-tested programs with universal protections.
If these changes are not adopted, Pakistan offers a warning example. There, a July 2022 agreement between the IMF and the government stipulated higher taxes, a market-based exchange rate, and an end to subsidies for energy and fuel, as HRW pointed out.
"I can either get medicine (insulin) for my diabetes or pay for my daughter to go to school or keep the lights on at my house," a 47-year-old Lahore rickshaw driver told HRW. "I can do only one of the three. The IMF should come and see how I am managing my life."

News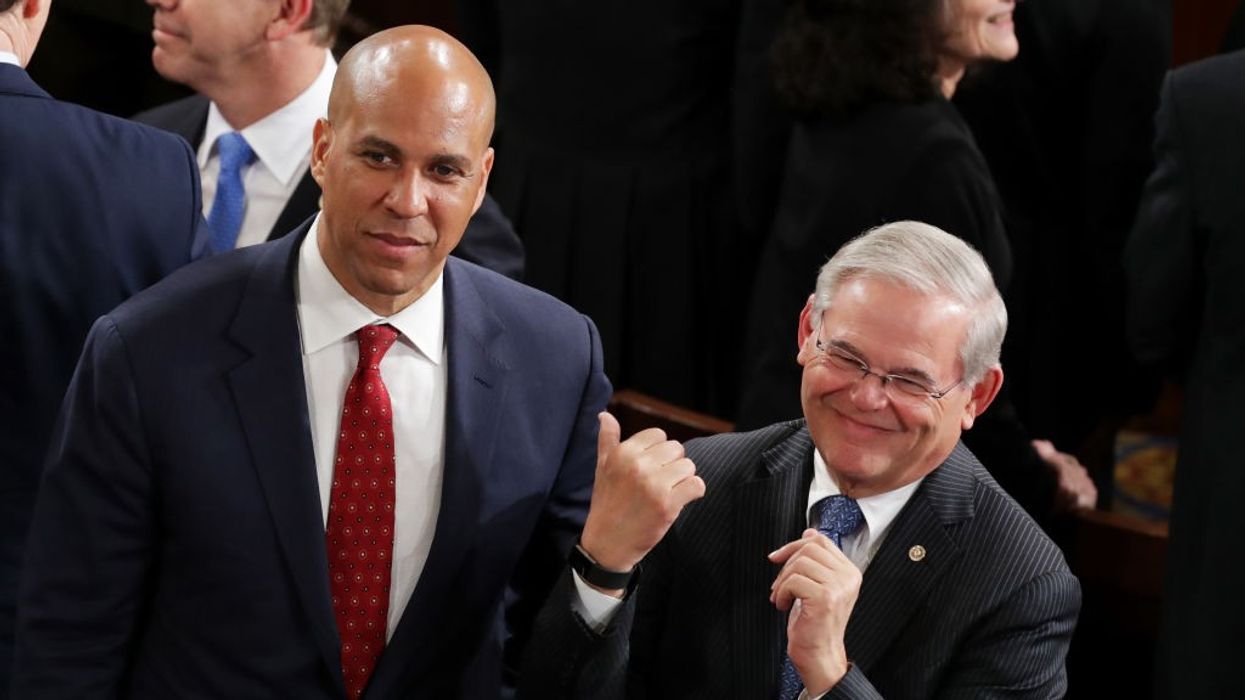 "Stepping down is not an admission of guilt but an acknowledgment that holding public office often demands tremendous sacrifices at great personal cost," said one of New Jersey's U.S. senators to the one facing federal corruption charges.
Sen. Cory Booker on Tuesday called on Sen. Bob Menendez, his fellow New Jersey Democrat in the U.S. Senate, to step aside in the face of a damning federal indictment on corruption charges issued last week.
"As Senator Menendez prepares to mount his legal defense, he has stated that he will not resign," Booker said in a statement. "Senator Menendez fiercely asserts his innocence and it is therefore understandable that he believes stepping down is patently unfair. But I believe this is a mistake."
Booker praised Menendez as a friend and trusted colleague, one with a "boundless work ethic" and who is "deeply empathetic."
This is Menendez's second indictment for corruption, with a first trial over charges brought in 2017 ending in a mistrial.
"It is not surprising to me that Senator Menendez is again determined to mount a vigorous defense," Booker said Tuesday. "And I still believe he, like anyone involved with our criminal justice system, deserves our presumption of innocence until proven guilty. A jury of his peers will make the ultimate decision as to whether he is criminally guilty.
"There is, however, another higher standard for public officials, one not of criminal law but of common ideals," he continued. "As Senators, we operate in the public trust. That trust is essential to our ability to do our work and perform our duties for our constituents."
Booker now joins other Democratic in the upper chamber—including Sens. John Fetterman (D-Pa.), Sherrod Brown (D-Oh.), Tammy Baldwin (D-Wis.), John Tester (D-Mt.), and Bob Casey (D-Pa.)—who have called on Menendez to resign.

On Monday, a defiant Menendez made his first public remarks about the indictment, in which he said the nearly $480,000 in cash and gold bars found in his house was from his own personal savings account over the years, all money he claimed was legitimately earned from his career as a politician and lawmaker.
He said he would not resign, though he acknowledged the legal battle ahead would be tough. Once the process was over, he vowed that "not only will I be exonerated, I will still be New Jersey's senior senator."

In his statement, Booker said, "Stepping down is not an admission of guilt but an acknowledgment that holding public office often demands tremendous sacrifices at great personal cost. Senator Menendez has made these sacrifices in the past to serve. And in this case he must do so again. I believe stepping down is best for those Senator Menendez has spent his life serving."

News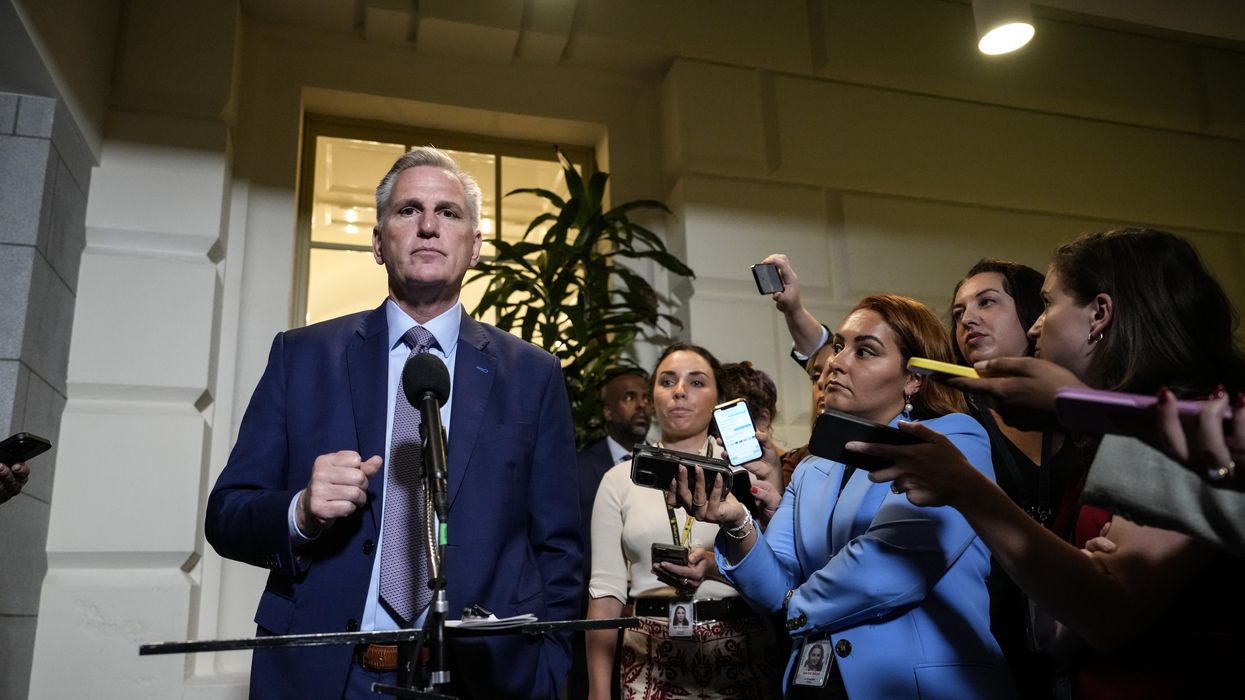 "MAGA House leaders are holding baseless impeachment hearings against President Biden to deflect attention from the ongoing major legal efforts to hold Trump and his cronies accountable."
A government shutdown with potentially disastrous implications for millions of federal aid recipients and the overall U.S. economy is just days away, but House Republicans have made clear that their focus is not entirely on reaching a deal to prevent such an outcome.
On Monday, the GOP-controlled House Oversight Committee announced the names of the witnesses who will testify Thursday at a hearing titled, "The Basis for an Impeachment Inquiry of President Joseph R. Biden, Jr."
The announcement was seen as confirmation that Republicans are bent on moving ahead with what critics and the White House have described as a sham impeachment inquiry even as the government barrels toward a harmful shutdown, one made increasingly likely by far-right GOP lawmakers' push for steep federal spending cuts and other extreme demands.
The impeachment probe will be spearheaded by Reps. James Comer (R-Ky.) and Jim Jordan (R-Ohio), who respectively chair the House Oversight and Judiciary committees.
The first hearing is scheduled to take place just two days before the deadline to pass a government funding measure. Republicans have signaled that they won't pause their impeachment probe if the government shuts down.

"The GOP-led House is a trainwreck," Lisa Gilbert, executive vice president of the consumer advocacy group Public Citizen, said in a statement Monday. "Instead of focusing on resolving the budget to avoid a catastrophic government shutdown, MAGA House leaders are holding baseless impeachment hearings against President Biden to deflect attention from the ongoing major legal efforts to hold Trump and his cronies accountable for their criminal efforts to subvert the 2020 election and stop the peaceful transfer of power."
"We expect the hearings to be a rehash of the lack of evidence found connecting Hunter Biden to the president," said Gilbert. "And no matter what theatrics the MAGA circus presents during the 'impeachment hearings,' the truth is, there is no avoiding the real story—the multiple upcoming trials of those indicted in the attacks on our democracy."
The federal government will shut down on October 1 unless the House and Senate approve a funding measure by Saturday.
The Washington Postreported late Monday that the Senate is expected this week to "begin moving ahead with its own short-term solution, known as a continuing resolution, or CR, by advancing a shell bill that can eventually house an expected bipartisan deal."
"That bill, however, is probably dead on arrival in the House, unless Democrats and moderate Republicans tack it onto a vehicle that wouldn't need leadership's explicit approval for a floor vote," the Post added. "But even that course of action could cause McCarthy significant headaches, underscoring the complexity of the debate over policy and procedure that has upended the House Republican Conference for several weeks."
Twice last week, a small faction of far-right House Republicans tanked procedural votes on a military spending measure, embarrassing defeats for Speaker Kevin McCarthy (R-Calif.), who sent members home for a long weekend after the second failed vote Thursday.
House lawmakers returned to Capitol Hill on Tuesday, but there's little public indication that Republicans are anywhere close to a deal that would keep the government open as hardliners continue to demand massive cuts to education, nutrition assistance, and other nonmilitary spending.
A recent analysis by the Center for American Progress noted that House Republicans are pushing for an 80% cut to Title I education grants that help fund elementary and secondary schools in low-income neighborhoods as well as sharp reductions in spending on the Special Supplemental Nutrition Program for Women, Infants, and Children (WIC)."

According toPolitico, "House GOP leaders on Tuesday will try to move forward on four spending bills jam-packed with conservative wins that would do nothing to avert a shutdown that looms Saturday at midnight."
"Meanwhile, McCarthy is pushing forward with a Republican-only short-term funding bill, which he could put on the floor later this week," Politico reported. "The Californian has pitched a bill that would extend reduced government funding for a month, combined with a GOP border proposal and a debt commission."
Progressives have warned that a "debt commission" is a ploy to fast-track cuts to Medicare and Social Security.
"If they get their way, women and children who count on this food assistance could soon start being turned away at grocery store counters."
The Biden White House estimated in an analysis released Monday that a government shutdown could put "vital nutrition assistance at risk for nearly 7 million women and children who rely on the Special Supplemental Nutrition Program for Women, Infants, and Children (WIC)—a program that serves nearly half of babies born in this country."
"During an Extreme Republican Shutdown, women and children who count on WIC would soon start being turned away at grocery store counters, with a federal contingency fund drying up after just a few days and many states left with limited WIC funds to operate the program," the White House noted. "And the reason food assistance for these families is at risk is extreme House Republicans' continued efforts to slash funding for vital programs, including WIC, rather than work in a bipartisan manner to keep the government open and address emergency needs for the American people."
Ian Sams, White House spokesperson for oversight and investigations, toldThe Hill on Monday that "instead of working to avoid the pain they and their extreme House Republican colleagues could inflict on Kentuckians and Ohioans with their shutdown plan, Comer and Jordan are posing for the cameras to attack President Biden with debunked smears—it's D.C. politics at its worst."
"While Comer and Jordan are focused on baseless political stunts to get themselves attention on Fox News, 300,000 people at risk in Kentucky and Ohio—including vulnerable infants—could lose access to the food assistance they need because of extreme House Republicans' shutdown plan," said Sams. "If they get their way, women and children who count on this food assistance could soon start being turned away at grocery store counters."

News
Independent, nonprofit journalism needs your help.
Please Pitch In
Today!