Targeting Gaps in the Food Supply Chain: Going Beyond Agricultural Production to Achieve Food Security
Worldwatch's Nourishing the Planet team highlights innovations in information technology, market access, and communication that improve livelihoods and food security.
WASHINGTON
Agricultural production is only the first step in moving the world's food from farm to fork, according to Nourishing the Planet, a project of the Worldwatch Institute. The other links in the food chain - harvesting, packaging, storing, transporting, marketing, and selling - ensure that food actually reaches consumers. Inefficiencies in these activities, rather than just low yields or poor farming techniques, are often to blame for food shortages and low prices for growers.
"Many of the farms and organizations we visited in Africa seemed to have the most success reducing hunger and poverty through efforts that had little to do with producing more crops," said Nourishing the Planet director Danielle Nierenberg, who spent two years traveling across sub-Saharan Africa researching food chains in over 25 countries.
With the United Nations projecting a global population of more than 9 billion by 2050, increasing food chain efficiency will become ever more essential. Producers and consumers must be part of a food chain that feeds the world, provides fair prices to farmers, and works in harmony with the environment. "When groups of small farmers better organize their means of production - whether ordering the right inputs at the right time or selling their crops directly to customers - they become more resilient to fluctuations in global food prices while also better serving local communities," said Robert Engelman, Executive Director of Worldwatch.
Nourishing the Planet (www.NourishingthePlanet.org) is a two-year evaluation of environmentally sustainable agricultural innovations to alleviate hunger and poverty. Worldwatch researchers traveled to 25 countries across sub-Saharan Africa to meet with more than 350 farmers groups, NGOs, government agencies, and scientists, highlighting small-scale agricultural efforts that are helping to improve peoples' livelihoods by providing them with food and income. The findings are documented in the recently released report, State of the World 2011: Innovations that Nourish the Planet.
In State of the World 2011, contributing author Samuel Fromartz uses the example of corn production in Zambia to illustrate how off-farm inefficiencies exacerbate food insecurity and poverty. Poor market access, unpredictable weather patterns, and insufficient infrastructure make small-scale agriculture a high-risk livelihood. Seasons of surplus corn production can be as detrimental as low-yielding ones. Large surpluses saturate local markets, and local farmers have no alternatives for selling their product. "Many do not have the luxury of picking when to sell or whom to sell to; they are desperate and need to sell to eat. So they take whatever price they can get," writes Fromartz.
Research done by Nourishing the Planet staff has found innovations in sub-Saharan Africa and other locations around the globe that improve market access, enhance farmer-to-farmer communication, and harness simple information technology. These improvements in the food chain provide farmers with fair prices and also help increase food security by distributing food efficiently.
Nourishing the Planet recommends three ways that agriculture is helping to address gaps in the current food supply chain:
* Coordinating farmers. In Uganda, the organization Technoserve works with farmers to improve market conditions for sales of bananas. Technoserve helps individuals form business groups that receive technical advice and enter into sales collectively. Coordinating business has decreased transaction costs and helped farmers market their crops and compete with larger producers more effectively. Over 20,000 farmers now participate in the project. Farmers in the United States are also banding together to increase sales efficiency and fair prices. The Chesapeake Bay regions's FRESHFARM Markets act as an organizational umbrella under which area farmers can coordinate, market, and sell their products.
* Increasing market transparency. In Nairobi, Kenya, the DrumNet project uses simple communication technology to provide farmers with real-time market information. Having access to market prices and sale-coordination opportunities allows farmers to receive fair prices for their crops. And the transparency increases overall sales transactions, meaning that less food goes to waste.
* Using low-cost technology to boost efficiency. According to the UN, over 5 billion people on the planet now have a mobile phone subscription. As the cost of the technology drops, using the devices beyond personal communication makes sense. In Niger, farmers use mobile phones to access market information, an application that has reduced the fluctuation in regional grain prices by 20 percent and has helped ensure fair prices for producers and consumers. Similarly, the Grameen Foundation and Google have collaborated to develop Google Trader, an online bulletin board on which farmers and merchants can contact one another. The bulletin also includes applications such as "Farmer's Friend" a tool that offers farmers information on weather, pests, and livestock management.
State of the World 2011 is accompanied by informational materials including briefing documents, summaries, an innovations database, videos, and podcasts, all available at www.NourishingthePlanet.org. The project's findings are being disseminated to a wide range of agricultural stakeholders, including government ministries, agricultural policymakers, and farmer and community networks, as well as the increasingly influential nongovernmental environmental and development communities.
The Worldwatch Institute was a globally focused environmental research organization based in Washington, D.C., founded by Lester R. Brown. Worldwatch was named as one of the top ten sustainable development research organizations by Globescan Survey of Sustainability Experts. Brown left to found the Earth Policy Institute in 2000. The Institute was wound up in 2017, after publication of its last State of the World Report. Worldwatch.org was unreachable from mid-2019.
LATEST NEWS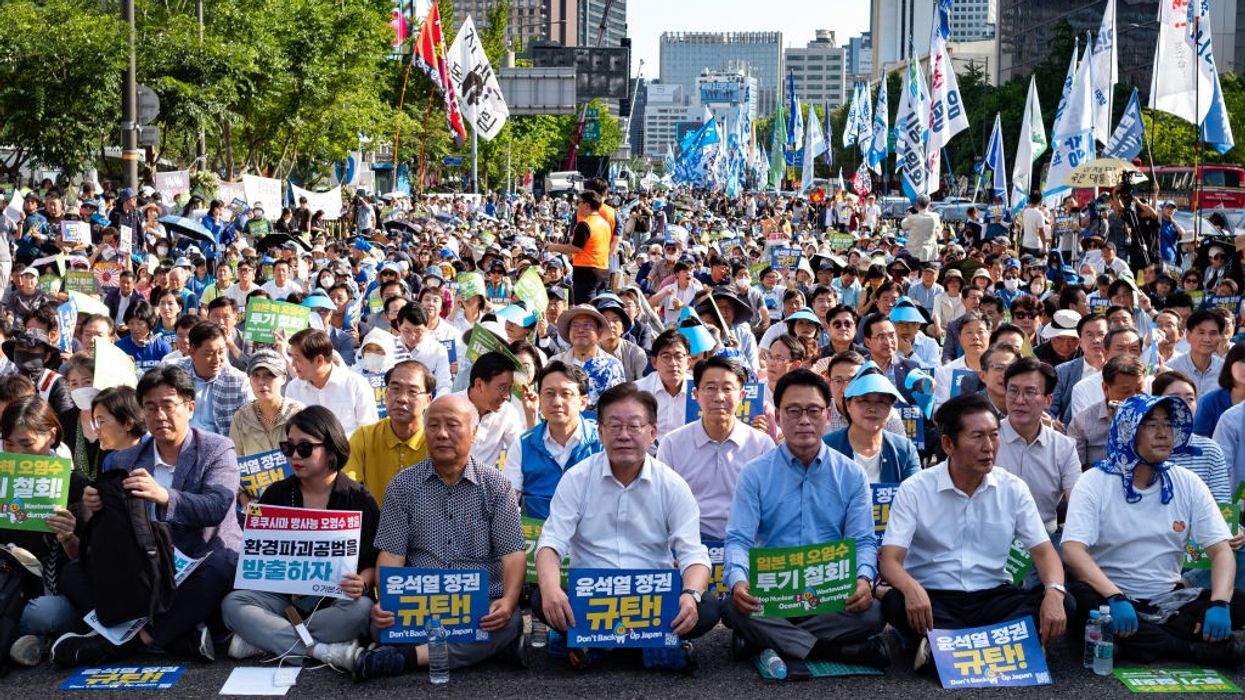 'It is time for the international community to step in and call out this clear breach of the international law'
South Koreans have continued a weekend rally against Japan's dumping of Fukushima nuclear plant's contaminated radioactive wastewater into the ocean by holding a large demonstration on Saturday.
The protesters, including fishermen, activists and politicians, shouted slogans such as "Immediately stop the marine dumping of radioactive wastewater" and "Prohibit import of all Japanese aquatic products," as they urged the South Korean government to file a lawsuit with the International Tribunal for the Law of the Sea against the Japanese government.
On August 24th, Japan began dumping radioactive water from the crippled Fukushima Daiichi nuclear power plant into the Pacific Ocean.
The move resulted in a massive backlash across Asia and around the world.
While South Korea's opposition Democratic Party leader Lee Jae-myung calls the Fukushima release an "act of terror," the country's government under President Yoon Suk Yeol has backed Japan's decision, Deutsche Welle explained. However, the release is unpopular with the public, with more than 80% opposing the release and more than 60% vowing not to eat Japanese seafood afterward, TheAssociated Press reported.
According to The Korea Herald:
Democratic Party of Korea head Rep. Lee Jae-myung, on the fourth day of a hunger strike, said he would call on the international community to join his party's protests against the Japanese government over the water's release, in a press conference on Sunday.
"The dumping of the wastewater contaminated with radioactive materials by Japan is in direct violation of the London Convention on marine pollution," he said. "It is time for the international community to step in and call out this clear breach of the international law, stop Japan's misbehavior and stand united to preserve marine safety."
The main opposition leader said he penned a letter to the heads of states and governments of the 86 signatories of the London Convention to collectively rally against the release of the Fukushima wastewater.
Xinhua news reports:
"Fukushima nuclear-contaminated wastewater has the nature of trash," Lee Seo-yoon, a mother of three children, said during the rally, adding that Japan regards the ocean as the largest and the cheapest trash bag.
Lee stressed that it would be absurd to hope that no one would be harmed after dumping the trash into the ocean, urging Tokyo to store the radioactive wastewater on its soil rather than dumping it in the sea.
"The ocean is the future of my family and the future of our descendants," said Kim Sam-ho, a fisherman who came from the country's southern coastal Wando County.
Kim raised his strong doubts about the safety of the radioactive wastewater, calling for the South Korean government to take necessary actions including supporting measures for fishermen.
"The major purpose of nuclear safety is to block radiation from reaching the environment and people," said Han Byung-sub, a nuclear expert who had worked at the Korea Atomic Energy Research Institute (KAERI) and the Korea Electric Power Corp. Engineering & Construction (KEPCO E&C).
Han noted that the proper measurement of radiation from Fukushima, involving groundwater flowing in and out of the destroyed reactor, was not carried out, urging the South Korean government to properly measure the radiation in waters off the country from now on.
Following the one-and-a-half-hour rally, the protesters marched about five km in downtown Seoul to the presidential office.
News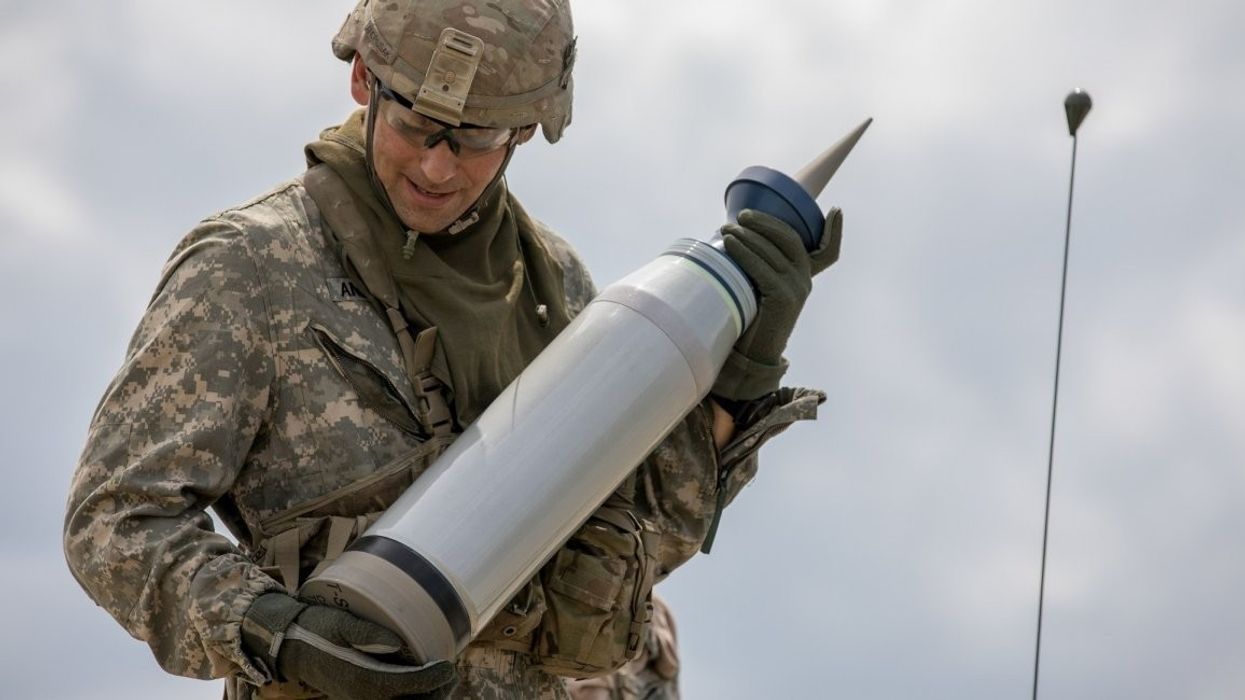 Peace groups have long campaigned for a ban on DU munitions
The Biden administration will, for the first time, send controversial armor-piercing munitions containing depleted uranium to Ukraine, according to Reuters.
The munition can be fired from US Abrams tanks, which are expected to arrive in Ukraine in the coming weeks.

The shells, which will come from US excess inventory, would be funded by the Presidential Drawdown Authority, which lets the president make transfers from US stocks without Congress' approval in the case of an emergency.
This follows an earlier decision by the Biden administration to provide cluster munitions to Ukraine despite concerns over the dangers such weapons pose to civilians.
If the US deploys depleted uranium shells to Ukraine, Russian President Vladimir Putin has threatened to retaliate with DU rounds—which are linked to birth defects, miscarriages, and cancer.
Depleted uranium is a byproduct of the production of fuel used in nuclear power stations. Its extreme density gives rounds the ability to penetrate armor-plating easily.
The use of depleted uranium munitions has been fiercely debated, with opponents like the International Coalition to Ban Uranium Weapons saying there are dangerous health risks from ingesting or inhaling depleted uranium dust, including cancers and birth defects.
Common Dreams has reported:
The U.S.-led NATO coalition that waged the 1999 air war against Yugoslavia also used DU munitions, which experts believe are responsible for a surge in leukemia in the region, both among the local population and foreign troops deployed in the war zone.
Peace groups have long campaigned for a ban on DU munitions. Last September, the United Nations General Assembly approved an Indonesian draft resolution urging further research of the "health risks and environmental impact" of DU weapons and calling for a "cautionary approach" to their use.
The resolution was approved by 147 nations. The U.S., U.K., France, and Israel voted against the proposal.
News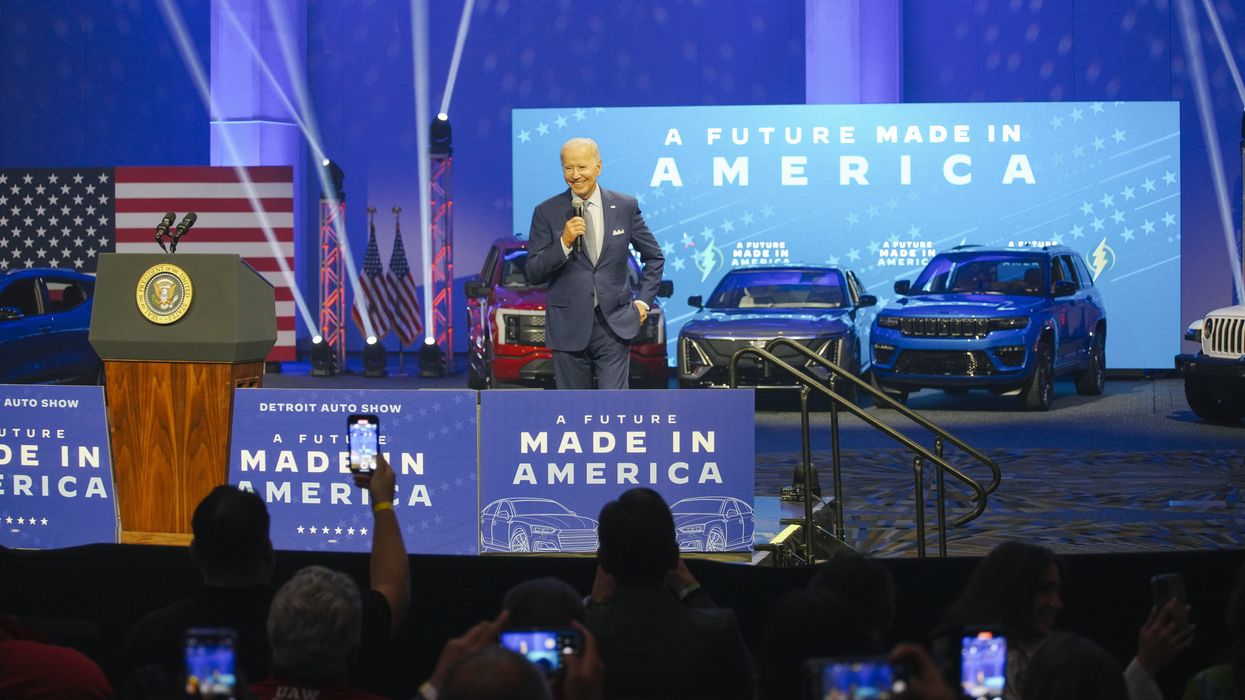 "We are glad to see the Biden administration doing its part to reject the false choice between a good job and a green job," said the United Auto Workers president.
In a move welcomed by progressives in Congress and a top union leader, U.S. President Joe Biden's administration on Friday announced a $15.5 billion package "primarily focused on retooling existing factories for the transition to electric vehicles" and stressed the importance of "supporting good jobs and a just transition to EVs."
The Biden administration is making available $2 billion in grants and up to $10 billion in loans for conversion projects that keep jobs in communities already home to automaker facilities, according to a statement about the package. The Department of Energy (DOE) is also planning for $3.5 billion in funding to expand domestic manufacturing of batteries and related materials for EVs and the U.S. electric grid.
"President Biden is investing in the workforce and factories that made our country a global manufacturing powerhouse," said U.S. Secretary of Energy Jennifer Granholm. "Today's announcements show that President Biden understands that building the cars of the future also necessitates helping the communities challenged by the transition away from the internal combustion engine."
The package follows the United Auto Workers (UAW) revealing last week that 97% of participating members at "Big Three" vehicle manufacturers Ford, General Motors, and Stellantis—whose brands include Chrysler, Dodge, Fiat, Jeep, Maserati, and RAM—voted to authorize a strike if a contract deal with management isn't reached by mid-September.
It also comes after the UAW on Thursday filed unfair labor practice charges against General Motors and Stellantis, accusing them of illegally refusing to negotiate in good faith and dragging out talks "with the goal of forcing the union to swallow a milquetoast contract at the last minute," in the words of UAW president Shawn Fain.
Fain on Friday celebrated the DOE package, saying that "the UAW supports and is ready for the transition to a clean auto industry. But the EV transition must be a just transition that ensures auto workers have a place in the new economy. Today's announcement from the Department of Energy echoes the UAW's call for strong labor standards tied to all taxpayer funding that goes to auto and manufacturing companies."

The UAW leader—whose union has pressured the president to use his power to help ensure a just transition to EVs—continued:

We are glad to see the Biden administration doing its part to reject the false choice between a good job and a green job. This new policy makes clear to employers that the EV transition must include strong union partnerships with the high pay and safety standards that generations of UAW members have fought for and won.

The Big Three have closed or spun off 65 plants in the last 20 years. The automakers have not yet promised job security in our ongoing negotiations. I have traveled across the country, meeting displaced workers who've had to pick up and move their families when plants shut down recently in Belvidere, Illinois, Lordstown, Ohio, and Romeo, Michigan. These new grants and loans will give plants like these a chance for federal support to ensure those jobs and communities are protected.

Granholm noted Fain's remarks on social media, saying she "couldn't agree more" that the shift to EVs must be a just transition.
Members of Congress, including Rep. Ro Khanna (D-Calif.), similarly took to social media to highlight the UAW leader's comments.
Along with also pointing to Fain's statement, Sen. Bernie Sanders (I-Vt.) said that "President Biden is right. When the federal government provides billions to the auto industry for the production of electric vehicles, the jobs that are created must be good-paying union jobs and the cars must be produced in the U.S. This new policy is an important step forward."
News
Independent, nonprofit journalism needs your help.
Please Pitch In
Today!