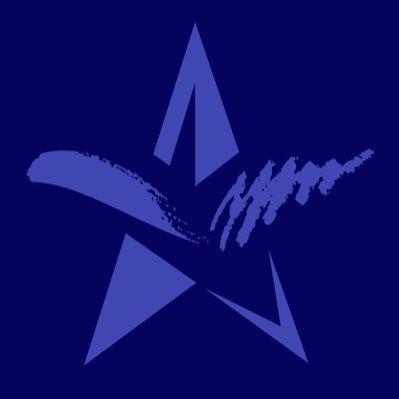 For Immediate Release
June, 27 2011, 01:07pm EDT
Contact:
Miranda Blue or Justin Greenberg
202-467-4999 / media@pfaw.org
Supreme Court Strikes Another Blow to Clean Elections
The Supreme Court today, in a 5-4 decision, struck down the long-standing Arizona law providing matching funds for publicly financed candidates running against well-financed opponents. In McComish v. Bennett, the Court's majority held that the matching funds provision violates the First Amendment by chilling the speech of private campaign donors. Arizona's voters adopted the clean elections law in the 1990s to reduce the political corruption that was repeatedly driving the state into crisis. Two governors had faced criminal indictment.
WASHINGTON
The Supreme Court today, in a 5-4 decision, struck down the long-standing Arizona law providing matching funds for publicly financed candidates running against well-financed opponents. In McComish v. Bennett, the Court's majority held that the matching funds provision violates the First Amendment by chilling the speech of private campaign donors. Arizona's voters adopted the clean elections law in the 1990s to reduce the political corruption that was repeatedly driving the state into crisis. Two governors had faced criminal indictment. Nearly ten percent of the Arizona legislature ended up facing civil or criminal charges after several legislators were caught on video accepting campaign contributions and bribes in exchange for legislative acts. Arizonans acted to reduce candidates' dependence on wealthy campaign funders and restore integrity to their elections. Today's elimination of the matching funds provision severely damages the state's hard-won clean elections law.
Marge Baker ofPeople For the American Way Foundation, said:
"This decision, based on an upside-down interpretation of the First Amendment, takes away the right of Arizonans not only to ensure a modicum of integrity and fairness in their elections but to promote more political speech. The Court has thus ensured that the wealthiest can continue to pay for outsized political influence and maintain their speech advantages.
"The Roberts Court has once again twisted the Constitution to benefit the wealthy and powerful while leaving ordinary Americans with a diminished voice. Like in Citizens United v. FEC, which prohibited legislatures from limiting corporate spending to influence elections, the Court's majority has strayed from the text and history of the Constitution in order to prevent citizens from maintaining control over our democracy. The Roberts Court would do well to remember that the Constitution was written to protect democracy for all people, not just the rich and powerful. Today it has ruled not only that the wealthy have a right to spend more but that they have a right that everyone else spend less."
People For the American Way works to build a democratic society that implements the ideals of freedom, equality, opportunity and justice for all. We encourage civic participation, defend fundamental rights, and fight to dismantle systemic barriers to equitable opportunity. We fight against right-wing extremism and the injustice it fosters.
1 (800) 326-7329
LATEST NEWS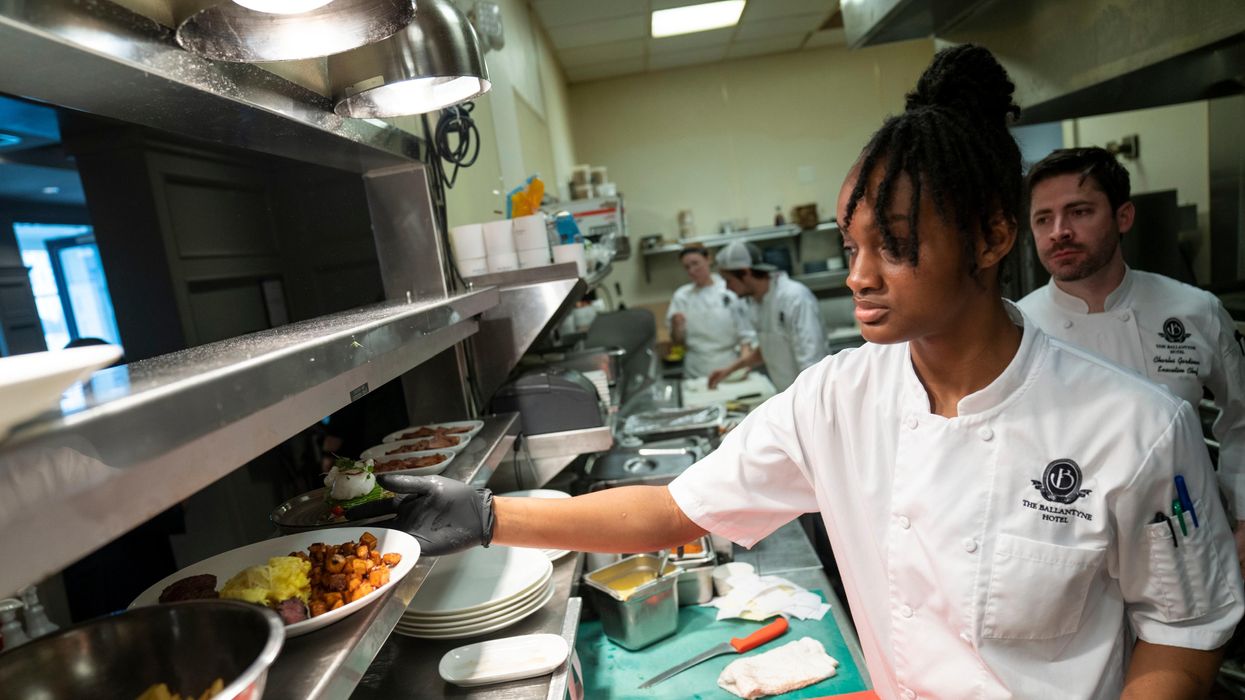 A New York Times investigation found that the National Restaurant Association is using mandatory food safety classes to force workers to unwittingly fund lobbying against wage increases.
Labor advocates voiced outrage Tuesday in response to a New York Times investigation detailing how the powerful National Restaurant Association uses mandatory food-safety courses—which workers often pay for out of their own pockets—to help finance its campaigns against wage increases.
The Timesreported that the restaurant lobby and its affiliates have created "an arrangement with few parallels in Washington, where labor unwittingly helps to pay for management's lobbying."
They did so, according to the newspaper, by taking over a food-safety training business known as ServSafe and pressuring states to "mandate the kind of training they already provided—producing a flood of paying customers."
"The company they are paying, ServSafe, doubles as a fundraising arm of the National Restaurant Association—the largest lobbying group for the food-service industry, claiming to represent more than 500,000 restaurant businesses," the Times noted. "The association has spent decades fighting increases to the minimum wage at the federal and state levels, as well as the subminimum wage paid to tipped workers like waiters."
Saru Jayaraman, the president of One Fair Wage—a national group that advocates for workers earning subminimum wages—said in a statement that "the National Restaurant Association was founded to suppress service workers' wages."
"But this bombshell New York Times investigation exposes something that most people didn't know—the National Restaurant Association is stealing from its low-wage workers in order to fund that anti-worker lobbying," said Jayaraman. "Restaurants like Applebee's and Olive Garden make millions of dollars by paying restaurant workers a federal subminimum wage of just $2.13 an hour. The fact that they fund lobbying efforts to kill laws raising wages by charging workers for food safety training is beyond outrageous."
"It's time politicians stop listening to the owners of major restaurant chains, and start listening to the American people."
Currently, four large states—California, Texas, Illinois, and Florida—require food-handling courses for most restaurant workers. ServSafe dominates the market for offering such classes, providing them for around $15 per worker.
"More than 3.6 million workers have taken this training, providing about $25 million in revenue to the restaurant industry's lobbying arm since 2010. That was more than the National Restaurant Association spent on lobbying in the same period, according to filings with the Internal Revenue Service," the Times reported Tuesday. "The restaurant association notes that some employers have covered the costs of getting certified and that employees are given lower rates in certain circumstances. So not all 3.6 million workers paid $15 each."
Jayaraman called on "any elected official who claims to care about workers" to reject campaign cash from the National Restaurant Association and "return those stolen funds to the workers fighting to raise wages for all Americans."
"Across the country, the American people think wages are too low—and want a raise," Jayaraman added. "It's time politicians stop listening to the owners of major restaurant chains, and start listening to the American people."
The National Restaurant Association spent $2.1 million on lobbying in 2022 alone, according to the watchdog OpenSecrets, and its political action committees donated to the campaign arms of Senate Democrats and Republicans.

The overwhelming majority of the lobbying group's campaign donations flowed to Republican congressional candidates last year, OpenSecrets data shows.

The One Fair Wage campaign is demanding that lawmakers sign a new pledge vowing to reject political donations from the National Restaurant Association, which is currently fighting a Biden administration rule limiting when employers are allowed to pay workers a subminimum wage.

"The National Restaurant Association has taken millions of dollars from low-wage workers and used it, without their knowledge, to fund lobbying activities to fight these same workers' wage increases through their PAC," the One Fair Wage pledge states. "These lobbying activities have resulted in millions of families falling below the poverty line, increasing their reliance on public assistance, costing taxpayers money, and hurting state and local economies."
News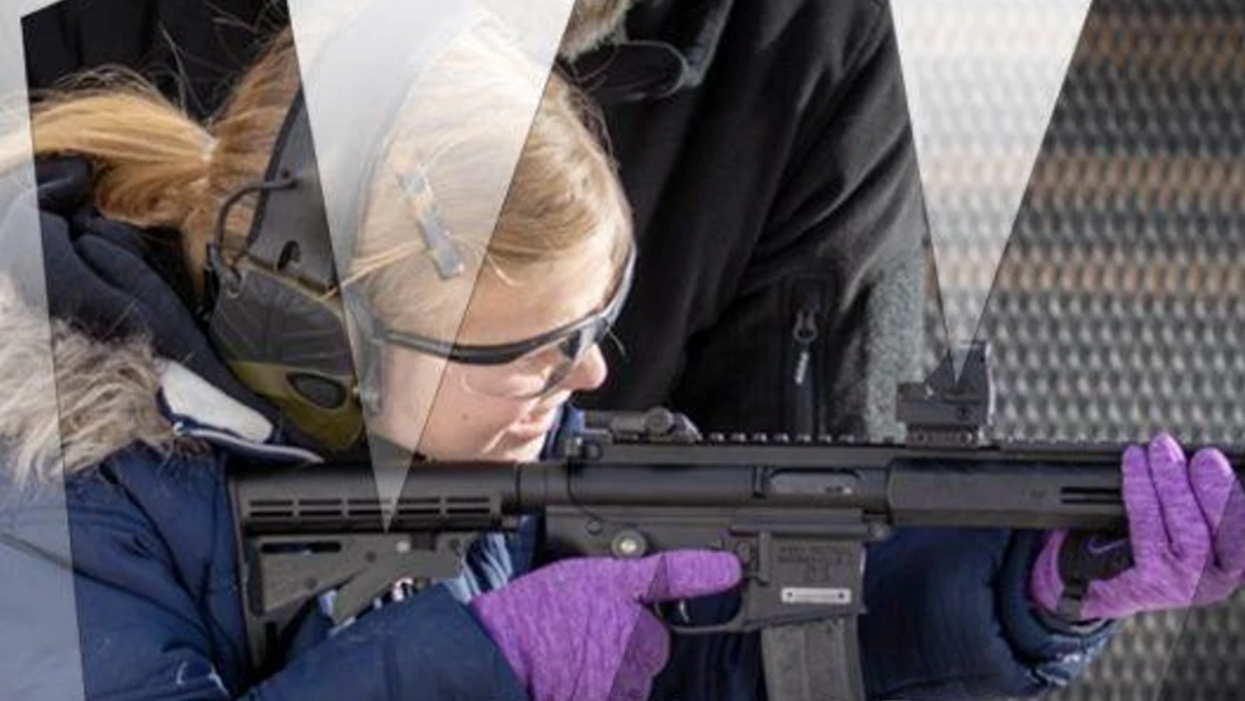 "Most Americans are shocked and disgusted by the idea of manufacturing semiautomatic assault rifles designed for grade schoolers," said one gun control advocate.
A Utah-based gunmaker came under fire again Tuesday for rebranding a semi-automatic rifle for children inspired by the AR-15 that's so commonly used in U.S. mass shootings.

A year ago, WEE1 Tactical—maker of the lightweight JR-15 assault-style rifle that "operates just like mom and dad's gun"—sparked outrage with marketing featuring pacifier-sucking baby skulls with gunsights for eye sockets. The gun made headlines again in 2022 after Rep. Marjorie Taylor Greene (R-Ga.) tweeted that students at Robb Elementary School in Uvalde, Texas "needed JR-15s to defend themselves" against a gunman who killed 19 children and two staff members with an AR-15-style rifle.
Since then, WEE1 Tactical has shifted its branding strategy. The baby skulls are gone; now the JR-15 represents "a great American tradition," a "small piece of American freedom," and "American family values."
Josh Sugarmann, executive director of the Violence Policy Center and author of a 2016 study on the firearms industry's gun-grooming of American children, led criticism of the JR-15 rebrand.
"WEE1 Tactical has adopted this supposedly kinder, gentler marketing approach because it knows from experience that most Americans are shocked and disgusted by the idea of manufacturing semi-automatic assault rifles designed for grade schoolers," Sugarmann said in a statement. "The company's persistence in selling assault rifles for children makes clear the need for continued vigilance by parents and communities as well as legislative action."
\u201cThe gun lobby grp National Shooting Sports Foundation (NSSF) is hosting its annual SHOT show in Las Vegas this week. Last year, they allowed Wee1 Tactical to showcase JR-15s\u2014AR15s made for children. Gun makers should not be able to market weapons of war to children. #NSSFisTheNRA\u201d

— Newtown Action Alliance (@Newtown Action Alliance) 1673905734
WEE1 Tactical is displaying the JR-15 at SHOT Show 2023, a major National Shooting Sports Foundation trade show that opened Tuesday at the Venetian Expo and Caesars Forum in Las Vegas. That's about three miles from where a man armed with 24 guns including 14 AR-15-type rifles massacred 60 people at a 2017 country music festival on the Las Vegas Strip in the deadliest mass shooting in U.S. history.
The JR-15 is not an AR-15, the civilian version of the M16 and its more modern offshoot, the M4 carbine, used by the U.S. military since the Vietnam War era. Instead of the NATO-standard 5.56 mm bullets fired by the AR-15, the JR-15 uses .22 caliber rounds which, while still potentially deadly, are much smaller, far less powerful, and commonly associated with a youth's first hunting or sporting rifle.
However, gun control advocates note that children made up nearly 1,700 of the more than 44,000 people killed with guns in the United States last year. Earlier this month, a 6-year-old brought a gun to his elementary school in Newport News, Virginia and allegedly shot his teacher during an altercation.
"Call me crazy but just weeks after a 6-year-old shot his teacher I don't think it's a great idea to be releasing a kids version of the AR-15," tweeted David Hogg, co-founder of March for Our Lives and a survivor of the 2018 massacre at Marjory Stoneman Douglas High School massacre in Parkland, Florida, in which the gunman used an AR-15-style rifle to murder 14 students and three staff.
In California, state Assemblymember Phil Ting (D-19) last year introduced a bill that would ban the marketing of guns to children.

Last year, the Kaiser Family Foundation published a study showing that roughly 26,000 U.S. children would still be alive if the country had the same child gun death rate as Canada.

News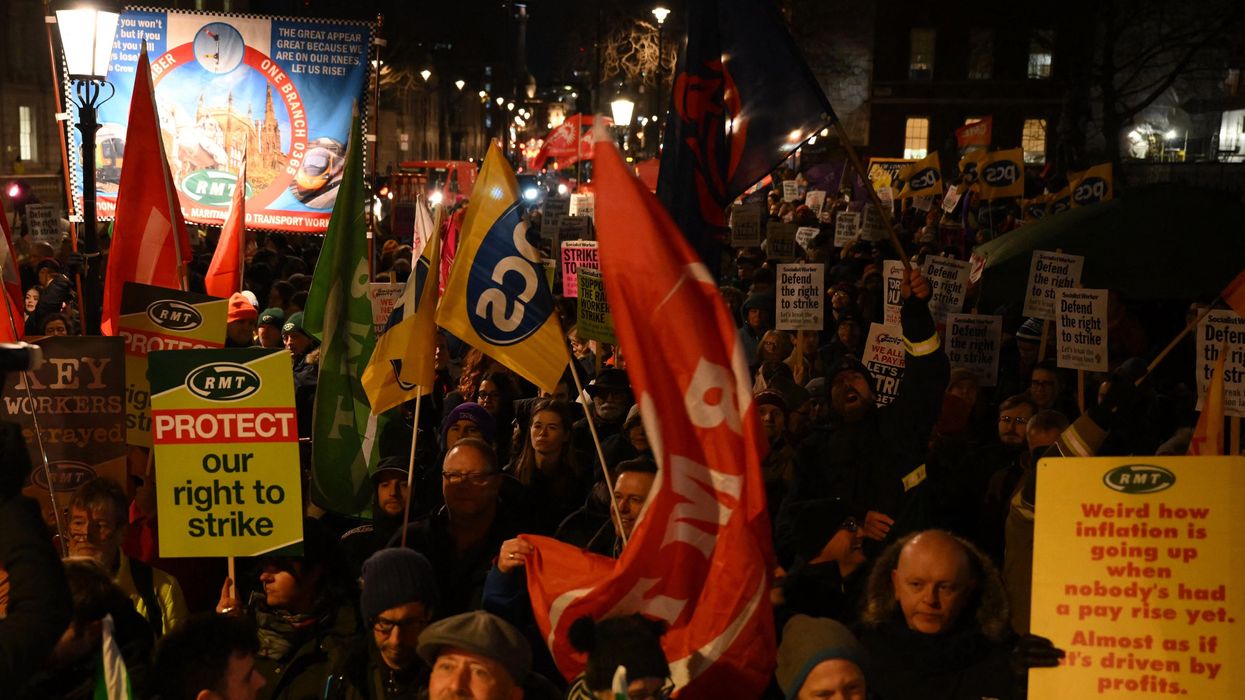 "You're either with nurses, teachers, firefighters, and frontline workers. Or you're with the Tory government," said the Enough Is Enough campaign. "It's time for everyone to pick a side."
Lawmakers from the United Kingdom's Conservative Party advanced anti-strike legislation on Monday night despite the objections of tens of thousands of petitioners and thousands of demonstrators outside, but economic justice advocates made clear that the fight for fundamental workers' rights is far from over.
"After last night, the choice is clear," the Enough Is Enough campaign against neoliberalism tweeted Tuesday morning. "You're either with nurses, teachers, firefighters, and frontline workers. Or you're with the Tory government. It's time for everyone to pick a side."
Thousands of trade unionists and progressive activists gathered in London on Monday night to protest the Tories' so-called Strikes Bill as it was being read for a second time in the Palace of Westminster.
"This bill is really about... weakening the power of workers."
If finalized, the legislation would allow right-wing British Prime Minister Rishi Sunak's administration to impose undisclosed "minimum service regulations" to force striking nurses, teachers, firefighters, rail staff, and others back to work. If they refuse, workers can be terminated, even during a labor stoppage to prevent pay cuts, and the union can be sued into bankruptcy.
The anti-democratic proposal comes amid a surge in labor unrest across the U.K., with teachers in England and Wales voting Monday afternoon to strike on February 1, the same day 100,000 other public sector workers were already scheduled to walk off the job to demand better pay and benefits.
Monday night's rally, which began at 6:00 pm local time, featured several speakers. Those who took the stage include Mick Lynch, the popular Rail, Maritime, and Transport union leader behind Britain's recent rail strikes; Communication Workers Union general secretary Dave Ward; Jo Grady, general secretary of the University and College Union; Fire Brigades Union general secretary Matt Wrack; Jordan Rivera from National Health Service Workers Say No!; Paul Nowak, general secretary of the Trades Union Congress; and left-wing Labour Party MP Zarah Sultana.
"Make no mistake," Nowak told the crowd. "This bill is a fundamental attack on the right to strike that will force workers across the public sector to cross picket lines or face the sack."
Public and Commercial Services Union organizer Clare Keenan described the bill as an "attack on my human rights and those of my fellow workers."
"You can't make people go to work five days a week and hav[e] to use food banks and remov[e] their ability to protest," said Keenan. "It's just a hurdle that they're putting in the way to stop workers from taking industrial action."
\u201cJust wow. What a powerful demo tonight. #RightToStrike #EnoughIsEnough\u201d

— Fire Brigades Union (@Fire Brigades Union) 1673910647
\u201cThe Tories' proposed new anti-worker law would see nurses, firefighters, teachers and other key workers sacked for striking for fair pay.\n\nTonight, outside Downing Street, I pledged to fight this attack on our democratic rights: From Parliament to the picket line #RightToStrike\u201d

— Zarah Sultana MP (@Zarah Sultana MP) 1673903506
Inside the House of Commons, meanwhile, Sultana delivered a fiery speech outlining why she voted against the Tories' anti-strike legislation.
"There was a brief period in the pandemic, where we all recognized who keeps our country running. And it wasn't the city bankers, hot-shot lawyers, or big business executives," said Sultana. "It was the people who drive our buses, who sweep our streets, who post our mail, it's people who teach our kids, and nurse us back to health."
"Briefly, even the members opposite thanked them," Sultana said, referring to Conservative MPs. "They called them 'key workers' and 'heroes,' and clapped for them with the cameras rolling."
"But as key workers knew, clapping doesn't pay the bills, and with a decade of falling wages, they couldn't go on," Sultana continued. "As the cost of living has soared, workers are saying, 'enough is enough,' and they are demanding a better deal."
"Of course, the government's line has changed," said Sultana. "Members opposite are now calling workers 'greedy,' saying they are 'selfish.' They've started pitting workers against each other, saying that railway workers couldn't get a pay rise if nurses weren't, but that nurses weren't allowed a pay rise either."
"And now they've stooped to this: An anti-worker bill that threatens the civil liberties of us all," she added. "This new law would see key workers like nurses, railway workers, firefighters, and teachers fired for going on strike. From clapping nurses, they're sacking nurses."
According to Sultana: "They say it's about safety, but that word isn't mentioned even once in the pages of this bill. They say it's about bringing us in line with other European nations, but Britain already has some of the most restrictive anti-union laws in the Western world. And no matter what they say, it's definitely not about resolving current disputes; it's only inflaming tensions and making negotiations harder."
"What this bill is really about," she argued, "is shifting the balance of power: weakening the power of workers and making it easier for bosses to exploit them and for the government to ignore them."
On social media, Sultana slammed Tory MPs for "disgracefully" backing the bill but stressed that "the fight isn't over."
"Let's now build a movement to defend the right to strike and build a Britan fit for workers," she wrote, linking to an Enough Is Enough petition that has been signed by more than 160,000 people.
The Tories' anti-strike bill is not yet law. It remains at the committee stage in the House of Commons, where it must be passed for a third time. If that happens, the House of Lords must approve the legislation on three separate occasions as well before it becomes law.
"The right to strike is the vanguard of democracy and freedom."
Sunak's attempt to curtail the right to strike has been widely condemned. According to King's College, London law professor Ewan McGaughey, the legislation is best characterized as a "pay cut and forced labor bill" and would constitute a "gross violation of international law."
"The right to fair pay and collective action are inalienable rights, enshrined in the Universal Declaration that followed the Second World War, and the International Bill of Rights of 1966," McGaughey wrote Monday. "These rights exist because workers, faced with authoritarian employers and governments, could always do one thing: they could just say 'No. If they don't pay, we won't work.'"
McGaughey continued: "Strikes brought down the Kaiser. Strikes forced the Empire to quit India. Strikes opened the Iron Curtain. Strikes finished Apartheid in South Africa. The right to strike is the vanguard of democracy and freedom, and whether they have the self-awareness or not, Sunak and [Business Secretary Grant] Shapps are treading blindly down the road to tyranny, like Viktor Orbán's Hungary, or Vladimir Putin's Russia."
"What should the government do to stop the strikes?" McGaughey asked. "First, it should not cut public workers' pay: an inflation-protected pay rise would cost just £10 billion, after tax and National Insurance receipts, on the government's own figures. This money can come from taxing Shell, BP, and big fossil fuel polluters whose excess profits have inflated bills and prices. Second, it should rebuild fair pay scales through sector-wide, good faith collective bargaining, and the right of workers to elect at least a third to half of directors on their enterprise board. Third, it should repeal the anti-strike laws, and enshrine a positive right to take collective action, including in solidarity, against reckless management shut downs."
Speaking in the House of Commons on Monday night, Labour Party deputy leader Angela Rayner gave voters a reason to show up for the next election, vowing to repeal the Tories' anti-strike bill, which she dubbed the "sacking nurses bill" and called one of the most "indefensible and foolish pieces of legislation to come before this House in modern times."
Sultana, for her part, delivered "a message to those watching at home who aren't sure about the strikes."
"If your pay is too low and your bills are too high, if you're struggling to make ends meet, if you can't get a doctor's appointment, you're not alone," said the lawmaker. "But the problem isn't striking workers. Your problem isn't migrants, refugees, or trans people either, or whoever the right-wing press is scapegoating today. Your problem is this Tory government and their 13 years of disastrous rule and the rigged economy that they've built."
"Because alongside record numbers of food banks, Britain has a record number of billionaires, record profits for big business, and record wealth for the top 1%," Sultana noted. "So let's bring together everyone who's had enough, and from the picket line to Parliament, let's fight for a better deal."
News
SUPPORT OUR WORK.
We are independent, non-profit, advertising-free and 100%
reader supported.