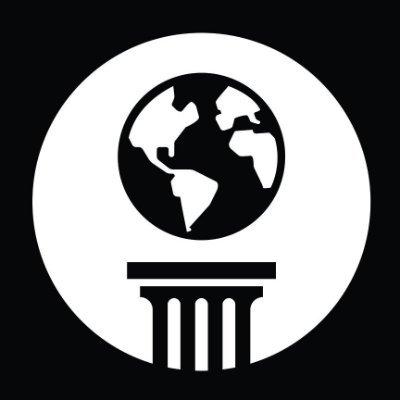 Feds Overlook Environmental Impacts of Controversial Pipeline Project
Groups call for thorough review of pipeline through Endless Mountains region of Pennsylvania
WASHINGTON
In an environmental assessment issued today by the Federal Energy Regulatory Commission, the agency tried to make the case that a 39-mile pipeline project that would slice through the Endless Mountains region of Pennsylvania and tear up almost 600 acres of land would have 'no significant impact' on the environment.
The announcement comes one day after local business owners and residents kicked off the start of the summer tourist season with a 'Picnics, Not Pipelines' event and a plea to local, state, and federal officials to preserve the region's scenic beauty and way of life in the face of the proposed gas pipeline project.
The Central New York Oil and Gas Company wants to install an industrial gas pipeline that would replace wooded mountains and pastoral landscapes with 39 miles of pipeline, additional miles of lateral gathering lines, access roads, massive compressor units, filter separators, gas coolers and other industrial machinery. Click here (PDF) for a map of the proposed pipeline route.
For generations, visitors have flocked to the Endless Mountains in Northeast Pennsylvania to enjoy the region's river gateways, rolling hills, family farms, river towns, historic districts and quaint rural villages -- helping to feed the state's $26-billion-a-year tourism industry.
FERC's announcement today signals that the agency does not plan to prepare an Environmental Impact Statement, a more thorough and comprehensive review. The public has until June 27 to submit comments on FERC's assessment.
Groups, including Earthjustice, the Pennsylvania Chapter of the Sierra Club, and the Coalition for Responsible Growth & Resource Conservation believe that an Environmental Impact Statement is necessary and should take into account the effect not only of the pipeline itself, but the additional gas drilling the pipeline will spur.
A map showing the proposed pipeline route is available here: https://earthjustice.org/documents/map/pdf/map-of-proposed-marc-i-line
The following is a statement from Earthjustice Associate Attorney Hannah Chang:
"This region of the country is already struggling to cope with an explosive rate of gas drilling and an outbreak of industrial accidents and pollution related to rushed and irresponsible development. If it proceeds as planned, this pipeline project will only make matters worse. State and local officials in Pennsylvania have allowed Marcellus shale gas development and infrastructure construction to proceed without any comprehensive environmental analysis. Quite simply, this approach has produced disastrous results. Federal officials need to step in, take a look at the big picture, and take the time to review this project thoroughly. Too much is at stake."
Earthjustice is a non-profit public interest law firm dedicated to protecting the magnificent places, natural resources, and wildlife of this earth, and to defending the right of all people to a healthy environment. We bring about far-reaching change by enforcing and strengthening environmental laws on behalf of hundreds of organizations, coalitions and communities.
800-584-6460
LATEST NEWS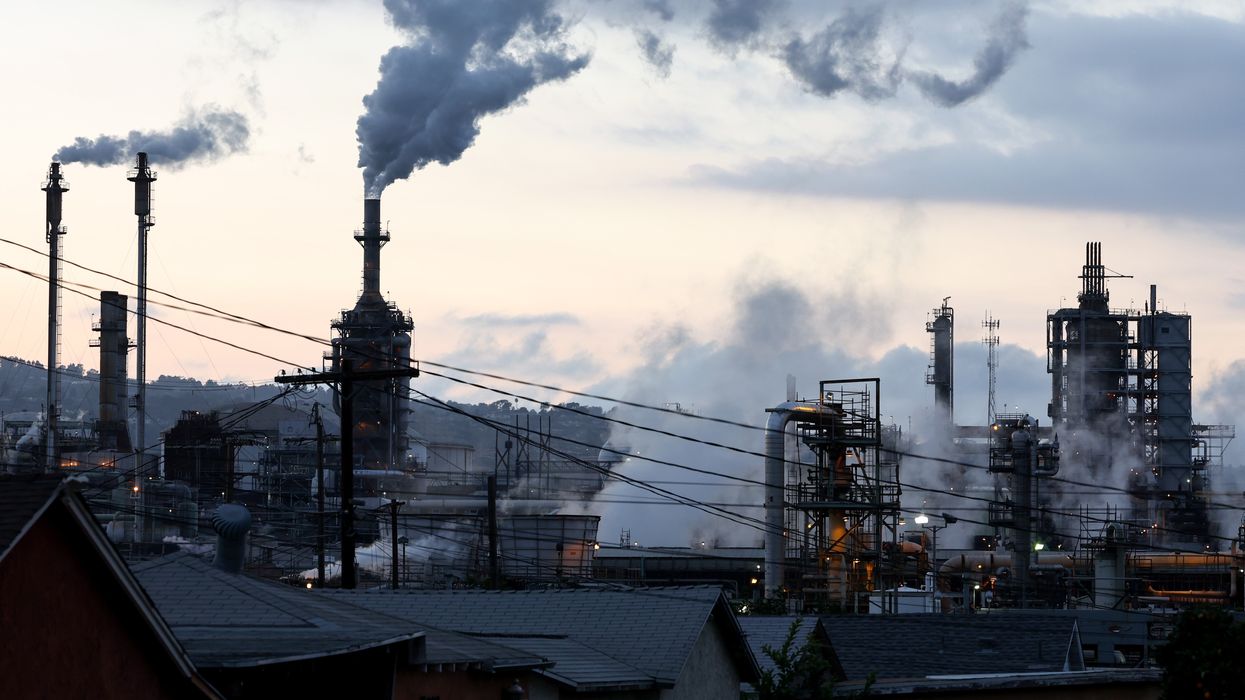 The new global report states that burning fossil fuels is "the main driver of increasing atmospheric CO2."
Amid a summer of extreme heat across the Northern Hemisphere, an international report led by the U.S. National Oceanic and Atmospheric Administration revealed Wednesday that greenhouse gas concentrations, global sea level, and ocean heat content hit record highs last year.
"This report is a truly international effort to more fully understand climate conditions around the globe and our capacity to observe them," NOAA National Centers for Environmental Information (NCEI) Director Derek Arndt said of State of the Climate in 2022, which features contributions from more than 570 scientists in over 60 countries.

"It is like an annual physical of the Earth system, and it serves present and future generations by documenting and sharing data that indicate increasingly extreme and changing conditions in our warming world," Arndt added of the 33rd annual report, published by the Bulletin of the American Meteorological Society.
As humanity continued to extract and burn fossil fuels and engage in polluting agricultural practices, all three of the main atmospheric greenhouse gases—carbon dioxide, methane, and nitrous oxide⁠—reached record concentrations last year. The CO2 average was 417.1 parts per million, topping not only modern observational records but also paleoclimatic records that go back as far as 800,000 years.
"People are causing the largest known change in global climate since our transition to agriculture thousands of years ago," said Paul Higgins, associate executive director of the American Meteorological Society.

In the ocean—which has absorbed most warming from greenhouse gases in recent decades—heat content rose to record highs last year. The annual surface temperature was 0.45-0.54°F above the 1991-2020 average, making 2022 among the six warmest years since record-keeping began in the 1800s and the hottest La Niña year on record. The global mean sea level set a record for the 11th straight year, rising about 4 inches above the 1993 average, when satellite measurements began.
While approximately 58% of the ocean surface endured at least one marine heatwave, temperatures also soared on land. As the report details:
Europe as a whole observed its second-warmest year on record, with 16 individual countries observing record warmth at the national scale. Records were shattered across the continent during the summer months as heatwaves plagued the region. On July 18, 104 stations in France broke their all-time records. One day later, England recorded a temperature of 40°C [104°F] for the first time ever. China experienced its second-warmest year and warmest summer on record. In the Southern Hemisphere, the average temperature across New Zealand reached a record high for the second year in a row. While Australia's annual temperature was slightly below the 1991-2020 average, Onslow Airport in Western Australia reached 50.7°C [123°F] on January 13, equaling Australia's highest temperature on record.

[...]

The effects of rising temperatures and extreme heat were apparent across the Northern Hemisphere, where snow-cover extent by June 2022 was the third smallest in the 56-year record, and the seasonal duration of lake ice cover was the fourth shortest since 1980. More frequent and intense heatwaves contributed to the second-greatest average mass balance loss for Alpine glaciers around the world since thestart of the record in 1970. Glaciers in the Swiss Alps lost a record 6% of their volume. In South America, the combination of drought and heat left many central Andean glaciers snowfree by mid-summer in early 2022.

Nearly a third of global land faced moderate or worse drought in 2022, from a 63% footprint in the contiguous United States to the continuation of a 13-year megadrought in central Chile. The report notes that an ongoing drought in Africa has "led to crop failure, millions of livestock deaths, water scarcity, and inflated prices for staple food items."
Meanwhile, in South Asia, "Pakistan received around three times its normal volume of monsoon precipitation in August, with some
regions receiving up to eight times their expected monthly totals," the report highlights. "Resulting floods affected over 30 million people, caused over 1,700 fatalities, led to major crop and property losses, and was recorded as one of the world's costliest natural disasters of all time."
Global conditions last year and Big Oil's record profits fueled demands for bold action to overhaul agricultural practices and stop burning fossil fuels—which, as the report points out, is "the main driver of increasing atmospheric CO2." Such calls have continued in recent months, as oil and gas giants kept rewarding shareholders with hefty stock buybacks and dividends during what has been another historically hot summer, according to data released Tuesday.
"Our planet has just endured a season of simmering—the hottest summer on record," United Nations Secretary-General António Guterres said Wednesday, less than three months away from the U.N. COP28 summit. "Leaders must turn up the heat now for climate solutions."
News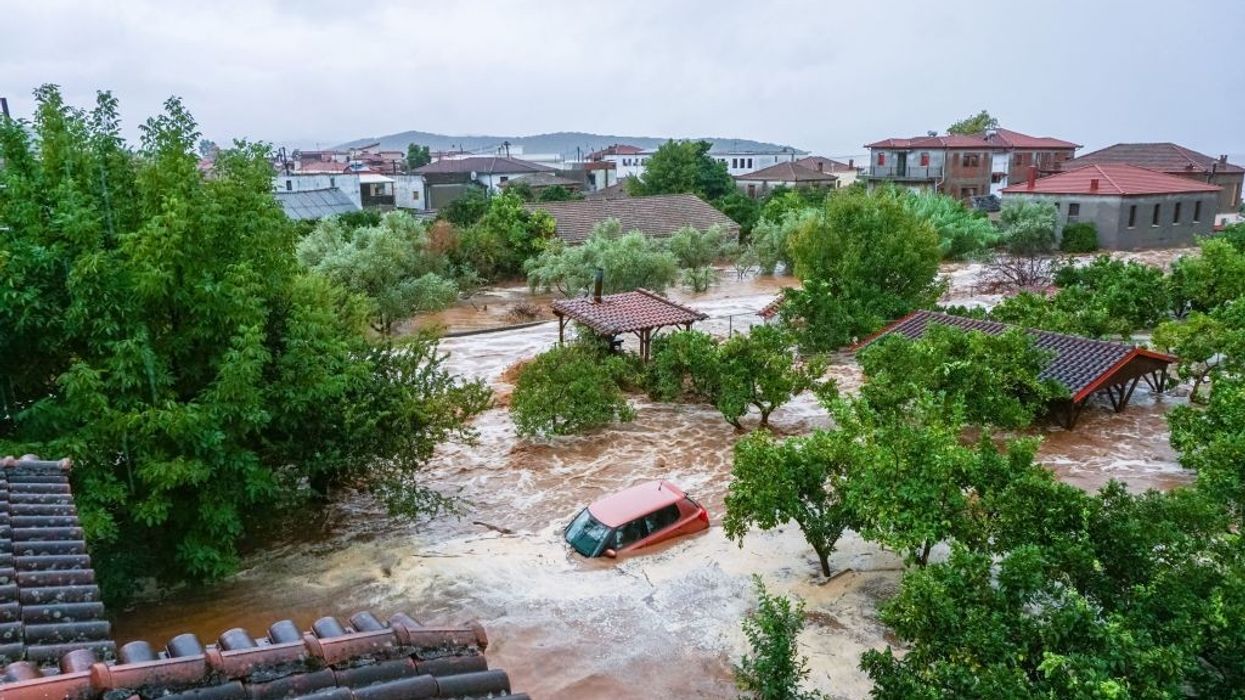 "I am afraid that the careless summers, as we knew them… will cease to exist," the Greek prime minister said.
Historic flooding in Greece, Turkey, and Bulgaria has killed at least 11 people as rain followed heat and fire in a summer of extremes.
The storm knocked out bridges, swept cars out to sea, and made roads impassable, dumping more than two feet of rain on some parts of Greece within hours.
"This is the most extreme phenomenon in terms of the maximum amount of rain in a 24-hour period since records began in the country," Vassilis Kikilias, who acts as Greece's climate crisis and civil protection minister, said, as The Guardian reported.
The torrential rain follows deadly wildfires in the country that killed more than 20, including one megafire that scorched 81,000 hectares of forest, making it the largest in Europe since record-keeping began in 2000, as The Associated Press reported at the time.
Both fires and heavy rains are made more likely by the climate crisis caused primarily by the burning of fossil fuels. Hotter temperatures generate ideal fire conditions, and the atmosphere can hold around 7% more moisture per 1.8°F of warming. The floods come as the European Union's Copernicus Climate Change Service determined that summer 2023 was the hottest on record.
"I am afraid that the careless summers, as we knew them… will cease to exist and from now on the coming summers are likely to be ever more difficult," Greek Prime Minister Kyriakos Mitsotakis said Tuesday, as The Guardian reported.
"We almost couldn't believe the forecast."
"Correct," Just Stop Oil responded on social media. "It's not getting better. It gets worse until we stop oil and gas."
The immediate cause of the rain was a system called Storm Daniel, as The New York Timesreported. In the 13 hours between 12 am and 3 pm Tuesday, it dumped more than 25 inches of rain on the town of Pelion and its surroundings.
"We almost couldn't believe the forecast," Konstantinos Lagouvardos, the research director at the National Observatory of Athens, told The New York Times. "This is a number we've never seen before. It's unreal."
Another town in the Pelion region, Zagora, saw 21 inches in 10 hours Tuesday, with more predicted to fall.
"A historic flooding event is underway!" European Synchrotron Radiation Facility researcher Nahel Belgherze wrote on the site formerly known as Twitter.
One Pelion resident, Iro Proia, shared a dramatic video on Facebook of cars being pushed out to sea by floodwaters.
Another hard-hit area was the city of Volos, which received approximately 10 times its monthly rainfall in less than 14 hours, as CNN reported. There, the River Krafsidonas overflowed, destroying a bridge, according to The New York Times. One man was also killed in the city when a wall collapsed on top of him, The Guardian reported. Another woman died close to Pelion.

One resident who lives near Volos described the toll of back-to-back extreme weather events.
"Everything saved from the fire we had in July has been destroyed by this bad weather," 49-year-old Christos Kleftakis toldAgence France-Presse. "This is unprecedented—these severe weather events, the strength of the rain, the wind. I've never seen anything like that before."
The death toll was even higher in Turkey, where two people died in Istanbul and four died in the city of Kirklareli, while two remain missing.
In another example of weather whiplash, Istanbul's reservoirs had been at their lowest in nine years before the floods. The storm flooded streets and homes in the capital, closing some subway stations and trapping about 12 people in a library, who were eventually rescued, Al Jazeera reported.

In Bulgaria, the usually dry Black Sea Coast saw its heaviest rainfall since 1994, according to AFP, entirely cutting off the area south of the city of Burgas and killing at least three people.
"It's a disaster," Prime Minister Nikolay Denkov said, as AFP reported.
And it's predicted the situation could worsen in the coming days, as Storm Daniel potentially develops into a hurricane-like cyclone over the Mediterranean, also known as a "medicane," CBS News explained.

Such storms usually need sea temperatures of around 79°F to form, and meteorologists said that there was "more than enough warmth."
News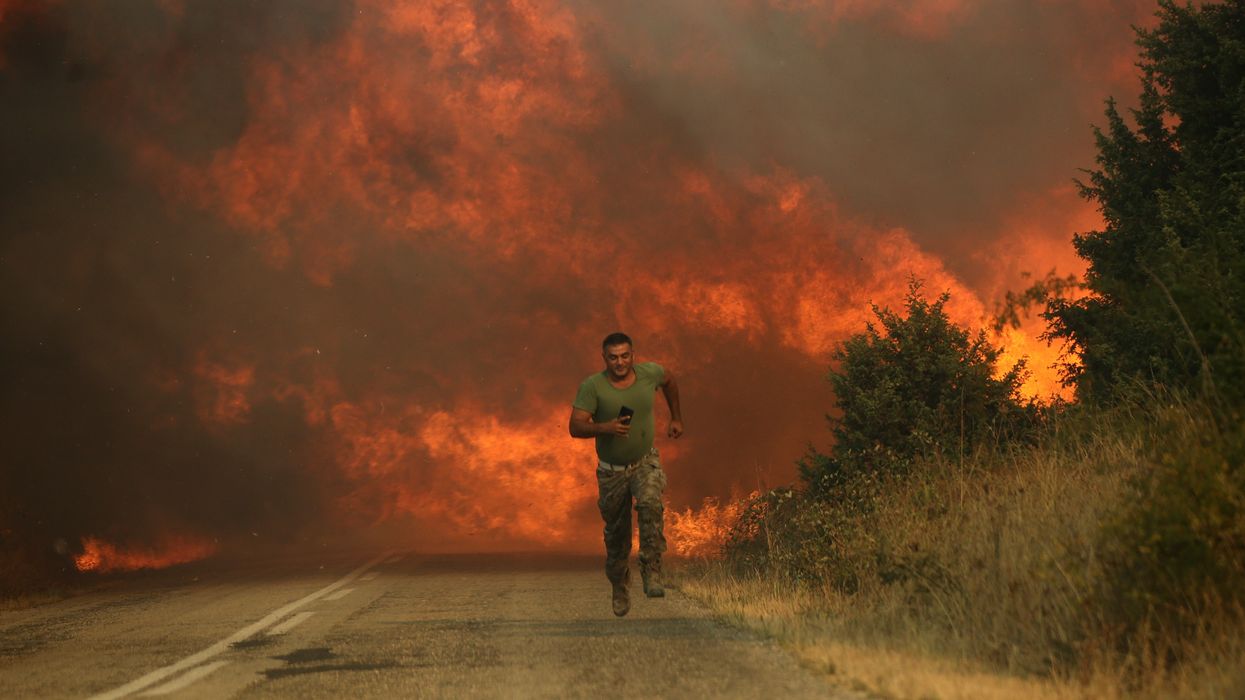 "Breaking heat records has become the norm in 2023," said one scientist. "Global warming continues because we have not stopped burning fossil fuels. It is that simple."
Climate scientists across the world have been alarmed over the past three months by fast-spreading wildfires, prolonged and deadly heatwaves, and numerous shattered heat records across the northern hemisphere both in the oceans and on land—and data released Tuesday confirmed that the past three months have been the hottest summer on record, driven by humans' continued emission of heat-trapping gases and compounded by El Niño.
The Copernicus Climate Change Service (C3S), the European Union's climate agency, found that the global average temperature during June, July, and August reached 16.77°C (62.18°F), which was 0.66°C or 1.18°F above the 1991-2020 average.
The previous temperature record was set in 2019 and was 0.29°C (0.5°F) lower than this year's high.
Last month was the hottest August on record "by a large margin," said the World Meteorological Organization, with the average temperature 1.5°C higher than the preindustrial average.
United Nations Secretary-General António Guterres said Wednesday the world is experiencing the consequences of "our fossil fuel addiction," which "scientists have long warned" would be unleashed if humans continue extracting oil and gas instead of rapidly shifting to renewable energy sources.

"Our planet has just endured a season of simmering—the hottest summer on record. Climate breakdown has begun," said Guterres.
"In the southern hemisphere Antarctic sea ice extent was literally off the charts, and the global sea surface temperature was once again at a new record. It is worth noting that this is happening BEFORE we see the full warming impact of the El Niño event."
C3S released the data as the Eastern United States experienced a "dangerous heatwave," with cities including New York and Washington, D.C. announcing heat advisories.
As the World Weather Attribution (WWA) said earlier this summer, the extreme heat felt across North America and Europe in July—the hottest month ever on record, followed by August—would have been "virtually impossible" without planetary heating and the climate crisis.
Scientists at the WWA also found that the hot, dry conditions that allowed wildfires to spread rapidly in Eastern Canada were made twice as likely by the climate emergency, and independent scientists at Climate Central determined that the current heat forecast in the United Kingdom—with temperatures over 33°C or 91°F expected in London on Saturday—was made five times more likely.

Friederike Otto, a senior lecturer on climate change and the environment at Imperial College London, toldThe Guardian that "breaking heat records has become the norm in 2023."
"Global warming continues because we have not stopped burning fossil fuels," said Otto. "It is that simple."
Scientists last observed a powerful El Niño warming event, which is marked by very high temperatures in the Pacific Ocean near the equator, in 2016, which currently holds the record for the hottest January-August period, followed by this year.
El Niño is still developing this year, and experts have warned that next summer could see even more intense heatwaves and wildfires as the effects of the warming phenomenon are typically observed the year after it develops.
"The northern hemisphere just had a summer of extremes—with repeated heatwaves fueling devastating wildfires, harming health, disrupting daily lives, and wreaking a lasting toll on the environment," said Petteri Taalas, secretary-general of the WMO. "In the southern hemisphere Antarctic sea ice extent was literally off the charts, and the global sea surface temperature was once again at a new record. It is worth noting that this is happening BEFORE we see the full warming impact of the El Niño event."
Mark Maslin, professor of earth system science at University College London, told The Guardian that the news from C3S "is a wake-up call to international leaders that we must rapidly reduce carbon emissions now."

"Let us hope this message hits home at COP28... this December and action actually happens," Maslin said.
Advocates have raised alarm about the appointment of Sultan Ahmed Al Jaber, CEO of the United Arab Emirates' Abu Dhabi National Oil Company, to lead the United Nations Climate Change Conference, also known as COP28, later this year.
"Surging temperatures demand a surge in action," said Guterres. "Leaders must turn up the heat now for climate solutions. We can still avoid the worst of climate chaos—and we don't have a moment to lose."
News
Independent, nonprofit journalism needs your help.
Please Pitch In
Today!