For Immediate Release
January, 12 2011, 01:24pm EDT
Worldwatch Institute's State of the World 2011 Shows Agriculture Innovation Is Key to Reducing Poverty, Stabilizing Climate
Report provides a roadmap for food security and agricultural investment, revealing 15 high- and low-tech solutions that are helping to reduce hunger and poverty in Africa
NEW YORK
Worldwatch Institute today released its report State of the World 2011: Innovations that Nourish the Planet,
which spotlights successful agricultural innovations and unearths major
successes in preventing food waste, building resilience to climate
change, and strengthening farming in cities. The report provides a
roadmap for increased agricultural investment and more-efficient ways to
alleviate global hunger and poverty. Drawing from the world's leading
agricultural experts and from hundreds of innovations that are already
working on the ground, the report outlines 15 proven, environmentally
sustainable prescriptions.
"The progress
showcased through this report will inform governments, policymakers,
NGOs, and donors that seek to curb hunger and poverty, providing a clear
roadmap for expanding or replicating these successes elsewhere," said
Worldwatch Institute President Christopher Flavin. "We need the world's
influencers of agricultural development to commit to longstanding
support for farmers, who make up 80 percent of the population in
Africa."
State of the World 2011 comes at a
time when many global hunger and food security initiatives-such as the
Obama administration's Feed the Future program, the Global Agriculture
and Food Security Program (GAFSP), the United Nations World Food
Programme (WFP), and the Comprehensive Africa Agriculture Development
Programme (CAADP)-can benefit from new insight into environmentally
sustainable projects that are already working to alleviate hunger and
poverty.
Nearly a half-century after the Green
Revolution, a large share of the human family is still chronically
hungry. While investment in agricultural development by governments,
international lenders and foundations has escalated in recent years, it
is still nowhere near what's needed to help the 925 million people who
are undernourished. Since the mid 1980s when agricultural funding was
at its height, the share of global development aid has fallen from over
16 percent to just 4 percent today.
In 2008, $1.7
billion dollars in official development assistance was provided to
support agricultural projects in Africa, based on statistics from the
Organisation for Economic Co-operation and Development (OECD), a
miniscule amount given the vital return on investment. Given the current
global economic conditions, investments are not likely to increase in
the coming year. Much of the more recently pledged funding has yet to be
raised, and existing funding is not being targeted efficiently to reach
the poor farmers of Africa.
"The international
community has been neglecting entire segments of the food system in its
efforts to reduce hunger and poverty," said Danielle Nierenberg,
co-director of Worldwatch's Nourishing the Planet project. "The
solutions won't necessarily come from producing more food, but from
changing what children eat in schools, how foods are processed and
marketed, and what sorts of food businesses we are investing in."
Serving
locally raised crops to school children, for example, has proven to be
an effective hunger- and poverty-reducing strategy in many African
nations, and has strong parallels to successful farm-to-cafeteria
programs in the United States and Europe. Moreover, "roughly 40 percent
of the food currently produced worldwide is wasted before it is
consumed, creating large opportunities for farmers and households to
save both money and resources by reducing this waste," according to
Brian Halweil, Nourishing the Planet co-director. State of the World 2011
draws from hundreds of case studies and first-person examples to offer
solutions to reducing hunger and poverty. These include:
In
2007, some 6,000 women in The Gambia organized into the TRY Women's
Oyster Harvesting producer association, creating a sustainable
co-management plan for the local oyster fishery to prevent
overharvesting and exploitation. Oysters and fish are an important,
low-cost source of protein for the population, but current production
levels have led to environmental degradation and to changes in land use
over the last 30 years. The government is working with groups like TRY
to promote less-destructive methods and to expand credit facilities to
low-income producers to stimulate investment in more-sustainable
production.
In Kibera, Nairobi, the
largest slum in Kenya, more than 1,000 women farmers are growing
"vertical" gardens in sacks full of dirt poked with holes, feeding their
families and communities. These sacks have the potential to feed
thousands of city dwellers while also providing a sustainable and
easy-to-maintain source of income for urban farmers. With more than 60
percent of Africa's population projected to live in urban areas by 2050,
such methods may be crucial to creating future food security.
Currently, some 33 percent of Africans live in cities, and 14 million
more migrate to urban areas each year. Worldwide, some 800 million
people engage in urban agriculture, producing 15-20 percent of all food.
Pastoralists
in South Africa and Kenya are preserving indigenous varieties of
livestock that are adapted to the heat and drought of local
conditions-traits that will be crucial as climate extremes on the
continent worsen. Africa has the world's largest area of permanent
pasture and the largest number of pastoralists, with 15-25 million
people dependent on livestock.
The Food,
Agriculture and Natural Resources Policy Analysis Network (FANRPAN) is
using interactive community plays to engage women farmers, community
leaders, and policymakers in an open dialogue about gender equity, food
security, land tenure, and access to resources. Women in sub-Saharan
Africa make up at least 75 percent of agricultural workers and provide
60-80 percent of the labor to produce food for household consumption and
sale, so it is crucial that they have opportunities to express their
needs in local governance and decision-making. This entertaining and
amicable forum makes it easier for them to speak openly.
Uganda's
Developing Innovations in School Cultivation (DISC) program is
integrating indigenous vegetable gardens, nutrition information, and
food preparation into school curriculums to teach children how to grow
local crop varieties that will help combat food shortages and revitalize
the country's culinary traditions. An estimated 33 percent of African
children currently face hunger and malnutrition, which could affect some
42 million children by 2025. School nutrition programs that don't
simply feed children, but also inspire and teach them to become the
farmers of the future, are a huge step toward improving food security.
The State of the World 2011
report is accompanied by other informational materials including
briefing documents, summaries, an innovations database, videos, and
podcasts, all of which are available at www.NourishingthePlanet.org.
The project's findings are being disseminated to a wide range of
agricultural stakeholders, including government ministries, agricultural
policymakers, farmer and community networks, and the increasingly
influential non-governmental environmental and development communities. In
conducting this research, Worldwatch's Nourishing the Planet project
received unprecedented access to major international research
institutions, including those in the Consultative Group on International
Agricultural Research(CGIAR) system. The team also interacted
extensively with farmers and farmers' unions as well as with the banking
and investment communities.
The Worldwatch Institute was a globally focused environmental research organization based in Washington, D.C., founded by Lester R. Brown. Worldwatch was named as one of the top ten sustainable development research organizations by Globescan Survey of Sustainability Experts. Brown left to found the Earth Policy Institute in 2000. The Institute was wound up in 2017, after publication of its last State of the World Report. Worldwatch.org was unreachable from mid-2019.
LATEST NEWS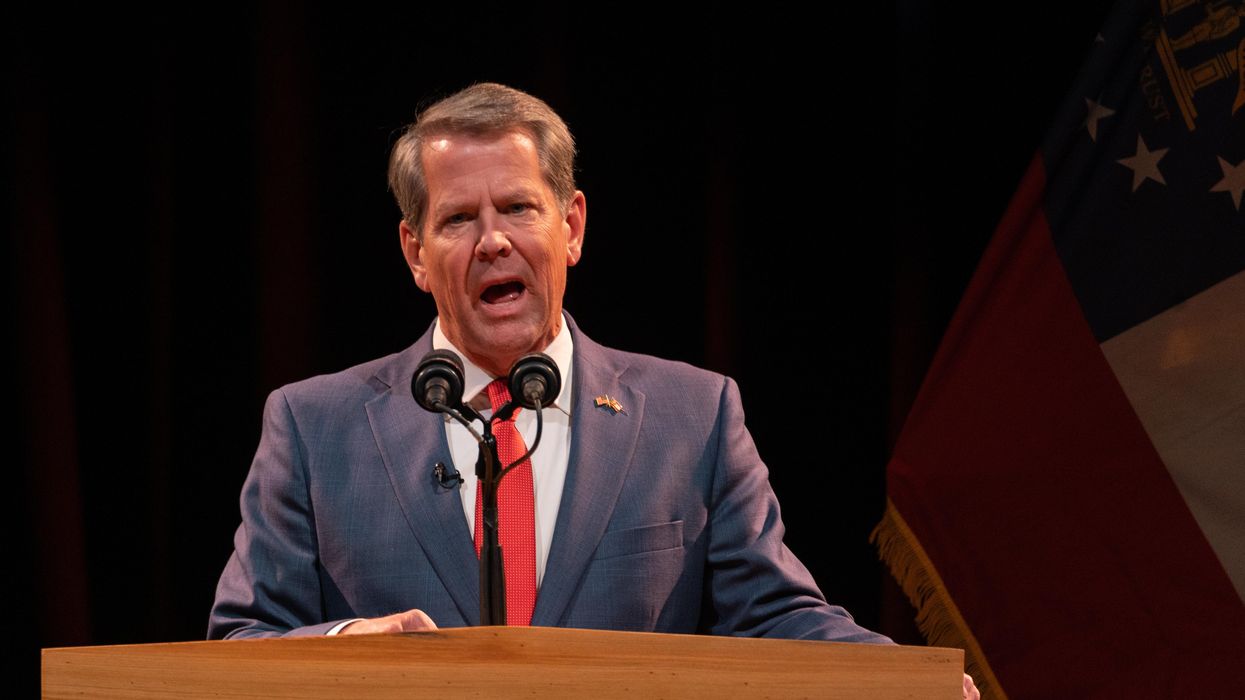 While the move comes after law enforcement in Georgia killed a "Cop City" protester, one official said it is a "purely precautionary" measure before the anticipated release of video footage from an arrest in Tennessee.

Republican Georgia Gov. Brian Kemp on Thursday signed an executive order declaring a state of emergency through at least February 9 that will enable him to deploy up to 1,000 National Guard troops "as necessary."
The order follows protests in Atlanta after 26-year-old forest defender Manuel "Tortuguita" Teran was shot dead last week during a multi-agency raid on an encampment to oppose construction of Cop City, a nearby law enforcement training center. The Georgia Bureau of Investigation (GBI), which is investigating the case, has said Teran was killed after he shot and wounded a state trooper.
While the order begins by stating that "protests turned violent in downtown Atlanta" last Saturday, The Atlanta Journal-Constitutionreported that Kemp's aides signaled that the move was not about the Cop City demonstrations but rather in anticipation of any potential response to video footage from Memphis, Tennessee showing the arrest of Black motorist Tyre Nichols.
\u201cGeorgia Gov. Brian Kemp is calling up to 1,000 National Guard troops & declaring a state of emergency until Feb 9, a week after police killed forest defender Tortuguita. 12 Cop City opponents were charged with domestic terrorism since. Tomorrow the Tyre Nichols video comes out.\u201d

— Alleen Brown (@Alleen Brown) 1674766682
As Common Dreamsreported earlier Thursday, five fired Memphis cops were charged with second-degree murder and other crimes related to Nichols' death. Footage of the 29-year-old's arrest is expected to be released sometime after 6:00 pm local time on Friday.
"We understand the executive order is purely precautionary based on possible unrest following the release of the videos from Memphis," an official in Georgia with direct knowledge of the situation told the AJC. "There are no immediate intentions to deploy the guard."
The Atlanta Police Department also mentioned the Memphis case in a statement Thursday:
We are closely monitoring the events in Memphis and are prepared to support peaceful protests in our city. We understand and share in the outrage surrounding the death of Tyre Nichols. Police officers are expected to conduct themselves in a compassionate, competent, and constitutional manner and these officers failed Tyre, their communities, and their profession. We ask that demonstrations be safe and peaceful.
In a series of tweets Thursday, the Atlanta Community Press Collective named several people killed by law enforcement in recent years and suggested that Kemp's order is about "trying to instill fear in anyone who stands up against police brutality."
\u201cKemp's declaration of a State of Emergency isn't about property damage at Saturday's protests at all. It's about police murdering #TyreNichols and Tortuguita within two weeks of each other. They're trying to instill fear in anyone who stands up against police brutality.\u201d

— Atlanta Community Press Collective (@Atlanta Community Press Collective) 1674764329
Meanwhile, national groups and progressive lawmakers have echoed local demands for an independent probe in Teran's case.
The Georgia Bureau of Investigation has highlighted that it is separate from the Georgia State Patrol and said that GBI "is conducting an independent investigation," after which it will "turn the investigative file over to the prosecutor." The agency noted Wednesday that DeKalb County District Attorney Sherry Boston has recused herself from the case so a special prosecutor will be assigned.
Some have pushed back against the "police narrative" that the "corporate media has ran away with" for Teran's case, as forest defender Kamau Franklin toldDemocracy Now! last week, adding that "we find it less than likely that the police version of events is what really happened."
"And that's why we're calling for an independent investigation, not one that's done by the Georgia Bureau of Investigation, not one that's done by any federal authority, but a complete independent investigation," Franklin said, "because that's the only way we're going to know what really happened."
Rights & Justice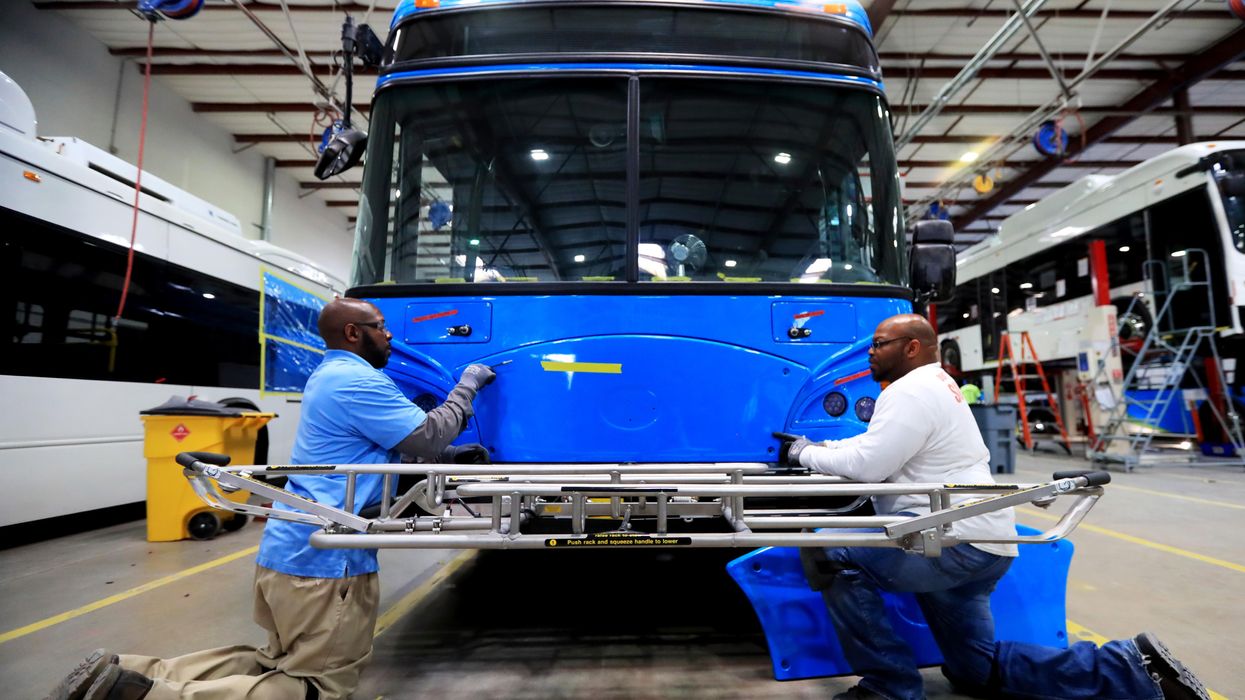 "Military industrial production can be redirected to civilian technologies that contribute to societal well-being and provide green jobs," says the Costs of War project.
A pair of reports published Thursday show that many workers employed in the U.S. military-industrial complex support shifting manufacturing resources from military to civilian use—a conversion seen as vital to the fight against the climate emergency.
Moving "from a war economy to a green economy" can help avert the worst consequences of the climate crisis, noted the Costs of War project at Brown University's Watson Institute, publisher of the new research.
"Ever-higher military spending is contributing to climate catastrophe, and U.S. lawmakers need a better understanding of alternative economic choices," Stephanie Savell, co-director of Costs of War, said in a statement. "Military industrial production can be redirected to civilian technologies that contribute to societal well-being and provide green jobs. This conversion can both decarbonize the economy and create prosperity in districts across the nation."
In one of the papers released Thursday, Miriam Pemberton, an associate fellow at the Institute for Policy Studies, described "how the United States developed a war economy," as reflected in its massive $858 billion military budget, which accounts for roughly half of all federal discretionary spending.
As Pemberton explained:
When the U.S. military budget decreased after the Cold War, military contractors initiated a strategy to protect their profits by more widely connecting jobs to military spending. They did this by spreading their subcontracting chains across the United States and creating an entrenched war economy. Perhaps the most infamous example: Lockheed Martin's F-35 fighter jet, which is built in 45 states.

The strategy proved successful. Today, many members of Congress have political incentives to continue to raise the military budget, in order to protect jobs in their districts. Much of the U.S. industrial base is invested in and focused on weapons production, and industry lobbyists won't let Congress forget it.

Not only is the Pentagon a major contributor to planet-heating pollution—emitting more greenhouse gases than 140 countries—and other forms of environmental destruction, but a 2019 Costs of War study showed that "dollar for dollar, military spending creates far fewer jobs than spending on other sectors like education, healthcare, and mass transit," Pemberton continued.
Moreover, "military spending creates jobs that bring wealth to some people and businesses, but do not alleviate poverty or result in widely-shared prosperity," Pemberton wrote. "In fact, of the 20 states with economies most dependent on military manufacturing, 14 experience poverty at similar or higher rates than the national average."
"A different way is possible," she stressed, pointing to a pair of military conversion case studies.
"The only way to really lower emissions of the military is you've got to make the military smaller."
As military budgets were shrinking in 1993, Lockheed was eager to expand its reach into non-military production.
"One of its teams working on fighter jets at a manufacturing facility in Binghamton, New York successfully shifted its specialized skills to produce a system for transit buses that cut fuel consumption, carbon emissions, maintenance costs, and noise, called 'HybriDrive,'" Pemberton explained.
By 1999, Lockheed "sold the facility producing HybriDrive buses and largely abandoned its efforts to convert away from dependence on military spending," she wrote. "But under the new management of BAE Systems, the hybrid buses and their new zero-emission models are now reducing emissions" in cities around the world.
According to Pemberton, "This conversion project succeeded where others have failed largely because its engineers took seriously the differences between military and civilian manufacturing and business practices, and adapted their production accordingly."
In another paper released Thursday, Karen Bell, a senior lecturer in sustainable development at the University of Glasgow, sought to foreground "the views of defense sector workers themselves," noting that they "have been largely absent, despite their importance for understanding the feasibility of conversion."
Bell surveyed 58 people currently and formerly employed in military-related jobs in the U.S. and the United Kingdom and found that "while some workers said that the defense sector is 'socially useful,' many were frustrated with their field and would welcome working in the green economy."
"This was a small group so we cannot generalize to defense workers overall," writes Bell. "However, even among this small cohort, some were interested in converting their work to civil production and would be interested in taking up 'green jobs.'"
One respondent told Bell: "Just greenwashing isn't going to do it. Just putting solar panels up isn't going to do it. So we're trying to stress that the only way to really lower emissions of the military is you've got to make the military smaller."
"By the way, do we really need to update all our ICBMs [Inter-Continental Ballistic Missiles]?" the survey participant asked. "Don't we have enough to blow up the world three times over, or five times over? Why don't we take those resources and use them someplace else where they really should be?"
News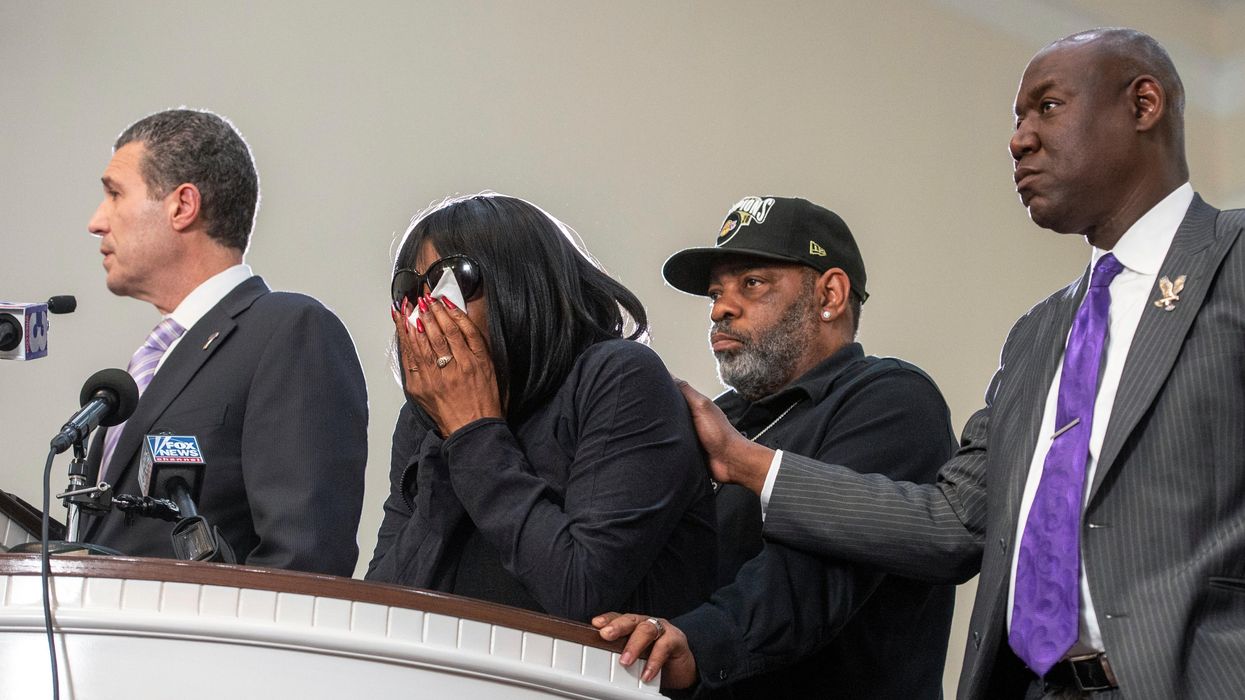 "The video must be that bad," said law professor Sherrilyn Ifill. "But fired does not prevent rehiring elsewhere, and charged does not mean convicted. But more important than all, none of this brings back Tyre Nichols."
Five Memphis, Tennessee police officers who were fired for what their chief called a "heinous, reckless, and inhumane" attack on a Black motorist who died three days after a traffic stop were booked and charged Thursday with crimes including second-degree murder.
Former Memphis Police Department (MPD) officers Tadarrius Bean, Demetrius Haley, Justin Smith, Emmitt Martin III, and Desmond Mills Jr—who are all Black—were charged with crimes including second-degree murder, aggravated assault-acting in concert, aggravated kidnapping, official misconduct, and official oppression, according to court records.
Speaking at a Thursday news conference announcing the charges, Tennessee Bureau of Investigation Director David B. Rausch described the five officers' actions as "absolutely appalling."
"We are here to pursue truth and justice, realizing that we should not be here," said Rausch. "Simply put, this should not have happened. I'm sickened by what I saw."

On Wednesday night, Memphis Police Chief C.J. Davis lamented the "horrific circumstances" of Nichols' death. Calling the victim's arrest a "failing of basic humanity," Davis vowed her department would "find truth in the tragic loss."
\u201cBREAKING: The 5 former Memphis Police Department officers have been indicted by a grand jury on charges ranging from second-degree murder, aggravated assault, aggravated kidnapping, official misconduct and official oppression for the death of Tyre Nichols.\u201d

— Ben Crump (@Ben Crump) 1674759063
Nichols died on January 10 from cardiac arrest and kidney failure three days after Memphis officers pulled his vehicle over at around 8:30 pm on January 7. MPD claimed there were two "confrontations" between officers and Nichols, who allegedly ran away before being violently arrested. Complaining of shortness of breath, Nichols was rushed to St. Francis Hospital in critical condition.

All five officers were fired on January 20 after they "were found to be directly responsible for the physical abuse of Mr. Nichols," Davis explained. Two firefighters were also terminated in connection with the attack.
Earlier this month, U.S. Attorney Kevin Ritz—working with the FBI's Memphis Field Office and the U.S. Justice Department—launched a civil rights investigation into the case.
According to the Memphis Commercial Appeal, some of the officers involved belonged to an MPD unit called SCORPION, which stands for Street Crimes Operation to Restore Peace in Our Neighborhoods.
In 2016, a federal civil rights complaint was filed against Haley, alleging that he and other officers strip-searched an inmate at a penal farm and beat him until he blacked out, WHBQreported.
\u201cFired & charged w/murder. The video must be that bad. But fired does not prevent rehiring elsewhere, & charged does not mean convicted. But more important than all, none of this brings back Tyre Nichols. We need the abuse & murder by ofcrs to stop. And that requires a new way.\u201d

— Sherrilyn Ifill (@Sherrilyn Ifill) 1674766025
Antonio Romanucci, an attorney representing Nichols' family, said Monday after viewing police bodycam footage of the attack on the 29-year-old father: "He was a human piñata for those police officers. It was unadulterated, unabashed, nonstop beating of this young boy for three minutes."
Civil rights attorney Benjamin Crump, who is also representing Nichols' relatives, compared the footage to the 1991 beating of Rodney King by Los Angeles Police Department officers.
"What we saw, regrettably, reminded us of the Rodney King video," Crump said Monday. "But, unlike Rodney King, Tyre didn't survive."'
The Shelby County District Attorney's Office said earlier this week that it will likely release footage of the incident at 6:00 pm local time Friday.
\u201cThe family of Tyre Nichols is demanding that Memphis police release their bodycam footage of the stop that landed him in the hospital in critical condition. \nTyre died from the injuries that he received at the hands of police during a traffic stop.\u201d

— \ud83e\udd40_Imposter_\ud83d\udd78\ufe0f (@\ud83e\udd40_Imposter_\ud83d\udd78\ufe0f) 1673936022
"Yet again, we're seeing evidence of what happens to Black and Brown people from simple traffic stops," Crump contended. "You should not be killed because of a simple traffic stop."
"And we have to say to America: How you would treat our white brothers and sisters when you have a traffic stop with them, well, treat us Black and Brown citizens the same way," he added.

On Monday, Nichols' mother, RowVaughn Wells, called her son a "gentle soul."
"Tyre was a beautiful person. He loved to skateboard. He loved to take pictures. He liked to go see the sunset. And most of all, he loved his mother and he loved his son," she said.
Speaking of the fired officers, Wells added: "Those five men—their families are heartbroken as well. They hurt a lot of people when they did this. I don't understand why they had to do this to my son."
Tyre Nichols' mother on violent confrontationwww.youtube.com
Some civil rights leaders called on Congress to take action to prevent such incidents.

"It is only right that the Memphis Police Department takes the necessary additional steps to hold these officers accountable for their role in ripping apart a family and traumatizing a community. However, this is far from what justice looks like. Justice looks like the 535 members of Congress taking the time to turn their 'thoughts and prayers' into action and change," said NAACP president and CEO Derrick Johnson in response to Thursday's charges.
Johnson added:
Congress: Do something. By failing to write a piece of legislation, you're writing another obituary. By failing to pass the legislation, you're passing on your sworn duty to protect the people. We know just how much all of you will be thinking and praying upon the release of the video, you don't need to mention it. Instead, tell us what you're going to do about it. Tell us what you're going to do to honor Tyre Nichols. Tell us what you're going to do to show his family, his loving son, and this entire nation, that his life was not lost in vain. We can name all the victims of police violence, but we can't name a single law you have passed to address it.
The George Floyd Justice in Policing Act—named after the unarmed Black man murdered by Minneapolis police in May 2020—was introduced by then-Rep. Karen Bass (D-Calif.) in February 2021. The proposed legislation, which, among other reforms, would have banned police chokeholds and ended so-called qualified immunity for officers, passed the following month by a mostly party-line vote of 220-212. However, the bill failed to pass the Senate.
News
SUPPORT OUR WORK.
We are independent, non-profit, advertising-free and 100%
reader supported.