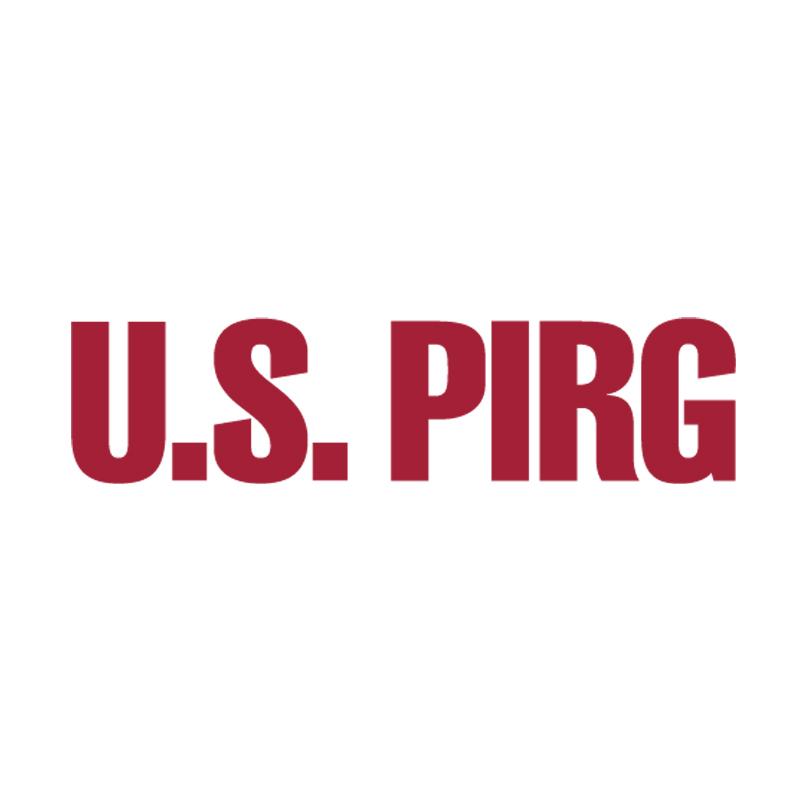 For Immediate Release
Contact:
Lisa Gilbert (202) 546-9707 x368
Washington, DC: It's Time To Step Up On Disclosure
tatement of U.S. PIRG's Democracy Advocate Lisa Gilbert on the upcoming cloture vote on the DISCLOSE Act (S. 3628) legislation that responds to the Supreme Court's decision in Citizen's United vs. FEC earlier this year
WASHINGTON
"The misguided decision by the Supreme Court has literally left us with no choice but to enact new disclosure laws.
"Already in the 2010 election cycle we are feeling
the consequences of the sudden infusion of secret cash as we see a flood
of
deceptive ads run by front groups with innocuous sounding names. Without
commonsense legislation to peel back the veneer of respectability from
those groups and expose the special interests, regular American voters
don't
stand a chance.
"Educated voters make the right decisions, and so we
should not be afraid to provide them with the facts. At this point, its time
for Senate to step up and pass the DISCLOSE act to give citizens the
information they need and deserve about election spending."
Also
see the media advisory below from our Maine office on the press event being
held today at 11AM on the DISCLOSE Act in Banger, ME focused on reaching out to
the ME Senators.
MEDIA
ADVISORY - Press Conference Sept. 22
Support
the DISCLOSE Act
Advocates and Small Business will call on Senators
to pass legislation requiring disclosure of special interest political spending
What: News Conference to support the DISCLOSE Act, national legislation to
require disclosure of special interests spending in elections.
Who:
* Chris
Bell, Federal Field Associate, Public Interest Research Group
* Barbara
McDade, President, League of Women Voters of Maine
* Rick
Schweikert, Owner - the Grasshopper Shop
When: September 22, 11:00am
Where: The Grasshopper Shop
1 West
Market Square
Bangor,
ME 04401
For more
information contact: Chris Bell
Federal
Field Associate, U.S. PIRG
207 939
6339
BACKGROUND:
BANGOR,
Sept. 22 - Last January the Supreme Court turned its back on decades of
precedent and more than a century of American tradition with its ruling in
"Citizens United vs. The Federal Elections Commission," which stated that
corporations have the same political speech rights as citizens.
As a
result of the Supreme Court's ruling in Citizens
United vs. FEC, all organizations, corporations, and unions are free to
take unlimited corporate money and make unlimited political expenditures.
Special interests have been freed to use their money to influence our
elections, with American people left in the dark concerning the sources of the
money.
This past
April, the DISCLOSE Act was introduced to address the consequences of this
ruling. This is the most far-reaching campaign finance reform law since
McCain-Feingold, and does more to strengthen disclosure and transparency than
any measure in recent history.
A recent
poll by Maine Citizens for Clean Elections demonstrates that 85% of Maine
citizens believe it is important to know who paid for the political
communications they see and hear, meaning the legislation represents a rare
opportunity this season to act with a broad bipartisan consensus.
Representatives from the League of Women Voters, US PIRG, and the small
business community will gather in Bangor to urge Senators Snowe and Collins to
return to the negotiating table and to work out any outstanding issues, in an
effort to help pass this vital legislation.
U.S. PIRG, the federation of state Public Interest Research Groups (PIRGs), stands up to powerful special interests on behalf of the American public, working to win concrete results for our health and our well-being. With a strong network of researchers, advocates, organizers and students in state capitols across the country, we take on the special interests on issues, such as product safety,political corruption, prescription drugs and voting rights,where these interests stand in the way of reform and progress.
LATEST NEWS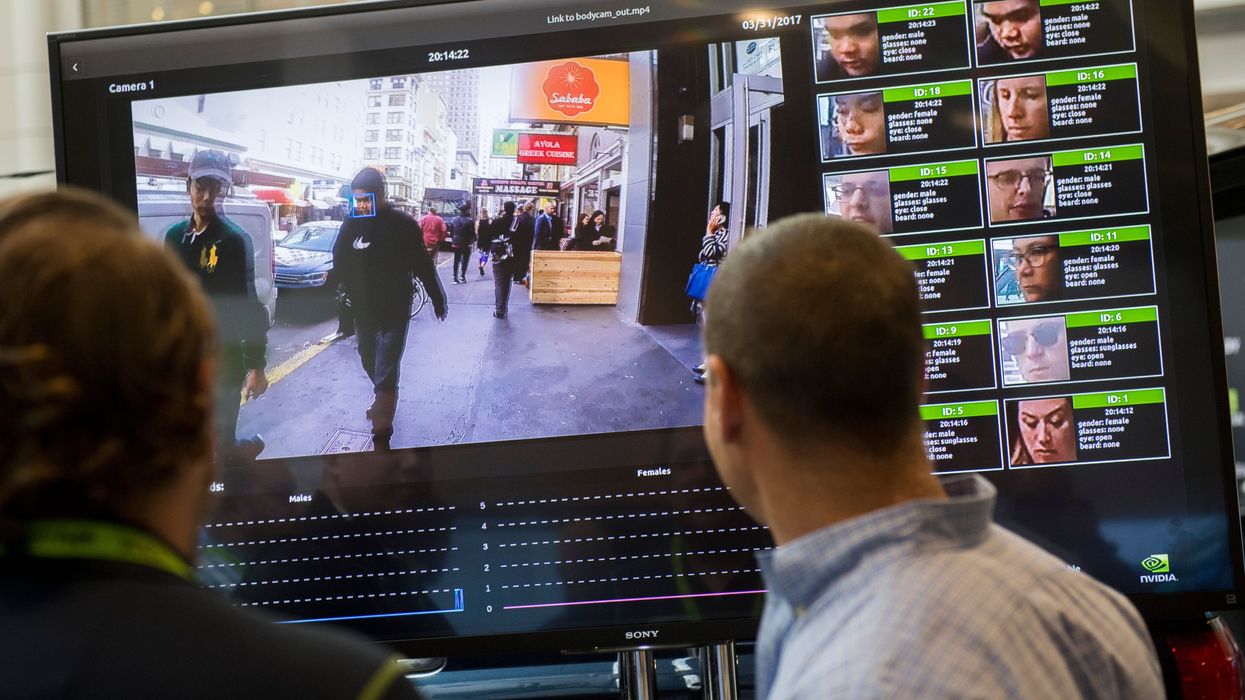 "The continued proliferation of surveillance tools like facial recognition technologies in our society is deeply disturbing," said Sen. Ed Markey, reintroducing a federal ban.
Thousands of records about U.S. government involvement in the research and development of facial recognition technology—unveiled due to an ACLU lawsuit and first reported on Tuesday by The Washington Post—fueled fresh calls for a federal ban on such tools.

"Americans' ability to navigate our communities without constant tracking and surveillance is being chipped away at an alarming pace," Sen. Ed Markey(D-Mass.) told the Post. "We cannot stand by as the tentacles of the surveillance state dig deeper into our private lives, treating every one of us like suspects in an unbridled investigation that undermines our rights and freedom."
While some cities and states have taken action, there is currently no federal law restricting the use of facial recognition tools. However, Markey pledged to reintroduce his proposed ban on government use of the technology—which he did, alongside Rep. Pramila Jayapal(D-Wash.) and other Democrats, within hours of the reporting.
"As we work to make our country more equitable, we cannot ignore the technologies that stand in the way of progress and perpetuate injustice."
"The year is 2023, but we are living through 1984. The continued proliferation of surveillance tools like facial recognition technologies in our society is deeply disturbing," declared Markey, reintroducing the Facial Recognition and Biometric Technology Moratorium Act, which is backed by various groups including the ACLU.
"Biometric data collection poses serious risks of privacy invasion and discrimination, and Americans know they should not have to forgo personal privacy for safety," the senator said. "As we work to make our country more equitable, we cannot ignore the technologies that stand in the way of progress and perpetuate injustice."
Despite concerns about accuracy and bias—bolstered by examples of misidentified Black men being arrested for crimes they did not commit—the U.S. Defense Department and Federal Bureau of Investigation (FBI) were more closely involved in work on facial recognition software to identify people from drone and street camera footage than was previously known, according to the documents revealed as a result of the ACLU's public records lawsuit filed in late 2019.
\u201cThe FBI and the Department of Defense have been actively researching and developing facial recognition software for years.\n\nThe ultimate goal is to track large numbers of people using footage from any public surveillance camera \u2014 no matter how grainy, far, or obscured we are.\u201d

— ACLU (@ACLU) 1678202897
The Post reported that documents including internal emails and presentations expose how intimately officials at the FBI—which is part of the Justice Department—and Pentagon "worked with academic researchers to refine artificial intelligence techniques that could help in the identification or tracking of Americans without their awareness or consent."
Many of the records pertain to the Janus program, which was funded by the Intelligence Advanced Research Projects Agency (IARPA) and ultimately folded into a search tool used by multiple federal agencies called Horus. As the newspaper detailed:
Program leaders worked with FBI scientists and some of the nation's leading computer vision experts to design and test software that would quickly and accurately process the "truly unconstrained face imagery" recorded by surveillance cameras in public places, including subway stations and street corners, according to the documents, which the ACLU shared with The Washington Post.

In a 2019 presentation, an IARPA program manager said the goal had been to "dramatically improve" the power and performance of facial recognition systems, with "scaling to support millions of subjects" and the ability to quickly identify faces from partially obstructed angles. One version of the system was trained for "Face ID... at target distances" of more than a half-mile.

To refine the system's capabilities, researchers staged a data-gathering test in 2017, paying dozens of volunteers to simulate real-world scenarios at a Defense Department training facility made to resemble a hospital, a subway station, an outdoor marketplace, and a school, the documents show. The test yielded thousands of surveillance videos and images, some of which were captured by a drone.
"IARPA said in public filings that the Janus program had helped advance 'virtually every aspect of fundamental face recognition research' and led to algorithms that were 'twice as accurate as the most widely used government-off-the-shelf systems,'" the Post noted.
\u201cThe FBI + DOD were actively involved in the R&D of facial recognition software they hoped to use to ID people from street camera + drone footage. \u201cWe\u2019re essentially beta-testing technology on real people with real-world consequences.\u201d https://t.co/ed2FaNZPQi via @drewharwell\u201d

— Rachael Myrow (@Rachael Myrow) 1678210234
Nathan Freed Wessler, deputy director of the ACLU's Speech, Privacy, and Technology Project, told the newspaper that the tool's use in U.S. mass surveillance would be a "nightmare scenario."
"It could give the government the ability to pervasively track as many people as they want for as long as they want," he said. "There's no good outcome for that in a democratic society."
News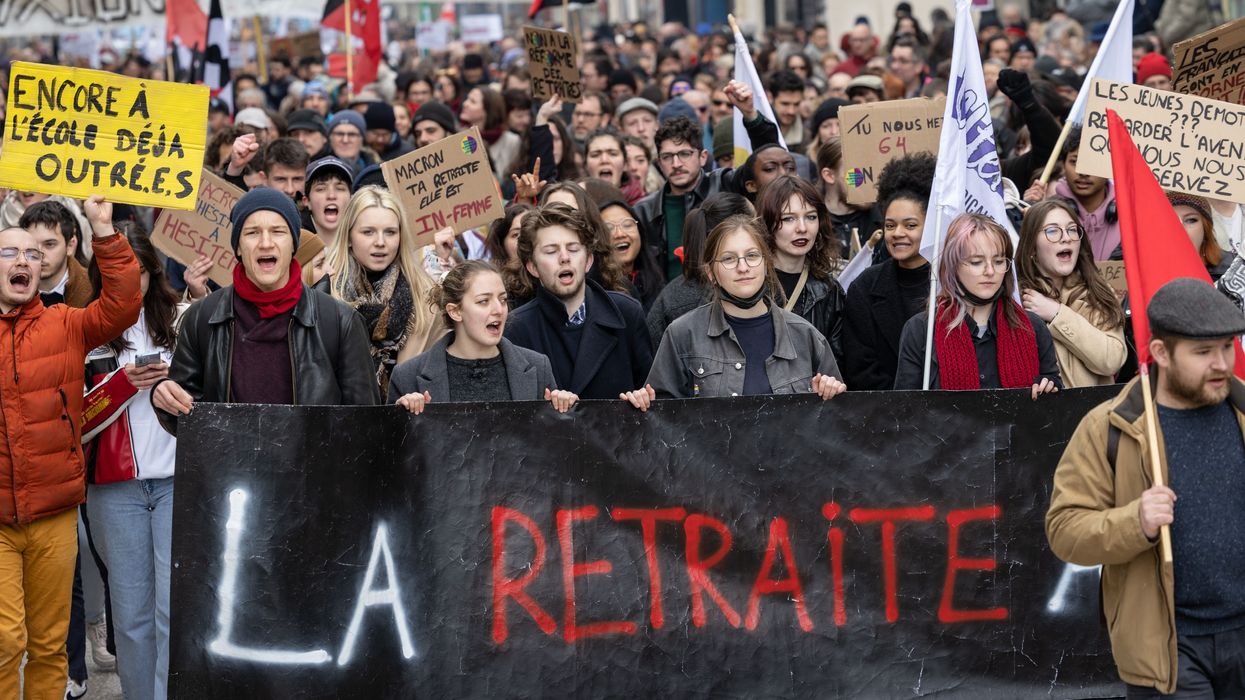 "To defend workers' rights means defending a social model based on solidarity," said one participant.
Hundreds of thousands of French workers walked off the job Tuesday and marched against the government's effort, led by neoliberal President Emmanuel Macron, to raise the nation's retirement age from 62 to 64.
For the sixth time this year, French unions organized strikes and rallies to protest Macron and his legislative allies' deeply unpopular attack on pension benefits. Police anticipated between 1.1 million and 1.4 million participants at more than 260 demonstrations nationwide. Laurent Berger, secretary-general of the French Democratic Confederation of Labor, estimated, based on initial figures, that Tuesday's protests were the biggest since mobilizations started in mid-January.
"The strike has begun everywhere," said Eric Sellini of the General Confederation of Labor (CGT), which urged people to "bring France to a halt."
"If Emmanuel Macron doesn't want France to come to a standstill and a dark week for the energy industry, it would be better for him to withdraw his reforms."
Energy workers impeded fuel deliveries, transit workers shut down most services, teacher walkouts prompted the closure of many schools, and garbage collectors' ongoing work stoppage has led to a build-up of trash. Meanwhile, BBC Newsreported that "there will be calls to extend the strikes to include power generation" in the coming days.
Thirty-eight-year-old activist Sarah Durieux, part of a massive, largely family-friendly crowd in Paris, toldThe Associated Press, "To see so many people today gives me hope."
"The movement has spread because to defend workers' rights means defending a social model based on solidarity," she added.
\u201cUnions in France are holding a nationwide day of strikes and demonstrations for the sixth time this year over controversial plans by Macron to raise the pension age from 62 to 64.\n\nTeachers, gas and electricity workers, rail workers and others on strike.\n\nhttps://t.co/VR5Ysof2hR\u201d

— Taj Ali (@Taj Ali) 1678196529
Unionized workers blocked the exits to all eight oil refineries in mainland France on Tuesday, striking fear in Thierry Cotillard, president of Les Mousquetaires retail chain, who warned that "if the refineries are blocked we could run out of petrol by the end of the week."
It is unclear how long the blockades will last. But Emmanuel Lépine, leader of a trade union representing refinery workers, said last week that the aim is to "bring the French economy to its knees."
Prior to Tuesday's actions, labor leader Sébastien Ménesplier declared that "if Emmanuel Macron doesn't want France to come to a standstill and a dark week for the energy industry, it would be better for him to withdraw his reforms."
As BBC News noted Tuesday, the campaign so far "has caused little damage to the economy, and the bill is proceeding through parliament."
The legislation, discussed last month in the National Assembly—where members of the New Ecological and Social People's Union, a leftist opposition coalition, tried to derail debate by proposing thousands of amendments—is being considered in the Senate this week. A vote on the final version is expected later this month.
"Unions and the left know time is running out before the reform becomes a reality—which is all the more reason for them to up the pressure now," BBC News observed.
Macron and his supporters have called the proposed changes "essential," citing projected budget deficits. But union leaders and left-wing lawmakers have stressed that parliament could bolster France's pension system—without raising the retirement age or increasing the number of years workers must contribute before qualifying for full benefits—by hiking taxes on the wealthy.
"The mobilizations will continue and grow until the government listens to workers."
"The job of a garbage collector is painful. We usually work very early or late... 365 days per year," Regis Viecili, a 56-year-old garbage worker, told AP. "We usually have to carry heavy weight or stand up for hours to sweep."
Trash collectors' early retirement age would be raised from 57 to 59 if the reform proposal is enacted.
"A lot of garbage workers die before the retirement age," said Viecili.
A record 1.3 million people took part in mass demonstrations against the legislation on January 31. At subsequent protests, the number of people hitting the streets—while still in the hundreds of thousands—began to decrease.
According to BBC News, "Union leaders now believe rolling strikes are their best hope of success."
Citing CGT secretary-general Philippe Martinez, AP reported that unionized workers "will decide locally" on Tuesday night whether to engage in open-ended strikes.
A majority of French citizens support the ongoing strikes. According to an opinion poll conducted recently by the French survey group Elabe, two-thirds of the public supports the movement against the government's planned pension changes in general, 59% back efforts to bring the country "to a standstill," and 56% support rolling strikes.
Martinez said in an interview Sunday that unions "are moving up a gear."
"The mobilizations," he predicted, "will continue and grow until the government listens to workers."
Xavier Bregail, a 40-year-old train driver in northern Paris, told AP on Tuesday that "the government will step back only if we block the economy."
"The subject behind this is inflation, soaring food and energy prices," he added. "I just want to live decently from my work."
News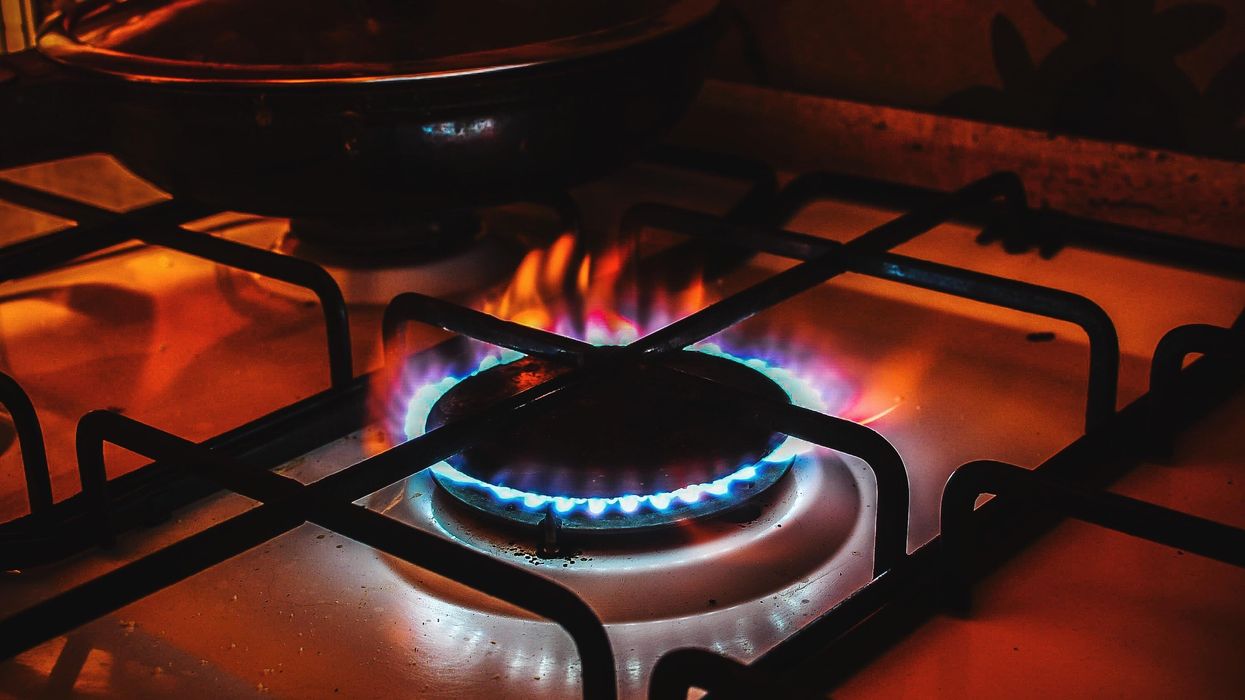 "What? They knew? Next you're going to tell me that ExxonMobil knew about climate change and that the tobacco companies knew cigarettes caused cancer," one Democratic senator sarcastically said.
Newly uncovered documents published last week by DeSmog reveal that the leading gas industry trade group knew over 50 years ago that cooking with gas stoves could harm human health and tried to cover up the evidence.
The DeSmogrevelations regarding the American Gas Associationn (AGA) came as the gas industry is pushing back against climate and public health advocates' efforts to ban new gas stoves amid mounting scientific evidence that the appliances threaten the warming planet and people's health.
Rrcent studies—which, among other things, showed that nitrogen dioxide, carbon monoxide, and ultrafine particles produced by gas stoves cause a range of health problems, including 1 in 8 U.S. cases of childhood asthma—sparked fast and furious backlash from the gas industry and its congressional boosters.
"It's less widely known that the gas industry has long sponsored its own research into the problem of indoor air pollution from gas stoves," wrote DeSmog's Rebecca John. "Now, newly discovered documents reveal that the American Gas Association was studying the health and indoor pollution risks from gas stoves as far back as the early 1970s—that they knew much more, at a far earlier date, than has been previously documented."
\u201cThe peer-reviewed research by the environmental think tank @RockyMtnInst, @Sydney_Uni , and @EinsteinMed estimated that \u201cnearly 13 percent of childhood asthma cases in the United States can be linked to having a gas stove in the home.\u201d https://t.co/jASvlSKYC5\u201d

— DeSmog (@DeSmog) 1678105860
According to John:

More than 50 years ago, in 1972, AGA authored a draft report highlighting indoor air pollution concerns similar to those being raised by health experts and regulators today. In particular, this draft report examined what to do about problems related to the emission of carbon monoxide and nitrogen oxides (collectively referred to as NOx) from domestic gas appliances. This draft, recently discovered in the U.S. National Archives, would eventually become an official report published by the National Industrial Pollution Control Council (NIPCC), a long-forgotten government advisory council composed of the nation's most powerful industrialists.

However, an entire section detailing those concerns, entitled "Indoor Air Quality Control," vanished from the final report. With it went all the important evidence that the gas industry was not only conducting research into what the NIPCC called the "NOx problem" but also that it was actively testing technological solutions "for the purposes of limiting the levels of carbon monoxide and nitrogen oxides in household air."

"Instead," John wrote, "the final report argued gas' sole drawback was its limited availability, 'not its environmental impact.' It also lobbied for a massive expansion of U.S. domestic gas reserves and the rapid rollout of gas-based infrastructure, under the banner of replacing coal with gas to stem air pollution."
Reacting to the DeSmog report, U.S. Sen. Martin Heinrich (D-N.M.) sardonically tweeted: "What? They knew? Next you're going to tell me that ExxonMobil knew about climate change and that the tobacco companies knew cigarettes caused cancer."
News
SUPPORT OUR WORK.
We are independent, non-profit, advertising-free and 100%
reader supported.