For Immediate Release
Contact:
Brenda Bowser Soder,bowsersoderb@humanrightsfirst.org,O -202/370-3323, C - 301/906-4460
DOD Issues Newest Set of Rules For Military Commissions
Tribunals Likely To Face Further Constitutional Challenges
WASHINGTON
The Pentagon published the newest version of the Manual for
Military Commissions late yesterday, one day before proceedings in the
Omar Khadr case were scheduled to commence at the U.S. detention
facility at Guantanamo. Those on the ground at the base--including
judges, attorneys, and observers--have yet to receive a copy of the new
rules. For months, since the latest amendments to the Military
Commissions Act, military commission proceedings have taken place
without clear guidance, leaving many participants unable to make basic
decisions in these cases. According to Human Rights First, the new
rules and guidelines, while welcome, fall short of due process
requirements and mean the commissions will be vulnerable to years of
constitutional challenges.
"While having a set of rules to govern these proceedings beats all
the participants making it up as they go along," said Human Rights
First President and CEO Elisa Massimino, "these rules do not cure the
fundamental defects of military commissions. Allowing evidence obtained
by interrogations that violate the Geneva Conventions and trying people
for conduct that was not designated as a war crime when
committed--these are the reasons why commissions lack the legitimacy of
regular federal courts. Their continued use threatens to perpetuate
the legacy of failed trial and detention policies at Guantanamo."
Over the past seven years, military commissions have convicted only
three prisoners. During that same time, the commissions have been
reformed three times. By contrast, according to Department of Justice
figures, federal courts have tried more than four hundred terrorism
cases.
The new manual issued by the Pentagon provides some needed reforms,
such as giving defendants in capital cases the right to at least one
additional counsel who is learned in applicable law relating to death
penalty cases. Under the old rules, defendants in capital cases had no
such right.
But the manual includes troubling rules that likely will undermine
the constitutionality of future convictions. For example, the manual
continues to permit the introduction of coerced statements under
certain circumstances. In addition, unlike in courts-martial or regular
federal courts, it permits evidence from third parties obtained by
cruel, inhumane, and degrading treatment if "use of such evidence would
otherwise be consistent with the interests of justice." In addition,
the manual, consistent with the 2009 Military Commissions Act,
continues to permit defendants to be tried ex-post facto for conduct
not considered to constitute a war crime at the time it was committed,
such as material support for terrorism.
"Why would we risk relying on an untested military commissions
system for these important cases when our nation's federal civilian
courts have proven hundreds of times over that they can deal with
complex terrorism cases?" asked Massimino. "Our civilian courts have
stood the test of time since the days of Adams and Jefferson. It would
be a grave--and unnecessary--error to abandon them now."
Human Rights First is a non-profit, nonpartisan international human rights organization based in New York and Washington D.C. Human Rights First believes that building respect for human rights and the rule of law will help ensure the dignity to which every individual is entitled and will stem tyranny, extremism, intolerance, and violence.
LATEST NEWS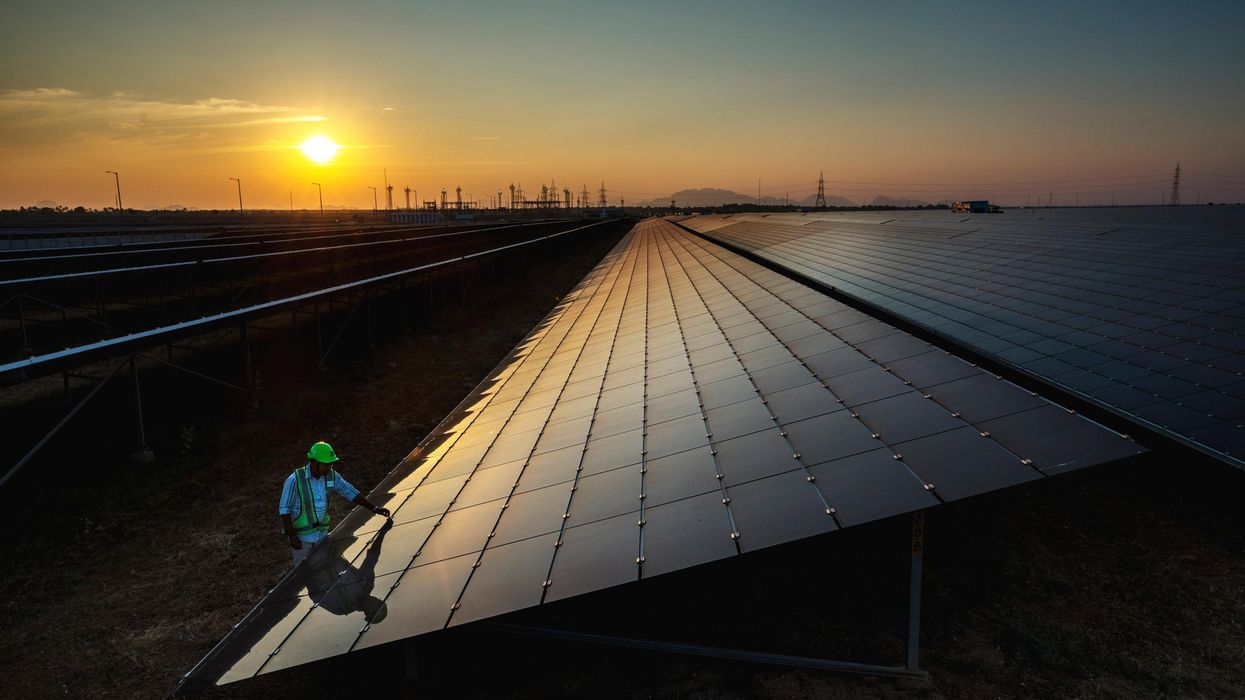 Recommendations include tripling renewable energy capacity by 2030, phasing out fossil fuels by 2050, and providing the Global South with the means to fund its energy transition.
As world leaders prepare to gather at the COP28 global climate talks next week in Dubai, 350.orgpublished a report Wednesday detailing how negotiators can draft a just and effective global transition to renewable energy.
One of the main agenda items at COP28 will be a worldwide target for renewable energy. Yet this target must be accompanied by a 2050 phaseout of fossil fuels and funds to speed the transition in the Global South, 350.org concluded.
"A renewable energy target at COP28 will only constitute a meaningful step towards climate justice if it is accompanied by a clear roadmap for implementation that includes equitable mechanisms and commitments in the financial and policy realms, as well as an urgent and equitable phaseout of fossil fuels," Andreas Sieber, 350.org associate director of global policy, said in a statement. "Without these, any agreement would represent a hollow, 'easy win' for the COP28 President Al Jaber, and risk allowing polluting countries to hide behind a renewables goal while continuing to emit fossil fuels."
"To achieve the proposed global renewable energy target by 2030, massive growth in financial investment into renewable energy is required in the Global South outside China, from both private and public sources."
The report, fully titled Power Up for Climate Justice: Financing and Implementing a 1.5°C-Aligned Global Renewables Target, also details how the target itself can be meaningful.
"For the global renewable energy target at COP28 to address global energy needs and redress fossil fuel dependency, it must include commitments to triple fair, safe, and clean renewable energy capacity by 2030 and deploy 1.5 terawatts per year thereafter, double energy efficiency by 2030, and completely phaseout of fossil fuels by 2050," said 350.org executive director May Boeve.
The report further argues that the target should be based on demonstrably effective technologies like wind and solar power.
"There is no room for dangerous distractions and unproven technologies such as Carbon Capture and Storage, nuclear energy, ammonia co-firing, which do not address the root causes of the climate crisis, and often cannot be implemented at scale," the report authors wrote.
They also emphasized the importance of providing poorer nations with the funds to scale up their renewable energy buildouts.
"To achieve the proposed global renewable energy target by 2030, massive growth in financial investment into renewable energy is required in the Global South outside China, from both private and public sources," Sieber said. "Barriers such as debt and the inequitable cost of capital in the Global South, significantly hinder investment in renewable energy."
Only $260 billion was invested in the Global South in 2022, the report notes, even though the International Energy Agency has said that $1.9 trillion is needed per year by 2030 in order to limit global heating to 1.5°C while providing energy to around 5 billion people—an amount of finance seven times 2022 levels.
The report offers several suggestions for how that funding can be realized, including canceling debt; sending the Global South $100 billion a year in concessional finance, providing it with $200 billion a year in grants; and channeling money away from fossil fuels by taxing profits, shifting subsidies and investments from fossil fuel projects to renewables, taxing wealth, issuing more Special Drawing Rights from the IMF, and using existing infrastructure funds.
The report comes at a crucial time for climate action. This year, 2023, is likely to be the hottest year in 125,000 years, and the U.N. concluded this week that current pledges put the world on course for 2.9°C of warming beyond preindustrial levels. But 350.org argues it's not too late to limit warming with ambitious action.
"The Paris Agreement is the landmark multilateral framework to stop climate change, and COP28—which includes the Global Stocktake of whether the world is on track to meet this target—is a pivotal moment to achieve its intended goal: limiting global heating to no more than 1.5°C," the report authors said.
News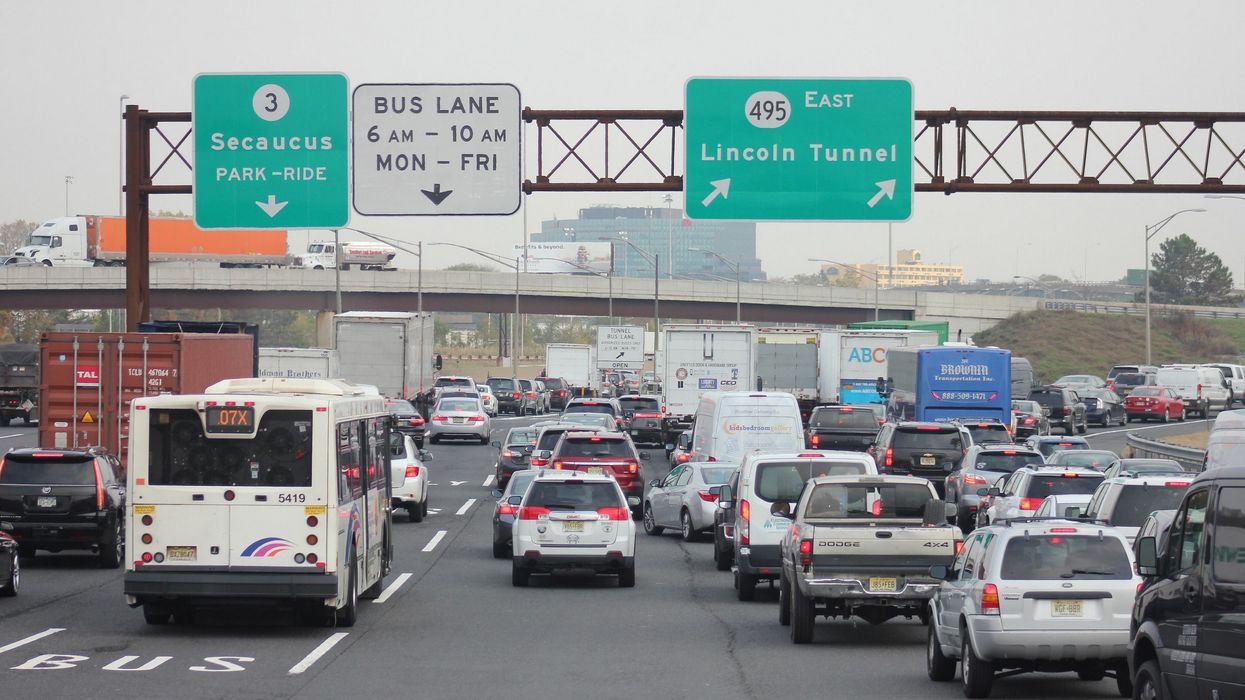 "The steps we take today to lower emissions will improve air quality and mitigate climate impacts for generations to come, all while increasing access to cleaner car choices," said Gov. Phil Murphy.
New Jersey on Tuesday joined eight other U.S. states in committing to phase out new gasoline-powered light-duty motor vehicles by 2035 as a key part of the fight against pollution and global heating—which is primarily caused by burning fossil fuels.
Democratic N.J. Gov. Phil Murphy and state Department of Environmental Protection Commissioner Shawn M. LaTourette announced that they're adopting the Advanced Clean Cars II (ACCII) Rule—developed by California authorities to achieve 100% new zero-emission vehicle sales in 2035—"setting the state on the road toward better air quality and cleaner choices for new car buyers while combating the worsening climate crisis."
The phaseout—which won't begin for a few years—is seen as a major boost for electric vehicles (EVs) and clean power in the state.
As Murphy's office explained:
The rule will take effect starting in model year 2027, providing time for auto industry transition and continued development of charging infrastructure and a more robust and cleaner electrical grid in New Jersey. It does not ban gasoline cars, nor does it force consumers to buy EVs. Rather, the rule will provide certainty to vehicle manufacturers, suppliers, utilities, and charging infrastructure companies to make the long-term investments that will be crucial to large-scale deployment of light-duty [zero-emission vehicles] and consumer choice.
"The steps we take today to lower emissions will improve air quality and mitigate climate impacts for generations to come, all while increasing access to cleaner car choices," Murphy said in a statement. "Indeed, together with my administration's continuing investments in voluntary electric vehicle incentives, charging infrastructure, and the green economy, these new standards will preserve consumer choice and promote affordability for hardworking New Jerseyans across the state."
LaTourette said that "cleaner cars and trucks mean cleaner air for our children and families, because the tailpipes of our own vehicles are a leading cause of poor local air quality."
"As New Jersey transitions to a zero-emission vehicle future, we will improve our quality of life and public health," LaTourette added. "At the same time, we will reduce climate pollutants from the transportation sector, the greatest source of planet-warming pollution in New Jersey and the nation."
Local Democratic leaders, green groups, and climate campaigners welcomed Murphy's announcement.
"As Newark continuously moves toward a healthier and more economically successful community, we welcome the Advanced Clean Cars II Rule, knowing it will reduce emissions that degrade our environment and cause respiratory problems like asthma," Newark Mayor Ras Baraka said.
"As the largest automobile transportation hub and energy generation center in the state, Newark has much to gain through this rule, through greater investment into [zero-emission vehicles], more jobs for city residents, and more availability of these vehicles for motorists," he added.
"This is a huge win not only for the environment, but for public health and the communities who suffer every day from the pollution from congested roadways."
Anjuli Ramos-Busot, director of the New Jersey Sierra Club, called the adoption of ACCII "a historic and monumental step in our transition toward a cleaner transportation sector, and carbon and co-pollutant emission reductions."
"This is a huge win not only for the environment, but for public health and the communities who suffer every day from the pollution from congested roadways," she added.
While the New Jersey Business and Industry Association opposes the adoption of ACCII, Richard Lawton, executive director of the N.J. Sustainable Business Council, welcomed the move, asserting that "consumers and companies are experiencing firsthand how EVs are cleaner, technologically superior, and less costly to operate and maintain than internal combustion engines."
"By accelerating the growth of the EV market, ACCII will spur continued investment and innovation in the transition to a clean energy transportation sector," Lawton added. "Thanks to this decision, New Jersey can look forward to increased economic development, more good-paying jobs, and cleaner air."
New Jersey joins California, Connecticut, Maryland, Massachusetts, New York, Oregon, Rhode Island, and Washington state in committing to adopt the ACCII rule.
Meanwhile at the federal level, the Biden administration earlier this year proposed a rule aimed at ensuring that as many as two-thirds of all new light- and medium-duty passenger vehicles sold in the U.S. by 2032 are EVs.
A report published last year by the American Lung Association concluded that, in addition to slowing global heating, a nationwide transition to zero-emission vehicles and renewable electricity would bring $1.2 trillion in public health benefits to the United States over the next 30 years.
News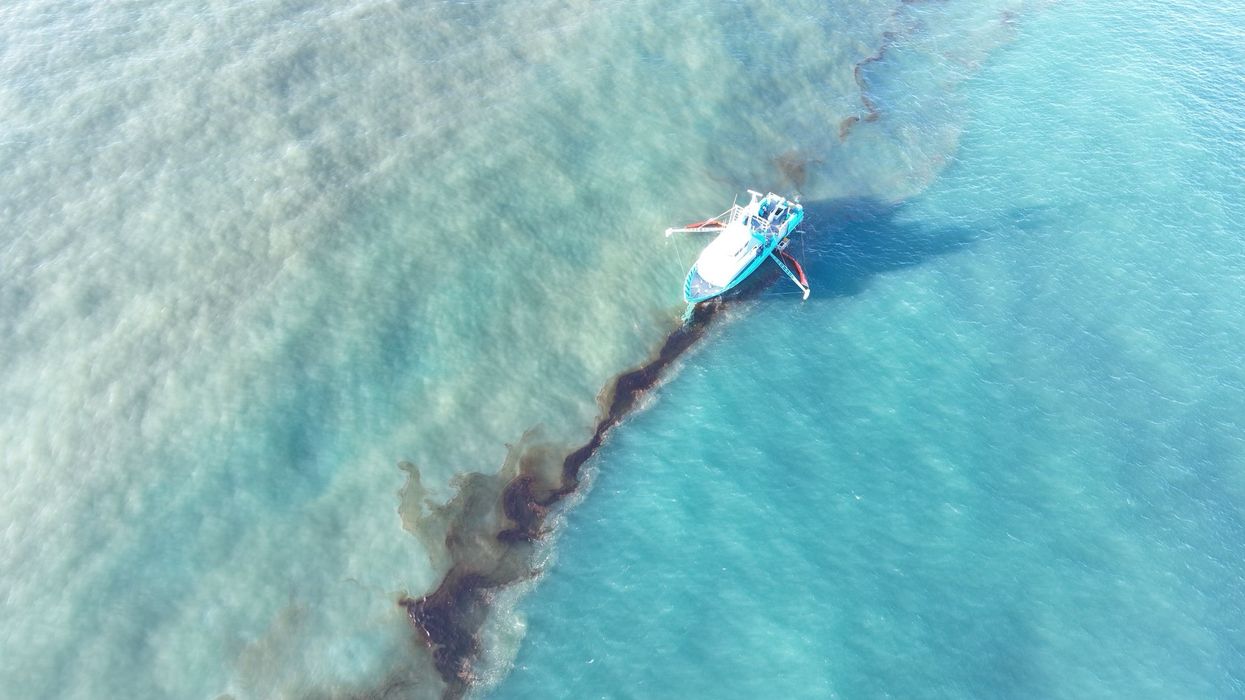 "The Federal Reserve must enforce the Bank Holding Company Act and disallow Wall Street banks from controlling energy infrastructure, as it poses systemic risks," said a Public Citizen campaigner.

Banking giant JPMorgan Chase has financial ties to a company that owns the pipeline suspected of leaking up to 1.1 million gallons of oil into the Gulf of Mexico—a situation that watchdogs say demonstrates the danger of such business relationships.
"JPMorgan's control over a company involved in a massive oil spill in the Gulf of Mexico clearly illustrates the danger of banks owning energy companies," Tyson Slocum, director of consumer watchdog Public Citizen's Energy Program, declared Wednesday.
A Main Pass Oil Gathering (MPOG) aircrew confirmed the presence of oil near the company's pipeline system last Thursday, according to the U.S. Coast Guard (USCG). As of Monday, there had not been any reports of injuries or shoreline impacts, and skimming vessels were working to recover the oil while remotely operated vehicles searched for its source.
MPOG is owned by Third Coast Infrastructure—which, as The Times-Picayunereported, "has not responded to requests for comment and did not attend a briefing on the spill organized by federal authorities for the news media on Tuesday."
The private equity company Infrastructure Investments Fund (IIF) owns 50% of Third Coast. The Federal Energy Regulatory Commission (FERC) determined in September that a JPMorgan Chase subsidiary is a legal affiliate of IIF and their contractual relationship "undermines any potential for independence between the two entities."
Slocum said Wednesday that "Third Coast features a JPMorgan executive on the board overseeing its management, and therefore exposes JPMorgan to liability from this disaster. The Federal Reserve must enforce the Bank Holding Company Act and disallow Wall Street banks from controlling energy infrastructure, as it poses systemic risks."
After FERC's September ruling, Slocum—who has investigated IIF and JPMorgan since 2019—sent a letter to Michael S. Barr, the Federal Reserve System Board of Governors' vice chair for supervision, demanding a formal investigation into whether JPMorgan's "sprawling network" of affiliated fossil fuel projects, utilities, and related infrastructure assets violates federal laws and regulations, specifically the Bank Holding Company Act and the Volcker Rule.
"JPMorgan Chase is America's largest bank, and subject to regulation and supervision by the Board of Governors of the Federal Reserve System," the letter stresses. "One of the primary objectives of the Bank Holding Company Act is to restrict banks like JPMorgan Chase from engaging in business activities outside of banking, and the Volcker Rule generally prohibits banks from operating a private equity entity like IIF."
JPMorgan has long come under fire for continuing to finance fossil fuel projects driving the climate emergency, despite its public pledges. An annual report released in April found that the bank was responsible for $434.15 billion in financing from 2016-22, making it "the world's worst funder of climate chaos since the Paris agreement."
The Guardian similarly reported last month that over the same period, JPMorgan Chase poured more than $141 billion into "carbon bombs," or fossil fuel extraction projects with the potential to release at least a gigaton of carbon dioxide over its lifetime.
News