For Immediate Release
March, 12 2010, 09:59am EDT
Contact:
Tel: +1-212-216-1832,Email:,hrwpress@hrw.org
Indonesia: US Should Justify Training Counterterrorism Unit
Resuming Ties Should Require Resolving Concerns About Special Forces' Abuses
WASHINGTON
The US government should train members of Indonesia's elite special
forces only if Indonesia takes sufficient steps toward accountability
and reform to deter future abuses, Human Rights Watch said in two
letters released today.
Ahead of President Barack Obama's anticipated late-March trip to
Indonesia, US officials have suggested that the Defense Department is
seeking to provide training to members of Indonesia's special forces
(Komando Pasukan Khusus, or Kopassus), an abusive force that includes
individuals implicated in serious human rights violations. US training
for Kopassus has been restricted for over a decade because of concerns
about its record and lack of accountability for abuses.
"US training for Kopassus could someday improve its human rights
performance, but only if those trained have a real incentive to stop
committing abuses," said Sophie Richardson, Asia advocacy director at
Human Rights Watch. "Unfortunately, those Kopassus soldiers convicted
for human rights abuse rarely find it an impediment to advancing
through the ranks."
Secretary of State Hillary Clinton told members of Congress on
February 4, 2010, that the State Department is trying to "resume
support for vital security functions," in Indonesia and "move into a
new era of cooperation," specifically citing Indonesia's performance on
counterterrorism.
The first letter to Defense Secretary Robert M. Gates,
sent February 4, identified specific human rights concerns related to
the Indonesian military and recommended measures the US could take to
encourage development of a professional, accountable, and
rights-respecting military in Indonesia.
The second letter, sent today to Secretaries Clinton and Gates,
raised questions about a plan to approve US training for young members
of Kopassus' counterterror force, known as Unit 81, on the grounds that
they would presumably not have been involved in the unit's past
abuses.
Human Rights Watch raised a number of concerns about Unit 81, which
has existed since 1982, though under different unit designations. The
unit's movements have long been shrouded in secrecy, but available
information includes credible allegations that its members participated
in serious human rights abuses, including the enforced disappearances
of student activists in 1997 and 1998. Teams of Unit 81 soldiers are
reported to have deployed to conflict zones, including East Timor and
Aceh, during which Kopassus was implicated in serious abuses.
Limitations mandated by the US Congress on providing training to
foreign military forces under what is known as the "Leahy law" bar the
US from providing training, in the absence of corrective steps, to
military units that are credibly alleged to have committed gross
violations of human rights. State Department policy currently requires
that the human rights records of all individual nominees to receive US
military training be vetted before they can be approved for
participation.
"The main thing that distinguishes Unit 81 from the rest of Kopassus
is the secrecy with which it operates and that its name has changed -
hardly the kind of reforms the US should be encouraging," said
Richardson. "The US government should explain why Unit 81 should be
treated any differently from the rest of Kopassus."
In the February 4 letter, Human Rights Watch detailed human rights
abuses committed by Kopassus. Although 11 military personnel,
including several members of Kopassus, were convicted for abducting the
student activists in 1997 and 1998, as of 2007 the majority remained in
the military and had received promotions. A Kopassus officer, Lt. Col.
Tri Hartomo, was convicted of abuse leading to the 2001 death of a
Papuan activist, Theys Eluay, but today Hartomo serves in a senior
command position in Kopassus.
And although Lt. Gen. Sjafrie Sjamsoeddin was implicated in a
massacre in East Timor while serving in Kopassus and other abuses for
which he has never been subjected to a credible investigation, he was
appointed deputy defense minister in January.
Kopassus soldiers continue to be implicated in abuses such as the
arbitrary arrest and detention and mistreatment of youths in Papua, as
documented in a June 2009 report by Human Rights Watch, "What Did I Do Wrong?"
Human Rights Watch outlined three key steps Indonesia should take to
address accountability for past and future abuses by Kopassus. The
military should permanently discharge personnel convicted of serious
human rights abuses. It should adopt transparent measures to ensure
credible, impartial and timely investigations into all future
allegations of human rights abuse. President Susilo Bambang Yudhoyono
should establish an ad hoc tribunal to investigate the
enforced disappearance of student activists in 1997-98, as Indonesia's
House of Representatives recommended in September 2009.
Once Indonesia has taken these steps, the US could provide limited,
non-combat training to individual Kopassus members who have been
carefully and effectively vetted, Human Rights Watch said. However,
unconditional assistance to Kopassus, including combat training and
equipment, should be provided only once Indonesia has adopted a number
of structural reforms to address Kopassus' lack of accountability.
The steps should include making genuine progress in eliminating all
forms of military business; launching renewed investigations into other
serious human rights abuses in which security services have been
implicated, such as the 2004 murder of Indonesian human rights activist
Munir Thalib; and allowing civilian courts to investigate and prosecute
crimes committed by military personnel against civilians.
"It's in the US's interests to make sure that Indonesia is serious
about a professional, rights-respecting military," Richardson said.
"President Obama should use this opportunity to ensure Indonesia curbs
the sort of brutal conduct that led the US to cut off aid to Kopassus
in the first place."
Human Rights Watch is one of the world's leading independent organizations dedicated to defending and protecting human rights. By focusing international attention where human rights are violated, we give voice to the oppressed and hold oppressors accountable for their crimes. Our rigorous, objective investigations and strategic, targeted advocacy build intense pressure for action and raise the cost of human rights abuse. For 30 years, Human Rights Watch has worked tenaciously to lay the legal and moral groundwork for deep-rooted change and has fought to bring greater justice and security to people around the world.
LATEST NEWS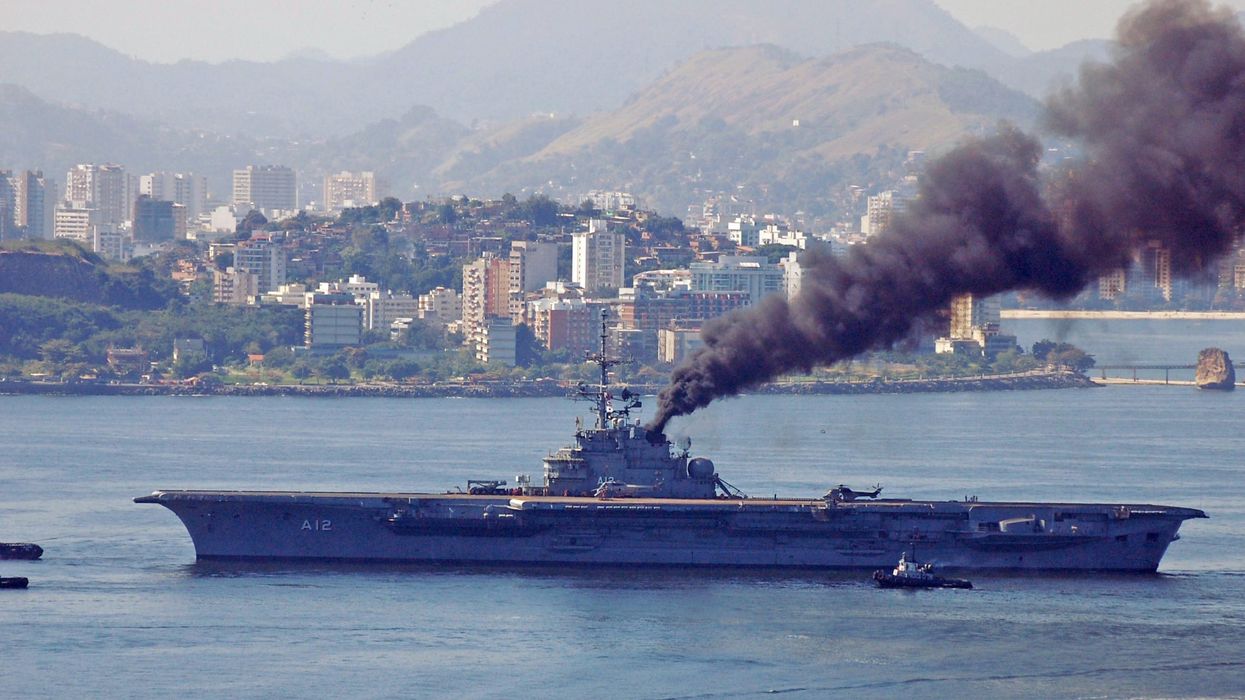 Intentionally sinking the vessel "would equate to a state-sponsored environmental crime," said one shipbreaking expert.
The former flagship of Brazil's navy—an ex-French aircraft carrier built in the late 1950s that environmentalists estimate contains hundreds of tons of highly carcinogenic chemicals—will be scuttled at sea after being denied permission to be scrapped in Turkey, Brazilian naval officials said on Wednesday.
The NAe São Paulo (A-12), an 870-foot Clemenceau-class carrier first commissioned by the French navy in 1963 as the Foch, will be sunk using explosives about 217 miles off Brazil's coast in the country's exclusive economic zone at a depth of around 16,000 feet, Brazilian Environmental Minister Marina Silva said after a federal judge denied a government request to stop the sinking on environmental grounds.
"Given its deteriorating floating condition and the inevitability of uncontrolled sinking, there is no other option but to jettison the hull and sink it in a planned way," Brazil's navy said of the ship in a statement, according to Reuters.
Silva, and many environmentalists, did not want to sink the vessel, which contains an unknown quantity of toxic substances. French authorities said they believed there were 45 tons of asbestos—a common fire retardant at the time of the carrier's construction—onboard, although experts said the figure is likely higher.
"We're talking about a ship containing both hazardous materials and valuable materials—it's supposed to be brought into the territory of Brazil and managed in an environmentally sound way."
Basel Action Network (BAN), a Seattle-based NGO that works to stop the export of toxic waste to developing nations, estimates the São Paulo contains around 300 tons of highly carcinogenic polychlorinated biphenyls (PCBs).
Under pressure from environmental groups including BAN, Turkish authorities last September rescinded permission for the São Paulo to be towed to Turkey for scrapping after Brazilian officials could not provide a satisfactory list of toxic substances aboard the carrier.

BAN executive director Jim Puckett said that abandoning the São Paulo at sea would be an act of "gross negligence," as well as a violation of three international environmental conventions.
"We're talking about a ship containing both hazardous materials and valuable materials—it's supposed to be brought into the territory of Brazil and managed in an environmentally sound way," Puckett toldTime. "You can't just sink it."
Nancy Wallace, director of the U.S. National Oceanic and Atmospheric Administration's marine debris program, concurred.
"Anytime there's a vessel that's left at sea, the first thing to think about is toxic chemicals, which can be very impactful to wildlife," Wallace said.
In a statement last month, Ingvild Jenssen, founder and executive director of NGO Shipbreaking Platform, asserted that "intentionally sinking this toxic aircraft carrier would equate to a state-sponsored environmental crime."

Brazil purchased the vessel from France for $12 million in 2000, and the São Paulo served as the Brazilian navy's flagship until it was decommissioned in 2018.
In a late twist, earlier this week a Saudi business group offered the equivalent of $6 million for the São Paulo's hull—three times the offer made by the Turkish shipyard that had tried to acquire the ship.

Puckett argued the vessel is simply too valuable to be scuttled.
"It's got millions of dollars worth of steel to be recycled, which far outweighs the cost of managing those hazardous materials," he contended. "I've never seen such a valuable ship being deliberately sunk."
News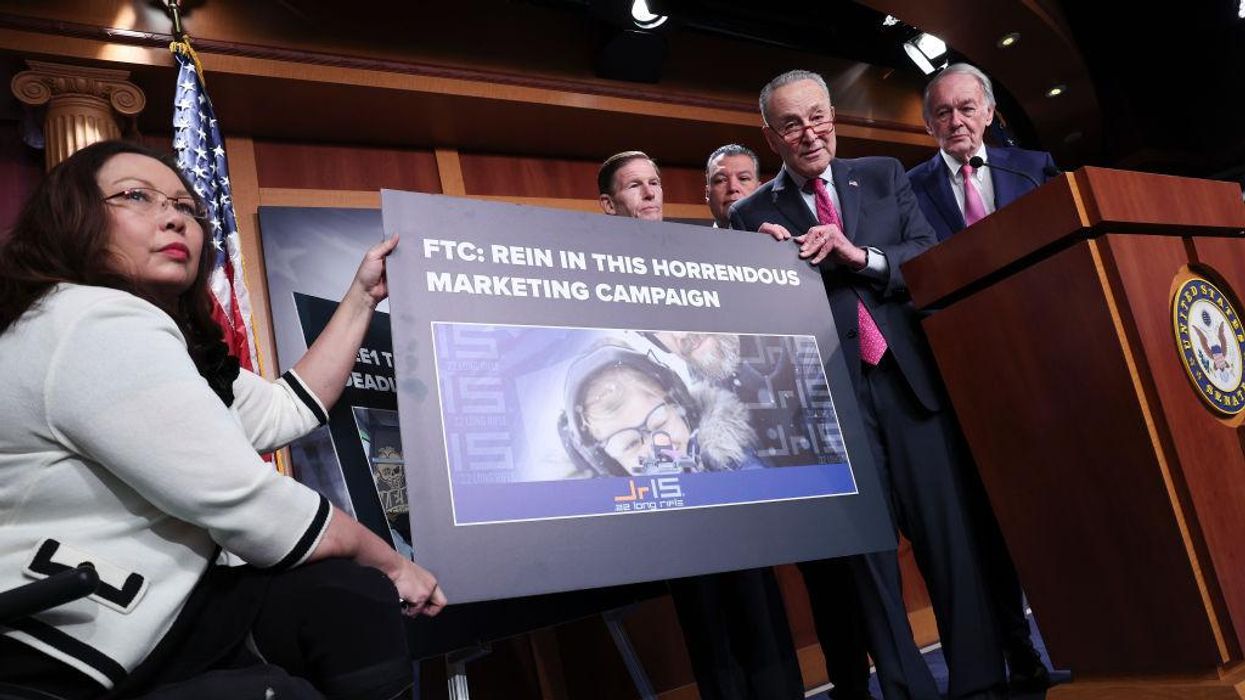 "A junior version of the AR-15 has no place in a kid's toy box," the U.S. senator argued, calling the gun industry's advertising of a weapon for children "shameful, irresponsible, and dangerous."
U.S. Sen. Ed Markey on Thursday introduced legislation to outlaw the marketing of firearms to children amid growing outrage from federal lawmakers, gun violence prevention advocates, and parents over a weapon for kids inspired by the AR-15.
The Massachusetts Democrat's Protecting Kids From Gun Marketing Act would direct the Federal Trade Commission (FTC) to create rules to "prohibit any manufacturer, dealer, or importer, or agent thereof, from marketing or advertising a firearm or any firearm-related product to a minor in a manner that is designed, intended, or reasonably appears to be attractive to a minor."
The bill would also empower state attorneys general and private individuals to take legal action for violations of the rules.
"Imagine the public outcry if the alcohol or tobacco industries introduced child-friendly versions of their adult products."

The proposal follows recently renewed criticism of Illinois-based WEE1 Tactical for its JR-15. After coming under fire last year for branding that featured pacifier-sucking baby skulls with gun sights for eye sockets, the gunmaker scrapped the images and now says the firearm represents "a great American tradition," a "small piece of American freedom," and "American family values."
Markey led a May 2022 a letter calling on the FTC to investigate WEE1 Tactical for unfair or deceptive marketing tactics and last week, in the wake of a series of mass shootings, he joined a press conference during which senators repeated that demand.
"I am once again calling on the FTC to step up and use its authority to crack down on gunmakers who market their deadly weapons to America's youth," he said last week. "The deceptive and deadly marketing behind the 'JR-15' is grotesque and reflects the depth of the gun industry's moral depravity."
Markey also took aim at WEE1 Tactical's gun on Thursday, declaring that "a junior version of the AR-15 has no place in a kid's toy box."
"America's gun violence epidemic is claiming tens of thousands of lives each year as gunmakers, dealers, and vendors alike continue to put sales over safety by targeting kids with advertising of a deadly weapon," he said. "It's shameful, irresponsible, and dangerous. The FTC must act immediately to prohibit the marketing of these weapons to children, a step that could save lives."
\u201cLast May, I led my colleagues in urging the @FTC to investigate the marketing of the highly lethal JR-15 to children. Shortly after, WEE1 Tactical went dark. But now, a few weeks after a 6-year-old shot his teacher, they're back on the market. It's sickening and it has to stop.\u201d

— Ed Markey (@Ed Markey) 1675107799
The legislation is co-sponsored by Sens. Richard Blumenthal (D-Conn.), Bob Casey (D-Pa.), Tammy Duckworth (D-Ill.), Dick Durbin (D-Ill.), Dianne Feinstein (D-Calif.), Mazie Hirono (D-Hawaii), Chris Murphy (D-Conn.), Alex Padilla (D-Calif.), Jack Reed (D-R.I.), Elizabeth Warren (D-Mass.), and Sheldon Whitehouse (D-R.I.).
The bill is also supported by the organizations Brady, Everytown, Giffords, March For Our Lives, and the Violence Policy Center—whose executive director, Josh Sugarmann, said that "few Americans are aware that there is an ongoing, coordinated effort by the gun lobby and firearms industry targeting America's children and teens. Imagine the public outcry if the alcohol or tobacco industries introduced child-friendly versions of their adult products."
Giffords federal affairs director Adzi Vokhiwa stressed that "the gun industry's deceptive and reckless marketing practices have real consequences: Our nation's gun violence epidemic is worsening while the gun industry's profits soar. Promoting weapons to young people is especially heinous considering that guns are now the number one cause of death for children."
"It's time for Congress to take a stand and defend young peoples' lives against an immoral industry practice."
Just over a month into 2023, at least 154 children across the United States have been killed by gun violence and another 364 have been injured so far, according to the Gun Violence Archive. Last year, the totals were 1,675 and 4,479, respectively.
"There's no world in which deadly firearms manufacturers should advertise guns to children," said Zeenat Yahya, policy director, March for Our Lives, which was formed by students after the 2018 high school shooting in Parkland, Florida.
"Unsecured access to guns has killed far too many children and young people over the years," Yahya continued. "The very idea that gun manufacturers want to take advantage of young people by targeting young people who aren't even old enough to drive with ads that sell deadly weapons is sickening."
"It's time for Congress to take a stand and defend young peoples' lives against an immoral industry practice," she added, "and we're pleased to stand with Sen. Markey and our congressional partners in the introduction of this bill."

News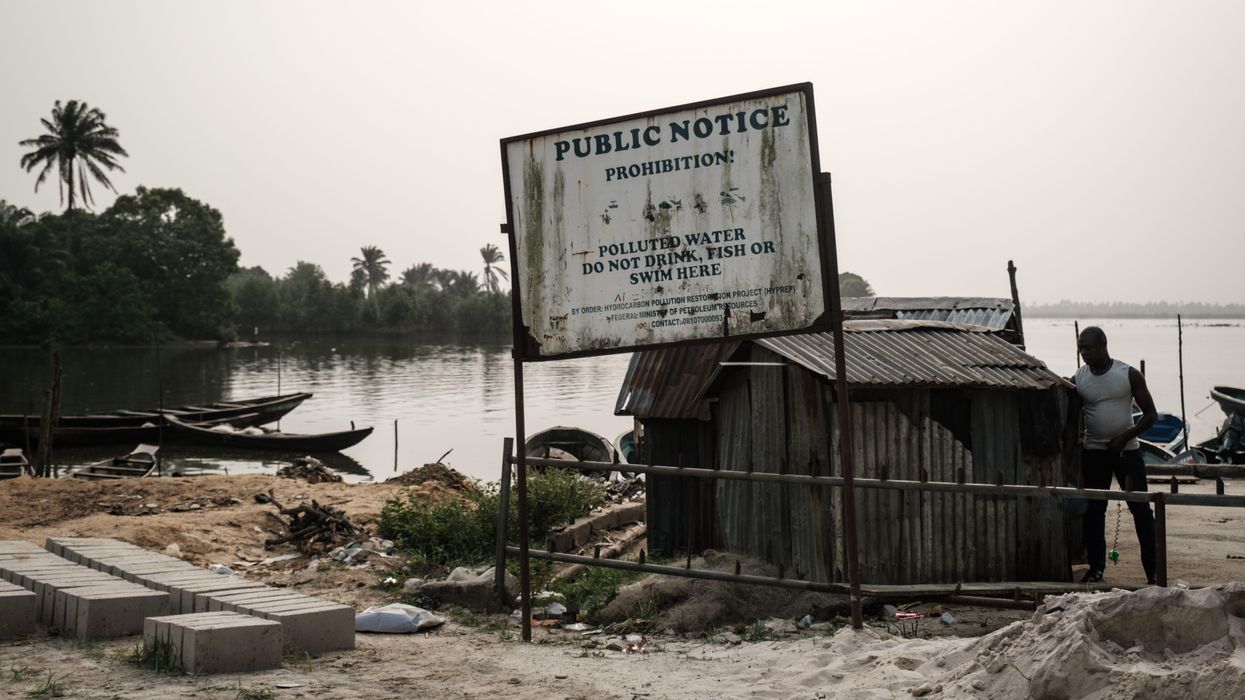 "At a time when Shell is making unprecedented profits, it is high time that it addressed the ongoing pollution caused to these communities by its operations," said one attorney representing plaintiffs from the Niger Delta.
More than 13,650 Nigerians have filed claims against Shell for years of unremedied oil spills that are causing ecological destruction, disease, and death.
As The Intercept reported Wednesday: "Niger Delta communities have been facing pollution caused by Shell for decades, devastating their health and livelihoods. In 2011, the United Nations Environment Programme reported that the threat to public health warranted 'emergency action.' At the time, the cleanup process would have taken 30 years, if initiated immediately."
"It never happened," the investigative outlet noted. "Shell refused to cooperate, and the situation has only gotten worse, with 55 oil spills in the last 12 years. Amnesty International called the Niger Delta region 'one of the most polluted places on earth.'"
Last Friday, 11,317 residents from Ogale—a rural community in Nigeria home to roughly 40,000 people—and 17 local groups filed individual claims against Shell at the High Court of Justice in London, where the company is headquartered. They joined 2,335 of their fellow citizens from Bille—an island community of around 15,000 people where fish have virtually disappeared—who had already filed individual claims against the oil giant at the High Court in 2015.
Individual claimants are seeking compensation for loss of livelihoods. In addition, class-action lawsuits filed on behalf of Ogale and Bille inhabitants in October 2015 and December 2015, respectively, are seeking compensation for damages to communally owned property, including waterways, farmland, and public infrastructure.
British law firm Leigh Day, which is managing all four cases together, said Thursday in a statement that the communities want Shell to clean up their mess and pay up for destroying local residents' ability to farm and fish, which has left many with no source of income.
"If you don't have money, you can't drink water. It's like we are living in a desert, while we are living on the water."
"As we speak, oil is spilling in my community every day," King Emere Godwin Bebe Okpabi, leader of the Ogale community, told The Intercept. "People are dying."
Chief Bennett Dokubo, a community leader from Bille, told the outlet that drinking water contaminated by Shell has led to major cholera outbreaks. Avoiding disease depends on one's ability to purchase expensive bottled water from the city.
"If you don't have money, you can't drink water," he said. "It's like we are living in a desert, while we are living on the water."
Shell executives have so far managed to avoid accountability during the seven-plus years the Ogale and Bille communities have been engaged in litigation against them.
In February 2021, however, plaintiffs scored a procedural victory when the United Kingdom Supreme Court ruled unanimously that there was "a good arguable case" that Shell plc, the parent company in London, was legally responsible for the pollution generated by its Nigerian subsidiary, Shell Petroleum Development Company (SPDC). The court ordered the case to proceed to trial to determine whether Shell and SDPC are guilty of harming the Niger Delta communities and should pay for redress.
In response, Shell argued in its November 2021 defense filing that "the company had no legal responsibility to deal with the consequences of spills," The Intercept reported. "The oil giant contended that any legal claim must be brought within five years of any specific spill, even if a cleanup never took place. Shell also claimed that only the Nigerian regulatory authorities have the power to force them to clean up; those authorities, however, are chronically under-resourced."

Leigh Day warned Thursday that Shell's legal arguments, if successful, "will have far-reaching consequences." As the law firm explained: "The implications of these legal arguments are that oil-impacted communities in Nigeria will be unable to seek cleanup of their environments. In addition, communities would be unable to claim compensation for loss of livelihoods unless they are able to prove the damage was caused by operational failure within five years of the date of issuing the claim. For most Nigerian communities living with legacy pollution, that would essentially deprive them of any legal remedy against oil companies."
Conversely, Bloombergreported that "if the oil giant loses the upcoming trial, it could open U.K.-incorporated firms—including in the energy and mining industries—to potentially costly lawsuits in British courts from groups around the world that accuse them of harm through overseas subsidiaries."
Matthew Renshaw, a partner at Leigh Day who represents the Nigerian claimants, lamented that "instead of engaging with these communities, Shell has fought them tirelessly through the courts for the past seven years."
"At a time when Shell is making unprecedented profits, it is high time that it addressed the ongoing pollution caused to these communities by its operations," said Renshaw. "The question must be asked whether Shell simply plans to leave the Niger Delta without addressing the environmental disaster which has unfolded under its watch?"
"It appears that Shell is seeking to leave the Niger Delta free of any legal obligation to address the environmental devastation caused by oil spills from its infrastructure over many decades."
Shell reported Thursday that its profits more than doubled in 2022 to a record $40 billion.
All the money Shell has made from exploiting the Niger Delta's people and environment since it discovered oil in the area in 1956 "is blood money," Okpabi, the king of Ogale, told The Intercept. "And we are going from courthouse to courthouse."
Although cleanup would cost Shell a fraction of its annual profits—roughly $1 billion for the first five years, according to a recent U.N. estimate—Renshaw told the outlet that the company has been "incredibly resistant" to any form of public health oversight or probes, adding that it is vulnerable to much more litigation.
"There are literally hundreds of communities that have been impacted by Shell's oil pollution," he said, "and could seek to bring legal claims against Shell."
As the cases against it mount, Shell has moved toward abandoning the region. The company announced in 2021 that it plans to leave the Niger Delta and sell its onshore oil fields, leaving wrecked communities and ecosystems in its wake.
Last June, however, "Shell was forced to suspend sales, complying with a Nigerian Supreme Court ruling that said it had to wait for the outcome of an appeal over a 2019 oil spill, brought in Nigerian court, which stated the company needed to pay the Niger Delta communities nearly $2 billion in compensation," The Intercept noted.
Regarding Leigh Day's current case, the full trial in London's High Court is expected to occur in 2024.
"This case raises important questions about the responsibilities of oil and gas companies," said Leigh Day partner Daniel Leader.
"It appears that Shell is seeking to leave the Niger Delta free of any legal obligation to address the environmental devastation caused by oil spills from its infrastructure over many decades," Leader observed. "At a time when the world is focused on 'the just transition,' this raises profound questions about the responsibility of fossil fuel companies for legacy and ongoing environmental pollution."
Rights & Justice
SUPPORT OUR WORK.
We are independent, non-profit, advertising-free and 100%
reader supported.