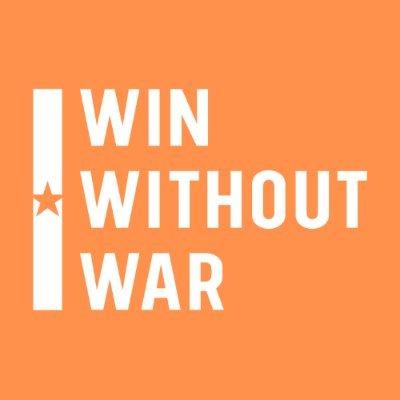 For Immediate Release
Contact:
Doug Gordon (202) 822-5200
Celebration, Fear and Loathing On National Sovereignty Day
WASHINGTON
Former Congressman Tom
Andrews, National Director of the Win Without War Coalition, issued the
following statement today:
Today marks a
new a national holiday in Iraq, the "Day of National
Sovereignty". Iraqis are celebrating with music and dancing as
U.S. combat forces continue their pull-out of Iraqi
cities and turn
security responsibility over the Iraqi government.
Don't be
surprised, however, if the spike in violence that came in advance of this
milestone continues, or even escalates. And back here at home, don't be
surprised if the right-wing continues to play politics with the war and goes on
the attack with its favorite weapon-fear.
Former Vice
President Dick Cheney didn't wait for the security turnover to occur in
Iraq before he was on the attack,
second guessing the military withdrawal plan that his own administration
negotiated and approved. Bold headlines in this morning's Washington
Times declare that the former Vice President "fears" that the
U.S. withdrawal will "waste all the
tremendous sacrifice that has gotten us to this point."
I would bet
the farm (if I still had one) that the former Vice President and his right-wing
talking-heads are going to use this increase in violence, and any future
increases, as part of their national security attack narrative on President
Obama and the Democrats. It will go something like this: First the President
wanted to allow detainees from Guantanamo to be
released into U.S. neighborhoods. Now he wants all
the security gains achieved in Iraq-and the sacrifices that made it
possible-to go to waste.
Be afraid, be
very afraid.
Indeed,
violence did spike in Iraq as today's milestone approached,
and there is every reason to believe that it will continue. Why? Not because
U.S. combat forces are leaving Iraqi
cities, as Cheney and his cronies would have us believe. It is because the Iraqi
government has failed to make the political compromises required to achieve
stability and security.
Exhibit A:
Oil. While Iraqis celebrate National Sovereignty Day, Iraq's Oil
Ministry is auctioning eight contracts to service six oil and two natural gas
fields. The problem is that Iraq still does not have a law in
place to provide for an equitable distribution of its oil revenue. "There's a
majority opinion inside Parliament that opposes these bids," Iraqi legislator
Alia Nusaif told the Washington Post last week. The Kurdistan Regional
Government has criticized the sale and has begun to commercially produce oil
locally after signing two dozen of its own gas and oil development deals that
the al-Maliki government calls illegal. Arab and Kurdish tension over oil
revenues is near the breaking point.
Exhibit B:
Awakening Councils. The Sunni Awakening Councils, largely credited with the
reduction of violence in key Iraqi cities like Mosul, were made three promises
if they would start shooting with government and U.S. forces and not
at them: money ($300 per month), the promise of incorporation into
the national police, and that the government would stop arresting and harassing
their leaders. What happened? So far, less than 5% of Awakening Council
militiamen have been incorporated into the national police, the al-Maliki
government stopped paying them altogether (until intense U.S. pressure reversed
the policy), and the government has continued rounding up and arresting
Awakening Council leaders. Last month, the New York Times reported that
two very prominent Sunni Awakening Council leaders were arrested in Diyala Province. Another leader told the
Times that they believed arrest warrants had been issued for more than
1,000 Sunni tribal figures and council members.
The fact is
that, given the political upheaval that continues unabated in
Iraq, it should come as no surprise
to anyone that violence will persist and even increase. What better way for the
Iraqi opposition to demonstrate that the President they feel has double crossed
them is not the source of security he claims to be? But that is
where sovereignty comes in. Sovereign governments face the consequences of
their own decision making-or lack thereof-even when it leads to fractures,
instability or worse.
The bottom
line is that our men and women in uniform should not be stuck in the middle -
and literally in the line of fire - of the consequences of these political
failures. More than 4,300 have made the ultimate sacrifice and tens of thousands
have been severely injured. The number of innocent Iraqis killed is in excess of
100,000.
What worries
me is not the predictable violence in Iraq, but the fact that tens of
thousands of our troops will continue to be on the front lines as so-called
"advisers". Despite the headlines that our troops have left the cities, more
than 10,000 U.S. troops remain to serve as
"trainers" for Iraqi
forces. And that number is expected to rise to 50,000 U.S. troops.
These forces will include not only U.S. trainers, but U.S. troops to
protect those trainers from their Iraqi trainees. Not the kind of job that
I would want as the fallout from the political failures of the al-Maliki
administration continues to unfold on Iraqi streets. Nor is it the kind of
burden that our beleaguered troops should be required to bear.
There is no
military solution in Iraq, only a political one. And no
number of U.S. troops-combat, training or
"residual" -will make the political will for Iraqi government leaders to
negotiate, compromise and accommodate any closer to reality.
Unlike Dick
Cheney, I am not afraid that our troops are leaving Iraqi cities too soon. I'm
afraid they're not leaving soon enough.
Win Without War is a diverse network of activists and organizations working for a more peaceful, progressive U.S. foreign policy. We believe that by democratizing U.S. foreign policy and providing progressive alternatives, we can achieve more peaceful, just, and common sense policies that ensure that all people--regardless of race, nationality, gender, religion, or economic status--can find and take advantage of opportunity equally and feel secure.
LATEST NEWS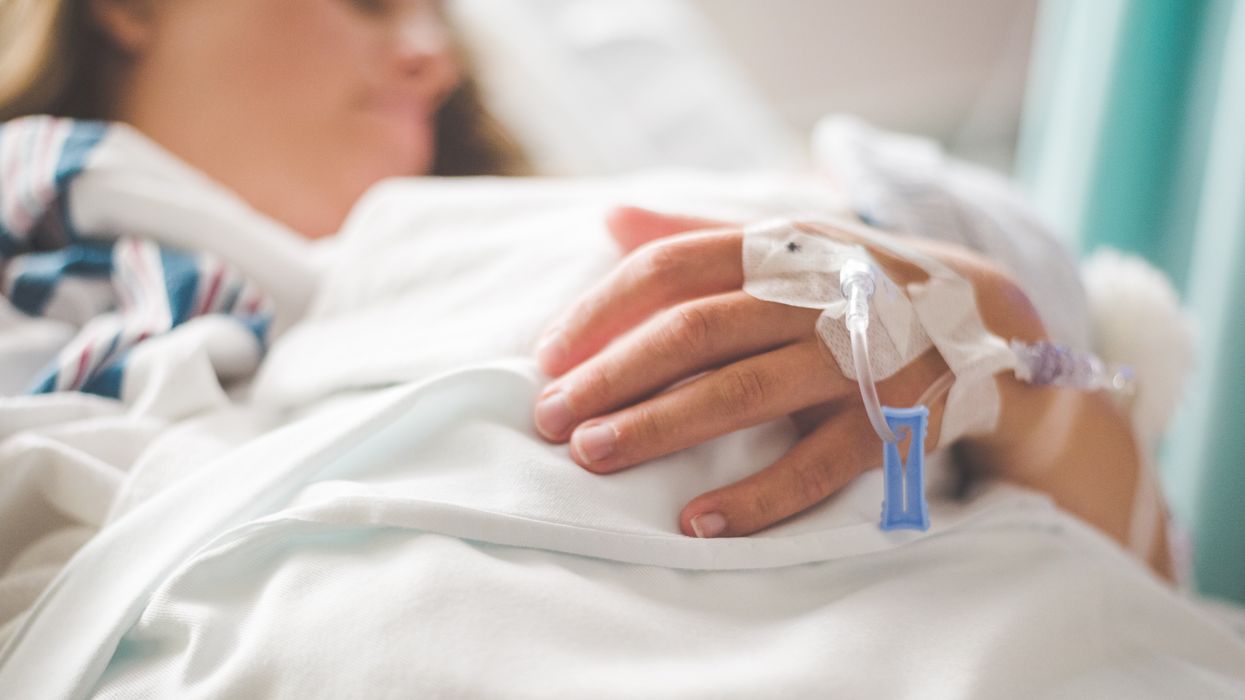 "Consequences for Idaho physicians providing the standard of care may include civil litigation and criminal prosecution, leading to jail time or fines," said Bonner General Health as it closed its obstetrics unit.
Rural areas in the U.S. have faced a decline in hospitals that provide obstetric services for years, and the fate of one hospital in northern Idaho suggests that abortion bans could worsen the trend.
As The Washington Post reported reported Tuesday, Bonner General Health in Sandpoint, Idaho has been forced to announce the impending closure of its labor and delivery department, citing staffing issues as well as the state's punitive abortion ban—one of the strictest in the nation—and threats from state Republicans to make the law even more stringent.
The state's ban criminalizes abortion cases in almost all cases and threatens doctors who provide care with felony charges, suspension or termination of their medical license, and up to five years in prison. It includes potential exceptions for people whose pregnancies result from rape or incest and people who doctors determine face life-threatening pregnancy complications—but as Common Dreams has reported, such exceptions have led medical providers to withhold care until a patient is sufficiently ill, placing them in danger.
The threat of prosecution and pressure to withhold medical care from people who need it has contributed to the hospital's staffing shortage, said Bonner General Health in a statement late last week.
"Idaho's political and legal climate does pose as a barrier specific to recruitment and retention for OB-GYNs."

"Highly respected, talented physicians are leaving. Recruiting replacements will be extraordinarily difficult," said the hospital. "In addition, the Idaho Legislature continues to introduce and pass bills that criminalize physicians for medical care nationally recognized as the standard of care. Consequences for Idaho physicians providing the standard of care may include civil litigation and criminal prosecution, leading to jail time or fines."
Idaho Republicans have proposed classifying abortion as "murder from the moment of fertilization" and have called for bans that extend to people whose pregnancies result from incest and rape.
"Idaho's political and legal climate does pose as a barrier specific to recruitment and retention for OB-GYNs," hospital spokesperson Erin Binnall told the Post.
Patients in Sandpoint will now have to travel to Coeur d'Alene, about 45 miles south, to deliver their babies. The city now has the northernmost labor and delivery department in the state, and people living near the state's northern border may have to travel two hours to reach the hospitals there.
Bonner General Health announced its decision days after the podcast "This American Life" featured an interview with an obstetrician who has worked for several years at Bonner General Health but has considered leaving the state since Idaho's ban went into effect last June, after the U.S. Supreme Court overturnedRoe v. Wade.

"I was looking at social media and somebody was talking about a person who is completing their OB-GYN residency and was looking to come to the Pacific Northwest," said Dr. Amelia Huntsberger. "And I'm like, hey, there's all sorts of openings in Idaho. And then I'm laughing out loud because I'm like, who is going to be finishing their residency training and being like, I definitely want to go to the state with the super strict abortion laws that criminalize healthcare?"
The Journal of the American Medical Associationpublished a report in 2018 showing that a lack of obstetric care in rural hospitals is associated with a rise in preterm births and more people giving birth in facilities where medical staff lack the proper training to assist with labor and delivery, such as emergency departments. High rates of maternal mortality are also associated with "maternity care deserts," which include nearly half of rural U.S. counties, according to the Commonwealth Fund.
Nearly 90 rural obstetrics units closed their doors between 2015 and 2019, with hospitals citing financial losses associated with high numbers of patients who use Medicaid as well as difficulty in recruiting and retaining doctors.

"This will be the beginning of a trend, I fear," said behavioral scientist Caroline Orr Bueno of Bonner General Health's decision. "We already have a maternal mortality crisis in the U.S.—we're the only country in the developed world where maternal mortality rates are increasing—and abortion bans are going to make it worse."
News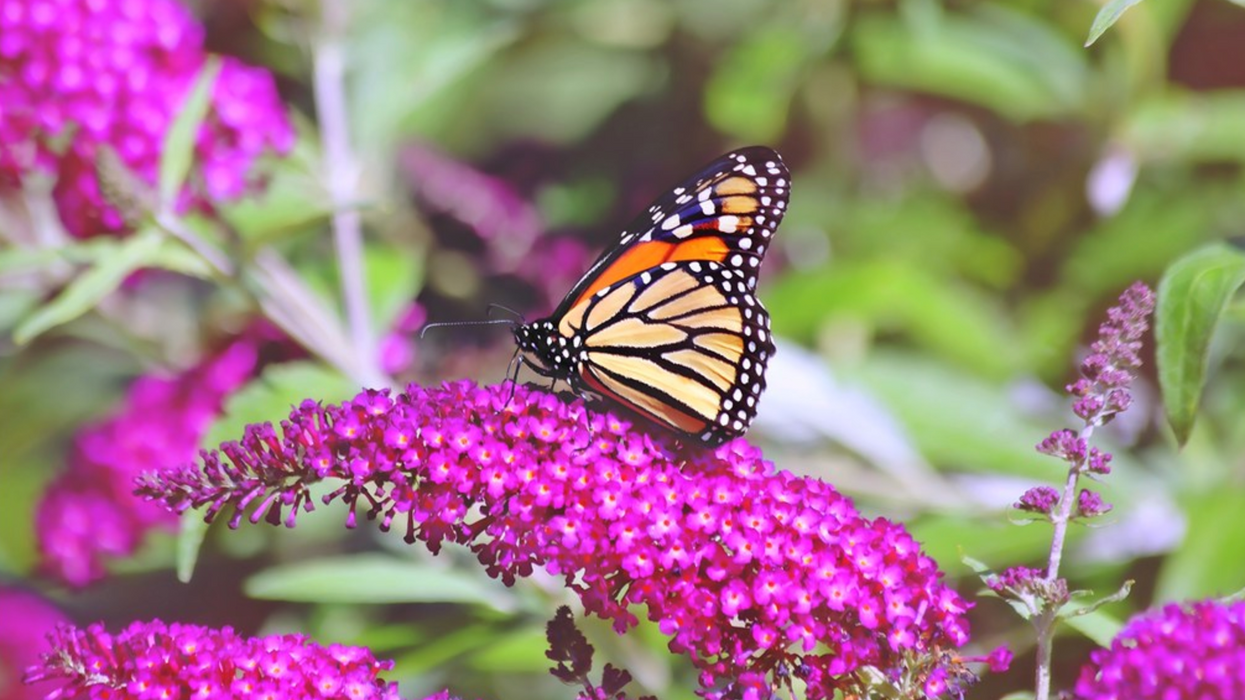 "Despite heroic efforts... we could still lose these extraordinary butterflies by not taking bolder action," warned one conservationist.
Wildlife conservationists sounded the alarm Wednesday as an annual count of monarch butterflies revealed a sharp decline in the number of the iconic insects hibernating in Mexican forests, stoking renewed fears of their extinction.
The annual survey—led by Mexico's National Commission of Natural Protected Areas and the Mexican branch of the World Wildlife Fund for Nature (WWF)—showed a 22% drop in the hibernating monarch population amid accelerating habitat loss driven primarily by deforestation.
"Despite heroic efforts to save monarchs by planting milkweed, we could still lose these extraordinary butterflies by not taking bolder action," Tierra Curry, a senior scientist at the Center for Biological Diversity (CBD), said in a statement.
"Monarchs were once incredibly common," she added. "Now they're the face of the extinction crisis as U.S. populations crash amid habitat loss and the climate meltdown."
Renowned for its epic annual migrations from the northern U.S. and southern Canada to Florida, California, and Mexico, monarchs have suffered a precipitous plunge in population in North America this century.
According to the U.S. Fish and Wildlife Service (FWS), the number of eastern monarchs fell from around 384 million in 1996 to 60 million in 2019, and in the West their numbers declined from 1.2 million in 1997 to fewer than 30,000 last year.
As CBD noted:
At the end of summer, eastern monarchs migrate from the northern United States and southern Canada to high-elevation fir forests in central Mexico. Scientists estimate the population size by measuring the area of trees turned orange by the clustering butterflies...The eastern population has been perilously low since 2008.
Last year, the International Union for Conservation of Nature formally listed the monarch butterfly as endangered, citing critical threats posed by the climate emergency, deforestation, pesticides, and logging.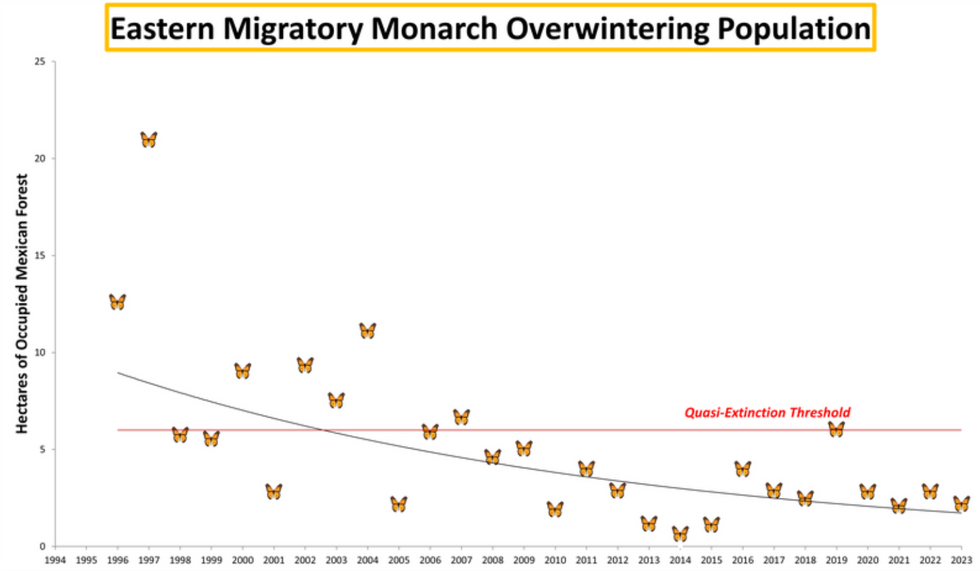 (Graphic: Center for Biological Diversity)
In the United States, the Trump administration in 2020 placed monarchs on the wait list for consideration for Endangered Species Act protection. FWS has until next year to make a final listing determination.
"It is not just about conserving a species, it's also about conserving a unique migratory phenomenon in nature," said WWF Mexico general director Jorge Rickards. "Monarchs contribute to healthy and diverse terrestrial ecosystems across North America as they carry pollen from one plant to another."
"With 80% of agricultural food production depending on pollinators like monarchs, when people help the species, we are also helping ourselves," he added.
News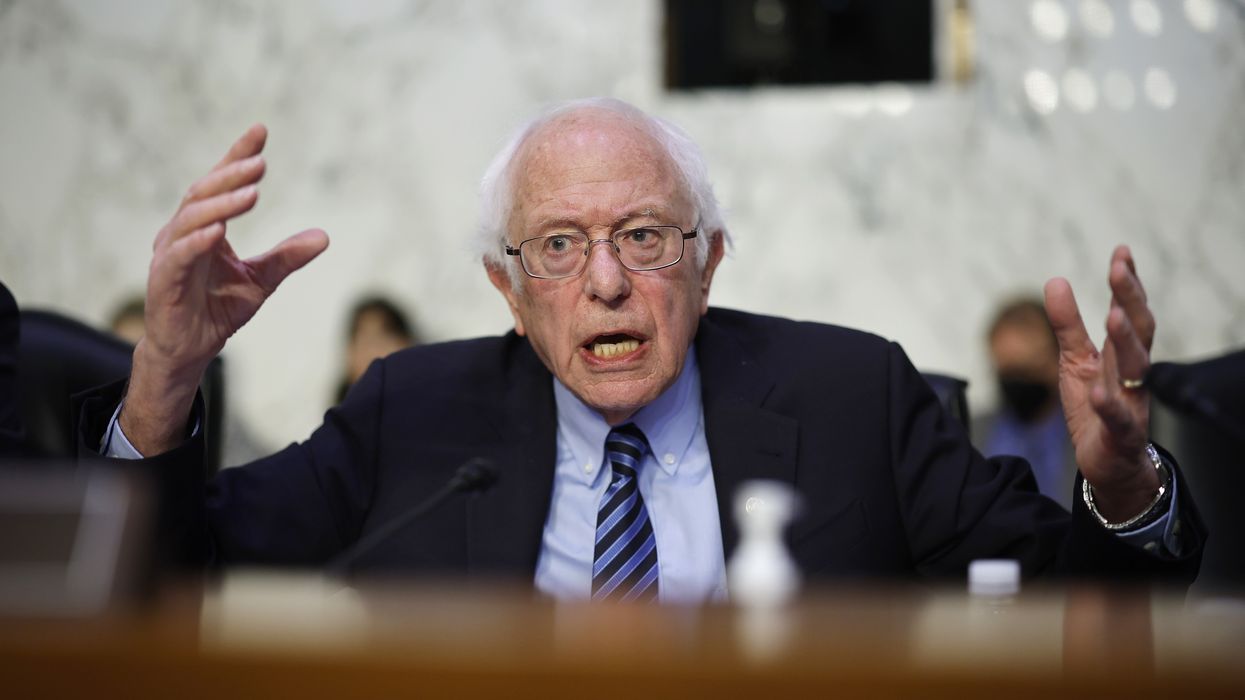 "Should people in America and around the world be allowed to get sicker and sometimes die because they cannot afford the outrageous and arbitrary prices that the pharmaceutical industry demands?" asked the Vermont Independent.
Sen. Bernie Sanders on Wednesday denounced Moderna's proposal to more than quadruple the price of the Covid-19 vaccine it co-developed with billions of dollars in public funding—along with mRNA technology co-invented by government scientists—as an example of Big Pharma's "unacceptable corporate greed."
At a hearing held by the Senate Committee on Health, Education, Labor, and Pensions (HELP), the Vermont Independent reiterated his widely shared belief that the purpose of medical advancements should be to save as many lives as possible, not make executives "obscenely rich."
Sanders, who chairs the panel, invited Moderna CEO Stéphane Bancel to testify at a hearing titled "Taxpayers Paid Billions For It: So Why Would Moderna Consider Quadrupling the Price of the Covid Vaccine?"
In his opening statement, Sanders stressed that scientists at the National Institutes of Health (NIH) and other federal agencies "worked with Moderna to research, develop, and distribute the Covid vaccine that so many of our people have effectively used."
"While Moderna may wish to rewrite history," Sanders continued, "this vaccine would not exist without NIH's partnership and expertise and the substantial investment of the taxpayers of this country. As a matter of public record, U.S. taxpayers spent $12 billion on the research, development, and procurement of the NIH-Moderna Covid vaccine."
"For that huge investment," added the progressive lawmaker, Moderna is "thanking the taxpayers of America by proposing to quadruple the price of the Covid vaccine to as much as $130 once the government stockpile runs out—at a time when it costs just $2.85 to manufacture that vaccine."
"Moderna has already made $21 billion in profits off of the Covid vaccine during the pandemic and four of Moderna's executives and investors collectively became more than $10 billion wealthier as a result of the massive taxpayer investment into that corporation," said Sanders. "Mr. Bancel literally became a billionaire overnight and is now worth $4.7 billion."
"Do we not need to change the current culture of greed into a culture which understands that science and medical breakthroughs should work for ordinary people, and not just enrich large corporations and CEOs?"
In the words of the senator, "This type of profiteering and excessive CEO compensation is exactly what the American people are sick and tired of."
In response to a letter Sanders sent to Bancel following Moderna's January announcement of its planned price hike, the corporation vowed to make Covid-19 vaccines and boosters "available at no cost for the vast majority of people in the United States." Last month, after Bancel agreed to testify at Wednesday's hearing, Moderna said that when the federal government's public health emergency declaration expires in May, "Covid-19 vaccines will continue to be available at no cost for insured people," while the company's patient assistance program "will provide Covid-19 vaccines at no cost" to uninsured or underinsured people.
"That is good news," Sanders said Wednesday. "The bad news is that most patient assistance programs are poorly designed and are extremely difficult, if not impossible, for patients to access," he added, urging Moderna "to reconsider their decision to quadruple the price of this vaccine and not raise the price at all."
"Our committee looks forward to working with Moderna to develop a program that allows every American to continue to receive the Covid vaccine for free without the need to file complicated forms or paperwork, answer personal questions, or wait for hours on end at the pharmacy," said Sanders. "In other words, let us truly make this vaccine available for free to all Americans."
But when asked by Sanders if Moderna will charge the U.S. government less for the NIH-Moderna Covid-19 vaccine, Bancel refused to commit, citing so-called "complexity."
"You have money for stock buybacks by the billions, and you guys became billionaires," Sanders responded. "That doesn't seem too complex to me."
In a video shared Tuesday, Senate HELP Committee senior health counsel Zain Rizvi further detailed how Moderna has tried to suppress evidence of the U.S. public's massive contributions to the NIH-Moderna Covid-19 vaccine while refusing to share the recipe with South African scientists who are working with the World Health Organization to boost global supply.
The refusal of Moderna and other pharmaceutical corporations to transfer publicly funded technology to qualified generic manufacturers has contributed to global Covid-19 vaccine apartheid, needlessly prolonging and worsening the pandemic.
Although Covid-19 jabs have been credited with preventing roughly 20 million deaths worldwide in 2021 alone, researchers estimate that 1.3 million additional lives could have been saved in the first year of the vaccine rollout had shots been distributed equitably. As a result of unequal access to lifesaving Covid-19 vaccines—made worse by corporate-friendly trade rules that protect Big Pharma's intellectual property monopolies and lead to artificial scarcity—one person suffered an avoidable death from the disease every 24 seconds in 2021.
"Moderna has taken a publicly funded vaccine, built on decades of publicly funded research, and used it to maximize their own profits at the expense of public health," Julia Kosgei, policy co-lead for the People's Vaccine Alliance, said Wednesday in a statement. "It's long past time for Stéphane Bancel to be held to account."

"Today's hearing must be the beginning of a conversation about how governments can place public health needs before private profit. That means requiring companies that profit from publicly funded research to share new technologies with the world."
Citing the corporation's latest earnings report, Kosgei noted that "Moderna is spending as much on buybacks and dividends as it is on research and development." She called it "plainly ludicrous to suggest that this is the best way to ensure everyone has access to effective vaccines and medicines."
"This should be a moment of reckoning for Big Pharma," said Kosgei. "Today's hearing must be the beginning of a conversation about how governments can place public health needs before private profit. That means requiring companies that profit from publicly funded research to share new technologies with the world."
Like Kosgei, Rizvi stressed that Moderna's behavior is not unique and called for far-reaching action "to put an end to the greed of the pharmaceutical industry."
That's also precisely what Sanders did during his opening remarks:
In the pharmaceutical industry today we are looking at an unprecedented level of corporate greed—and that is certainly true with Moderna. Today, while 37% of the American people could not afford the prescription drugs their doctors prescribe, 10 major pharmaceutical companies made over $100 billion dollars in profits in 2021—a 137% increase from the previous year. In these corporations, the 50 top executives made over $1.9 billion in total compensation in 2021 and are in line to receive billions more in golden parachutes once they leave their companies. In other words, Americans die because they cannot afford the outrageous cost of prescription drugs, while the drug companies make huge profits.

Further, while many Americans don't know this, the taxpayers of this country have spent many tens of billions of dollars over the past decade to research and develop life-saving medicine. Yet, despite that huge investment, and the vitally important work done by NIH scientists, the citizens of the United States pay far more for prescription drugs than do the people of any other country, in some cases, as much as 10 times more. Unbelievably, there are important drugs on the market today that literally cost hundreds of thousands of dollars.
"What does a lifesaving drug mean for a person who cannot afford to buy that drug?" Sanders asked. "Should people in America and around the world be allowed to get sicker and sometimes die because they cannot afford the outrageous and arbitrary prices that the pharmaceutical industry demands?"
"Do we not need to change the current culture of greed into a culture which understands that science and medical breakthroughs should work for ordinary people, and not just enrich large corporations and CEOs?" he continued.
Sanders urged people "to remember the contributions of great scientists like Dr. Jonas Salk who, in the 1950s, invented the vaccine for polio. Salk's work saved millions of lives and prevented millions more from being paralyzed."
According to the progressive lawmaker: "It has been estimated that if Dr. Salk had chosen to patent the polio vaccine he would have made billions of dollars. But he did not. When asked who owns the patent to this vaccine Dr. Salk said: 'Well, the people, I would say. There is no patent. Could you patent the sun?' What Dr. Salk understood was that the purpose of the vaccine he invented was to save lives, not to make himself obscenely rich."
Salk was not alone, as Sanders explained:
In 1928, Alexander Fleming, a scientist from Scotland, discovered penicillin at St. Mary's hospital in London. Fleming's discovery of penicillin changed the medical world and saved millions of lives.

When Fleming was asked about his role, he did not talk about the outrageous fortune he could have made through his discovery. Instead, he said: "I did not invent penicillin. Nature did that. I only discovered it by accident." He refused to make obscene profits from his discovery.

In 1921, Dr. Frederick Banting along with two other scientists at the University of Toronto invented insulin—an issue we're hearing a lot about today. When Dr. Banting was asked why he wouldn't patent insulin and why he sold the rights to insulin for just $1 he replied: "Insulin does not belong to me. It belongs to the world."

It has been estimated that Dr. Banting's invention saved some 300 million lives. Once again, a great scientist made it clear that his purpose in life was to ease suffering and save human lives, not to make billions for himself.
"In this moment of excessive corporate greed," said Sanders, "the moral vision of these great scientists is something that we might learn from."
News
SUPPORT OUR WORK.
We are independent, non-profit, advertising-free and 100%
reader supported.