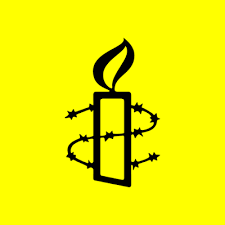 For Immediate Release
Contact:
Tel: +44 (0) 20 7413 5566,After hours: +44 7778 472 126,Email:,press@amnesty.org
Nepal: Government Fails to Protect Women Human Rights Activists from Violent Attacks
One year on from their election to power, the Maoist Government of
Nepal has failed to deliver on its promises to protect women, Amnesty
International said today. Evidence of this failure can be found in the
treatment of women activists campaigning for human rights who are the
victims of beatings, sexual attacks and murder, with no significant
effort made to bring the perpetrators to justice.
LONDON
One year on from their election to power, the Maoist Government of
Nepal has failed to deliver on its promises to protect women, Amnesty
International said today. Evidence of this failure can be found in the
treatment of women activists campaigning for human rights who are the
victims of beatings, sexual attacks and murder, with no significant
effort made to bring the perpetrators to justice.
"When the Maoist Government came to power it made commitments to
protect women's rights but these now seem like false promises," said
Madhu Malhotra, Amnesty International's Asia-Pacific Deputy Director.
"Now that they are in government, all the revolutionary rhetoric has
not resulted in real improvements in women's lives."
"Women activists play a crucial role in Nepal, where many women are
unaware of their rights and are afraid of confronting social and
government authority," said Madhu Malhotra. "Women activists are
singled out for violent attacks as it further promotes a culture of
silence and discourages women experiencing violence to speak out."
Amnesty International has found that, in spite of the election
promises made by the government, women human rights activists continue
to be at high risk of attack because they dare to challenge Nepal's
patriarchal divisions. Many have become social outcasts for raising the
issues of domestic and sexual violence and are targets of intimidation,
beatings and even death. The Nepalese police often refuse to file a
complaint or to fully investigate attacks and offer no protection.
Two women's rights activists in Nepal have been murdered since the
new government came to power, with no significant attempts made to
investigate or prosecute the crimes. The most recent case was that of
Uma Singh, a journalist for Radio Today FM who was a member of the
Women's Human Rights Defender Network. She was attacked on 11 January
2009 by a group of men armed with sharp weapons. She was severely
mutilated and died on her way to hospital in Kathmandu.
In June 2008 Laxmi Bohara, from Kanchanpur, was severely beaten and
then reportedly murdered by her husband and mother-in-law who were not
happy with her working to defend human rights.
Amnesty International is calling on the Nepali Government to take urgent action to:
ensure the safety and protection of women human rights activists, particularly in rural areas
develop a national plan of action, including the establishment of
safe shelters/homes and other facilities for women survivors of
violence
take all possible measure to ensure justice, truth and reparations
for crimes of violence against women committed during and after the
conflict
Background
Following an extended protest by women human rights campaigners in
July, initiated after the alleged murder of a female activist and
subsequent failure of police to properly investigate the crime, the
government established a task force to make recommendations regarding
violence against women. The task force has yet to submit its report,
which was promised within two months.
In rural settings, women human rights activists often work in remote
locations with minimal communication facilities and support mechanisms.
These women challenge discriminatory cultural practices, such as early
child marriage and boxsi (witchcraft) but can face restrictions and
have been attacked by members of the community for their work, as has
been documented in Eastern Terai, southern Nepal.
The state's duty to protect women from violence is explicitly stated
in the UN Declaration on the Elimination of Violence against Women,
which Nepal has ratified. States should pursue by "all appropriate
means and without delay a policy of eliminating violence against women"
(Article 4). Under international human rights law, the state has an
obligation not only to ensure that its agents and officials do not
commit violence against women, but also to protect women from violence
committed by private individuals and bodies including members of their
own families and communities.
An Amnesty International mission visited Nepal in November 2008 and
spoke to a wide range of women activists. Hindus, Muslims, Janajatis
and other marginalized groups as well as lesbian, gay, bisexual and
transgender activists, all shared stories of the challenges they face.
A Dalit woman human rights activist for example, faces multiple abuses
as a result of caste based violence, in addition to gender and class
abuses.
Notes to editors
Amnesty International activists will be holding a demonstration to
highlight the plight of women human rights activists, in Narayanghat,
Nepal on 10 April.
Rameshwar Nepal, Director of Amnesty International Nepal is
available for interview.
To request an interview please contact
Rameshwar on:

+977 9741 183941 +977 98 4121 2892
Alternatively contact Tom Mackey at Amnesty International's press office in London, UK, on +44 7793 902 348
Amnesty International is a worldwide movement of people who campaign for internationally recognized human rights for all. Our supporters are outraged by human rights abuses but inspired by hope for a better world - so we work to improve human rights through campaigning and international solidarity. We have more than 2.2 million members and subscribers in more than 150 countries and regions and we coordinate this support to act for justice on a wide range of issues.
LATEST NEWS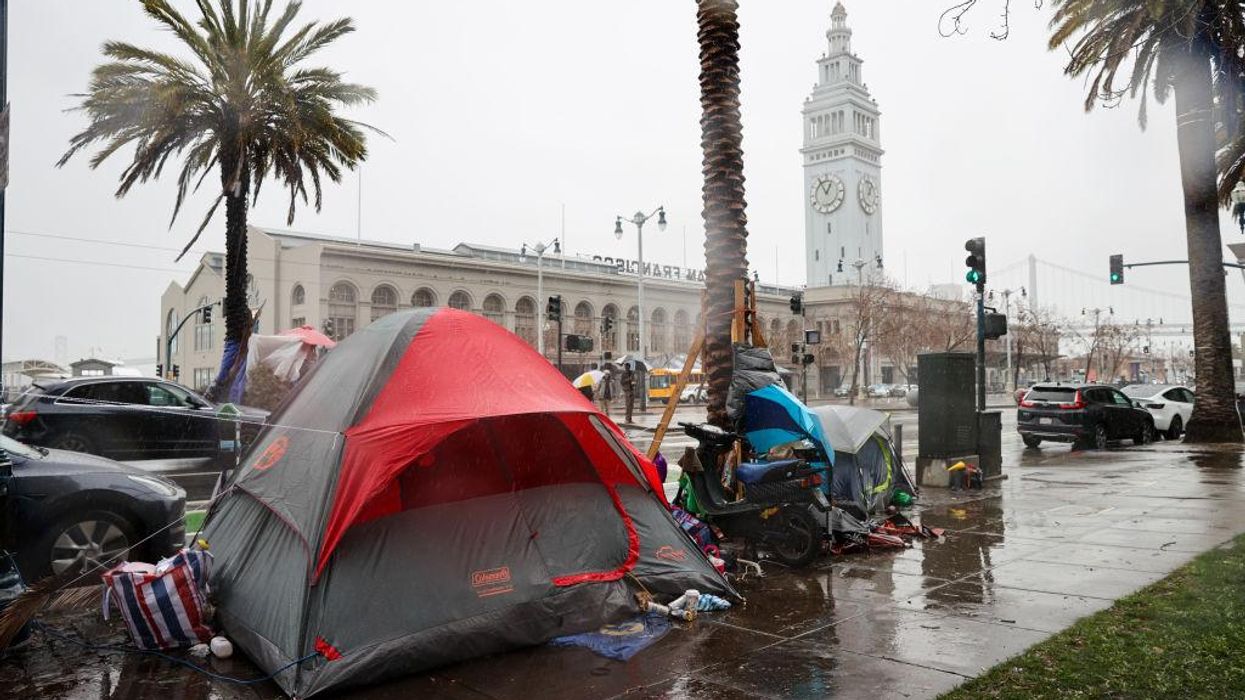 "In the richest country in the world, it is a moral imperative that we take this issue head-on," said Rep. Pramila Jayapal.
Declaring that homelessness and housing insecurity is the result of "a structural failure of a country that has refused to make safe and affordable housing a priority," U.S. Reps. Pramila Jayapal and Grace Meng on Wednesday reintroduced the Housing is a Human Right Act and called on the federal government to provide $300 billion to end the crisis facing unhoused people.
The legislation would invest more than $200 billion in affordable housing and support services, $27 billion annually for services for unhoused people, and $100 million per year for community-driven alternatives to people experiencing homelessness.
Other funds would go to support communities at heightened risk for homelessness.
"Housing is a human right, and nobody in the world should be without a place to call home, especially not in America," said Meng (D-N.Y.). "This is an issue that impacts individuals for a number of reasons and sometimes isn't fixed with just a physical roof above a person's head."
The bill was reintroduced as real estate website Realtor.com released an analysis showing that even for people who have a place to live, housing is becoming more precarious across the United States.
The U.S. Department of Housing and Urban Development recommends that people spend less than 30% of their income on housing, but eight of the country's top 50 metropolitan areas now have "a rent share higher than 30% relative to the median household income," including Miami, Los Angeles, New York, and San Diego.
Even in more affordable cities renters are spending more, with the average monthly rent in Cincinnati, Ohio costing 19.4% of the average monthly income—up from 18.4% last year. In Birmingham, Alabama, renters spend an average of 22.2% of their income on housing.
"As costs have risen and the minimum wage has stagnated, it would take the average minimum wage worker more than 96 hours of work per week to afford a two-bedroom rental," noted Jayapal (D-Wash.).
The shrinking stock of affordable housing is linked to the crisis of homelessness, which more than half a million people in the U.S. experienced in 2022—up by 3% from 2020.
"The crisis of housing instability is one that can be fixed by investing in housing infrastructure and supportive services for vulnerable communities," said Jayapal.
The legislation has been co-sponsored by Democratic lawmakers including Reps. Jamaal Bowman of New York, Cori Bush of Missouri, James McGovern of Massachusetts, Alexandria Ocasio-Cortez of New York, and Rashida Tlaib of Michigan.
The $200 billion proposed investment included in the bill would go toward McKinney-Vento Emergency Solutions Grants, which fund engagement with people experiencing homelessness and improve emergency shelters; and Continuum of Care grants, which help rehouse people who have faced homelessness.
The legislation would also:
Create a new grant program to invest in humane infrastructure, providing municipalities with $6 billion a year through a flexible program that will allow them to address their most urgent housing needs to keep people in stable housing and support those experiencing homelessness;
Incentivize local investments in humane, evidence-based models to support people experiencing homelessness, including alternatives to criminalization and penalization;
Provide $10 billion for Federal Emergency Management Agency food and shelter grants while improving grants to better represent high rates of homelessness and income inequality; and
Authorize $100 million in grants to public libraries to provide assistance and tailored supports to persons experiencing homelessness.
"In the richest country in the world, it is a moral imperative that we take this issue head-on," said Jayapal. "Housing is a human right—and every person deserves to have a safe place to call home."

News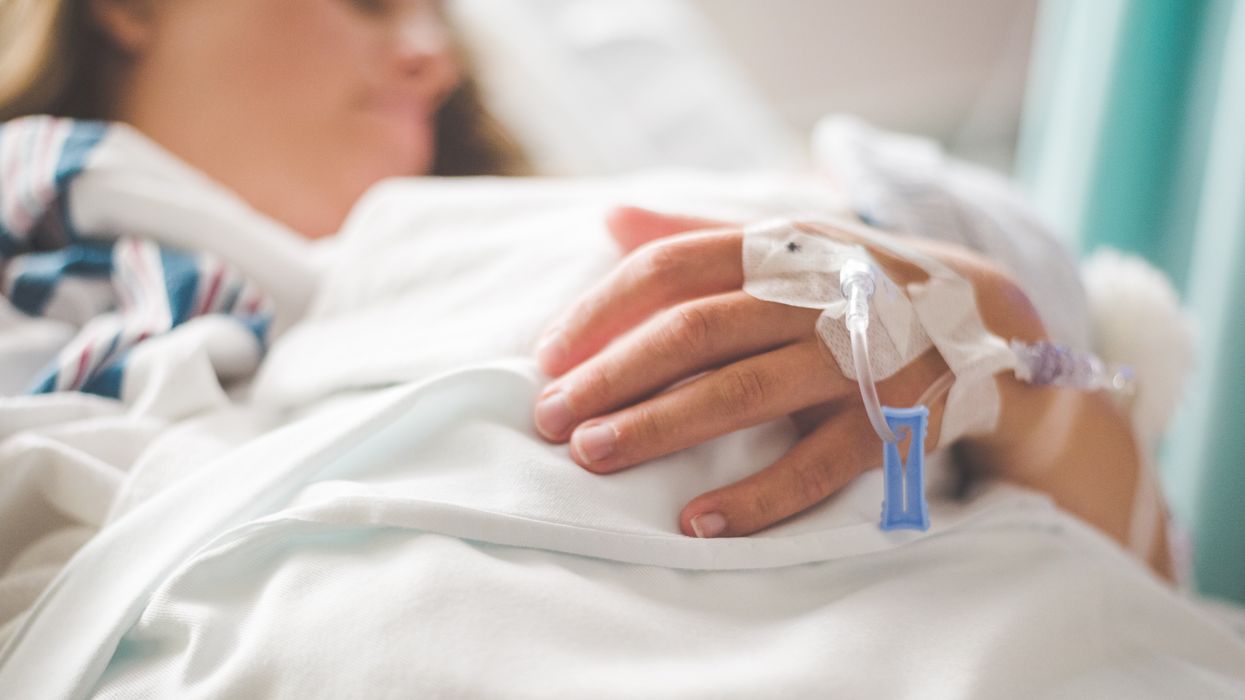 "Consequences for Idaho physicians providing the standard of care may include civil litigation and criminal prosecution, leading to jail time or fines," said Bonner General Health as it closed its obstetrics unit.
Rural areas in the U.S. have faced a decline in hospitals that provide obstetric services for years, and the fate of one hospital in northern Idaho suggests that abortion bans could worsen the trend.
As The Washington Post reported reported Tuesday, Bonner General Health in Sandpoint, Idaho has been forced to announce the impending closure of its labor and delivery department, citing staffing issues as well as the state's punitive abortion ban—one of the strictest in the nation—and threats from state Republicans to make the law even more stringent.
The state's ban criminalizes abortion cases in almost all cases and threatens doctors who provide care with felony charges, suspension or termination of their medical license, and up to five years in prison. It includes potential exceptions for people whose pregnancies result from rape or incest and people who doctors determine face life-threatening pregnancy complications—but as Common Dreams has reported, such exceptions have led medical providers to withhold care until a patient is sufficiently ill, placing them in danger.
The threat of prosecution and pressure to withhold medical care from people who need it has contributed to the hospital's staffing shortage, said Bonner General Health in a statement late last week.
"Idaho's political and legal climate does pose as a barrier specific to recruitment and retention for OB-GYNs."

"Highly respected, talented physicians are leaving. Recruiting replacements will be extraordinarily difficult," said the hospital. "In addition, the Idaho Legislature continues to introduce and pass bills that criminalize physicians for medical care nationally recognized as the standard of care. Consequences for Idaho physicians providing the standard of care may include civil litigation and criminal prosecution, leading to jail time or fines."
Idaho Republicans have proposed classifying abortion as "murder from the moment of fertilization" and have called for bans that extend to people whose pregnancies result from incest and rape.
"Idaho's political and legal climate does pose as a barrier specific to recruitment and retention for OB-GYNs," hospital spokesperson Erin Binnall told the Post.
Patients in Sandpoint will now have to travel to Coeur d'Alene, about 45 miles south, to deliver their babies. The city now has the northernmost labor and delivery department in the state, and people living near the state's northern border may have to travel two hours to reach the hospitals there.
Bonner General Health announced its decision days after the podcast "This American Life" featured an interview with an obstetrician who has worked for several years at Bonner General Health but has considered leaving the state since Idaho's ban went into effect last June, after the U.S. Supreme Court overturnedRoe v. Wade.

"I was looking at social media and somebody was talking about a person who is completing their OB-GYN residency and was looking to come to the Pacific Northwest," said Dr. Amelia Huntsberger. "And I'm like, hey, there's all sorts of openings in Idaho. And then I'm laughing out loud because I'm like, who is going to be finishing their residency training and being like, I definitely want to go to the state with the super strict abortion laws that criminalize healthcare?"
The Journal of the American Medical Associationpublished a report in 2018 showing that a lack of obstetric care in rural hospitals is associated with a rise in preterm births and more people giving birth in facilities where medical staff lack the proper training to assist with labor and delivery, such as emergency departments. High rates of maternal mortality are also associated with "maternity care deserts," which include nearly half of rural U.S. counties, according to the Commonwealth Fund.
Nearly 90 rural obstetrics units closed their doors between 2015 and 2019, with hospitals citing financial losses associated with high numbers of patients who use Medicaid as well as difficulty in recruiting and retaining doctors.

"This will be the beginning of a trend, I fear," said behavioral scientist Caroline Orr Bueno of Bonner General Health's decision. "We already have a maternal mortality crisis in the U.S.—we're the only country in the developed world where maternal mortality rates are increasing—and abortion bans are going to make it worse."
News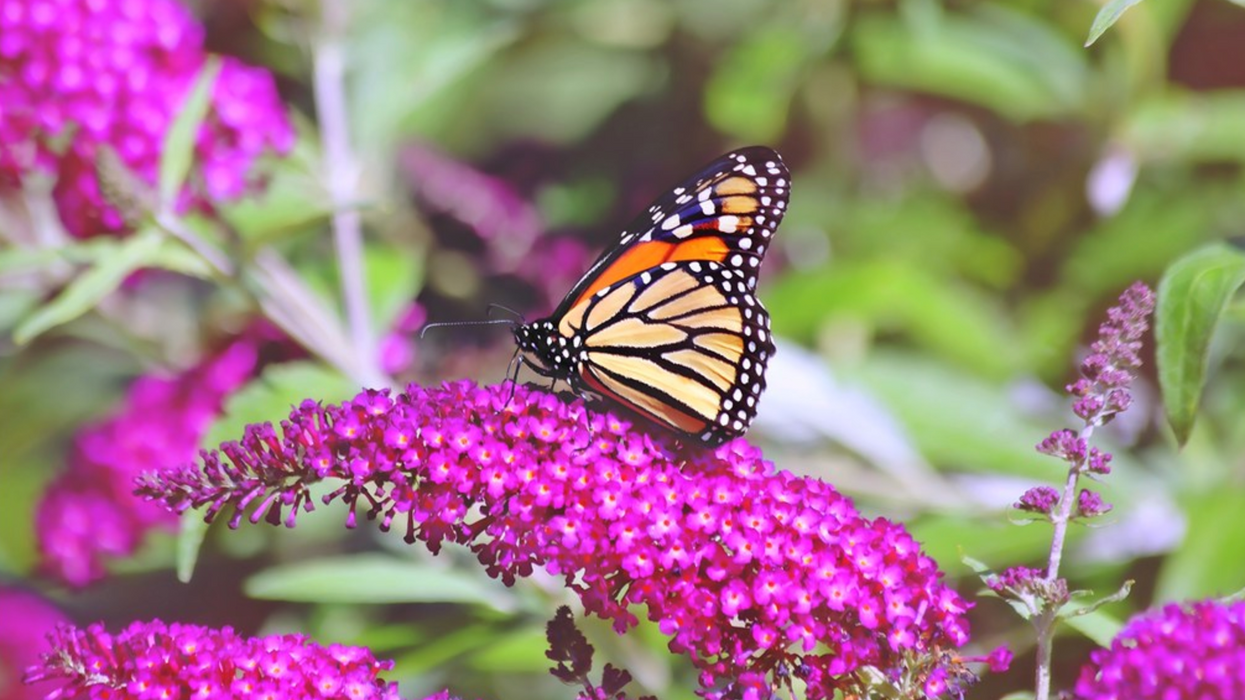 "Despite heroic efforts... we could still lose these extraordinary butterflies by not taking bolder action," warned one conservationist.
Wildlife conservationists sounded the alarm Wednesday as an annual count of monarch butterflies revealed a sharp decline in the number of the iconic insects hibernating in Mexican forests, stoking renewed fears of their extinction.
The annual survey—led by Mexico's National Commission of Natural Protected Areas and the Mexican branch of the World Wildlife Fund for Nature (WWF)—showed a 22% drop in the hibernating monarch population amid accelerating habitat loss driven primarily by deforestation.
"Despite heroic efforts to save monarchs by planting milkweed, we could still lose these extraordinary butterflies by not taking bolder action," Tierra Curry, a senior scientist at the Center for Biological Diversity (CBD), said in a statement.
"Monarchs were once incredibly common," she added. "Now they're the face of the extinction crisis as U.S. populations crash amid habitat loss and the climate meltdown."
Renowned for its epic annual migrations from the northern U.S. and southern Canada to Florida, California, and Mexico, monarchs have suffered a precipitous plunge in population in North America this century.
According to the U.S. Fish and Wildlife Service (FWS), the number of eastern monarchs fell from around 384 million in 1996 to 60 million in 2019, and in the West their numbers declined from 1.2 million in 1997 to fewer than 30,000 last year.
As CBD noted:
At the end of summer, eastern monarchs migrate from the northern United States and southern Canada to high-elevation fir forests in central Mexico. Scientists estimate the population size by measuring the area of trees turned orange by the clustering butterflies...The eastern population has been perilously low since 2008.
Last year, the International Union for Conservation of Nature formally listed the monarch butterfly as endangered, citing critical threats posed by the climate emergency, deforestation, pesticides, and logging.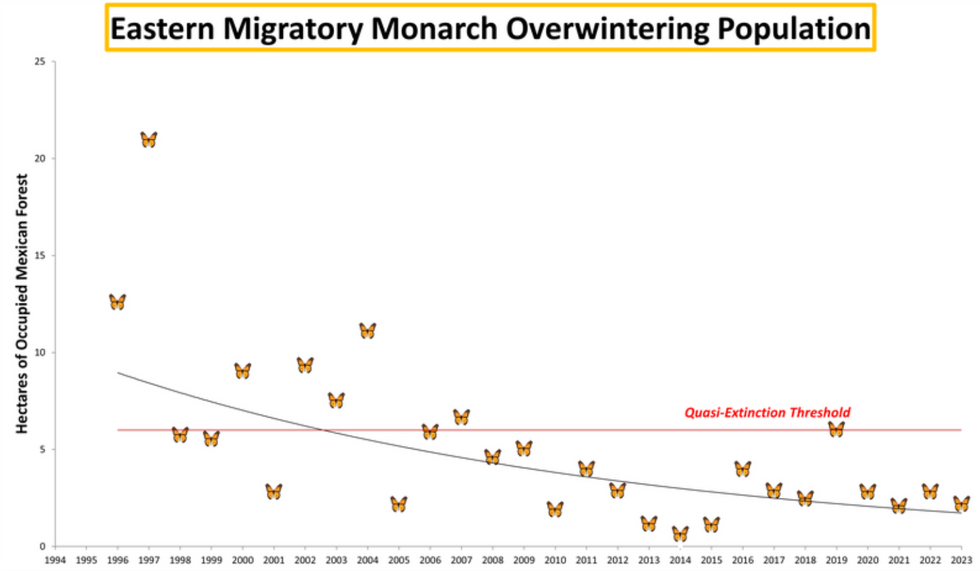 (Graphic: Center for Biological Diversity)
In the United States, the Trump administration in 2020 placed monarchs on the wait list for consideration for Endangered Species Act protection. FWS has until next year to make a final listing determination.
"It is not just about conserving a species, it's also about conserving a unique migratory phenomenon in nature," said WWF Mexico general director Jorge Rickards. "Monarchs contribute to healthy and diverse terrestrial ecosystems across North America as they carry pollen from one plant to another."
"With 80% of agricultural food production depending on pollinators like monarchs, when people help the species, we are also helping ourselves," he added.
News
SUPPORT OUR WORK.
We are independent, non-profit, advertising-free and 100%
reader supported.