For Immediate Release
March, 13 2009, 10:55am EDT
Administration Decision on 'Enemy Combatant' Definition Expected Today
Key Question of Whether Obama Administration Will Retain Bush Administration's Broad Definition of "Enemy Combatant" in Its Court Filing Responding to Lawsuits Brought by Guantanamo Detainees
WASHINGTON
Today, the Obama administration is expected to file its
response to a federal judge's order to define whom it may hold as an "enemy
combatant." U.S. District Judge John Bates is overseeing habeas lawsuits filed by Guantanamo
detainees challenging their detention.
Judge Bates said he will not allow the trials to proceed
without a definition of "enemy combatant" and asked the Obama administration to
clarify by March 13 whether it will "refine" the Bush administration's definition
of the term. In his order, Judge Bates explained that courts "must have a
clear, uniform understanding of the key legal standard to be applied" before
the trial on the merits of the case can begin.
For background information on the
lawsuits, and a reaction once the Obama administration files its response, the
Constitution Project is pleased to make available Stephen Abraham, who is
available from 8 a.m. until 5 p.m. EST at 949-878-8608.
A member of the Constitution
Project's Liberty
and Security Committee, Mr. Abraham retired from the U.S. Army with the rank of
Lieutenant Colonel after 26 years of active and reserve service. He was the
first officer to criticize publicly the operation of the Combatant Status
Review Tribunals, filing an affidavit before the U.S. Supreme Court in the Guantanamo detainee habeas case Boumediene v. Bush. He currently practices law in California.
The Constitution Project is a politically independent think tank established in 1997 to promote and defend constitutional safeguards. More information about the Constitution Project is available at https://constitutionproject.org/.
LATEST NEWS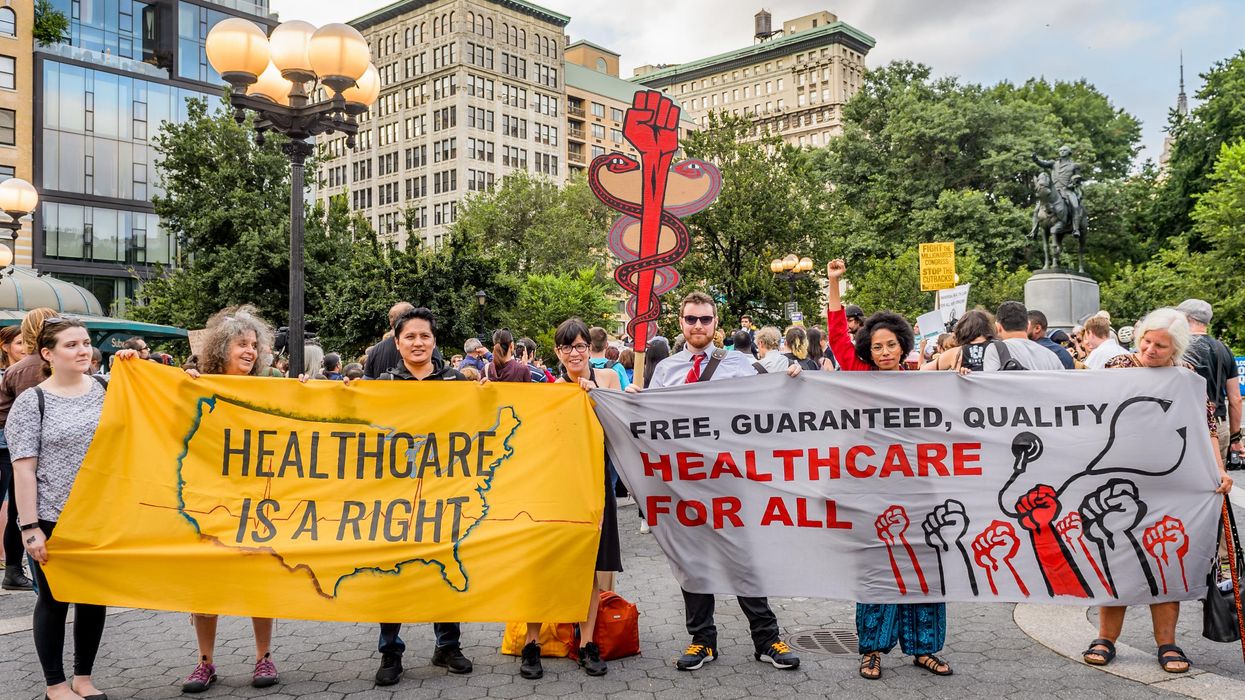 Across the political spectrum, 57% of respondents said they believe the government should ensure everyone in the U.S. has health coverage.
A new poll released by Gallup on Monday offered the latest evidence that Democratic leaders who continue to fight the progressive push for Medicare for All are out of touch with their own party, as more than 7 in 10 Democratic voters support a government-run healthcare system in which every American could participate and receive high-quality, free care.
Seventy-two percent of Democratic voters support what Gallup referred to as a "government-run healthcare system," compared to just 26% who backed continuing a "system based mostly on private health insurance," such as the "healthcare marketplace" created by the Affordable Care Act under the Obama administration in 2010. Under the law, 27.5 million Americans still were without health insurance as of 2021.
President Joe Biden suggested in 2020 that he would veto Medicare for All legislation if it passed in Congress and reached his desk, and said during the 2020 presidential campaign that the proposal to improve Medicare and expand it to all Americans was "unrealistic," adding that voters would prefer the option of keeping their employer-based health insurance if they have it.
The Gallup poll calls that claim into question, "with Democrats indicating support for a system where the government not only guarantees coverage but provides healthcare," reported Gallup.
The survey suggested that a majority of Democratic voters—contrary to repeated claims by the corporate media and Democratic leaders—hold views on healthcare that are closer to those of Medicare for All proponents such as Sen. Bernie Sanders (I-Vt.) and Reps. Alexandria Ocasio-Cortez (D-N.Y.) and Pramila Jayapal (D-Wash.), among a growing number of progressives in Congress.

The poll also found that across the political spectrum, 57% of respondents said the government should ensure all people have healthcare coverage—the highest number to say so in a Gallup poll since 2018.
Nearly half—46%—of independents also backed a government-run national healthcare program, but 50% were opposed, and the vast majority of Republicans backed a private health insurance system.
The poll comes days after another Gallup survey showed that under the current healthcare system, in which private insurance companies are expected to raise premium prices by between 6% and 12% this year, nearly 40% of Americans said they or a family member avoided or delayed seeking medical care in the last year due to cost.
\u201c@Gallup's annual #healthcare poll reports nearly 40% of Americans delayed medical care due to cost concerns last year. Experts emphasize that patients who skip preventive care and screenings risk worsening medical conditions. https://t.co/KKS8VQ1ttL\u201d

— Podimetrics (@Podimetrics) 1674168241
Just 12% of respondents in another poll released last September said they believed the U.S. healthcare system is run "very" or "extremely" well.
News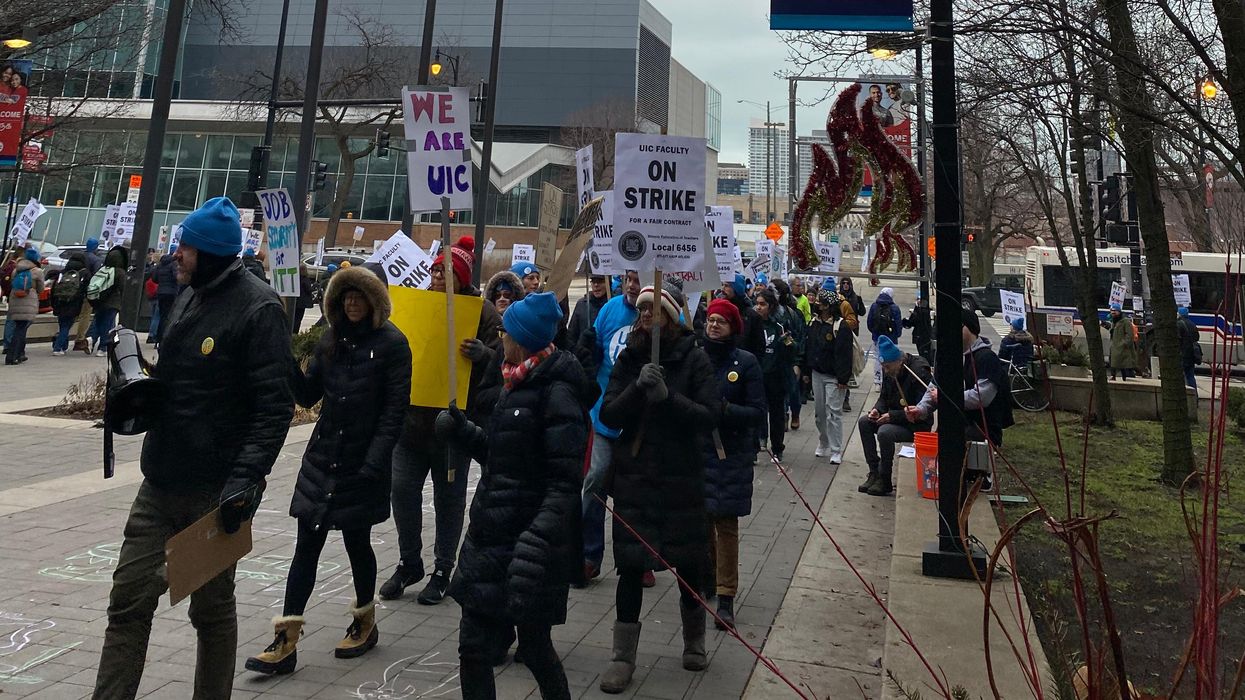 "This contract contains important gains on the issues most important to our members," said the president of the UIC United Faculty union.
Faculty members at the University of Illinois Chicago suspended their strike on Sunday after reaching a tentative deal with school administrators that includes minimum salary increases for both tenure-track and non-tenure-track staff.

"This contract contains important gains on the issues most important to our members," Aaron Krall, president of the UIC United Faculty (UICUF) union, said in a statement early Monday. "We are especially proud of winning $60,000 minimum salaries for our lowest-paid members and the commitments on student wellness and disability testing."
According to the union, the tentative contract deal—which must be ratified by UICUF members—includes:
Non-contractual, public commitments on expanding resources for student wellness and establishing psychoeducational testing;
Increased minimum salaries for the lowest-paid faculty: $60,000 NTT and $71,500 TT;
Equity adjustment to base salaries for all represented faculty;
5% average raise pools per each year of the 4-year contract;
Stronger job protections for non-tenure-track faculty; and
Expanded non-discrimination and anti-harassment policies.
The deal with university administrators was reached four days after faculty walked off the job last week to protest the lack of progress in contract negotiations and the school's refusal to budge on their demands for larger pay raises to account for higher living costs.
"We won! Strike suspended!" UICUF tweeted late Sunday following a nine-hour bargaining session that produced the tentative contract deal. "Feel free to notify your students that classes will resume tomorrow (Monday). Much, much more information is forthcoming, as well as a membership meeting where you all will vote on whether or not to ratify this contract."
As the local Chicago Sun-Timesreported Monday: "The agreement came after nine months of bargaining and 34 negotiation sessions, about half involving a federal mediator. Professors have been working without a contract since August."
Irene Mulvey, president of the American Association of University Professors, told the newspaper that "the academic labor movement is on fire right now."

"We've had decades of disinvestment at the federal and state level," Mulvey added. "[Higher education] is at a breaking point. And I think the answer is faculty organizing."

Last month, University of California graduate student workers ratified a contract deal that included better pay and benefits, ending a six-week strike that marked the largest academic employee walkout in U.S. history.

"The effects of the historic strike still reverberate across the nation, helping energize an unprecedented surge of union activism among academic workers that could reshape the teaching and research enterprise of American higher education," the Los Angeles Timesreported earlier this month. "In 2022 alone, graduate students representing 30,000 peers at nearly a dozen institutions filed documents with the National Labor Relations Board for a union election."
News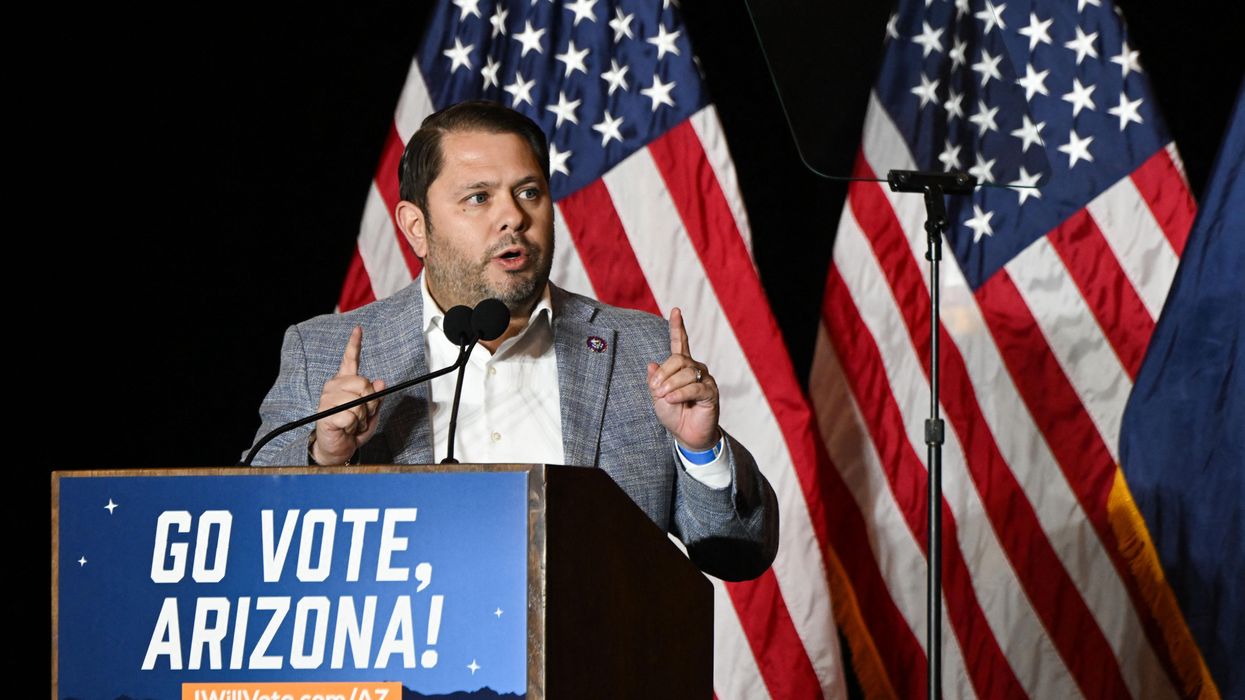 "The problem isn't that Senator Sinema abandoned the Democratic Party—it's that she's abandoned Arizona," said Rep. Ruben Gallego.
Democratic Rep. Ruben Gallego on Monday formally launched his 2024 campaign for the seat held by right-wing Sen. Kyrsten Sinema, who officially registered as an Independent in December after months of derailing the Biden administration's policy agenda and preserving tax loopholes for her corporate allies.
"The problem isn't that Senator Sinema abandoned the Democratic Party—it's that she's abandoned Arizona," said Gallego, a member of the Congressional Progressive Caucus who represents Arizona's 3rd District. "She's repeatedly broken her promises, and fought for the interests of Big Pharma and Wall Street at our expense."
"I'm running for the U.S. Senate because the rich and the powerful don't need any more advocates in Washington—but families who can't afford groceries do," Gallego added.
\u201cGrowing up poor, all I had was the American dream. It kept me going: as a kid sleeping on the floor, a student scrubbing toilets, a Marine losing brothers in Iraq.\n\nToday, too many Arizonans see their dream slipping away. I\u2019m running for the U.S. Senate to win it back for you!\u201d

— Ruben Gallego (@Ruben Gallego) 1674478803
Sinema has not yet publicly said whether she plans to run for reelection in 2024.
If she does, as The Washington Postnoted Monday, "Gallego's bid sets up a dilemma for national Democrats, who must choose whether to pour their considerable resources into backing a Democratic nominee for the seat or to support an independent incumbent."
Several Republicans—including failed gubernatorial candidate Kari Lake and failed U.S. Senate candidate Blake Masters—are also weighing 2024 runs for the seat.

A recent memo by the Democratic Party-aligned firm Public Policy Polling found that Gallego is "considerably more popular" in Arizona than Sinema and "would be a top-tier Senate candidate regardless of what she decides to do in 2024."
Other polling, including a January 2022 survey by Data for Progress, has suggested that Sinema would lose in a landslide if she runs for a second term.
Sacha Haworth, a spokeswoman for the Replace Sinema campaign at the Change for Arizona 2024 PAC, said in a statement that
"we are thrilled that there's now a Democratic candidate in this race ready to take on Kyrsten Sinema and win."
"Ruben Gallego has never backed down from fighting for Arizona, and he has what it takes to win," said Haworth. "As she jet sets with the international elite and does favors for her Wall Street donors at the expense of working Arizona taxpayers, Kyrsten Sinema shows us daily that she is only out for herself, and it's time for new leadership. We will continue to make the case as to why Arizona deserves better than Kyrsten Sinema, and do everything in our power to help Democrats win this seat."
This story has been updated to include a statement from the Replace Sinema campaign.

News
SUPPORT OUR WORK.
We are independent, non-profit, advertising-free and 100%
reader supported.