For Immediate Release
Contact:
Tel: +1-212-216-1832,Email:,hrwpress@hrw.org
DR Congo: President Brutally Represses Opposition
Two Years Since Elections, 500 Dead, 1,000 Detained, and Many Tortured
KINSHASA
Congolese state security forces have killed an estimated 500 people
and detained about 1,000 more, many of whom have been tortured, in the
two years since elections that were meant to bring democracy, Human
Rights Watch said in a report released today.
The brutal repression against perceived opponents began during the 2006
elections that carried President Joseph Kabila to power, and has
continued to the present.
The 96-page report, "'We Will Crush You': The Restriction of
Political Space in the Democratic Republic of Congo," documents the
Kabila government's use of violence and intimidation to eliminate
political opponents. Human Rights Watch found that Kabila himself set
the tone and direction by giving orders to "crush" or "neutralize" the
"enemies of democracy," implying it was acceptable to use unlawful
force against them.
"While everyone focuses on the violence in eastern Congo, government
abuses against political opponents attract little attention," said
Anneke Van Woudenberg, senior researcher in the Africa Division of
Human Rights Watch. "Efforts to build a democratic Congo are being
stifled not just by rebellion but also by the Kabila government's
repression."
On the second anniversary of Kabila's November 28, 2006 election
victory, the Congo remains impoverished and in conflict. Those in
western Congo who might challenge government policies face brutal
repression, while in the east the armed conflict with renegade general
Laurent Nkunda's forces has resulted in horrific atrocities by all
sides.
The report is based on months of extensive field research including
interviews with more than 250 victims, witnesses, and officials. Human
Rights Watch documented how Kabila's subordinates worked through
several state security forces - including the paramilitary Republican
Guards, a "secret commission," the special Simba battalion of the
police, and the intelligence services - to crack down on perceived
opponents in the capital Kinshasa and in Bas Congo province.
Following the 2006 elections, which were largely financed by
international donors, foreign governments focused on winning favor with
Kabila's new government and kept silent about human rights abuses and
the government's increasingly repressive rule. United Nations reports
documenting government involvement in politically motivated crimes were
deliberately buried or published too late to have any significant
impact on events, Human Rights Watch found.
The report says that state agents particularly targeted persons from
Equateur province and others thought to support the defeated
presidential candidate, Jean-Pierre Bemba, as well as adherents of
Bundu Dia Kongo (BDK), a political-religious group based in Bas Congo
that promotes greater provincial autonomy and had considerable support
in legislative elections.
At least 500 perceived opponents of the government were deliberately
killed or summarily executed. In some of the most violent episodes,
state agents tried to cover up the crimes by dumping bodies in the
Congo River or by secretly burying them in mass graves. Government
officials blocked efforts to investigate by UN human rights staff,
Congolese and international human rights monitors, and family members
of victims.
The detentions came in waves of arrests during the past two years.
Detainees and former detainees described torture, including beatings,
whippings, mock executions, and the use of electric batons on their
genitals and other parts of their bodies. Some were kept chained for
days or weeks and many were forced to sign confessions saying they had
been involved in coup plots against Kabila.
In mid-October 2008, state agents arbitrarily arrested at least 20
people in Kinshasa, the majority from Equateur province, including a
woman and her 3-month-old baby. Human Rights Watch estimated that at
least 200 people detained in politically related cases continue to be
held without trial in prisons in Bas Congo and Kinshasa.
Armed groups associated with Bemba and BDK adherents also were
responsible for killing state agents and ordinary people, including in
incidents in Bas Congo in February 2007 and in Kinshasa in March 2007.
In these cases, the police and army had a duty to restore order, but
often did so with excessive force.
Congolese officials have refused to acknowledge abuses committed by
state agents despite inquiries by the National Assembly, the media, and
other citizens or groups. The officials claimed that the victims were
plotting coup attempts or otherwise threatening state authority, but
they provided no convincing evidence of such charges and brought only a
handful of cases to court.
Journalists who were linked to the political opposition or who
protested abuses were threatened, arbitrarily arrested, and in some
cases tortured by government agents. The government closed down radio
stations and television networks that were linked to the opposition or
broadcast their views. Several of these stations were later permitted
to operate again.
The National Assembly has tried to scrutinize the conduct of the
government. Opposition members sometimes boycotted sessions in protest
of the abuses, with some limited impact. However, these efforts have
not been enough to stop the killings or the wide-scale arbitrary
arrests.
Human Rights Watch called on the government to establish a
high-level task force under the authority of the Ministry of Justice
with input from human rights experts to document the abuses by state
agents and release those held illegally. It also called on Congo's
National Assembly to conduct a public inquiry into the abuses by state
security agents and to prosecute those responsible.
"The Congolese people deserve a government which will uphold their
democratic rights, not one that represses opponents," said Van
Woudenberg. "An important first step would be to bring to justice those
officials responsible for killings and torture."
Selected accounts from the report:
"As they beat me with sticks and whips, the soldiers repeatedly
shouted, 'We will crush you! We will crush you!' Then they threatened
to kill me and others who opposed Kabila."
- A political party activist detained and tortured in Kinshasa in March 2007 by President Kabila's Republican Guards.
"At 3 in the morning seven Republican Guards came into the prison.
They took 10 of the prisoners, tied their hands, blindfolded them, and
taped pieces of cardboard over their mouths so they couldn't scream.
The captain who did this said he had received orders. He said he would
drink the blood of Equateurians that night. They took them away.... I
knew one of the guards and asked what had happened. He said the others
had been taken to the [Congo] river near Kinsuka and killed."
- A Congolese army officer from the Ngwaka ethnic group, arrested by
the Republican Guard on March 23, 2007 and detained at Camp Tshatshi.
"They started to hit me. They stripped off my clothes. They took
four sets of handcuffs and tied my hands behind me and then to my feet.
I was thrown on the ground in this position... They gave me electric
shocks all over my body. They put the electric baton in my anus and on
my genitals.... I cried so much that I could hardly see any more. I
shouted I would sign whatever they wanted me to."
- A former detainee held at Kin-Maziere prison on the orders of the "secret commission."
"Kabila took a decision to beat-up on Bemba and to teach him a lesson."
- A member of Kabila's inner circle just before violence in Kinshasa
in August 2006 following the inconclusive first election round.
"We all saw this coming, but again we did not do enough to avert the crisis."
- A European military advisor with close links to the Congolese army
about the March 2007 violence in Kinshasa that left hundreds dead.
"You JED who do you think you are? If you don't agree with the
regime, go into exile and wait until your champion takes power. If you
don't leave we'll help to shut you up for good. We won't miss. Too much
is too much. You have been warned."
- A threat received by the local organization Journalists in Danger
(JED) in June 2007 after they raised concerns about repression against
members of the media.
Human Rights Watch is one of the world's leading independent organizations dedicated to defending and protecting human rights. By focusing international attention where human rights are violated, we give voice to the oppressed and hold oppressors accountable for their crimes. Our rigorous, objective investigations and strategic, targeted advocacy build intense pressure for action and raise the cost of human rights abuse. For 30 years, Human Rights Watch has worked tenaciously to lay the legal and moral groundwork for deep-rooted change and has fought to bring greater justice and security to people around the world.
LATEST NEWS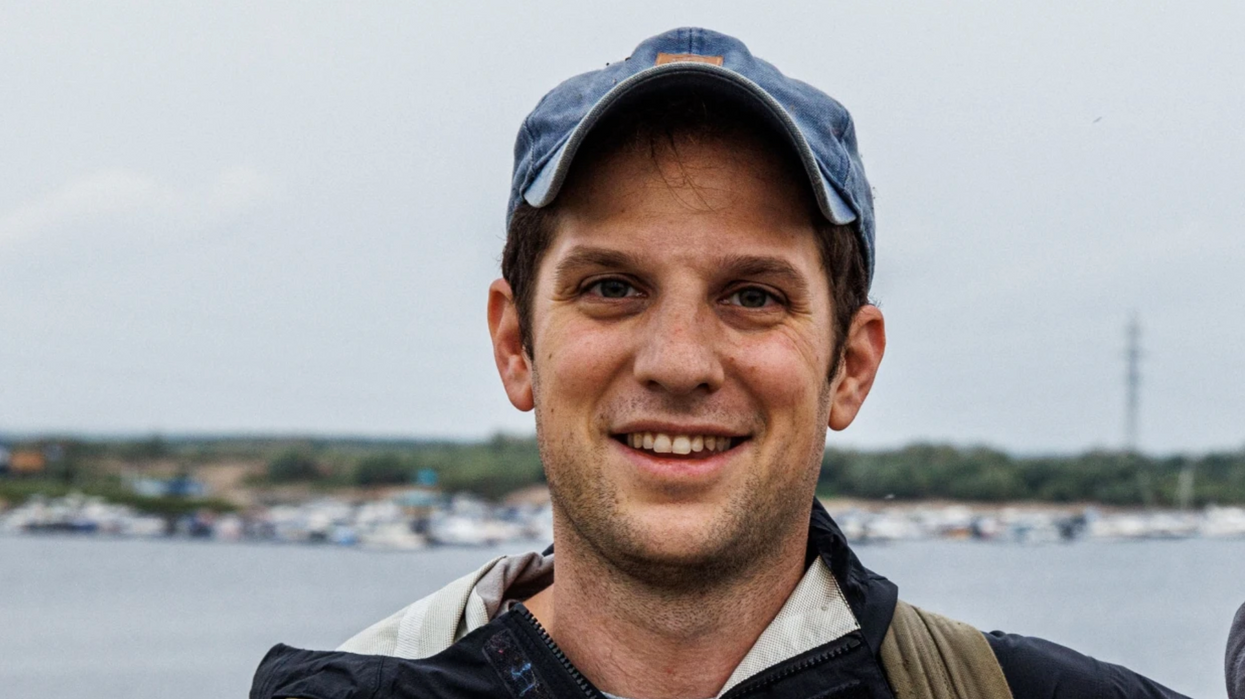 Reporters Without Borders said the arrest "looks like retaliation."
This is a developing news story... Check back for possible updates...

Russia's security service said Thursday that it has detained Wall Street Journal reporter Evan Gershkovich, a U.S. citizen, on charges of "espionage in the interests of the American government."
The Russian Federal Security Service (FSB) alleged that Gershkovich "collected information constituting a state secret about the activities of one of the enterprises of the Russian military-industrial complex."
Gershkovich has recently reported on the war in Ukraine and the role played by the Russian paramilitary group Wagner, whose founder toldThe Daily Beast that he had not heard of the journalist's arrest.
"If you want, I can check the torture cellar in my house to see if he's there," said Yevgeny Prigozhin. "At first glance, I didn't see him among the American journalists I keep there by the dozens. I can, if you want, also look at the fresh graves of foreign journalists on my house plot. But if I'm not mistaken, we didn't bury him there either."
The Journalsaid in a statement that it "vehemently denies" the accusations against Gershkovich and is pursuing his immediate release. Gershkovich was accredited to work as a journalist in Russia by the nation's foreign ministry.
In response to news of Gershkovich's arrest, the global press freedom group Reporters Without Borders said it is "alarmed by what looks like retaliation: journalists must not be targeted!"

News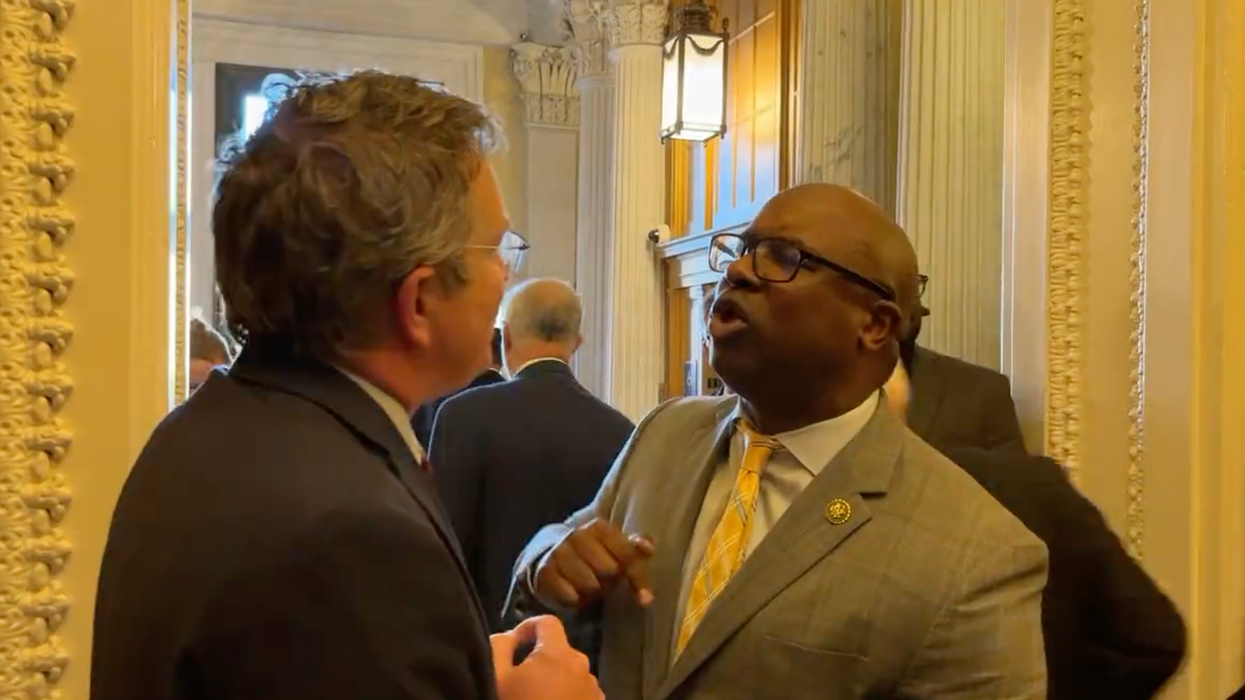 "Republicans won't do SHIT when it comes to gun violence, but try to tell me to calm down," Rep. Jamaal Bowman wrote after a heated exchange with Republican Rep. Thomas Massie.
Democratic Rep. Jamaal Bowman vocally condemned his Republican colleagues in a hallway outside the House chamber on Wednesday, calling them "freaking cowards" and "gutless" for refusing to support basic control measures in the wake of the nation's latest mass shooting—the 130th of the year.
As Bowman railed against GOP obstructionism, saying that Republicans "won't do anything to save the lives of our children," Rep. Thomas Massie (R-Ky.) stopped to ask the New York Democrat, "What are you talking about?"
"I'm talking about gun violence!" Bowman responded.
Massie—who in 2021 posted a Christmas photo in which he and his family members are holding guns—proceeded to tout a dangerous, NRA-backed proposal that Republicans float after virtually every school shooting in the U.S.: Arming teachers. (A number of states already allow teachers to carry firearms under certain conditions.)
Bowman, a former teacher and middle school principal, derided Massie's suggestion, replying: "More guns lead to more death. Look at the data." A study published in The BMJ in 2019 found that states with more lax gun regulation—and higher rates of gun ownership—experience higher rates of mass shootings.
Watch the heated exchange between Bowman and Massie, one of the most fervent opponents of gun regulations in Congress:
\u201cReps.

Jamaal Bowman

and Thomas Massie in a shouting match outside the House chamber on gun violence\u201d

— Ellis Kim (@Ellis Kim) 1680129701
Bowman later posted the exchange to his Twitter account, writing: "Republicans won't do SHIT when it comes to gun violence, but try to tell me to calm down."
"We can't calm down," he added. "People are dying every day while we wait."
There's no indication that Republicans intend to drop their opposition to popular gun control measures in the wake of the deadly shooting at a Christian elementary school in Nashville earlier this week.
"The things that have already been done have gone about as far as we're going with gun control," Sen. Mike Rounds (R-S.D.) toldCNN.
In an appearance on that same network on Tuesday, Bowman called gun violence "an American disease."
"We must vote anyone out of office who does not support a ban on assault rifles," he said. "Gun violence is the number one killer of children in America today. We have to do something about that."

News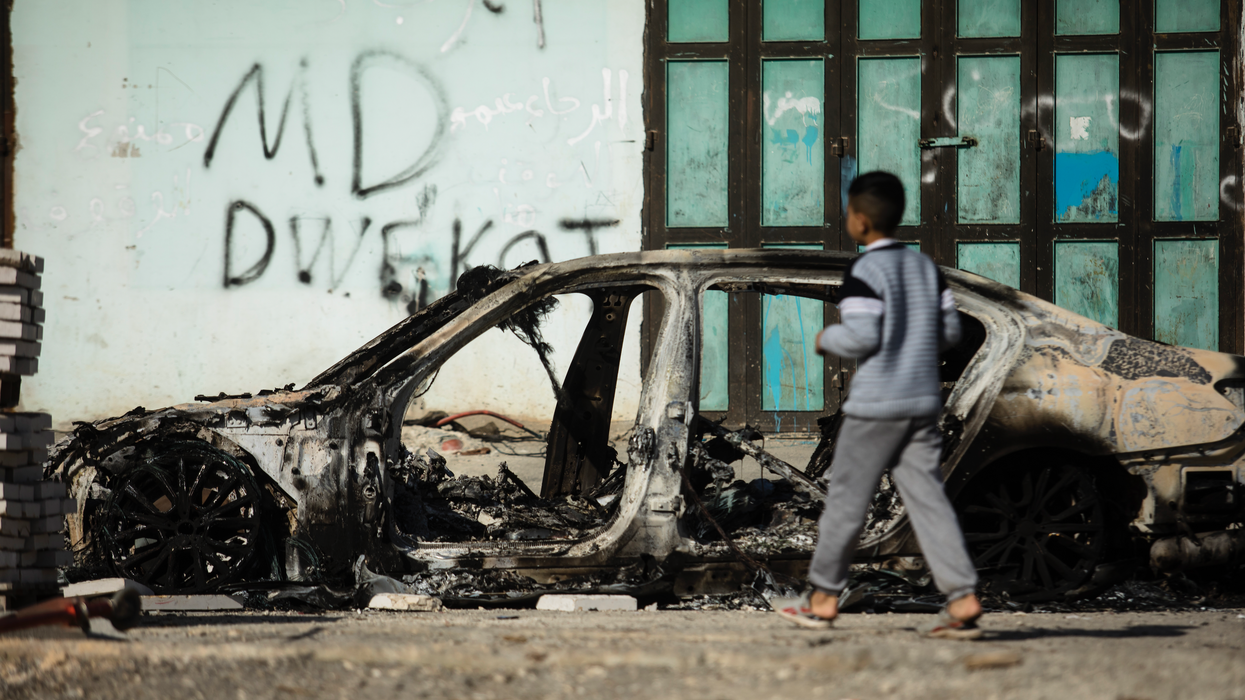 "Leaders in Congress who join this letter are following the demands of a rapidly growing number of Americans—including American Jews—who want to see the Israeli government held accountable for its decades of oppression of Palestinians," said one advocate.
Rep. Jamaal Bowman and Sen. Bernie Sanders are circulating a letter this week urging the Biden administration to "undertake a shift in U.S. policy in recognition of the worsening violence, further annexation of land, and denial of Palestinian rights" by Israel.
The letter, which was first obtained and published by Alex Kane at Jewish Currents, was written by Bowman (D-N.Y.) and is being circulated by Sanders (I-Vt.) in order to gain support from other senators. So far, Reps. Alexandria Ocasio-Cortez (D-N.Y.), Summer Lee (D-Pa.), Rashida Tlaib (D-Mich.), Cori Bush (D-Mo.), Ilhan Omar (D-Minn.), Betty McCollum (D-Minn.), André Carson (D-Ind.), and Ayanna Pressley (D-Mass.) have signed it.
In the letter, the lawmakers expressed their "deep concern" over the "rapidly escalating violence" perpetrated by Israeli occupation forces and settler-colonists against Palestinians. It notes that Israeli Prime Minister Benjamin Netanyahu's far-right government includes people like Itamar Ben-Gvir, the Jewish supremacist security minister who "openly encourages and praises violence against Palestinians," and Finance Minister Bezalel Smotrich, who "responded to the recent Israeli settler attacks on the Palestinian town of Huwara" by calling for the whole town to be "wiped out."
\u201cSCOOP: Bowman, Sanders and 8 others are urging the Biden administration to investigate whether Israel is using US weapons to commit human rights abuses against Palestinians. It's progressives' most forceful response yet to Israel\u2019s new far-right government\u00a0https://t.co/iPJVBdemIe\u201d

— Alex Kane (@Alex Kane) 1680104787
The letter—which, unlike various human rights groups, does not use the term apartheid—details "shocking violence" that is the "bloody reality" for Palestinians living under illegal occupation in the West Bank.
"On February 22, a daytime raid by the Israeli army into the crowded Palestinian city of Nablus killed 11 Palestinians, among them a 72 year-old-man and a 16-year-old child," the lawmakers wrote. "On February 26, a Palestinian gunman shot dead two Israeli settlers outside of Nablus. Subsequently, hundreds of Israeli settlers attacked the Palestinian town of Huwara."
"The settlers, accompanied by the Israeli army, set fire to homes, schools, vehicles, and businesses, killing one Palestinian and injuring over 300 Palestinians," the letter continues. "The local Israeli military commander called the attack a 'pogrom.'"
The letter notes:
This comes amid an already violent year. Israeli forces and settlers have killed over 85 Palestinians in 2023, including 16 children. At least 14 Israelis have been killed, including two children. The previous year was the deadliest for Palestinians in the occupied West Bank since 2004 and included the Israeli military's killings of two American citizens, Shireen Abu Akleh and Omar Assad...

This Israeli government's anti-democratic mission to dismantle the rule of law is a threat to Israelis and Palestinians alike. In addition to explicitly hateful, anti-Palestinian policies, this government is attempting to destroy the independent Israeli judiciary.
The Israeli government's judiciary reforms—which earlier this week were put on hold amid massive protests—"open the path towards further annexation of Palestinian lands," in "violation of international law," the U.S. legislators noted.
The lawmakers urge the Biden administration to:
Ensure U.S. taxpayer funds do not support projects in illegal settlements;
Determine whether U.S.-origin defense articles have been used in violation of existing U.S. laws, including for a purpose not authorized by Section 4 of the Arms Export Control Act... or to commit or support gross violations of human rights by the Israeli government; and
Ensure that all future foreign assistance to Israel, including weapons and equipment, is not used in support of gross violations of human rights.
The lawmakers' push was praised by organizations including the Institute for Policy Studies, Win Without War, and Jewish Voice for Peace, whose political director, Beth Miller, called the letter "an important call to action."
\u201cUSCPR is proud to sign onto this letter led by \n@SenSanders & @RepBowman. \n\nThis letter pushes action & accountability for the U.S.'s ongoing funding of the Israeli regime's human rights abuses against Palestinian people. \n\n#StopArmingIsrael\nhttps://t.co/N4YDS2CSDD\u201d

— #DefendMasaferYatta USCPR (@#DefendMasaferYatta USCPR) 1680112274
"Over 80 Palestinians have been killed by Israeli forces and settlers just since the beginning of 2023, and the Biden administration's statements of 'concern' mean nothing without action and accountability," Miller said in a statement. "Leaders in Congress who join this letter are following the demands of a rapidly growing number of Americans—including American Jews—who want to see the Israeli government held accountable for its decades of oppression of Palestinians."
News
SUPPORT OUR WORK.
We are independent, non-profit, advertising-free and 100%
reader supported.