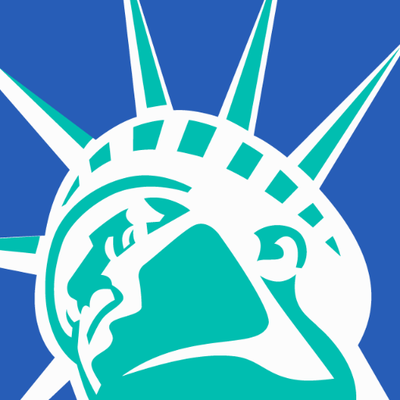 As Congress Readies to Approve Most Costly Bailout in U.S. History, Lawmakers Must Ensure Taxpayers Are Protected
Statement of Joan Claybrook, President of Public Citizen
WASHINGTON
Over the past few days, we have witnessed Congress readying to approve possibly the most reckless and certainly the most costly bailout in this country's history. The speed at which the government is leaping to aid Wall Street titans and their accomplices in the financial services sector is breathtaking. Taxpayers should be alarmed at the unfathomable price tag, which they are being told they must pay and which itself is a guesstimate. They also should balk at the scope of the proposed bailout, which includes not just mortgage instruments but all financial service companies, including foreign companies. Today, Public Citizen and Consumer Watchdog outline provisions that must be in any bailout package - if one is approved. These are designed to protect taxpayers' wallets, cut off opportunities for corruption and defend against future economic misbehavior.
The provisions that I will address now are designed to ensure that the people who got us into the mess - the Wall Street "wizards" who came up with the obscure and risky financial instruments that government regulators ignored or knew nothing about - don't further profit from it.
First, in exchange for purchasing companies' bad debt and "troubled" assets, the government should be given an ownership stake in the firms in proportion to the amount of taxpayer risk. Company warrants should be held and managed by a publicly run office to be known as "America's Mutual Fund," which would gain seats on the board of any company receiving a bailout. America's Mutual Fund's goal would be to liquidate these assets as companies' stock values rise enough to compensate taxpayers, with interest, for the bailout.
Second, both federal bailout officials and the banking industry must be subjected to oversight and regulation to prevent another economic debacle. The financial services industry must be subjected to new regulatory standards, such as greater transparency and disclosure requirements, increased regulation of banks, insurers, securities firms and hedge funds, stringent limitations on leveraged investments and offshore financial instruments intended to avoid scrutiny and taxes, and prohibitions against the riskiest investment practices. The program should make bailouts contingent on executives of participating companies accepting strict salary caps and standards for compensation packages.
Further, any company that receives bailout funds or invests in such companies should be prohibited from applying for or receiving a contract to manage any of the government's newly held assets. This should be obvious, but given the way things work in Washington, it could easily happen. It would an insult to taxpayers for these companies to collect at both ends.
Also, any company receiving bailout money must agree not to lobby Congress for two years. The taxpayers should not be paying for companies seeking specific deals against taxpayers' interests. Lobbying is partly responsible for how we got into this mess - the financial services, insurance and real estate industries gave $311 million to federal candidates in the 2008 election cycle, split pretty evenly between both parties. The industry has successfully lobbied against regulation, getting rid of key protections in 1999.
Even now, they are still at it - lobbyists have descended on Capitol Hill over the past few days to make sure that any legislation Congress passes protects the interests of the industry, even seeking more deregulation and opposing limits on executive pay at firms that participate in the bailout. This is galling. Congress should worry about consumers - not about the moguls who caused this. For too long, corporate voices have drowned out people's voices, and we have seen the results: energy policy that benefits utility companies, a drug approval process that benefits pharmaceutical companies and more.
Further, the revolving door between government and industry should be shut for two years. Government regulators who oversee companies that take the bailout money should be prohibited from accepting jobs with those companies for two years, because they are not likely to adequately represent taxpayers' interests if they are negotiating for their next job with their future employer. And the federal government should not hire workers from the bailed-out companies to oversee their former colleagues for two years. Again, this is a basic and essential principle.
You wouldn't run a lemonade stand the way the investment banks have run operations on Wall Street. Rather than bending over backwards to help the financiers, Congress should bend over backwards to ensure taxpayers escape with the least amount of harm and get every dollar back.
To elaborate further on these principles is Harvey Rosenfield, founder of Consumer Watchdog.
Finally, we want to urge Congress to do this right, not to do it fast. Lawmakers are itching to leave Washington to campaign in their districts next week. With that in mind, they have set a Friday adjournment date.
But this crisis is far too big, far too critical and far too fraught with unknowns to be addressed hastily. Congress should stay in town as long as necessary and do what they were elected to do, which is to represent the people who are paying their salaries and put measures in place to ensure that this never, ever happens again.
Public Citizen is a nonprofit consumer advocacy organization that champions the public interest in the halls of power. We defend democracy, resist corporate power and work to ensure that government works for the people - not for big corporations. Founded in 1971, we now have 500,000 members and supporters throughout the country.
(202) 588-1000
LATEST NEWS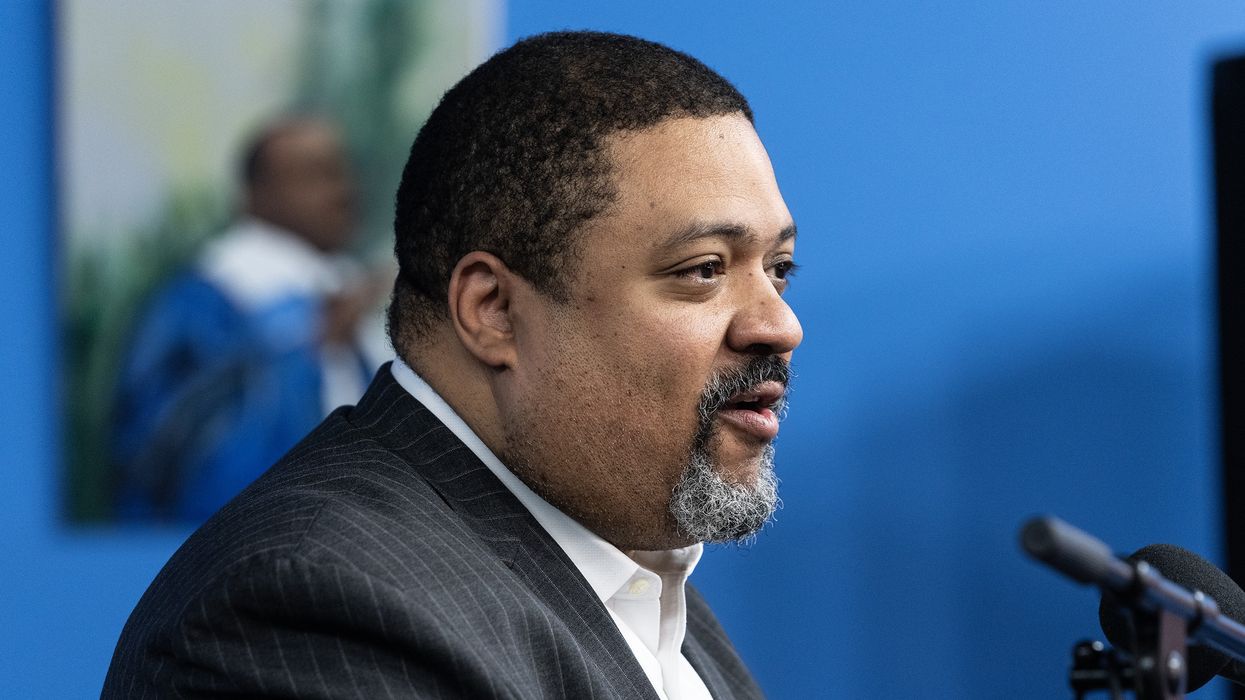 Alvin Bragg's comments came after Trump urged his supporters to "protest" and "take our nation back" ahead of his expected indictment.
Manhattan District Attorney Alvin Bragg said Saturday that former President Donald Trump's efforts to undermine his prosecutorial authority won't be tolerated.
In a memo to colleagues, Bragg wrote that "we do not tolerate attempts to intimidate our office or threaten the rule of law in New York."
"Our law enforcement partners will ensure that any specific or credible threats against the office will be fully investigated and that the proper safeguards are in place so all 1,600 of us have a secure work environment," Bragg continued.

"As with all of our investigations, we will continue to apply the law evenly and fairly, and speak publicly only when appropriate," he added.
"We do not tolerate attempts to intimidate our office or threaten the rule of law in New York."
Bragg's email didn't specifically name Trump, referring only to the "public comments surrounding an ongoing investigation by this office."
But it came just hours after the former president and leading 2024 GOP candidate claimed on his social media platform that he "will be arrested" on Tuesday and called on his supporters to "protest" and "take our nation back."
Trump is expected to be indicted by a Manhattan grand jury in a criminal case involving hush money paid to women who alleged sexual encounters with the former president, but its timing remains uncertain.
In a follow-up post on Truth Social, Trump wrote: "It's time!!! We are a nation in steep decline... We just can't allow this anymore. They're killing our nation as we sit back and watch. We must save America! Protest, protest, protest!!!"
Trump's call to action echoed how, six weeks after losing the 2020 presidential election, he fired off a tweet encouraging his supporters to join a "big protest" in Washington, D.C. on January 6, 2021. "Be there, will be wild!" he wrote. Hundreds of far-right extremists came and—after Trump told them to march from a rally near the White House to the Capitol—ransacked the halls of Congress in a bid to prevent lawmakers from certifying President Joe Biden's win. Several people died as a result of the insurrection, which was precipitated by Trump and his Republican allies' ceaseless lies about voter fraud.

Mother Jones' D.C. bureau chief David Corn noted that Trump has recently "excused or dismissed the violence of January 6."
"He is an authoritarian willing to (again) use violence for his own ends," Corn tweeted. "That is a threat to the nation."
Trump started priming his supporters for unrest more than a year ago. At a January 2022 rally in Texas, the ex-president promised to pardon January 6 rioters if he wins in 2024 and called for protests if prosecutors investigating his effort to subvert the 2020 election and other alleged crimes attempt to bring charges.
"If these radical, vicious, racist prosecutors do anything wrong or illegal, I hope we are going to have in this country the biggest protest we have ever had... in Washington, D.C., in New York, in Atlanta, and elsewhere because our country and our elections are corrupt," Trump told a crowd of his supporters 14 months ago.
On Saturday, HuffPost's senior White House correspondent S.V. Dáte asked if high-ranking Republicans had anything to say about Trump's most recent threats.
"If a new round of political violence occurs, McCarthy should absolutely shoulder some of the blame."
House Speaker Kevin McCarthy (R-Calif.) and other right-wing lawmakers quickly made it clear that they're siding with Trump over the rule of law.
Trump is expected to be charged in connection with payments his former lawyer, Michael Cohen, made to buy the silence of adult film actress Stormy Daniels and Playboy model Karen McDougal—both of whom say they had affairs with Trump—at the height of the 2016 presidential election.
Cohen has testified that at Trump's direction, he organized payments totaling $280,000 to Daniels and McDougal. According to Cohen, the Trump Organization reimbursed him $420,000 and categorized it as a legal fee. Trump's former fixer pleaded guilty to federal campaign violations in 2018.
Trump has so far evaded charges but that could soon change, as Manhattan prosecutors are expected to accuse Trump of overseeing the false recording of expenses in his company's internal records.
McCarthy on Saturday described Bragg's probe as "an outrageous abuse of power by a radical D.A. who lets violent criminals walk as he pursues political vengeance against President Trump."
"I'm directing relevant committees to immediately investigate if federal funds are being used to subvert our democracy by interfering in elections with politically motivated prosecutions," he tweeted.
According toMSNBC's Hayes Brown:
By the time he fired off his own tweet, McCarthy had presumably seen Trump calling his supporters into the streets, echoing the incitement of violence against Congress two years ago. The speaker lived through that experience and witnessed firsthand the effect of Trump's words. And yet he opted to pretend otherwise in the weeks and months after the January 6 attack as he flew to Mar-a-Lago in supplication. In handing over unvetted security footage from the attack to a far-right propagandist last month, McCarthy is once again complicit in trying to whitewash the assault. If a new round of political violence occurs, McCarthy should absolutely shoulder some of the blame.
McCarthy was far from alone. Rep. Andy Biggs (R-Ariz.), for example, baselessly declared: "If they can come for Trump, they will come for you. This type of stuff only occurs in third world authoritarian countries."
The GOP's current framing of ongoing investigations into Trump as political "witch hunts" is not new. McCarthy and others reacted in a similar manner when the FBI in early August searched Trump's Mar-a-Lago resort and removed boxes of documents as part of a federal probe into the ex-president's handling of classified materials.
In New York, meanwhile, law enforcement and security agencies at all levels are reportedly preparing for the possibility of a Trump indictment as early as this week.
If indicted, Trump would become the first U.S. president to face criminal charges in or out of office. Trump, who has denied all wrongdoing, has vowed to keep campaigning regardless of whether he's arrested.
The New York Times reported that if "Trump is arraigned, he will almost certainly be released without spending any time behind bars because the indictment is likely to contain only nonviolent felony charges."
However, the Manhattan D.A.'s hush money probe is just one of many pending cases against Trump. The twice-impeached former president is also facing a state-level criminal investigation in Georgia over his efforts to overturn that state's 2020 election results, as well as federal probes into his coup attempt and his handling of classified government documents.
As The Associated Pressobserved, it's not clear when the other investigations into Trump "will end or whether they might result in criminal charges."
"But they will continue regardless of what happens in New York," the outlet noted, "underscoring the ongoing gravity—and broad geographic scope—of the legal challenges confronting the former president."
News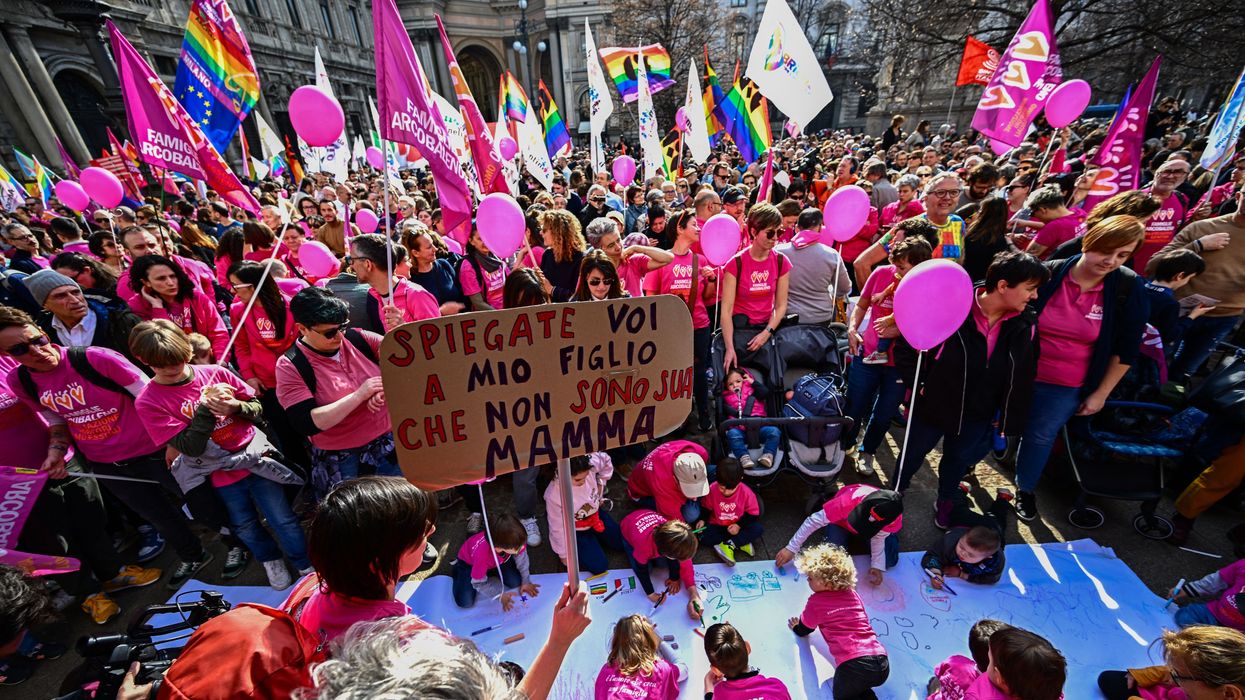 "It is an obvious step backwards from a political and social point of view," said the mayor of Milan. "I put myself in the shoes of those parents who thought they could count on this possibility."
Hundreds of people hit the streets of Milan, Italy on Saturday to protest the far-right government's assault on the parental rights of same-sex couples.
"You explain to my son that I am not his mother," read one woman's sign, while children wore shirts declaring, "It is love that creates a family."
Italy legalized same-sex civil unions in 2016, but it stopped short of granting gay and lesbian couples the right to adopt amid opposition from the Catholic Church. Since then, courts have made decisions on a case-by-case basis in response to lawsuits from prospective adoptive parents.
Some municipalities, however, "decided to act unilaterally," Agence France-Pressereported Saturday. "Milan had been registering children of same-sex couples conceived overseas through surrogacy—which is illegal in Italy—or medically assisted reproduction, which is only available for heterosexual couples."
"But its center-left mayor Beppe Sala revealed this week that this had stopped after the interior ministry sent a letter insisting that the courts must decide," the news agency noted.
In a podcast, Sala said that "it is an obvious step backwards from a political and social point of view."
"I put myself in the shoes of those parents who thought they could count on this possibility in Milan," he added, vowing to fight back.
"This government is the maximum expression of homophobia."
AFP reported that "about 20 children are waiting to be registered in Milan," citing leading LGBTQ+ rights campaigner Fabrizio Marrazzo. "A mother or father who is not legally recognized as their child's parent can face huge bureaucratic problems, with the risk of losing the child if the registered parent dies or the couple's relationship breaks down."
Earlier this week, Marrazzo said that "when a law is unjust and discriminatory those who engage in politics must have the courage to disobey it."
In the words of Gabriele Piazzoni, secretary-general of Arcigay, "The ban is one of the most concrete manifestations of the fury that the right-wing majority is unleashing against LGBTI people."
Last year, before she was elected to lead Italy's far-right coalition government, Prime Minister Giorgia Meloni of the fascist Brothers of Italy Party said in a speech, "Yes to natural families, no to the LGBT lobby!"
Earlier this week, The Associated Pressreported, "a Senate commission blocked an attempt to recognize birth certificates of the children of same-sex couples issued by other E.U. states."
Alessia Crocini, president of Rainbow Families, warned that "this government is the maximum expression of homophobia."
"Meloni says that for a child to grow up well, they need a mother and father, even if decades of research say otherwise," Crocini told AP. "It is insulting to hundreds of thousands of families with two same-sex parents."
News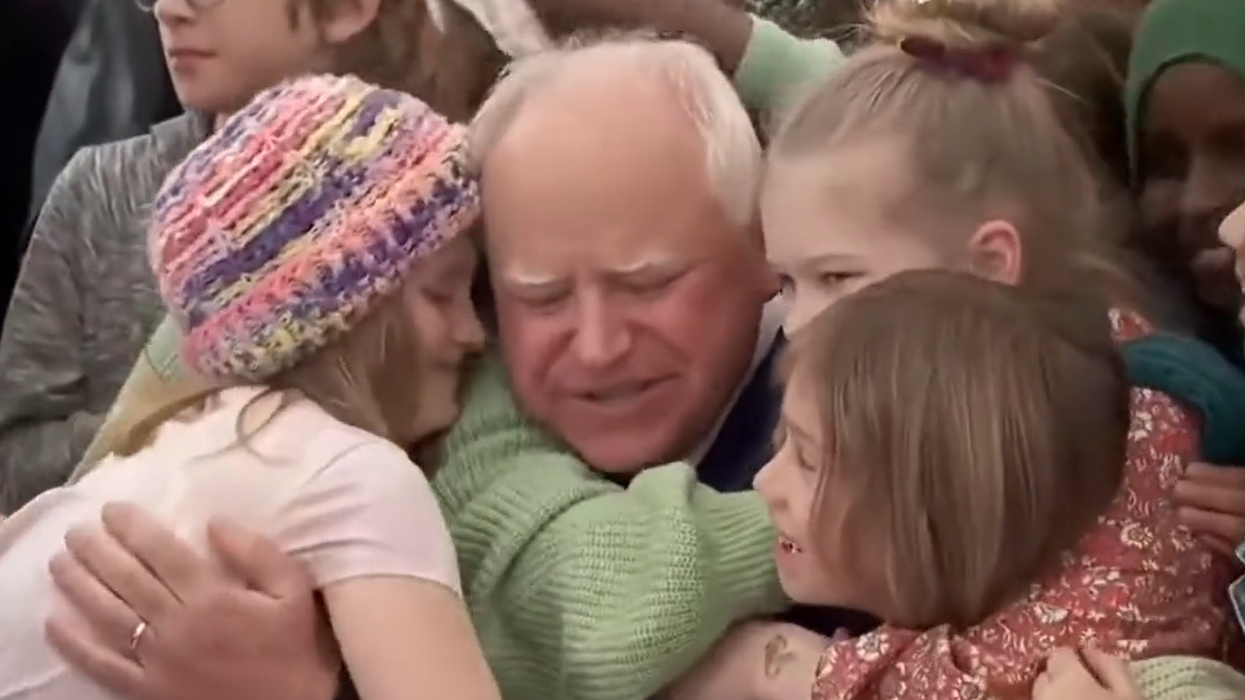 "Let this serve as a reminder that poverty is a policy choice," said one advocate. "In the richest country in the world, it is absolutely inexcusable that millions of our children go to school hungry because they are living in poverty."
Surrounded by students, teachers, and advocates, Democratic Minnesota Gov. Tim Walz on Friday afternoon signed into law a bill to provide breakfast and lunch at no cost to all of the state's roughly 820,000 K-12 pupils regardless of their household income.
The move to make Minnesota the fourth U.S. state to guarantee universal free school meals—joining California, Maine, and Colorado—elicited praise from progressives.
"Beautiful," tweeted Stephanie Kelton, a professor of economics and public policy at Stony Brook University.
"No child should go hungry for any reason, period."
UC-Berkeley professor and former U.S. labor secretary Robert Reich wrote on social media: "Let this serve as a reminder that poverty is a policy choice. In the richest country in the world, it is absolutely inexcusable that millions of our children go to school hungry because they are living in poverty."
An estimated 1 in 6 children in Minnesota don't get enough to eat on a regular basis. But 1 in 4 food-insecure kids live in households that don't qualify for the federal free and reduced meal program, leading to "mounting school lunch debts in the tens of thousands of dollars," Minnesota Public Radioreported.
Tens of thousands of children are set to benefit from Minnesota's new law, which could be operational as early as summer school in July. Some of them were there to thank Walz at the signing ceremony, where the sense of elation was palpable.
"As a former teacher, I know that providing free breakfast and lunch for our students is one of the best investments we can make to lower costs, support Minnesota's working families, and care for our young learners and the future of our state," Walz said. "This bill puts us one step closer to making Minnesota the best state for kids to grow up, and I am grateful to all of the legislators and advocates for making it happen."
The Minnesota House—led by the Democratic-Farmer-Labor (DFL) Party, the state's Democratic affiliate—first passed the bill in February in a 70-58 party-line vote. The state Senate—where the DFL holds just a single-seat advantage—approved it on Tuesday by a 38-26 margin. The state House rubber-stamped an amended version of the bill on Thursday.
In a now-viral clip from the state Senate's debate over the bill earlier this week. Sen. Steve Drazkowski (R-20) questioned whether hunger is really a problem in Minnesota—even as the state's food banks reported a record surge in visits last year, months before federal lawmakers slashed pandemic-era Supplemental Nutrition Assistance Program (SNAP) benefits.
"I have yet to meet a person in Minnesota that is hungry," Drazkowski said before voting against the bill. "I have yet to meet a person in Minnesota that says they don't have access to enough food to eat."
During Friday's signing ceremony, Lt. Gov. Peggy Flanagan (DFL) said, "To our decision-makers who believe they have never met someone who is experiencing or has experienced hunger: Hi, my name is Peggy Flanagan, and I was 1 in 6 of those Minnesota children who experienced hunger."
"By providing free breakfast and lunch to all of our students, we are removing barriers and removing stigma from the lunch room," said Flanagan. "We are helping family pocketbooks, especially for those 1 in 4 who don't qualify for financial assistance with school meals. We are leading with our values that no child should go hungry for any reason, period."
"This is an investment in the well-being of our children, as well as an investment in their academic success," Flanagan added, calling the "generation-changing" bill "the most important thing" she's ever worked on in her life.
"By providing free breakfast and lunch to all of our students, we are removing barriers and removing stigma from the lunch room... This is an investment in the well-being of our children, as well as an investment in their academic success."
As Minnesota Reformerreported: "The majority of Minnesota schools receive federal funding from the National School Lunch Program, which reimburses schools for each meal served, though it doesn't cover the cost of the entire meal. Under the new law, schools are prohibited from charging students for the remaining cost, and the state will foot the rest of the bill—about $200 million annually."
MPR noted that "the legislation is similar to a program that was introduced during the pandemic to provide meals for all students, but was discontinued at the end of last year."
Last month, The Star Tribune editorial board opined that providing free breakfast and lunch to all of Minnesota's students, including affluent ones, is "excessive."
Pushing back against this argument for means-testing, Darcy Stueber—director of Nutrition Services for Mankato Area Public Schools and public policy chair of the Minnesota School Nutrition Association—asserted that meals should be guaranteed to all kids at no cost, just like other basic learning necessities.
"We don't charge for Chromebooks and desks and things like that," she told MPR. "It's a part of their day and they're there for so many hours. It just completes that whole learning experience for the child."
Minnesota Rep. Sydney Jordan (DFL-60A), the bill's lead author, made the same point to counter GOP lawmakers' complaints following the initial passage of the legislation.
"We give every kid in our school a desk," Jordan said last month. "There are lots of kids out there that can afford to buy a desk, but they get a desk because they go to school."
Walz, for his part, stressed Friday that his administration is "just getting started" when it comes to boosting education funding.
"The big stuff," said the governor, "is still coming."
News
SUPPORT OUR WORK.
We are independent, non-profit, advertising-free and 100%
reader supported.