Our work is licensed under Creative Commons (CC BY-NC-ND 3.0). Feel free to republish and share widely.
Sarah Lazare
Sarah Lazare was a staff writer for Common Dreams from 2013-2016. She is currently web editor and reporter for In These Times.
As President Barack Obama prepares to embark on his fifth visit to the Asia-Pacific region, grassroots protests against U.S. efforts to ram through the Trans-Pacific trade deal and the U.S. military pivot to Asia are mounting on both sides of the Pacific.
"People are saying we don't want more U.S. militarization in our countries," said Rhonda Ramiro, Vice Chair of BAYAN-USA--an alliance of Filipino organizations in the U.S.--in an interview with Common Dreams. "This is about U.S. military power and economic domination."
In the coming days, protests against the TPP and U.S. military pivot will sweep U.S. embassies in Japan, South Korea, and the Philippines, with more actions slated for the "weeks and months to come," said Ramiro. Channel News Asiareports that in Tokyo, where Obama will land Wednesday, protests against the TPP by workers, farmers, and community groups are already heating up.
Meanwhile, BAYAN-USA is organizing a day of action on Friday in major cities across the U.S. to oppose military buildup throughout the Philippines and the Asia-Pacific region. And Monday marked the beginning of a U.S. week of action against the TPP backed by a coalition of environmental, labor, internet freedom, and numerous other organizations.
Obama is widely expected to use his upcoming trip to Japan, South Korea, Malaysia, and the Philippines to push for the TPP and secure a U.S. military buildup in the region.
Critics charge that this economic and military agenda is part of a broader strategic plan to bolster U.S. geopolitical control of the region and hedge against China.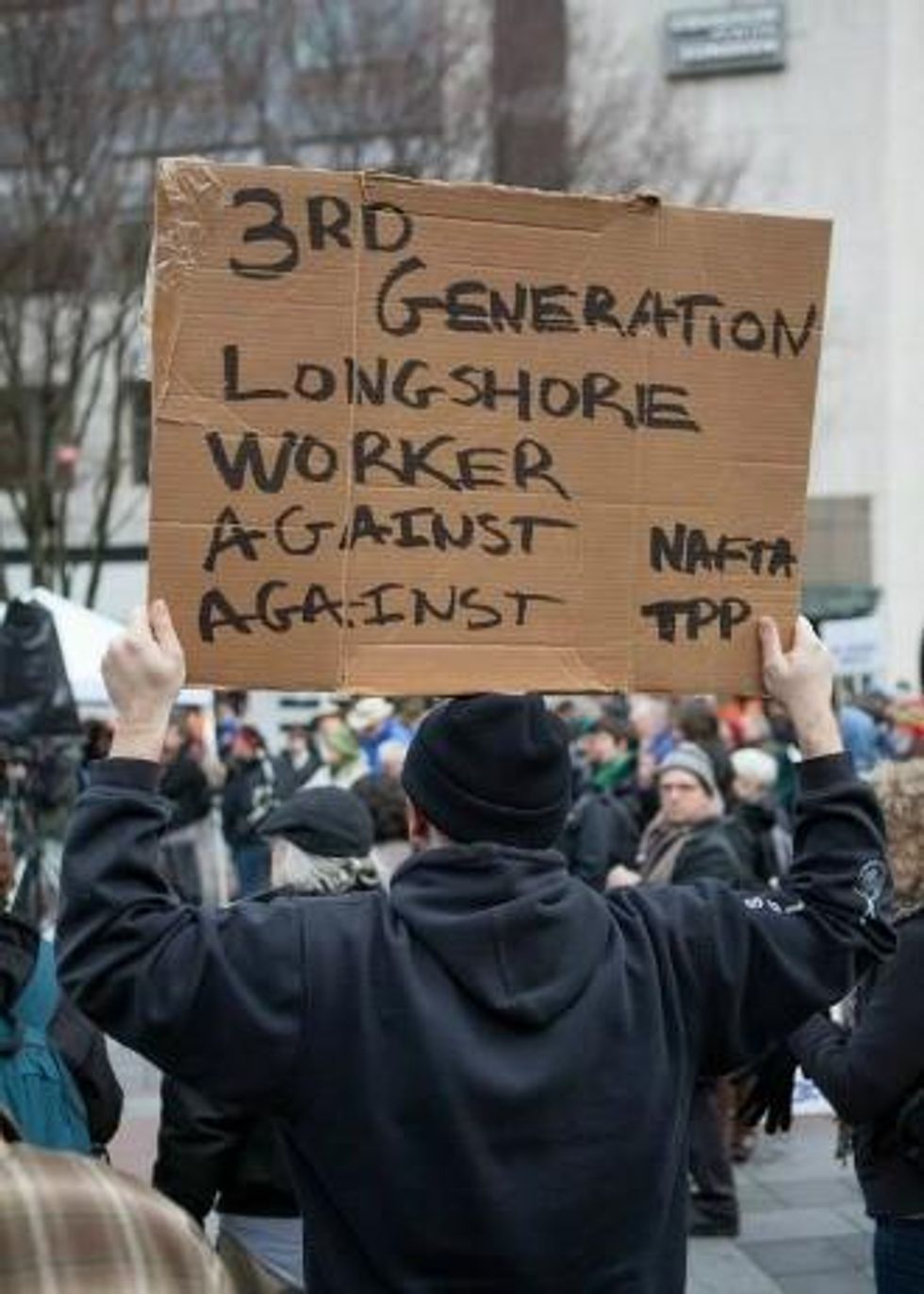 The TPP, which has been referred to as NAFTA on steroids, is a so-called "free trade agreement" currently under negotiation between 12 countries -- the United States, Australia, Brunei Darussalam, Canada, Chile, Japan, Malaysia, Mexico, New Zealand, Peru, Singapore, and Vietnam -- together comprising 40 percent of the world's GDP. Despite the breadth of this potential agreement, the TPP negotiations have been highly secretive, with the bulk of publicly available information exposed by WikiLeaks.
Documents show that negotiators are pushing for inclusion of NAFTA's infamous corporate tribunals, in which corporations "settle disputes" with governments in secrecy and trample domestic protections from public health to environmental regulations, completely circumventing their own national legal systems.
Cassidy Regan of Flush the TPP told Common Dreams that the TPP is "nothing but corporate colonialism." She added, "The supposed environmental protections chapter includes nothing substantive. The intellectual property chapter raised major concerns among internet freedom activists, as well as public health workers who know the expansion of monopoly drug patents for major pharmaceutical companies will only further raise the price of and threaten access to life-saving medicines worldwide."
Christine Ahn writes for Foreign Policy in Focus that the U.S. push for the TPP is part of a "one-two punch," with the second blow dealt by the so-called U.S. military pivot to the Asia-Pacific.
The renewed U.S. military interest in the Asia-Pacific region, pushed in 2011 by Hillary Clinton, aims to deploy 60 percent of the U.S. Navy fleet to the Asia Pacific region by 2020. This effort includes: the re-building and occupation of U.S. military installations in the Philippines; the deployment of thousands of troops; the building of new military bases across the region; expansion of military exercises; shifting of weapons--including long-range bombers and drones--to the Pacific; and increased military alliances.
This is in a region where there are already approximately 320,000 U.S. troops.
"The U.S. is trying to establish neoliberal policies," said Ramiro. "If anyone is opposed, the military will be there to back up economic plans. The militarization is also a way for the U.S. to flex its muscles around China."
According to Ramiro, the U.S. military presence has brought environmental destruction and an epidemic of violence and sexual assaults against women. Furthermore, bolstered U.S. military alliances are further strengthening repressive governments.
"We have a Philippine military has been implicated in major human rights abuses against peace, labor, and environmental activists and journalists," said Ramiro. "The military has silenced dissent and engaged in outright killings torture. This is the Philippine military that trained with U.S. military."
Yet Bernadette Ellorin, Chairperson of BAYAN-USA, told Common Dreams that the legacies of resistance throughout the region are cause for hope.
"People in the Asia-Pacific have been struggling for decades against U.S. intervention. This is nothing new to people in the region," said Ellorin. "In the Philippines we have been fighting us presence for 114 years. Other countries have been fighting for decades. Those struggles and movements still exist, and they are intensifying now."
She added, "These movements in the region continue to frustrate the U.S. geopolitical agenda in the region and have endured countless U.S. counter-insurgency campaigns. The U.S. Pacific Command is the largest and oldest of the U.S. global commands. As long as U.S. intervention is present, people's resistance will not only persist, but grow."
_____________________
We've had enough. The 1% own and operate the corporate media. They are doing everything they can to defend the status quo, squash dissent and protect the wealthy and the powerful. The Common Dreams media model is different. We cover the news that matters to the 99%. Our mission? To inform. To inspire. To ignite change for the common good. How? Nonprofit. Independent. Reader-supported. Free to read. Free to republish. Free to share. With no advertising. No paywalls. No selling of your data. Thousands of small donations fund our newsroom and allow us to continue publishing. Can you chip in? We can't do it without you. Thank you.