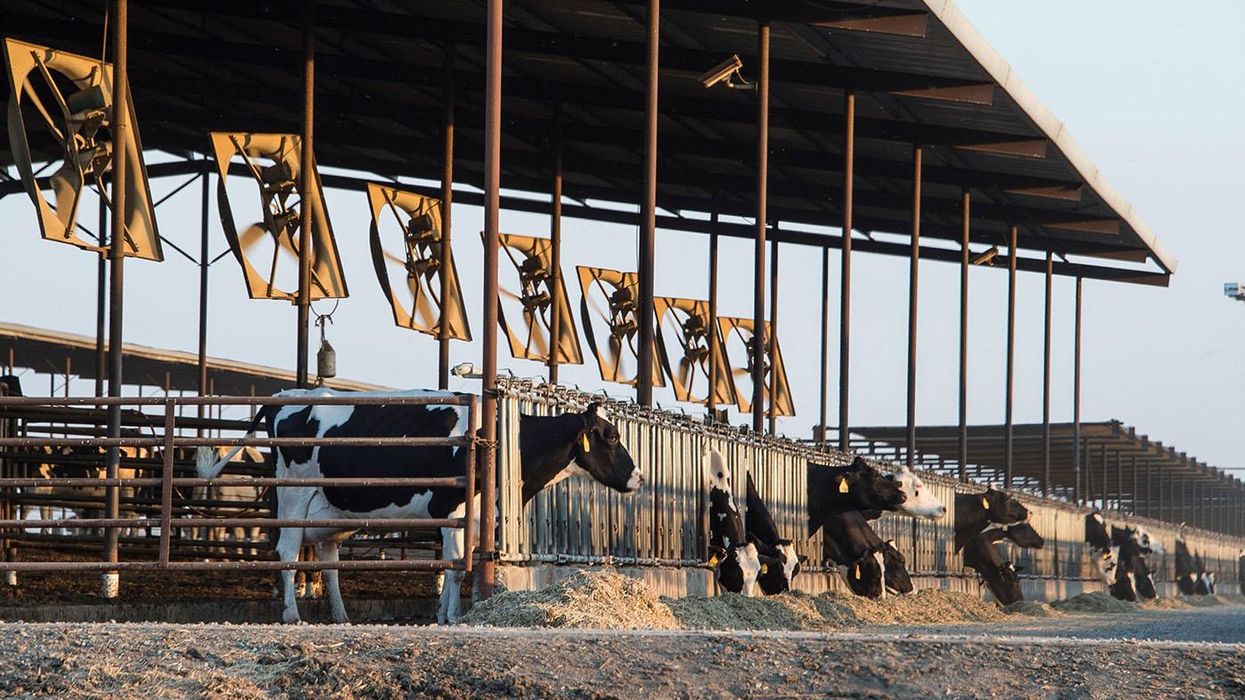 "There's no way around it—we have to actually cut fossil fuel emissions," said Food & Water Watch.
Dozens of climate action, Indigenous rights, and public interest groups on Thursday announced an alliance that plans to engage with lawmakers ahead of this year's congressional debate on the Farm Bill, calling on them to pass legislation that rejects carbon offsets, carbon markets, and other policies that perpetuate a planet-heating agricultural system.
Food & Water Watch convened more than 60 groups including the Farmworker Advocacy Network, the Indigenous Environmental Network (IEN), and the Institute for Agriculture and Trade Policy (IATP), all of whom have been disturbed in recent months by the passage of "at least three pieces of legislation that promote carbon offsets and dirty energy, propping up corporate ag interests and factory farming."
As Congress prepares to debate the Farm Bill, which is passed every five years and includes a range of nutrition, agriculture, forestry, and conservation policies, lawmakers must "transition away from false solutions to the climate crisis," said the alliance. "Carbon trading and offsets are inherently flawed and allow fossil fuels to continue polluting. Therefore, related carbon trading corporate-backed schemes have no place in Farm Bill legislation."
The groups are calling for a Farm Bill that will "further biodiverse, regenerative, sustainable agriculture and food systems; reduce fossil fuels and pesticides in farming practices; and promote a community-based food system that is more resilient to climate change."
"Flawed policies promoted under the guise of 'climate smart agriculture' threaten to entrench the polluting status quo, and worsen the climate crisis."
In such legislation, they said, lawmakers must exclude carbon offsets—tradable "rights" that allow purchasers to claim credit for an activity that removes carbon from the atmosphere or prevents emissions. The groups said the Farm Bill should reject:
Soil offsets, which store carbon in soil and remain "underdeveloped, inconsistent, and unable to accurately account for differences in carbon storage related to specific climates and geographies";
Forest offsets, which include forest protections that proponents claim prevent future deforestation, but which critics say "mask true emissions reductions by claiming sequestration and biodiversity gains"; and
Methane offsets, which proponents claim can "tackle the methane emissions from animal waste—typically cow or pig manure—using either separation equipment or anaerobic digestion."
Offset proposals are "incompatible with sustainable agriculture and may drive further consolidation of farms and agribusinesses," said the organizations, adding that the methane offset approach "wrongly supposes that significant methane emissions from farms are inevitable, as well as ignores the litany of co-pollutants from farms poisoning the air and water of nearby environmental justice communities."
As the Center for American Progress (CAP) said in a report about fraud in the market last October, there is mounting evidence that "many carbon offsets do not actually represent permanently removed carbon or avoided emissions."
In some cases, forests targeted by carbon offsets have been logged or burned or, "conversely, were never at risk of being deforested," reported CAP. Some businesses have also purchased 40-year contracts to protect forests, rendering the offset unvalid because carbon can remain in the atmosphere for a century.

"Carbon offset markets are fatally flawed," said Ben Lilliston, director of climate strategies at IATP, on Thursday. "The scientific consensus does not support them. They are riddled with fraud. The economics don't work for anyone, least of all farmers and landowners. The urgency of the climate crisis demands that we put this failed experiment aside, and focus on what we know can benefit farmers and the planet."
Jim Walsh, policy director for Food and Water Watch, said carbon markets and offsets are driven by "wishful thinking" that is "fanciful at best."
"Flawed policies promoted under the guise of 'climate smart agriculture' threaten to entrench the polluting status quo, and worsen the climate crisis," said Walsh. "Real climate action in the Farm Bill means breaking up factory farms, decoupling conservation programs from the private sector to directly serve the public good, and putting a stop to the Big Ag monopolies trampling our climate for private gain."
Food and Water Watch suggested carbon offsets and markets aim to help businesses and policymakers avoid making "real climate progress."
The alliance also said the Farm Bill must not include public funding for methane digester technology that "perpetuates pollution and contamination and continues abuses in dairy and meat farms," conservation programs that include carbon credits sales and trade, the overuse of pesticides, and policies that encourage farmers to produce as much as possible even as the practice depresses prices and allows "agribusiness companies to buy raw materials at far below cost, while farmers struggle to pay mounting bills."
The groups said they plan to attend congressional briefings and meet with lawmakers to urge them to pass a Farm Bill that:
Respects and uplifts traditional Indigenous knowledge (TIK) in regard to farming and ranching practices;
Broadens opportunities and support for BIPOC farmers and low-income communities to grow their own food;
Invests in and improves existing conservation programs to help transition farmers to more ecologically based agricultural practices and systems;
Broadens opportunities for small and medium-sized farms to access crop insurance and increases safety net funding;
Emphasizes the importance of building biodiverse, healthy soil;
Ensures fair competition and treatment in the agriculture sector to ensure better living wages for all farmers and farmworkers;
Decouples conservation programs from the private sector to directly serve the public good; and
Tightens and enforces antitrust laws to prevent further monopolization and consolidation of the food system.
"This Farm Bill represents the greatest opportunity in a generation to position American agriculture as a solution to the climate crisis," said Jason Davidson, senior food and agriculture campaigner at Friends of the Earth. "But we cannot do this through carbon markets and offsets underpinned by decades of failure, or through more handouts that further entrench Big Ag's stranglehold on our food system. We need Congress to pursue strategies that support farmers in building a truly regenerative, resilient and equitable food system."
News