Support Common Dreams Today
Journalism that is independent, non-profit, ad-free, and 100% reader-supported.
#
Opinion
Climate
Economy
Politics
Rights & Justice
War & Peace
LATEST NEWS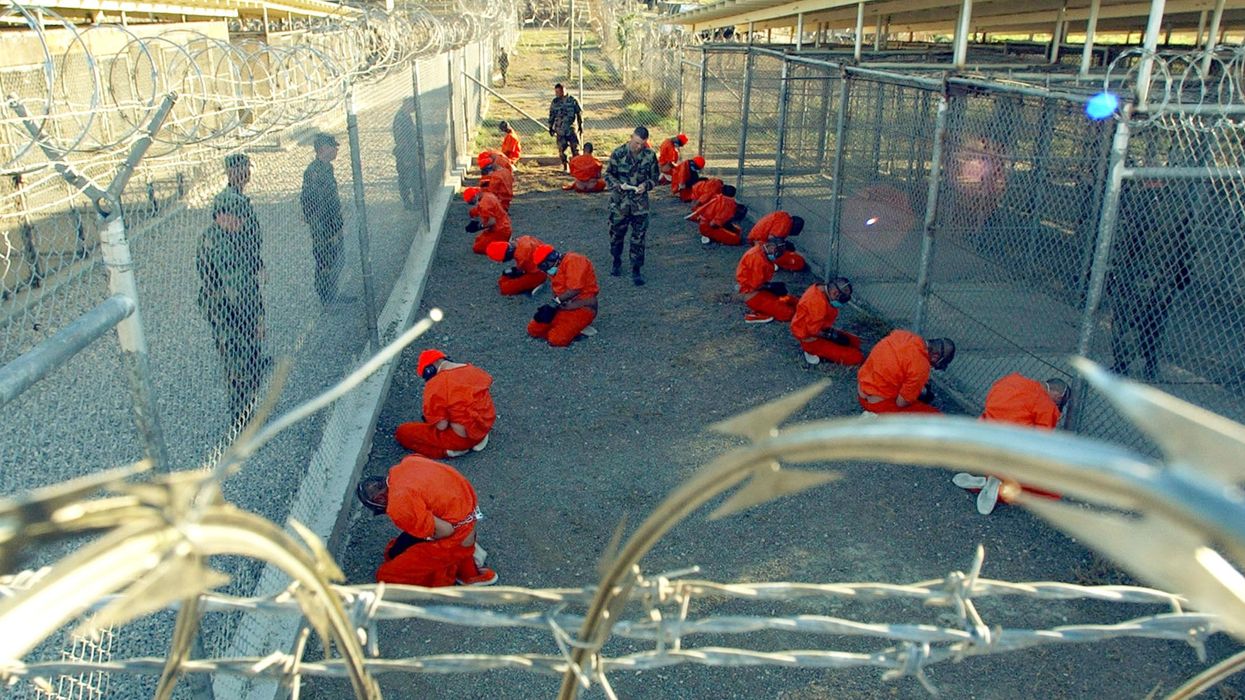 "It's hard to exaggerate the importance of this visit more than two decades since Guantánamo was open to hold detainees beyond the reach of the law," said one ACLU official.
For the first time ever, a United Nations human rights and counterterrorism expert will visit the U.S. military prison at Guantánamo Bay, Cuba, a U.N. office announced Wednesday.
The United Nations Office of the High Commissioner for Human Rights (OHCHR) said Irish attorney and law professor Fionnuala Ní Aoláin—the U.N. special rapporteur on the promotion and protection of human rights and fundamental freedoms while countering terrorism—will visit Guantánamo as part of a "technical visit to the United States" from February 6-14.
In addition to visiting the prison, OHCHR said Ní Aoláin will "carry out a series of interviews with individuals in the United States and abroad, on a voluntary basis," including victims and relatives of those killed in the 9/11 attacks and former Guantánamo detainees in countries where they have been repatriated or resettled.
Human rights advocates welcomed the development.

"We commend the Biden administration for agreeing to let a U.N. human rights expert visit Guantánamo, finally ending a shameful U.S. government moratorium that sought to establish a prison outside the reach of law," Hina Shamsi, director of the ACLU's National Security Project, said in a statement.
\u201cFirst-ever visit by a UN human rights expert to Guantanamo. It\u2019s hard to exaggerate the importance of this visit more than 2 decades since Guantanamo was open to hold detainees beyond the reach of the law. Let\u2019s hope it signals real movement towards ending this shameful atrocity.\u201d

— Jamil Dakwar (@Jamil Dakwar) 1675275471
"International human rights norms and institutions are integral to preventing the torture, indefinite detention, and unfair trials that now symbolize Guantánamo globally," Shamsi added. "It should never have taken two decades, but we're encouraged to see the basic principle of U.N. rights officials' independent access to all sites of detention and detainees respected at long last by our country."
Since it was first opened in January 2002 by the George W. Bush administration in the early months of the so-called War on Terror, Guantánamo, or Gitmo in U.S. military parlance, has imprisoned 779 men and boys. Many of them were tortured, and only a handful were ever charged with any crime. According to retired U.S. Army Col. Lawrence Wilkerson—who served as chief of staff to Bush-era Secretary of State Colin Powell—Bush, along with Dick Cheney, his vice president, and Donald Rumsfeld, the secretary of defense, knew that most Gitmo prisoners were innocent, but kept them locked up for political reasons.
Although then-Presdident Barack Obama—under whom President Joe Biden served as vice president—signed executive orders meant to close Guantánamo and end torture, he was blocked by Congress from implementing the former policy, while torture continued at Gitmo during his tenure.
"International human rights norms and institutions are integral to preventing the torture, indefinite detention, and unfair trials that now symbolize Guantánamo globally."
Hundreds of Guantánamo detainees were released during the Bush and Obama administrations, with a relative handful freed under Biden. Today, 35 men remain locked up at Gitmo. According to the Pentagon, 20 of them are cleared for release while nine—including alleged 9/11 mastermind Khalid Sheikh Mohammed—have ongoing cases before military commissions from which numerous prosecutors have resigned amid allegations of rigging to secure convictions.

September 11th Families for Peaceful Tomorrows, an activist group, said in a statement that it "deeply appreciates the willingness of the special rapporteur's office and the Biden administration to work together to make her visit to Guantánamo possible."
"As 9/11 family members, we remain gravely concerned about the absence of justice within the military commission system," the group added. "We welcome the commitment of the special rapporteur to the human rights of victims of terrorism and we hope that her work can inform a path forward to judicial finality for family members, the accused, and all those affected by 9/11 and its aftermath."
Biden—whose former press secretary said closing Guantánamo is "our goal and our intention"—has been criticized for failing to do so two years into his administration and 21 years after the prison opened.

News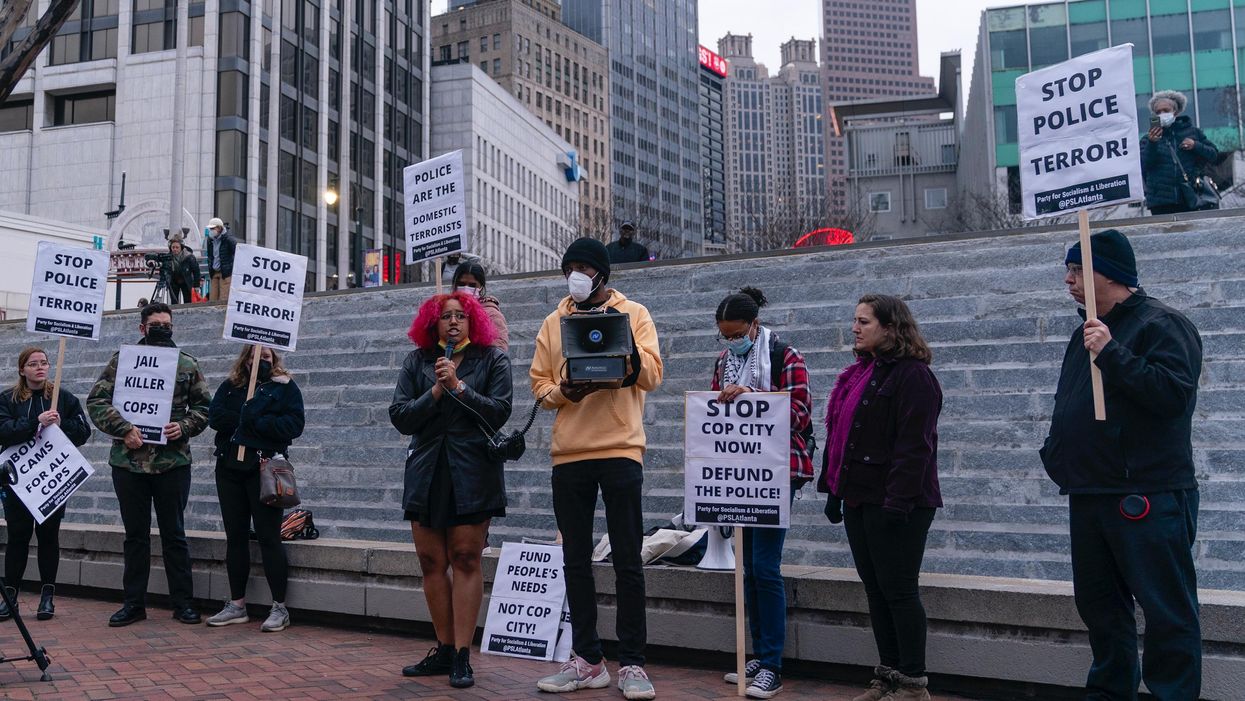 "Power concedes nothing without a demand," said the Atlanta Community Press Collective. "Ours is, 'Cop city must never be built—not here, not anywhere."
As Atlanta Mayor Andre Dickens and DeKalb County CEO Michael Thurmond announced Tuesday that construction of the $90 million, 85-acre police and fire training center known as "Cop City" will proceed under what Dickens called a "compromise," critics of the project had a resounding message: "Defend the Atlanta Forest. Stop Cop City."
Speaking during a Tuesday press conference at Atlanta City Hall, Dickens, a Democrat, outlined changes to the project. Acknowledging "concerns about the environmental impact" of the project, the mayor said a 100-foot tree buffer would be added, and that 100 new hardwood trees would be planted for each one destroyed during construction. Dickens also said the complex's firing range would be moved further away from a nearby residential area.
Dickens also defended the type of police training that would take place at the facility, saying it "includes vital areas like de-escalation training techniques, mental health, community-oriented policing, crisis intervention training, as well as civil rights history and education."
However, activists—many of whom protested inside and outside City Hall chanting slogans including "APD, shut it down," referencing the Atlanta Police Department, and "Cop City will never be built"—were not swayed in their opposition to the project.
"Our firm line is no Cop City anywhere," Jasmine Burnett, organizing director at Community Movement Builders, told Unicorn Riot outside City Hall. "No destruction of the forest at all. I know, they're trying to harp on the fact that it's only 85 acres. And allegedly, the rest will be left for public use. But that's 85 acres too much."

\u201cRIGHT NOW: Protesters outside City Hall ahead of an announcement of amended plans to move forward with the future site of the Atlanta public safety training center\u201d

— Joe Ripley (@Joe Ripley) 1675185881
"We are also calling for the charges to be dropped against all of the protesters who've been charged with any crimes, but especially the domestic terrorism charges," Burnett added, referring to the 19 nonviolent protesters facing prosecution under a 2017 Georgia law that expanded the definition of "domestic terrorism" to include certain property crimes.
Over the objections of environmental, racial justice, Indigenous, and other groups, the Atlanta Police Foundation (APF)—a private organization whose backers include major corporations like Amazon, Home Depot, Wells Fargo, JPMorgan Chase, and UPS—was given permission in 2021 to build what's officially called the Atlanta Public Safety Training Center in the Weelaunee Forest in DeKalb County just outside Atlanta city limits. Cop City would be built on land stolen from the Muscogee people, many of whom were forced westward during the genocidal Trail of Tears period.
Last month, militarized police shot and killed Manuel Esteban Paez Terán, a 26-year-old protester also known as "Tortuguita" who allegedly opened fire on them, during a raid to violently clear forest defenders from the site. While a few federal lawmakers have called for an independent probe, Georgia Democrats including U.S. Sens. Raphael Warnock and Jon Ossoff and former gubernatorial candidate Stacey Abrams have said little to nothing about the killing, or about Cop City in general.

Also protesting outside City Hall on Tuesday, community organizer Micah Herskind said: "How dare they stand in front of people and say, 'Oh, this plan, where we're tearing down trees, is actually good for people, and it's good for the economy, and it's—you know, it's actually going to protect people?' It's obviously false, and I hope that it's reported as such, because it's such classic, blatant spin, that they're taking us for fools if they think anyone would believe that tearing down trees and putting cement over it is protecting the environment. That's outrageous."
\u201cThere is no compromise between the movement and the government. \n\nThe fact that they feel the need to say there is shows that we are winning.\n\nNo more backroom deals. No more empty promises.\n\nNo Cop City.\nNo land-swap.\nNo more repression.\n\nWe are close. Keep fighting.\u201d

— Defend the Atlanta Forest (@Defend the Atlanta Forest) 1675190179
In a statement, the Atlanta Community Press Collective said that "like all other points of 'compromise,' this has proved empty rhetoric to cover over the undemocratic railroading of this project on to unrepresented, disenfranchised residents of Atlanta and DeKalb County. This is more backroom talk between powerful elites and their dark money contributors."
"Now, the city, DeKalb County, the APF, the funders and builders of Cop City collectively have blood on their hands, and it seems they are willing to get bloodier: These are the people in power goose-stepping us to climate apocalypse," the collective continued. "Police continue to kill at higher and higher rates. In 2022, more people in the U.S. were killed than in any other year on record. The police and their corporate and political backers have used lies, misinformation, and distorted half-truths at every step of this process. Why should we believe a word they say?"
"Power concedes nothing without a demand," the authors asserted. "Ours is: 'Cop city must never be built—not here, not anywhere. Not one blade of grass! Not one tree! Free the prisoners, drop the charges!'"
"The fight continues. The movement to stop Cop City is only growing," they added. "On February 19-26 we are calling for a Week of Solidarity to Stop Cop City, with protests throughout the U.S .and around the world."
News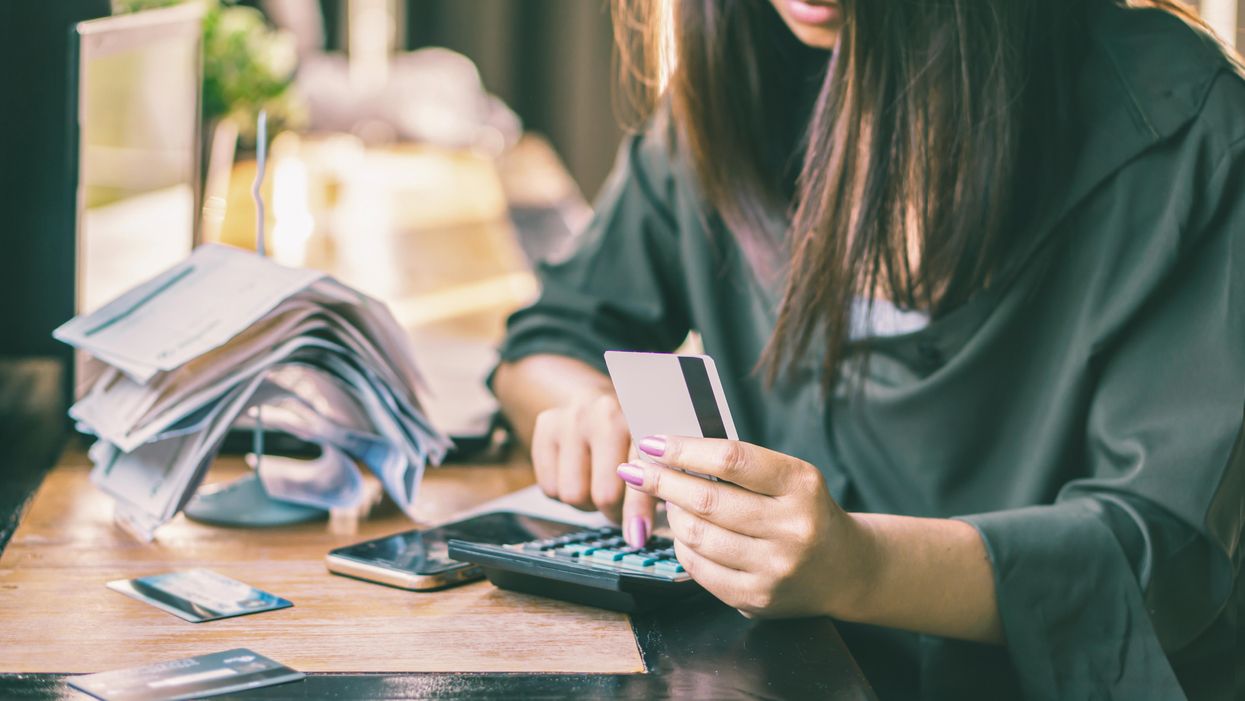 One advocate said the proposal "proves that the bullying behavior of companies who abuse Americans for their own profit will not stand from the CFPB."
The Biden administration on Wednesday was widely praised for unveiling proposed regulatory changes that could save American families up to $9 billion a year by cracking down on unfair credit card late fees from U.S. banks.
"Over a decade ago, Congress banned excessive credit card late fees, but companies have exploited a regulatory loophole that has allowed them to escape scrutiny for charging an otherwise illegal junk fee," said Consumer Financial Protection Bureau (CFPB) Director Rohit Chopra. "Today's proposed rule seeks to save families billions of dollars and ensure the credit card market is fair and competitive."
The CFPB proposed amending regulations related to the Credit Card Accountability Responsibility and Disclosure (CARD) Act to ensure that late fees—now as high as $41—are "reasonable and proportional" to the costs incurred by companies. The rule would limit most late fees to $8, ban fees greater than 25% of the required payment, and end automatic annual inflation adjustments.
"Regulations seldom deliver such concrete benefits to consumers as the plan that the CFPB has set in motion today."
Like Chopra, Liz Zelnick, director of economic security and corporate power at Accountable.US, highlighted that "despite Congress' ban on excessive late fees, the Federal Reserve's loophole has allowed greedy credit card companies to collect exorbitant charges that were designed to profit from consumers living paycheck-to-paycheck."
"The CFPB's crackdown on these exploitative charges will redirect billions from the pockets of big banks to consumers' wallets and our economy," she said. "Today's rule proposal proves that the bullying behavior of companies who abuse Americans for their own profit will not stand from the CFPB."
Elyse Hicks, consumer policy counsel at Americans for Financial Reform, pointed out that "regulations seldom deliver such concrete benefits to consumers as the plan that the CFPB has set in motion today."
"This agenda, created after the financial crisis in 2008, is as relevant as ever, looking out for Americans' financial interests, and keeping an eye on the big banks and predatory lenders who would rip them off," Hicks added.
The proposal comes as the Fed on Wednesday is expected to yet again raise the interest rate for interbank lending, despite repeated warnings from progressive economists and advocates about the negative impacts for working people. The U.S. central bank's federal funds rate influences the interest rates used by credit card companies.

\u201cExcellent work by @CFPB! This proposal to end excessive #creditcard #latefees could save consumers $9 billion if adopted. It will have a \ud835\udc2b\ud835\udc1e\ud835\udc1a\ud835\udc25, \ud835\udc26\ud835\udc1e\ud835\udc1a\ud835\udc27\ud835\udc22\ud835\udc27\ud835\udc20\ud835\udc1f\ud835\udc2e\ud835\udc25 impact on the lives of everyday consumers. This is what it means to #ProtectConsumers! #DefendCFPB\u201d

— NCLC (@NCLC) 1675266399
The CFBP's announcement also coincided with a Presidential Competition Council meeting. National Economic Council Director Brian Deese told reporters Tuesday that Biden would use the Wednesday meeting to urge Congress to pass legislation targeting "junk" fees from airlines, online event ticketing services, resorts, and internet, phone, and television providers.
"These fees can be incredibly frustrating for typical Americans who have to travel or who are seeking to just engage in practical ways in our economy, like accessing internet services—they cost consumers billions of dollars a year, they make it harder for people to comparison shop," Deese said during a press call, according to CNN. "But they also reduce competition and make it more difficult for innovators and new businesses to break into markets and offer better services at lower prices."
Applauding Biden's moves, Sen. John Fetterman (D-Pa.) said Wednesday that "the hidden fees attached to airline, concert, hotel, and telephone or internet bills are obscene... It's time for companies to stop hiding their real prices, and start being honest with their consumers."
Sen. Elizabeth Warren (D-Mass.) similarly praised the administration's "efforts to protect consumers," declaring that "Congress should follow President Biden's lead and crack down on junk fees on tickets, airfare, internet, hotels, and more."
Warren also celebrated the credit card fee proposal from the CFPB—her brainchild—calling the rule "terrific news."
News
Feb 01 2023 · 05:16pm EDT
SUPPORT OUR WORK.
We are independent, non-profit, advertising-free and 100%
reader supported.