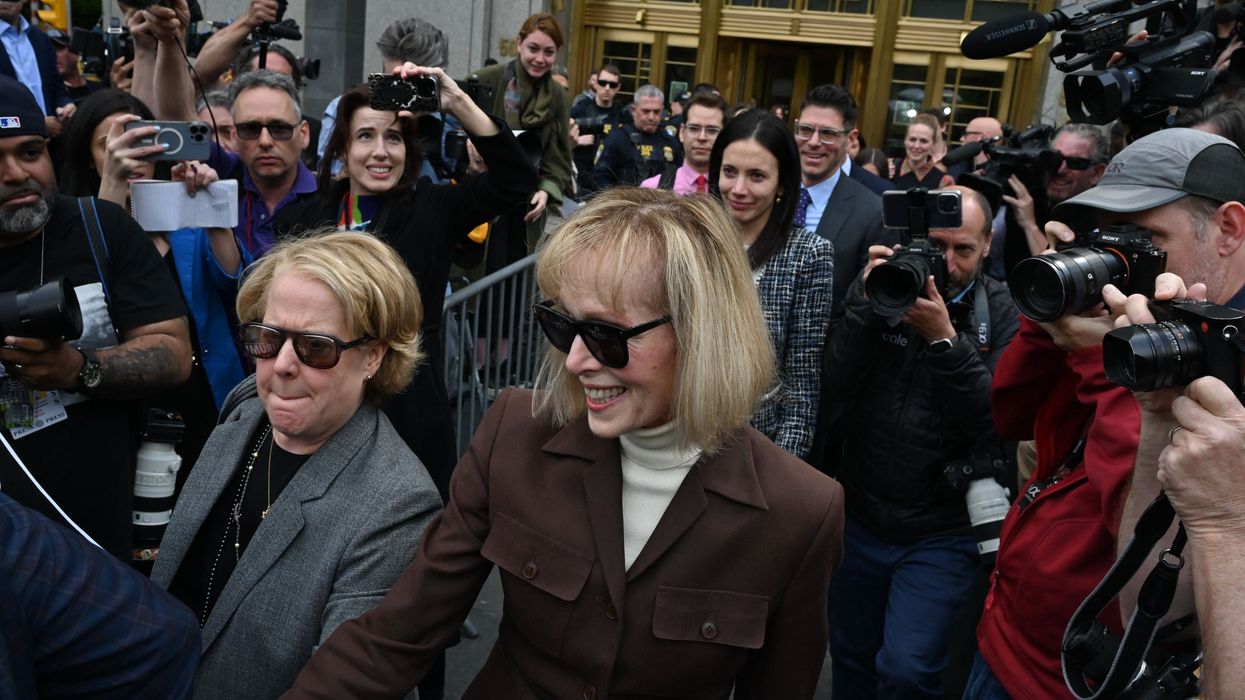 One prominent trial attorney called on New York lawmakers to "extend the CRIMINAL statute of limitations for sex crimes so Trump can be criminally prosecuted for the sexual abuse that this civil jury found Trump committed."

A civil jury in New York City on Tuesday found former U.S. President Donald Trump civilly liable for sexual abusing and defaming—but not raping—journalist E. Jean Carroll and awarded her $5 million in damages.
After two weeks of testimony and just under three hours of deliberation, the six-man, three-woman jury awarded Carroll $2 million in compensatory damages and $20,000 in punitive damages for sexual battery, and $1 million in compensatory damages, $1.7 million for reputational repair, and $280,000 in punitive damages for defamation.
Carroll alleged that Trump—a 2024 Republican presidential candidate—raped her in a dressing room of the Bergdorf Goodman department store in Midtown Manhattan in 1996 and then defamed her when he denied the accusation.
In denying the assault, Trump claimed to never have met Carroll, whom he called "mentally sick" and a "whack job" who is "not my type" in "any way, shape, or form."
The Associated Pressreports:
The trial revisited the lightning-rod topic of Trump's conduct toward women.

Carroll gave multiple days of frank, occasionally emotional testimony, buttressed by two friends who told jurors she reported the alleged attack to them in the moments and day afterward.

Jurors also heard from Jessica Leeds, a former stockbroker who testified that Trump abruptly groped her against her will on an airplane in the 1970s, and from Natasha Stoynoff, a writer who said Trump forcibly kissed her against her will while she was interviewing him for a 2005 article.
Carroll smiled as the verdict was read and as she walked out of the Manhattan Federal Courthouse on Tuesday.

Trump—who did not appear at the trial—wrote on his Truth social media platform: "I HAVE ABSOLUTELY NO IDEA WHO THIS WOMAN IS. THIS VERDICT IS A DISGRACE—A CONTINUATION OF THE GREATEST WITCH HUNT OF ALL TIME!"
Joe Tacopina, Trump's attorney, called the verdict "strange" and vowed to appeal.
"Obviously, [Trump is] firm in his belief, as many people are, that he cannot get a fair trial in New York City based on the jury pool, and I think one could argue that's probably an accurate assessment based on what happened today," Tacopina said during a press conference outside the courthouse.
More than two dozen women and a 13-year-old girl have accused Trump of sexual misconduct, including rape and assault.
One month before the 2016 presidential election, a 2005 recording of Trump telling "Access Hollywood" host Billy Bush that "when you're a star," women let you "do anything" to them," including "grab 'em by the pussy" surfaced.
Asked during deposition by Carroll's lawyers if he believes the premise of his "Access Hollywood" comments—that powerful men could sexually assault women with impunity—is true, Trump said: "If you look over the last million years, I guess that's been largely true. Not always, but largely true. Unfortunately or fortunately."

Trial attorney Lisa Bloom called on the New York Legislature to "extend the CRIMINAL statute of limitations for sex crimes so Trump can be criminally prosecuted for the sexual abuse that this civil jury found Trump committed."
Last May, Democratic New York Gov. Kathy Hochul signed the Adult Survivors Act, allowing survivors of sexual assault that occurred when they were older than 18 to sue their abusers—regardless of when the abuse occurred—during a one-year period.

Tuesday's verdict comes just over a month after Trump pleaded not guilty to 34 felony counts involving alleged hush money payments during the 2016 election in bids to cover up sex scandals, including $130,000 given to porn star Stormy Daniels and $30,000 payment to a former Trump Tower doorman who claimed to have a story about a child Trump had out of wedlock.
Rights defenders welcomed the jury's verdict.
"We are grateful to E. Jean Carroll for sharing her truth. We are in solidarity with her and survivors of sexual violence," UltraViolet tweeted.
"We know that sexual violence and rape culture is all around us, often perpetuated or carried out by those in positions of power. E. Jean Carroll is one of over 20 women who have come forward with stories of sexual assault by Donald Trump," the group added.
UltraViolet called on CNN to cancel a planned Trump town hall.
"When media outlets like CNN give Trump a platform, they do a disservice to all their viewers," the group wrote. "Contrary to the network's excuses, hosting a town hall with Trump isn't about hearing 'both sides.' It's a brazen ploy to seize ratings."

News