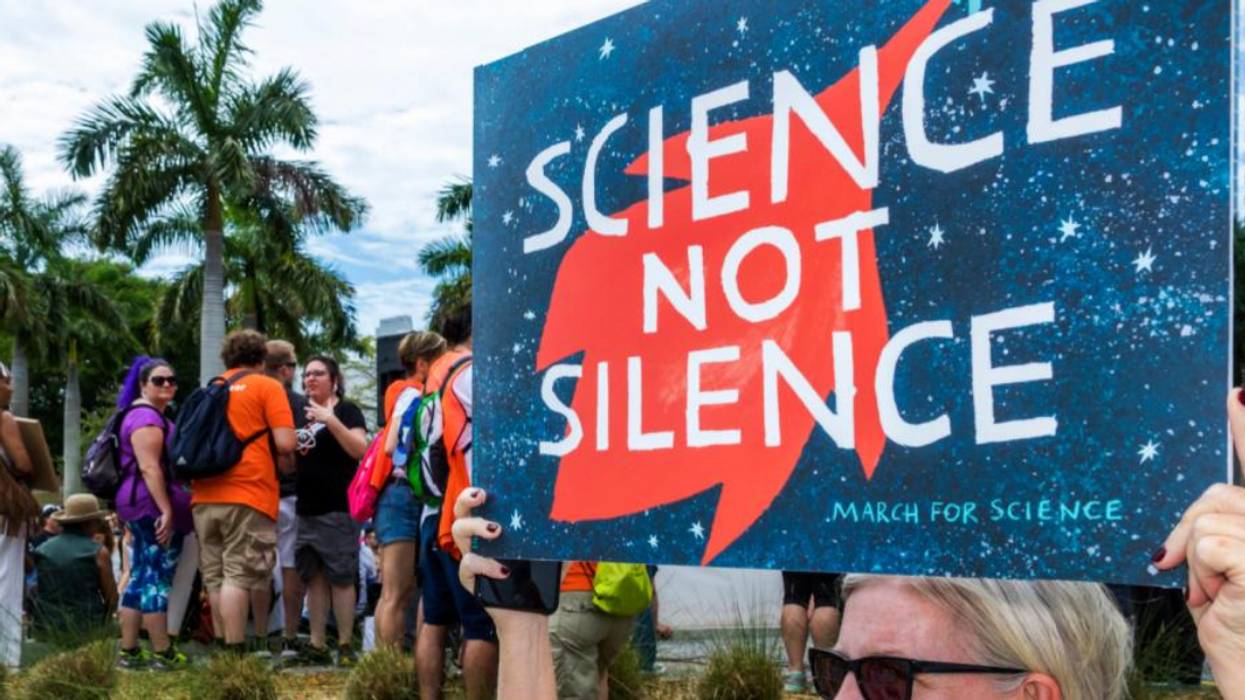 There is good reason to fear that a new Biden administration policy will create a broad chilling effect on scientific work involving hot button topics, such as birth control, climate change, and fetal tissue research. We must do better.
Laurance J. Peter, author of the "Peter Principle" that theorized in any hierarchy every employee tends to rise to his or her level of incompetence, once remarked that "Bureaucracy defends the status quo long past the time when the quo has lost its status." This ingrained institutional resistance to change often induces bureaucracies to seek to suppress facts that challenge underlying assumptions of the current political agenda.
So, it was distressing to see the Biden White House issue a "Model Scientific Integrity Policy" earlier this year containing a provision that would forbid any federal from scientist "making or publishing" any statements "that could be construed as being judgments of, or recommendations on," any federal policy without permission. It was doubly ironic that this new prohibition is contained in the section that purports to promote transparency and the "free flow of scientific information."
This provision was based upon a similar bar contained within the U.S. Department of Agriculture's scientific integrity policy adopted in 2014. USDA's is the only federal scientific integrity policy with such a prohibition.
USDA has used this provision mainly to assuage concerns expressed by agrochemical companies and other "stakeholders." In this regard, this provision has been invoked to order a staff entomologist to remove his name from a peer-reviewed journal article on how monoculture farming reduces diversity in insect populations, thus limiting beneficial pollinators. That same provision was also cited as the basis for barring a scientist from speaking at a conference about the effects on pollinators from genetically modified crops and the insecticides used to treat them. That scientist later resigned in frustration after concluding that groundbreaking research would be impossible to pursue inside USDA.
Unfortunately, the early indications are that with White House support, other agencies will adopt this gag order in their scientific integrity policies. This summer, the Department of Health & Human Services proposed to add this prohibition in its policy. It is now in its final stage of approval, meaning that it may soon apply across the entire $1.7 trillion HHS, its 12 divisions, and nine separate public health agencies, including the Centers for Disease Control & Prevention (CDC), National Institutes of Health, and Food & Drug Administration. Altogether, these agencies have roughly 78,000 employees, most of whom perform scientific or technical work that would be covered by the new policy.
There is good reason to fear that this new policy will create a broad chilling effect on scientific work involving hot button topics, such as birth control, climate change, and fetal tissue research. For example, a far more limited Congressional ban on the use of research funds "to advocate or promote gun control" caused the CDC to cease all gun violence research for more than 20 years until that legislative language, called the Dickey Amendment, was finally narrowed in 2019. Applying a broad prohibition on anything that "could be construed as" a comment or recommendation on any federal policy in all research at HHS would be tantamount to putting the Dickey Amendment on steroids.
It is especially galling that a ban on discussing the implications of research is part of a scientific integrity policy.
The further irony is that the Biden directive driving the revision of all federal scientific integrity policies was motivated by the censorship and suppression of science that occurred during the Trump years, during which the current scientific integrity policies inaugurated under President Obama proved useless. It does not take much imagination to envision how this Biden-sponsored language could be weaponized during a DeSantis or second Trump presidency.
Rather than serving any explicit political agenda from the White House or HHS Secretary Xavier Becerra, this provision appears to be the product of mid-level bureaucrats seeking to maintain some control of the clearance process for research publications. Under the guise of scientific integrity, the bureaucratic need to control information appears to have prevailed in the construction of a new generation of federal policies.
It is especially galling that a ban on discussing the implications of research is part of a scientific integrity policy. Scientific research with policy implications is often most at risk of suppression or political manipulation – and thus in greater need of protection rather than condemnation.
Nonetheless, this prohibition on statements that could be perceived as a comment or recommendation on any federal policy may spread across a score of agencies that are now in the process of revising their scientific integrity policies. It is easily foreseeable that this provision could be used to punish scientists or stifle research deemed controversial, such as –
U.S. Environmental Protection Agency research showing that toxic PFAS "forever chemicals" or other pollutants are penetrating our food chain due to inadequate regulatory or enforcement policies;
Research showing that dangerous viruses and other pathogens are at risk of release from U.S. Geological Survey wildlife research laboratories due to the absence of independent biosafety reviews; or
Studies showing that water quality degradation and desertification are increasing across Western rangelands due to overgrazing on Bureau of Land Management livestock allotments.
On top of everything else, such a prohibition is patently unconstitutional as applied to government scientists speaking or writing as private citizens, since the public interest in the issue would almost always outweigh any potential disruption of efficient government operations.
Even if expressing these views is legally protected, government scientists should not need to cast a profile in courage to discuss the implications of their research openly. Federal bureaucracies do not need more opportunities to quash controversial findings or dissenting views. The Biden White House should pull the plug on this ill-considered restriction.
Opinion