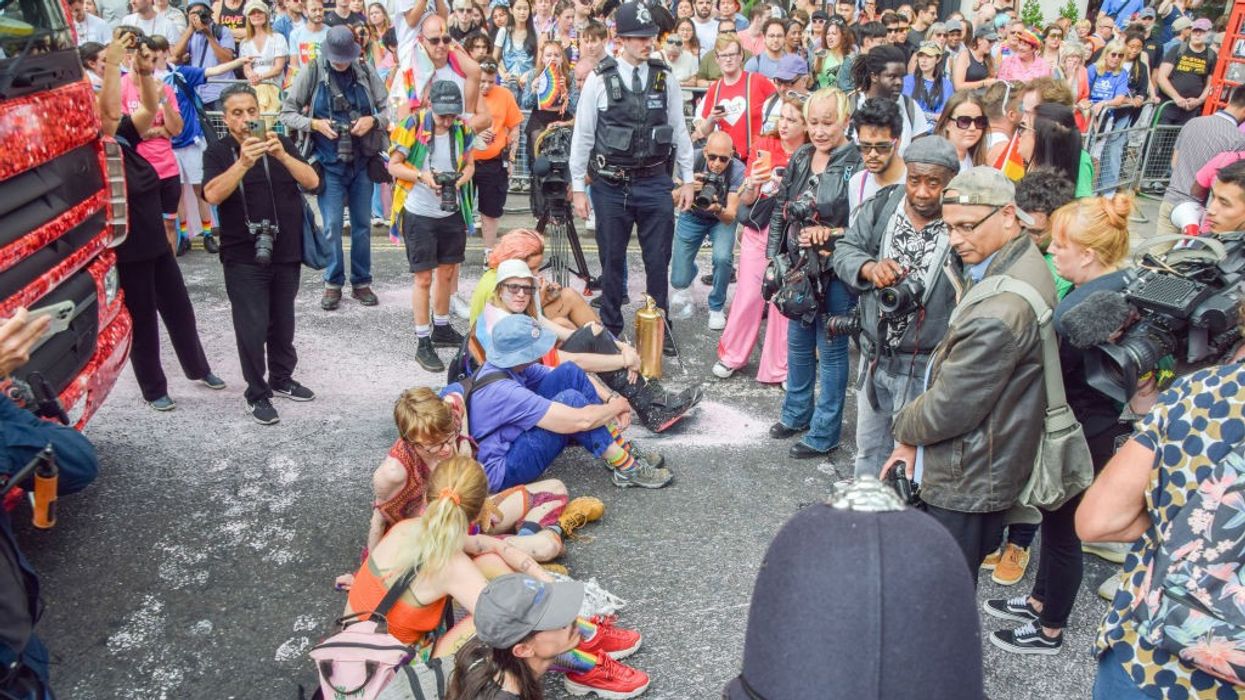 'These partnerships embarrass the LGBTQ+ community at a time when much of the cultural world is rejecting ties to these toxic industries'

Just Stop Oil protesters temporarily blocked London's Pride Parade Saturday afternoon to protest the event accepting sponsorship money from "high-polluting industries."
Pride faced accusations of "pinkwashing" over its decision to make United Airlines the headline sponsor of this year's event.
Seven protesters were arrested at 1:30 pm after blocking the road in front of a Coca-Cola truck. Coca-Cola is seen as the world's biggest plastic polluter.
LGBTQ+ members of Just Stop Oil called on organizers to condemn new oil, gas, and coal licenses and stop allowing the inclusion of floats from these corporations in the parade.
James Skeet, a Just Stop Oil spokesperson, said in a statement:
"Pride was born from protest. It speaks to how far we've come as a community, that high-polluting industries and the banks that fund them, now see Pride as a useful vehicle for sanitizing their reputations, waving rainbow flags in one hand whilst accelerating social collapse with the other. It is queer people, and particularly queer people of color in the global south, who are suffering first in this accelerating social breakdown. What would those who instigated the gay liberation movement during the Stonewall riots in 1969, make of the corporatized spectacle Pride has now become?"
"These partnerships embarrass the LGBTQ+ community, at a time when much of the cultural world is rejecting ties to these toxic industries. We call on Pride to remember the spirit in which it was founded and to respect the memory of all those who fought and died to secure the rights we now possess whilst taking the necessary steps to protect our community long into the future."
London Mayor Sadiq Khan speaking before the parade said:
"I agree with protesting in a way that is lawful, safe, and peaceful. I think that Extinction Rebellion and Just Stop Oil are really important pressure groups trying to put power on those who have power and influence."
"I fully support the right to protest. It's really important to recognize the joy of democracy is protest."
"I am somebody who feels quite passionately that we have to tackle the climate emergency. And I feel quite passionately about encouraging people to join the movement to tackle the climate emergency. In my view, protest should be peaceful, lawful, and safe."
Peter Tatchell, the legendary LGBTQ+ rights campaigner, and prominent member of the Gay Liberation Front and the civil resistance group OutRage! Said:
"I helped organize the first Pride in the UK in 1972 and have attended every Pride London march since then. Pride was always meant to be both a celebration and a protest. From the outset, we stood in solidarity with other struggles for freedom and social justice, against corporate pinkwashing and all forms of exploitation. We saw queer liberation as just one aspect of a wider liberation movement."
"Climate destruction is destroying communities, jobs, homes and lives across the world, especially in poorer countries. Fossil fuels are endangering the survival of humanity – including LGBTQ+ people. Our community must not collude with environment, species and climate destroying companies."
News