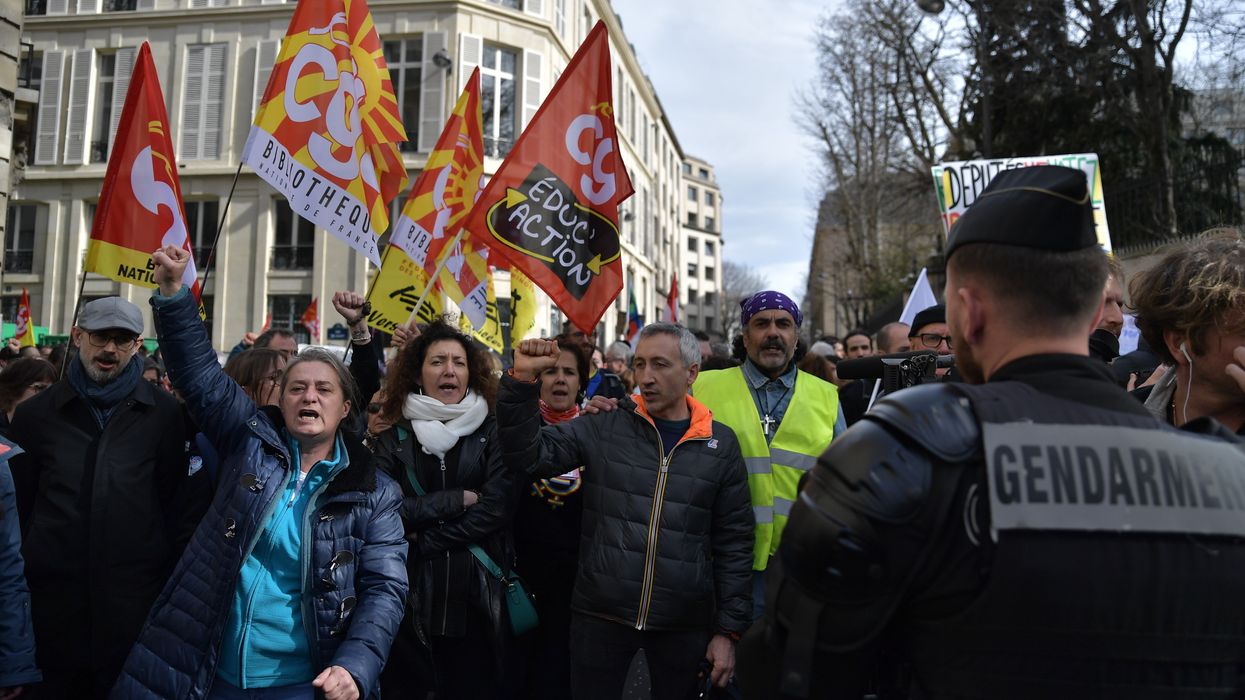 "What the government is doing makes people sick of politics. It should improve people's lives, not destroy them," said Rachel Keke, a leftist in France's National Assembly.
Amid protests against French President Emmanuel Macron's unpopular plan to overhaul the country's pension system, his government on Thursday chose the "nuclear option," opting to use a constitutional procedure to force through reforms, including raising the retirement age from 62 to 64, without a vote in the lower house of Parliament.
While the proposal passed the Senate, the upper chamber of Parliament, 193-114 Thursday morning, "reports indicated that the ruling party, which lost its overall majority in elections last year, was a handful of votes short" in the National Assembly, which led to an emergency Council of Ministers meeting about triggering Article 49.3, Le Mondeexplained.

After announcing the government was invoking executive privilege, French Prime Minister Élisabeth Borne "faced scenes of anger and unrest in the National Assembly," reportedPolitico. "Far-left lawmakers belonging to the France Unbowed party booed and chanted the national hymn the Marseillaiseas far-right National Rally MPs shouted 'Resign! Resign!'"
Using the controversial procedure to push through the plan is risky for Macron—founder of the Renaissance party—because it allows members of Parliament "to submit motions of no-confidence within 24 hours," Politico added. "While the government has survived motions of no-confidence in recent months, the stakes are much higher this time around. If a majority of MPs vote in favor of a motion, Borne's government would be forced to resign."
While multiple opposition groups in Parliament may respond with no-confidence motions, Marine Le Pen's far-right National Rally party has already pledged to do so.
"It's a total failure for the government," Le Pen told reporters of the Article 49.3 decision, calling for Borne's resignation. "From the beginning, the government fooled itself into thinking it had a majority."
Socialist Party chief Olivier Faure also criticized the approach, saying that "when a president has no majority in the country, no majority in the National Assembly, he must withdraw his bill."
Fabien Roussel, head of the French Communist Party, declared that "this government is not worthy of our Fifth Republic, of French democracy. Until the very end, Parliament has been ridiculed, humiliated."
MP Rachel Keke of the leftist party La France Insoumise stressed that "what the government is doing makes people sick of politics. It should improve people's lives, not destroy them."
Former French presidential candidate and MP Jean-Luc Mélenchon, who launched La France Insoumise, tweeted: "It is a spectacular failure and a collapse of the presidential minority. United unions call for continued action. This is what we are going to focus on."
French trade unions have led national demonstrations and strikes against the overhaul since January. While protesters were oscillating "between rage and resignation" earlier this week, they filled the streets of Paris on Thursday, and "the leader of the CFDT labor union, Laurent Berger, announced there would be new protest dates," according to Le Monde.
The General Confederation of Labor (CGT) said in a statement that "this reform is unfair, unjustified, and unjustifiable, this is what millions of people have been asserting forcefully for weeks in the demonstrations, with the strike, and in all the initiatives. These massive mobilizations are supported by a very large majority of the population and almost all workers."
"The only response from the government and employers is repression: requisitions, police interventions on workplace occupations, arrests, intimidation, questioning of the right to strike," the confederation added. "We won't let it happen! What the CGT denounced as unfair yesterday is even more so today! This can only encourage us to step up mobilizations and strikes, the fight continues!"
News