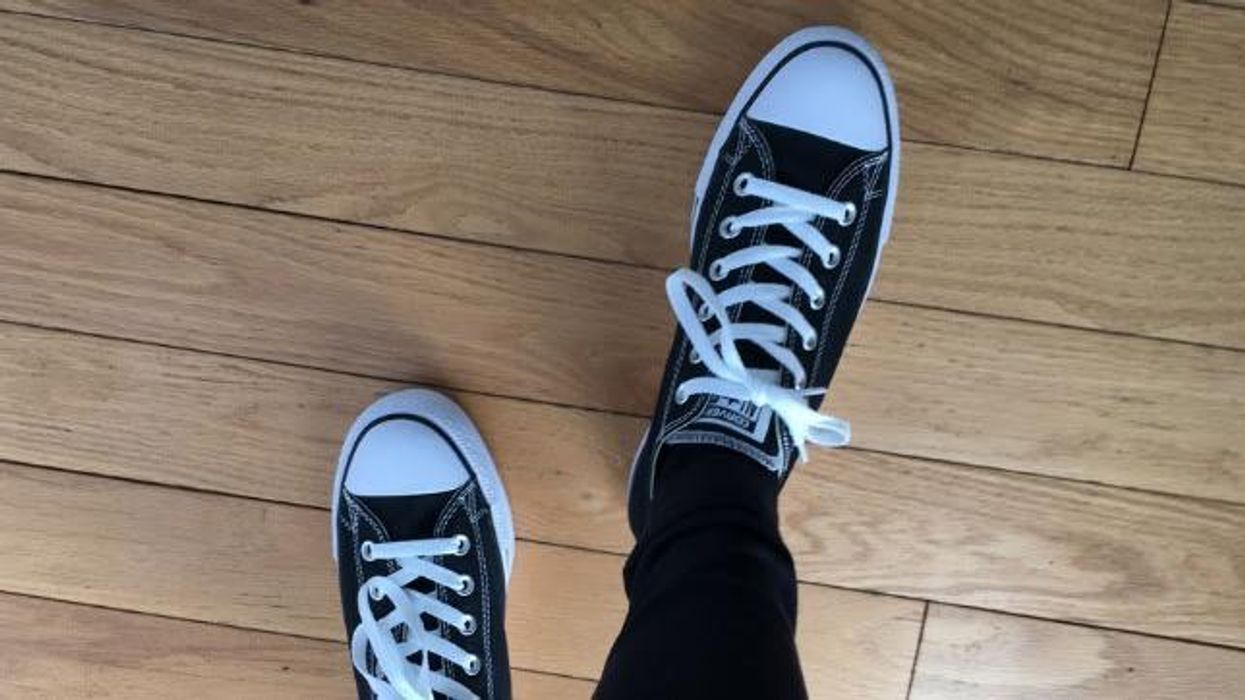 Army whistleblower's release celebrated as "a victory for human rights and the future of freedom of expression"
"Today is a great day!"
That's the message from supporters of U.S. Army whistleblower Chelsea Manning, who on Wednesday, after seven years in military prison, is a free woman.
"After another anxious four months of waiting, the day has finally arrived," Manning said in a statement upon her release: "I am looking forward to so much! Whatever is ahead of me is far more important than the past. I'm figuring things out right now--which is exciting, awkward, fun, and all new for me," she said.
She also posted a photo to social media marking her "First steps of freedom!! :
\u201cFirst steps of freedom!! \ud83d\ude04\n\nhttps://t.co/kPPWV5epwa\n\n#ChelseaIsFree\u201d

— Chelsea E. Manning (@Chelsea E. Manning) 1495029059
The 29-year-old U.S. Army whistleblower's 35-year sentence was commuted by President Barack Obama just days before he left office, and after years of grassroots campaigns to secure her freedom.
Indeed, her release is not only "a victory for human rights and the future of freedom of expression," but "a testament to the power of grassroots organizing. If not for the hundreds of thousands of people from across the political spectrum who spoke up, rose up, and fought for Chelsea's freedom, I firmly believe that she would not be with us today," declared Evan Greer, campaign director of Fight for the Future.
Among those who'd worked for her freedom is Manning's attorney at the ACLU, Chase Strangio. Drawing attention to the cruelty she faced during her imprisonment, Strangio wrote this week that
Chelsea Manning almost died on our watch. She suffered at the hands of our government, and the toll of her incarceration nearly killed her. But she survived. Through long stretches of solitary confinement, the systemic denial of healthcare, relentless abuse, and a lifetime of consequences, she will have a chance to live.
Thatcruelty is despite the fact that she merely helped "to expose some of the U.S. government's worst abuses by making public thousands of military documents," wrote Greer, whose organization spearheaded many of the campaigns to free Manning. (As another observer put it, Manning committed "the crime of revealing crimes no one's ever going to prison for.")
Glenn Greenwald points out at The Intercept:
It is genuinely hard to overstate the significance of those revelations: aside from some of the most visceral footage of indiscriminate slaughter by the U.S. military seen in decades, even harsh WikiLeaks skeptics such as New York Times' Executive Editor Bill Keller credited the leaks with helping to spark the Arab Spring. Even more significantly, revelations about how the U.S. military executed Iraqi civilians, then called in a bombing raid on the home to cover-up what they did, prevented the Iraqi Government from granting the Obama administration the troop immunity it was seeking in order to extend the war in Iraq.
"But as courageous as that original whistle-blowing was," Greenwald continues,
Manning's heroism has only multiplied since then, become more multi-faceted and consequential. As a result, she has inspired countless people around the world. At this point, one could almost say that her 2010 leaking to WikiLeaks has faded in the background when assessing her true impact as a human being. Her bravery and sense of conviction wasn't a one-time outburst: it was the sustained basis for her last seven years of imprisonment that she somehow filled with purpose, dignity, and inspiration.
As such, "Chelsea's treatment is especially galling given that nobody has been held accountable for the alleged crimes that she brought to light," states Margaret Huang, executive director of Amnesty International USA.
Given Manning's contribution to the public good, Greer, who is also a singer/songwriter, organized a benefit digital album--Hugs for Chelsea--to support the whistleblower's transition to life out of prison. The compilation includes songs from over 30 artists including Graham Nash, Thurston Moore, Tom Morello, and Against Me!. One hundred percent of the proceeds will go to Manning.
\u201cWe've already raised $3,000 for Chelsea Manning with this benefit comp. 100% of the proceeds go directly to her. https://t.co/OHJdeL3uib\u201d

— Evan Greer is on Mastodon (@Evan Greer is on Mastodon) 1495032718
Greer and Strangio also teamed up to create a GoFundMe page called "Chelsea Manning Welcome Home Fund" so that people "have a chance to show our appreciation for all that she has given us."
"For the first time in her life, Chelsea will have the opportunity to live freely as her authentic self, to grow her hair, engage with her friends, and build her own networks of love and support. We want her to have the tools to do that and to overcome the years of abuse she has experience in custody," the page states. As of this writing, it has raised over $154,000, surpassing its $150k goal.
While Manning's supporters celebrated her release and inspiring message "that people power can triumph over injustice," many also drew attention to the ongoing dangers whistleblowers face and widespread mistreatment of those held by the incarceration system.
According to Max Anderson, coordinator at Human Rights Watch's general counsel's office, "Manning's story should serve as a wakeup call for governments to reform whistleblower protections and fulfill their human rights obligations toward incarcerated transgendered people.
Added Amnesty's Huang: "While we celebrate her freedom, we will continue to call for an independent investigation into the potential human rights violations she exposed, and for protections to be put in place to ensure whistleblowers like Chelsea are never again subjected to such appalling treatment."
News