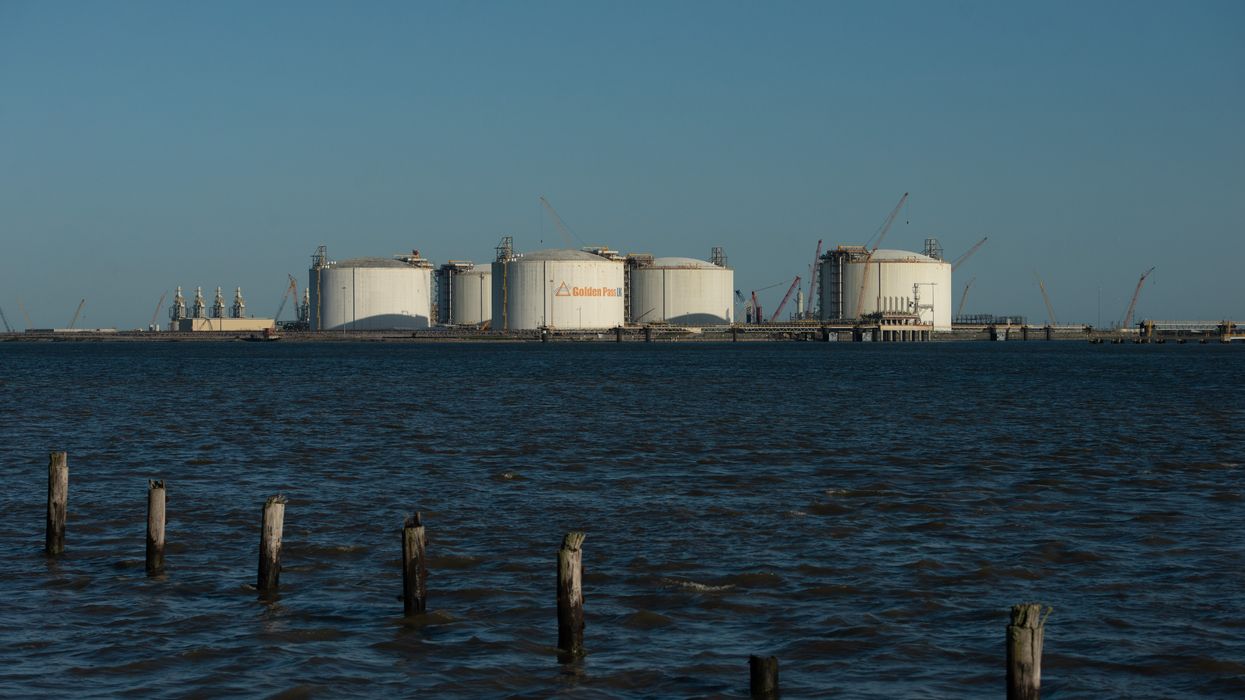 "Our research shows that gas producers and LNG exporters cannot be trusted to clean up their methane emissions," said Oil Change International's research co-director.
Methane, a potent greenhouse gas with more than 80 times the warming power of carbon dioxide during its first two decades in the atmosphere, is to blame for roughly 30% of the rise in global temperatures since the Industrial Revolution, according to the International Energy Agency.
The European Parliament's environment and industry committees on Wednesday backed legislation aimed at cutting methane emissions.
As Reutersreported:
The committees said the E.U. should require oil and gas companies to check their above-ground infrastructure every two to four months, and repair any methane leaks they discover.

From 2026, the lawmakers said importers of oil and gas into Europe must prove that the overseas suppliers of those fossil fuels do the same.

Given the difficulty of procuring that proof, importers who made "all reasonable endeavors" to get the information, but failed, may be exempted from penalties for failing to comply with the E.U. law.
German MEP Jutta Paulus of the Greens/European Free Alliance parliamentary group warned after Wednesday's vote that "without ambitious measures to reduce methane emissions, Europe will miss its climate targets and valuable energy will continue to be wasted."
"We call for ambitious and stringent methane reduction measures," Paulus added. "In the energy sector, three-quarters of methane emissions can be avoided by simple measures and without large investments. As Europe imports more than 80% of the fossil fuels it burns, [it] is essential to expand the scope of these rules to energy imports."
\u201cMethane emissions\n\nTo reach EU climate goals and improve air quality, MEPs in @ep_environment & @ep_industry today adopted their position on reducing methane emissions in the energy sector with \u2b06\ufe0f114\u2b07\ufe0f150\u20e33\n\nPress release with quote by @JuttaPaulusRLP \u2935\ufe0f\nhttps://t.co/R84jmEHWWZ\u201d

— ENVI Committee Press (@ENVI Committee Press) 1682513836
After a planned vote by the full European Parliament next month, the body and bloc members "will negotiate the final methane law," Reuters explained. "E.U. countries want weaker rules for European companies, and only a few—including Germany and Poland—have said they would be willing to extend the E.U. rules to cover fossil fuel imports."
The United States is the world's top producer of natural gas—and as the green groups' letter to MEPs notes, last year, the European Union "was the primary destination" for U.S. exports of liquefied natural gas (LNG).
"Certified gas is a new scheme that U.S. gas producers and LNG exporters are pushing to help clean up America's reputation for producing dirty methane gas," the letter states. As the summary details:
Only recently, oil and gas companies have transitioned from denying their methane pollution to trying to rebrand themselves as part of the "solution." To support those claims, producers are increasingly turning to third-party gas certifiers—companies hired to measure pollution and verify lower-methane emissions.

There is currently no regulation of gas certification. In fact, each certification company uses different criteria, technology, and methodology to certify a client's gas. Once emissions are measured and determined to be below a certain threshold, their gas is considered "certified."

The report and subsequent summary specifically highlight "the failures of Project Canary," which monitors oil and gas wells in Colorado.

"Our research shows that gas producers and LNG exporters cannot be trusted to clean up their methane emissions," said OCI research co-director Lorne Stockman in a statement. "This strengthens the case for rigorous regulation for gas certification programs that ensure the protection of communities and the accuracy of emissions reductions."
"The report recommends greater transparency and accountability for gas certification, a verifiable commitment to transition away from methane gas, and governmental oversight to ensure accurate emissions reductions," he added. "We urge the E.U. and other importers to adopt our recommendations as minimum criteria for documentation of methane emissions associated with gas imports."
News