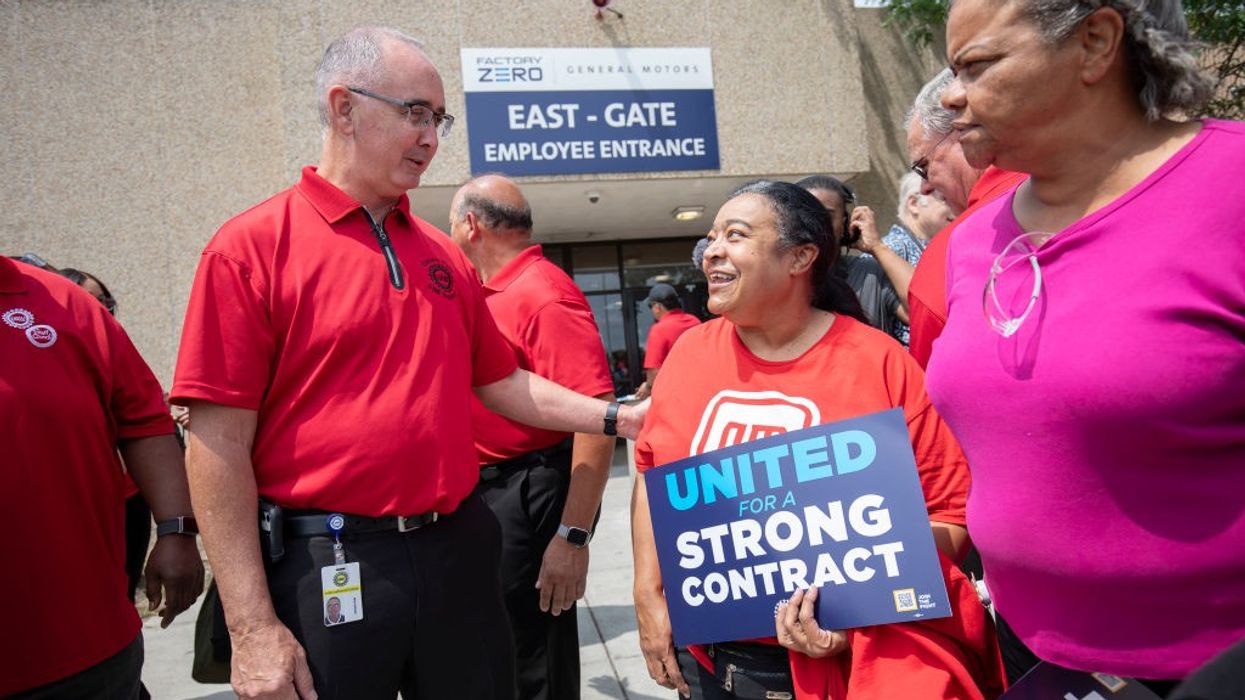 "Record profits mean record contracts," said United Auto Workers Shawn Fain. "They've been competitive on our backs and it's time they pay up."
Labor advocates said Thursday that United Auto Workers president Shawn Fain is clearly "doing something right" after CNBC anchor Jim Cramer unleashed a diatribe targeting the labor leader over his ambitious demands for a new contract and his stark assessment of the "corporate greed" that's left union members struggling to make ends meet.
Cramer has spoken multiple times on CNBC in recent days about the ongoing negotiations between the UAW and the Big Three automakers—Ford, General Motors, and Stellantis—and has called Fain "frightening" for advocating for a wage increase to reflect the record profits the companies have reported in recent years.
Fain has been "talking about capitalism and the nature of capitalism and how it's really hurt workers," said Cramer, who compared him to influential former UAW leader and civil rights activist Walter Reuther—"as if it's a bad thing," noted one journalist.
Fain, who was elected to lead the union earlier this year, announced members' demands earlier this week in a speech broadcast on Facebook Live, highlighting the need for a significant pay raise to make up for years of concessions by the union following the Great Recession, the rising cost of living and inflation, and to match pay increases enjoyed by the CEOs of the Big Three.

"Big Three CEOS saw their pay spike 40% on average over the last four years," said Fain. "We know our members are worth the same and more."
Ahead of a September 14 deadline, after which the UAW could go on strike, the union is demanding an immediate 20% pay raise followed by an additional 5% raise in each year of the four-year contract.
According to the union, most new workers start out making $16 per hour, but if cost-of-living increases had been maintained since the Great Recession, the starting wage would be $28.68—about $21,000 more per year.
The union is also calling for a return of the defined benefit pension, which would give retired workers a set amount of money each month; the right to strike if a company threatens to close a plant; more paid time off; restored cost-of-living allowance increases; and other provisions.
Fain also spoke about the potential to shift to a 32-hour workweek to allow workers to spend more time with their families.
"Our members are working 60, 70, even 80 hours a week just to make ends meet—that's not a living," Fain said. "We have to work longer and harder to maintain the same standard of living... That means missing Little League games and family reunions."
"That's barely surviving, and it needs to stop," he said.
Cramer took issue with Fain's suggestion that Big Three shareholders and CEOs have been "overly rewarded" and scoffed at the notion that shareholders are "fat cats."
"That's class warfare and it's very shocking to hear class warfare," said Cramer.
In his address earlier this week, Fain said the automakers can "easily" afford to substantially increase workers' wages. The companies have made a quarter of a trillion dollars in North American profits over the past 10 years, and reported a combined $21 billion in profits in the first half of this year.
"Record profits mean record contracts," said Fain. "They've been competitive on our backs and it's time they pay up."
News