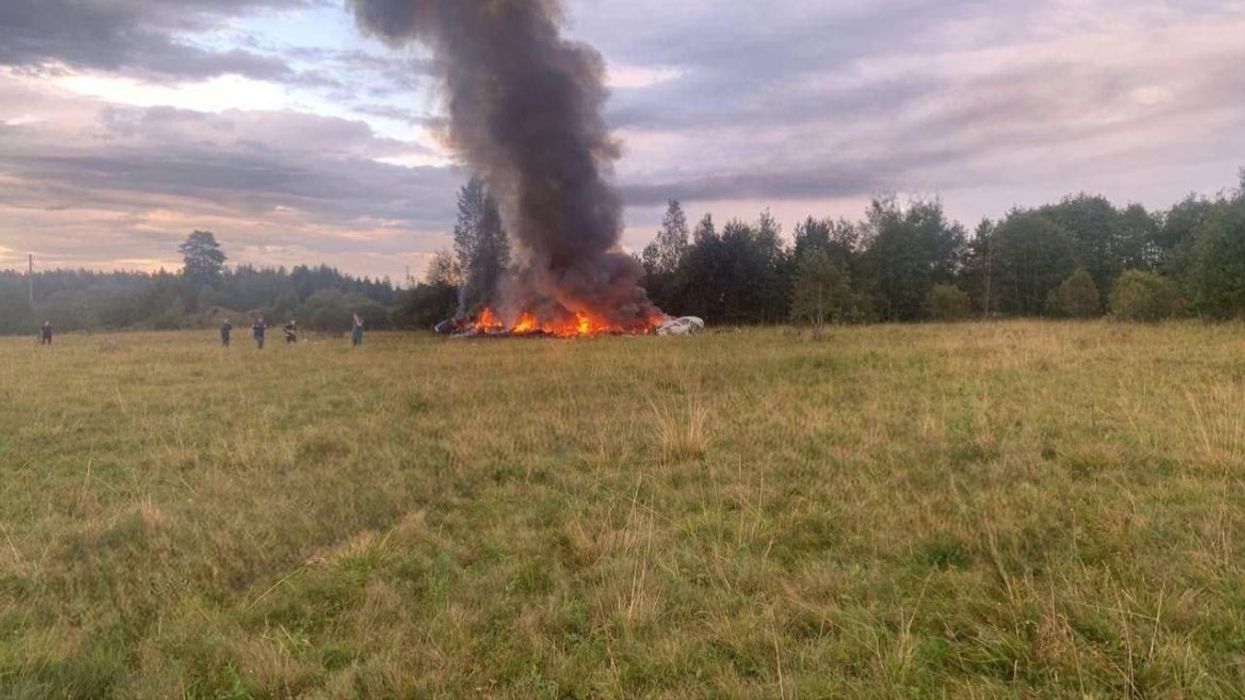 Suspicions quickly turned to Russian President Vladimir Putin, with U.S. President Joe Biden saying that "there's not much that happens in Russia" without his involvement.

Yevgeny Prigozhin, the billionaire head of the Wagner Group mercenary firm who recently led an aborted rebellion against Russian President Vladimir Putin—an erstwhile close ally—was on the passenger list of a plane that crashed on Wednesday north of Moscow, according to Russian officials and media.
The Russian Emergencies Ministry said there were no survivors among the 10 passengers aboard the Embraer Legacy 600 private business jet, which reportedly belonged to Prigozhin and was en route from St. Petersburg to Moscow when it crashed in the Tver region more than 60 miles north of Moscow.
Rosaviation, Russia's civil aviation regulator, confirmed that Prigozhin was on the passenger list—but it remains unclear whether he was actually aboard the doomed jet.
The fate of the 61-year-old oligarch—once known as "Putin's chef" because the Russian president ate at his restaurants and contracted his catering business—has confounded observers since he led his Wagner mercenaries in a short-lived mutiny in which they captured and briefly occupied the city of Rostov-on-Don in June.
Prigozhin then ordered his men to march on Moscow to seek "revenge," accusing Russian military leaders of killing his troops during the ongoing invasion of Ukraine. Wagner forces played a critical role in Russia's battlefield successes and suffered heavy losses—especially among prisoners who volunteered to fight in exchange for their freedom.
In a deal brokered by Belarusian President Alexander Lukashenko—a close Putin ally who has allowed Russian troops to invade Ukraine from his country—Prigozhin called off his coup attempt in exchange for safe passage to Belarus. However, Lukashenko said last month that Prigozhin and thousands of his fighters were still in Russia, while brushing off speculation that Putin would try to assassinate him.
"If you think Putin is so malicious and vindictive that he will wipe him out tomorrow... no, this will not happen," Lukashenko said at the time.
Earlier this week, Prigozhin published his first recruitment video since the mutiny, seeking soldiers of fortune to fight in African conflicts, including in Mali—where Wagner fighters, along with U.S.-backed government forces, are accused of committing widespread atrocities.
While the cause of Wednesday's plane crash remains unknown for now, speculation and suspicion of Putin's involvement came quickly, as the president vowed to severely punish what he called Wagner's "internal betrayal" and a "stab in the back of our country and our people."
U.S. President Joe Biden—a staunch supporter of Ukraine's defense against Russia's invasion—told reporters after the crash that "there's not much that happens in Russia that Putin's not behind."
"But I don't know enough to know the answer," he added. "I've been working out for the last hour-and-a-half."
Numerous prominent Putin opponents have suffered mysterious and usually fatal poisonings, falls, and shootings over the years.
In a 2018 interview, Putin was asked if he knew how to forgive. "Yes, but not everything," the Russian leader replied. When asked what he could not forgive, Putin answered with one word: "Betrayal."
News