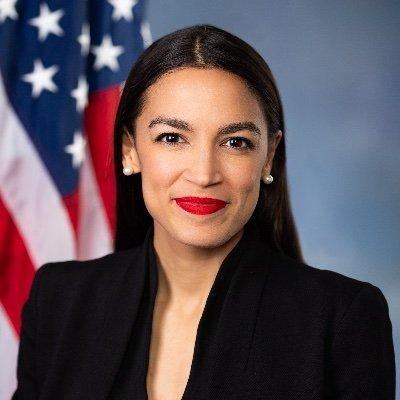 For Immediate Release
Contact:
Phone: 202-225-3965
Members of Congress Call on Biden Administration to Establish a Ceasefire, Protect Children in the Gaza Strip
Today, Representatives Alexandria Ocasio-Cortez (NY-14), Mark Pocan (WI-2), and Betty McCollum (MN-4) led Members of Congress in sending a letter to President Biden, asking him to support a bilateral ceasefire in Gaza, in order to protect the one million children living there. The full letter is available here.

The letter reads in part, "We write to you to express deep concern about the intensifying war in Gaza, particularly grave violations against children, and our fear that without an immediate cessation of hostilities and the establishment of a robust bilateral ceasefire, this war will lead to a further loss of civilian life and risk dragging the United States into dangerous and unwise conflict with armed groups across the Middle East. Further, we write urging clarity on your strategic objectives for achieving de-escalation and stability in the region."
More than 4,500 children have been killed in the Gaza Strip and another 7,695 children have sustained injuries. Additionally, at least 1,750 children have been reported missing and are presumed to be dead or trapped under rubble. Several schools in Gaza have been bombed as part of Israeli air strikes and more than half of hospitals in the Gaza Strip have completely shut down.
The letter is co-signed by Representatives Rashida Tlaib, Cori Bush, James McGovern, Mary Gay Scanlon, Raúl Grijalva, Pramila Jayapal, Joaquin Castro, Delia Ramirez, Henry Johnson, Greg Casar, Jesús "Chuy" Garcia, Bonnie Watson Coleman, Nydia Velázquez, Ayanna Pressley, Jonathan Jackson, Barbara Lee, André Carson, Jamaal Bowman, Summer Lee, Veronica Escobar, and Ilhan Omar.
The letter is endorsed by MoveOn, Amnesty International, Demand Progress, Center for International Policy, Center for Jewish Nonviolence, Churches for Middle East Peace, CIVIC, Common Defense, Friends Committee for National Legislation (FCNL), MADRE, Oxfam America, Win Without War, POMED, Working Families Party, Action Corps, Adalah Justice Project, American Friends Service Committee, Americans Justice In Palestine, Arab American Anti-Discrimination Committee (ADC), Democracy for Arab World Now, IfNotNow, Institute for Policy Studies New Internationalism Project, Jewish Voice for Peace Action, Maryknoll Office for Global Concerns, Migrant Roots Media, National Iranian American Council Action, Pax Christi Metro DC-Baltimore, Pax Christi USA, Peace Action, Peace Action Montgomery, The Duty Legacy, US Campaign for Palestinian Rights, Women for Weapons Trade Transparency and the Yemeni Alliance Committee. Quotes from those organizations follow.
"It's welcome news that Representatives Ocasio-Cortez, Pocan, and McCollum, along with dozens of their House colleagues, are urging the Biden Administration to establish an immediate bilateral ceasefire in Israel-Palestine and asking for greater humanitarian access in all parts of Gaza," said Hassan El-Tayyab, legislative director for Middle East policy at FCNL. "It's critical that others follow their lead and call for a ceasefire to de-escalate this explosion of violence that has already led to the deaths of at least 11,000 civilians, including nearly 5,000 children. Every major humanitarian organization working in Gaza is pleading with the international community to reach an immediate ceasefire and open up aid access so they can continue their vital work in the Gaza Strip. It's critical that Congress and the Administration listen before more innocent lives are lost."
"The scale of humanitarian need in Gaza is huge – and growing exponentially by the day. Yet, right now, aid is all but impossible to deliver as bombs continue to fall. 2.2 million people are living under siege, denied safe shelter, food, water and other essentials - all while the fuel needed to deliver aid has run out," said Scott Paul, Associate Director of Peace & Security at Oxfam America. "Israel is entitled to protect its people, but it must do so while complying with international humanitarian law. Civilians in Israel and Gaza have been paying the price for political failure and must be protected. To save lives now and in the future, we need an urgent ceasefire, an end to the siege, safe humanitarian access, and the return of all hostages."
"This joint effort led by Representatives Ocasio-Cortez, McCollum, and Pocan urging President Biden to establish a robust bilateral ceasefire comes at a critical moment. More and more Palestinian civilians are losing their lives each day amid Israeli military operations and the unfolding of an unprecedented, man-made humanitarian catastrophe in the occupied Gaza Strip," said Elizabeth Rghebi, Advocacy Director for the Middle East and North Africa at Amnesty International USA. "An immediate ceasefire by all parties to the conflict is the only way to prevent further loss of life, to deliver humanitarian aid to those in desperate need, and to provide an opportunity to secure the safe release of hostages."
"We welcome this joint effort led by Representatives Ocasio-Cortez, McCollum, and Pocan calling for an urgent ceasefire to prevent further civilian deaths and deliver life-saving humanitarian aid," said Annie Shiel, US Advocacy Director at Center for Civilians in Conflict (CIVIC). "Amid continued bombardment and ground fighting, civilians have virtually run out of options to seek safe refuge. The situation for civilians in Gaza — and especially children — is catastrophic. A ceasefire is needed immediately."
"Over the last five weeks, Israeli airstrikes and siege have killed at least 4,609 Palestinian children, including three premature babies in Al-Shifa Hospital who had to be taken from incubators due to lack of electricity," said Beth Miller, Political Director at Jewish Voice for Peace Action. "More children are still trapped under the rubble of buildings destroyed in Israeli bombings. No child should ever have to face the overwhelming scale and horror of the violence that Palestinian children in Gaza are experiencing. Representatives Ocasio-Cortez, McCollum, and Pocan, are pushing forward a critical demand for Palestinian children's life to be valued and protected, and for the Biden administration to finally put an end to this nightmare by calling for a ceasefire now.""
Alexandria Ocasio-Cortez is an American politician serving as the U.S. Representative for New York's 14th congressional district.
(718) 662-5970
LATEST NEWS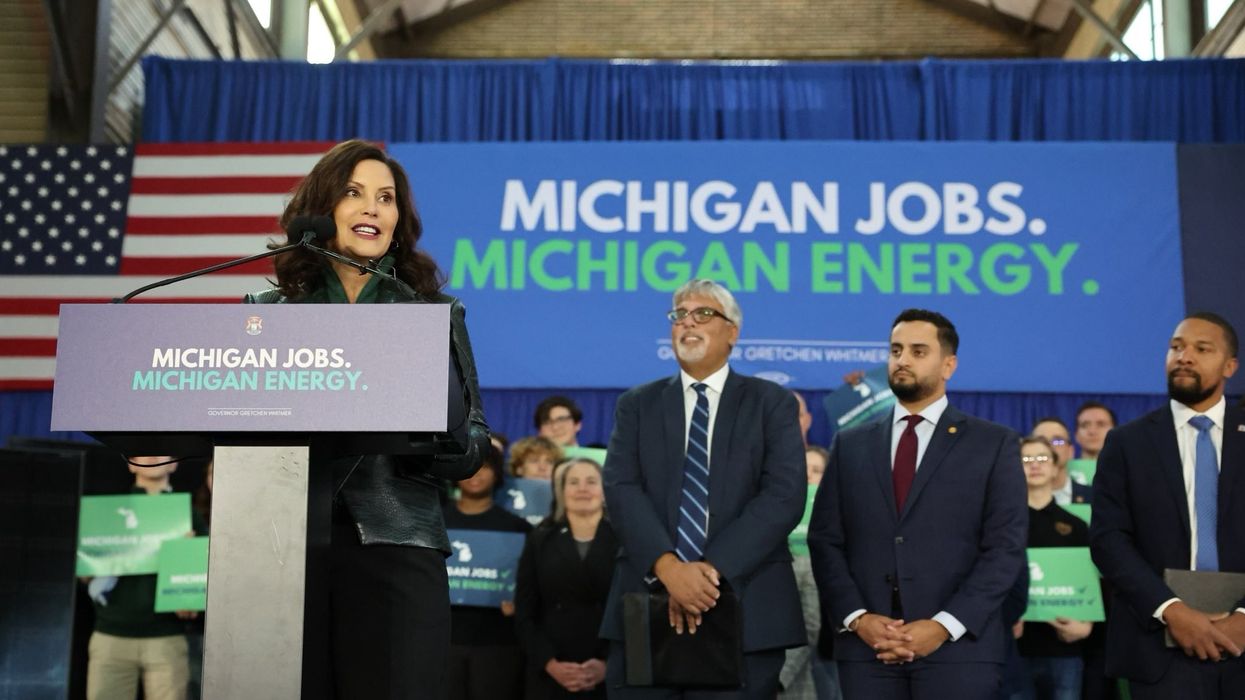 "This is a HUGE climate win that will create a safer, sustainable future AND good-paying, clean energy jobs!"
As scientists worldwide continue to sound the alarm about the need to swiftly ditch planet-heating fossil fuels, Democratic Michigan Gov. Gretchen Whitmer won praise from green groups on Tuesday for signing what she called "game-changing" legislation that "will help us become a national leader in clean energy."

"These bills translate into better air, water, and health for everyone," said Derrell Slaughter, Michigan clean energy advocate at the Natural Resources Defense Council. "The pathbreaking standards for the Midwest industrial heartland will see the state move to 100% clean energy by 2040 and put more resources toward energy efficiency."
"Michigan has seized the opportunity to demonstrate our commitment to combating climate change and ensure a sustainable, just, and prosperous future for our state," he added.
Senate Bill 271 is the part of the "Clean Energy Future" package that features the 100% clean energy standard. S.B. 273 increases Michigan's energy waste reduction standards, and S.B. 277 lets farmers rent out their land for solar power generation.
Additionally, S.B. Bill 502 directs the Michigan Public Service Commission to consider affordability, equity, environmental justice, and public health in reviews of power company plans; S.B. 519 establishes a Community and Worker Economic Transition Office at the the state Department of Labor and Economic Opportunity; and House Bill 5120 empowers the MPSC to greenlight large renewable energy projects.
Johanna Neumann, senior director of Environment America's Campaign for 100% Renewable Energy, said Tuesday that "since the 1800s, Michigan has been at the forefront of leveraging new technologies to improve American lives. By committing to a future powered entirely by clean, renewable energy, Michigan is building on its legacy of innovation."
"Gov. Whitmer and the state Legislature are creating a situation ripe for Michigan to realize its vast renewable energy potential," she continued. "The state has enough wind resources to power the state 3.5 times over and enough sunshine to meet 55 times the state's 2020 electricity demand."
Neumann noted that Michigan joins other states also "leading the way" with clean or renewable energy mandates for the coming decades: California, Connecticut, Hawaii, Illinois, Maine, Minnesota, Nevada, New Mexico, New York, Oregon, Rhode Island, Virginia, and Washington.
"In 2018, when Environment America launched its 100% Renewable Campaign, only Hawaii had any statewide 100% clean or renewable energy goal," she said. "It's great to see more states ensure that powering our lives with clean and renewable energy will lead to a healthier and safer future. We'll keep driving more states to get on the 'road to 100%'"
While climate campaigners welcomed the package, there are some notable critiques. As Michigan Advanceexplained:
The Michigan Environmental Justice Coalition has expressed opposition to a key part of the package, S.B. 271, which requires energy companies to generate 60% of their energy from renewable sources by 2035 including biomass, landfill gas made from solid waste, gas from methane digesters using municipal sewage waste, food waste and animal manure, and energy-generating incinerators in operation before January 1.

The group says that the carveout for landfill gas, biomass, gas from a methane digester, and its inclusion of incinerators and natural gas using carbon capture technology will disproportionately impact lower-income communities.

"Gov. Whitmer and her allies will try to spin the passage of S.B. 271 as a victory for climate and environmental justice," said Juan Jhong-Chung, Michigan Environmental Justice Coalition co-executive director. "In reality, it is a disaster for everyone but DTE and Consumers Energy. There can be no climate win without environmental justice, and environmental justice communities who will bear the brunt of this dirty law were systematically excluded, dismissed, and ignored during its drafting."
The Detroit Newsreported Tuesday that "DTE Energy, one of Michigan's two dominant electric utilities, gets about 15% of its electricity generation from renewable sources, according to its website. And Consumers Energy, the other dominant electric utility, already plans to get 40% of its energy from renewable sources by 2040."
Whitmer, who celebrated signing the bills with an event at Detroit's Eastern Market, declared on social media that "today is a huge win for Michigan. We'll protect our air, water, and land while facing climate change head-on and lowering costs."

As The Detroit News detailed: "Whitmer said the measures will lower household energy costs by an average of $145 a year, but Republicans have argued rates will increase as utilities pass the costs of renewable projects along to customers. The study the governor appeared to get the $145 projection from examined additional changes on top of the new laws' move to clean energy."

Whitmer also declared that the legislation will bring nearly $8 billion in federal funding to the state for clean energy projects and create 160,000 "good-paying" jobs, according to Michigan Advance.

"With today's bills, we define the future," Whitmer said. "As Michiganders, we know we have a responsibility to face climate change head-on, not only to make lives better today, but to make sure life goes on centuries from now. Let's keep fighting for future generations."

The governor is widely seen as a rising star in the Democratic Party and is expected to potentially seek national office someday. For 2024, Whitmer has made clear that she supports President Joe Biden, who is seeking reelection.

Biden—who ran on ambitious climate pledges in 2020 but has let campaigners down with decisions on the Mountain Valley Pipeline, Willow oil project, and leases for extracting fossil fuels from public lands and waters—plans to skip the United Arab Emirates-hosted U.N. climate summit, COP28, set to begin Thursday in Dubai.

News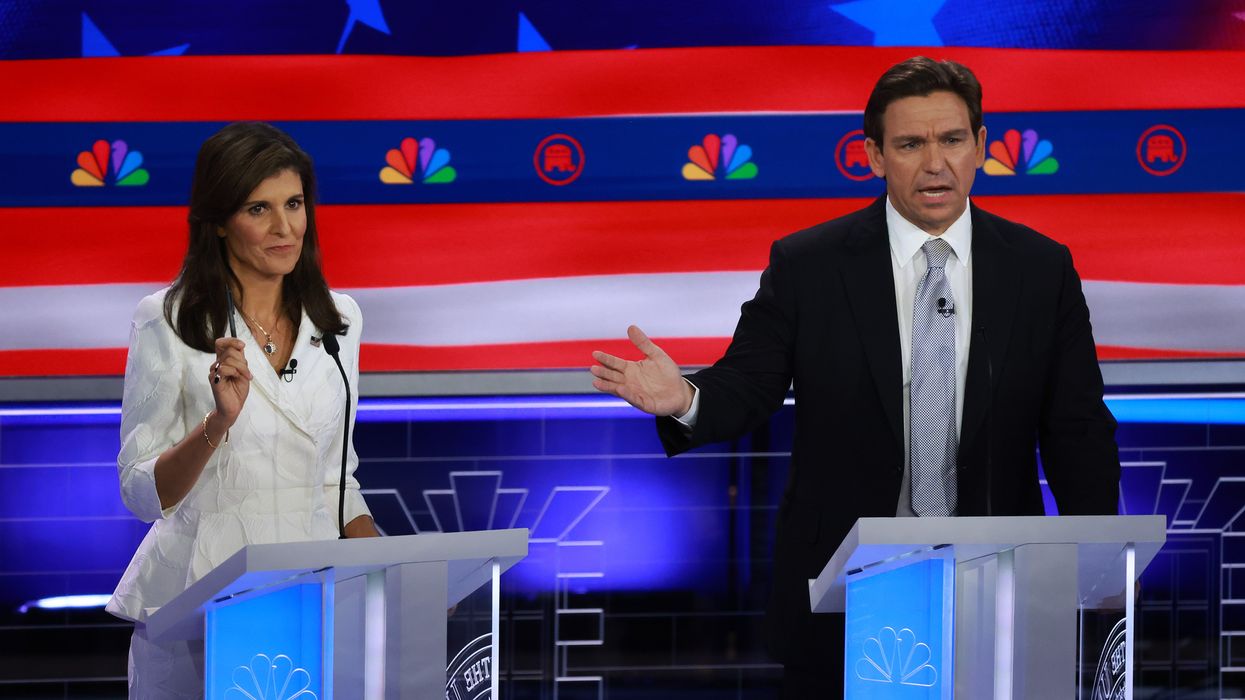 A DNC representative said it is "no surprise" given that she "checks all of their boxes: slashing taxes for the ultrawealthy, gutting Social Security and Medicare, and ripping healthcare away from millions of Americans."
While former U.S. President Donald Trump remains the Republican Party's front-runner for 2024, the political network founded by right-wing billionaire brothers Charles and David Koch announced Tuesday that it is instead backing Nikki Haley.
The Americans for Prosperity Action (AFPA) endorsement is a big win for Haley, who served as Trump's ambassador to the United Nations during the first half of his presidency and before that as governor of South Carolina. She has been battling Florida Gov. Ron DeSantis for the second GOP spot, and the Iowa caucuses are now less than two months away.
"Subtext: Prior to the democratic primaries are the billionaire primaries," journalist Jane Mayer—who has reported extensively on the Koch Brothers and other rich donors behind the rise of the radical right in the United States—wrote on social media Tuesday.

Both DeSantis and Haley trail Trump significantly in national polling, but the ex-president is facing four criminal cases and legal arguments that he is constitutionally disqualified from holding office after inciting an insurrection, so the next top GOP candidate could end up challenging Democratic President Joe Biden, who is seeking reelection next year.
"AFP Action is proud to throw our full support behind Nikki Haley, who offers America the opportunity to turn the page on the current political era," says a memo from Emily Seidel, a senior adviser to the group. "She has what it takes to lead a policy agenda to take on our nation's biggest challenges and help ensure our country's best days are ahead."
"With the grassroots and data capability we bring to bear in this race, no other organization is better equipped to help her do it," the memo continues. Citing internal polling, the document claims that Haley is "in the best position to defeat Donald Trump in the primaries" and "by far the strongest candidate Republicans could put up against Joe Biden in a general election."
The memo adds that "in sharp contrast to recent elections that were dominated by the negative baggage of Donald Trump and in which good candidates lost races that should have been won, Nikki Haley, at the top of the ticket, would boost candidates up and down the ballot, winning the key independent and moderate voters that Trump has no chance to win."
Some critics have pushed back against such presentations of Haley. Stephen Prager wrote last month for Current Affairs that "the media framing of Haley and other candidates as 'moderate' helps to soften their vicious policy prescriptions and inure liberals who'd ordinarily be skeptical of them. As a result, liberals who despise Trump end up having a favorableview of someone like Haley—even though she often holds more conservative policy inclinations in many places."
As Common Dreamshighlighted when Haley confirmed her candidacy in February, Christina Harvey, executive director of progressive advocacy group Stand Up America, warned, "Make no mistake: Nikki Haley is no moderate."
"From her support of Trump's policy of putting children in cages and the regressive reproductive health policies she pushed as governor of South Carolina to her opposition to federal voting rights legislation and her unwavering support of Donald Trump—even after he incited the January 6 insurrection—Nikki Haley has shown her true colors," Harvey said.
The Democratic National Committee similarly pointed to her policy positions in response to the AFPA endorsement on Tuesday. DNC national press secretary Sarafina Chitika said that "it's no surprise the Koch network, architects of Trump's MAGAnomics agenda, found their match in Nikki Haley, who checks all of their boxes: slashing taxes for the ultrawealthy, gutting Social Security and Medicare, and ripping healthcare away from millions of Americans."

"Republicans have entered a new stage in their primary—lighting millions of dollars on fire to attack each other, all the while reminding voters that every MAGA Republican candidate is in lockstep support of the same extreme, out-of-touch agenda the American people rejected in 2018, 2020, 2022, 2023, and will also reject next November, regardless of who emerges from this messy primary," Chitika charged.
Haley, meanwhile, shared an AFPA video about her on social media and said that she was "honored" to have the group's support.

DeSantis spokesperson Andrew Romeo said: "Congratulations to Donald Trump on securing the Koch endorsement. Like clockwork, the pro-open borders, pro-jail break bill establishment is lining up behind a moderate who has no mathematical pathway of defeating the former president. Every dollar spent on Nikki Haley's candidacy should be reported as an in-kind to the Trump campaign. No one has a stronger record of beating the establishment than Ron DeSantis, and this time will be no different."
Trump campaign spokesperson Steven Cheung toldThe New York Times that "Americans for Prosperity—the political arm of the China First, America Last movement—has chosen to endorse a pro-China, open borders, and globalist candidate in Nikki 'Birdbrain' Haley" and claimed that no amount of "shady money" would stop the former president from winning the party nomination.
The newspaper noted that AFPA "has been among the country's largest spenders on anti-Trump material this year, buying online ads and sending mailers to voters in several states, including Iowa, New Hampshire, and South Carolina. All told, the group has spent more than $9 million in independent expenditures opposing Mr. Trump."
News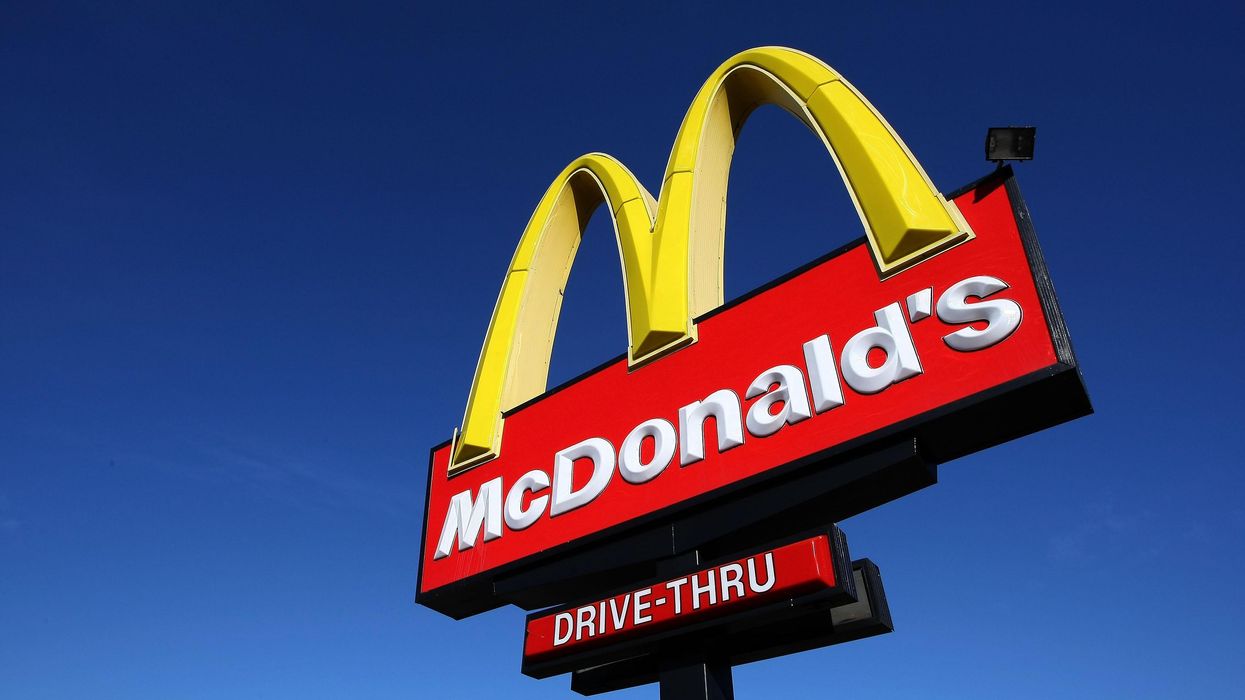 "Less than $1,000 per child," said one critic. "For one of the biggest franchises on Earth."
McDonald's, one of the largest employers in the world, was fined just $26,000—a tiny fraction of its profits—on Monday for violating child labor laws in Pennsylvania, with two franchisees found to be violating numerous rules in five stores.
The U.S. Department of Labor's (DOL) Wage and Hour Division found that Paul and Meghan Sweeney, owners of a company called Endor, which runs five McDonald's locations, employed 34 children who were 14 and 15 years old.
The employers scheduled the teenagers to work outside the times that 14- and 15-year-olds are legally permitted to work, including during school hours, earlier than 7:00 am and 7:00 pm during the school year, and more than three hours on a school day.
Writer and organizer Joshua P. Hill said the $26,000 fine—amounting to less than $1,000 per child who was affected by the Sweeneys' employment practices—was "not even a slap on the wrist," especially considering that the $200 billion multinational fast food company is one of the world's largest companies.
John DuMont, district director for the Wage and Hour Division in Western Pennsylvania, said in a statement that the Sweeneys employed young teenagers "at the expense of their education or well-being."
"Fast food restaurants offer young workers an opportunity to gain valuable work experience," said DuMont. "The Fair Labor Standards Act allows for developmental experiences but restricts the work hours of 14- and 15-year-olds and provides for penalties when employers do not follow the law."
Earlier this year, the DOL found that three McDonald's stores in Kentucky were illegally employing more than 300 children—some as young as 10. A coalition of McDonald's shareholders demanded a third-party human rights assessment in June, citing the Kentucky case and that of a 15-year-old employee in Tennessee who was injured at work.

The AFL-CIO pointed out that the violations at stores in Brookville, Clarion, Punxsutawney, and St. Mary's, Pennsylvania, took place amid a right-wing push to roll back child labor laws.
With the backing of powerful conservative donors like Richard Uihlein, lawmakers in Florida, Iowa, Arkansas have pushed legislation to weaken child labor protections in recent months. Iowa Gov. Kim Reynolds, a Republican, signed a bill in May removing so-called "unnecessary restrictions" that keep minors from working in hazardous workplaces, and GOP Arkansas Gov. Sarah Huckabee Sanders signed a bill in March allowing companies to hire children under the age of 16 without verifying their age.
The finding at the Pennsylvania McDonald's locations serves as a reminder that "any lawmaker who votes to roll back child labor laws is a disgrace," said the AFL-CIO.

The fine announced on Monday only represents "two ten-thousandths of a single percent" of McDonald's gross profits in 2022, said the labor group.
News