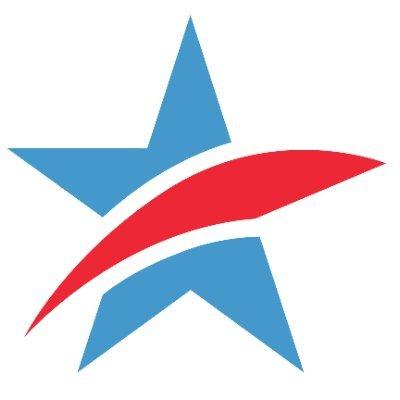 Eric Holder and Arnold Schwarzenegger Sign the End Gerrymandering Pledge
Eric Holder and Arnold Schwarzenegger sign the End Gerrymandering Pledge to support fair redistricting reform that is transparent, nondiscriminatory, and politically impartial   
WASHINGTON
Eric H. Holder, Jr., the 82nd Attorney General of the United States, and Former California Governor Arnold Schwarzenegger today signed the End Gerrymandering Pledge, a new initiative of Common Cause to advance fair redistricting reform that is transparent, nondiscriminatory and politically impartial in advance of the 2020 Census.
"The fight to end gerrymandering and support fair maps should not be a partisan issue," said Holder. "The American people deserve fair elections decided by who has the best ideas, not which party was in charge of drawing the lines. It's time to end the era of politicians choosing their voters and give that power back to the people where it belongs."
The pledge launch came Tuesday during a dialogue between Holder and Schwarzenegger at the National Press Club. The two leading voices in the redistricting movement met following oral arguments in two landmark redistricting cases at the U.S. Supreme Court. Rucho v. Common Cause challenges a Republican gerrymander in North Carolina, while Lamone v. Benisek challenges a Democratic gerrymander in Maryland. Together, they are considered the best test cases for the Supreme Court to declare partisan gerrymandering unconstitutional.
"We pledge to do everything we can, to fight in every state, to leave no stone unturned in the fight against the 200-year-old scam of gerrymandering," Schwarzenegger said. "The first three words of the Constitution are 'We the people' - not 'We the politicians' and it is time to give the people fair maps and the representation they deserve."
The End Gerrymandering Pledge was developed by Common Cause to get prominent national leaders -- including elected officials in every state and of all political persuasions -- to commit to advancing nonpartisan, nondiscriminatory, and non-secretive redistricting across the United States. It targets state legislators who control map-drawing in most states, incumbent members of Congress who benefit from safe seats drawn by partisan map-makers and citizens who ultimately will hold their elected officials accountable for reforms.
Timing is critical. Redistricting is a once-in-a-decade process of drawing legislative and congressional district boundaries to ensure each district has equal population. Only 17 states have any checks and balances on redistricting, and only seven give the map-drawing power to citizens commissions. By far, most states give map-drawing power to the political party in power. Reforms need to be in place before the next round of map-drawing begins in the wake of the 2020 Census.
"As 2020 rapidly approaches, redistricting reform is more critical than ever," said Kathay Feng, national redistricting director for Common Cause. "We are working to change laws, create technology, and engage citizens to draw districts that fairly represent a state's communities and changing demographics. The pledge is designed to help hold elected officials accountable."
The End Gerrymandering Pledge is national, but related advocacy work will target states with pending redistricting reform legislation or ballot measures. States such as Indiana, Maryland, Minnesota, Nebraska, New Jersey, North Carolina, Pennsylvania and Virginia and others could pass legislation in 2019-20, while states like Oregon and Arkansas may go the ballot route.
To sign the pledge, visit www.endgerrymanderingpledge.org.
Common Cause is a nonpartisan, grassroots organization dedicated to upholding the core values of American democracy. We work to create open, honest, and accountable government that serves the public interest; promote equal rights, opportunity, and representation for all; and empower all people to make their voices heard in the political process.
(202) 833-1200
LATEST NEWS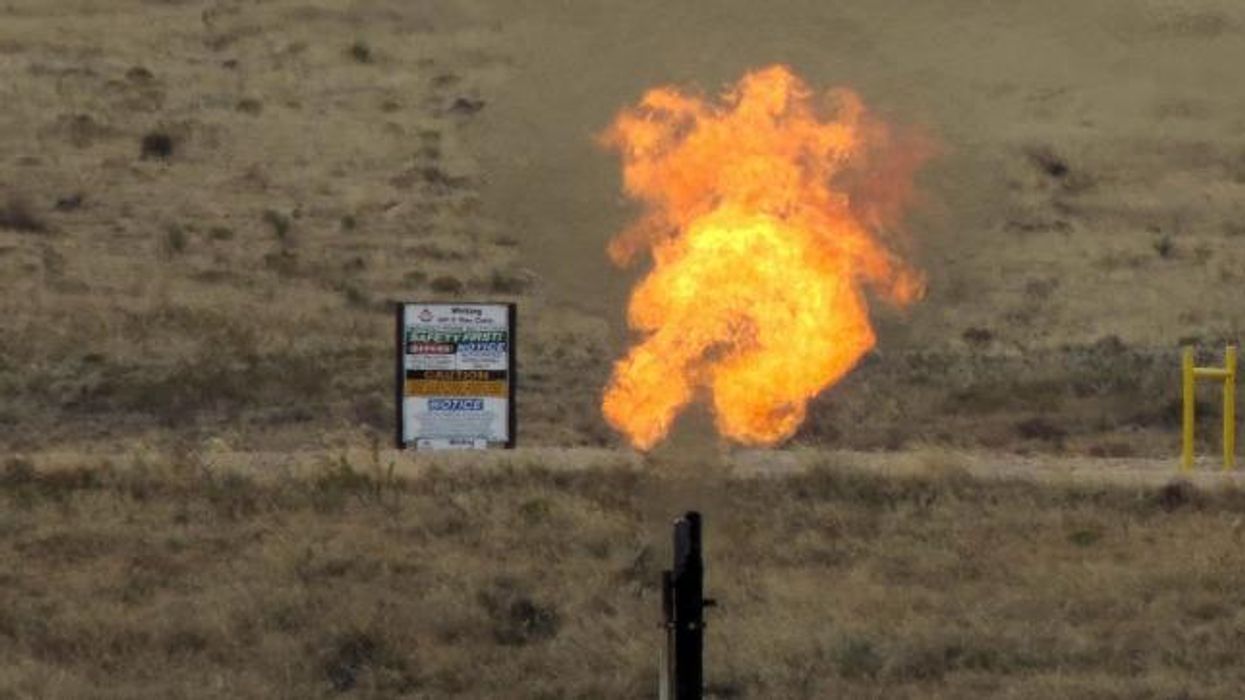 "It is time for the White House to put the public interest and our climate future ahead of fossil fuel industry profits," said one campaigner.

As the U.S. Department of Energy announced that the nation set a new record for fossil gas exports during the first half of 2023, green advocacy groups on Wednesday implored the Biden administration to "put the public interest and our climate future ahead of fossil fuel industry profits" by halting gas projects and exports.
According to the U.S. Energy Information Administration (EIA), "the United States exported more natural gas in the first half of 2023... than it did in the same period of any previous year," with exports averaging 20.4 billion cubic feet per day. The U.S. is the world's leading liquefied natural gas (LNG) exporter.
"Record exports of fossil fuels are a direct result of Biden administration policies that are expanding fracking, pipelines, and LNG export facilities, all of which threaten to lock the world into more climate-warming emissions from fossil fuels," Jim Walsh, policy director at the group Food & Water Watch, said in a statement.
"These policies are bad news for our climate and public health, but will also continue to push up energy prices for U.S. consumers, and will slow the transition to more affordable, clean renewable energy options," Walsh added.
Tyson Slocum, director of the energy program at the consumer advocacy group Public Citizen, accused the Biden administration of largely ignoring an 85-year-old federal mandate in the Natural Gas Act requiring exports to most countries to be "consistent with the public interest."
"As a result, our record gas exports expose American households to higher energy prices and increased price volatility, poison Black and Brown communities who bear the brunt of LNG expansion on the U.S. Gulf Coast, and exacerbate the climate crisis," Slocum said. "The exports also drive increased domestic fracking and promote fossil fuels that compete with renewable energy."
"The Biden administration must halt all export authorizations until it acknowledges the impact record exports have on worsening domestic energy security for vulnerable Americans and commits to respect the public interest mandate," he added.
In addition to approving or backing climate-wrecking fossil fuel expansion including the Willow Project in Alaska, the Mountain Valley Pipeline in West Virginia, and oil drilling on public lands and offshore, the Biden administration has supported and expanded LNG projects at home and abroad with a special focus on export infrastrcture.
Reacting to the EIA figures, Walsh said that "President Biden has a chance to reverse this dangerous trend. He can match his climate rhetoric with real climate action by determining that the proposed Calcasieu Pass 2... project in Louisiana, which would be the country's largest export facility for fossil gas, is not in the public interest."
"It is time for the White House to put the public interest and our climate future ahead of fossil fuel industry profits," he added.
News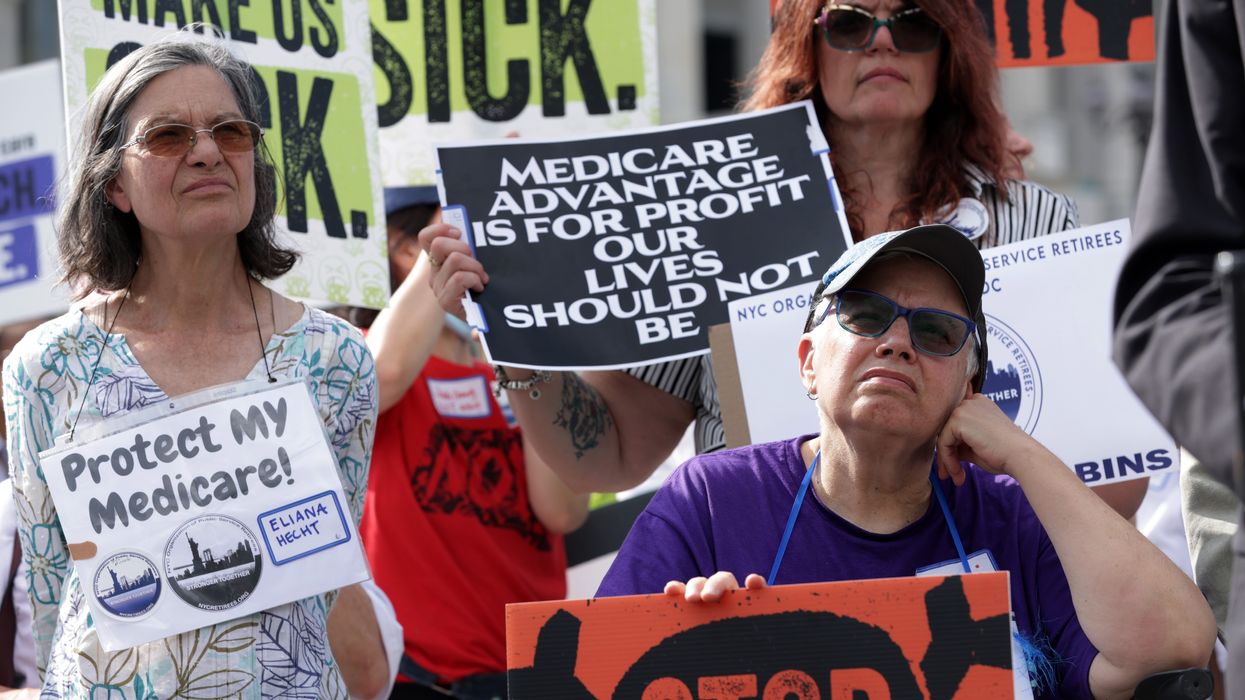 "Medicare Advantage is just another example of the endless greed of the insurance industry poisoning American healthcare," says a new report from Physicians for a National Health Program.
A report published Wednesday estimates that privately run, government-funded Medicare Advantage plans are overcharging U.S. taxpayers by up to $140 billion per year, a sum that could be used to completely eliminate Medicare Part B premiums or fully fund Medicare's prescription drug program.
Physicians for a National Health Program (PNHP), an advocacy group that supports transitioning to a single-payer health insurance system, found that Medicare Advantage (MA) overbills the federal government by at least $88 billion per year, based on 2022 spending.
That lower-end estimate accounts for common MA practices such as upcoding, whereby diagnoses are piled onto a patient's risk assessment to make them appear sicker than they actually are, resulting in a larger payment from the federal government.
But when accounting for induced utilization—"the idea that people with supplemental coverage are likely to use more health care because their insurance pays for more of their cost"—PNHP estimated that the annual overbilling total could be as high as $140 billion.

"This is unconscionable, unsustainable, and in our current healthcare system, unremarkable," says the new report. "Medicare Advantage is just another example of the endless greed of the insurance industry poisoning American healthcare, siphoning money from vulnerable patients while delaying and denying necessary and often lifesaving treatment."
Even if the more conservative figure is accurate, PNHP noted, the excess funding that MA plans are receiving each year would be more than enough to expand traditional Medicare to cover dental, hearing, and vision. Traditional Medicare does not currently cover those benefits, which often leads patients to seek out supplemental coverage—or switch to an MA plan.
The Congressional Budget Office has estimated that adding dental, vision, and hearing to Medicare and Medicaid would cost just under $84 billion in the most costly year of the expansion.

"While there is obvious reason to fix these issues in MA and to expand traditional Medicare for the sake of all beneficiaries," the new report states, "the deep structural problems with our healthcare system will only be fixed when we achieve improved Medicare for All."
Properly spent, these overpayments could make a huge difference in the lives of Medicare beneficiaries. We could either:

💰 Totally eliminate Medicare Part B premiums

💊 Fund the entire Medicare Part D prescription drug program

🦷 Establish dental, hearing, and vision coverage pic.twitter.com/Q2zEBMMnaZ
— Physicians for a National Health Program (@PNHP) October 4, 2023
Bolstered by taxpayer subsidies, Medicare Advantage has seen explosive growth since its creation in 2003 even as it has come under fire for fraud, denying necessary care, and other abuses. Today, nearly 32 million people are enrolled in MA plans—more than half of all eligible Medicare beneficiaries.
Earlier this year, the Biden administration took steps to crack down on MA overbilling, prompting howls of protest and a furious lobbying campaign by the industry's major players, including UnitedHealth Group and Humana. Relenting to industry pressure, the Biden administration ultimately agreed to phase in its rule changes over a three-year period.
Leading MA providers have also faced backlash from lawmakers for handing their top executives massive pay packages while cutting corners on patient care and fighting reforms aimed at rooting out overbilling.
As PNHP's new report explains, MA plans are paid by the federal government as if "their enrollees have the same health needs and require the same levels of spending as their traditional Medicare counterparts," even though people who enroll in MA plans tend to be healthier—and thus have less expensive medical needs.
"There are several factors that potentially contribute to this phenomenon," PNHP's report notes. "Patients who are sicker and thus have more complicated care needs may be turned off by limited networks, the use of prior authorizations, and other care denial strategies in MA plans. By contrast, healthier patients may feel less concerned about restrictions on care and more attracted to common features of MA plans like $0 premiums and additional benefits (e.g. dental and vision coverage, gym memberships, etc.). Insurers can also use strategies such as targeted advertising to reach the patients most favorable to their profit margins."
A KFF investigation published last month found that television ads for Medicare Advantage "comprised more than 85% of all airings for the open enrollment period for 2023."
"TV ads for Medicare Advantage often showed images of a government-issued Medicare card or urged viewers to call a 'Medicare' hotline other than the official 1-800-Medicare hotline," KFF noted, a practice that has previously drawn scrutiny from the U.S. Senate and federal regulators.
PNHP's report comes days after Cigna, a major MA provider, agreed to pay $172 million to settle allegations that it submitted false patient diagnosis data to the federal government in an attempt to receive a larger payment.
Dr. Ed Weisbart, PNHP's national board secretary, toldThe Lever on Wednesday that such overpayments are "going directly into the profit lines of the Medicare Advantage companies without any additional health value."
"If seniors understood that the $165 coming out of their monthly Social Security checks was going essentially dollar for dollar into profiteering of Medicare Advantage, they would and should be angry about that," said Weisbart. "We think that we pay premiums to fund Medicare. The only reason we have to do that is because we're letting Medicare Advantage take that money from us."
News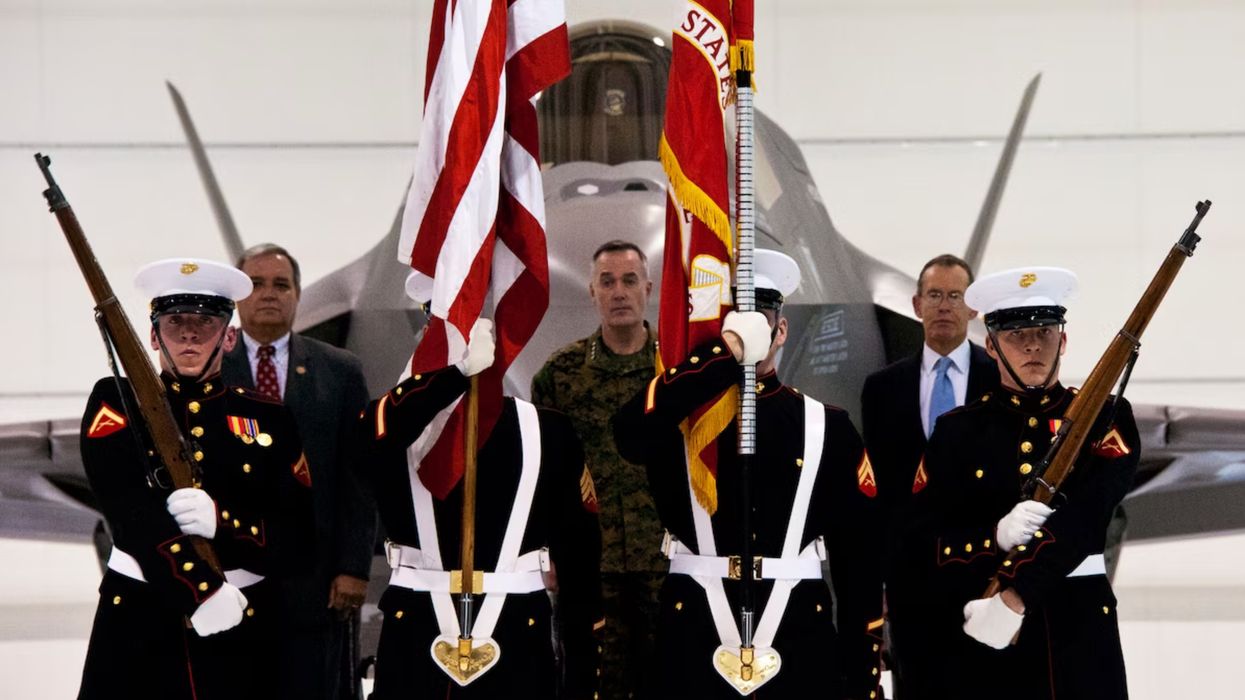 "The revolving door is a problem because it creates the appearance—and in some cases the reality—of conflicts of interest in the making of defense policy and in the shaping of the size and composition of the Pentagon budget."
A report published Wednesday revealed that the vast majority of four-star U.S. military officers who have retired over the past five years went to work for the arms industry, a revolving door that drives soaring profits and near-record military spending.
The report—entitled March of the Four–Stars: The Role of Retired Generals and Admirals in the Arms Industry—was published by William D. Hartung, a senior research fellow at the Quincy Institute for Responsible Statecraft, and intern Dillon Fisher. They found that 26 of 32 four-star generals and admirals who retired between June 2018 and July 2023 "went to work for the arms industry as board members, advisers, executives, consultants, lobbyists, or members of financial institutions that invest in the defense sector."
"Too often when it comes to military spending and policy, special interests override the public interest."

Fifteen of the retired officers were hired as board members or advisers for small and medium–sized weapons contractors, while five took similar jobs at one of the top 10 arms companies. Five retired four–star officers became arms industry consultants, five were hired as lobbyists for weapons companies, and four joined financial firms that invest in the arms sector.
"Employing well-connected ex-military officers can give weapons makers enormous, unwarranted influence over the process of determining the size and shape of the Pentagon budget, to the detriment of our national security," Hartung said in a statement. "Too often when it comes to military spending and policy, special interests override the public interest. The revolving door is a major contributor to this process."
According to the report:
Among the most prominent four–stars who have gone through the revolving door are former head of the Joint Chiefs of Staff Gen. Joseph Dunford, who joined the board of Lockheed Martin five months after leaving the military; Gen. Mike Murray, former head of the U.S. Army Futures Command, who went on the boards of three defense tech firms—Capewell, Hypori, and Vita Inclinata; Gen. Terrence O'Shaugnessy, former head of the U.S. Northern Command, who is now a senior adviser to Elon Musk at SpaceX...; Gen. Richard D. Clarke, former commander of U.S. Special Operations Command, who joined the boards of General Dynamics, defense tech firm Shift5, and drone maker General Atomics; and Gen. John W. Raymond, former head of the U.S. Space Command, who went on to be a managing partner at Cerberus Capital Management.
The report's recommendations include:
Barring four–star officers from going to work for firms that receive $1 billion or more in Pentagon contracts per year;
Extending "cooling off" periods before retired Pentagon officials and military officers can go to work on behalf of the arms industry; and
Increasing transparency for post–government employment and activities on the part of retired Pentagon and military officials working on behalf of arms contractors, including reporting on their interactions with Congress and the Executive Branch.
"The revolving door is a problem because it creates the appearance—and in some cases the reality—of conflicts of interest in the making of defense policy and in the shaping of the size and composition of the Pentagon budget," Hartung and Fisher wrote. "The role of top military officials is particularly troubling, given their greater clout in the military and the government more broadly than most other revolving door hires. Their influence over policy and budget issues can tilt the scales towards a more militarized foreign policy."
The new report comes amid soaring profits for weapons-makers, near-record levels of U.S. military spending, and increasing American domination of global arms exports.
As one arms industry executive said at last month's Defense and Security Equipment International trade show in London, "War is good for business."
News
Independent, nonprofit journalism needs your help.
Please Pitch In
Today!