If Urban Prep West Can Close, No School Is Safe
Closure of campus serving African-American young men is the latest transgression in the wholesale removal of Blacks from the city of Chicago
WASHINGTON
The Chicago Teachers Union was disappointed to learn of Chicago Public Schools' plans to close Urban Prep Academy's West Campus. The Union's position on school closings has long been clear: We oppose the closure of any school for the same reasons we oppose charter expansion. Both have destabilizing effects on communities and lead to privatization of public education at the expense of those our schools should serve.
But the closure of Urban Prep West, a school serving a student population made up entirely of African-American males, goes one step further in its negative impact as it represents another chapter in the wholesale removal of Black and Brown people from our city. Urban Prep's stated mission to remedy the myriad ways that Chicago Public Schools--and the city itself--has historically failed young Black men is admirable, however, it is past time that people stop believing that a striped tie and black blazer can mask the scars these children have suffered from the years of mistreatment of their communities. We are steadfastly opposed to the school's closure, which would only exacerbate the Negro Removal Act that Mayor Rahm Emanuel has put in place since taking office in 2010.
Classrooms at Urban Prep have not been immune from the trauma, enrollment loss and test-based "accountability" that have decimated district schools serving Black communities on the South and West sides. But in the face of these mounting struggles, Urban Prep last year chose to expand its organization rather than invest in the classrooms, staff and students they currently serve. Urban Prep applied for, and was granted, a contract to run a charter school in Las Vegas under Nevada's Achievement School District. The Achievement School District operates much like other state takeovers of urban school districts, where privatized charter operators are hired to take over struggling, under-resourced public schools.
According to documents submitted to the Nevada Department of Education, Urban Prep management created a full-time, six-figure position specifically for its expansion effort, and top officials took numerous trips to Las Vegas over the past year to secure its expansion. Meanwhile, Urban Prep has one of the most bloated central office operations of any charter school in CPS, serving fewer than 800, yet spending $1.3 million on executive and central office administration (or $1,700 per student).
Our members at Urban Prep West are in the midst of negotiating a new contract, and under their collective bargaining agreement, teachers who are laid off if the school closes will have the right to be placed into vacancies for which they are qualified at the school's remaining two campuses.
We hope that last week's news will serve as a wake-up call to Urban Prep leaders to keep their focus local and provide for students here in Chicago, because let's be clear--if the mayor's handpicked Board of Education can close a school made up entirely of young Black men that touts a 100 percent college acceptance rate year after year, what does that say for the academically struggling school with infrastructure issues that serves a low-income community without support from the city's Black power elite?
An affiliate of the American Federation of Teachers (AFT) and the Illinois Federation of Teachers (IFT), CTU is the third largest teachers local in the country and the largest local union in Illinois.
LATEST NEWS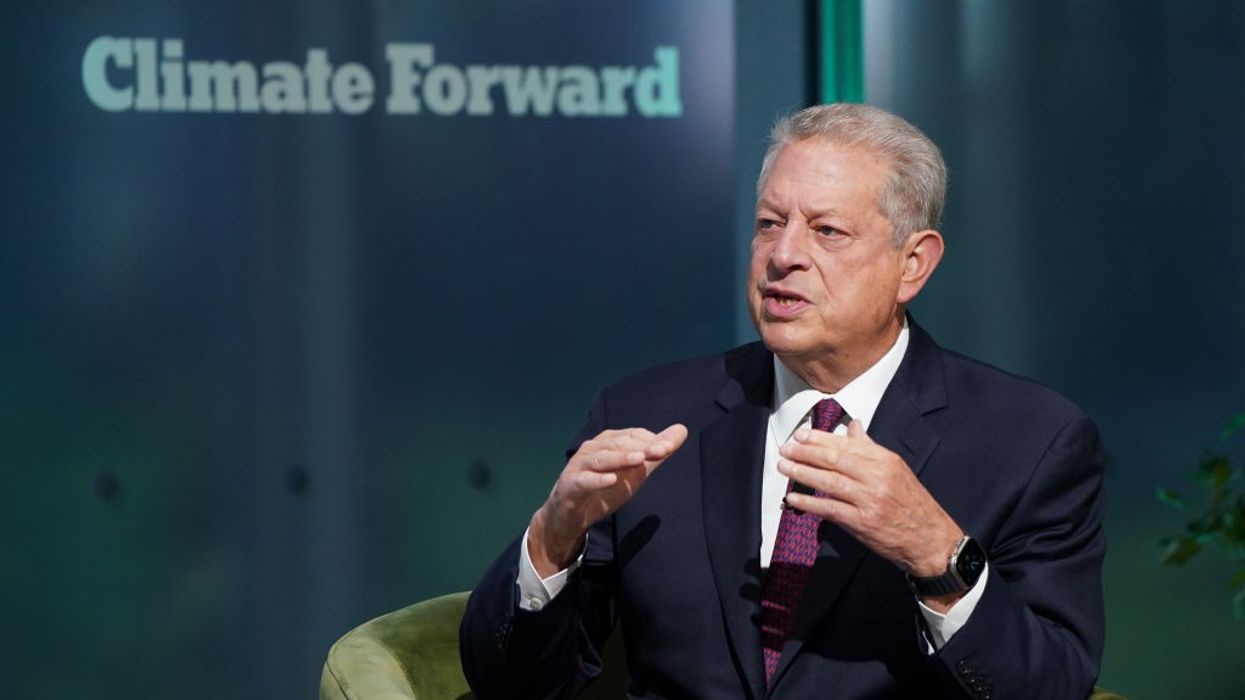 At an event coinciding with the U.N. General Assembly in New York, Gore said he used to believe the sector sincerely wanted to be part of the solution to the climate crisis, but now he thinks it's clear they are not.
Former U.S. Vice President Al Gore, a long-time climate activist, had harsh words for the fossil fuel industry on Thursday.
"Many of the largest companies have engaged in massive fraud," he said at The New York Times' Climate Forward event, as the Independent reported. "For some decades now, they've followed the playbook of the tobacco industry, using these very sophisticated, lavishly financed strategies for deceiving people."
Gore, who won the Nobel Peace Prize in 2007, criticized the industry for using their influence to lobby against effective climate action.
"The climate crisis is a fossil fuel crisis."
"The fossil fuel companies, given their record today, are far more effective at capturing politicians than they are at capturing emissions," he said.
Now, he warned, the sector had set its sights on the United Nations COP28 climate change conference in the United Arab Emirates with the appointment of the UAE's state oil company CEO Sultan Ahmed Al Jaber to lead the talks.
"That's just, like, taking the disguise off," Gore said, as The New York Times reported. "They've been trying to capture this process for a long time."
Gore's remarks reflect a recent shift in the tone of his climate advocacy. In a TED Talk filmed in July and released in August, Gore made many of the same arguments about fossil fuel lobbying and Al Jaber's appointment.
"The climate crisis is a fossil fuel crisis," he said. "The solutions are going to come from a discussion and collaboration about phasing out fossil fuels."
After listening to the talk, journalist Emily Atkin wrote in her newsletter Heated:
With this new talk, it's become clear that the man who made An Inconvenient Truth famous is no longer primarily focused on convincing people that the climate crisis is real or dangerous. He's turned a corner, and is now focused on convincing people that if they truly care about solving the climate crisis, they must turn their ire toward the fossil fuel industry—and boot them from the negotiating table before it's too late.
Gore acknowledged the shift in his thinking himself on Thursday.
"I was one of many who felt for a long time that the fossil fuel companies, or at least many of them, were sincere in saying that they wanted to be a meaningful part of bringing solutions to this crisis," Gore said, as The Independent reported. "But I think that it's now clear they are not. Fossil fuel industry speaks with forked tongue."
While he acknowledged that it was not fair to expect the industry to solve a crisis its business model encouraged it to perpetuate, "it's more than fair to ask them to get out of the way, and stop blocking the efforts of everybody else to solve this crisis," he said. "I think it's time to call them out."
Gore's remarks came as world leaders and climate activists and experts gathered in New York for the U.N. General Assembly and Secretary-General António Guterres' Climate Ambition Summit, held the day before.
He is also not the only prominent mainstream climate voice to have turned on the fossil fuel sector.
Former Executive Secretary of the U.N. Framework Convention on Climate Change Christiana Figueres, who helped negotiate the Paris agreement, said that she did not think the industry should be invited to COP28.
"If they are going to be there only to be obstructors, and only to put spanners into the system, they should not be there," she said at a conference Thursday organized by Covering Climate Now, as The Guardian reported.
Her remarks echoed an opinion piece she wrote for Al Jazeera in July, in which she said she was wrong to believe that the sector could be part of the solution.
"My patience ran out, and I say this with sadness," she said Thursday.
News
"Come on Neal, you can't be against a wealth tax? Are you?"
California Congressman Ro Khanna on Friday said he would like to debate Neal Katyal, a prominent liberal pundit and former acting solicitor general under the Obama administration, over a proposed wealth tax that is now at the heart of a case before the U.S. Supreme Court.
The case in question, Moore v. United States, focuses on the authority of Congress to tax unrealized financial gains of wealthy individuals.

As reported earlier this month by The Lever's Julia Rock, Katyal filed an amicus brief in the case on behalf of Saving America's Family Enterprises (SAFE), "an anonymously funded group—whose board includes corporate lobbyist," opposing the wealth tax.
In a tweet on Friday, Khanna, a progressive Democrat who served as national co-chair of the Bernie Sanders 2020 presidential campaign, suggested he and Katyal have a public debate on Mehdi Hasan's MSNBC show about the need for a wealth tax.
"I really was surprised by this," said Khanna, referencing the revelations about Katyal's involvement in the case, "as anyone who cares deeply about threats to our democracy as you do should recognize the problem of massive income inequality and the concentration of wealth." Both Khanna and Katyal graduated from Yale Law School.
If the Supreme Court rules in favor of the plaintiffs in Moore, experts have said it could have far-reaching implications for how certain kinds of wealth are taxed and could put significant federal revenue at risk.

Khanna said: "Come on Neal, you can't be against a wealth tax? Are you? Massive income inequality is adding flames to threats to democracy."

While many Americans likely know him from his frequent appearances on MSNBC, where he is a paid contributor weighing in on legal and judicial matters, Katyal has also had a long career as a corporate lawyer representing the interests of some of the world's most profitable and powerful companies. As Rock noted in her reporting:
In recent years, Katyal has helped Nestlé defend itself in a child slavery case before the Supreme Court and represented Johnson & Johnson in its bid to use bankruptcy to block lawsuits from cancer victims.

Listed on the Katyal-authored amicus brief alongside SAFE is the group's senior adviser, former Louisiana Democratic senator John Breaux, who also lobbies for ExxonMobil, Norfolk Southern, and Boeing—corporations whose top executives could have a financial interest in the outcome of the case. Breaux also lobbies for billionaire financial magnate and Democratic megadonor James Simons.

SAFE is organized as a so-called social welfare nonprofit, which allows it to hide the identity of its donors and avoid taxes while spending money to influence policy decisions.

Responding to Rock's reporting earlier this week, Aeon senior editor Sam Haselby said: "You'd think a lawyer arguing on behalf of child slavery in Africa and against the billionaire tax would be a far-right figure. But he's an MSNBC fixture, Yale Law alum, and Obama Democrat."
Common Dreams reached out to Katyal for comment about Khanna's invitation to debate, but did not receive a response by publication time.

News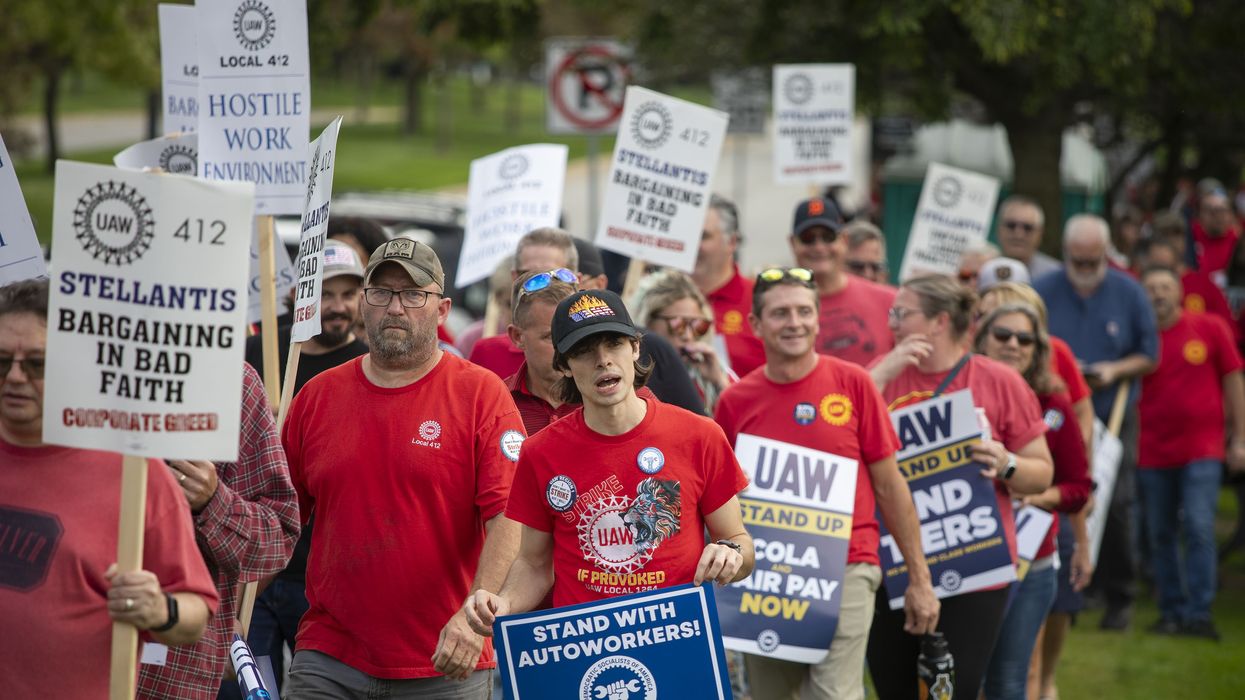 "We will shut down parts distribution until those two companies come to their senses and come to the table with a serious offer," said United Auto Workers president Shawn Fain.
United Auto Workers president Shawn Fain announced Friday that the union is expanding its strikes to every General Motors and Stellantis parts distribution facility in the U.S., a significant escalation that comes as the companies continue to reject workers' demands for major contract improvements.
"We will shut down parts distribution until those two companies come to their senses and come to the table with a serious offer," Fain said in a video update. "The plants that are already on strike will remain on strike."
The workers at the newly targeted facilities will walk off the job at noon ET.

For now, Ford will be spared additional walkouts, with Fain pointing to "real progress" with the company at the bargaining table. Fain specifically cited positive developments in the company's proposals to end wage tiers and restore cost-of-living adjustments that were suspended more than a decade ago amid the auto industry crisis.
"Ford is showing they're serious about reaching a deal," said Fain. "At GM and Stellantis, it's a different story."
The strike expansion comes a week after nearly 13,000 UAW members walked off the job at three GM, Ford, and Stellantis following the expiration of their contracts with the car manufacturers. Survey data shows a majority of the U.S. public supports the UAW strike.
"The public is on our side, and the members of the UAW are ready to stand up," said Fain. "We invite and encourage everyone who supports our cause to join us on the picket line, from our friends and families all the way up to the president of the United States."
The UAW is utilizing what it has dubbed a "stand-up strike" strategy, whereby members are called on to walk off the job at selective plants rather than all at once. The union says the tactic will maximize its leverage in contract talks and keep the companies off balance as negotiators push for substantial wage and benefit improvements.
Adjusted for inflation, the average hourly wages of U.S. autoworkers have fallen by 30% over the past two decades. Over the past 10 years, meanwhile, the Big Three automakers have raked in $250 billion in combined profits and dished out billions to shareholders.
The CEOs of the companies have also seen their compensation surge as workers struggle to make ends meet.
Fain said Friday that the UAW "can and will" launch an all-out strike against the Big Three "if our national leadership decides the companies aren't willing to move."
"Right now we think we can get there," the UAW president said. "Stellantis and GM, in particular, are going to need some serious pushing."
In a Fox Newsop-ed on Friday, Sen. Bernie Sanders (I-Vt.) wrote that the UAW's "fight against corporate greed is the fight to improve the lives of every worker in America."
"What's going on in the auto industry is not unique. It's pretty much what's been happening all over the American economy," Sanders continued. "In the United States today, at a time of massive income and wealth inequality, weekly wages for the average American worker are actually $50 a week lower than they were 50 years ago after adjusting for inflation."
"I am very proud to stand in solidarity with the UAW," the senator added, "and I will do everything that I can do to make sure they receive a fair contract."
News
Independent, nonprofit journalism needs your help.
Please Pitch In
Today!