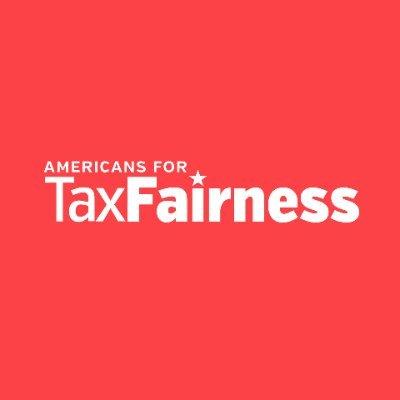 For Immediate Release
Contact:
Chris Fleming,Email:,chris@redhorsestrategies.com
13 Terrible Things About the Senate Republican Tax Plan
WASHINGTON
A new report out today details thirteen terrible things about the most recent Republican tax overhaul proposal in the U.S. Senate:
Gives most of the tax cuts to the richest 1%. The share of tax cuts going to the richest 1% is 62% in 2027, up from 18% in 2019. Their tax cut will be $33,000 in 2027, on average. [Tax Policy Center (TPC)]
Gives 53% of the tax cutsto corporations and businesses. These tax cuts mostly benefit the wealthy. [Joint Committee on Taxation (JCT)]
Makes 82 million middle-class families pay more in taxes. Half of all households--94 million--would pay more in taxes in 10 years. Of those, 82 million are of low- or middle-income. Two-thirds of families earning $55,000 to $93,000 will see a tax increase. [TPC]
Pays for corporate tax cuts by taking healthcare away from working families and seniors.
*To raise revenue to pay for permanent corporate tax cuts, the plan repeals the requirement under the Affordable Care Act for individuals to have health coverage. This will lead to 13 million more people being uninsured and cause a 10% increase in health insurance premiums. [Congressional Budget Office (CBO)]

*The corporate tax rate is slashed from 35% to 20%, losing $1.3 trillion over 10 years That's almost the $1.5 trillion cut the Republican budget proposes for Medicare ($473 billion) and Medicaid ($1 trillion). [JCT, Center on Budget and Policy Priorities (CBPP)]

*The tax bill would trigger immediate Medicare cuts of at least $25 billion a year, and more than $100 billion in other cuts to agriculture subsidies, student loans, military retirement and more, because it adds $1.4 trillion to the debt. [(CBO)]
Americans for Tax Fairness (ATF) is a diverse campaign of more than 420 national, state and local endorsing organizations united in support of a fair tax system that works for all Americans. It has come together based on the belief that the country needs comprehensive, progressive tax reform that results in greater revenue to meet our growing needs. This requires big corporations and the wealthy to pay their fair share in taxes, not to live by their own set of rules.
(202) 506-3264
LATEST NEWS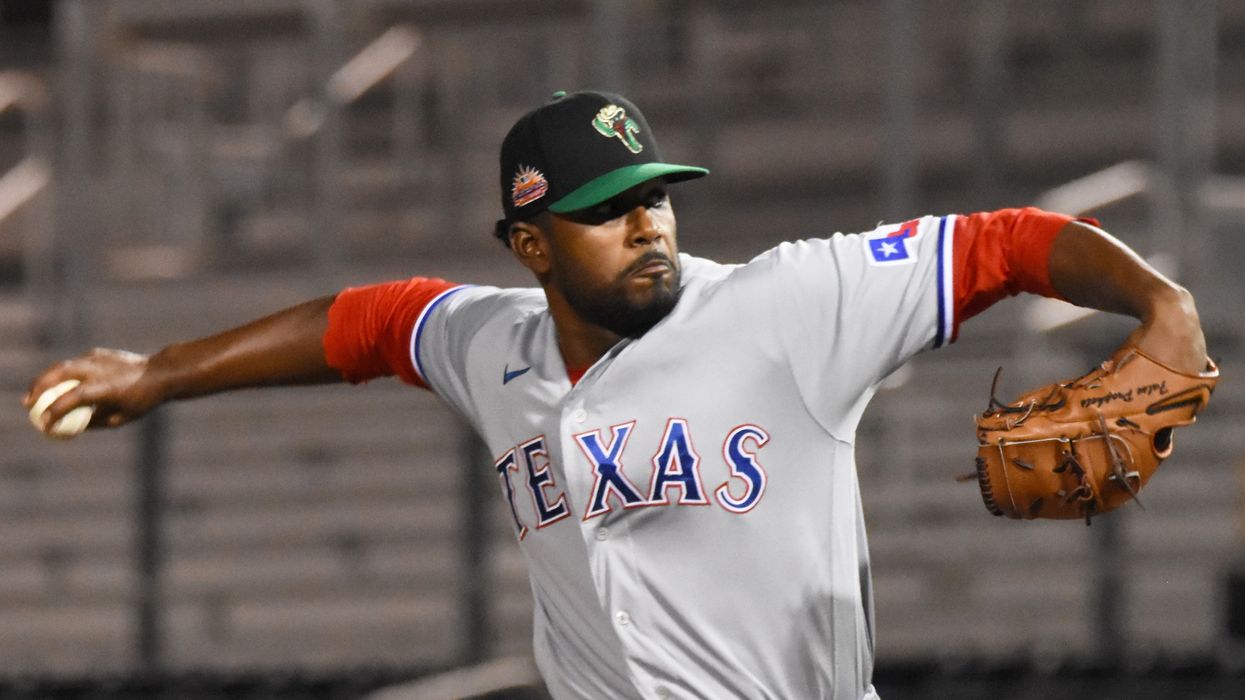 "This will truly better the lives of thousands of players and their families," said a former minor league pitcher instrumental to the yearslong organizing effort. "And that is what this fight has always been about."
Major League Baseball and recently unionized minor league players working for MLB team affiliates reached a tentative deal Wednesday on a historic first collective bargaining agreement.
The pending five-year contract is set to more than double the pay of athletes who currently receive poverty wages even though the average MLB team is worth more than $2 billion. It comes just months after the MLB Players Association, the union representing major leaguers, successfully organized highly exploited minor leaguers who are striving to join their ranks into a new collective bargaining unit.
"Nearly a decade of fighting has led to this, and players have achieved what was once thought undoable."
MLB recognized the union's minor league unit in September, paving the way for negotiations that wrapped up on the eve of opening day in the majors and two days before opening day in the minors.
Citing unnamed sources, ESPN's Jeff Passan reported Wednesday night:
After years of disillusionment among future major leaguers about paltry salaries forcing them to work offseason jobs—and coincidentally on the day a judge approved a $185 million settlement the league will pay players who accused it of violating minimum wage laws—the parties agreed on a deal that went out to a vote among the union's rank and file and that will need to be approved by owners, as well, before it is formalized. The agreement could be announced officially as early as Friday, the first day of games in the minor leagues.
The deal was confirmed by numerous other reports citing league and union sources.
Unlike now, minor leaguers are set to be paid "for most of the offseason as well as spring training, including back pay for this season," according to Passan. He detailed the annual pay increases on social media.
\u201cBREAKING: Minor league baseball players\u2014among the lowest earning workers in America, who are paid as little as $7/hour by billionaire MLB owners\u2014have reached a first union contract that would more than double the pay of all players.\u201d

— More Perfect Union (@More Perfect Union) 1680143267
In addition to pay hikes, players "emphasized better housing and transportation as a matter of import," Passan reported. "Starting in 2024, those at Triple-A and Double-A will receive their own bedroom, and players with spouses and children will receive special accommodations. In rookie ball, Single-A, and High-A, teams will provide transportation to stadiums, where they'll eat meals provided under rules negotiated by a joint clubhouse nutrition committee."
As More Perfect Union detailed on social media, harsh living conditions on the road between games prompted players to organize for better accommodations and nutrition. Thanks to this effort, MLB began requiring its minor league teams to provide housing to players in 2022. The pending agreement seeks to secure additional improvements.
\u201cIn 2021, a courageous campaign by former and current players forced the league to start offering housing.\n\nhttps://t.co/Yqu2NIK8MR\u201d

— More Perfect Union (@More Perfect Union) 1680143267
While name, image, and likeness (NIL) rights are currently controlled by MLB, the pending agreement grants full NIL rights to the union, which can use them to strengthen group licensing deals. In addition, it expands players' medical rights, including covering post-injury medical expenses for a longer period of time.
"Among those not included in the deal are players at teams' complexes in the Dominican Republic," Passan reported. "The minor league unit of the MLBPA includes only players on teams' domestic rosters—and players from the Dominican Republic, Venezuela, and other foreign countries will still reap the benefits when stateside."
In a concession to owners, "the deal includes the reduction of the maximum Domestic Reserve List, which governs the number of players a team can roster outside of its Dominican Republic complexes, from 180 to 165 starting in 2024," Passan noted. "The union had previously fought MLB's efforts during the lockout last year to reduce the reserve list, which teams had identified as a priority."
Nathan Kalman-Lamb, an assistant professor of sociology at the University of New Brunswick, wrote on social media that "Minor League Baseball players were perhaps the single most exploited group of men's athletes in North America other than college basketball and football players."
"Now they have a new (good!) collective agreement," he added. "No better evidence of why college athletes need unions."
"For the those who passed a hat around for diaper money for newborns... This is for you."

Garrett Broshuis, a former minor league pitcher who spearheaded early organizing efforts, celebrated on Twitter.
"This is big," Broshuis wrote. "Nearly a decade of fighting has led to this, and players have achieved what was once thought undoable."
"Is the deal perfect? No, but every negotiation ends in compromise," he continued. "This will truly better the lives of thousands of players and their families. And that is what this fight has always been about."
Broshuis concluded: "For the those who passed a hat around for diaper money for newborns. For those who grinded away at two or even three offseason jobs. For those who skipped breakfast or even lunch to pinch pennies. For those who have [given] up the game not for a lack of talent but for a lack of funds. This is for you."
News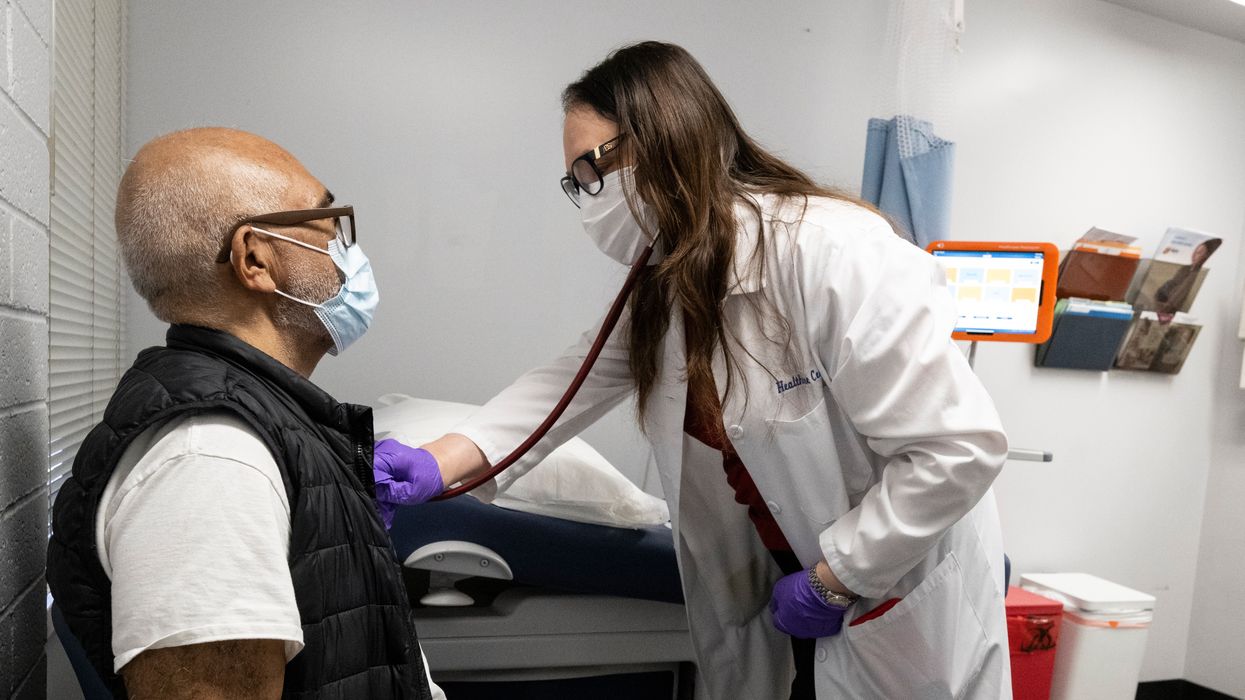 "Another reason why we need Medicare for All—the milquetoast ACA is being dismantled before our eyes," said one critic.
A ruling handed down by a U.S. district judge on Thursday will threaten a range of lifesaving preventative healthcare services for more than 150 million people, legal experts and advocates said, as the decision challenged the legality of a federal task force that enforces coverage for the services.
Judge Reed O'Connor, a Bush appointee who sits on the U.S. District Court for the Northern District of Texas, ruled that insurance companies do not have to comply with preventative care recommendations made by the U.S. Preventative Services Task Force (USPSTF), which was established by a key provision in the Affordable Care Act (ACA), also known as Obamacare.
O'Connor ruled that the appointments of members of the task force violate the Appointments Clause in the U.S. Constitution and said that violation "invalidates its power to enforce anything against anyone nationwide," according toSlate journalist Mark Joseph Stern.
The USPSTF has issued recommendations for a wide range of preventative care services, including screenings for breast cancer, colorectal cancer, cervical cancer, and diabetes; interventions and tests for pregnant patients; anxiety screenings for children and adolescents; and pediatric vision tests.

Under the ACA, insurance companies are required to cover those services, but following O'Connor's ruling coverage will no longer be mandated.
The decision is "nothing short of catastrophic to the U.S. healthcare system," said Stern.
\u201cI anticipated this decision in September when O'Connor first telegraphed it. It is nothing short of catastrophic to the U.S. health care system. Millions of Americans, including many pregnant women, will have to forgo basic care if it is upheld.\nhttps://t.co/eVpemaBN5c\u201d

— Mark Joseph Stern (@Mark Joseph Stern) 1680184452
The ruling stemmed from a lawsuit filed in 2020 by Christian employers who objected to paying for services such as contraceptives and preexposure prophylaxis (PrEP), to prevent HIV transmission.
In September, O'Connor ruled that coverage for PrEP violated the companies' religious freedom in a decision that one doctor who specializes in HIV treatment condemned as "disgusting and inhumane" and likely "driven solely by homophobia and transphobia."
\u201cA Bush-appointed judge blocks the ACA's coverage of preventative care, including cancer screenings and the HIV-prevention drug PrEP, as the Stephen Miller-backed plaintiffs claim it "encourage[s] homosexual behavior, prostitution [and] sexual promiscuity."https://t.co/IVTbOmOzCg\u201d

— Emma Vigeland (@Emma Vigeland) 1680191769
The companies are being represented by Texas attorney Jonathan Mitchell, who helped develop the state's abortion ban that allows private citizens to sue anyone who "aids or abets" a person who obtains abortion care.

More than 150 million Americans who have private health insurance have coverage for preventative care under the ACA, as well as approximately 20 million Medicaid and 61 million Medicare recipients.

Last July, as O'Connor was considering the case, titled Braidwood Management Inc., vs. Xavier Becerra, national health organizations including the American Medical Association, the American Academy of Pediatrics, and the American College of Obstetricians and Gynecologists warned that a ruling in the plaintiffs' favor would "reverse important progress and make it harder for physicians to diagnose and treat diseases and medical conditions that, if caught early, are significantly more manageable."
"With an adverse ruling, patients would lose access to vital preventive healthcare services, such as screening for breast cancer, colorectal cancer, cervical cancer, heart disease, diabetes, preeclampsia, and hearing, as well as access to immunizations critical to maintaining a healthy population," the organizations wrote. "Our patients cannot afford to lose this critical access to preventive healthcare services."
The Biden administration is expected to appeal O'Connor's ruling, and since insurance coverage contracts typically run through the end of the year, coverage will likely not change for many before 2024.
If upheld, the ruling will deal "a devastating blow to American public health," said University of California law professor Jennifer Oliva.
\u201cA federal judge deals a devastating blow to American public health by enjoining the ACA preventative mandate nationally. Included among plaintiffs\u2019 claims was that it was against their religion for insurance plans to cover counseling for substance use disorder.\u201d

— Jennifer Oliva (@Jennifer Oliva) 1680188419
Last year, a Morning Consult poll found that at least 2 in 5 Americans were not willing to pay out-of-pocket for preventative services currently covered by the ACA.

O'Connor previously ruled in 2018 that the ACA should be struck down in its entirety, but that ruling was overturned by the U.S. Supreme Court.
The judge's latest ruling offers "another reason why we need Medicare for All," said the Debt Collective. "The milquetoast ACA is being dismantled before our eyes. There is no reason not to fight for real solutions when the non-solutions stand no better chance."

News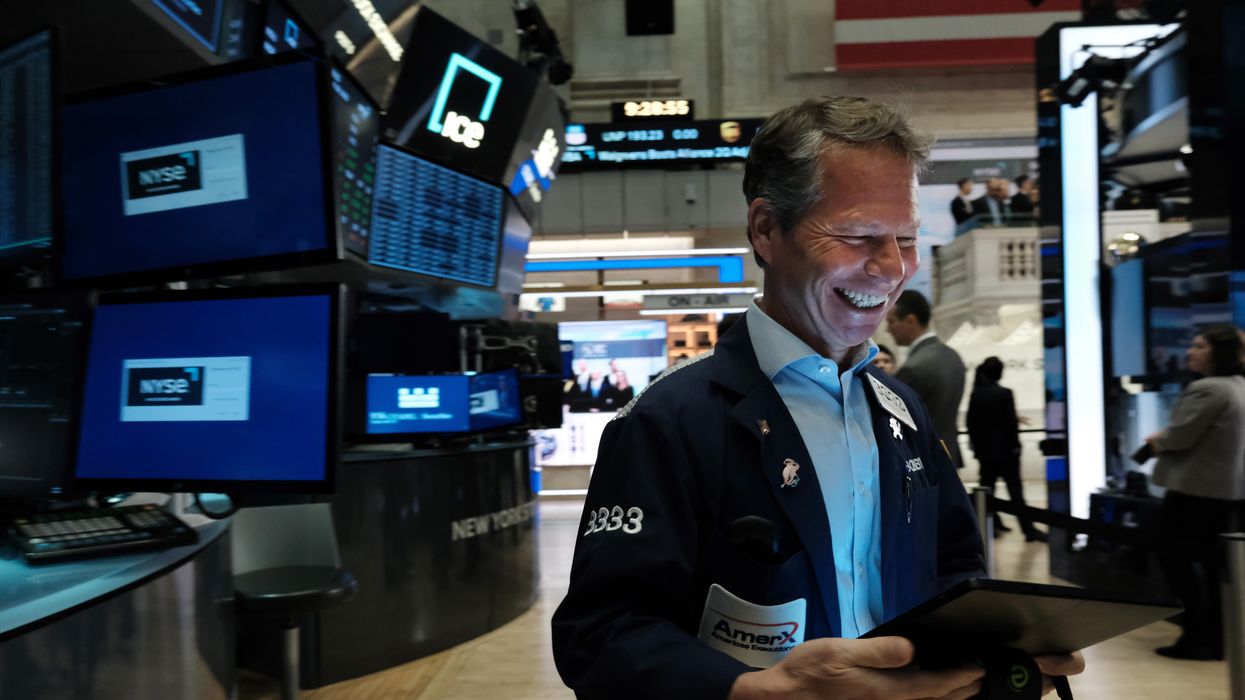 "The total bonus pool for 190,800 New York City-based Wall Street employees in 2022 was $33.7 billion—enough to pay for 771,520 jobs that pay $15 per hour with benefits for a year."
The federal minimum wage in the United States would be more than $42 an hour today if it rose at the same rate as the average Wall Street bonus over the past four decades, according to an analysis released Thursday by the Institute for Policy Studies.
Citing newly released data from the New York State Comptroller, IPS noted that the average Wall Street bonus has increased by 1,165% since 1985, not adjusted for inflation.
Last year, the average cash bonus paid to Wall Street employees was $176,700—75% higher than in 2008 but slightly lower than the 2021 level of $240,400.
The federal minimum wage, meanwhile, has been completely stagnant since 2009, when it was bumped up to $7.25 from $5.15. While many states and localities have approved substantial pay increases in recent years, 20 states have kept their hourly wage floors at the federal minimum.
Sarah Anderson, director of the Global Economy Project at IPS and the author of the new analysis, wrote Thursday that "average weekly earnings for all U.S. private sector workers increased by only 54.4%" between 2008 and 2022—a significantly slower pace than inequality-fueling Wall Street bonuses.
"The total bonus pool for 190,800 New York City-based Wall Street employees in 2022 was $33.7 billion—enough to pay for 771,520 jobs that pay $15 per hour with benefits for a year," Anderson observed. "Wall Street bonuses come on top of base salaries, which averaged $516,560 for New York securities industry employees in 2021."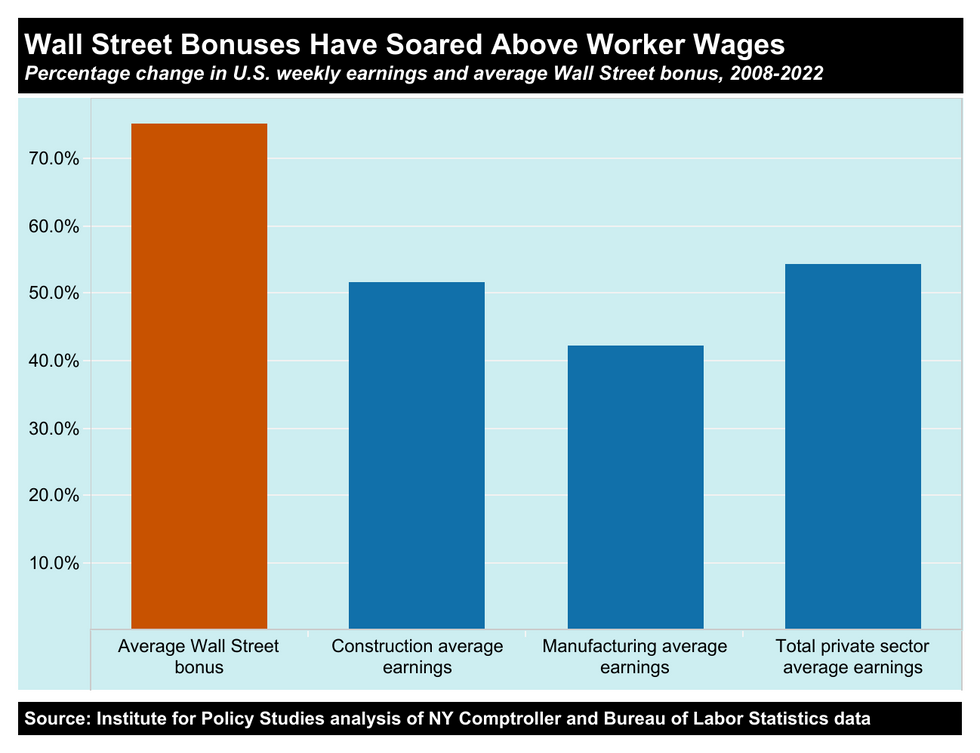 Anderson argued that there are a number of straightforward steps lawmakers and regulators can take to curb exorbitant Wall Street compensation and bonuses.
In the wake of the 2008 financial crisis, Congress passed several provisions aimed at reining in bankers' compensation as part of the Dodd-Frank Wall Street Reform and Consumer Protection Act.
But as The American Prospect's David Dayen pointed out last week, "bank regulators hip-pocketed one of those rules that Congress mandated in 2010—the one that would prohibit banker compensation that is specifically tied to taking inappropriate risks."
"The last time there was even a proposed rule on this was nearly seven years ago," Dayen continued. "And in 2018, when Federal Reserve Chair Jerome Powell was asked whether he would abide by Congress' wishes and finish the rule, he blandly replied, 'We tried for many years' and 'we were not able to achieve consensus'—just thumbing his nose at a congressional mandate."
Anderson urged the Biden administration's financial regulators to stop deferring to Wall Street lobbyists and "swiftly—and rigorously—enact the Dodd-Frank Wall Street pay restrictions that were supposed to have been enacted by May 2011."
Any new regulation, Anderson wrote, can and should include "a ban on stock options at Wall Street banks" and mandates requiring Wall Street executives to "set aside significant compensation for 10 years to pay potential misconduct fines."
"If such a regulation had been in place before the [Silicon Valley Bank] collapse," Anderson noted, "top executives would've automatically forfeited this deferred pay to help cover the cost of their recklessness."
News
SUPPORT OUR WORK.
We are independent, non-profit, advertising-free and 100%
reader supported.