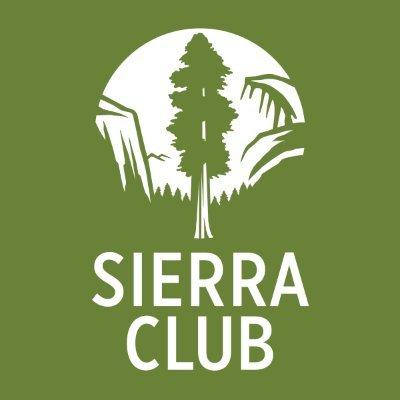 Sierra Club Releases Interactive Map of Volatile Facilities Threatened by Harvey
Map Identifies Facilities in the 25 Most Affected Counties
WASHINGTON
Today, the Sierra Club released an interactive digital map detailing 449 plants, refineries, and facilities that are posing heightened threats to the 25 counties most affected by Harvey.
For decades, Houston has been home to an immense concentration of chemical and plastics plants, oil and gas refineries, Superfund sites, fossil fuel plants, and wastewater discharge treatment plants among others, threatening the surrounding communities. The overwhelming majority of these facilities were constructed in communities of color, only adding to the burden felt from this disaster. Now, in the wake of Hurricane Harvey, the threat posed by these facilities has been magnified.
This site will be updated as we learn of actual reported and confirmed instances of releases, spills or accidents.
If interested, Bryan Parras, a Sierra Club Organizer and environmental justice advocate who has stayed in his home in East Houston and taken in family members is available to speak.
In response, Sierra Club Organizer Bryan Parras released the following statement:
"For as long as I can remember, my hometown of Houston has been littered with dangerous chemical plants, oil and gas refineries, and hazardous waste facilities. These sites have caused devastation for my family, my friends, and my neighbors for years, polluting our air and water with deadly toxins. Hurricane Harvey didn't create the problem my community faces, but it has magnified it.
"This map shows the world the threats we have lived with for years, and the environmental injustices we've been saddled with. The disastrous fire at Arkema this morning just goes to show the danger our community remains in for the days and weeks to come. As the clouds clear and the sun returns, and we begin to think about rebuilding, we must ensure that the recovery is just and equitable, and ensures communities are not displaced nor threatened by these toxic sites ever again, no matter the weather."
The Sierra Club is the most enduring and influential grassroots environmental organization in the United States. We amplify the power of our 3.8 million members and supporters to defend everyone's right to a healthy world.
(415) 977-5500
LATEST NEWS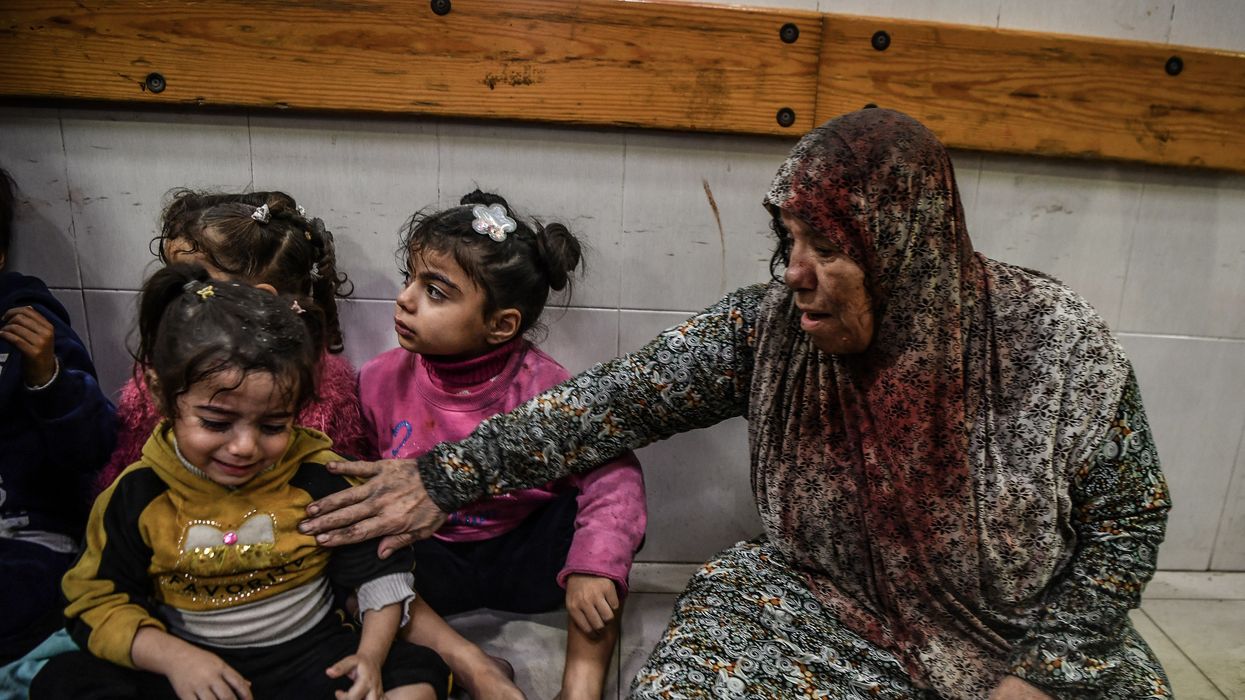 "How is it that these atrocities are beamed across the world for all to witness, and yet so little is done to stop them?"
Humanitarian groups and United Nations officials expressed horror Wednesday at the disaster unfolding in Gaza as Israeli forces stormed the largest city in the southern part of the strip, fueling concerns of a repeat of the appalling destruction that Israel inflicted in the north.
Volker Türk, the U.N.'s high commissioner for human rights, said at a press conference that the "catastrophic situation" in Gaza was "entirely foreseeable and preventable." He noted that his colleagues on the ground in the besieged strip "have described the situation as apocalyptic."
"Military operations, including bombardment, by Israeli forces continue in north, middle, and south Gaza, affecting people who have already been displaced multiple times—forced to flee—in search of safety," said Türk. "But no place is safe."
Many had fled to Khan Younis from the north in search of safety, only to be told to evacuate again weeks later as the Israeli military closed in.
The Israel Defense Forces (IDF) said earlier this week that its ground offensive now encompasses the entirety of the Gaza Strip, leaving the nearly 2 million people who have been displaced with no viable options to avoid near-constant Israeli bombing, shelling, and firefights that have prevented the delivery of critical aid, including medicine and food.

Virtually the entire population of Gaza is at imminent risk of starvation, the World Food Program has warned.
"The hunger war has started," one displaced person toldThe Associated Press, saying that Gazans are now fighting over dwindling food supplies. "This is the worst of all wars."

"Each day we see more dead children and new depths of suffering for the innocent people enduring this hell."
Jan Egeland, secretary-general of the Norwegian Refugee Council (NRC), said that tens of thousands of people are living on the streets of southern Gaza in makeshift and overcrowded shelters, heightening the risk of infectious disease. The United Nations Relief and Works Agency for Palestinian Refugees in the Near East reported an outbreak of Hepatitis A at one of its facilities last week.
Hospitals are also overwhelmed and out of basic supplies, forcing doctors to operate on wounded patients without anesthesia and proper sanitation.
"Many of my own NRC staff members now live on the streets. One of them does so with her two-month-old baby," said Egeland. "Our colleagues in Gaza ask themselves a simple question: How is it that these atrocities are beamed across the world for all to witness, and yet so little is done to stop them?"
Egeland called Israel's "pulverizing of Gaza" one of "the worst assaults on any civilian population in our time and age."
"Each day we see more dead children and new depths of suffering for the innocent people enduring this hell," he added, calling for an immediate cease-fire. "The situation in Gaza is a total failure of our shared humanity. The killing must stop."
Israel—whose assault has been backed politically and militarily by the U.S. and other Western nations—claims its intensifying attack on Khan Younis and other areas of southern Gaza is aimed at eliminating Hamas strongholds, an assertion it has used throughout the two-month war to justify the mass slaughter of civilians and the decimation of large swaths of the Palestinian territory.
The Euro-Mediterranean Human Rights Monitor, a Geneva-based nonprofit, estimated Tuesday that at least 90% of the Palestinians killed by Israeli forces since October 7 have been civilians, contradicting Israel's claim that two Gaza civilians have been killed for every Hamas combatant.
Including the number of people missing under rubble and presumed dead, the human rights group said at least 21,022 people have been killed by the Israeli military since early October, when the assault on Gaza began in the wake of a deadly Hamas-led attack. The U.N. has estimated that nearly 70% of those killed have been women and children.
"The only way for civilians to be protected and for humanitarian assistance to be provided at the necessary scale required is for the conflict to end," Bob Kitchen, vice president for emergencies at the International Rescue Committee, said in a statement Tuesday. "The need for a cease-fire becomes more urgent as each hour passes, with more than two million Palestinians facing humanitarian catastrophe."
News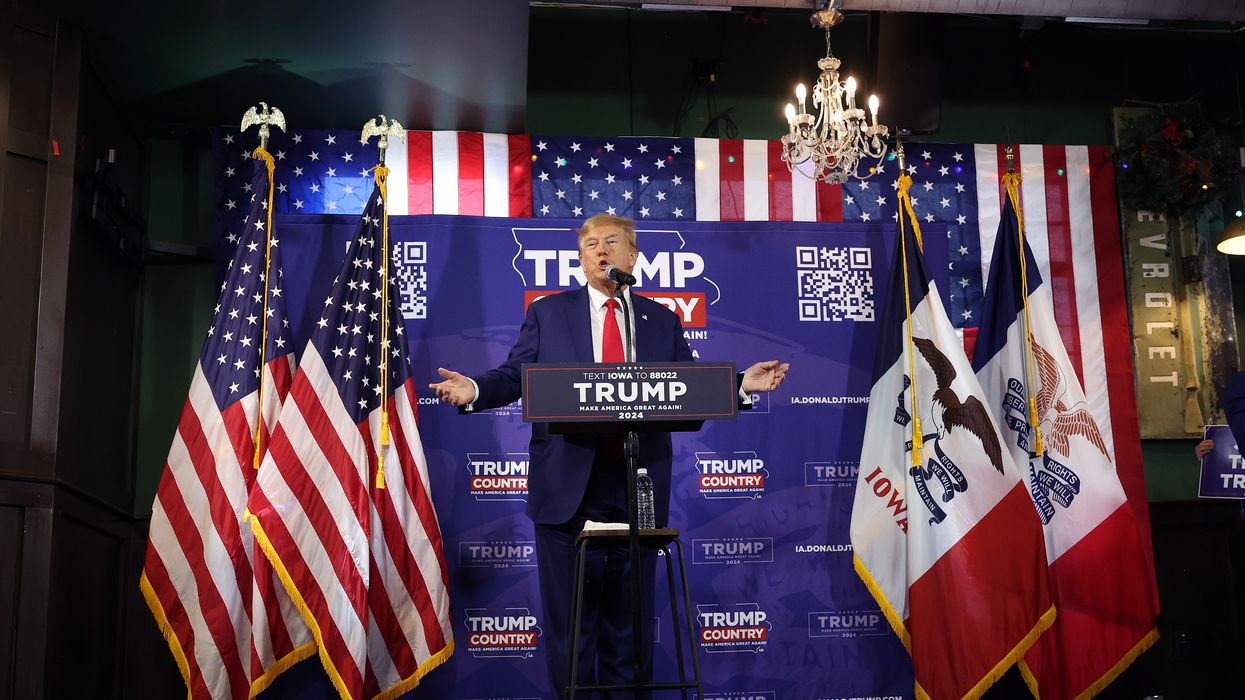 The former president's remarks came as his allies are reportedly preparing specific plans to wield the federal government to target political enemies, including journalists.

Amid mounting alarm over his authoritarian ambitions for a second term, former President Donald Trump said during a Fox News town hall on Tuesday that he would be a dictator only on "day one," pledging to unilaterally close the U.S.-Mexico border and accelerate fossil fuel drilling.
Trump's remarks came in response to a question from host Sean Hannity, who asked the former president if he would promise to never "abuse power as retribution against anybody."
"Except for day one," Trump replied. "I want to close the border and I want to drill, drill, drill... We're closing the border and we're drilling, drilling, drilling. After that, I'm not a dictator."
"The moment for resisting Trump is right now, not waiting until January 21, 2025."
President Joe Biden's 2024 campaign immediately highlighted Trump's comments, posting a clip on social media and saying in a statement that the former president "has been telling us exactly what he will do if he's reelected."
"Tonight he said he will be a dictator on day one," said Biden campaign manager Julie Chavez Rodriguez. "Americans should believe him."
Trump's remarks Tuesday were just the latest evidence that the former president is preparing to aggressively wield executive power and arms of the federal government to pursue a far-right agenda and target his political enemies if he wins another White House term next year.
The Washington Postreported last month that Trump and his allies "have begun mapping out specific plans for using the federal government to punish critics and opponents... with the former president naming individuals he wants to investigate or prosecute and his associates drafting plans to potentially invoke the Insurrection Act on his first day in office to allow him to deploy the military against civil demonstrations."
"Much of the planning for a second term has been unofficially outsourced to a partnership of right-wing think tanks in Washington," the Post noted. "Dubbed 'Project 2025,' the group is developing a plan, to include draft executive orders, that would deploy the military domestically under the Insurrection Act."
During a speech in New Hampshire last month, Trump promised to "root out" those he dubbed "radical left thugs that live like vermin within the confines of our country," a threat that critics likened to Nazi rhetoric.
The former president, who is currently facing more than 90 felony charges, also pledged that his administration would carry out "the largest domestic deportation operation in American history," revive the Muslim ban, slash taxes for the wealthiest even further, and accelerate pipeline approvals.
The New York Timesreported Tuesday that a Trump confidant who is "likely to serve in a senior national security role in any new Trump administration" threatened to "target journalists for prosecution if the former president regains the White House."
Kash Patel, who served as Trump's counterterrorism adviser on the National Security Council, said during an appearance on former Trump strategist Steve Bannon's podcast that "we will go out and find the conspirators, not just in government but in the media."
"Yes, we're going to come after the people in the media who lied about American citizens, who helped Joe Biden rig presidential elections—we're going to come after you. Whether it's criminally or civilly, we'll figure that out," Patel said. "We're actually going to use the Constitution to prosecute them for crimes they said we have always been guilty of but never have."
In a column published Tuesday, The Philadelphia Inquirer's Will Bunch expressed concern about what he described as the lack of mass mobilization against Trump's 2024 presidential campaign, given his openly fascistic threats and behind-the-scenes planning.
" Trump is back, and no one calls him a demagogue anymore—because that's too polite," Bunch wrote. "The 47th presidency he envisions is tyrannical, even dictatorial—siccing zealous MAGA prosecutors on his political enemies and the media, pardoning 2021's insurrectionists, mass detention camps for deporting migrants, and calling out troops to put down protests, perhaps as early as his Inauguration Day. And yet he is all but guaranteed the GOP nomination, and an even-money bet against President Joe Biden next fall."
"As I write this on Monday night, ' dictator' is a trending topic on X/Twitter. It could be trending nightly if the too-silent majority of Americans who believe in democracy don't take a more forceful stand," Bunch warned. "The moment for resisting Trump is right now, not waiting until January 21, 2025."

News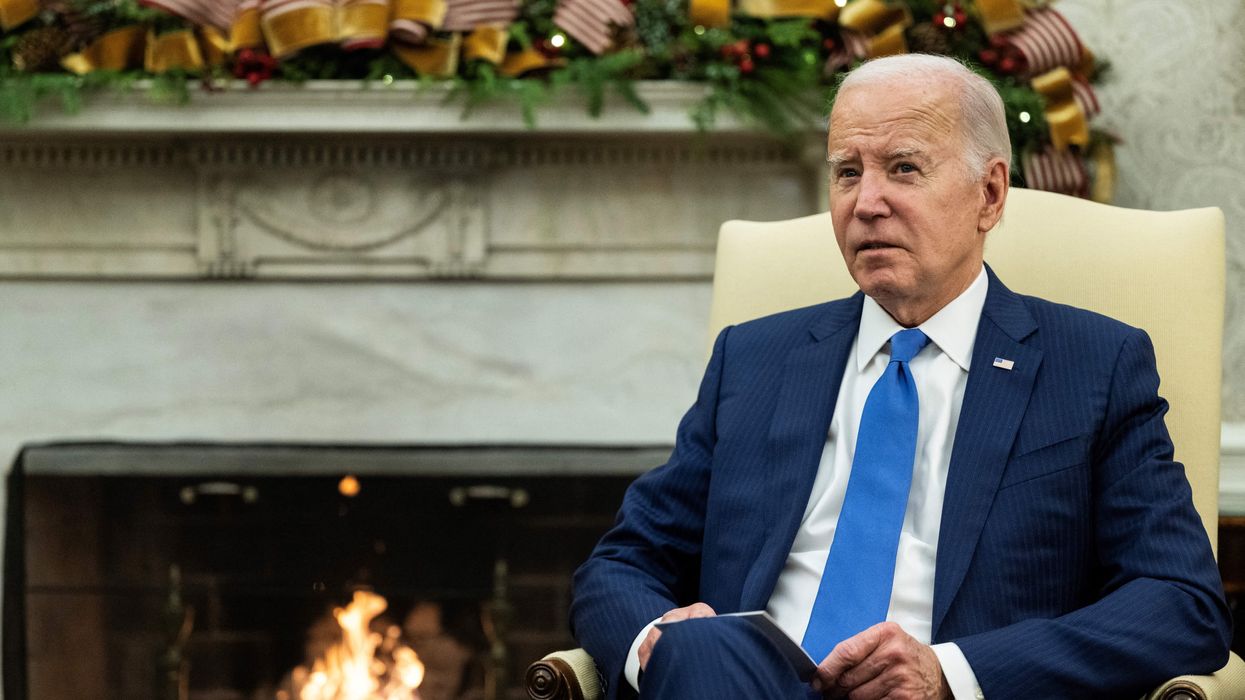 The interns sent a letter demanding that President Joe Biden support a permanent cease-fire.

Dozens of White House interns sent a letter late Tuesday urging President Joe Biden to demand a permanent cease-fire in Gaza, echoing the calls of a growing number of lawmakers, congressional staffers, administration officials, and ordinary Americans.
"We heed the voices of the American people and call on the administration to demand a permanent cease-fire," reads the letter, which is signed "40+ White House & [Executive Office of the President] Interns for Palestine."
"We are not the decision-makers of today, but we aspire to be the leaders of tomorrow, and we will never forget how the pleas of the American people have been heard and thus far, ignored," continues the letter, which was first reported by NBC News.
The interns' letter was made public hours after a Data for Progress survey showed that 61% of U.S. voters—including 76% of Democrats—want the Biden administration to call for a permanent cease-fire in the Gaza Strip, which is facing a devastating humanitarian crisis as Israel continues its bombardment of the territory and expands its ground offensive to the south after decimating much of the north.
"The pulverizing of Gaza now ranks amongst the worst assaults on any civilian population in our time and age."
While the Biden administration supported the temporary pause that ended last week, it has claimed that a permanent cease-fire would be a gift to Hamas, which carried out a deadly attack on southern Israel in early October.
Administration officials in recent days have pushed Israel to protect civilians in Gaza, but there's no evidence that the Israeli military has changed its indiscriminate approach. Early Tuesday, an Israeli airstrike reportedly hit a school housing displaced Gazans—killing at least 20 people—as Israeli forces invaded Khan Younis in southern Gaza.
"The pulverizing of Gaza now ranks amongst the worst assaults on any civilian population in our time and age," Jan Egeland, secretary-general of the Norwegian Refugee Council, said Tuesday. "Each day we see more dead children and new depths of suffering for the innocent people enduring this hell."
The White House interns, who did not sign their names to the letter likely out of fear of retaliation, expressed their horror at both the "brutal October 7th Hamas attack on Israeli civilians" and "the brutal and genocidal response by the Israeli government, funded by our tax dollars."
An Amnesty International investigation released earlier Tuesday found that the Israeli military used U.S.-made munitions to carry out airstrikes on two homes in Gaza in October, killing more than 40 members of two families—including 19 children.

"We urge the Biden-Harris administration to call for a permanent cease-fire now, a release of all hostages including Palestinian political prisoners, and to support a diplomatic solution that will put an end to the illegal occupation and the Israeli apartheid, in accordance with international law and for a free Palestine," the White House interns wrote.
News