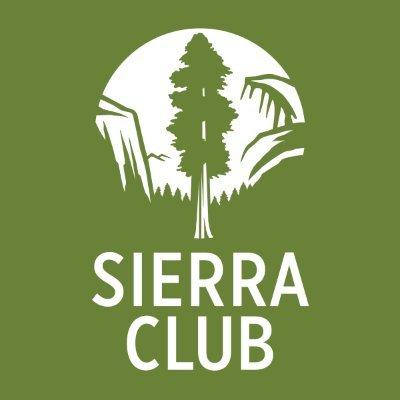 For Immediate Release
May, 14 2014, 02:23pm EDT
Contact:
Mark Westlund, 415-977-5719
National Day of Action on Keystone XL May 17
WASHINGTON
WHAT: Thousands will gather at coordinated events across the US.
Three weeks after the powerful "Reject and Protect" encampment in Washington, DC, and two weeks after release of the National Climate Assessment, Americans will take to bridges, beaches, refineries, and government offices to ask the president to reject the Keystone XL pipeline and other dirty fuel projects that threaten our communities and destabilize our climate. Urban, suburban and rural, from singing grannies to college students, ordinary citizens will urge our leaders to accelerate the transition to clean energy.
In Florida, many of the events will tell Senator Marco Rubio and other leaders to stop denying the science and acknowledge that humans are the cause of climate change.
Nearly 100 events are planned, here are some of the highlights:
South Dakota / Nebraska border: The Cowboy Indian Alliance, which led Reject and Protect in Washington, will symbolically block the border where the Keystone XL pipeline would cross from South Dakota into Nebraska.
South Beach, Miami:Particularly vulnerable to flooding and other climate impacts, is anticipated to be one of the largest events on May 17.
East Chicago: Rally at site of the recent BP tar sands refinery oil spill near Lake Michigan. Will feature a speaker from Kalamazoo, site of the massive 2010 tar sands spill.
Los Angeles: Hands Across the Harbor will gather at a refinery to say no to fracking and the export of tar sands through the Port of Los Angeles.
Minneapolis / St. Paul: Participants will join hands across the iconic Old Stone Arch Bridge that links the Twin Cities, symbolically blocking Alberta Clipper, another tar sands pipeline, planned to cross the Mississippi in two places.
Portland, ME: Speakers including the mayor will speak out against a proposed pipeline that would transport Canadian tar sands past Oswego Lake and Casco Bay.
San Francisco Bay: A Healing Walk organized by the Native American group Idle No More and supported by the Sunflower Coalition will begin at Tesoro and Shell refineries in Martinez and walk in prayer and conversation to a Valero refinery in Benicia. The walkers will be greeted at a bridge by a flotilla of kayaks and canoes.
Seattle:A gathering at a local waterfront park to highlight concerns about offshore drilling and the proposed shipping of tar sands oil out of Pacific NW ports.
Tampa Bay: At the #1 beach tourist destination in the U.S., participants will join hands against the Keystone XL pipeline and offshore drilling.
Denver: participants will gather at the state capitol to join hands against Keystone XL, fracking and other dirty fuels.
WHO: The Sierra Club and a long list of local and national partner organizations.
WHEN: Saturday, May 17, 2014
WHERE: Visit the National Day of Action website for a full list and description of events.
***VISUALS WILL INCLUDE SPEAKERS AND MARCHES, SIGNS AND BANNERS, HIGH PROFILE LEADERS WILL BE AVAILABLE FOR INTERVIEWS AND COMMENTS.
The Sierra Club is the most enduring and influential grassroots environmental organization in the United States. We amplify the power of our 3.8 million members and supporters to defend everyone's right to a healthy world.
(415) 977-5500
LATEST NEWS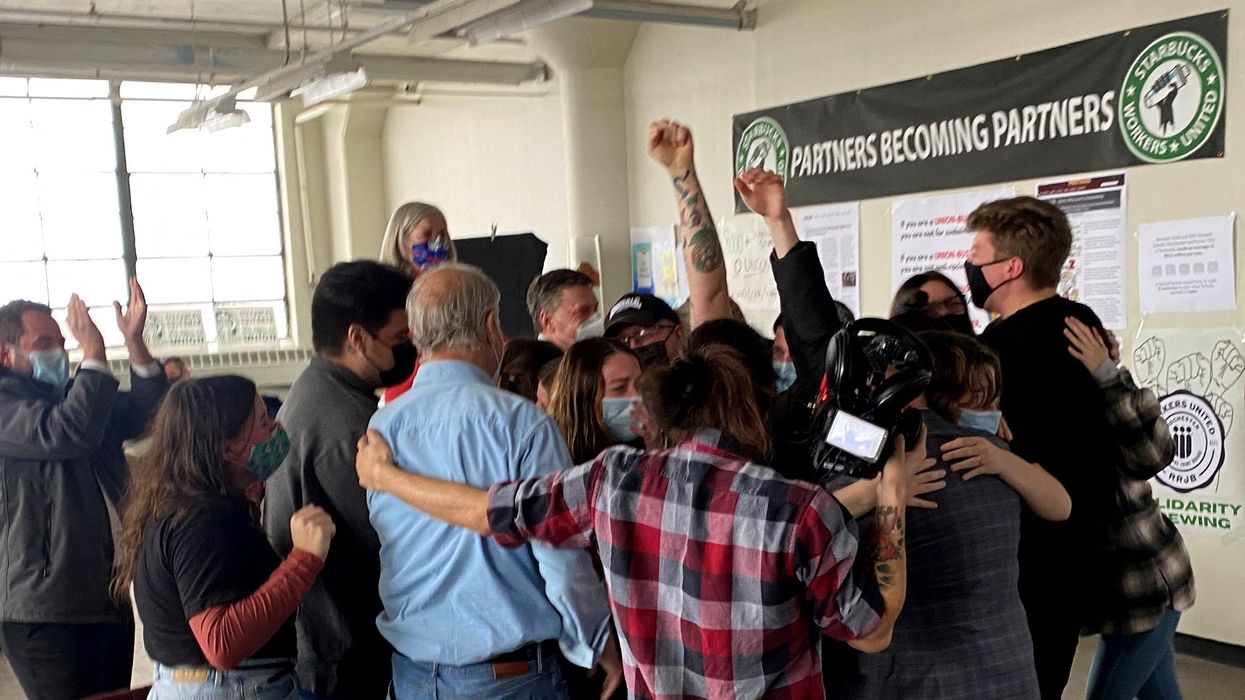 "This ruling proves what we have been saying all along—Starbucks is the poster child of union-busting in the United States," said one organizer, vowing to "fight until every Starbucks worker wins the right to organize."

Building on a series of blows to Starbucks on Wednesday, a federal administrative law judge found the coffee giant "committed hundreds of unfair labor practices" at stores in and near Buffalo, New York, the origin of a national unionization wave.

In a lengthy ruling, the National Labor Relations Board (NLRB) judge, Michael A. Rosas, called out the Seattle-based company for "egregious and widespread misconduct demonstrating a general disregard for the employees' fundamental rights."

The judge ordered Starbucks to cease a long list of anti-union activities, rehire illegally fired employees, reimburse those impacted by unlawful conduct, rescind disciplinary actions, and reopen closed stores.

Rebecca Givan, an associate professor of labor studies at Rutgers University, toldThe Washington Post that "to order a company to reopen stores that it's closed should be embarrassing for Starbucks."
\u201cCassie Fleischer was one of the first union workers fired by Starbucks. \n\nHer hours were cut so much that she got an additional job, then Starbucks took her off the schedule entirely.\n\nThe company urged managers to cover up the truth, but we had receipts. https://t.co/a8oKMPehe4\u201d

— More Perfect Union (@More Perfect Union) 1677710384
Rosas also ordered "a meeting or meetings scheduled to ensure the widest possible attendance," during which a notice to the employees and an explanation of rights will be read by CEO Howard Schultz, senior vice president of U.S. operations Denise Nelson, or an NLRB agent. A video of the reading must be distributed to workers electronically or by mail.

In an emailed statement to Bloomberg, Starbucks said that "we believe the decision and the remedies ordered are inappropriate given the record in this matter and are considering all options to obtain further legal review."

The outlet noted that "rulings by NLRB judges can be appealed to labor board members in Washington, and can then be appealed into federal appeals court. The agency can order policies changed and workers reinstated, but lacks authority to hold executives personally liable or make companies pay punitive damages for violations."

Meanwhile, Starbucks employees from the area and across the United States celebrated the "historic" ruling. Local organizer and barista Michael Sanabria declared that "after waiting through months of stalling tactics and the slow wheel of justice to turn, this will reinvigorate and re-energize the momentum of this movement."

\u201c\u201cThis decision results from months of tireless organizing by workers in cafes across the country demanding better working conditions in the face of historical, monumental, and now deemed illegal union-busting," said Michelle Eisen, a barista from the Elmwood location in Buffalo.\u201d

— Starbucks Workers United (@Starbucks Workers United) 1677709489
Gary Bonadonna Jr., manager of the Starbucks Workers United Rochester regional joint board, said that "when workers launched their organizing campaign in the summer of 2021, we never could have imagined the lengths Starbucks would go to try to stop employees from exercising their legal right to organize."
"This ruling proves what we have been saying all along—Starbucks is the poster child of union-busting in the United States," Bonadonna added. "We are thrilled that the company is being held accountable for their actions and we will continue to fight until every Starbucks worker wins the right to organize."
The ruling came after dozens of white-collar Starbucks workers on Wednesday endorsed a letter calling out the company for requiring them to return to the office and interfering with the unionization efforts at stores nationwide.
Also on Wednesday, Senate Health, Education, Labor, and Pensions Committee Chair Bernie Sanders(I-Vt.) announced that next week the panel will vote on whether to subpoena Schultz, who has refused to testify voluntarily.
\u201c. @StarbucksNews \u2014 you good?\u201d

— Starbucks Workers United (@Starbucks Workers United) 1677711536
"Tough day for Starbucks and its CEO," More Perfect UniontweetedWednesday night. "They might want to consider not engaging in constant, illegal union-busting."
News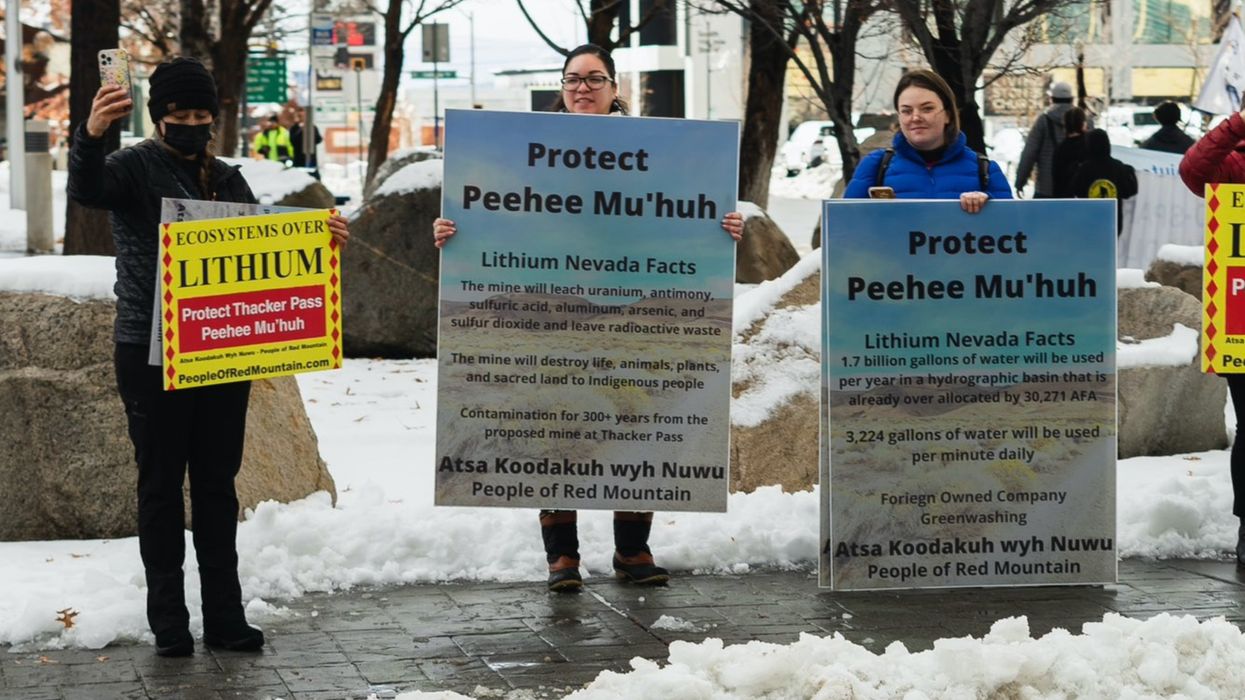 "This massive open-pit mine has been fast-tracked from start to finish in defiance of environmental laws, all in the name of 'green energy,' but its environmental impacts will be permanent and severe," said one opponent of the project.
Indigenous and environmental activists on Wednesday decried the 9th U.S. Circuit Court of Appeals' denial of an emergency injunction sought by conservation groups to block a proposed northern Nevada lithium mine that opponents argue was approved illegally and will harm the land and wildlife in the delicate desert ecosystem.
The San Francisco-based 9th Circuit denied a bid by the Western Watersheds Project (WWP) that would have stopped Lithium Nevada, a subsidiary of Canada-based Lithium Americas, from breaking ground on the Thacker Pass Lithium Mine in Humboldt County near the Oregon border.
Last month, WWP filed an emergency motion for injunction in the the U.S. District Court of Nevada after a federal judge ordered the Bureau of Land Management (BLM) to review part of its approval of the mine but allowed construction to proceed in the meantime. That request was denied last Friday.

"It's a truly unfortunate outcome for the land, wildlife, and cultural resources of this area," WWP staff attorney Talasi Brooks said in a statement. "This massive open-pit mine has been fast-tracked from start to finish in defiance of environmental laws, all in the name of 'green energy,' but its environmental impacts will be permanent and severe."
\u201cUPDATE on Thacker Pass: The 9th Circuit has denied a motion to halt construction of the lithium mine, pending appeal. The 9th Circuit will hear the appeal on an expedited schedule.\n\nHere's the 9th Circuit court order: https://t.co/EhMMyRp7zH\u201d

— Daniel Rothberg (@Daniel Rothberg) 1677701224
Opponents argue the Thacker Pass project—which would tap into the largest known source of lithium in the United States and was approved during the final days of the Trump administration—was unlawfully authorized and will irreparably damage lands and wildlife.
Three Native American tribes—the Reno-Sparks Indian Colony, Burns Paiute Tribe, and Summit Lake Paiute Tribe—are also suing in a bid to block construction of the mine, claiming that claimed BLM withheld key information from the Nevada State Historic Preservation Office and misrepresented how much the agency consulted with tribes prior to approving the project.
Thacker Pass—or Pass PeeHee Mu'Huh, which means "rotten moon" to all three tribes—is the site of a September 12, 1865 massacre of dozens and perhaps scores of Northern Paiute men, women, and children by U.S. Cavalry troops. The three tribes want all of Thacker Pass listed on the National Register of Historic Places.
"It is a disappointment to see valuable biological, cultural, and visual resources sacrificed for a stripmine that has been greenwashed to be good for the environment."
"It is a disappointment to see valuable biological, cultural, and visual resources sacrificed for a stripmine that has been greenwashed to be good for the environment," said Kevin Emmerich, co-founder of the advocacy group Basin and Range Watch.
"In reality, the mine will impact Great Basin wildlife and hydrology for centuries or more," Emmerich added. "We will not see any kind of recovery of this region in our lifetime."
Katie Fite of WildLands Defense said after Wednesday's ruling that "Thacker Pass lithium mining will deal a major blow to a critical sage-grouse population."
"BLM's rushed mine approval exposed that it continues to treat the West's irreplaceable sagebrush wild lands and cultural landscapes as sacrifice zones to industry," Fite added. "It's absurd for officials to greenwash this dirty lithium mine. We'll continue working to expose the ecological travesty taking place."
\u201cLithium Americas & this awful mine can\u2019t \u201cmitigate\u201d its way out of totally destroying the irreplaceable LAST block of lower elevation sagebrush winter wildlife habitat in the Montana Mountains! Nor out of decimating leks and nesting habitats. Grouse need intact habitats.\u201d

— WildLands Defense (@WildLands Defense) 1677632033
While global demand for lithium is surging, extraction of the metal can have harmful consequences, including the destruction of lands and ecosystems and water contamination.
Thacker Pass is believed to hold enough lithium to supply the needs of more than 1.5 million electric vehicles every year for 40 years, according to Lithium Americas.
"There are no other U.S. alternatives to Thacker Pass to provide lithium at the scale, grade, or timeline necessary to begin closing the gap between the lithium available and the lithium needed to achieve the U.S.' clean energy and transportation goals," lawyers for the company argued.
\u201cReposted from the Reno-Sparks Indian Colony: \n\nPRESS RELEASE: \u201cA Violation of Native American Rights\u201d: Archeological Procedures Begin at Thacker Pass\n\nArcheological procedures began at the site of the planned Thacker Pass lithium mine this week...\n\nMORE: https://t.co/WrRZE7OlMy\u201d

— Protect Thacker Pass (@Protect Thacker Pass) 1650326037
However, numerous lithium mining experts have asserted that the technology is not green—and comes with high environmental and social costs.
Lithium extraction, noted a 2021 Nature editorial, globally "requires large quantities of energy and water. Moreover, the work takes place in mines where workers—including children as young as seven—often face unsafe conditions."
News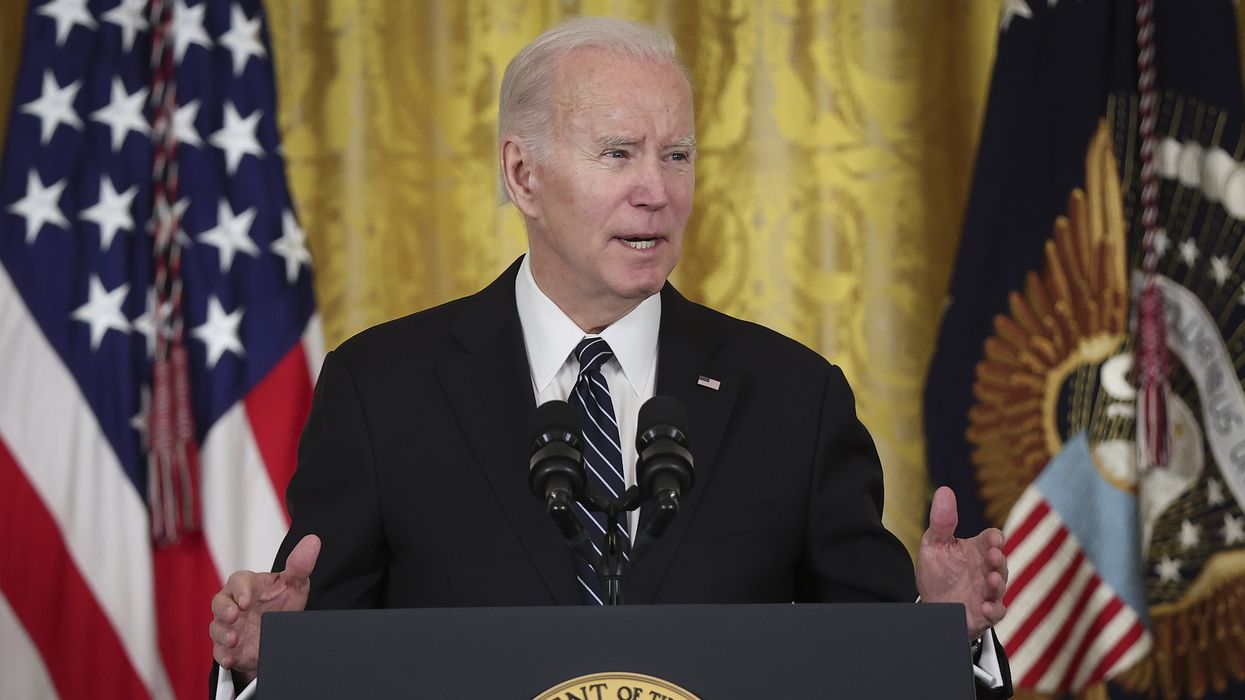 "It's wrong that some lawmakers would play politics with Americans' financial futures by preventing retirement fund managers from considering all risks—including financial risks related to climate—when making investment decisions," said one activist.
U.S. President Joe Biden is expected to issue his first veto after two Democrats—Sens. Joe Manchin of West Virginia and Jon Tester of Montana—partnered with the GOP on Wednesday to pass legislation that would block his administration's rule allowing retirement plan managers to consider climate and other factors in investment decisions.
The 50-46 Senate vote came a day after a 216-204 House vote in which Rep. Jared Golden (D-Maine) joined with Republicans to advance the resolution about the U.S. Department of Labor (DOL) rule on environmental, social, and governance (ESG) factors—which is notably opposed by fossil fuel companies.
"The DOL rule simply restores the longtime status quo of allowing retirement plans to consider important financial factors like how a company is run, whether its practices match its values, and the risks it faces from global disruptions like climate change," said Rachel Curley, democracy advocate with the group Public Citizen, in a statement Wednesday.
"Repealing a rule protecting retirement savings for millions of workers is irresponsible and puts personal political ambitions above long-term financial responsibility," Curley continued. "Leaving investors in the dark is a disservice to our entire economy. Anyone claiming to care about workers voting to overturn such a reasonable rule is clearly playing politics with workers' retirement savings in a way that flies in the face of common sense."
\u201cPretty much the entire political ecosystem implementing this operation is fossil fuel funded, or dancing to fossil fuel\u2019s tune.\u201d

— Sheldon Whitehouse (@Sheldon Whitehouse) 1677688880
Public Citizen is among dozens of groups—including Americans for Financial Reform, Environmental Defense Fund (EDF), League of Conservation Voters, and Interfaith Center on Corporate Responsibility—that have warned against blocking the rule this week.
"It's wrong that some lawmakers would play politics with Americans' financial futures by preventing retirement fund managers from considering all risks—including financial risks related to climate—when making investment decisions," declared EDF senior vice president for political affairs Elizabeth Gore. "The standards they're trying to undermine help fund managers make the best possible decisions when investing our money."
In a policy statement on Monday, the Biden administration stressed that the DOL rule "is not a mandate—it does not require any fiduciary to make investment decisions based solely on ESG factors. The rule simply makes sure that retirement plan fiduciaries must engage in a risk and return analysis of their investment decisions and recognizes that these factors can be relevant to that analysis."
"The president will continue to deliver for America's workers," the statement pledged, concluding that if the resolution reached his desk, "he would veto it."
As Politicoreported Wednesday:
Biden's threat in a way gives moderate Democrats a free pass to distance themselves from the president because they don't face the risk of the rollback actually being implemented.

Asked whether Democratic leadership had pressured him to vote "no," Tester told reporters that they gave a presentation to the broader caucus Tuesday. But "it wasn't like, pestering."

[...]

Manchin took to the Senate floor to blast the Biden DOL rule as "just another example of how our administration prioritizes a liberal policy agenda over protecting and growing the retirement accounts of 150 million Americans."
During a floor speech Wednesday, Senate Majority Leader Chuck Schumer (D-N.Y.) took aim at the GOP, saying in part that "for a long time, my Republican friends prided themselves—prided themselves!—for being the party of free markets. The party of small government. The party opposed to injecting political ideology into the decisions of private investors and managers and companies."
"But apparently, all that was talk. Because today, our Republican friends are making an effort to limit free market choice and inject hard-right ideology into private sector decision-making," he continued. "Now, the hard-right has made a lot of noise trying to make ESG their dirty little acronym. They say this is about wokeness, that this is a cult, that it's some grave intrusion into finance. It's the same predictable, uncreative, unproductive attacks they use for anything they don't like."
Reuters
noted
Wednesday that "Republicans used a tool called the Congressional Review Act that allows them to bypass the customary 60-vote Senate threshold to challenge the Labor Department rule. They are expected to mount similar efforts on other issues in the coming months as the 2024 presidential campaign gets into full swing."
Even if Biden vetoes the resolution, his DOL rule still faces another hurdle, as CNN analyst and University of Texas School of Law professor Steve Vladeck pointed out on Twitter.
"The Biden ESG rule is also currently the subject of a legal challenge filed by Texas and a group of other red states in federal district court in Amarillo, where—stop me if you've heard this before—it had a 100% chance of being assigned to Judge [Matthew] Kacsmaryk," Vladeck said, referring to a right-wing judge who is expected to soon rule on a crucial abortion medication case.

News
SUPPORT OUR WORK.
We are independent, non-profit, advertising-free and 100%
reader supported.