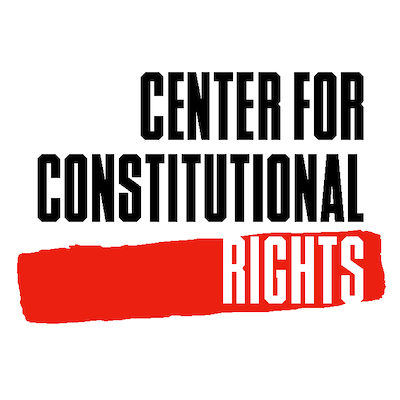 For Immediate Release
June, 27 2012, 04:06pm EDT
Contact:
press@ccrjustice.org
Equal Protection Class-Action Suit Filed Over Crime Against Nature Statute
NEW ORLEANS
Today, the Center for Constitutional Rights (CCR) filed a federal class action lawsuit seeking to remove from the Louisiana sex offender registry all individuals who are required to register solely because of a Crime Against Nature by Solicitation (CANS) conviction. The suit follows a recent ruling by a federal court, which held the CANS registration requirement to be unconstitutional and ordered Louisiana to "cease and desist" from placing individuals convicted of CANS on the registry. Today's case asks the court to apply that ruling to anyone placed on the registry solely as a result of a CANS conviction.
"The Court unambiguously ruled that forcing someone convicted under the Crime Against Nature by Solicitation statute to register as a sex offender is unconstitutional," said Center for Constitutional Rights Associate Legal Director Bill Quigley. "But Louisiana has yet to remove hundreds of people from the registry who are there solely because of one of these convictions. Until that happens, Louisiana is violating the equal protection rights of hundreds of its citizens."
People accused of soliciting sex for a fee in Louisiana can be criminally charged in two ways: either under the prostitution statute or under the solicitation provision of the CANS statute. Until recently, a CANS conviction carried harsher penalties than a prostitution conviction, including the mandatory sex offender registration requirement, even though the statutes outlaw the same conduct. Police and prosecutors have unfettered discretion in choosing which to charge, and the law has disproportionately affected African American women and the LGBT community. The court previously held application of the sex offender registration requirement to nine individuals unconstitutional because it imposed different consequences for a CANS conviction than a prostitution conviction for exactly the same conduct without any rational basis.
"While the legislature has created a procedure for people to individually petition to be removed from the registry, this is no answer to the hundreds of people who have been marginalized by this law," said Deon Haywood, executive director of Women With A vision, a community-based organization in New Orleans that has led advocacy efforts around this issue. "This registration requirement has already been declared unconstitutional. The state - not the women and LGBT people who are struggling as a result of this law - should correct this unlawful practice. We want justice for the more than 400 people still on the sex offender registry."
"Being forced to register as a sex offender has made it much harder for me to find housing and work," said one of the plaintiffs in the lawsuit. "This has affected every aspect of my life, is humiliating, and has prevented me from moving on."
As in the earlier case, all plaintiffs in this action are proceeding anonymously for fear of retaliation.
Other people affected by this law have been barred from homeless shelters, physically threatened, and refused residential substance abuse treatment because providers will not accept registered sex offenders at their facilities.
"Members of the plaintiff class - many of whom are indigent due in large part to the stigma of being on the registry - should not have to spend another minute or another dime complying with an unconstitutional requirement," added co-counsel Andrea J. Ritchie.
Individuals who are on the registry solely as a result of CANS convictions prior to August 15, 2011, should call this toll-free number: 1-888-873-1154.
Plaintiffs are represented by CCR, the law firm of Kairys, Rudovsky, Messing & Feinberg, LLP, police misconduct attorney Andrea J. Ritchie, and Loyola University New Orleans College of Law Stuart H. Smith Law Clinic & Center for Social Justice.
The Center for Constitutional Rights is dedicated to advancing and protecting the rights guaranteed by the United States Constitution and the Universal Declaration of Human Rights. CCR is committed to the creative use of law as a positive force for social change.
(212) 614-6464
LATEST NEWS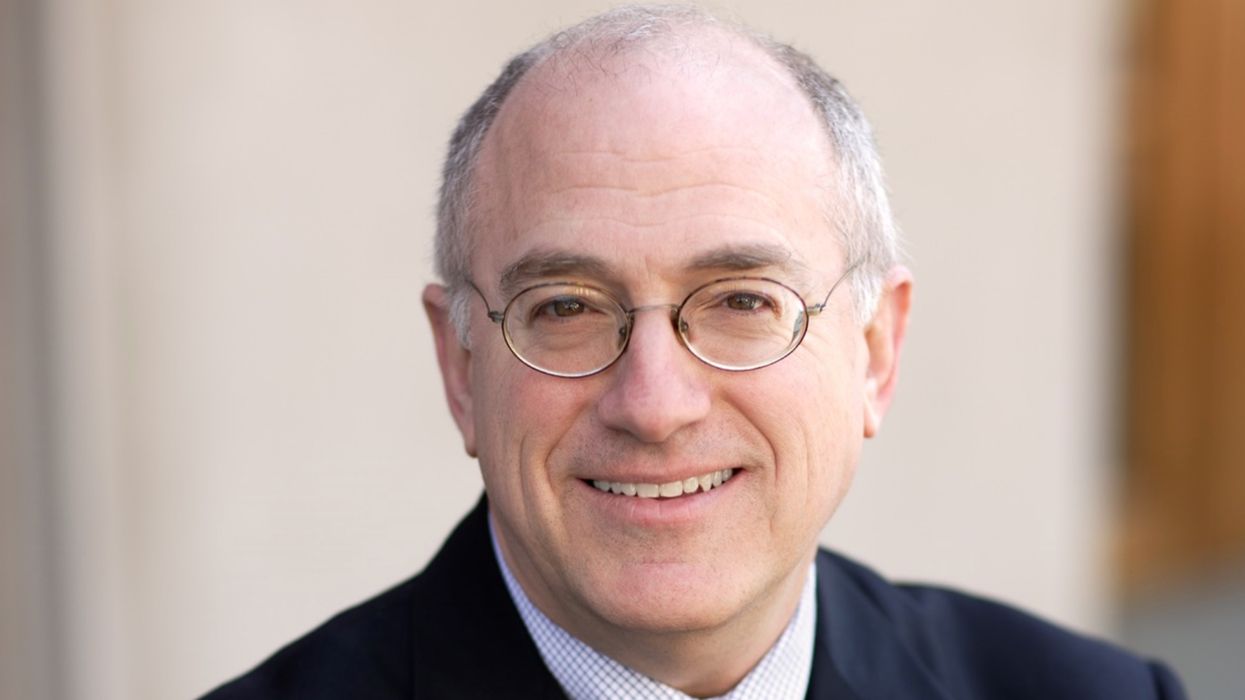 Former American envoy to Tel Aviv Daniel Kurtzer also called Israel's move to legalize settler outposts a "significant violation of a commitment that the Israeli government made in writing" to dismantle "illegal settlements."
A former U.S. ambassador to Israel on Friday sharply criticized the far-right government of Israeli Prime Minister Benjamin Netanyahu for seeking to annex Palestinian land in the illegally occupied West Bank.
The Guardianreports Daniel Kurtzer, who served as U.S. ambassador in Tel Aviv during the administration of former President George W. Bush, told members of the Jewish Democratic Council of America that the Biden administration should do more to try to prevent the Israeli government's "creeping annexation" of the West Bank.
Kurtzer specifically mentioned Israel's recent "legalization" of nine Jewish-only settler outposts in the West Bank and East Jerusalem that are illegal even under Israeli law, an act he said dealt a major blow to peace.

"It's also a significant violation of a commitment that the Israeli government made in writing to the American government back in 2004 when, in a letter to the then Bush administration, Israel undertook to dismantle illegal outposts, illegal settlements," he said.
\u201cA former US ambassador to Israel has accused Netanyahu\u2019s far-right government of "breaking a written agreement with Washington by legalizing a group of hardline...settlements in the West Bank." He warns of Israel\u2019s \u201ccreeping annexation\u201d of the West Bank. https://t.co/PxjlfVwXMP\u201d

— Kenneth Roth (@Kenneth Roth) 1677252436
"Now you've come full circle," Kurtzer added. "Not only are they not dismantling these illegal outposts, but they're trying to legalize them ex post facto. And there have been many that have been built since that time, so that the number is really quite significant."
Israel has steadily usurped more and more of the West Bank over the decades, using a combination of courts, troops, and apartheid settlers to seize and hold more land on which illegal colonies are built and expanded.
During Netanyahu's previous term as prime minister, his government pursued plans to annex up to a third of the West Bank.
Under international law, all Israeli settlements on occupied Palestinian land are illegal. Most were built on land seized through terrorism and ethnic cleansing during the Nakba, or catastrophe, when more than 700,000 Arabs were expelled during the establishment and consolidation of modern Israel in 1947-49, and during the conquest of the West Bank, East Jerusalem, Gaza, and the Syrian Golan Heights in 1967.
\u201cFor context. \n\nAs two non Palestinian leaders seek to determine the fate and future of Palestine and its people for the countless time. \n\nHere is a visual of the loss of Palestinian land from 1946-2000\n\n\ud83d\udfe9 Palestinian Land\n\u2b1c\ufe0f Israeli Land\u201d

— Dr. Jennifer Cassidy (@Dr. Jennifer Cassidy) 1580239550
From 1978 until 2019, the U.S. State Department also considered Israeli settlements unlawful.
According to the Israeli human rights group B'Tselem, more than 620,000 Israelis currently live in about 140 settlements in the West Bank and East Jerusalem. While Israel offers every Jew in the world the right to settle in Israel, it has—against U.N. resolutions and international law—refused to allow the approximately five million Palestinian refugees alive today to return to their homeland.
While successive American administrations have proclaimed their opposition to Israel's construction and expansion of illegal settlements, U.S. military aid to Israel—currently at around $3.8 billion annually—has continued unabated and unimperiled regardless of Israeli policies and actions.

News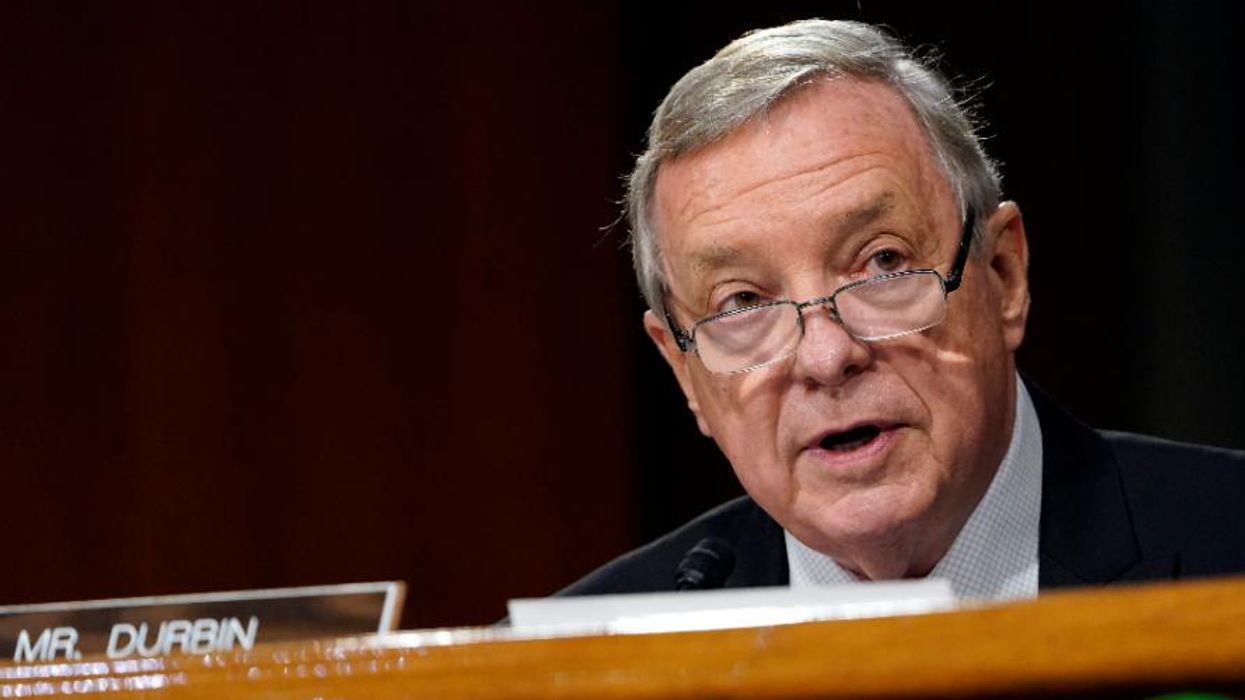 "Senate Democrats should eliminate every barrier possible" to confirm President Joe Biden's judicial nominees, said Indivisible.
With Democrats hoping to confirm dozens more federal judges following President Joe Biden's milestone of appointing 100 new members of the judiciary, progressives on Friday said the party has no choice but to eliminate a tradition they say has been exploited by Republicans to block the president's nominees.
Advocacy group Alliance for Justice said Democratic leaders, particularly Senate Judiciary Committee Chair Dick Durbin (D-Ill.) must make a choice: They can "transform our federal courts by confirming so many more judges with a respect for the rights of all of us," or they can allow Republicans to continue the tradition of using so-called "blue slips" to reject nominees.
The Senate "can't do both," said the group.

Under the blue slip practice, which is not an official Senate rule, senators can unilaterally block federal district court judge nominees from being considered by the committee if the nominee is from their home state. Only if they submit a "blue slip" for the judge can the nomination proceed.
Prior to last year's midterm elections, Durbin said the party has "made it work" and would continue to abide by the blue slip tradition, but earlier this month he said he will no longer honor the withholding of a blue slip if he believes it "discriminates because of race, gender, or sexual discrimination."
Republicans including Sens. Lindsey Graham (R-S.C.) and Marsha Blackburn (R-Tenn.) have protested, with the latter claiming the practice is "essential to the Senate's constitutional obligation to provide advice and consent."
But as NBC News reported this week, Durbin noted Republicans have made clear that they're intentionally using the tradition to block Biden's nominees, submitting only 12 blue slips since Biden took office, compared to the 120 Democrats submitted under the Trump administration.
Also under former President Donald Trump, Republicans in control of the Judiciary Committee at the time did away with the use of blue slips for circuit nominees and as a result rapidly confirmed 54 judges to the circuit court.
Demand Justice noted that under the Obama administration, Republicans blocked 17 judicial nominees using the practice.
\u201cDuring the Obama presidency, Republicans abused blue slips to block a diverse group of 17 highly qualified judicial nominees.\n\nChair Durbin needs to reform the blue slip to keep the same from happening during the Biden presidency.\u201d

— Demand Justice (@Demand Justice) 1677180513
American Constitution Society President Russ Feingold, a former Democratic senator,
told
NBC News
the Democrats "would be chumps to not get rid of [blue slips] for this Congress, in order to allow them some opportunity to make up for the very aggressive tactics used by Republicans over the prior four years."
"When Republicans had the advantage, they just didn't hesitate to eliminate blue slips for the courts of appeals, which are an even higher court," he said.
Senate Majority Leader Chuck Schumer (D-N.Y.) has said he wants his party to top the 234 federal judges the Republicans confirmed in four years. There are currently 72 district court vacancies and nine open seats on appeals courts.
To secure judicial seats, said Meagan Hatcher-Mays, director of democracy policy for Indivisible, Democrats must "be for real" and recognize that the question of whether to continue to allow blue slips is "existential."
"Republicans have used [blue slips] to successfully keep seats open on the federal bench in their states, not because they have an objection to Biden's nominees on the merits, but because they want to hold seats open in the hopes that a future MAGA president will install even more anti-abortion, anti-democracy federal judges instead," said Hatcher-Mays.
"President Biden's judicial nominees have been exceptional and among his signature achievements throughout his presidency," she added. "Senate Democrats should eliminate every barrier possible to continue to confirm his nominees at a historic pace, including getting rid of blue slips."
News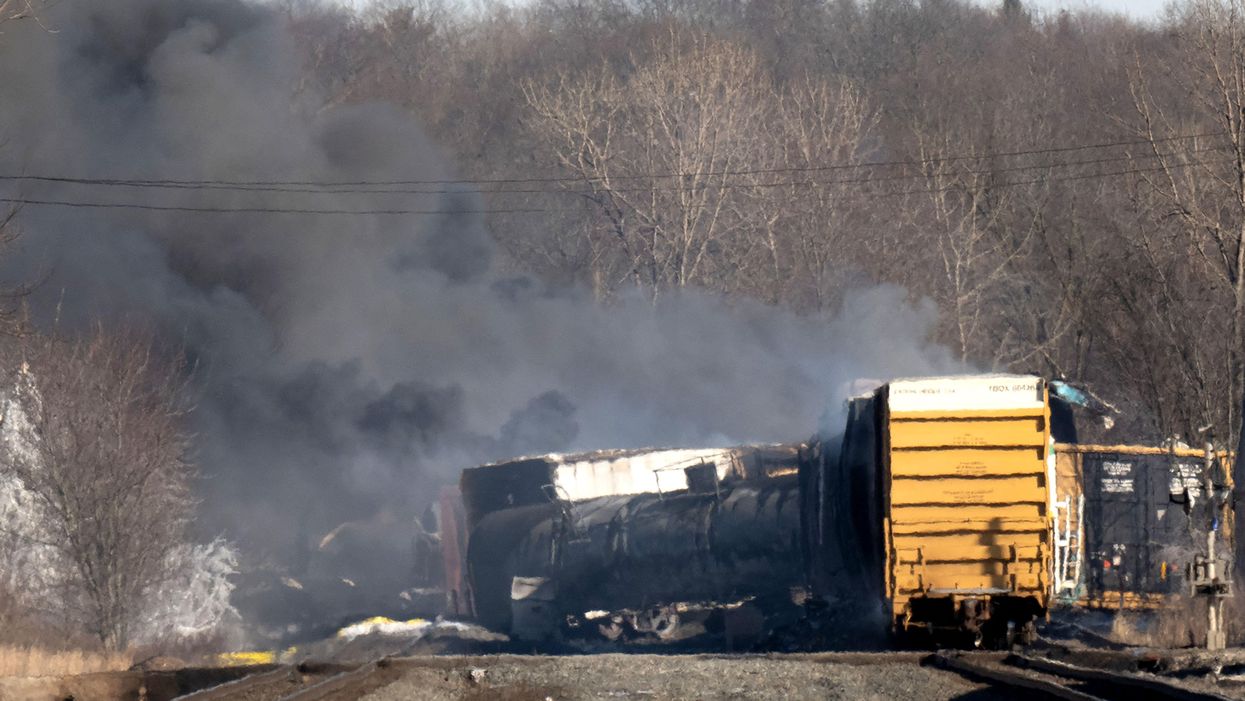 "We demand that the railroad be run safely, efficiently, and professionally, and not as some 'cash cow' for Wall Street investors and billionaires," said one union leader. "Much of what is wrong with the rail industry today can be fixed easily and quickly."
Three weeks after the lives of East Palestine, Ohio residents were upended by a fiery wreck involving a Norfolk Southern-owned train overloaded with hazardous materials, rail union leaders on Friday implored federal regulators and lawmakers to "focus on the primary reasons for the derailment and take immediate action to prevent future disasters."
In a statement, Railroad Workers United (RWU) pointed to the National Transportation Safety Board's (NTSB) newly published preliminary report on the February 3 crash and subsequent burnoff of vinyl chloride and other carcinogenic chemicals, which suggests that an overheated wheel bearing likely caused the train to derail. The inter-union alliance of rail workers also cited NTSB Chair Jennifer Homendy, who said Thursday at a press conference: "This was 100% preventable. We call things accidents—there is no accident. Every single event that we investigate is preventable."
RWU, which has previously highlighted how industry-led deregulation and Wall Street-backed policies such as "precision-scheduled railroading" have made the U.S. rail system more dangerous, said Friday that "Class 1 freight rail carriers, including Norfolk Southern, have prioritized profits over safety, cutting maintenance, equipment inspections, and personnel in all crafts while increasing the average train size to three miles or more."
In the words of RWU co-chair Gabe Christenson: "Railroad workers experience firsthand every day the dangers inherent in this style of railroading. It has impacted their safety and health, state of mind, and lives on and off the job."
"Limits on train lengths and weights are necessary to prevent catastrophic derailments."
Jason Doering, general secretary of RWU, echoed Christenson's message, saying: "Every day we go to work, we have serious concerns about preventing accidents like the one that occurred in Ohio. As locomotive engineers, conductors, signal maintainers, car inspectors, track workers, dispatchers, machinists, and electricians, we experience the reality that our jobs are becoming increasingly dangerous due to insufficient staffing, inadequate maintenance, and a lack of oversight and inspection."
"We recognize," Doering added, "that limits on train lengths and weights are necessary to prevent catastrophic derailments."
One week ago, RWU made the case for nationalization, arguing that the U.S. "can no longer afford private ownership of the railroads; the general welfare demands that they be brought under public ownership."
In the absence of such sweeping transformation, which remains far-off given the current state of the beleaguered U.S. labor movement, the alliance on Friday demanded that federal agencies and Congress move quickly to "rein in" Norfolk Southern and other profit-maximizing rail corporations that have fought regulations, laid off workers, and purchased billions of dollars in stock rather than investing in employees and safety upgrades.
Specifically, RWU called on regulators and lawmakers to:
Ensure sufficient staffing to do the job properly, efficiently, and safely, with all trains operating with a minimum of a two-person crew;
Cap train length and weight at a reasonable level to mitigate the increased likelihood of breakdowns, train separations, and derailments;
Implement adequate and proper maintenance and inspections of locomotives and rail cars, tracks and signals, wayside detectors, and other infrastructure; and
Standardize ample training and time off without the harassment of draconian attendance policies.
Of these measures, only a proposed rule to require two-person crews—described by RWU as loophole-ridden—was included in the blueprint the U.S. Department of Transportation (DOT) unveiled Tuesday to hold rail companies accountable and protect the well-being of workers and fenceline communities.
The DOT also encouraged rail carriers to voluntarily provide sick leave. Norfolk Southern—facing intense scrutiny and backlash amid the ongoing East Palestine disaster—agreed Wednesday to provide up to a week of paid sick leave per year to roughly 3,000 track maintenance workers.
But because the Biden administration and Congress recently imposed a contract without paid sick leave on rail workers who were threatening to strike, the vast majority still lack this basic lifesaving benefit, as do millions of private sector workers in other industries who are also awaiting legislation to address the issue.
Characterizing the DOT's plan as inadequate, RWU said Tuesday that "rank-and-file railroad workers can diagnose and fix the problems" and urged U.S. Transportation Secretary Pete Buttigieg to enact "some of our solutions."
RWU treasurer Hugh Sawyer reiterated that call on Friday.
"We demand that the railroad be run safely, efficiently, and professionally, and not as some 'cash cow' for Wall Street investors and billionaires," said Sawyer. "Much of what is wrong with the rail industry today can be fixed easily and quickly by acting on what is outlined above. We demand action NOW."
News
SUPPORT OUR WORK.
We are independent, non-profit, advertising-free and 100%
reader supported.