For Immediate Release
August, 30 2011, 09:24am EDT
Contact:
Tel: +1-212-216-1832,Email:,hrwpress@hrw.org
Haiti: Earthquake Recovery Failing Women and Girls
Government, Donors Should Improve Health, Security in Camps
PORT-AU-PRINCE
Women and girls in Haiti are facing gaps in access to available healthcare services necessary to stop preventable maternal and infant deaths, Human Rights Watch said in a report released today. Serious gaps in access to healthcare services are harming vulnerable women and girls still displaced after the January 12, 2010 earthquake. Aid efforts that lack effective mechanisms for monitoring and reporting shortcomings compound the problem.
The 78-page report, "'Nobody Remembers Us':Failure to Protect Women's and Girls' Right to Health and Security in Post-Earthquake Haiti," documents the lack of access to reproductive and maternal care in post-earthquake Haiti, even with unprecedented availability of free healthcare services. The report also describes how hunger has led women to trade sex for food and how poor camp conditions exacerbate the impact of sexual violence because of difficulties accessing post-rape care. It looks at how recovery efforts have failed to adequately address the needs and rights of women and girls, particularly their rights to health and security. Haitian authorities and donors should take concrete steps to improve access to services and to protect the human rights of these women and girls, Human Rights Watch said.
"More than a year and half after the earthquake, some women and girls give birth unattended on the muddy floors of tents or trade sex for food without any protection from unwanted pregnancy," said Kenneth Roth, executive director of Human Rights Watch. "Despite gains made due to free healthcare services, the government and international donors have not addressed critical gaps in access to health services or addressed conditions that may give rise to maternal and infant deaths."
More than 300,000 women and girls currently live in camps for displaced persons. Human Rights Watch interviewed more than 100 women and girls ages 14 to 42 in 15 displacement camps who were pregnant or had given birth since the earthquake.
Some described delivering their babies in tents, in the street, or alleys on the way to the hospital, or, in one case, on the street corner after a hospital turned her away for not being able to pay for a Caesarean section. Haiti had the highest maternal mortality rate in the Western Hemisphere before the earthquake, at 630 per 100,000 live births. The rate after the earthquake is unknown, and there is a lack of effective tracking of maternal or infant deaths in the camps.
"I just gave birth on the ground...I had no drugs for pain during delivery," one woman told Human Rights Watch.
The January 2010 earthquake caused an estimated 222,000 deaths, injured 300,000 people, and displaced between 1.3 and 1.6 million people. Approximately 300,000 homes and much of the country's infrastructure were damaged or destroyed, including 60 percent of hospitals in the affected areas.
Donors pledged $5.3 billion in recovery aid in line with a government-drafted post-earthquake recovery plan, with $258 million dedicated to health care. Although only $118.4 million of the health money has been disbursed, $130.6 million more is committed and nearing disbursement.
Aid agencies have worked hard to provide care, but many women and girls have not benefited, due to lack of information, poor transportation infrastructure, and unaffordable charges on services not covered by free care. As a result, women's basic rights to health and security are being jeopardized, Human Rights Watch found.
Moreover, lack of coordination and data sharing on the part of donors and nongovernmental organizations (NGOs) working to provide health services has made it difficult for human rights monitors, and the government itself, to assess progress.
Many poor women and girls cannot pay for transportation to facilities providing free care, Human Rights Watch found. Some stop seeking care if they cannot afford tests they are told to obtain, such as a sonogram, or because they think, wrongly, that they cannot return to the hospital without the sonogram.
"With almost $260 million earmarked for health care, no woman should have to give birth on the street," Roth said. "Women and girls have a right to life-saving care, including in adverse circumstances."
The extreme vulnerability and poverty in the camps has led some women and girls to form relationships with men for the sake of economic security, or to engage in transactional or survival sex, such as the exchange of sex for food, Human Rights Watch found. This transactional sex takes place without adequate access to contraception and other reproductive health services, increasing the long-term vulnerability of the women and girls to unplanned pregnancies and sexually transmitted infections.
The vulnerability of Haitian women and girls to rape was a concern even before the earthquake. It is an even greater concern in the displacement camps, where some women's groups have reported an especially high incidence of rape and sexual violence.
Emergency contraception and other post-rape care is available in some health facilities, but many rape victims don't have access to this care for the same reasons that women and girls have difficulty accessing other health services: they lack basic information about what is available and where, or they have difficulty paying for transportation to reach the services. Some women and girls told Human Rights Watch they were too scared, ashamed, or traumatized by rape to seek care in the timeframe necessary for emergency contraception to be effective.
The government should do a better job of protecting women and girls from violence, and ensure that they have information on and access to post-rape care, Human Rights Watch said.
"Attention to human rights should be an essential part of Haiti's recovery plan," Roth said. "The government, donors, and nongovernmental groups should work together to provide women and girls the services, protection, and respect that they need, and establish the oversight needed to ensure that this happens."
Human Rights Watch is one of the world's leading independent organizations dedicated to defending and protecting human rights. By focusing international attention where human rights are violated, we give voice to the oppressed and hold oppressors accountable for their crimes. Our rigorous, objective investigations and strategic, targeted advocacy build intense pressure for action and raise the cost of human rights abuse. For 30 years, Human Rights Watch has worked tenaciously to lay the legal and moral groundwork for deep-rooted change and has fought to bring greater justice and security to people around the world.
LATEST NEWS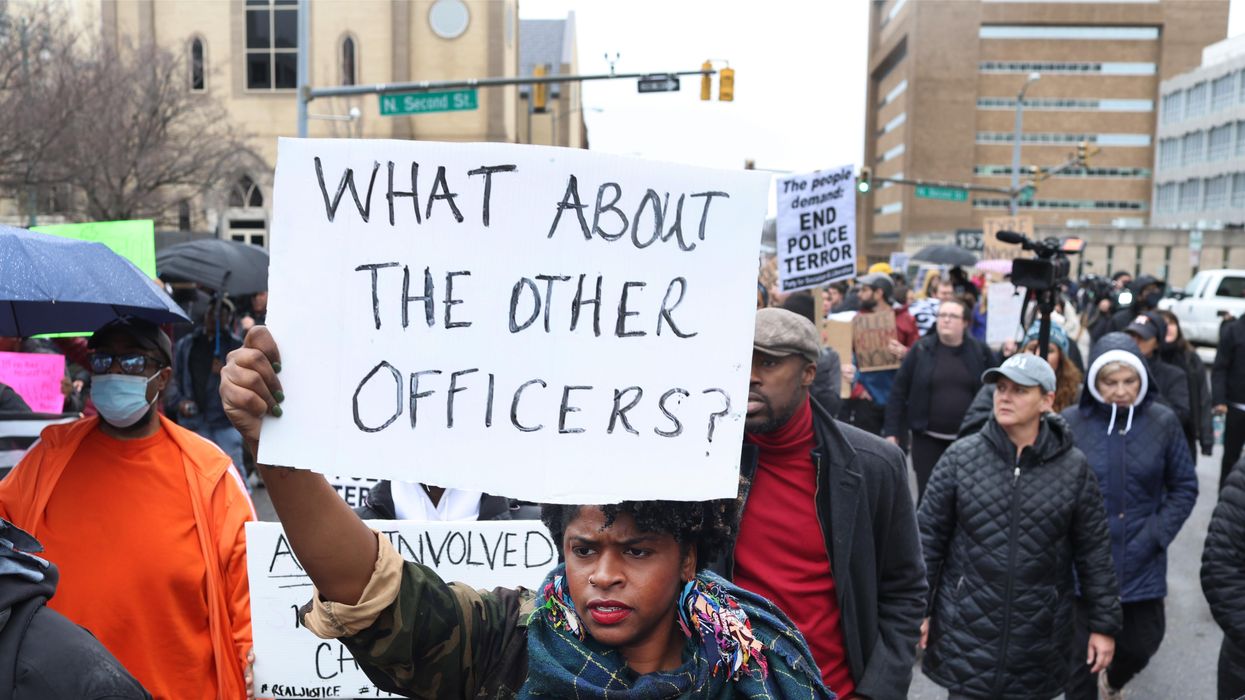 Attorneys for Nichols' family called the move "appropriate and proportional" in response to his death and urged other cities to follow suit but also stressed that "misconduct is not restricted to these specialty units."
The family of Tyre Nichols and others appalled by his death—for which five fired Memphis cops now face murder charges—welcomed the police department's decision on Saturday to disband a unit created in 2021 to patrol high-crime areas.
The move came a day after the Tennessee city put out videos of the former Memphis Police Department (MPD) officers—Tadarrius Bean, Demetrius Haley, Emmitt Martin III, Desmond Mills Jr., and Justin Smith—brutally beating Nichols following a traffic stop on January 7. The 29-year-old Black man was hospitalized and died three days later from cardiac arrest and kidney failure.
The MPD's Street Crimes Operation to Restore Peace in Our Neighborhoods (SCORPION) Unit hasn't been active since Nichols' January 10 death, according to the mayor. The five ex-officers, who are all Black, were part of the unit and on assignment with it when they pulled over Nichols, police spokesperson Maj. Karen Rudolph confirmed to multiple news outlets on Saturday.
In public comments leading up to the footage being released Friday night—which sparked nationwide peaceful protests—Nichols' family along with Memphis residents and people across the United States called for the unit to be shut down.
The MPD said in a statement that members of the unit met with Chief Cerelyn "C.J." Davis on Saturday "to discuss the path forward for the department and the community in the aftermath of the tragic death of Tyre Nichols."
"In the process of listening intently to the family of Tyre Nichols, community leaders, and the uninvolved officers who have done quality work in their assignments, it is in the best interest of all to permanently deactivate the SCORPION Unit," the statement continued. "The officers currently assigned to the unit agree unreservedly with this next step."
\u201cBig. \n\nMemphis Police have shut down the so-called SCORPION Unit. The officers that beat Tyre Nichols to death were all part of that unit. \n\nSeveral Memphis City Council members have called for it to be disbanded permanently.\u201d

— Gabriel Elizondo (@Gabriel Elizondo) 1674942545
In response, attorneys Ben Crump and Antonio Romanucci said in a statement that "the Nichols family and their legal team find the decision to permanently disband this unit to be both appropriate and proportional to the tragic death of Tyre Nichols, and also a decent and just decision for all citizens of Memphis."
"We hope that other cities take similar action with their saturation police units in the near future to begin to create greater trust in their communities," the pair added. "We must keep in mind that this is just the next step on this journey for justice and accountability, as clearly this misconduct is not restricted to these specialty units. It extends so much further."
Memphis City Council Member J.B. Smiley Jr. told the Commercial Appeal that shutting down the unit was "essential for the family" of Nichols, but "my ultimate concern is just, it may just be surface level," because "the police department has the ability to create other units and just call it something else."
Fellow Memphis City Council Member Patrice Robinson told CNN's Jim Acosta that "the community has a lot more questions and a lot more demands."
"We have gotten emails from many citizens in our community, they're all concerned and they're expressing exactly what they see and what they want to see in our police department," she said. "We really need to investigate and find out what's going on."
Rolling Stone reported on institutional changes that some locals want, according to Memphis organizer Amber Sherman:
They're calling for widespread reforms in the Memphis police: dissolving similar task forces in the city, ending the use of unmarked cars and plainclothes officers, and banning traffic stops without probable cause. All three help escalate police violence, Sherman tells Rolling Stone. "We can't just get rid of one of them. We have to do all three."

The SCORPION Unit was only 14 months old when it was disbanded. Founded in late 2021 during a rise in the city's murder rate, it was touted by local officials for its high number of arrests and a decline in violent crime, but locals say the unit quickly developed a reputation for its policing tactics. "Here in Memphis we call them the Jump-out Boys," Sherman says. "They're in unmarked cars, and they jump out of them and assault people."

Activists in Memphis emphasized that this type of policing is not a new phenomenon. "It's not just the SCORPION Unit. We've had these task forces for years," Sherman continues. "I'm born and raised here, in my 20s, and this has always been a practice."
National leaders also responded to the development on Saturday by warning that much more must still be done at all levels.

"This is what immediate action looks like in the face of crisis and traumatic events on behalf of a community," NAACP president and CEO Derrick Johnson declared of the department disbanding the unit, while also wondering why local leaders can "move to address the needs of the people faster than elected officials throughout the halls of Congress."
Meanwhile, Black Lives Matter activist DeRay Mckesson tweeted: "This is good. And not enough. And we've seen this happen before only for these units to pop back up when the world isn't watching."
\u201cAs news spreads the Memphis PD will disband the murderous \u201cScorpion\u201d Unit, it is important to know that back in 2020 NYC disbanded its own \u201canti-crime\u201d unit responsible for shootings, brutality, & Eric Garner\u2019s murder. \n\nNYC Mayor Eric Adams revived & expanded the unit last year.\u201d

— Scott Hechinger (@Scott Hechinger) 1674949043
"I must reiterate that this is not the win they want you to think it is. Cops have and will continue to be brutal despite not being in a cool 'special taskforce,'" coder, organizer, and YouTuber Sean Wiggs warned.

Legal reform advocate Dyjuan Tatro similarly argued that "the problem with this statement is that the SCORPION Unit should have never existed. It's well documented that police special units are violent, reckless, and racist. Furthermore, the rest of the officers of this violent unit are still on the police force, armed and ready to kill."
Strategist and writer Jodi Jacobson took issue with another element of the department's statement, telling the MPD: "It was NOT a 'tragic death.' It was murder at the hands of our department. What you say matters, and you clearly are not taking responsibility."

News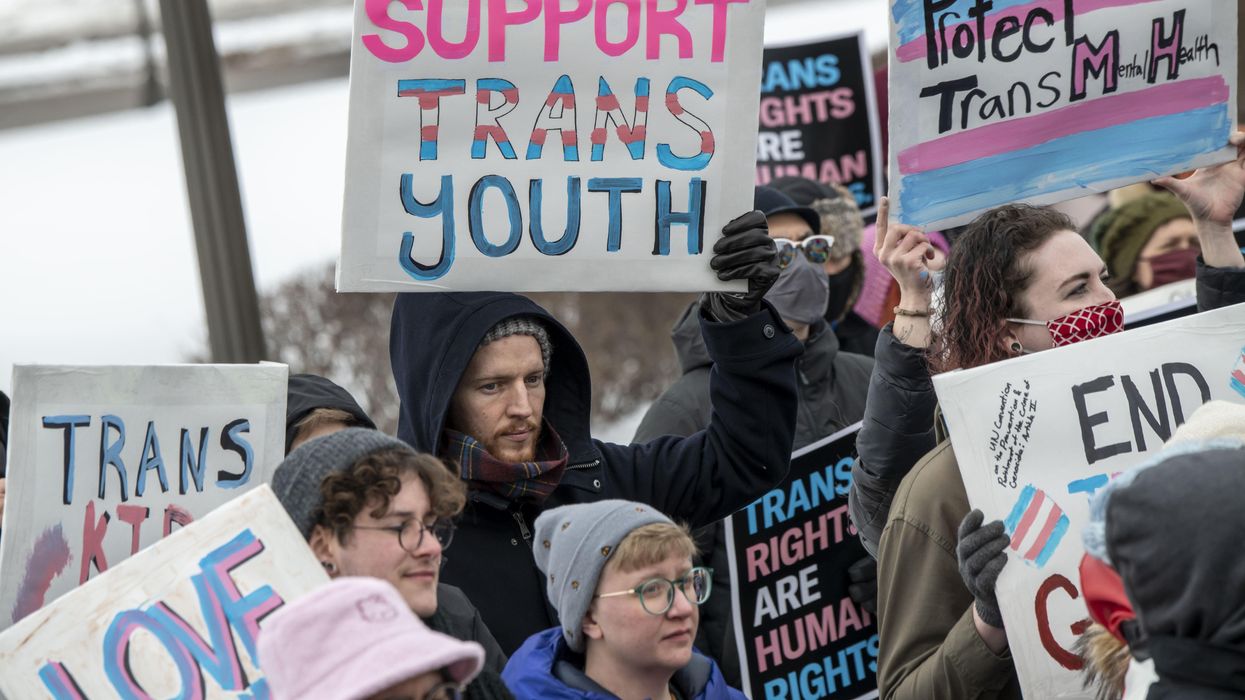 "It undermines the health and well-being of adolescents, limits the options of doctors, patients, and parents, and violates the constitutional rights of these families," said the ACLU of Utah's executive director.
Defying the guidance of the nation's leading medical organizations, Republican Utah Gov. Spencer Cox on Saturday signed into law a bill banning gender-affirming care for minors in the state.
Passed by the Utah House of Representatives on Thursday and the state Senate on Friday, S.B. 16 prohibits gender-affirming surgeries for trans youth and bars hormonal treatment for new patients who were not diagnosed with gender dysphoria before the bill's effective date, May 3.
"This bill effectively bans access to lifesaving medical care for transgender youth in Utah," said Brittney Nystrom, executive director of the ACLU of Utah, after the Senate vote Friday. "It undermines the health and well-being of adolescents, limits the options of doctors, patients, and parents, and violates the constitutional rights of these families."
Nystrom also sent Cox a letter urging him to veto the bill. She wrote that "the ACLU of Utah is deeply concerned about the damaging and potentially catastrophic effects this law will have on people's lives and medical care, and the grave violations of people's constitutional rights it will cause."
\u201c"Treating transgender families with respect" by interfering with their healthcare decisions and depriving them of the standards of care endorsed by every major medical org in the country.\u201d

— Alejandra Caraballo (@Alejandra Caraballo) 1674939187
Cathryn Oakley, Human Rights Campaign's state legislative director and senior counsel, had also pressured Cox to veto the bill, arguing Friday that "Utah legislators capitulated to extremism and fear-mongering, and by doing so, shamelessly put the lives and well-being of young Utahans at risk—young transgender folks who are simply trying to navigate life as their authentic selves."
"Every parent wants and deserves access to the highest quality healthcare for our kids," Oakley said. "This discriminatory legislation bans care that is age-appropriate and supported by every major medical association, representing more than 1.3 million doctors. Medical decisions are best left to medical experts and parents or guardians, not politicians without an ounce of medical training acting as if they know how to raise and support our children better than we do."
Dr. Jack Turban, an assistant professor of child and adolescent psychiatry at the University of California, San Francisco who researches the mental health of transgender and gender diverse youth, also pointed out that the new Utah law contradicts the positions of various medical organizations.
\u201chttps://t.co/y7aqIjCzcW\u201d

— Jack Turban MD \ud83c\udff3\ufe0f\u200d\u26a7\ufe0f\ud83e\udde0\ud83c\udff3\ufe0f\u200d\ud83c\udf08\ud83e\ude7a (@Jack Turban MD \ud83c\udff3\ufe0f\u200d\u26a7\ufe0f\ud83e\udde0\ud83c\udff3\ufe0f\u200d\ud83c\udf08\ud83e\ude7a) 1674936238
Some LGBTQ+ advocates had hoped Cox would be compelled to block the bill because last March, citing trans youth suicide rates, he vetoed H.B. 11, which banned transgender girls from playing on school sports teams that align with their gender identity. Utah lawmakers swiftly overrode his veto but a state judge in August issued a preliminary injunction blocking enforcement of the law.
Republican lawmakers in various states have ramped up efforts to enact anti-trans laws—particularly those targeting youth—over the past few years. As The New York Timesreported Wednesday:
But even by those standards, the start of the 2023 legislative season stands out for the aggressiveness with which lawmakers are pushing into new territory.

The bills they have proposed—more than 150 in at least 25 states—include bans on transition care into young adulthood; restrictions on drag shows using definitions that could broadly encompass performances by transgender people; measures that would prevent teachers in many cases from using names or pronouns matching students' gender identities; and requirements that schools out transgender students to their parents.
Legislative researcher Erin Reed, who is transgender, told the Times that the more aggressive proposals could make others seem like compromises.
"I really hope that people don't allow that to happen," Reed said. "Because these bills still target trans people who will then have to suffer the consequences."
In a tweet about Cox's decision Saturday, Reed said that "my heart breaks for Utah trans kids."
\u201cMy heart breaks for Utah trans kids.\n\nThe governor of Utah has signed a gender affirming care ban for trans youth into law. Utah becomes the first state of 2023 to ban gender affirming care and unless it is blocked in court, it would be the only state with such a ban in effect.\u201d

— Erin Reed (@Erin Reed) 1674931607
After the Utah House passed the measure Thursday, the chamber's Democrats expressed their disappointment with what they called "a misguided step by our Legislature and a violation of parents' rights," and said that "we recognize that gender-affirming healthcare is lifesaving, patient-center healthcare."
"With no pathway forward for children in need of care, this legislation will inevitably lead to litigation and a likely injunction," they added. "This is a tremendous waste of taxpayer money, and worse, a terrible message for our Legislature to send to transgender Utahns, their family, and their friends."
After the governor signed the bill, the ACLU of Utah tweeted Saturday that "trans kids are kids—they deserve to grow up without constant political attacks on their lives and healthcare; we will defend that right. We see you. We support you."

News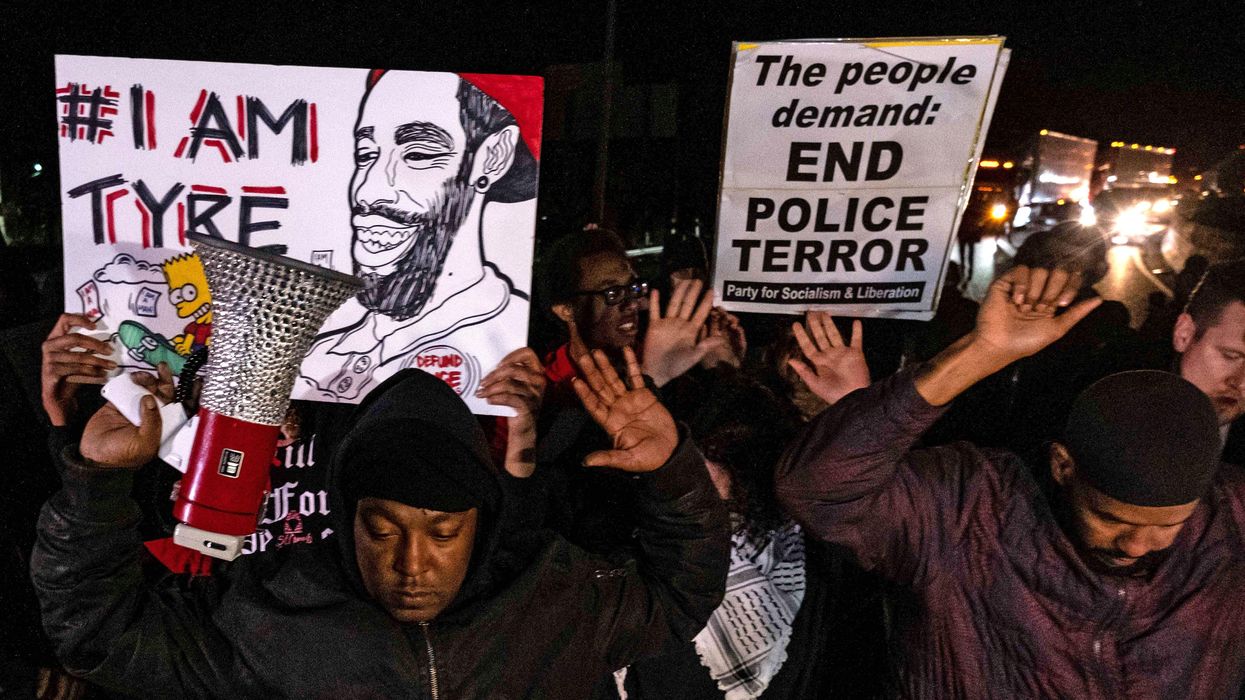 "These killer cops have got to go," chanted demonstrators in Chicago who carried signs that read, "Justice for Tyre Nichols" and "End police terror."
This is a developing story… Please check back for possible updates...
People took to the streets across the United States Friday night after the city of Memphis, Tennessee released videos of a January 7 traffic stop that led to five police officers being fired and charged with the murder of 29-year-old Black motorist Tyre Nichols.
MEMPHIS, TENNESSEE

The Memphis-based Commercial Appealreported that protesters advocating for police reform shut down the Interstate 55 bridge that connects Tennessee and Arkansas:
As of 8:30 pm, more than 100 people remained on the Harahan Bridge with protest leaders saying they wanted to talk with Memphis Mayor Jim Strickland and Memphis Police Department Chief Cerelyn "C.J." Davis before disbanding. MPD officers closed off roads leading to the bridge―and several others downtown―but had not directly confronted protesters.

Protesters started moving off of the bridge around 9:00 pm. As they marched eastbound on E.H. Crump Boulevard towards police, they locked arms and chanted "we ready, we ready, we ready for y'all." Protestors then turned north, toward central downtown. As they passed by residences, some people came out on their balconies to cheer.
Surrounded by protestors on I-55, NBC News' Priscilla Thompson said that "they are chanting, they are calling the name of Tyre Nichols. They are calling for change."
Demonstrators and the Nichols family have called for disbanding the MPD Street Crimes Operation to Restore Peace in Our Neighborhoods (SCORPION) team that launched in 2021 and was involved in the traffic stop. The Memphis mayor said Friday afternoon that the unit has been inactive since Nichols' January 10 death.
The footage shows that after police brutally beat Nichols—pushing him to the ground; using pepper spray; punching and kicking him; and striking him with a baton—it took 22 minutes from when officers said he was in custody for an ambulance to arrive and take him to the hospital, where he later died from cardiac arrest and kidney failure.
ATLANTA, GEORGIA

In Georgia, though Republican Gov. Brian Kemp earlier this week signed an executive order enabling him to deploy 1,000 National Guard troops "as necessary" following protests in Atlanta over law enforcement killing 26-year-old forest defender Manuel "Tortuguita" Teran, those who gathered after the video release Friday night "expressed outrage but did so peacefully."
That's according toThe Atlanta Journal-Constitution, which detailed that "a small but spirited crowd" of roughly 50 people formed in downtown Atlanta.
"We want to make one thing very clear, no executive order and no National Guard is going to stop the people for fighting for justice," Zara Azad said at the corner of Marietta Street and Centennial Olympic Park Drive. "We do not fear them because we are for justice."
BOSTON, MASSACHUSETTS
Just before the footage was released Friday, a vigil was held at "The Embrace" statue installed on Boston Common to honor Rev. Dr. Rev. Martin Luther King Jr. and his wife Coretta Scott King.
The Boston Globereported that Imari Paris Jeffries, executive director of King Boston, which installed the monument, highlighted that the civil rights icon was assassinated while visiting Memphis in 1968 to advocate for sanitation workers whose slogan was "Am I a man?"
"Today we are thinking about Memphis and Brother Tyre, and the slogan of today is still, 'Am I a man?'" Jeffries said. "Seeing the humanity in each of us is the cornerstone of true change. Experiencing another heinous display reminds us that no family should feel this pain, ever. And there's still work to do."
"This is a problem that confronts us all," he added. "This is a problem that we need to defeat together, as a family, as a community."
CHICAGO, ILLINOIS
"From Memphis to Chicago, these killer cops have got to go," chanted about a dozen people who gathered near a police precinct in the Illinois city despite freezing temperatures, according toUSA TODAY. Their signs read, "Justice for Tyre Nichols" and "End police terror."
Kamran Sidiqi, a 27-year-old who helped organize the protest—one of the multiple peaceful gatherings held throughout the city—told the newspaper that "it's tough to imagine what justice is here because Tyre is never coming back."
"That's someone's son, someone's friend lost forever. That's a human being's life that is gone," he said. "But a modicum of justice would be putting these killer cops in jail. A modicum of justice would be building a whole new system so that this can't happen again."
DALLAS, TEXAS
In Texas, The Dallas Morning Newsreported that Dominique Alexander, founder of the Next Generation Action Network, called Nichols' death a "total disregard for life, for humanity."
"The culture of policing is what is allowing these officers to feel like they can take our lives," Alexander said. "We want peace and calm in our communities, and we will do whatever is necessary to demand justice so our children don't have to deal with the same bullcrap we are dealing with now."
Around two dozen people who came together outside the Dallas Police Department headquarters Friday night shouted, "No justice, no peace" and "No good cops in a racist system," and held signs that said, "Stop the war on Black America" and "Justice for Tyre Nichols," according to the newspaper.
DETROIT, MICHIGAN
The Detroit branch of the Party for Socialism and Liberation (PSL) organized a Friday rally featuring speeches and a moment of silence. Michiganders held signs that declared, "Unions against police murder" and "Systems of racist police, violence must end."
"I'd like to see a civilian oversight board in every city, community control of the police department," 30-year-old Cameron Harrison, a member of the United Food and Commercial Workers Local 876 who attended the rally, told the Detroit Free Press.
"I'd like to see funding go away from weapons and [go to] jobs, housing, and water," said Harrison, adding that he does not need to watch the footage released from Memphis to know "what the police are capable of."
LOS ANGELES, CALIFORNIA

A demonstration outside the Los Angeles Police Department (LAPD) headquarters became "tense" late Friday after a "protest march grew out of a candlelight vigil for Nichols and Keenan Anderson, who died this month after L.A. police pinned him to the ground and discharged a Taser on him at least six times in 42 seconds," according to the Los Angeles Times.

The videos of Memphis police brutalizing Nichols have provoked comparisons to the 1991 footage of LAPD officers brutally beating Rodney King—who survived the assault but died in 2012.
"My dad didn't die that night, but a big part of him did that we never got back," Lora Dene King, who was seven years old when her father was abused by police, toldNBC News this week. She said that Nichols' death was "very triggering" for her and part of a "repetitive pattern" that includes her father, Eric Garner, and George Floyd.
"The whole situation is sickening to me, there is no reason he shouldn't be alive," she said of Nichols. "It'll just be another hashtag and we'll go on with our lives, and then it'll happen again."
NEW YORK, NEW YORK

In New York City, "protests were mostly peaceful, but emotions ran high," reported a local ABC affiliate, noting three arrests.
According to the outlet:
Demonstrators held up signs, chanting: "What's his name? Tyre! Say his name. Tyre!"

They demonstrated at Grand Central Terminal and Union Square, and crisscrossed the city, eventually bringing the Crossroads of the World to a screeching halt.
"When is this gonna end?" Bronx resident Chris Campbell said of police killings during a street interview with a CBS reporter.
PHILADELPHIA, PENNSYLVANIA

"It's absolutely disgusting," PSL organizer Talia Gile said of the footage during a Friday speech in Philadelphia's Center City. "It shows the complete and utter disregard for human life. It shows the fact that police, no matter what their race is, are going to terrorize people because that's what the system is meant to do. It's meant to abuse its power against citizens."
Five former MPD cops, Tadarrius Bean, Demetrius Haley, Justin Smith, Emmitt Martin III, and Desmond Mills Jr.—who are all Black—were charged with second-degree murder and other crimes related to Nichols' death on Thursday.
After the videos were released Friday, Shelby County Sheriff Floyd Bonner Jr. announced that two deputies "who appeared on the scene following the physical confrontation between police and Tyre Nichols" have been relieved of duty pending the outcome of an internal investigation.
PORTLAND, OREGON

The Oregonianreported that in Portland on Friday night, "People kept mostly to sidewalks but blocked the Burnside Bridge for a few minutes as they stood to honor Nichol."
"The marchers chanted 'Whose lives? Black lives!' 'No justice, no peace,' and 'Say his name—Tyre Nichols!'" the newspaper added. "Some people knocked down road barriers but there were none of the clashes with police that had marked many of the nights of unrest in Portland after the 2020 killing of George Floyd by police in Minneapolis."
WASHINGTON, D.C.
Protests were held in the nation's capital Friday night on K Street Northwest and at Lafayette Square.
"It should not take the releasing of body cam footage of a Black man being murdered by police for people to jump to action, and for those who feel moved by this, and you should, 'cause it could be any one of us standing out here today," said one speaker at the former event. "We urge you to not only protest, to not only engage on social media, to not only be flabbergasted and distraught and angry, but to take action."
Additional protests were planned for the weekend. The group ColorOfChange shared resources for demonstrators on Twitter:
"Tyre Nichols was a father to a 4-year-old boy, a son, a skateboarder, a beloved member of his community. And he was murdered after complying while the cameras were rolling," ColorOfChange president Rashad Robinson said in a series of tweets Friday. "Cosmetic 'solutions' like body cameras will not prevent the police from taking Black lives, nor will hiring Black police officers without reforming the overall racist, violent system."
"Now," he argued, "we must make sure the Memphis City Council takes action to end the practice of pretextual stops, hold officers accountable, eliminate the [Organized Crime Unit] and the SCORPION task force that killed Tyre, and fund a civilian response unit."

News
SUPPORT OUR WORK.
We are independent, non-profit, advertising-free and 100%
reader supported.