For Immediate Release
Contact:
Sam Husseini, (202) 347-0020; or David Zupan, (541) 484-9167
Did Kagan Cover for Dershowitz's Plagiarism?
WASHINGTON
While Supreme Court nominee Elena Kagan has been extensively questioned in her hearings about her tenure as dean of Harvard Law School regarding military recruiters on campus, her role in a controversy involving charges of plagiarism against Harvard Law School Professor Alan Dershowitz (as well as other plagiarism scandals which erupted while she was head of HLS) has been virtually ignored.
On Tuesday, when Sen. Jon Kyl asked about her basic approach to judging, Kagan said:: "My deanship was a good example ... the kind of consideration that I've given to different arguments, the kind of fairness that I've shown in making decisions." At 15:20 on YouTube video.
Senate Judiciary Committee Chairman Patrick Leahy said of Kagan that there is "no reason to question her integrity." But some analysts question whether Kagan showed the capacity to rule fairly, which is required of a good judge, in the Dershowitz plagiarism case.
HILTON OBENZINGER
Obenzinger teaches American literature and writing at Stanford University. His books include American Palestine: Melville, Twain and the Holy Land Mania. He said today: "Norman Finkelstein, then at DePaul University, accused Dershowitz in 2003 of plagiarizing from Joan Peters' 1984 book 'From Time Immemorial,' which was recognized as a work of propaganda by many in Israel, but was praised by many backers of Israeli politics in the United States. Finkelstein years ago helped show that Peters' book was scholarly worthless. Peters' argument is that most of today's Palestinians did not live there. This is a similar argument as other colonizers, such as the British in North America. As Anthony Lewis titled his New York Times column at the time that dismissed Peters' argument: 'There Were No Indians.'
"Peters employs Twain (as does Dershowitz) because he is the quintessential American writer, and so his witness, so to speak, is authoritative. While Twain is a great truth teller, he can also be the biggest liar. His words should never be used to justify colonial expropriation -- which is what Peters (and by extension Dershowitz) do -- and in other writing Twain was a sharp critic of colonialism. Dershowitz's vicious attacks on Finkelstein, and his crude intervention in Finkelstein's tenure case, and the fact that DePaul and Harvard allowed it to happen, is really what's at issue. And underlying all of Dershowitz's attacks is his ferocious rejection of any serious criticisms of Israel's policies. As for the connection with Kagan (and Harvard's then-President Larry Summers), they probably share Dershowitz's viewpoint. Unfortunately in academia, it's a matter of Dershowitz being more powerful and being politically aligned with powerful people, not Finkelstein being right." Obenzinger's other books include Running Through Fire: How I Survived the Holocaust by Zosia Goldberg as told to Hilton Obenzinger.
Menetrez just wrote the piece "Elena Kagan's Harvard: Golden Age or Reign of Error?" The piece states: "When Elena Kagan was dean of Harvard Law School, her mishandling of a plagiarism case cost an innocent person his job while allowing the plagiarist, Professor Alan Dershowitz, to escape punishment. ...
"In 2003, an untenured professor at DePaul University named Norman Finkelstein accused Dershowitz of plagiarism. Dean Kagan ordered an investigation the following year. The investigation completely cleared Dershowitz, concluding that no plagiarism had occurred.
"Harvard is the nation's most prestigious institution of higher learning, so its vindication of Dershowitz was widely perceived as definitive. Armed with that vindication, Dershowitz relentlessly attacked Finkelstein in letters to DePaul faculty and every available media outlet. Those attacks would likely have been dismissed as sour grapes if the Kagan-ordered investigation had come out the other way.
"My independent research later revealed, however, that Dershowitz did in fact commit plagiarism and that no honest and competent investigation could have missed it. ... The case against Dershowitz seemed to be supported by powerful evidence. Finkelstein argued that Dershowitz's book 'The Case for Israel' contained obvious errors that were identical to errors in an earlier book by a different author, so Dershowitz must have just copied that author's work, errors and all. Finkelstein explained the point in detail in an exchange with Dershowitz that was published in The Harvard Crimson in October 2003.
"The identical errors issue was consequently well known and central to the plagiarism dispute when Kagan ordered an investigation in 2004. But the Kagan-commissioned investigation still concluded that no plagiarism had occurred. What happened? Were there really no identical errors after all?
"I decided to check for myself, and I quickly discovered enough identical errors to prove the plagiarism charge against Dershowitz beyond any reasonable doubt. I looked at one of the passages identified by Finkelstein, a long quotation from Mark Twain, and found that Dershowitz's version of the quotation and the version in the book Dershowitz was accused of plagiarizing contained 20 identical errors in a mere 21 lines of text. Some of the errors were large (such as the omission of 87 pages of text without an ellipsis) and some were small (such as altered or missing words or punctuation), but the cumulative weight of the evidence was overwhelming. There was no way Dershowitz could have independently generated exactly those 20 errors -- he must have copied them. It was an open-and-shut case.
"So what exactly did the Kagan-commissioned investigation look at? Did it address the identical errors issue? (I put that question to the Harvard Law School administration myself when Kagan was still dean, but they refused to answer.) ...
"Granted, these questions might seem of limited significance for Kagan's Supreme Court nomination. The answers will not tell us what she thinks about originalism or abortion or the scope of federal executive power. But they are still relevant, because they will shed light on something equally important. In the end, all of us will be forced to assess Kagan on the basis of what we make of her character, because the written record of her judicial philosophy is so sparse."
Background: Menetrez also wrote the piece "Dershowitz v. Finkelstein: Who's Right and Who's Wrong?" -- an updated and expanded version of that piece was published as an epilogue to the paperback version of Norman Finkelstein's book Beyond Chutzpah: On the Misuse of Anti-Semitism and the Abuse of History. The book was published by the University of California Press; while the first edition was being edited, Dershowitz wrote to California Gov. Arnold Schwarzenegger about the publication of the book urging him to "prevent this impending tragedy."
See PDFs of relevant text from Dershowitz, Peters and Twain to verify that Dershowitz copied Peters' errors.
See letter in The Harvard Crimson "Finkelstein Proclaims 'The Glove Does Fit'" from 2003.
At one point in the controversy, Dershowitz claimed that Finkelstein thought his own mother was a Nazi collaborator. Dershowitz posted this to his Harvard web page. Finkelstein objected to this to Kagan to no avail.
For more information, contac
A nationwide consortium, the Institute for Public Accuracy (IPA) represents an unprecedented effort to bring other voices to the mass-media table often dominated by a few major think tanks. IPA works to broaden public discourse in mainstream media, while building communication with alternative media outlets and grassroots activists.
LATEST NEWS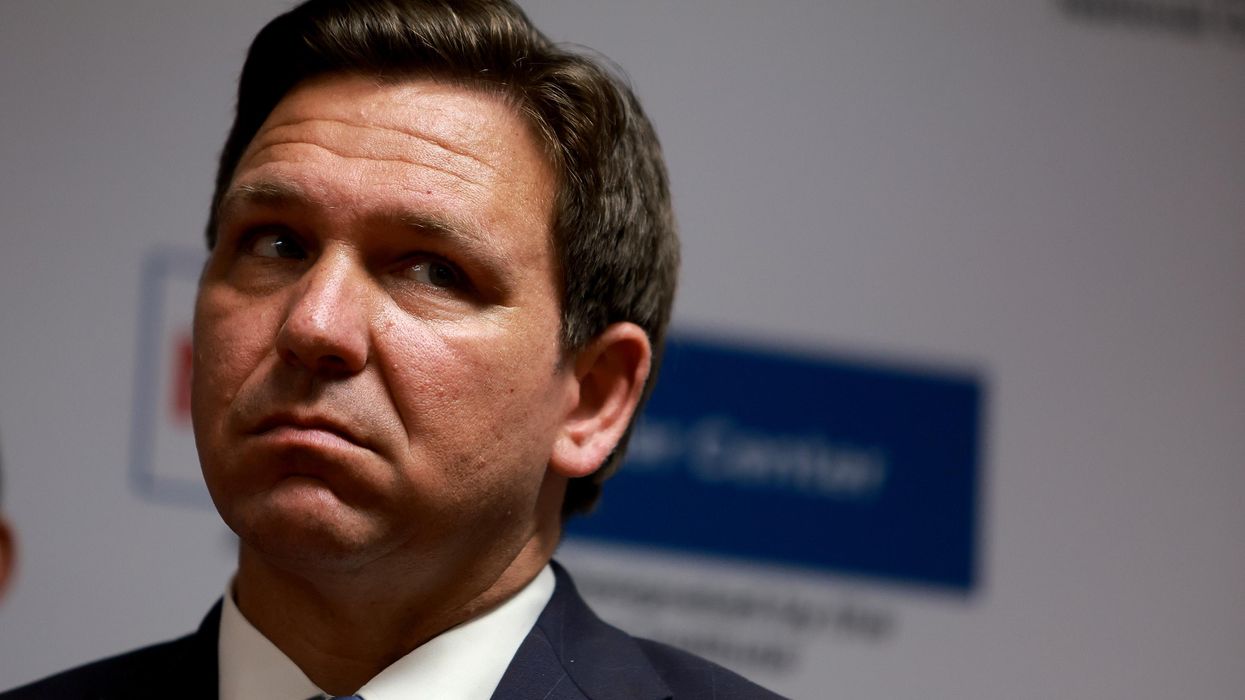 The Florida governor approved the executions of six people this year, and the state imposed five new death sentences.
Florida governor and 2024 presidential candidate Ron DeSantis made a return to capital punishment in his state a key element of his "tough on crime" campaign messaging this past year, and the result was an overall increase in the use of the death penalty in the United States, according to a new annual report.
The Death Penalty Information Center (DPIC) found that although a majority of U.S. states—29 of them—have now either abolished the death penalty or enacted a moratorium on executions, the number of people killed by state governments rose from 18 in 2022 to 25 in 2023.
The group attributed the rise to Florida's return to capital punishment after a four-year hiatus, with DeSantis moving forward with the executions of six people—the highest number in the state since 2014.
The state's new pattern of putting Floridians to death showed no sign of slowing down in the coming year, as it also imposed five new death sentences—the most of any state in 2023.
The DPIC catalogued other laws signed by DeSantis this year as he joined the Republican presidential primary race, in which he is currently trailing former Republican President Donald Trump by more than 47 points, with an average of 12.6% of Republicans backing him according to the latest polls.

In April Florida passed a law allowing the state to execute people convicted of sexual battery of a child under the age of 12 in cases in which the victim is not killed—a law that conflicts with a 2008 U.S. Supreme Court ruling that struck down a similar statute in Louisiana.
DeSantis also approved a law giving Florida the lowest threshold in the U.S. for permitting juries to sentence a convicted criminal to death, allowing a death sentence if only eight out of 12 jurors agree. Only Alabama and Florida allow non-unanimous juries to impose a death sentence, and Alabama's threshold is 10 jurors.
Florida also holds the country's record for the highest number of exonerations from death row, with 30 people exonerated—the majority after being sentenced by non-unanimous juries.

"It should be hard to send someone to the death penalty," Randolph Bracy, a former Democratic Florida state senator who pushed to require a unanimous jury vote for death sentences, toldThe New York Times when DeSantis signed the bill. "Florida has the highest rate of wrongful convictions, I think, in the country. We needed that threshold to make sure that we were doing the right thing."
As DeSantis' policies led to an increase in executions in the U.S., the DPIC reported that the Florida governor is out of step with a growing number of Americans. For the first time this year, Gallup found that 50% of Americans believe the death penalty is administered unfairly, while only 47% believe it is used fairly.
"That important change can also be seen in the unprecedented show of support for death-sentenced prisoners from conservative lawmakers and elected officials this year, some of whom now oppose use of the death penalty in their state," said Robin M. Maher, executive director of DPIC.
Richard Glossip, who was convicted of a 1997 murder in Oklahoma and sentenced to death earlier this year, was issued a stay of execution in May after the state's Republican attorney general joined campaigners who had long advocated for Glossip's life to be spared.
The DPIC found that a majority of the people who were executed in 2023—79% of whom had impairments such as brain injuries, serious childhood trauma, or developmental disabilities—would likely not have received death sentences had they been tried today, "due to significant changes in the law, prosecutorial decision-making, and public attitudes over the past few decades."
"Today," said the group, "they would have powerful arguments for life sentences and decisions from juries who better understand the effects of mental illness, developmental impairments, and severe trauma."
News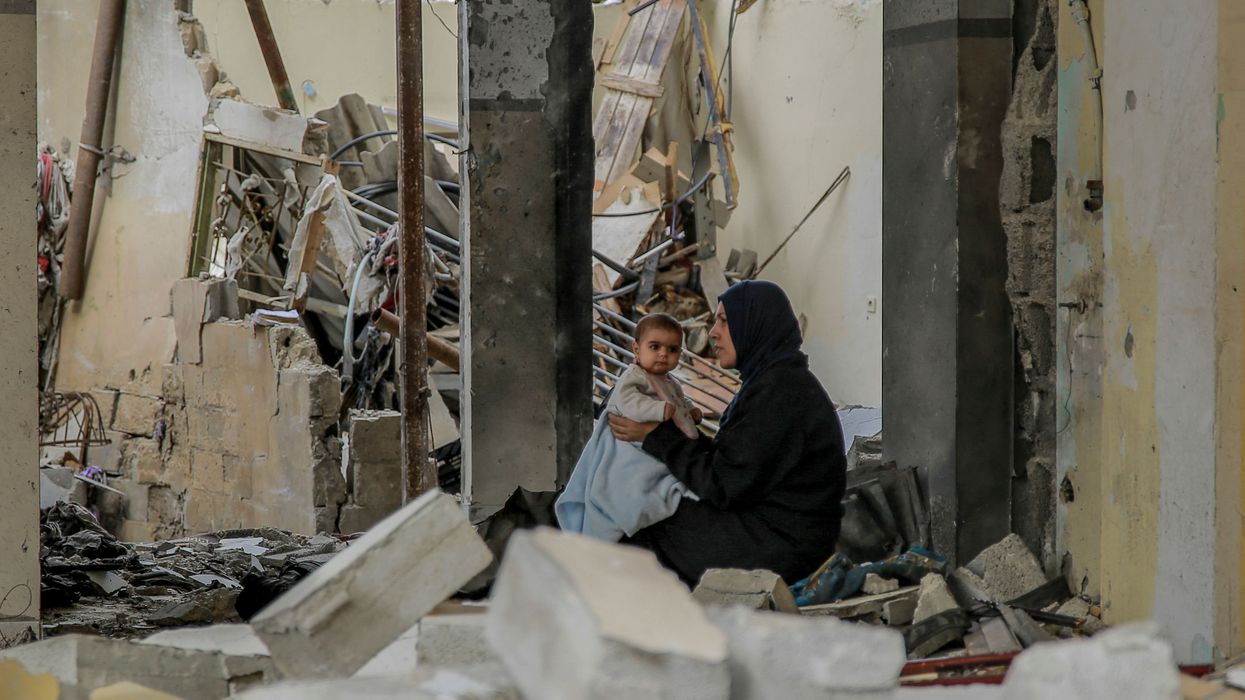 Human Rights Watch observed that one Israeli attack on a Gaza hospital forced staff to evacuate, "leaving babies that could not be transported alone in intensive care."
As Israel resumed its bombardment of the Gaza Strip on Friday following a seven-day pause, a Human Rights Watch dispatch showed how the assault has devastated the Palestinian territory's maternity care facilities, endangering the lives of thousands of mothers and newborns entering the world amid a spiraling humanitarian catastrophe.
HRW's Erin Kilbride and Bill Van Esveld cataloged some of the damage Israel's relentless airstrikes and blockade have inflicted on Gaza's overwhelmed healthcare centers, noting that last month "Israeli airstrikes hit al-Nasr Medical Center in Gaza City, cutting off the neonatal intensive care unit's oxygen supply."
"The attack forced staff to evacuate the next day, leaving babies that could not be transported alone in intensive care, according to Doctors Without Borders," Kilbride and Van Esveld wrote. "On November 28 during the cease-fire, doctors were able to return and found five babies dead."
The Euro-Mediterranean Human Rights Monitor has called for an independent international probe of the incident, arguing that it "may amount to a horrifying execution and a crime against humanity."
The HRW researchers noted Friday that Israel's response to the deadly Hamas-led October 7 attack has "included bombardments that have repeatedly forced maternity wards and reproductive health clinics to shut down or relocate."
"Israel also cut electricity to Gaza and banned for more than a month the entry of fuel needed to run generators that powered hospital equipment like incubators, despite World Health Organization (WHO) warnings that newborns would die," Kilbride and Van Esveld observed. "Israeli military operations forced the maternity ward of Gaza's main hospital, al-Shifa, to evacuate to al-Helou International Hospital, originally a cancer facility."
"An Israeli shell later struck al-Helou, according to the WHO," they added. "Without electricity for incubators, five premature babies died at al-Shifa before survivors were evacuated on November 19, according to the United Nations. As of November 20, all evacuated babies were 'fighting serious infections' and a third were 'critically ill,' according to the WHO."
Two-thirds of the more than 14,500 people killed by Israel's latest assault on Gaza were women and children. The United Nations estimates that there are roughly 50,000 pregnant women currently in the Gaza Strip and that more than 160 babies are being delivered each day—often in facilities without adequate medical supplies or electricity.
"Put yourself in the shoes of that woman when the surgeon says to her, 'I have no anesthesia, I don't even have water or soap to wash my hands, but I'm going to try and save your life,'" Laila Baker, regional director for Arab states at the U.N.'s sexual and reproductive health agency, said last month.
Oxfam International said in a recent report that "newborns up to three months old are dying of diarrhea, hypothermia, dehydration, and infection as mothers have little to no medical support and are living in appalling conditions without water, sanitation, heat, or food."
Ammal Awadallah, executive director of the Palestine Family Planning and Protection Association (PFPPA), told HRW that the organization's only delivery center in Gaza was destroyed by an Israeli airstrike on a nearby building on October 8.
"Awadallah said midwives and healthcare workers in Gaza are 'a lifeline for the estimated 180 women giving birth each day,' but attacks have forced them to provide care via telephone 'when there is connectivity,'" HRW reported. "Awadallah said a colleague was providing pre- and post-natal services in a shelter 'after her house was demolished by the bombings,' while PFPPA's social worker was 'trying to provide support' from his relative's home."
Kilbride and Van Esveld called on the Israeli government to "immediately end unlawful attacks on medical facilities and its blockade of Gaza."
"The collective punishment of 2.2 million people," they added, "is a war crime."

News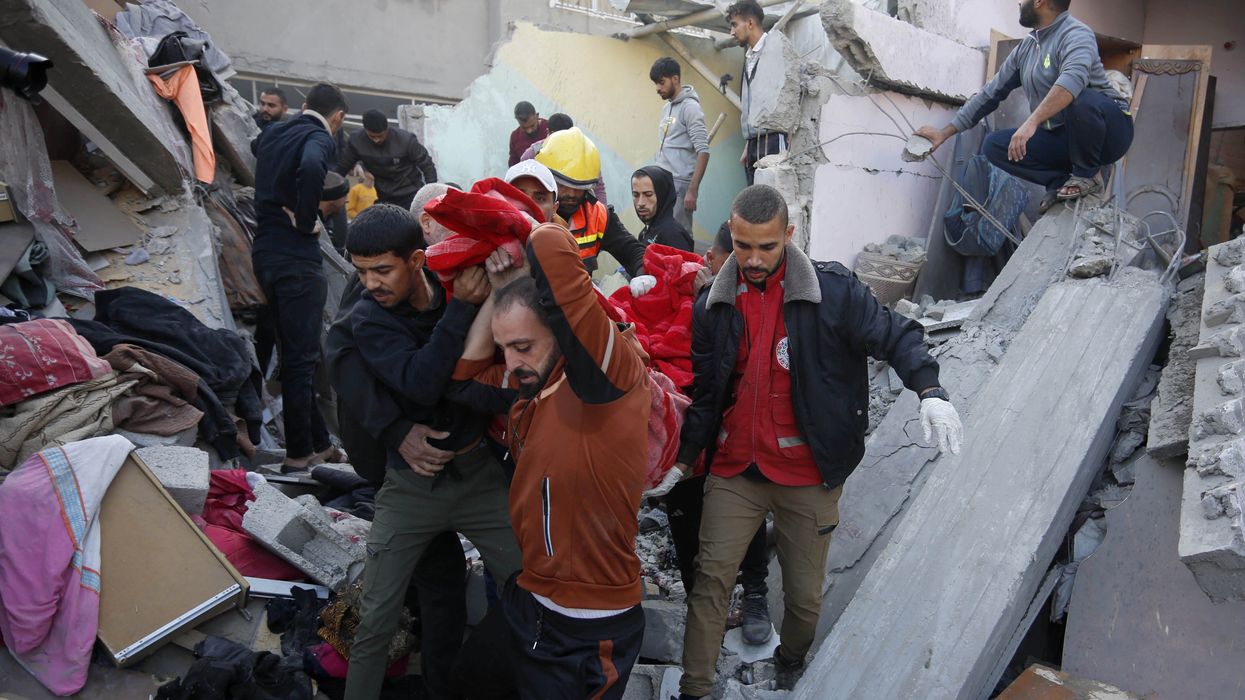 "Anything other than sustained peace and at-scale emergency aid will mean catastrophe for the children of Gaza," said a UNICEF spokesperson.
Israel resumed its assault on the Gaza Strip Friday morning just minutes after the pause with Hamas officially expired, ending a fragile seven-day truce that created conditions for the release of hundreds of Israeli and Palestinian captives and allowed additional—but still inadequate—humanitarian aid to enter the besieged territory.
Gaza's health ministry said that Israel's post-pause airstrikes killed more than 30 people and wounded dozens more, hitting a multi-story residential building and other civilian infrastructure in the southern part of the strip, where many Gazans sought refuge as Israeli forces targeted the north in earlier stages of its attack.
The Associated Pressreported that Israeli forces "dropped leaflets over parts of southern Gaza urging people to leave their homes, suggesting it was preparing to widen its offensive."
"The Israeli military also released a map carving up the Gaza Strip into hundreds of numbered parcels, and asked residents to learn the number associated with their location in case of an eventual evacuation," AP added. "It said the map would eventually be interactive, but it was not immediately clear how Palestinians would be updated on their designated parcel numbers and calls for evacuation."
Robert Mardini, director general of the International Committee of the Red Cross, toldAgence France-Presse that the resumption of bombing drags Gazans "back to the nightmarish situation they were in before the truce took place," with millions of people in desperate need of food, medicine, clean water, and sanitary living conditions.
"People are at a breaking point, hospitals are at a breaking point, the whole Gaza Strip is in a very precarious state," said Mardini. "There is nowhere safe to go for civilians. We have seen in the hospitals where our teams have been working, that over the past days, hundreds of severely injured people have arrived. The influx of severely wounded outpaced the real capacity of hospitals to absorb and treat the wounded, so there is a massive challenge."
James Elder, spokesperson for the United Nations International Children's Emergency Fund (UNICEF), warned Friday that "the humanitarian situation in Gaza is so perilous that anything other than sustained peace and at-scale emergency aid will mean catastrophe for the children of Gaza."
"To accept the sacrifice of the children in Gaza is humanity giving up," said Elder. "This is our last chance, before we delve into seeking to explain yet another utterly avoidable tragedy."
Israeli Prime Minister Benjamin Netanyahu, who is clinging to his job amid plummeting approval ratings, had pledged to continue assailing Gaza following the end of the truce, which marked the first pause in fighting since the war began in the wake of a Hamas-led attack on southern Israel in early October.
The Financial Timesreported Friday that Israel's government is preparing for a war that "will stretch for a year or more, with the most intensive phase of the ground offensive continuing into early 2024."
"The multi-phase strategy envisages Israeli forces, who are garrisoned inside north Gaza, making an imminent push deep into the south of the besieged Palestinian enclave," FT reported, citing unnamed sources familiar with the planning. "The goals include killing the three top Hamas leaders—Yahya Sinwar, Mohammed Deif, and Marwan Issa—while securing 'a decisive' military victory against the group's 24 battalions and underground tunnel network and destroying its 'governing capability in Gaza.'"
An investigation published Thursday by +972 Magazine and Local Call found that Israeli forces have used "expanded authorization for bombing non-military targets" and "the loosening of constraints regarding expected civilian casualties," as well as "an artificial intelligence system to generate more potential targets than ever," to wage its devastating war on Gaza, killing more than 14,500 people in less than two months and displacing 70% of the territory's population.
In one case that anonymous Israeli sources described to the two outlets, Israel's military command "knowingly approved the killing of hundreds of Palestinian civilians in an attempt to assassinate a single top Hamas military commander."
"Another reason for the large number of targets, and the extensive harm to civilian life in Gaza, is the widespread use of a system called 'Habsora' ('The Gospel'), which is largely built on artificial intelligence and can 'generate' targets almost automatically at a rate that far exceeds what was previously possible," +972 and Local Call found. "This AI system, as described by a former intelligence officer, essentially facilitates a 'mass assassination factory.'"
U.S. Secretary of State Antony Blinken reportedly urged Israel to do more to protect civilians in Gaza during a meeting with the nation's leaders on Thursday, but the Israeli government has repeatedly brushed aside public and private concerns expressed by the Biden administration, which continues to provide unconditional support for the assault.
"Blinken suggested that his call for protecting Palestinian civilians had reached receptive ears, at least in general terms," The New York Times reported. "He did not cite any specific commitments by Israel, however."

News