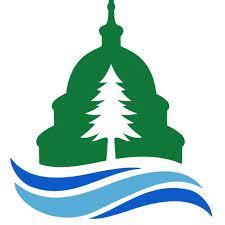 For Immediate Release
March, 11 2010, 09:35am EDT
Contact:
Kirsten Stade (202) 265-7337
The Myth of Transparency in the Obama Era
Agencies Continue to Cling to Internal Files Even in the Face of Litigation
WASHINGTON
The federal culture of secrecy is alive and well despite pledges of
a new government transparency. Agencies are still bitterly resisting
requests and lawsuits for release of internal records under the Freedom
of Information Act (FOIA), according to documents released today by
Public Employees for Environmental Responsibility (PEER).
On
his first full day in office, President Barack Obama vowed to conduct
government business with openness and ordered federal agencies to
"adopt a presumption in favor of disclosure, in order to renew their
commitment to the principles embodied in FOIA." Since that promise,
PEER has filed eight new FOIA lawsuits, as agencies either ignore
requests and appeals or improperly withhold records.
A typical
example is the PEER lawsuit against the Interior Inspector General (IG)
to force release of its long-stalled investigation into the Hubbell
Trading Post scandal, in which one of the last authentic Indian traders
was put out of business by a misguided and inept National Park Service
investigation. The Interior IG would not release either the results of
its investigation into the matter or the backup materials.
After
PEER sued the IG in September 2009, the agency dribbled out a few
documents but withheld most. Of 153 responsive documents identified by
the IG, the agency refused to release more than half of them (84). It
partially released 51 documents but many of these are so heavily
blacked out (see below) that they are incomprehensible. In total, the
IG only fully released 18 documents out of the 153 records.
The
IG is claiming the need to protect the privacy of parties involved as
the basis for most of the withholdings but these same parties, both
high Park Service officials and others, are named in court records that
are publicly available. In addition, the IG is withholding other
records on the ground that they are pre-decisional, even though this
deliberative process exemption does not usually apply to a law
enforcement investigation. Finally, the IG claims that some records
would reveal law enforcement techniques without explaining or even
hinting what those secret techniques could possibly be.
"In
this case, the Inspector General is acting as a Deflector General by
burying its own investigation," PEER Executive Director Jeff Ruch,
noting that the IG investigative report was finished back in January
2008 and has still not been fully released. "The Inspector General is
supposed to reveal not conceal."
Tomorrow, the Justice
Department is scheduled to answer the PEER suit and must decide whether
it will defend the withholdings and redactions made by its client, the
Interior IG. On March 19, 2009, Attorney General Eric Holder issued a
memo to all agencies declaring that henceforth "the Department of
Justice will defend a denial of a FOIA request only if (1) the agency
reasonably foresees that disclosure would harm an interest protected by
one of the statutory exemptions, or (2) disclosure is prohibited by
law." This case will be an early test of the "Holder Doctrine."
"Declaring openness is one thing. Delivering it is another," added
Ruch. "Until officials are held accountable for wrongly withholding
public records, the Obama openness directive will have more rhetorical
than practical effect."
Look at typical redactions by Interior IG
See the index of documents produced or withheld thus far
Revisit the Hubbell Trading Post case
Public Employees for Environmental Responsibility (PEER) is a national alliance of local state and federal resource professionals. PEER's environmental work is solely directed by the needs of its members. As a consequence, we have the distinct honor of serving resource professionals who daily cast profiles in courage in cubicles across the country.
LATEST NEWS
One advocate urged President Joe Biden to "reiterate his commitment to only signing a clean debt limit increase, and specifically rule out a closed-door commission designed to cut Social Security."
Sen. Joe Manchin provoked outrage Wednesday by suggesting congressional Democrats should agree to pursue changes to Social Security as part of a debt ceiling agreement with Republicans, an idea one advocacy group condemned as "negotiating with legislative terrorists."

In an interview on Fox Business—conducted at the annual gathering of corporate and political elites in Davos, Switzerland—the West Virginia Democrat said that "we have a debt problem" and argued members of both parties should "work together" on solutions. The senator singled out Social Security, even though the program can't by law add to long-term deficits.

While Manchin voiced opposition to GOP calls to privatize Social Security, saying such proposals "scare the bejesus out of people," he said Congress "should be able to solidify it, so the people who have worked and earned it know they're going to get it."

The problem, from the perspective of Social Security defenders, is Manchin's suggested avenue for reforms: Bipartisan congressional committees that critics have denounced as "a Trojan horse to cut seniors' benefits."

"Hell no to even a single penny of cuts to Social Security's earned benefits," the progressive group Social Security Works tweeted Wednesday in response to Manchin's comments. "Hell no to fast-track commissions designed to cut benefits behind closed doors."
Under legislation that Manchin has introduced alongside Sen. Mitt Romney (R-Utah), Congress would establish bipartisan "rescue" committees for the nation's trust fund programs—including Social Security and Medicare—and give the panels 180 days to devise "legislation that restores solvency and otherwise improves each." (Analysts and advocates reject the notion that Social Security is in financial crisis and needs "rescuing.")
The bills produced by the bipartisan committees would then be placed on an expedited path to floor votes in both chambers of Congress, with no amendments allowed.
Manchin and Romney's legislation, known as the TRUST Act, is explicitly modeled after the infamous Simpson-Bowles Commission that recommended deep cuts to Social Security in 2011. Former Republican Sen. Alan Simpson (Wyo.) and former Clinton White House Chief of Staff Erskine Bowles, the Obama-appointed chairs of the commission, both endorsed the TRUST Act in 2021, calling the bill "important and vital."
In his
Fox Business
interview on Wednesday, Manchin said his legislation could be used to secure a debt ceiling agreement with House Republicans, who have
threatened repeatedly
to use the borrowing limit as leverage to push for Social Security cuts.
Manchin told host Maria Bartiromo that he has spoken "briefly" with House Speaker Kevin McCarthy (R-Calif.) about the TRUST Act. Asked about the White House's stand against attaching any conditions to a debt ceiling agreement, Manchin said he "really" thinks the administration will reverse course and negotiate with Republicans.
Alex Lawson, the executive director of Social Security Works, told Common Dreams that President Joe Biden should "reiterate his commitment to only signing a clean debt limit increase, and specifically rule out a closed-door commission designed to cut Social Security," in response to the West Virginia Democrat's comments.
"Manchin is providing cover for Republican attacks on Social Security and Medicare," Lawson said. "Democrats must stand with President Biden in his calls for a clean debt ceiling [increase] and an end to Republican attacks on our earned benefits."
"MAGA extremists plan to use national debt they exacerbated with tax breaks for billionaires and profiteering corporations as an excuse to gut Social Security and Medicare."
Manchin's interview came hours before the federal government officially hit the $31.4 trillion debt ceiling on Thursday, prompting the Treasury Department to begin implementing "extraordinary measures" to ensure it can continue meeting its obligations as it awaits congressional action.
"The period of time that extraordinary measures may last is subject to considerable uncertainty, including the challenges of forecasting the payments and receipts of the U.S. government months into the future," Treasury Secretary Janet Yellen wrote in a letter to congressional leaders on Thursday. "I respectfully urge Congress to act promptly to protect the full faith and credit of the United States."
Failure to raise the debt limit—an arbitrary and arguably unconstitutional figure set by Congress—could result in the first-ever U.S. default and a devastating financial crisis, potentially wiping out millions of jobs.
Liz Zelnick, director of the Economic Security and Corporate Power program at Accountable.US, said in a statement Thursday that "whether or not the nation suffers a default crisis that could crush jobs is entirely up to MAGA extremists in Congress."
"The MAGA majority could vote today to meet the nation's prior debt obligations but instead a growing number want to manufacture a crisis to cut apart social safety nets for the most vulnerable Americans," said Zelnick. "Make no mistake: MAGA extremists plan to use national debt they exacerbated with tax breaks for billionaires and profiteering corporations as an excuse to gut Social Security and Medicare benefits for America's seniors and working people. They're dusting off an old conservative playbook: Make everyone else pay for their reckless giveaways to wealthy special interests."
News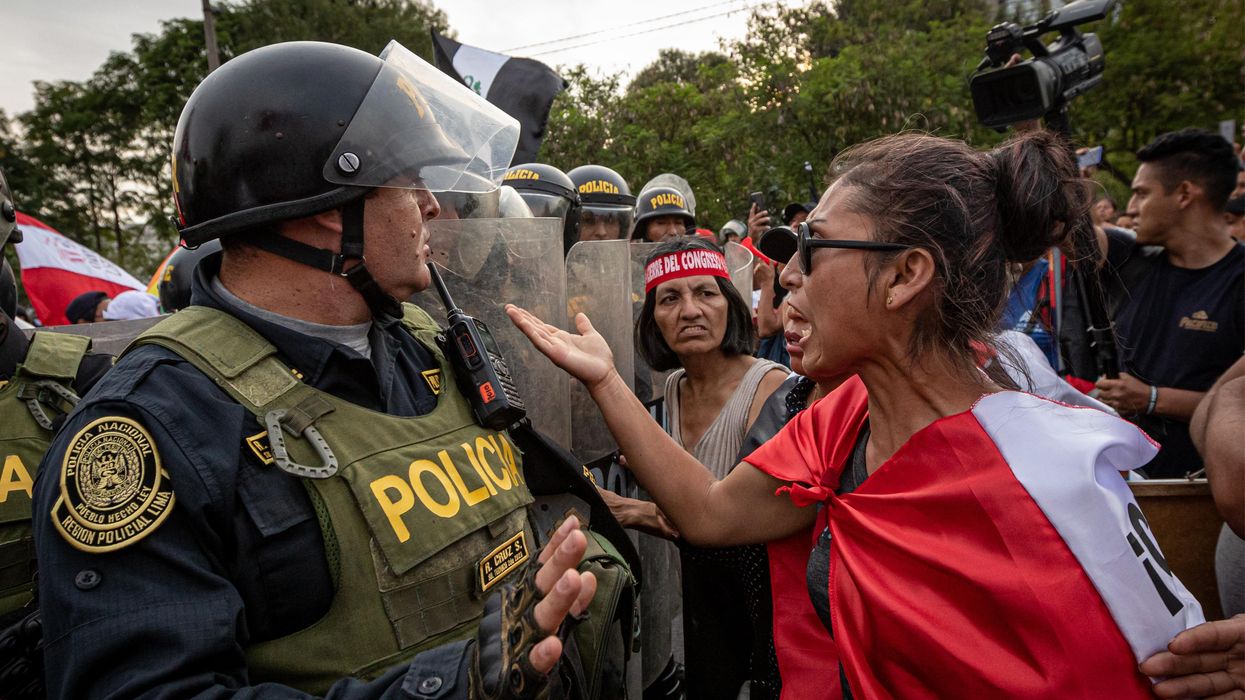 "We have come to Lima to defend our country, considering we are under a dictatorial government... which has stained our country with blood," one protester explained.
Thousands of Indigenous and other Peruvians descended on the capital Lima on Wednesday to demand the resignation of unelected President Dina Boluarte, show support for imprisoned former leftist leader Pedro Castillo, and condemn government forces for killing dozens of protesters over the past six weeks.
The demonstrators—who include Aymara and Quecha people from Andean regions, trade unionists, and other activists—traveled to the coastal capital in caravans during the second week of a general strike as part of a new "March from the Four Corners." The first such march took place in 2000 against then-President Alberto Fujimori, a U.S.-backed right-wing autocrat.
"We are from Chota in Cajamarca. We have come to Lima to defend our country, considering we are under a dictatorial government... which has stained our country with blood," protester Yorbin Herrera toldAl Jazeera.
Another demonstrator, Luis Garro, said: "I am upset. Angry. Traumatized and shocked by what is happening here. I believe that the people are going to force Dina Boluarte and the Congress out."
Florencia Fernández, a lawyer who lives in Cusco, toldthe Associated Press that "in my own country, the voices of the Andes, the voices of the majority have been silenced."
"We've had to travel to this aggressive city, this centralist city, and we say, the Andes have descended," she added.
Alonso Cárdenas, a professor of public policy at the Antonio Ruiz de Montoya University in Lima, noted the significance of protests in the capital.
"When there are tragedies, bloodbaths outside the capital, it doesn't have the same political relevance in the public agenda as if it took place in the capital," he told the AP. "The leaders have understood that and say, they can massacre us in Cusco, in Puno, and nothing happens, we need to take the protest to Lima."
At least 17 people were killed by state security forces in what human rights defenders called a "massacre" in Juliaca, the capital of San Román province in Puno, on January 9.
Some of this week's protesters traveled to Lima on the tour bus of renowned cumbia singer Yarita Lizeth, who has donated money to cover wounded protesters' medical bills while condemning "this violent repression against my brothers from Juliaca... who were unjustly killed."
By taking to the street, protesters were defying the government's extended state of emergency in Lima and three other regions, a move that suspended constitutional rights including the inviolability of the home, freedom of transit, and freedom of assembly.
A counter-demonstration in support of Boluarte, dubbed a "march for peace," also took place in Lima on Thursday. The de facto president said Tuesday that she would meet with anti-government demonstrators "to talk about the social agendas that you have because you well know that the political agenda that you are proposing is not feasible."

At least 53 people have been killed since the December 7 overthrow and arrest of Castillo—a democratically elected former rural teacher and union organizer—by the country's right-wing-controlled Congress after he moved to dissolve the legislature in a bid to preempt a move to dismiss him for "permanent moral incapacity."
The latest deaths includeSonia Aguilar Quispe, a35-year-old woman who was shot in the head in the southern town of Macusani; Salomón Valenzuela Chua, a 30-year-old father of four; and the unborn child of a teenager.
Castillo, who faces charges of rebellion and conspiracy, remains imprisoned by order of a panel of Peru's Supreme Court of Justice.
Boluarte has proposed elections for April 2024. Her government is recognized by the United States, Canada, Chile, and several other countries, while leftist leaders of Latin American and Caribbean nations including Argentina, Bolivia, Colombia, Cuba, Mexico, Nicaragua, and Venezuela have condemned Castillo's removal.
A poll published earlier this week by the Institute of Peruvian Studies showed 71% of respondents disapprove of Boluarte, while 60% say the protests against her government are justified.

News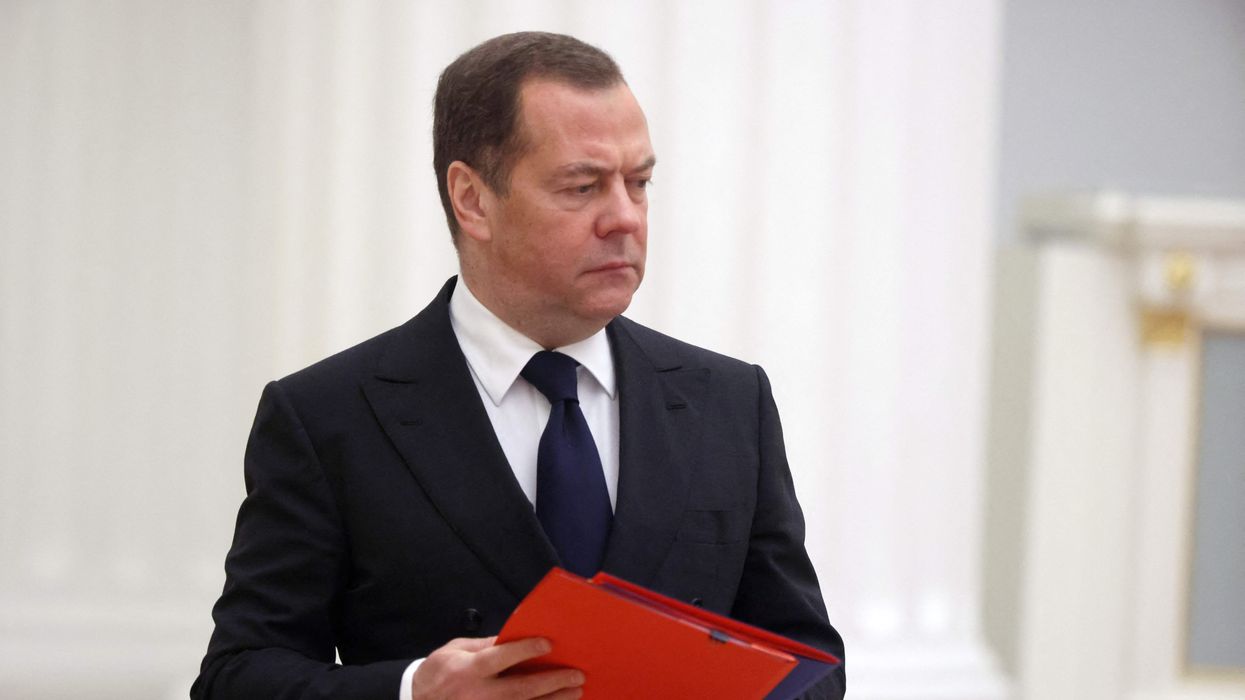 "Russia's attempt to cover for its illegal behavior by threatening nuclear war must be condemned," said one peace group. "We can't respond to the use of nuclear weapons, we need to eliminate them now."
Former Russian President Dmitry Medvedev, an ally of current Kremlin leader Vladimir Putin, warned the North Atlantic Treaty Organization on Thursday that a Russian loss in Ukraine could lead to nuclear war.
"The defeat of a nuclear power in a conventional war may trigger a nuclear war," Medvedev, deputy chairman of Russia's security council, said in a post on the Telegram messaging app. "Nuclear powers have never lost major conflicts on which their fate depends."
In response, the International Campaign to Abolish Nuclear Weapons (ICAN) tweeted, "Nuclear threats are unacceptable and banned" under the United Nations Treaty on the Prohibition of Nuclear Weapons. Russia, the United States, China, France, and the United Kingdom—home to more than 12,000 nuclear warheads combined—have expressed opposition to the treaty, which entered into force in January 2021 when it was ratified by 50 governments.
Despite issuing a joint statement last January—prior to Russia's invasion of Ukraine—affirming that "nuclear war cannot be won and must never be fought" and reaffirming that they plan to adhere to non-proliferation, disarmament, and arms control agreements and pledges, the five permanent members of the U.N. Security Council continue to enlarge or modernize their nuclear arsenals. For the first time since the 1980s, the global nuclear stockpile, 90% of which is controlled by Moscow and Washington, is projected to grow in the coming years, and the risk of weapons capable of annihilating life on Earth being used is rising.
"Russia's attempt to cover for its illegal behavior by threatening nuclear war must be condemned," ICAN added. "We can't respond to the use of nuclear weapons, we need to eliminate them now."
This is not the first time that Russian officials have threatened to use nuclear weapons since attacking Ukraine last February. Medvedev, who served as president from 2008 to 2012, "has repeatedly raised the threat of a nuclear apocalypse," Reuters reported Thursday, "but his admission now of the possibility of Russia's defeat indicates the level of Moscow's concern over increased Western weapons deliveries to Ukraine."
According to the news outlet, "Medvedev said NATO and other defense leaders, due to meet at Ramstein Air Base in Germany on Friday to talk about strategy and support for the West's attempt to defeat Russia in Ukraine, should think about the risks of their policy."
When asked if Medvedev's statement reflected an attempt to escalate the war, Kremlin spokesman Dmitry Peskov said: "No, it absolutely does not mean that."
Peskov argued that Medvedev's remarks follow Russia's nuclear doctrine, which permits a nuclear strike after "aggression against the Russian Federation with conventional weapons when the very existence of the state is threatened."
As Reuters noted, Putin has portrayed Russia's so-called "special military operation" in Ukraine as "an existential battle with an aggressive and arrogant West, and has said that Russia will use all available means to protect itself and its people."
In October, U.S. President Joe Biden warned that Russia's assault on Ukraine has brought the world closer to "Armageddon" than at any point since the Cuban Missile Crisis. Just days later, however, his administration released a Nuclear Posture Review that nonproliferation advocates said increases the likelihood of catastrophe, in part because it leaves intact the option of a nuclear first strike. The U.S. remains the only country to have used nuclear weapons in war, decimating the Japanese cities of Hiroshima and Nagasaki with atomic bombs in August 1945.
On Thursday, Max Abrahms, associate professor of political science at Northeastern University, rebuked NATO for ignoring Moscow's warnings against further arming Ukraine.
Instead of heeding those calls, Abrahms noted, Western elites are "saying the opposite—that only by sending more and more weapons into Ukraine can World War III be averted because Putin is just like Hitler and appeasement begets Russian escalation."
\u201cThe establishment is ignoring these warnings and saying the opposite \u2014 that only by sending more and more weapons into Ukraine can World War 3 be averted because Putin is just like Hitler and appeasement begets Russian escalation. We live in stupid times. https://t.co/M8CZjU3cAT\u201d

— Max Abrahms (@Max Abrahms) 1674138497
Experts have long sounded the alarm about the ongoing war in Europe, saying that it could spiral into a direct conflict between Moscow and NATO, both of which are teeming with nuclear weapons. Nevertheless, the U.S.-led military alliance has continued to prioritize weapons shipments over diplomacy.
Abrahms' criticism comes as the White House is expected to announce Friday that the U.S. will provide Ukraine with another huge military package consisting of artillery, ammunition, and dozens of Bradley and Stryker armored vehicles. According toPolitico, the $2.5 billion package excludes the U.S. Army's 60-ton M1 Abrams tanks due to maintenance and logistical issues, not because sending them would intensify the war. Congress has so far authorized more than $23 billion in military aid to Ukraine.
U.S. Secretary of Defense Lloyd Austin admitted last April that the U.S. wants "to see Russia weakened," suggesting that Washington is willing to prolong the war in Ukraine as long as it helps destabilize Moscow.
Peace advocates, by contrast, have consistently called for the U.S. to help negotiate a swift diplomatic resolution to the deadly conflict before it descends into a global nuclear cataclysm.
News
SUPPORT OUR WORK.
We are independent, non-profit, advertising-free and 100%
reader supported.