For Immediate Release
March, 09 2010, 11:37am EDT
Contact:
Phone: 202-332-9110
Most Food & Entertainment Companies Get Failing Grade for Policies on Marketing Food to Children
Few Have Any Policies in Place at All, According to CSPI Report Card
WASHINGTON
Most food and entertainment companies have received Fs from the nonprofit Center for Science in the Public Interest, which today issued a report card
that rates 128 companies' policies with regard to food marketing aimed
at children. Three-quarters of companies are getting an F, either for
having weak policies or for failing to have any policies whatsoever.
CSPI's highest grade, a B+, went to Mars, Inc.,
though the group emphasized that the grade is not for the foods Mars
sells, but rather for its policy on marketing to children. Mars' policy
excludes marketing to children
under 12 and covers most of the key marketing tactics used to reach
children. The entertainment company given CSPI's highest grade, a B, is
Qubo, a family-friendly children's television channel delivered
nationwide over ION Media Networks 59 local digital television
stations. Qubo's policy is comprehensive, applying reasonably good
nutrition standards to its full range of programming, according to CSPI.
One
food company (Procter & Gamble, which makes Pringles) received a B,
six got a B-, 17 got a C, and 7 a D. Ninety-five companies received an
F.
"Despite
the industry's self-regulatory system, the vast majority of food and
entertainment companies have no protections in place for children,"
said CSPI nutrition policy
director Margo G. Wootan. "If companies were marketing bananas and
broccoli, we wouldn't be concerned. But instead, most of the marketing
is for sugary cereals, fast food, snack foods, and candy. And this junk
food marketing is a major contributor to childhood obesity."
According to the Institute of Medicine, TV
commercials affect children's food choices, food purchase requests,
diets, and health. And the mere act of watching commercial television
is linked to obesity
CSPI gave restaurant chain Denny's an F for marketing
to children through its children's menu, which includes many
nutritionally poor items; games on its Web site; and a kid's birthday
club. Lucasfilms received an F for not having a policy. Presently,
Lucasfilms is licensing Star Wars toys as a premium to go with
McDonald's Happy Meals, many of which are nutritionally poor. Candy
company Topps also got an F. That company makes, among other things,
Baby Bottle Pop, a powdered candy sold in a miniature baby bottle,
eaten by dipping a candy nipple in a sugary powder and licking it off.
Over the years Topps has retained the services of the Jonas Brothers
and Clique Girlz singing groups to convince children to purchase that
infantilizing product, whose 140 calories all come from sugar.
Companies spend about $2 billion each year marketing
foods and beverages to children. Food manufacturers and restaurants
more often had policies for television, radio, print, Internet, and
product placement than for digital marketing, like cell phones, iPods,
and social networks, characters, games, and contests on food packages,
toy give-aways with children's meals at fast-food restaurants, or
branded marketing programs for schools. Half of the entertainment
companies with policies, like the Cartoon Network, apply nutrition
standards to the licensing of their characters, but few have policies
for their television advertising or Web site, which are the primary
ways they market to children.
In 2006, the Council of Better Business Bureaus announced a self-regulatory program called the Childrens Food and Beverage Advertising Initiative.
Sixteen major food and restaurant companies, representing about 80
percent of television food advertising expenditures, have joined the
program and announced that they will not market foods to children under
12 that don't meet companies' individual nutritional standards. But
those standards often are carefully tailored and still allow a
considerable volume of junk-food advertising to reach young kids,
according to CSPI. The group's analysis of advertising on Nickelodeon, conducted in November, found that 80 percent of food ads on the popular children's network were for junk food.
While
64 percent of food manufacturers that advertise to children have
marketing policies, only 24 percent of restaurants and 22 percent of
entertainment companies do. For Qubo's part, the company says its
nutrition policy reinforces an overall message about healthy living and
providing children with the foundations for self-esteem that the
company promotes in popular kids' programs such as Turbo Dogs, Willa's
Wild Life and Babar.
"Shortly after the launch of the Qubo kids' channel
in 2007, we established very stringent nutritional guidelines for
advertising only healthy foods to children," said Brandon Burgess,
chairman and CEO of ION Media Networks, the parent company of the Qubo
Channel. "We were responding to the alarming increase in childhood
obesity and the seminal work established by the FCC's Task Force on
Media and Childhood Obesity. Then and now, we were happy to work with
policymakers, CSPI, and our industry colleagues to fight childhood
obesity and provide children with important educational building blocks
in making healthy lifestyle choices."
In the next few weeks, the Federal Trade Commission
together with other federal agencies is expected to propose a set of
nutrition criteria and other standards for foods marketed to children
that, when finalized in July, the agency hopes companies will adopt on
a voluntary basis.
"If food, toy, and media companies fail to adopt
those voluntary standards, they will be clanging the death knell for
their self-regulatory initiative and inviting strong government
involvement in food marketing aimed at kids," Wootan said.
Since 1971, the Center for Science in the Public Interest has been a strong advocate for nutrition and health, food safety, alcohol policy, and sound science.
LATEST NEWS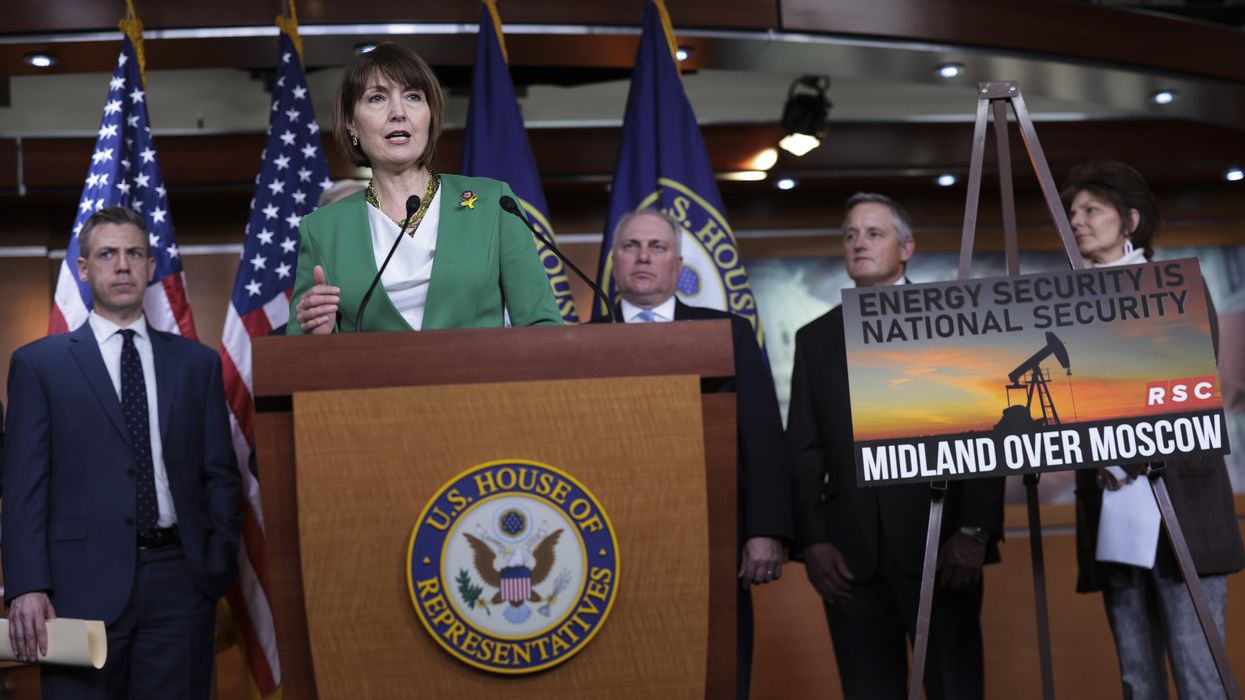 "Instead of holding accountable Big Oil CEOs for causing last year's record-setting gas prices, the new majority is hellbent on making political statements as American families suffer."
Climate watchdogs warned Monday that a bill House Republicans are expected to vote on this week is a thinly veiled effort to open more public lands and waters to planet-wrecking oil and gas drilling.
The Strategic Production Response Act, led by new House Energy and Commerce Committee chair Rep. Cathy McMorris Rodgers (R-Wash.), aims to curtail presidential authority to release oil from the United States' strategic reserve—something President Joe Biden did on a major scale last year in an attempt to curb gas prices.
But Joshua Axelrod, a senior advocate at the Natural Resources Defense Council (NRDC) who focuses on public lands, noted in a blog post Monday that "despite its title, the bill neither responds to any existing problem nor advances any coherent or achievable energy policy."
"Under the guise of limiting the use of the Strategic Petroleum Reserve (SPR), the Strategic Production Response Act appears, in fact, to be focused on establishing a federal oil and gas leasing mandate that eclipses all past efforts to hand over public lands and offshore areas to oil and gas companies," Axelrod wrote. "How? Under the proposed language, no non-emergency drawdown of the SPR can take place without the development of a plan from the Secretary of Energy and other relevant agency heads to 'lease for oil and gas production... [on lands and waters] by the same percentage' as the planned SPR drawdowns (up to 10%)."
"Put more clearly: If 1% of the SPR is to be drawn down, a plan to lease 1% of available public lands or offshore areas must first be developed," Axelrod added, cautioning that—if passed—the measure would "lock in another century of oil and gas."

In a letter to the House Energy and Commerce Committee last week, Energy Secretary Jennifer Granholm expressed strong opposition to Rodgers' bill, arguing it would cause "more oil supply shortages in times of crisis and higher gasoline prices for Americans."
Jordan Schreiber, the director of energy and environment at the progressive watchdog group Accountable.US, echoed that warning in a statement Monday.
"McCarthy and his MAGA majority are making it clear right out of the gate—they'd rather play politics than provide much-needed relief for American consumers," said Schreiber. "This bill hamstrings the executive branch, taking away a critical tool in combating rampant price gouging at the pump while making it easier to give our public lands away to the very companies responsible for artificially high prices. Instead of holding accountable Big Oil CEOs for causing last year's record-setting gas prices, the new majority is hellbent on making political statements as American families suffer."
Accountable.US also released an analysis countering Republican claims that have been used to justify the Strategic Production Response Act.
\u201cJUST IN: The @HouseGOP is taking up legislation that would prevent @POTUS from combating industry price gouging and make it easier for Big Oil to gain control of public lands.\n\nThe MAGA majority would rather play politics than provide relief to Americans. \nhttps://t.co/XtmCpd1hmw\u201d

— Accountable.US (@Accountable.US) 1674487452
The Biden Interior Department has itself come under fire from environmentalists for auctioning off huge swaths of public lands and waters for oil and gas extraction despite the president's campaign vow to put an end to such drilling. Recent research shows that drilling on public lands and waters has been responsible for roughly a quarter of all U.S. greenhouse gas pollution since 2005.
In 2021, the Biden administration approved more onshore oil and gas drilling permits per month than the Trump administration did during its first three years in power.
Nonetheless, Republicans awash in Big Oil campaign cash have repeatedly accused the Biden administration of being insufficiently aggressive when it comes to turning federal lands and waters over to the profit-soaked fossil fuel industry.
Rodgers, who received $218,367 from individuals and PACs associated with the oil and gas industry during the last election cycle, said in a floor speech earlier this month that "it's time to cut the red tape and expand energy production here at home."
In recent days, branches of the Koch-funded group Americans for Prosperity have been boosting Rodgers' legislation on Twitter, urging the GOP-controlled House to pass it.
With Democrats narrowly controlling the Senate, the bill—one of several Big Oil-friendly measures Republicans are planning to advance in the coming months—is unlikely to make it to Biden's desk.

Axelrod of NRDC argued it is "not hyperbole" to conclude that Rodgers' legislation proposes "a leasing plan so massive in scale it would eclipse all historic precedent and pave the way for federal oil and gas leasing well into the next century."
"The agencies implicated by this proposal have jurisdiction over 3.1 billion acres of onshore and offshore areas, suggesting that the 10% limit on acreage that could be leased translates into 314 million acres. That's more than eight times as many acres currently under lease," Axelrod wrote.
"This attempted public lands and waters giveaway comes as we are inundated daily with news of the escalating effects of the climate crisis on the United States," he added. "The incoming House majority appears to view those hardships and the enormous costs they impose on the U.S. economy as mere inconveniences to their laser-focused drive to prop up an oil and gas industry that not only recorded record-breaking profits in 2022, but also, is about to achieve record-breaking domestic production."
News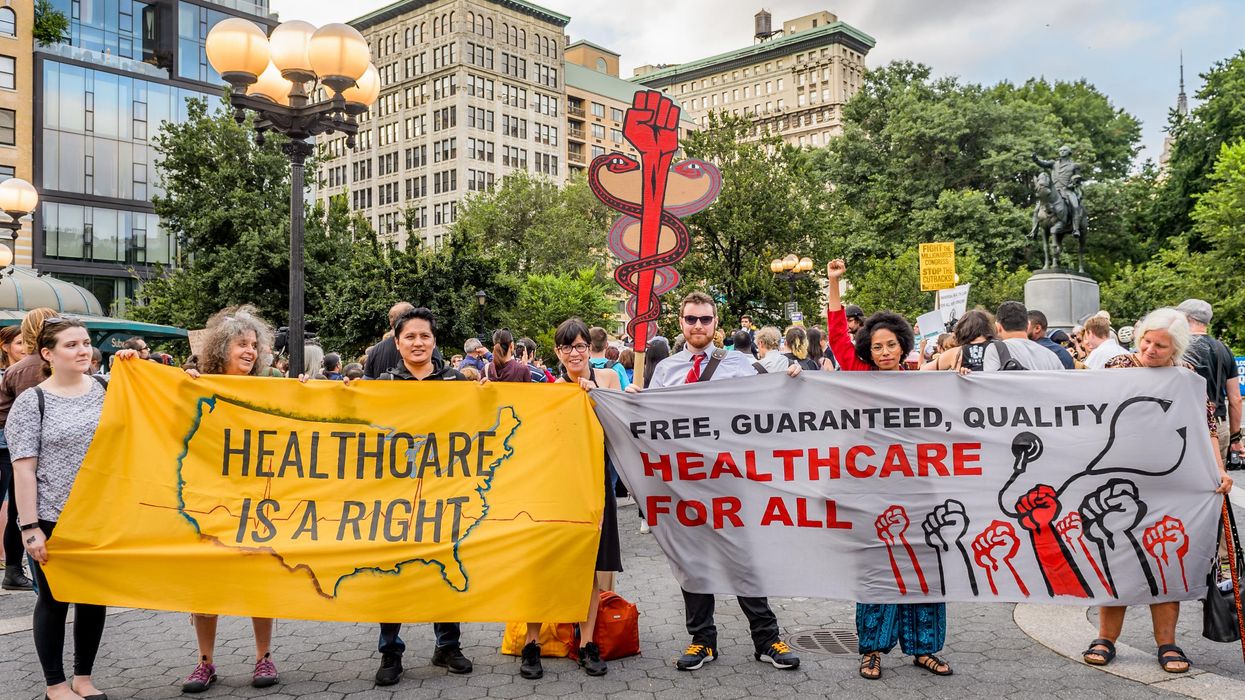 Across the political spectrum, 57% of respondents said they believe the government should ensure everyone in the U.S. has health coverage.
A new poll released by Gallup on Monday offered the latest evidence that Democratic leaders who continue to fight the progressive push for Medicare for All are out of touch with their own party, as more than 7 in 10 Democratic voters support a government-run healthcare system in which every American could participate and receive high-quality, free care.
Seventy-two percent of Democratic voters support what Gallup referred to as a "government-run healthcare system," compared to just 26% who backed continuing a "system based mostly on private health insurance," such as the "healthcare marketplace" created by the Affordable Care Act under the Obama administration in 2010. Under the law, 27.5 million Americans still were without health insurance as of 2021.
President Joe Biden suggested in 2020 that he would veto Medicare for All legislation if it passed in Congress and reached his desk, and said during the 2020 presidential campaign that the proposal to improve Medicare and expand it to all Americans was "unrealistic," adding that voters would prefer the option of keeping their employer-based health insurance if they have it.
The Gallup poll calls that claim into question, "with Democrats indicating support for a system where the government not only guarantees coverage but provides healthcare," reported Gallup.
The survey suggested that a majority of Democratic voters—contrary to repeated claims by the corporate media and Democratic leaders—hold views on healthcare that are closer to those of Medicare for All proponents such as Sen. Bernie Sanders (I-Vt.) and Reps. Alexandria Ocasio-Cortez (D-N.Y.) and Pramila Jayapal (D-Wash.), among a growing number of progressives in Congress.

The poll also found that across the political spectrum, 57% of respondents said the government should ensure all people have healthcare coverage—the highest number to say so in a Gallup poll since 2018.
Nearly half—46%—of independents also backed a government-run national healthcare program, but 50% were opposed, and the vast majority of Republicans backed a private health insurance system.
The poll comes days after another Gallup survey showed that under the current healthcare system, in which private insurance companies are expected to raise premium prices by between 6% and 12% this year, nearly 40% of Americans said they or a family member avoided or delayed seeking medical care in the last year due to cost.
\u201c@Gallup's annual #healthcare poll reports nearly 40% of Americans delayed medical care due to cost concerns last year. Experts emphasize that patients who skip preventive care and screenings risk worsening medical conditions. https://t.co/KKS8VQ1ttL\u201d

— Podimetrics (@Podimetrics) 1674168241
Just 12% of respondents in another poll released last September said they believed the U.S. healthcare system is run "very" or "extremely" well.
News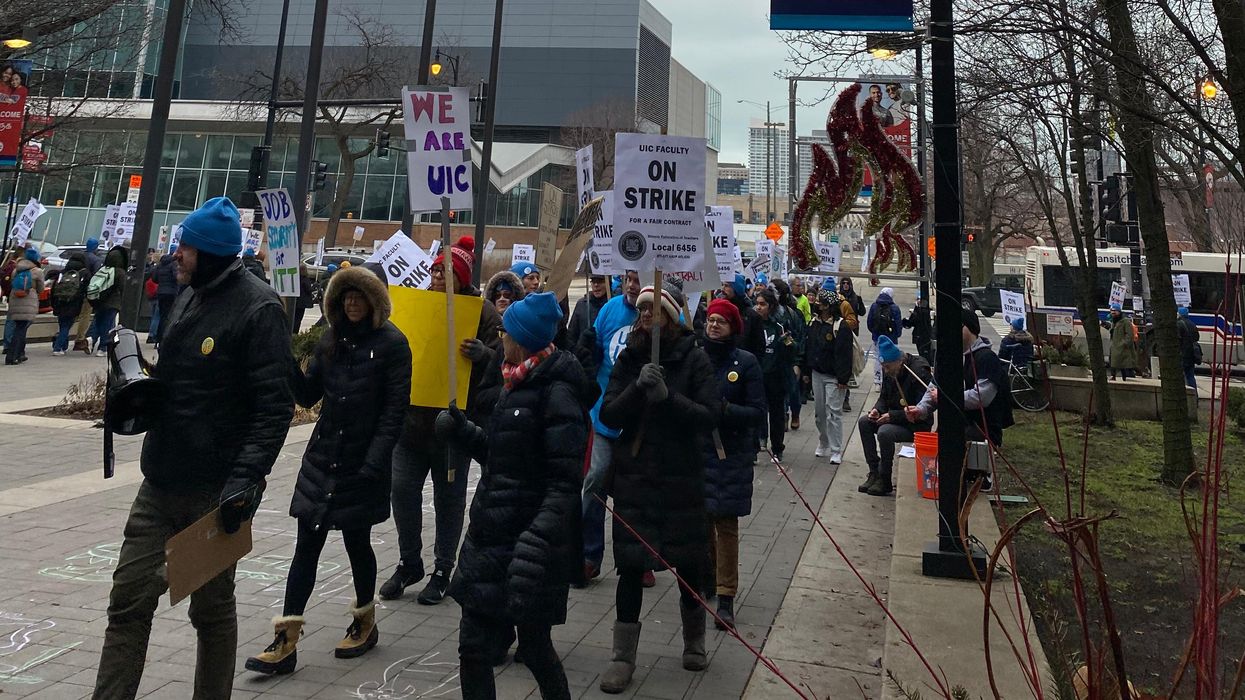 "This contract contains important gains on the issues most important to our members," said the president of the UIC United Faculty union.
Faculty members at the University of Illinois Chicago suspended their strike on Sunday after reaching a tentative deal with school administrators that includes minimum salary increases for both tenure-track and non-tenure-track staff.

"This contract contains important gains on the issues most important to our members," Aaron Krall, president of the UIC United Faculty (UICUF) union, said in a statement early Monday. "We are especially proud of winning $60,000 minimum salaries for our lowest-paid members and the commitments on student wellness and disability testing."
According to the union, the tentative contract deal—which must be ratified by UICUF members—includes:
Non-contractual, public commitments on expanding resources for student wellness and establishing psychoeducational testing;
Increased minimum salaries for the lowest-paid faculty: $60,000 NTT and $71,500 TT;
Equity adjustment to base salaries for all represented faculty;
5% average raise pools per each year of the 4-year contract;
Stronger job protections for non-tenure-track faculty; and
Expanded non-discrimination and anti-harassment policies.
The deal with university administrators was reached four days after faculty walked off the job last week to protest the lack of progress in contract negotiations and the school's refusal to budge on their demands for larger pay raises to account for higher living costs.
"We won! Strike suspended!" UICUF tweeted late Sunday following a nine-hour bargaining session that produced the tentative contract deal. "Feel free to notify your students that classes will resume tomorrow (Monday). Much, much more information is forthcoming, as well as a membership meeting where you all will vote on whether or not to ratify this contract."
As the local Chicago Sun-Timesreported Monday: "The agreement came after nine months of bargaining and 34 negotiation sessions, about half involving a federal mediator. Professors have been working without a contract since August."
Irene Mulvey, president of the American Association of University Professors, told the newspaper that "the academic labor movement is on fire right now."

"We've had decades of disinvestment at the federal and state level," Mulvey added. "[Higher education] is at a breaking point. And I think the answer is faculty organizing."

Last month, University of California graduate student workers ratified a contract deal that included better pay and benefits, ending a six-week strike that marked the largest academic employee walkout in U.S. history.

"The effects of the historic strike still reverberate across the nation, helping energize an unprecedented surge of union activism among academic workers that could reshape the teaching and research enterprise of American higher education," the Los Angeles Timesreported earlier this month. "In 2022 alone, graduate students representing 30,000 peers at nearly a dozen institutions filed documents with the National Labor Relations Board for a union election."
News
SUPPORT OUR WORK.
We are independent, non-profit, advertising-free and 100%
reader supported.