For Immediate Release
Contact:
David Card 202-785-5980    
ADA Pushes Congress to Address Unemployment Crisis
Real Unemployment Rate at 16.8%
WASHINGTON
ADA launched today an intensive effort to address growing unemployment.
"The first step is to extend unemployment insurance for the thousands of unemployed workers who will run out of benefits beginning this month," said Michael J. Wilson, ADA's National Director.
ADA's former President, Representative Jim McDermott (D-WA), has introduced HR. 3404 to extend benefits an additional 13 weeks for workers in states where the overall unemployment rate is at or above 9%; as of today, 20 states would qualify. The legislation would continue provisions in the Recovery Act that are now set to phase out at the end of the year, including modest temporary increases in the weekly compensation. The bill would also provide Emergency Unemployment Compensation, which provides up to 33 weeks of extended benefits to workers exhausting their regular unemployment benefits.
Wilson continued: "This vital legislation would provide a temporary extension of unemployment benefits to thousands of Americans that have reached the end of their financial rope.
"ADA is sending a letter to every Member of Congress urging them to support the unemployment benefits extension. We have created a letter to the editor campaign and we are also organizing ADA members nationwide to engage in local action to increase awareness of the unemployment crisis."
ADA is America's most experienced independent liberal lobbying organization. In the spirit of the New Deal and ADA founders Eleanor Roosevelt, renowned economist John Kenneth Galbraith, and former Senator and Vice President Hubert Humphrey we lobby through coalition partnerships, through direct advocacy, and through the media.
LATEST NEWS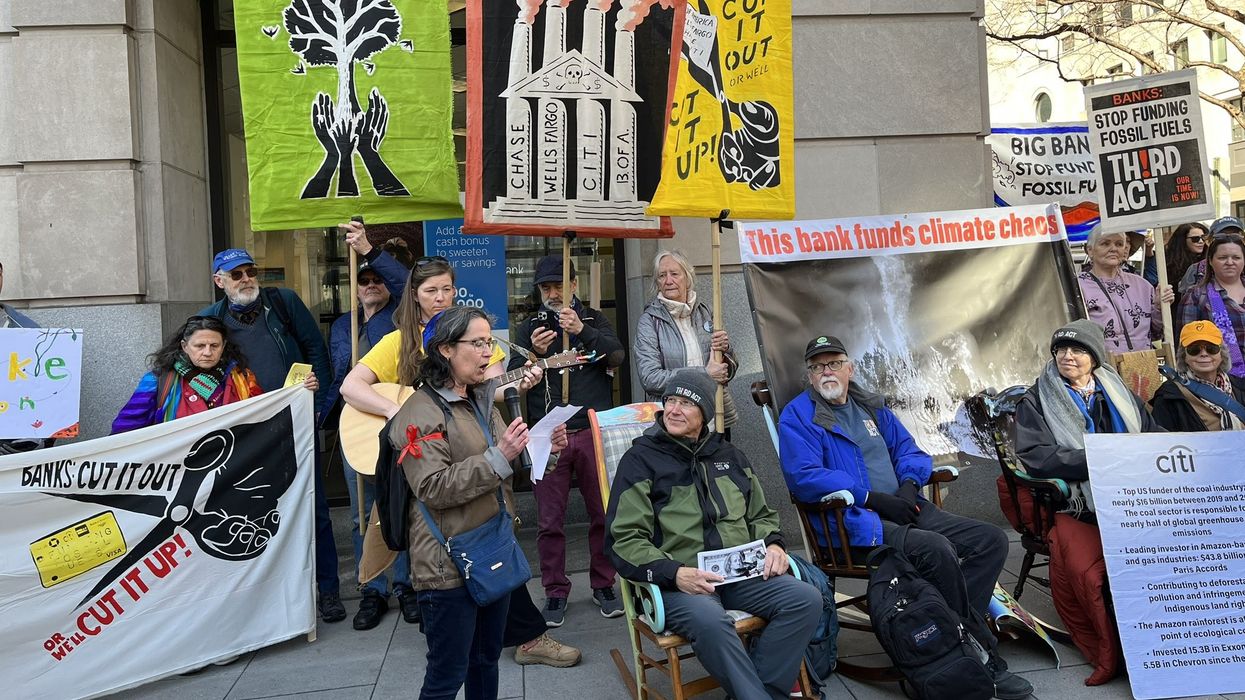 "We will not go to our graves quietly knowing that the financial institutions in our own communities continue to fund the climate crisis," said longtime environmentalist Bill McKibben.
Thousands of seniors outraged at big banks for continuing to underwrite the expansion of coal, oil, and gas projects took to the streets in cities across the United States on Tuesday to demand that financial institutions "stop funding climate chaos."
Held 24 hours after United Nations Secretary-General António Guterres—citing the latest report from the Intergovernmental Panel on Climate Change—called for an end to fossil fuel financing, the "Stop Dirty Banks" national day of action was organized by Third Act, an alliance of activists over the age of 60 co-founded by veteran campaigner Bill McKibben, and more than 50 other progressive advocacy groups.
The first elderly-led mass climate demonstration in U.S. history, which featured more than 100 rallies around the country, aimed to pressure financial institutions to stop bankrolling the planet-heating pollution that scientists have linked to worsening extreme weather.
Despite pledging to put themselves and their clients on a path to "net-zero" greenhouse gas emissions, the world's 60 largest private banks dumped $4.6 trillion into coal, oil, and gas projects from 2016 to 2021. Just four U.S. financial giants—JPMorgan Chase, Citi, Wells Fargo, and Bank of America—are responsible for a quarter of all fossil fuel financing identified since the Paris agreement entered into force.
"We must break the big banks' addiction to Big Oil."
"Today is a major drive to take the cash out of carbon," McKibben said Tuesday in a statement. "We want JPMorgan Chase, Citi, Wells Fargo, and Bank of America to hear the voices of the older generation which has the money and structural power to face down their empty, weasel words on climate. We will not go to our graves quietly knowing that the financial institutions in our own communities continue to fund the climate crisis."

"We're going to hit the streets and banks today in a wave of gray power," McKibben continued. "We will be colorful and noisy but our message is serious: We want the banks to move out of fossil fuels. The lives and livelihoods of our children and grandchildren depend on a drastic change and banks are the key to this."
In Washington, D.C., participants continued a 24-hour "rocking chair rebellion" that began Monday.
On Tuesday, people in D.C. also staged a die-in to draw attention to the lethal consequences of fossil fuel lending.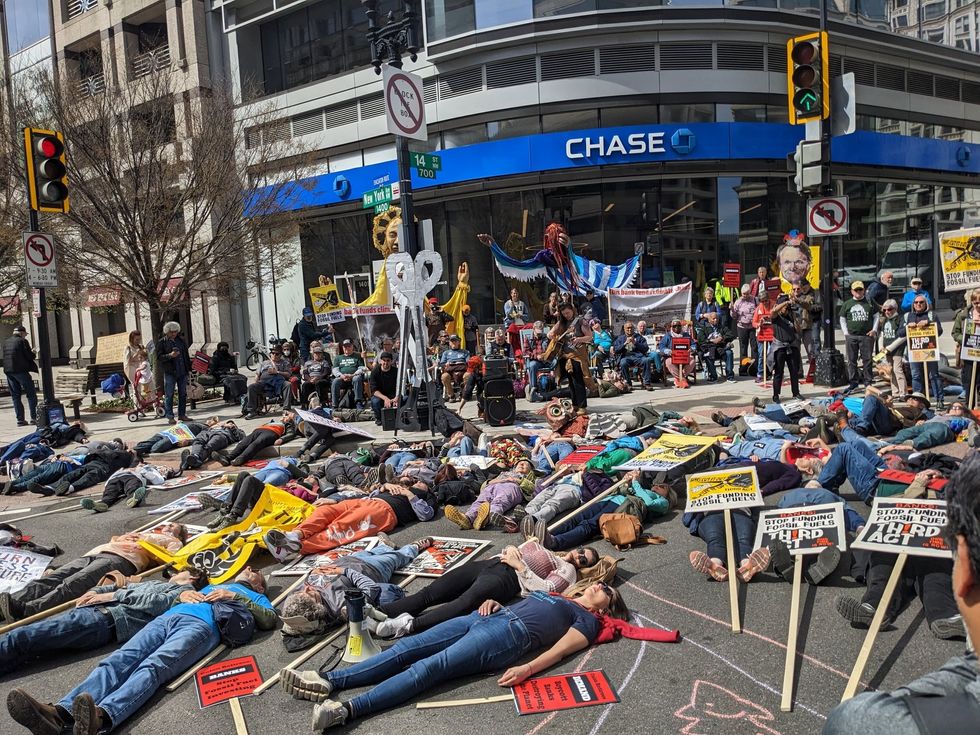 Sierra Club executive director Ben Jealous warned that "the big banks feel beholden to an industry literally driving us toward human extinction."

"What we're asking these banks to do," said Jealous, "is to have the moral clarity to say to their clients, 'You cannot keep expanding into the Arctic, you cannot keep expanding into the Gulf, you cannot keep drilling in Africa and throughout the globe. Because what you're doing is putting our communities, our future, and the climate at risk.'"
Closing out the rally in the nation's capital, Jealous declared, "We must break the big banks' addiction to Big Oil."
In New York City, protesters of all ages shut down traffic.
They also used giant mock scissors to "cut up" a cardboard credit card.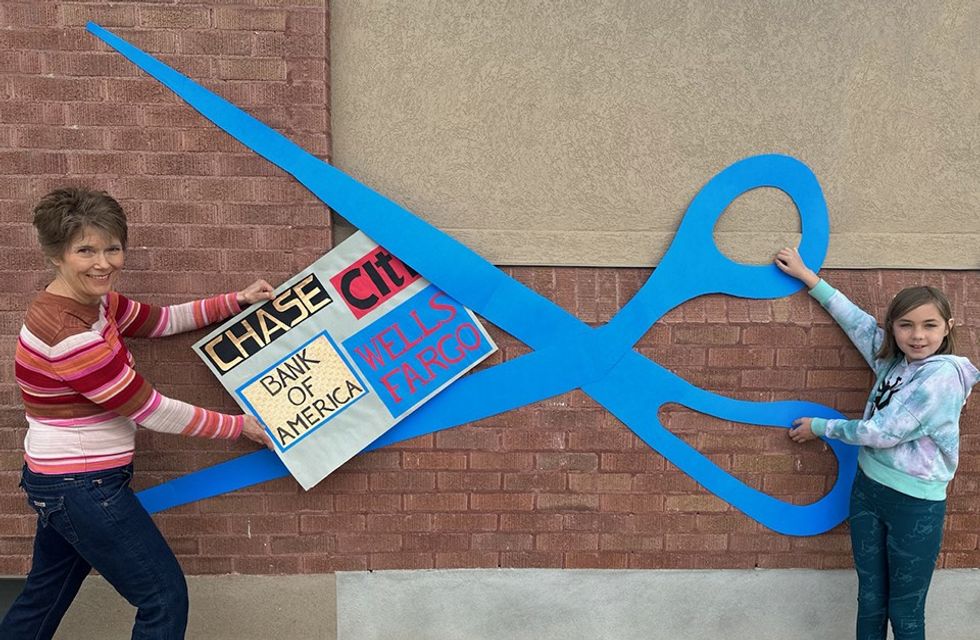 In addition to symbolically destroying a fake credit card, many people cut up real cards taken from their wallets.
"Third Act has gathered 17,000 pledges from bank customers to close their accounts and cut up their credit cards if the banks continue to fund fossil fuels," the group said. "These pledges were sent in recent weeks to the bank CEOs and in-person at bank branches from Burlington to Cleveland, from Oakland to New York."
"By continuing to finance fossil fuel expansion, Wall Street banks undermine our ability to meet our climate goals, and contradict their own climate pledges," said Ben Cushing, director of the Sierra Club's Fossil-Free Finance campaign. "These demonstrations are only the beginning of what each of us can do to hold big banks accountable for their role in the climate crisis."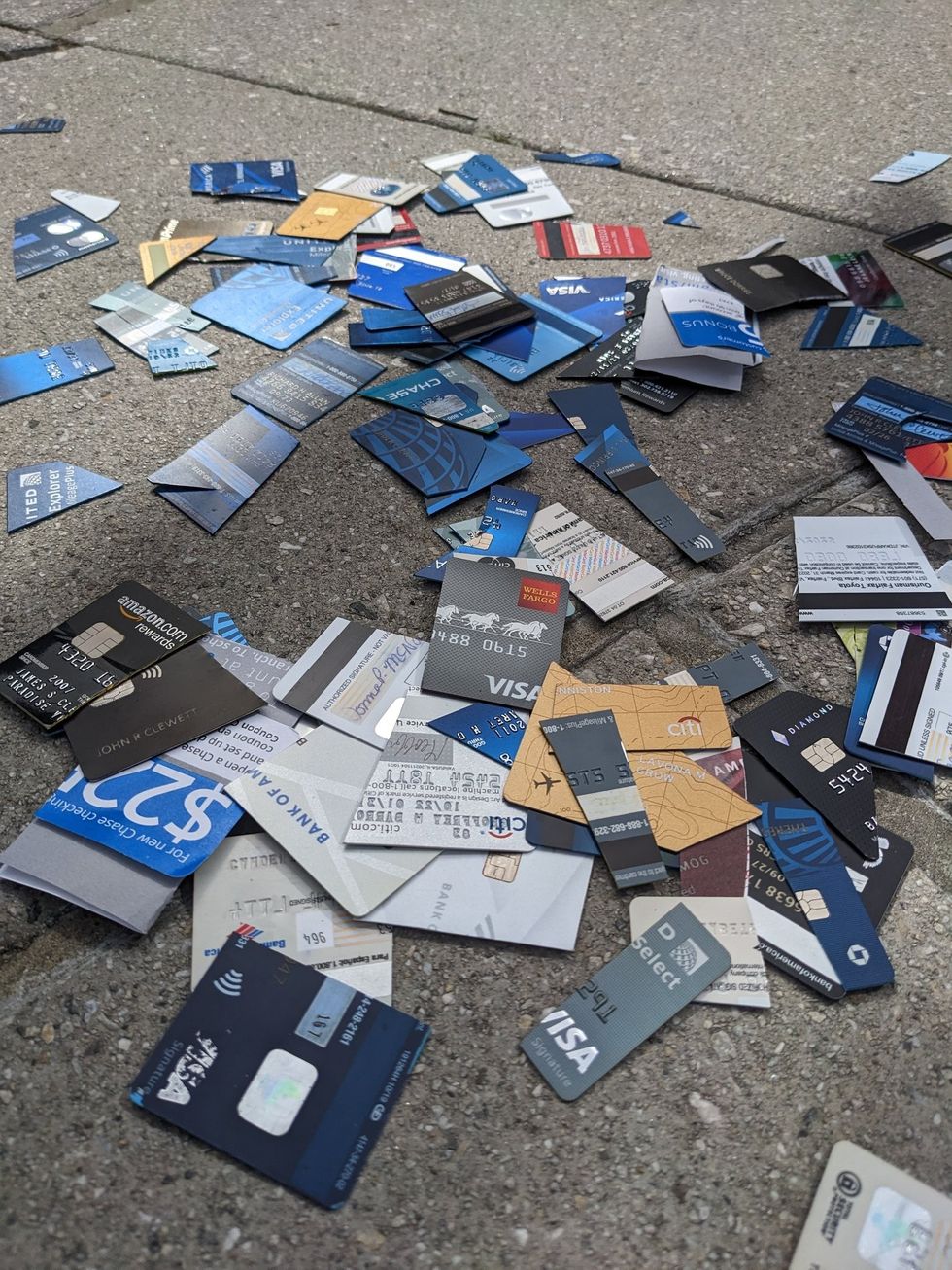 "This spring, we'll also be engaging with the banks' biggest shareholders in the lead-up to their annual meetings to support key climate votes," Cushing added. "It's a critical moment to push the banks to stop the flow of money to new fossil fuel expansion, to stop greenwashing their emissions targets, and to end the burden of dirty energy on frontline communities."
News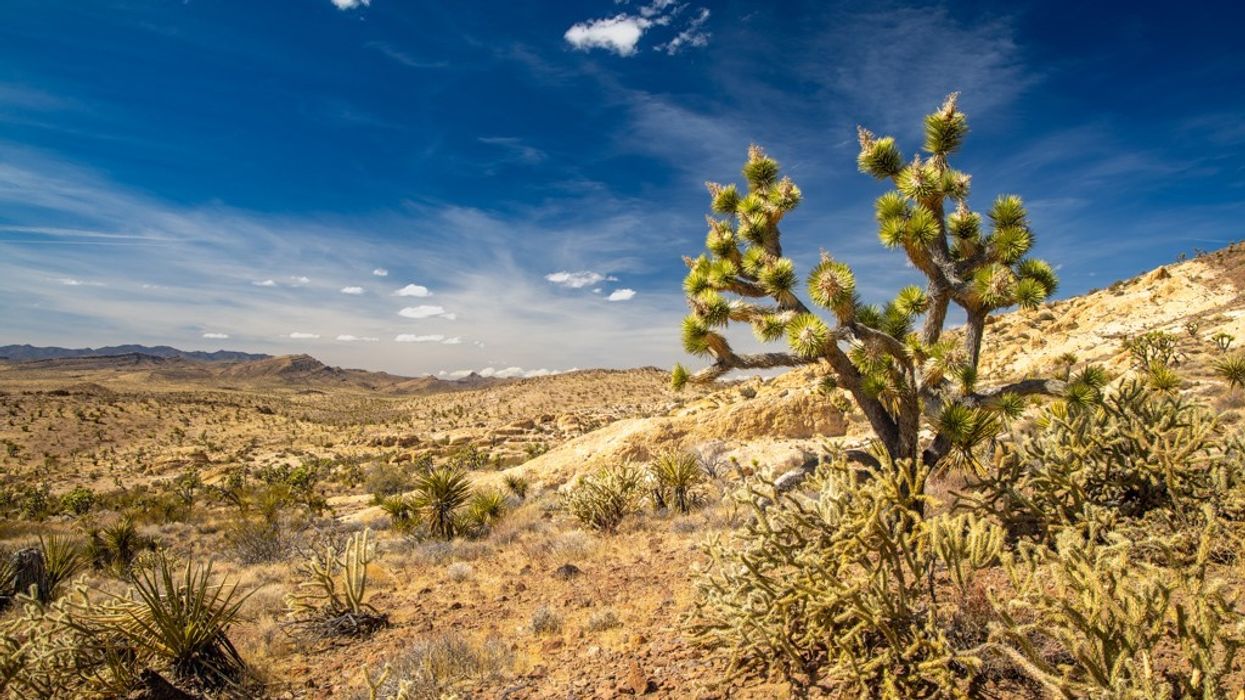 "We cannot save more nature if the federal government continues to approve destructive oil and gas operations like the Willow project," said one campaigner.
Conservation advocates on Tuesday credited yearslong campaigns led by Indigenous groups and other frontline organizers with pushing President Joe Biden to designate two new national monuments in the southwestern U.S., but they also emphasized that the gesture cannot negate the environmental damage that the White House set in motion last week when it approved ConocoPhillips' Willow oil drilling project.
Biden announced new protections for a large portion of Avi Kwa Ame—also known as Spirit Mountain—in the Mojave Desert in southern Nevada, and the Castner Range near El Paso, Texas.
Under the Antiquities Act of 1906, the two regions will be protected from industrial development by oil and gas drilling companies as well as renewable energy firms.
Avi Kwa Ame serves as a migratory route for bighorn sheep and mule deer and a critical habitat for species including bald eagles, peregrine falcons, and western screech owls. It is considered the creation site for tribes including the Cocopah and the Hopi, and Biden's designation is only the second aimed at protecting Native lands.

"While we celebrate this victory, these designations don't negate Biden's past giveaways to Big Oil, including last week's approval of the devastating Willow project in Alaska."
Castner Range was home to members of tribes including the Apache, Pueblo, and Comanche Nation, and contains more than 40 known Indigenous archeological sites. The land, which was taken over by the U.S. Army and used as a training site for 40 years until 1966, is also a crucial habitat for Mexican poppies, brush vegetation, the golden eagle, and the Texas horned lizard, among other species.
Coalitions including Castner Range Forever and Honor Avi Kwa Ame celebrated Biden's announcement and thanked him for listening to years of advocacy.
"The president's action today will safeguard hundreds of thousands of acres of cultural sites, desert habitats, and natural resources in southern Nevada, which bear great cultural, ecological, and economic significance to our state," said Honor Avi Kwa Ame. "Together, we will honor Avi Kwa Ame today—from its rich Indigenous history, to its vast and diverse plant and wildlife, to the outdoor recreation opportunities created for local cities and towns in southern Nevada by a new gorgeous monument right in their backyard."
Biden said the designations were aimed at conserving "our country's natural gifts" and "protecting pieces of history, telling our story that will be told for generations upon generations to come."
National climate action groups, however, were quick to point out that the credit Biden gets for protecting the lands doesn't negate his refusal to listen to advocates and Indigenous people who called on him to reject the $8 billion Willow project, which could lead to the production of more than 600 million barrels of crude oil over three decades—and ultimately 280 million metric tons of carbon dioxide emissions at a time when scientists and energy experts are warning that fossil fuel emissions must be drawn down.
"We thank the Biden administration for these important and long overdue designations," said Raena Garcia, fossil fuels and lands campaigner at Friends of the Earth. "The public has expressed strong support for protecting public lands, especially Avi Kwa Ame and Castner Range, for a very long time."
"While we celebrate this victory, these designations don't negate Biden's past giveaways to Big Oil, including last week's approval of the devastating Willow project in Alaska," Garcia added. "All communities must be protected from destructive fossil fuel and energy extraction. We urge Biden to read the writing on the wall and take action to protect our lands and waters for future generations."

The preservation of public lands and waters, said Chris Hill, senior director of Sierra Club's Our Wild America Campaign, are an important part of "a nature-based solution to taking on climate change."
"But we cannot save more nature if the federal government continues to approve destructive oil and gas operations like the Willow project," added Hill. "Designating new national monuments and safeguarding public lands from extraction can help us reach important climate goals, provide clean air and water, and expand access to nature for millions. It is through these actions that President Biden can build his monumental legacy."

News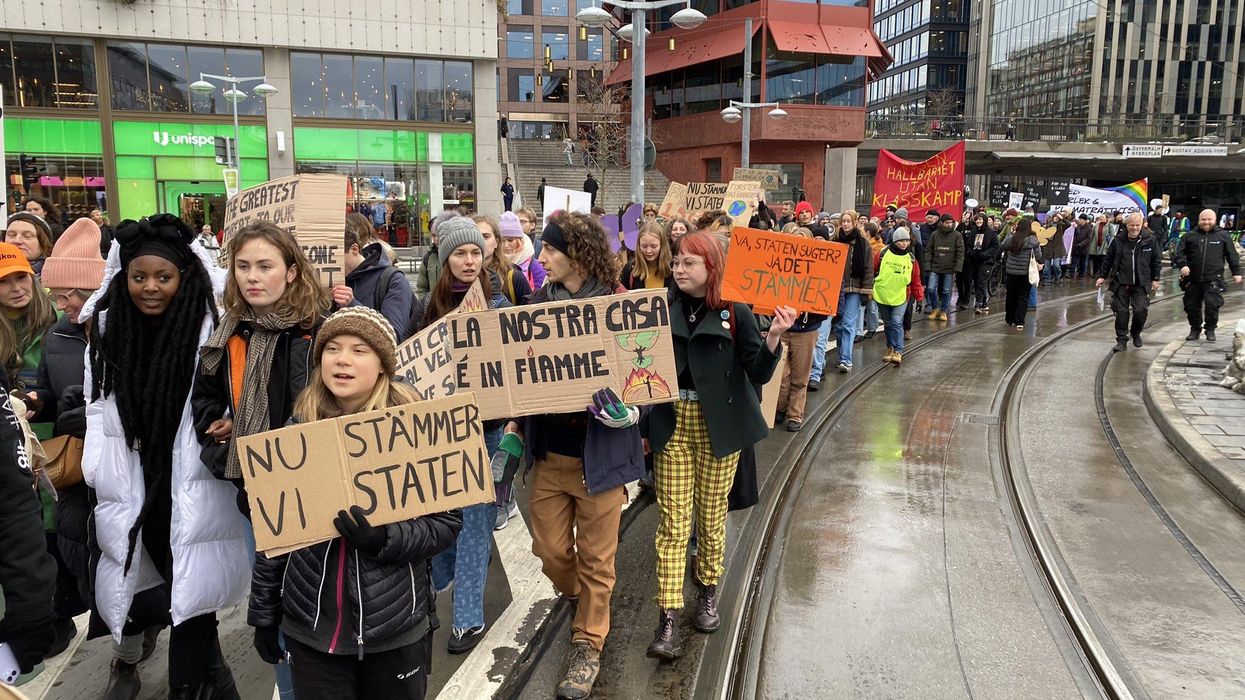 The country's climate action "constitutes a violation of human rights," argues one Swedish group.
A Swedish court on Tuesday ruled that hundreds of youth climate activists including Greta Thunberg can collectively sue Sweden for the government's "insufficient climate policy."
More than 600 people under age 26, including 20-year-old Thunberg, signed the 87-page document that is the basis for the lawsuit, which was filed in Stockholm in November and coincided with a march through the city.

"Sweden has never treated the climate crisis like a crisis," Anton Foley of the youth-led group Aurora, which prepared and filed the class-action suit, said at the time. "Sweden is failing in its responsibility and breaking the law."
The Nacka District Court determined Tuesday that the case can proceed and gave the Swedish government three months to respond.
"The district court has today issued a summons in a high-profile class-action lawsuit," the court said. "In the case, demands have been made for the district court to determine that the state has an obligation to take certain specified measures to limit climate change."
"Limiting global warming to 1.5°C requires drastic emission reductions starting now."

"At present, the district court cannot give a forecast as to when the case may be finalized or when it may be necessary to hold hearings in the case," the court continued, adding that the case could go to trial or be settled in writing.
As Aurora's webpage for the case explains, the young activists believe the climate emergency "is a problem we all have to solve together, but the responsibility is not evenly distributed between the countries of the world" and "Sweden, as a rich country with historically high emissions, has a particularly big responsibility to take the lead."
Referencing the 2015 Paris agreement's more ambitious goal for global heating by the end of this century, the activists argue that their country's climate action "is insufficient to be in line with Sweden's fair share of limiting global warming to 1.5 °C" and therefore "constitutes a violation of human rights."
"Limiting global warming to 1.5°C requires drastic emission reductions starting now," the youth warn, noting calculations that suggest Sweden doing its fair share would involve moves to cut emissions by 6.5-9.4 million tons annually from 2019-30.
"The consequences of the climate crisis in Sweden are a serious threat to life and health," Aurora's webpage says, pointing to forest fires, floods, droughts, heatwaves, and the spread of diseases.
The climate crisis also negatively impacts mental health, "partly as a consequence of the extreme weather and environmental changes that are happening and will happen, but also due to anxiety and stress during youth," the site stresses. "Everyone who is involved in the class action is young and therefore runs a high risk of suffering these consequences during their lifetime."
The Swedish court's decision came a day after the release of a highly anticipated Intergovernmental Panel on Climate Change (IPCC) report that United Nations Secretary-General António Guterres called "a survival guide for humanity" which shows the 1.5°C goal for this century is still achievable but requires "a quantum leap in climate action."
Thunberg, founder of the global Fridays for Future movement, tweeted Monday in response to the report, "The fact that people in power still somehow live in denial, and actively move in the wrong direction, will eventually be seen for and understood as the unprecedented betrayal it is."
"Today, after yesterday's IPCC report, everything is back to normal—as always," Thunberg added Tuesday. "We continue to ignore the climate crisis as if nothing happened. Our societies are still in denial, and those in power go on with their never ending quests to maximize profits. We cannot afford this."
News
SUPPORT OUR WORK.
We are independent, non-profit, advertising-free and 100%
reader supported.